In this day after day by We Are Tennis by BNP Paribas, we look back on the revelation Bianca Andreescu, Thiem's first Masters 1000 and chickens murdering a fox.
Monday, March 11th
« Everything is fine at the moment », said Roger Federer with a smile. For him, it's pretty obvious, but it's less the case for others, and notably for this South-African diver who was swallowed by a whale, but miraculously spat out immediately afterwards, alive and well. Justin Bieber is also in pretty bad form: the singer announced that he was suffering from depression on his social platforms. The week also started badly for Serena Williams, who was affected by a virus and had to withdraw from the BNP Paribas Indian Wells Open. Osaka, Kerber, Pliskova, Venus Williams, Raonic, Monfils and Thiem, however, managed to qualify for the next round.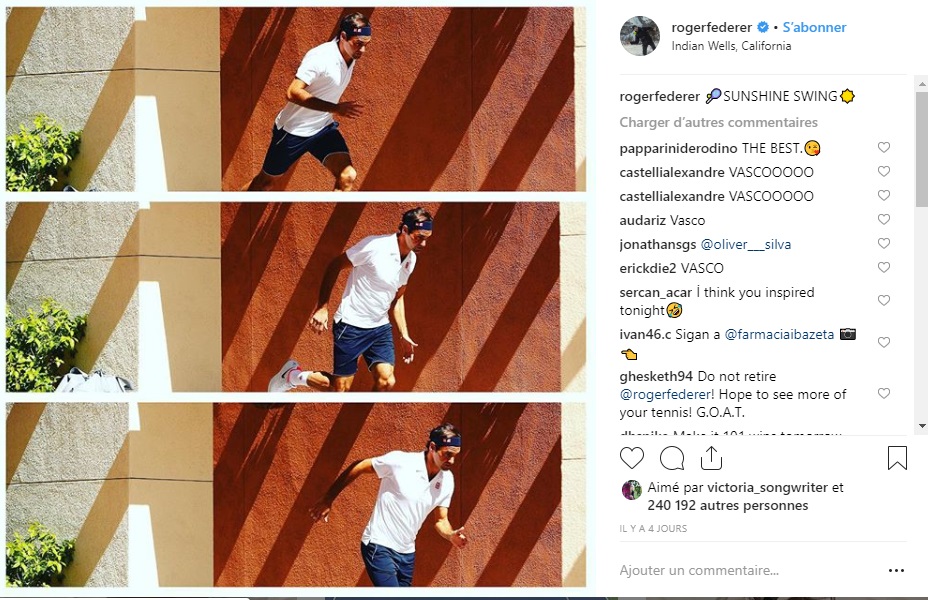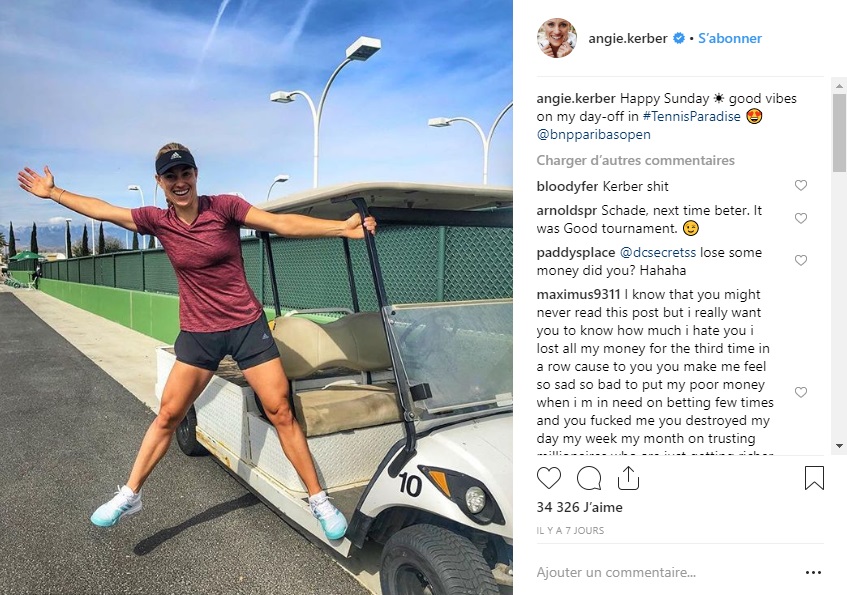 Tuesday, March 12th
A huge surprised occurred on the Californian courts, as Novak Djokovic was knocked out prematurely after losing against Philipp Kohlschreiber. It wasn't a great day to be the world number 1, as Naomi Osaka also lost against the revenant Melinda Bencic. This day at Indian Wells was also marked by Federer's qualification after his win against his fellow countryman Wawrinka. Nadal also qualified easily after defeating Schwartzman. Among the other qualified players of the day, is Shapovalov, who celebrated his win with a little rap freestyle, mic in hand. The queens of the day are these chickens, in Brittany, France, who killed a fox which had managed to sneak in their henhouse (even La Fontaine couldn't have planned such a crazy scenario), and the king is, of course, Cristiano Ronaldo, who scored an unbelievable hat-trick in the Champions League, enabling Juventus to qualify for the next round.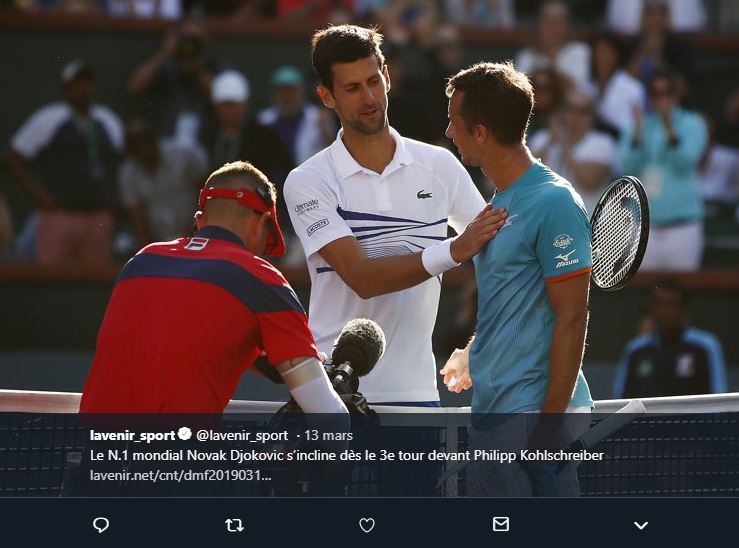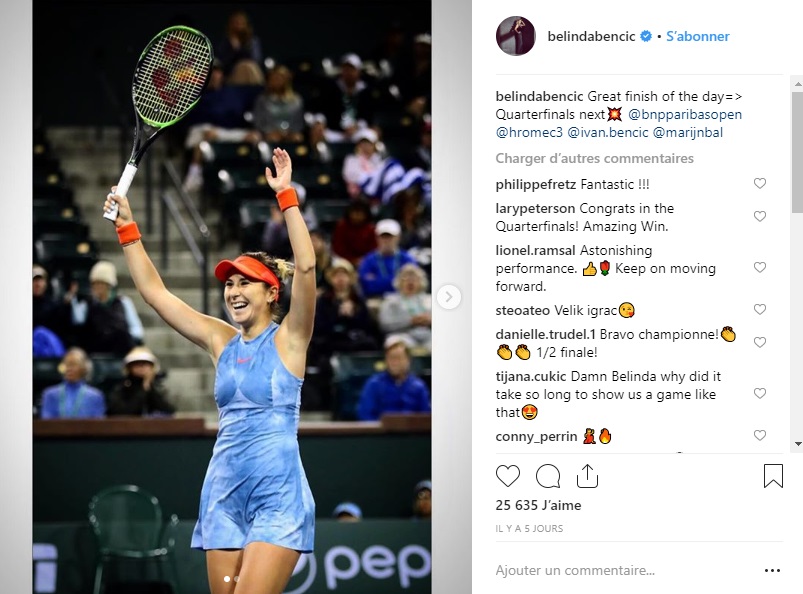 Wednesday, March 13th
Roger Federer confirmed his great form at the BNP Paribas Indian Wells Open by knocking out Kyle Edmund and qualifying for the quarter-finals. Gaël Monfils also made a great impression after defeating Kohlschreiber, who had knocked out Djokovic the day before. In the women's table, there was yet another huge surprise, with the young Canadian prodigy Bianca Andreescu defeating Muguruza 6/0 6/1. Far from Indian Wells, we also found out that Juan Martin Del Potro will probably need another operation to fix his painful knee. Will we ever see the Argentinian thirty-year old back at the top level? There are reasons to doubt it. Speaking of worries, in Saudi Arabia, a mother forgot her baby at the airport and forced a plane to go back to get it.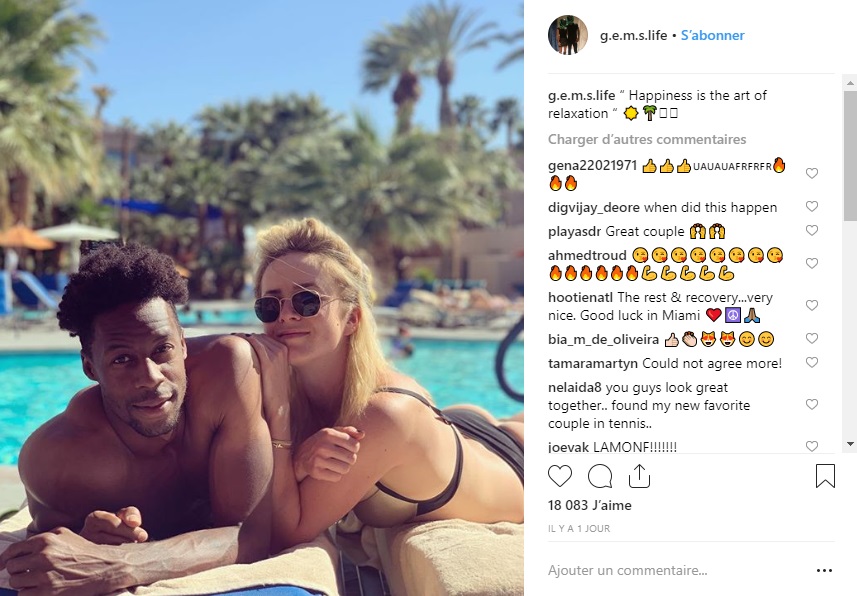 Thursday, March 14th
In Spain, the mystery grew around envelopes filled with 50 and 100 euro-notes placed randomly in different postboxes in the small town of Villarramiel. You would need to collect a lot of these envelopes to buy the first flying motorcycle sold in the US: 38 000 euros. Which would be of great use for Monfils, if he wants to leave California quickly after withdrawing from the tournament because of a painful Achille's tendon. As a consequence, Thiem qualified for the semi-finals without playing. He'll face Raonic, who defeated the surprise Kecmanovic. Raonic, Shapovalov, Andreescu : it's the Canadian week!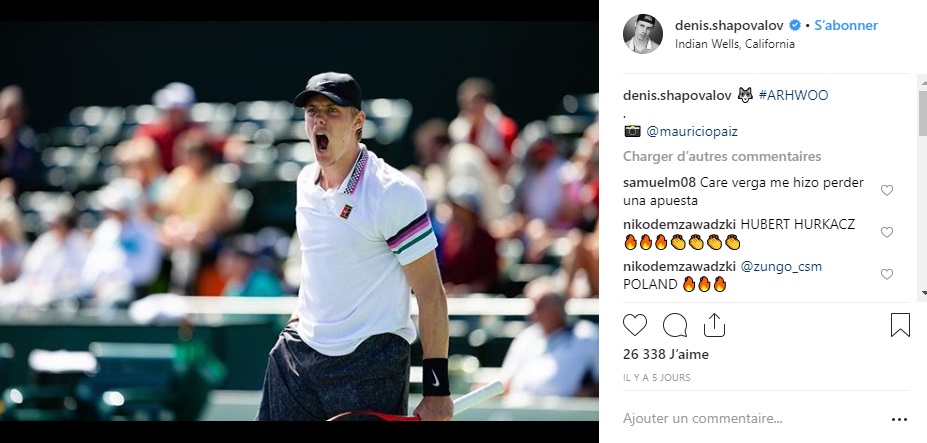 Friday, March 15th
Roger Federer against Rafael Nadal, that was the long-expected second semi-final planned at the BNP Paribas Indian Wells Open. But as soon as he finished his match against Khachanov, Nadal started accusing the ciment surface of provoking to many physical traumas. Words which found an echo with Steffi Graf and Andre Agassi, who both admitted that they were still suffering today from the physical consequences of their sporting careers… In France, the register of births refused the choice of new parents to name their baby « Griezmann Mbappé ». Not far from there, in Switzerland, a recent study showed that music could alter the taste of emmental cheese. With Saint-Patrick's day coming, it could start tasting a little peaty!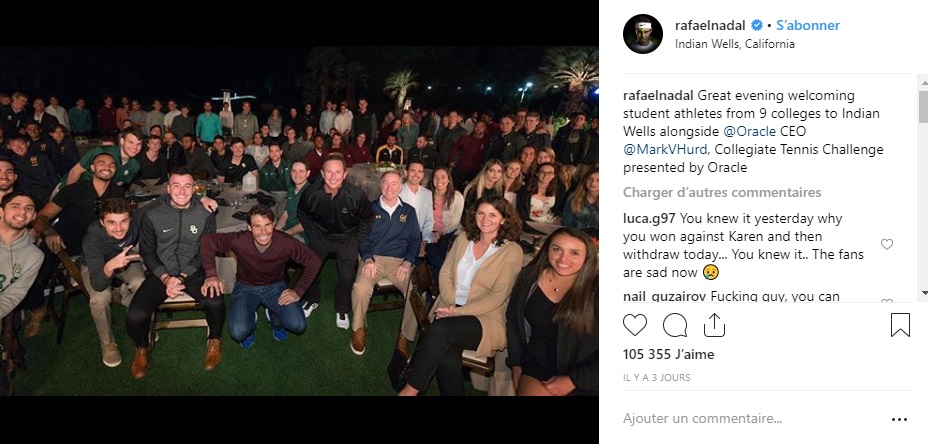 Saturday, March 16th
There are only two days of competition left at the BNP Paribas Indian Wells Open. And like we feared, Nadal had to withdraw from the tournament. Federer automatically qualified for yet another final, where he will be facing Dominic Thiem, who defeated Raonic. In the women's draw, Kerber defeated Bencic, while Andreescu carried on with her impressive run after knocking out Svitolina (who was also suffering from a knee injury). Canadian tennis has found its new star, who seems to be slightly more hard-working than Eugenie Bouchard… Speaking of Canada, we've found out in the local press that a library in British Columbia retrieved a book which had been borrowed… 42 years ago! The fine will probably be lower than the one which these two Australian kids who degraded 37 vehicles in a Toyota dealership will have to pay. In any case, it's not the best publicity for the youth, which is rallying all around the world, in marches for climate action.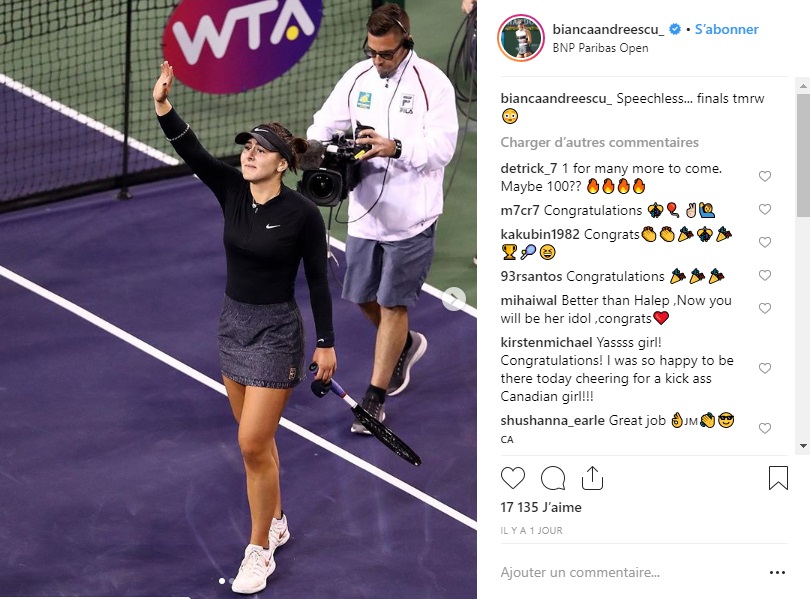 Sunday, March 17th
Dominic Thiem deprived Roger Federer from winning his 101st title by clinching a win at the last minute at the BNP Paribas Indian Wells Open, after losing 5-3 in the last set. It's the Austrian's first Masters 1000. But the huge surprise of the tournament at Indian Wells came from the women's draw, with the victory of Bianca Andreescu, who qualified via a wild card, against Angelique Kerber in the final. The Canadian is now the world number 24, while she was the world number 178 at the end of the 2018 season… In other news, a carrier pigeon was sold for 1,2 million euros in Belgium, Italy is investigating on the mysterious death of a key witness in one of the scandals surrounding Silvio Berlusconi, Iceland forbid the access to a canyon which was made famous by one of Justin Bieber's music videos, and the cleanest air you could breathe in the world is in Tasmania, according to scientists.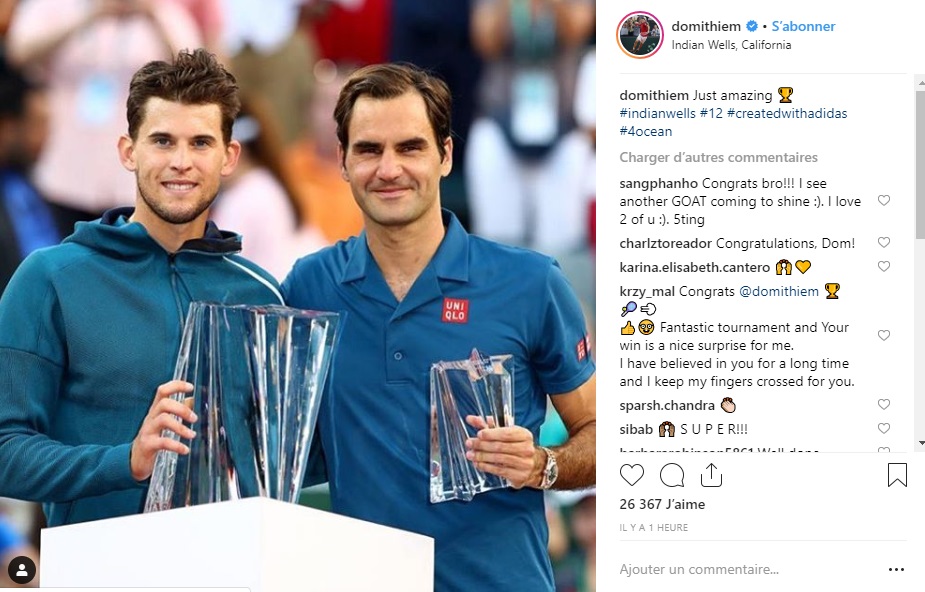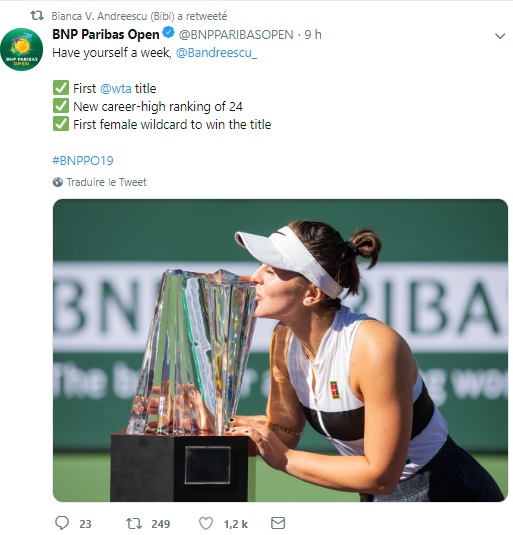 By Régis Delanoë