WeAreTennis by BNP Paribas summed the tennis news of the past week, mixed with news from the real world. A week marked by the Next Generation which was dominated by Tsitsipás, the Fed Cup by BNP Paribas final, but also mice wine or 2000 year-old liquors.
Monday, November 5th
Official, impressive, and stunning: two years after leaving his throne, Novak Djokovic is back at the first spot of the ATP Ranking, replacing Rafael Nadal, who had to withdraw from the ATP Finals. A nice present for Djoker, who will now end the year at the best possible position. Enough to celebrate in style. But don't forget to be careful: in Kansas City, a luggage handler who partied a little too hard the day before spent a flight to Chicago asleep in the baggage hold. As a reminder, a good nap shouldn't be longer than thirty minutes.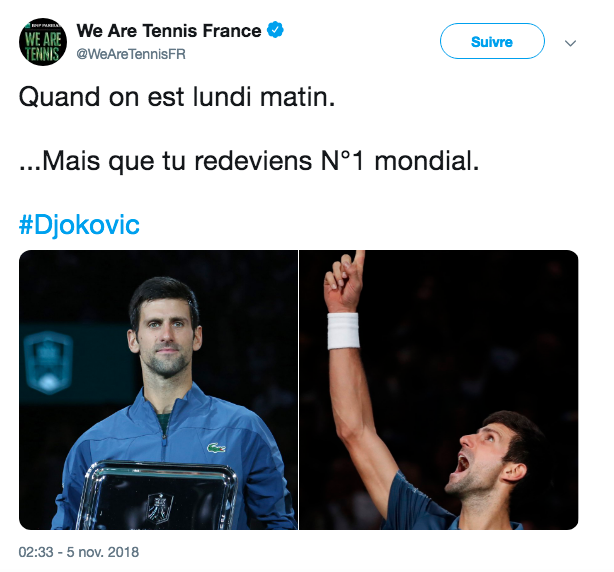 Tuesday, November 6th
Now let's head to see the younger generation, with the Next Generation ATP Finals taking place in Milan, and its new rules. In the opening match of the competition, Stéfanos Tsitsipás defeated Jaume Munar (4-3, 4-3, 3-4, 4-2) while Alex De Minaur crushed Liam Caruana (4-1, 4-1, 4-2). Enough to get loose and enjoy a nice glass of 2000 year-old wine found by Chinese archeologists in a grave in Henan. And you should keep a straight face while drinking it!
Wednesday, November 7th
"I've started seeing psychologists. That's it, I've started seeing some people, and I feel free to talk about it, I feel like I no longer have to hide it." Is Nick Kyrgios facing a bright future? On his side, Dennis Hof couldn't really enjoy his victory: this famous American brothel owner had just been elected at the Nevada State assembly, but passed away last month… Not enough to affect Tsitsipás, De Minaur, Hubert Hurkacz or Taylor Fritz, who all respectively defeated Frances Tiafoe (4-3, 4-3, 4-2), Andrey Rublev (4-1, 3-4, 4-1, 4-2), Munar (4-2, 4-2, 2-4, 3-4, 4-1) and Caruana (1-4, 4-1, 4-3, 4-2). No mercy shown by the youngsters.
Thursday, November 9th
Mice wine, worm cheese, bull penis… For the stronger stomachs, the museum of disgusting food has just opened in Sweden. Too bad, or good for them, the members of the Next Gen don't have the time to visit it as the battles are getting tough and coming one after another very quickly. The proof? With their wins of the day, Tsitsipás, Munar, Rublev and De Minaur qualified for the semi-finals, where things are truly getting started. A spoon of maggots for courage, maybe ?
Friday, November 9th
A debate before the weekend: should the ATP Finals remain in London ? "I love playing in this city which enjoys tennis, and which attracts a lot of media coverage, answered Roger Federer. It's a great place for us to show our talent." "I want this event to change places because it's the ATP's biggest competition, with the eight best players of the world playing in a unique format, answered Djokovic. It's a great opportunity to promote tennis around the world. Playing the competition for ten years in the same place is a bit much." The policemen of Seine-Maritime, in France, didn't ask themselves this question as they received chocolates from a man they had arrested. The reason? His arrest healed a painful cervical vertebra. In other news, De Minaur will have his revenge: he managed to join the final and will face Tsitsipás. For the same result?
Saturday, November 10th
And the answer is yes. In the final in Milan, Tsitsipás didn't leave De Minaur a single chance (2-4, 4-1, 4-3, 4-3) and won the title after a perfect week. On her side, Lucie Šafářová announced that she will retire after the next Australian Open. Unless she suddenly rejuvenates and feels twenty years younger, like Emile Ratelband, a 69 year-old Dutch man. The retired "young God" told the court in the Netherlands that he felt "discriminated" because of his age. "Young God", of course...
Sunday, November 11th
It doesn't matter if Silindile Mangena, a 29 year-old South African woman, sued her ex-boyfriend for deforming her vagina with his imposing penis. It doesn't matter if Dominic Thiem and Federer, who were respectively defeated by Kevin Anderson (3-6, 6-7) and Kei Nishikori (6-7, 3-6), haven't had the best start at the ATP Finals in London. The big news of the day is that Czech Republic have once again won the BNP Paribas Fed Cup (their 6th triumph in the last eight editions) against the United States, who didn't score a single point. Impressive.