Before the Davis Cup by BNP Paribas' final, here's a top 20 of players who have marked the competition's history.
20. « Tut » Bartzen - USA
What is this forgotten Texan who has never won the Davis Cup doing here ? Semi-finalist at the 1959 US Open, « Tut » Bartzen has been the exploited servant of the stars of the US team during the fifties. His mission : to win the America zone preliminary matches for the United States before leaving his place to Trabert, Seixas or Olmedo for the Finals. Not a very nice role to play, but he always did the job perfectly. The proof ? 16 wins in 16 matches played. The record is still standing.
19. Jirō Satoh - JAPAN
In 1933, Jirō Satoh came close to knocking out Australia by himself in the semi-finals. A year later, in April 1934, the Japanese number 1 committed suicide, at 26, by jumping in the Strait of Malacca as he had just boarded a boat to fight another battle with the Australians in England. In his cabin, his teammate found a suicide note. Among the versions which are given today, one describes health issues and the fear of not being able to play at his level during the match. His presence in that Top20 is a tribute to this great champion.
18. Andre Agassi - USA
Committed to the Davis Cup during his first years on the circuit, Andre Agassi would be placed higher in this top 20 if he hadn't deliberately decided to stop taking part in the competition. After his two triumphs in 1990 and 1992, the double A progressively left his spot to Sampras, Chang or Martin, and even refused a call-up in 1998 to play a semi-final against Italy in Milwaukee, the city where theHappy Days sitcom is based. « Even if the match was organized in my garden, I wouldn't open my door. Just ask Fonzie to play ! » A clear lack of diplomacy, but at least, he was being honest.
17. Nicola Pietrangeli - ITALY
Two-time finalist as a player in 1960 and 1961, the Italian from Tunis only won the Davis Cup once he was named captain of the team, in 1976, with Adriano Panatta and Corrado Barazzutti. But his 164 matches played make him - and probably forever - the player with the most international matches ever played. Enough to have a small ego-trip ? « I'm Mister Davis Cup, said Nicola Pietrangeli in 2017, in an interview given to the RTBF before the quarter final Belgium-Italy. But I wasn't the one who claimed this title. It's simply because I've been playing Davis Cup matches for almost 20 years. »
16. Anders Jarryd et Jonas Björkman - SWEDEN
Two Swedes in the same boat. The first is the only player to have been part of every single adventures of the golden era of the Vikings : seven finals in a row between 1983 and 1989. His most striking achievement ? A win in the doubles with Edberg against John McEnroe and Peter Fleming in the 1984 final. The thrilling Jonas Björkman, on his side, was the leader of the team between 1994 and 2008. Obsessed by the Davis Cup, he won the competition three times and generally won his singles and doubles matches. He could have sold the tickets and and even the drinks if he had to !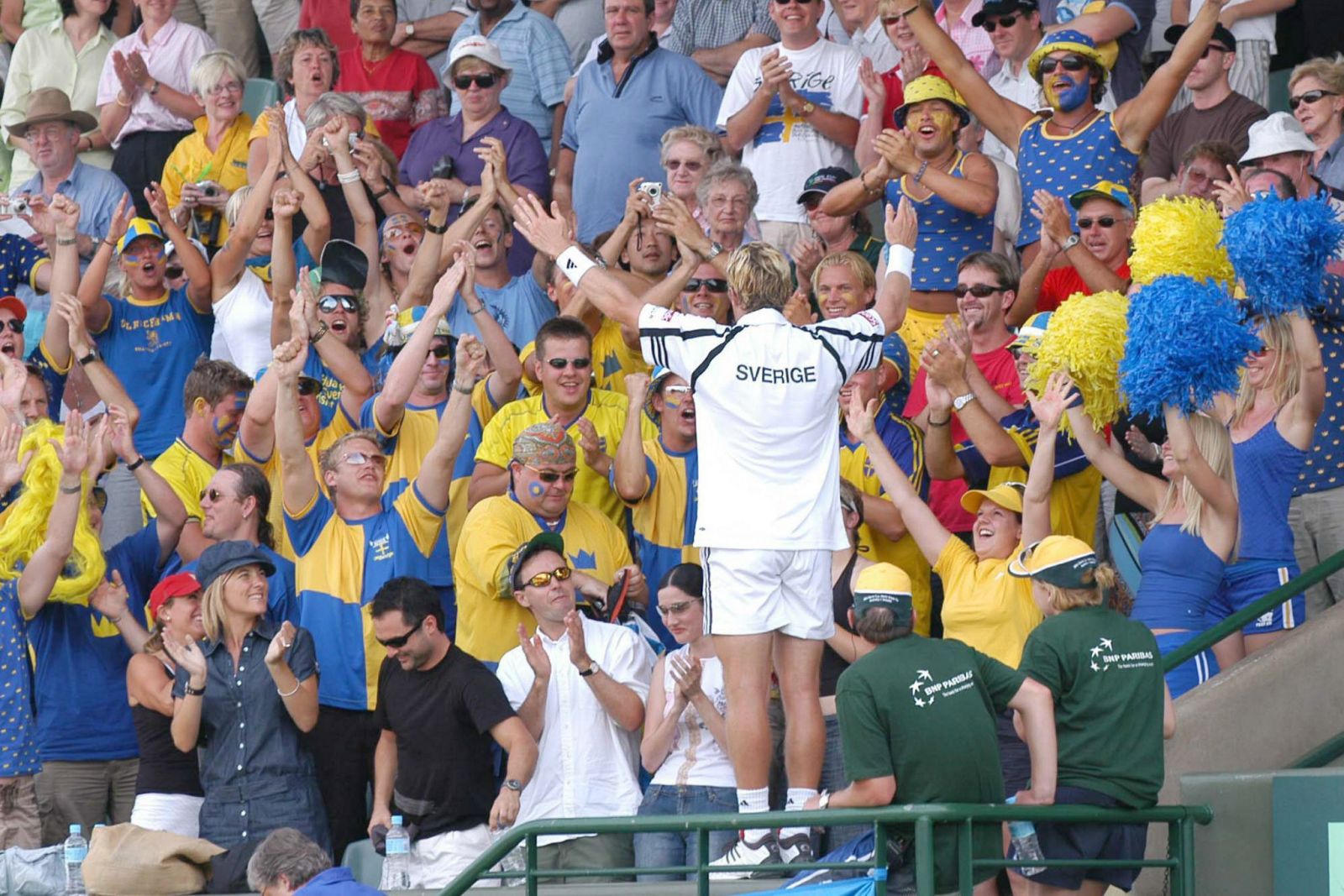 15. Ilie Nastase - ROMANIA
Ok, the Romanian is among the giants who never won the Davis Cup. But only Nicola Pietrangeli has played more matches than him in the competition (146). « Representing your country is the ultimate honor for any sportsman coming from a communist country. We were told this very often » explained Ilie Natase, who also played in one of the most tensed finals played in the twentieth century. In October 1972, the Americans won 3-2 in Bucarest but the Romanian crowd made the venue look like hell, with their limitless chanting, fueled by Nastase and Ion Tiriac's bad faith and their habit of challenging the umpire's decisions.
14. Stan Smith - USA
Not many matches played in total (42) but an amazing series : Stan Smith has taken part in the five consecutive American wins between 1968 and 1972. Globally, his team won 91,66% of the matches played with him. In 1973, in Little North Rock, Smith made a huge impression in a doubles match played with Erik Van Dillen : despite losing the first two sets 9/7 and 39/37 in more than 4 hours of playing time, the Americans found the mental resources to come back and win the match in five sets. Unsinkable Smith.
13. Radek Stepanek - CZECH REPUBLIC
He's not in this top 20 because of his humor which has charmed Martina Hingis, or for his incredible presence at the net, and not even for turning a handshake with Janko Tipsarevic into a middle-finger in 2012. No, Radek Stepanek is here because he scored the winning point for his country twice, in 2012 and 2013, and for being the oldest player ever to do so (the second time ten days before his 35th birthday).
12. Novak Djokovic - SERBIA
It's with him that Serbia discovered the world group in 2008. It's also with him that two years later, Serbia won one of its most prestigious trophies ever, all sports taken together. During this 2010 season, Novak Djokovic started an unbelievable series which still carries on today : except his withdrawal against Juan Martin Del Potro in 2011, Djokovic has won 19 consecutive matches in the singles. In other words, if he hadn't left Dusan Lajovic, Laslo Djere or Victor Troicki alone so many times, Serbia could probably have won the trophy two or three times. This also applies to Roger Federer's Switzerland.
11. Fred Perry - GREAT-BRITAIN
Because between 1931 and 1936, the Englishman played five finals in which he scored nine points for his country. If he lost the first one against France in 1931, he won the following four in 1933, 1934, 1935 and 1936. A quadruple which is even more prestigious knowing that he defeated all the best players of his era (Gottfried Van Cramm, Donald Budge or Jack Crawford) and that he also won eight Grand Slam tournaments.