Each week, We Are Tennis by BNP Paribas summarizes the tennis news of the week, day after day, mixed with news from the real world. This week was marked by the Shanghai Masters 1000, of course, but also unusual couple fights, and French fries handed out f
Monday, October 8th
Things kicked off quickly in Shanghai! Three of the so-called favorites, Milos Raonic, Nick Kyrgios (despite scoring some wonderful points, as usual) and Stan Wawrinka lost in the first round of the Masters 1000 against Mackenzie McDonald (3-6, 7-5, 3-6), Bradley Klahn (6-4, 4-6, 3-6) and Borna Ćorić (6-4, 4-6, 3-6). Some surprising results, but not as surprising as the behavior of this woman from Gard (France) who hid a GPS device in her husband's… car, as the two are in the process of divorcing. Apparently, it was to keep an eye on their dog, who tends to run away quite often. Of course…
Tuesday, October 9th
Stop whatever you are doing, the city of Reims, in France, is organizing a huge window cleaning contest on October 18th! An event where we could see the Thai umpires Anucha Tongplew, Apisit Promchai and Chitchai Srililai, as the three of them were banned for life for fixing matches and betting illegally. We could also find Dominic Thiem and Marin Cilic there, as both players were respectively knocked out by Matthew Ebden (4-6, 7-6, 6-7) and Nicolas Jarry (6-2, 6-7, 5-7). However, Roger Federer will probably have better things to do. Like defending ball boys against the mean professionals of the circuit. « Of course, you always want to respect the ball boys », he started off pretty awkwardly. Before pulling himself together: « Ball boys are very important for us because they could be the future of our sport. » And mainly because they deserve to be treated well, like anybody else. Quite simply.
Wednesday, October 10th
Apparently, Alexander Zverev is not a fan of the new Davis Cup. « It's crazy to organize a ten-day tournament at the end of November. At the end of the year, we're all exhausted ! All the other top-level tennis players will tell you the same thing, said the German, while announcing that he will not take part in the competition. We've got a month and a half off, and it starts during the second half of November and ends in December. We had talks with the ATP how to make the season shorter, and not longer. » Currently far from these considerations, Rafael Nadal is taking action to help the people of Manacor (his birthplace in Mallorca), who have suffered terrible floods, by giving a helping hand in rescue operations. An attitude for which he deserves some fries from Gand (Belgium), where, until November 15th, you can get a free portion if you urinate in the public restrooms instead of the pavement. And also save 60 euros, the price of the fine you must pay if you get caught. Ouch.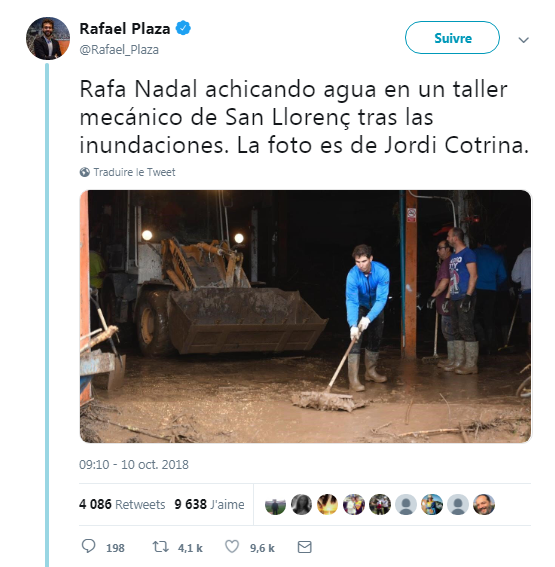 Thursday, October 11th
« We'll see. in any case, I don't think that it has been created for me. It's been thought for the next generation of players. » Juste like Zverev, but for different reasons, Federer should not take part in the next Davis Cup. And if his body doesn't leave him alone, Juan Martin Del Potro shouldn't be there either, as he had to withdraw from his fourth-round match against Coric after feeling pain in his right knee. Kiki Bertens, on her side, lost fair and square against the world number 137, Margarita Gasparyan, in the second round of the Linz Open (5-7, 6-2, 7-6). Please also note that a gentleman has found out that his wife was cheating on him thanks to…Google Street View. A picture of her with another man taken in 2013 was visible on the website, the two lovers kissing on a bench next to a bridge in Peru. Bad luck !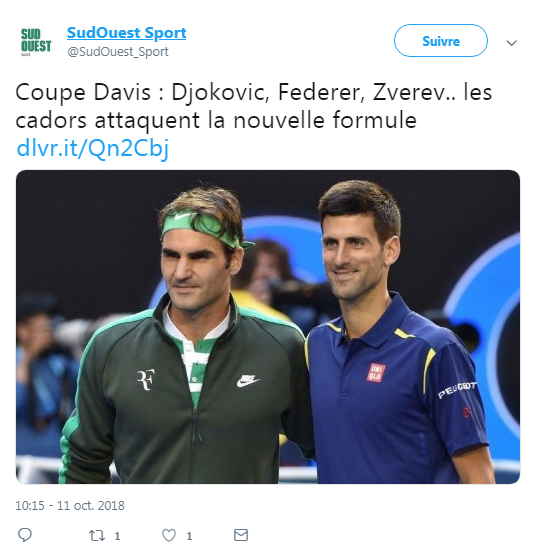 Friday, October 12th
Phew, it's the end of the week and the start of the week-end. Everyone should take a little break, except Timea Bacsinszky who defeated Aryna Sabalenka (7-6, 7-6) in the quarter-finals of the Tianjin Open and this Belgian technician who destroyed an F-16 Fighting Falcon by accident. There were no victims in the accident, but two injured people and 75 million euros gone up in smoke.
Saturday, October 13th

One thousand is a beautiful number. It's also (and mainly) the number of matches played by Novak Djokovic, as he reached this number this Saturday. He celebrated the event by destroying Zverev (6-2, 6-1) and qualifying for the final of the Masters 1000 where he'll play against Coric who outfought Federer (6-4, 6-4). Another beautiful performance was displayed by Jacqueline Dervoust, a French woman who got a permanent contract in a restaurant serving crepes…at 79 years old. In Brittany, of course. On his side, Hugo Gaston has already lifted his trophy, in this case, a gold medal, won at the Youth Olympic Games after defeating Facundo Diaz Acosta (6-4, 7-5). Old and young, everyone is happy !
Sunday, October 14th

On the day after a scorching Saturday (October 13th had never been warmer in France since Meteo France was created), Djokovic was on fire. And logically won an 18th consecutive match (6-3, 6-4 against Ćorić), thus winning the 32nd Masters of his career, his fourth in Shanghai. « It's phenomenal. I've played in a really consistent way this week, everything worked well. I've had a great serve all week, probably one of the best weeks in my career », said the unplayable Serb, who didn't lose his serve once during the whole week, and didn't lose a single set. Camila Giorgi also triumphed in Linz after defeating Ekaterina Alexandrova (6-3, 6-1). Caroline Wozniacki won her first title of the season after defeating Karolina Pliskova inTianjin (7-6, 7-6). And Dayana Yastremska won the first title of her career on the WTA circuit, at 18, after defeating Qiang Wang (6-2, 6-1). The same thing next week ?