Like every Tuesday, we've summed up the tennis news of the past week, mixed with news from the real world. A week of tennis spent in Asia, of course, but also a week marked by a giant apple, a Basque cake sent into space and very old objects.
Monday, October 1st
« Rainy October makes the plowman happy », according to a famous French saying. If this month of October sounds, indeed, like a rainy one, it's tennis that is making Henri Crutchet happy. This 87-year old Frenchman has just won the Senior World Championships in Croatia after defeating Joseph Russel (2-6, 6-4, 10-6). So it's probably not this old man, who was busy achieving his feat, who bought himself a 40 year-old Apple computer for 375 000 dollars at an auction. Novak Djokovic is a little younger than Henri and than the computer, but he also wants to get back on top of the world: « I had planned to be here with my family, but I can still compete for the world number one spot. I hope that Belgrade will bring me luck », announced the Serbian in a tennis complex in the capital of his country. Meanwhile, the Asian tour is still going on. And badly for Diego Schwartzman, who lost against Daniil Medvedev in Tokyo (4-6, 4-6). It wasn't the last surprise of this week.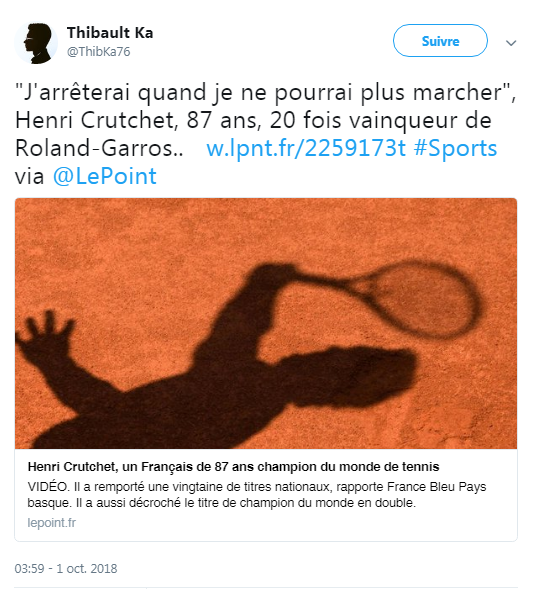 Tuesday, October 2nd
Still with surprises. In Japan, Marin Cilic was knocked out by Jan-Lennard Struff (6-3, 4-6, 6-7). In Beijing, Nikoloz Basilashvili outfought Jack Sock (6-7, 7-5, 6-2), Simona Halep withdrew from the tournament because of a hernia, and Qiang Wang defeated Jelena Ostapenko… on the brutal score of 6-0, 6-0. Two sets that are still less surprising than the treasure found by an 8-year old Swedish-American who found a 1500 year-old sword in a lake in Sweden. On his side, Roger Federer was less lucky when he was young. « I didn't speak French, said the Swiss, speaking about the time when he went to Lausanne at fourteen. Missing your flight, jumping in a train with your backpack, sleeping on the bag because you're scared to lose it… » Terrible times indeed.
Wednesday, October 3rd
Careful, this is not a joke, but an official announcement : a Basque cake will be sent into space on October 24th, 2018. Outsiders playing tennis in Asia don't really care, and keep on upsetting the favorites. Dušan Lajović and Dominika Cibulkova respectively defeated Grigor Dimitrov (6-4, 2-6, 6-4) and Sloane Stephens (4-6, 6-2, 6-3) in China while in Japan, Denis Shapovalov knocked out Stan Wawrinka (4-6, 6-1, 6-4). However, Juan Martin Del Potro didn't disappoint, as he qualified for the London Masters which will be played at the end of the season, after defeating Karen Khachanov (6-4, 7-6). Enough to treat himself with a piece of Basque cake before it flies away.
Thursday, October 4th
And we've got more surprising results coming in : in Beijing, Kateřina Siniaková, Shuai Zhang and Wang defeated Kiki Bertens (6-4, 6-3), Angelique Kerber (6-1, 2-6, 6-0) and Karolína Plíšková (6-4, 6-4). But all of that is nothing compared to what happened in Japan, where eight kilos of metal were found in the stomach of a gentleman suffering from an eating disorder. Apparently, this gentleman was eating coins daily, which would explain the curious finding…
Friday, October 5th
And surprising results keep on coming ! In Tokyo, Milos Raonic crumbled against Medvedev (6-7, 3-6) while Aryna Sabalenka was defeated by Wang (5-7, 5-7). Another man is seeing red - literally this time - but he's not a tennis player and he's from the US: after consuming too much Viagra, the poor man is suffering from an Eye problem. Is that what they call looking at life through rose-tinted glasses?
Saturday, October 6th
70 parking tickets and more than 11 000 euros in fines. These are the gifts received by two lovers and their 300 guests after committing a few offenses while celebrating their wedding in Annecy, France. However, the finalists in Asia didn't commit many mistakes during the semi-finals: Medvedev and Kei Nishikori respectively destroyed Shapovalov (6-3, 6-3) and Richard Gasquet (7-6, 6-1) in Japan while Caroline Wozniacki and Anastasija Sevastova dominated Qiang Wang (6-1, 6-3) and Naomi Osaka (6-4, 6-4) in China. As for Del Potro, he didn't even have to force his talent to join Nikoloz Basilashvili (who defeated Kyle Edmund 7-6, 6-4) in the final, as Fabio Fognini had to withdraw from the tournament. Now let's get ready for the Sunday matches, the most important ones.
Dimanche 7 octobre
Name: Medvedev. First name: Daniil. Age: 22 years old. Victim: Nishikori. Score: 6-2, 6-4. Location: Tokyo. Lift the trophy.
Name: Basilashvili. First name: Nikoloz. Age: 26 years old. Victim: Del Potro. Score: 6-4, 6-4. Location: Pékin. Won the second trophy of his career.
Name: Wozniacki. First name: Caroline. Age: 28 years old. Victim: Sevastova. Score: 6-3, 6-3. Location: Pékin. Won the thirtieth trophy of her career.
Name: Millet. First name: Chloé. Age: two and a half years old. Victim: Adults. Score: 760 grams. Location: Barenton (France). Has found and lifted a giant apple.