The best of the past week, on and off the courts, day after day, only for the readers of We Are Tennis, by BNP Paribas. On the menu today : small surprises in small tournaments, but also the Pétanque World Championships, and a cure against acne.
Monday, September 17th
The day of champions, current or past. While the French won the Pétanque World Championships in Canada (defeating Morocco in the final), the multi-Grand Slam winner (Australian Open 2014, Roland-Garros 2015 and US Open 2016), Stanislas Wawrinka was invited to the Saint-Petersburg Open where he defeated Aljaz Bedene in the first round (7-5, 7-6). On her side, Maria Sharapova is back at the 24th spot at the WTA ranking, but has already announced the end of her 2018 season. A three-months long holiday, then.
Tuesday, September 18th
In life, you usually need to be creative to achieve your goals. A 45-year old man from Annecy, France, understood this a long time ago : to be able to live his romance with his mistress freely (who he even married in 2011), he told his family and his second wife that he was a spy working for the DGSE, the french secret service…until he got caught. Jo-Wilfried Tsonga and Bernard Tomic, on their side, cruelly lacked creativity in Metz : the first one lost against Peter Gojowczyk (7-6, 3-6, 4-6) for his return to competition, while the second won lost against Ugo Humbert on the exact same score. It's not always easy to be the favorite, is it ?
Wednesday, September 19th
Ladies and gentlemen, the Milan fashion week (which is presented as « green » for its supposed environmentally friendly values) is about to begin ! On the menu this year, sixty fashion shows and 90 presentations all around the city. You're not interested in fashion ? Then you should know that Adrian Mannarino lost against Marton Fucsovics in the first round of the Moselle Open (6-3, 6-2), that Juan Martin Del Potro will take part in four competitions in October (Beijing, Shanghai, Basel and Paris) and that Rafael Nadal will not take part in the Asian tour this year. Finally, for those who remember Mohamed Lahyani (the Swedish umpire who allowed himself to coach Nick Kyrgios in the middle of a match during the last US Open), please not that he has been suspended for two tournaments by the ATP. A pretty lenient sanction.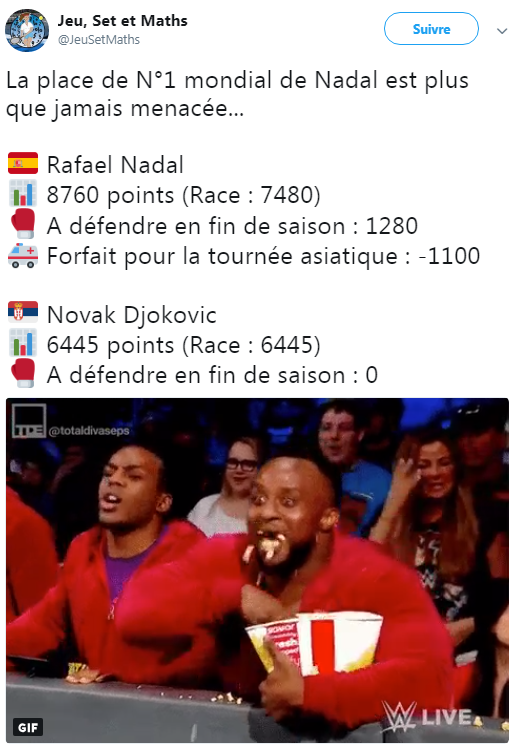 Thursday, September 20th
Phew, scientists have announced that they are close to find a cure against acne ! But here's another reason to be relieved : Nadal will make his comeback at the Bercy Masters 1000 ! « Rafa told me, during our last conversation, that he will make his comeback in Paris, said his uncle, Toni Nadal. There are no reasons to push for his return : he knows that things can get complicated if you force them. At 32, he must do what he's currently doing. Which is taking care of himself, and not rushing into things. » Exactly what Stefanos Tsitsipas didn't do in Metz, as he completely crumbled on his match point, before losing against Ricardas Berankis (7-6, 6-7, 3-6) in Metz. Caroline Wozniacki, who lost in her first-round match against Camila Giorgi (2-6, 6-2, 4-6) in Tokyo, didn't do better. However, Qiang Wang qualified for the semi-finals of the Guangzhou Open after her solid win against (6-4, 6-0). Things are starting to get serious.
Friday, September 21st

Let's sum things up. In Seoul, Jelena Ostapenko was destroyed by Ekaterina Alexandrova in the (3-6, 2-6), fourth round as other matches followed : we will see Kiki Bertens against Maria Sakkari and Su-Wei Hsieh against Ajla Tomljanovic in the semis. In Guangzhou, the final will see Julia Putintseva face Wang. In men's tennis, Radu Albot will face Gilles Simon in the semi-finals in Metz, with a duel between Matthias Bachinger and Kei Nishikori on the other side of the draw. In Saint-Petersburg, Dominic Thiem will have to defeat Roberto Bautista-Agut to earn his place in the final and face the winner of the duel between Wawrinka and Martin Klizan. A pretty nice round-the-world trip which we wouldn't do with this Indian Uber driver, who was too drunk to take the wheel and let…his client take him home. We hope that he got a free ride out of it !
Saturday, September 22nd
This guy could possibly run around the whole world when he'll have time and money. Meanwhile, Nicolas Curci decided to walk around the region of Lot, in France, to hand out his CV's and try to get a job. He didn't have the time to see Qiang lift her trophy, or to get ready to watch the finals between Klizan and Thiem, Simon and Bachinger, Bertens and Tomljanovic or Osaka and Pliskova. There's a fair amount of outsiders among the names, right ?
Sunday, September 23rd
A 19-year old man from Lyon climbed up the security barriers of an airport and crossed a landing strip to « escape world war two », as he said while in custody. Enough with the gibberish, answered the world of tennis. Simon, Thiem and Bertens finally brought logic back on the courts, by respectively defeating Bachinger (7-6, 6-1), Klizan (6-3, 6-1) and Tomljanovic (7-6, 4-6, 6-2). Pliskova was the only one to win against a player of a higher ranking (6-4, 6-4 against Osaka). Before taking a well deserved Sunday break. Like the rest of her colleagues.