Here are the tennis news of the week, day after day, mixed with news from the real world. A little week of tennis before Wimbledon, of course, but also aquatic adventures, and the football World Cup.
Here are the tennis news of the week, day after day, mixed with news from the real world. A little week of tennis before Wimbledon, of course, but also aquatic adventures, and the football World Cup.
Monday, June 25th
He couldn't afford to lose. After being defeated in the final of the Halle Open, Roger Federer let his spot on the throne to…Rafael Nadal, obviously. A spot which Andy Murray is envying, as he is making his return on the circuit by defeating Stan Wawrinka in Eastbourne (6-1, 6-1). Nothing moved, however in the women's Top 10. But the main news of this start of the week isn't related to tennis : Scott Holt, a 32-year old american, crossed the Hudson River to get to New York (where he had a work-related meeting)…on his stand-up paddle, instead of taking the ferry ! Without taking off his suit, of course.
Tuesday, June 26th
The good news of the day : Jérémy, a french gambler, precisely won 259 532,09 euros after betting on the exact results of twelve matches of the football World Cup. The controversy of the day, now : should Serena Williams, who is currently the world number 181, be placed among the 32 top-seeds at Wimbledon, after falling down the ranking following her maternity leave ? « She's the greatest player in History. She deserves to be among the top-seeds after being the world number 1 for so long, and winning so many Grand Slam tournaments, » answered Caroline Wozniacki straight away. And what about Serena's opinion ? « In the 90's, they've changed the rules so that the players who get injured fall down the ranking while they're not able to play. But they've never taken in account female players who leave the circuit to have a child without giving up on tennis, and with the ambition of coming back afterwards. I think and I hope that the rules will change. » And the new mum added that women have the right to have a child « without ruining their career. » Feminist mode on.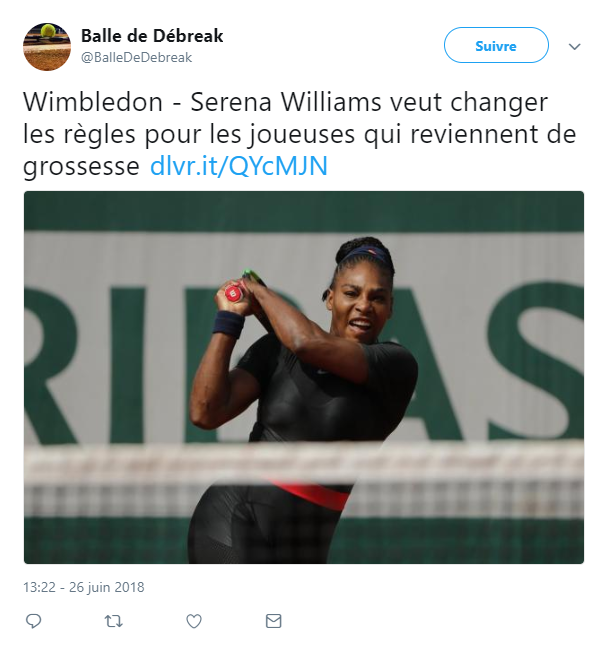 Wednesday, June 27th
And she was heard ! Williams will now be among the top-seeds at Wimbledon. Federer and Halep too (as they're both top-seeds in their respective draws). But unlike Murray, who lost against Kyle Edmund (6-4, 6-4). If he's up for it, he can drown his sorrows in at the Sir Walter Pub, in Rio de Janeiro, which offers a round of shots each time Neymar falls during a Brazil match. Enough to have a massive hangover the next morning…On his side, Marco Cecchinato is feeling great, as the semi-finalist at Roland-Garros won his first ever match on grass against Denis Istomin (4-6, 6-4, 7-5), at Eastbourne. What if he did it again ?
Thursday, June 28th
And two in a row ! Appearing to be in exceptional shape, Cecchinato didn't stop there and defeated John Millman (5-7, 6-3, 6-2). Pretty normal, as surprises seem to become the norm these days : still in Eastbourne, Jelena Ostapenko, Karolina Pliskov and Denis Shapovalov were respectively knocked out by the outsiders Agnieszka Radwanska (2-6, 5-7), Aryna Sabalenka (3-6, 6-2, 6-7) et Mischa Zverev (3-6, 3-6). Speaking of incredible feats, Tom (12 years-old) broke a record by crossing the Channel in an Optimist in fourteen hours and twenty minutes. Yes, we said twelve years-old.
Friday, June 29th
If you had the brilliant idea of buying a chest of drawers on Le Bon Coin in Nice, France, you've probably got yourself a bargain. As a seller forgot 180 000 euros cash in one of them. 180 000 euros is four times less than the prize money awarded to the winner at Eastbourne, and which both Sabalenka and Wozniacki are looking to earn as they have qualified for the final after defeating Radwanska (6-3, 1-6, 6-3) and Angelique Kerber (2-6, 7-6, 6-4). Meanwhile, an agent of the United States Anti-Doping Agency found Serena Williams' door closed. It was Williams' fifth test in 2018. Five tests is a lot.
Saturday, June 30th
One man's loss is another man's gain. As Alexandr Dolgopolov had to announce his withdrawal from Wimbledon, Simone Bolelli smiled, as he qualified for a Grand Slam tournament as a lucky loser for the fifth time, a record. Adrian Mannarino also had a sad day as he lost against Damir Dzumhur (1-6, 6-1, 1-6) in the final of the Antalya Open. A bad day for Julius Caesar as well, as scientists reproduced his face with 3D technology, and he appeared much less glamorous than previously thought. But also for Lukas Lacko, who was crushed by Zverev (the German's first-ever title) in the final in Eastbourne (4-6, 4-6), and for Sabalenka, who couldn't do much against Woznacki (5-7, 6-7). No stress, everyone will get another chance at Wimbledon. Except for Julius Caesar, obviously.
Sunday, July 1st
The bad news of the week is here. At the very last minute. And it is irreversible. Andy Murray will not take part in the Wimbledon Championships. « It's with a heavy heart that I have to announce my withdrawal. I have improved in the last ten days, in matches and during practice but (…) we have decided that it is still too early for me to play matches in three winning sets, said the double winner of the competition who hadn't missed one Wimbledon in eleven years. As soon as tomorrow, I will start practicing on hard surfaces. » The Scot didn't believe that he could win it on one leg. However, Andrew Wardle has proved that miracles do exist : suffering from a rare disease, this 44 year-old Brit had a penis transplant thanks to extracts of skin taken on his forearm. Anything is possible…