The tennis news of the past week, day after day, mixed with news from the real world. A week in which we found tournaments played on grass, obviously, but also cocaine and vodka shots.
The tennis news of the past week, day after day, mixed with news from the real world. A week in which we found tournaments played on grass, obviously, but also cocaine and vodka shots.
Monday, June 18th

Andy Murray is making his comeback this week at the Queen's ! « The most difficult thing is trying not to focus on a possible injury, and to understand that bad times are behind him, that everything is fine, that he's in good shape and can focus on his game instead of fearing another injury », Novak Djokovic advised the Scot. Before warning his rival about the dangers of the surface he'll play on : « It could be dangerous to slip on grass. Grass is a very unpredictable surface, where one bad step can ruin everything, and especially hurt your hips. » Roger Federer knows all of that better than anyone, as he has taken back his throne from Rafael Nadal. In Halle, Germany, Joao Sousa, who managed to lose against Robin Haase (6-4, 6-7, 4-6) after leading 6-5, 5-4, 40-0, looks like he still needs a few lessons. We have good news to finish the day : a passenger of RER A train in Paris gave birth in the train which has stopped at Auber (France). Will the baby have free trips until he turns 25 ?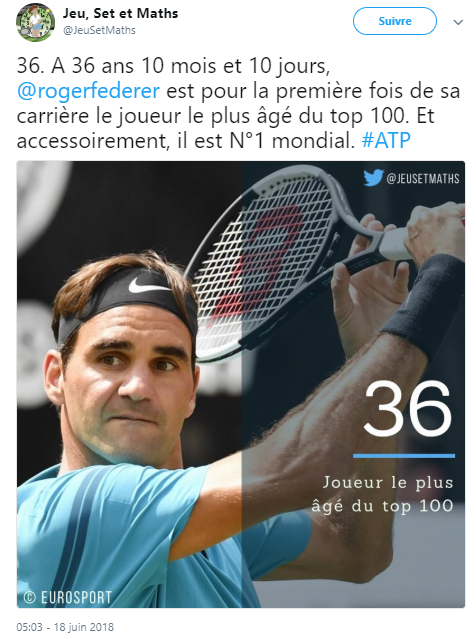 Tuesday, June 19th
Sousa isn't the only player with a shaking arm on the circuit. Despite having five match points, Elise Mertens managed to lose against Dalila Jakupovic (6-3, 6-7, 1-6), who went through the qualifying rounds, in Birmingham. In any case, the world seems to be shaken by the announcement of the death of the oldest orangutan in the world : Lucas Pouille, Richard Gasquet and Alexander Zverev were all knocked out in the first round in Halle after respectively losing against Stefanos Tsitsipas (2-6, 6-7), Florian Mayer (2-6, 2-6) and Borna Coric (1-6, 4-6). The same thing happened to Kevin Anderson at the Queen's as he lost against Leonardo Mayer (6-7, 4-6, 6-7). In a more logical way, Nick Kyrgios knocked out Murray (2-6, 7-6, 7-5) while Nicolas Kicker got suspended for three years for match-fixing. Now, let's get a bit of rest before Wednesday.
Wednesday, June 20th

And the favorites keep on falling. In Majorca, Angelique Kerber was destroyed by Alison Riske (7-5, 2-6, 1-6). At the Halle Open, Dominic Thiem and Kei Nishikori were swallowed by Yuichi Sugita (2-6, 5-7) and Karen Khachanov (2-6, 2-6). At the Queen's, Stan Wawrinka was roasted by Sam Querrey (5-7, 7-6, 1-6). Enough to drown your sorrows by drinking lots of vodka shooters with the Colombian fans, who hid their booze in a pair of binoculars to be able to drink in the stadium during the World Cup in Russia. Nice move.
Thursday, June 21st

A nice relaxing break today, as we celebrate the international yoga day. Let's just mention that Barbora Strycova defeated Garbine Muguruza in Birmingham (6-2, 6-4), that Djokovic defeated Grigor Dimitrov at the Queen's (6-4, 6-1), and that Benoît Paire was very close to defeating Federer (3-6, 6-3, 6-7, two missed match points). Now, let's relax.
Friday, June 22nd

News from the BNP Paribas Davis Cup ! It had been a while since we'd heard from the competition. « The project has been voted with 60,81 % of positive answers, said Bernard Giudicelli, the president of the French Tennis Federation, who gave arguments in favor of the new system. On one side, there is the slightly patriotic passion. And on the other side, there's a rational analysis based on sporting and economic criteria. » Speaking about economic rationality, let's mention that Cerro, an ancient mining community in California, has been put up for sale and can be acquired for 800 000 euros. As for passion, let's note that we'll see Murray back at Eastbourne, in England, and battling with Wawrinka in the first round. We're not sure if Jack Sock will be there, however…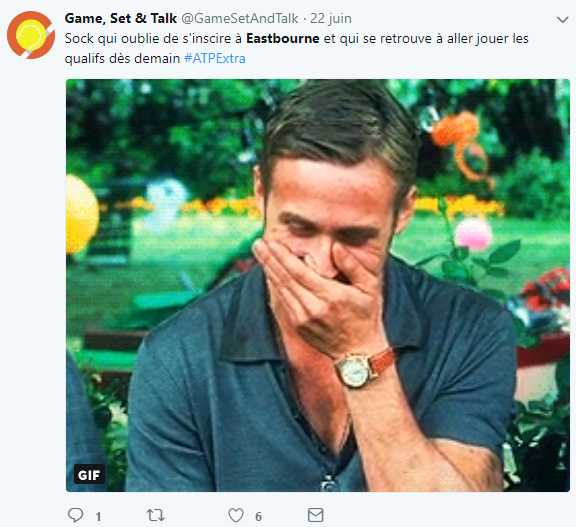 Saturday, June 23rd

Some people truly are shameless. In a flight to Mexico, a couple decided to have sex on a seat. Under the glance of their fellow passengers, who decided to film the scene. In other news, the finals of the week are now official. Borna Coric will face Federer in Halle, Djokovic will battle against Cilic at the Queen's, Petra Kvitova will face Magdalena Rybarikova in Birmingham and we'll see a duel between Anastasija Sevastova and Tatjana Maria in Majorca. Some beautiful matches. We can't wait for this beautiful Sunday to come.
Sunday, June 24th

As he is suffering a bad back, Tomas Berdych won't play Wimbledon. There's nothing to do ? Ok, so let's directly skip to the news of the day : 1,5 kg of cocaine was seized by the police in Buenos Aires, with the powder hid in replicas of the World Cup trophy…Still not interested ? Very well, let's kill the suspense as that's what everybody's waiting for. No, Federer hasn't won the Halle Open, as Coric destroyed him in the last set (7-6, 3-6, 6-2). And no, Djokovic didn't lift a new trophy, as Cilic won the final at the Queen's (5-7, 7-6, 6-3). Yes, Maria won her very first title on the WTA circuit, as Sevastova couldn't do much more in their final in Majorca (6-4, 7-5). And yes, Kvitova has won back-to-back titles in Birmingham after she defeated Rybarikova (4-6, 6-1, 6-2). Now, you know everything.