A week of tennis, and more specifically women's tournaments, as well as the French rail network going on strike.
The best of the past week on We Are Tennis by BNP Paribas : every Tuesday, we summarize the tennis news of the past week, and mix them with news of the real world. Here's a week of tennis, and more specifically women's tournaments, as well as the French rail network going on strike.
Monday, April 2nd

And the nominees for the star of April Fools' day are…Sloane Stephens, winner of the Miami Open and latest player to be included in the Top 10 of the WTA ranking at the ninth spot ; an anonymous person from Metz, France, who gave a mark to the police station which kept him in custody on TripAdvisor ; Rafael Nadal, who's back at the world number 1 spot without even playing after Roger Federer's defeat in the second round at Miami. And the winner is ?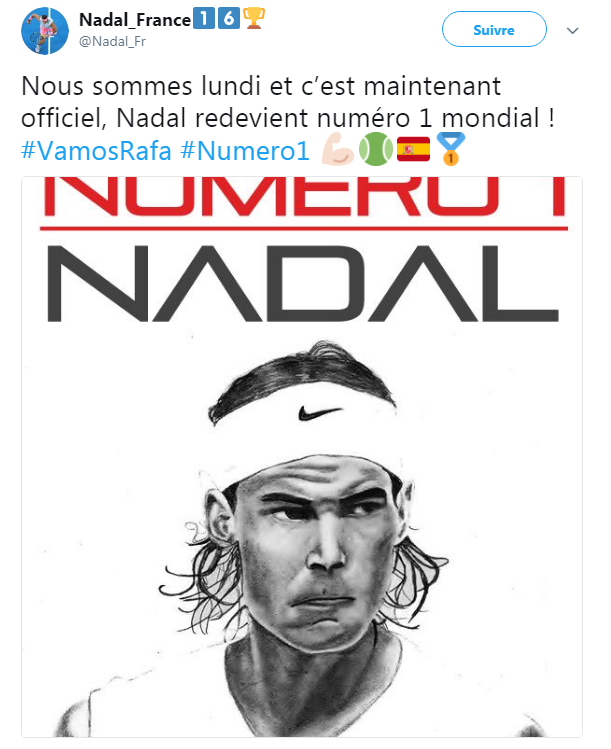 Tuesday, April 3rd

A very slow clock. The French railway workers are going on strike, and the whole world is suddenly on pause. Apart from Romeo Beckham, David's 15 year-old son, hitting a few balls with Caroline Wozniacki, very casually. But pretty normal : after all, he only travels on a private jet or with a chauffeur.
Wednesday, April 4th

Novak Djokovic officially announced that he was splitting up with his coaches Radek Stepanek and Andre Agassi ? Well, we prefer the game. The good news is that the women's tournaments in Monterrey and Charleston started today. Garbine Muguruza, the world number three, started things off in Mexico by easily defeating Renata Zarazua (6-1, 6-1) while Daria Kasatkina battled to defeat Christina McHale (6-3, 3-6, 6-2) in South Carolina. As for the French rail network ? With the strike carrying on, a few people decided to do it in their own way by climbing the windows of the train to get in, while Madeline Fuhrman, a young 24-year old American singer, wrote a song about the strike. Enjoy.
Thursday, April 5th

Is the BNP Paribas Davis Cup, which is starting this weekend, going to resist as long as this man who survived an 18 hours-long cardiac arrest in Béziers, France ? Meanwhile, will the players who love the competition boycott it if its format changed, like it should ? « If the reform is validated, I would, because it would be an exhibition tournament, said Lucas Pouille to the press. And I don't represent France to play in exhibition tournaments. It wouldn't be the same feeling at all : here, it's also a financial matter. I don't see the point of playing the tournament if it's played in the last week of November. In that case, you'd have to go on holidays afterwards. » Great atmosphere…Very far from this debate, Daria Kasatkina and Madison Keys respectively defeated Irina Begu and Lara Arruabarrena-Vecino in Charleston (6-2, 6-1 ; 6-1, 3-6, 6-3). Tennis is played on the court.
Friday, April 6th

And on the court, Pouille is doing a very good job, after scoring the first point for France against Italy by fighting to defeat Andreas Seppi in Genoa. In the stands, the French fans were all wearing a black armband as a sign of protest against the planned changes of the BNP Paribas Davis Cup. Two other important things : Muguruza destroyed Alison Riske in Monterrey (6-2, 6-3) while « zombie » raccoons were seen in Ohio. Soon in your local cinema ?
Saturday, April 7th

Monterrey : Muguruza qualified for the semi-finals after defeating Ajla Tomljanovic (6-3, 6-0) ; Ana Bogdan defeated Rose Collins (6-2, 6-4) ; Timea Babos is already in the final (1-6, 6-2, 6-2 against Sachia Vickery). Gard, south of France : a man was given a twelve-month suspended sentence after sending 80 000 texts to his ex.
Sunday, April 8th

Ladies first. After defeating Bogdan, Muguruza won the Monterrey Open (3-6, 6-4, 6-3 against Babos). 2500 km away from there, Bertens lifted the trophy in Charleston after crushing Julia Georges (6-2, 6-1). In the BNP Paribas Davis Cup, with all due respect to the unlucky nations of the weekend (Belgium, Italy, Kazakhstan, Germany), the semi-finals will see the United States, France, Croatia, and Spain battle for a place in the final. With, maybe, a general assembly between players to debate on the future of the competition. « I've got an idea : let's organize a meeting between players in Madrid, Monte Carlo, or Roland-Garros, said the trade unionist Lucas Pouille. We hear a lot of things : I'd love to hear everyone's opinion. » We can expect more strikes then.