A week of tennis, ugly sweaters and shameless animals.
The best of the past week on We Are Tennis by BNP Paribas : every Tuesday, we summarize the tennis news of the past week, and mix them with news of the real world. A week of tennis, of course, but also ugly sweaters, and shameless animals.
Monday, March 5th
Who has got any news from Andy Murray ? Apparently not the ATP who named Kyle Edmund, now the world number 24, as the new British number one. We can't wait for the Wimbledon winner to heal properly and to see him running around with as much ease as the to peacocks which were spotted close to a supermarket in Allones, France. Naomi Osaka, on her side, is not injured, but is having trouble trying to master a skill : the tweener. « Can someone teach me how to do it properly ? », she recently asked on the social networks. Bingo : Daria Kasatkina decided to teach her how to hit the ball between her legs. For a…mixed result !
Tuesday, March 6th
She. Is. Back. Even if her reunion with tennis only lasted for sixteen points. Having come out of retirement, Marion Bartoli was knocked out in the first round at the Madison Square Garden, during the mini exhibition-tournament called Tie Break Tens, which, as its name indicates, is played in a special format : the first player to score ten points is the winner. And who defeated the Frenchwoman ? Serena Williams, another revenant. « She's thirty-six years old, she has just given birth to a child, she has suffered a blood clot, and spent a year without competing, said Patrick Mouratoglou, the American's coach. She knows that getting back to the top will take some time, but her expectations are as high as usual. There are still three Grand Slam tournaments to be played this season. There will be her three main objectives for the year 2018. (…) I can honestly say that it is the biggest chalenge of her career. » An awakening which is nicer than Kenny Bachman's. This 21 year-old american student, who lives in West Virginia, fell asleep in his Uber after a night of drinking…before waking up 500 kilometers away from his house. He had given the driver the wrong address. Oops.
Intégrer Vidéo https://www.youtube.com/watch?v=GpmUCkLd-r0
Wednesday, March 7th
The bizarre news of the day : in an Indonesian zoo, an orangutan has started smoking after a visitor threw his cigarette butt next to him ! A bad idea. In other news, the debate about the new format of the BNP Paribas Davis Cup is still ongoing. This time, Bernard Giudicelli, the president of the French Tennis Federation, has decide to defend the project : « The thing is that the BNP Paribas Davis Cup in its current format can no longer be backed by the International Federation, because it can no longer be backed by the sponsors (…) The only viable and reliable solution is this one, but everything will be laid down on the table, and the nations will have to decide. » Anyone wants to discredit this declaration ?
Thursday, March 8th
Yes, of course. On Thursday, Pierre-Hugues Herbert put his hand up and decided to criticize his president directly on Twitter : « Bernard please ! No. Finding a solution, we all agree on this matter, but the one which has been submitted isn't a real one ! Money and sponsors are not everything in a competition ! The Davis Cup has got a soul and a history. Don't kill it ! » Tired of this debate, Jo-Wilfried Tsonga chose to publish a video where he reassured his fans on his personal ambitions. His goal ? To completely heal and « get some results in this season which hasn't started in the best of ways. »
Friday, March 9th
404. Or the number of days which have gone since Serena Williams last played in an official match, as she is now back at the BNP Paribas Indian Wells Open. Her result ? A solid win against Zarina Diyas (7-5, 6-3). Not really impressed by that performance, Billie Jean King kept her energy to offer a strange new rule : having men play Grand Slam matches in three sets rather than five. « Everyone is saying that women don't want to play five sets, but I don't want men to play five sets either, she said. It's exhausting for them. You have to favor quality over quantity. » An idea which is as good as the championship of the ugliest sweater, organized in Brittany, France. Marc Darcy and Bridget Jones like this.
Saturday, March 10th
« Completely gutted that I had to withdraw, Indian Wells is one of my favorite tournaments. My elbow simply isn't ready. I've waited for as long as I could, but I'm not at the right level to play. » Nick Kyrgios, who has been out of the courts for more than a week, sounded annoyed. Even more when he learned that 54 cut hands were found in an abandoned bag in Siberia. Quick, on to tomorrow.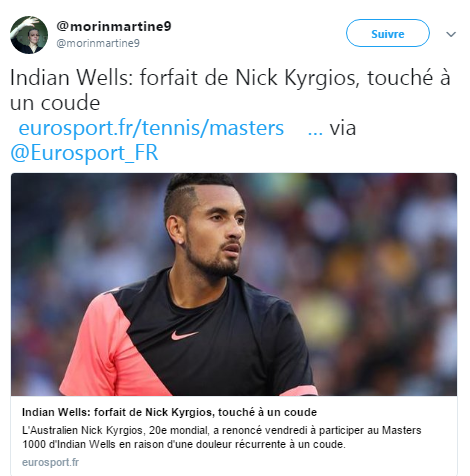 Sunday, March 11th
There are always a few surreal things going on at the BNP Paribas Indian Wells Open. In 2018, Novak Djokovic lost in the first round against Taro Daniel (7-6, 4-6, 6-1), Roger Federer was forced to play his first round match over two days because of the rain (6-3, 7-6 against Federico Delbonis), Fernando Verdasco defeated Grigor Dimitrov in the second round (7-6, 4-6, 6-3), and we found out that the Williams sisters will face each other in the third round. In comparison, the fact that an amputee had to use his amputated member as a pillow in an Indian hospital sound pretty common. Still, it's a weekend to forget.
By Florian Cadu