A week which ended with a BNP Paribas Davis Cup weekend, but also sandwiches which are bad for the environment, road infractions, and with Diego Maradona.
The best of the past week on We Are Tennis by BNP Paribas : every Tuesday, we summarize the tennis news of the past week, and mix them with news of the real world. A week which ended with a BNP Paribas Davis Cup weekend, but also sandwiches which are bad for the environment, road infractions, and with Diego Maradona.
Monday, January 29th

Let's take a look at the ATP ranking to start off the week. After his win at the Australian Open, Roger Federer is getting closer to Rafael Nadal. As for Marin Cilic, the unlucky finalist, his third spot is cold comfort. In the WTA ranking, Caroline Wozniacki is back at the top, six years after leaving the throne, after her triumph in the Grand Slam tournament, while Kristina Mladenovic enters the top 10. But the real information of the day comes from the University of Manchester, where scientists have proven that the carbon footprint of sandwiches, whether they are homemade or ready-made, is more harmful for the environment than driving a car. Thank you, researchers.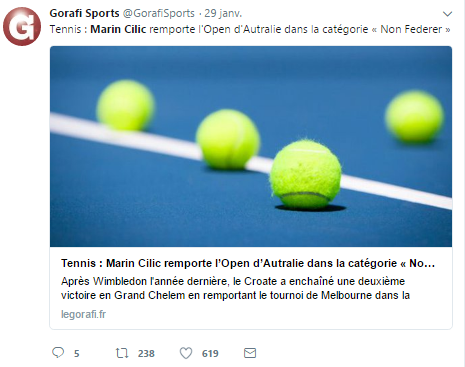 Tuesday, January 30th

« I'm not leaving to go to a club that pays me more. Something that happens a lot in football, for instance. It's nothing like that. In my first spell, I stayed for two years. For my second spell, three years. After that, I can't do it anymore. I have nothing left to say and share. There comes a point where I keep repeating the same things » The French Davis Cup captain Yannick Noah confirmed that the upcoming BNP Paribas Davis Cup will be his last as the leader of the French team. This Tuesday will also be the last day in a car for this woman from Château-Renault, in France, who was arrested for driving while on the phone…The policemen discovered that she had been driving without a licence for almost 50 years ! In other news, the word number 89, Ana Bogdan, defeated the top seed Shuai Peng at the Taipei Open. So many surprises !

Wednesday, January 31st

True rebels never shut up. « I'm not happy with that whole situation with Tennis Australia. Until that clears and a few of the problems come out. », said Bernard Tomic, who directly accused the Tennis Australia institution of corruption in the columns of the Sydney Morning Herald. Still with controversies : a football referee in the Guinean first division decided to leave the field after a stomach ache. Far from all this agitation, Petra Kvitova and Jelena Ostapenko respectively defeated Elena Vesnina and Vera Zvonareva in Saint-Petersburg. Where the weather is always nice. Of course.

Thursday, February 1st

Boris Becker is broke, we already knew that. But now, we've learnt that he has also lost some of his trophies. Trophies which he wanted to sell for a good price. That's why the German is asking for help to find these damn cups. He'll have to wait, however, to eventually ask for Victoria Azarenka's future medals, as she confirmed that she'll start her season at Indian Wells. Or Kristina Maldenovic's, who managed to stop her nightmarish series of fifteen defeats in a row, by defeating Dominika Cibulkova in Saint-Petersburg. Apart from that, Marcelo Rios made waves once again by citing Diego Maradona in front of the press. « As my close friend Diego Armando said, suck yourselves off, because I won't be speaking to anyone », he said to journalists. Class.

Friday, February 2nd

The BNP Paribas Davis Cup is back, and the nice duel between Alexander Zverev and Alex De Minaur (7-5, 4-6, 4-6, 6-3, 7-6) reminded everyone that the competition still has a beautiful future. Even if the match between Richard Gasquet and Robin Haase was momentarily interrupted as one of the ballgirls got injured. No incident like this one happened in Russia, where Mladenovic, Kvitova and Daria Kasaktina destroyed Katerina Siniakova, Ostapenko and Wozniacki. Battles which Erika Augthun Shoolbred couldn't watch, as the American woman was in a state of shock after seeing her hair-drier turn into a flame-thrower when it suddenly caught fire. She was lucky : her hair was fine.
Saturday, February 3rd

Are the Spice Girls, who all met with their manager, going to reunite ? That's the main question in everyone's brain this weekend. Enough to unsettle Gaël Monfils, who chose to put on a pretty strange hairstyle. Not enough to forget about Rios' words which we mentioned earlier : the International Tennis Federation gave the Chilean a 2000 dollars fine. Now back to the courts : Timea Babos qualified for the final in Taiwan after defeating Yafan Wang and Kvitova will face Mladenovic on Sunday in the final at Saint-Petersburg. While hoping that Monfils changes his mind until then.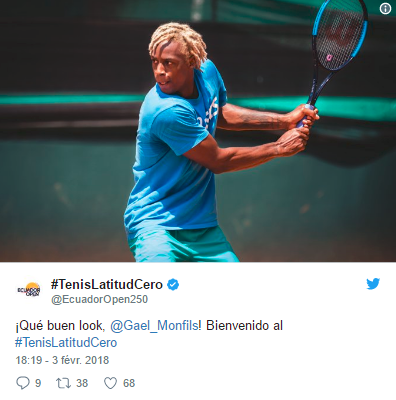 Sunday, February 4th

Babos wins in Taipei, Mladenovic in Saint-Petersburg and…Kei Nishikori in Dallas ! Lacking match-playing time, the Japanese went back to his usual rhythm to win the Challenger tournament. As for the BNP Paribas Davis Cup, the eight qualified countries are Croatia, Belgium, Italy, Spain, Germany, Kazakhstan, the U.S.A and France. France also shined with the last human interest story of the week : a car chase between the police and a tractor going at 21 miles/hour in Loire-Atlantique. Slower than any serve.
By Florian Cadu