A second week of 2018 Australia Open, Roger Federer's twentieth Grand Slam title following his victory in Melbourne and then that's all…
The best of the past week, on and off the courts, day after day, only for the readers of We Are Tennis by BNP Paribas. With Roger Federer's twentieth Grand Slam title following his victory in Melbourne, and then that's all…
Monday, January 22nd
Melbourne, second week : it all went well for Nadal and Federer, but went wrong for Thiem and Djokovic, who was still bother by an elbow injury. The Serb's defeat in three sets was a good opportunity to put his opponent, the relatively unknown South-Korean Chung Hyeon, in the spotlight…In the women's draw, the last Frenchwoman standing, Caroline Garcia, was knocked out by Madison Keys. Far from the courts, Anna Kournikova showed everyone that she is on top form after giving birth, by performing a few dance moves on a boat with her dogs. Nice. Just like this man who found a 5,5 feet-long worm in his stomach after eating sushi.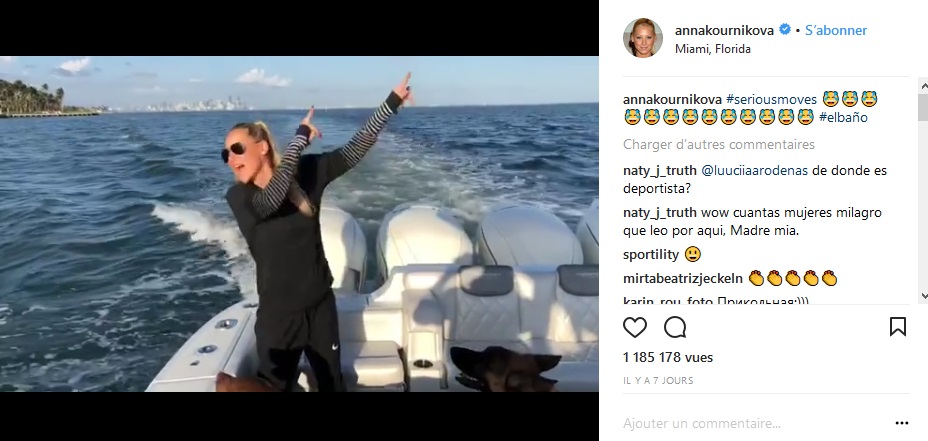 Tuesday, January 23rd
Hi everyone, here's a huge surprise : Kyle Edmund upset all odds by defeating Grigor Dimitrov, who had won the last Masters. In the other quarter-final of the day, Cilic qualified after Nadal abandoned because of an injury. The Spaniard will be out for at least three weeks…In the women's draw, the performance of the day was Elise Mertens', Kim Clijsters' protégée, who easily defeated Elina Svitolina. She joined Wozniacki, Kerber, and Halep in the semi-finals. While the fight is going on strong in Australia, a Russian driver was arrested in France for driving his vehicle while watching a movie and eating foie gras on toasts. Marat Safin ?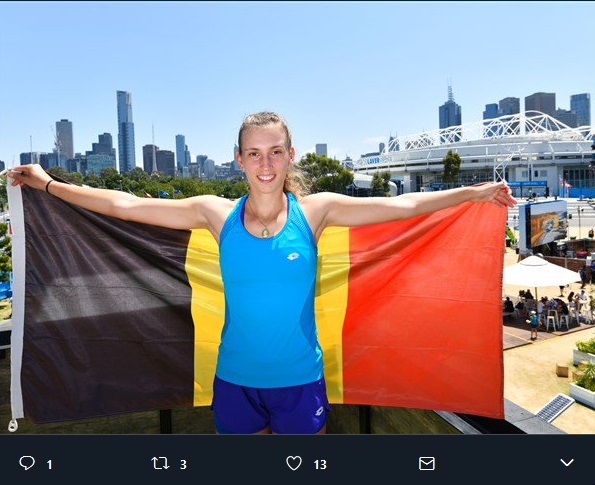 Wednesday, January 24th
In the unexpected quarter final between Chung Hyeon and Tennys Sandgren, the South-Korean's win pleased a lot of people : the American saw his reputation tarnished by old tweets and retweets showing a pretty clear links with the American far-right…The last quarter-final saw Federer carry on his walk in the park against Tomas Berdych, while Boris Becker is looking for five of his Grand Slam trophies, which he's like to get back in order to sell them and clear a big of his debts. Some good news to compensate : Serena Williams will make her official return to competition in the Fed Cup, on February 10th. A new rival for the two players who are at the top of their form right now, Simona Halep and Caroline Wozniacki, who have both qualified for the final in Melbourne.
Thursday, January 25th
Three no-shows at out-of-competition drug tests and here is Alizée Cornet being suspended from playing in the Fed Cup by the French Tennis federation… The Frenchwoman said it was a big misunderstanding and that she had always been honest. Still with doping : a jury at a camel beauty contest in Saudi Arabia has decided to disqualify twelve of them for…botox injections ! Meanwhile, Marin Cilic is the first player to qualify for the final in Melbourne after defeating the surprise guest, Kyle Edmund.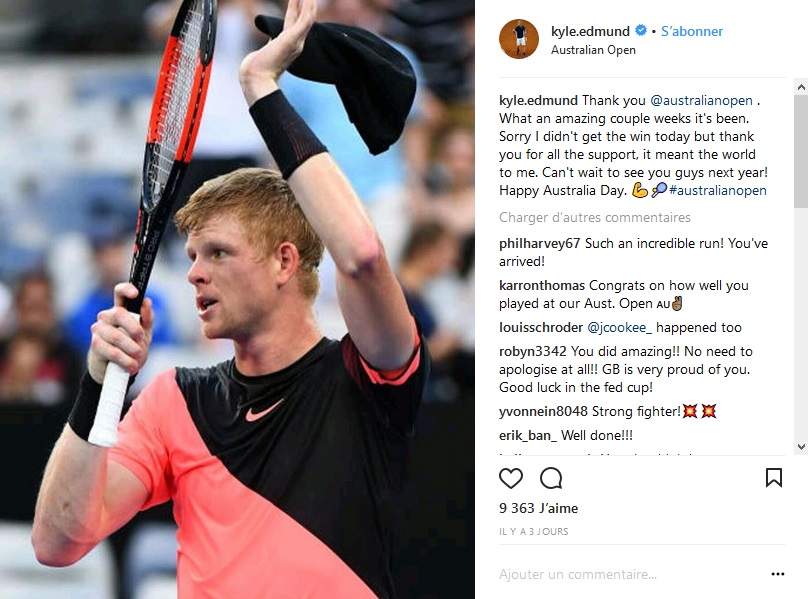 Friday, January 26th
A quiet day in Melbourne, with only one match programmed, a semi-final between Federer and Chung Hyeon, which was incredibly shortened after the South-Korean decided to withdraw from the tournament. The reason ? A huge blister on his foot, as this photo proves…In the women's doubles, Kristina Mladenovic is back after winning the tournament with her friend Timea Babos, against the Russian pair made of Makarova and Vesnina. In France, however, worrying signs indicating a near end of the world are starting to appear with fights in supermarkets for some discounted chocolate spread, and dozens of baboons escaping from a zoo in Vincennes. Can we panic now ?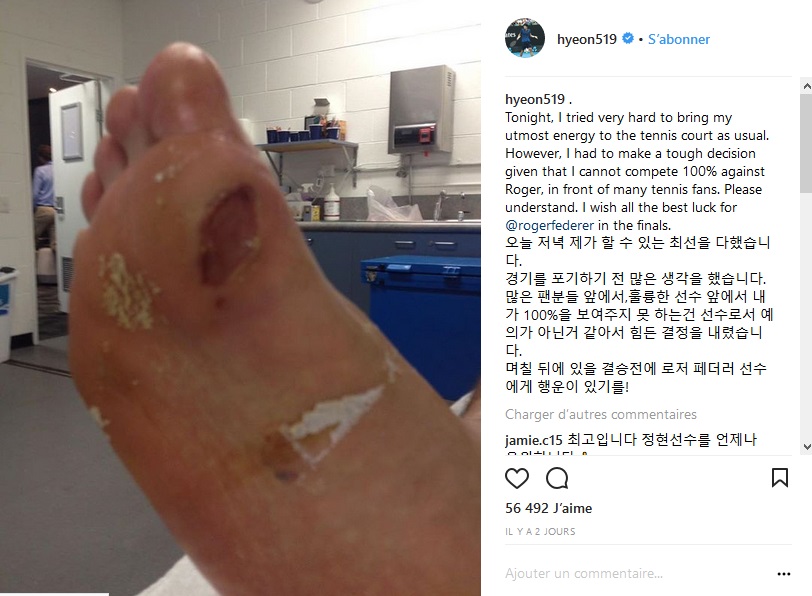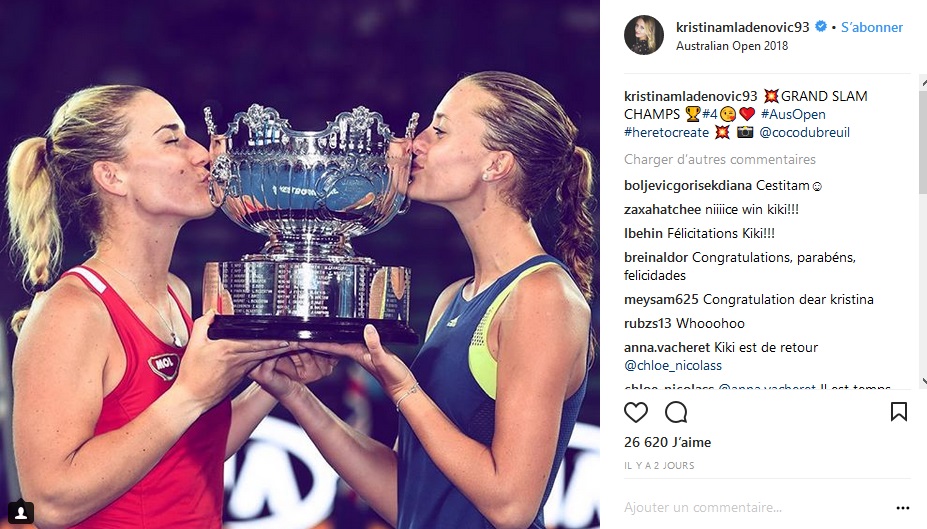 Saturday, January 27th
The long-expected final between Caroline Wozniacki and Smona Halep held all its promises : in three very disputed sets, the Dane killed two birds with one stone by winning her first Grand Slam tournament, and taking the world number 1 spot back from the hands of her Romanian rival. Serena Williams congratulated the new queen of women's tennis, while Halep ended up being admitted to hospital for dehydration. In the rest of the news, Paris is almost under water, Afghanistan suffered another string of deadly attacks and an incredible rescue mission was organized in Pakistan to save a French mountain-climber and her Polish companion, who were in trouble while climbing down an 8000m-high mountain.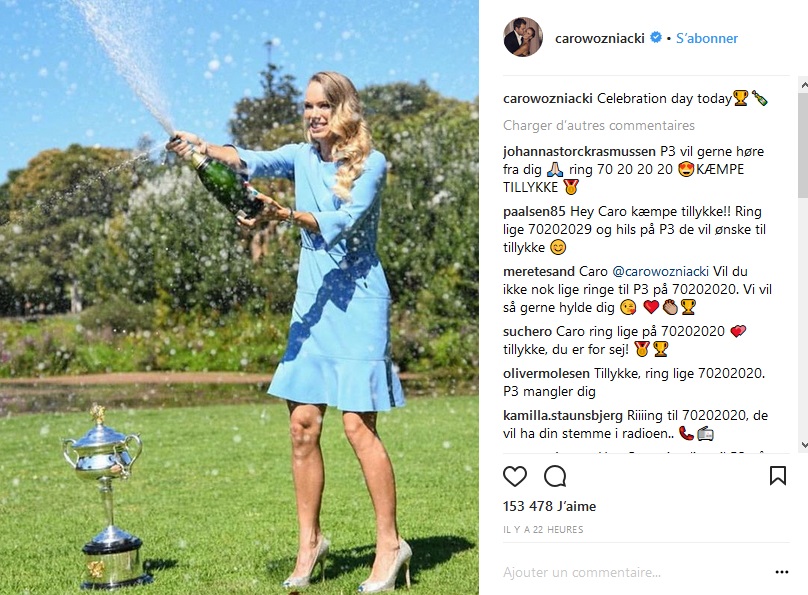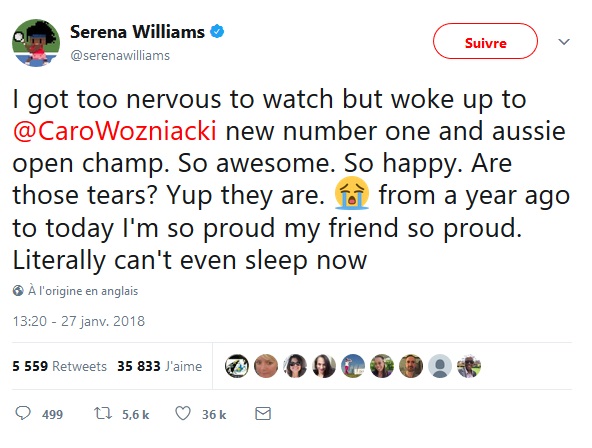 Sunday, January 28th
First, the epilogue of the rescue mission in Pakistan : the Frenchwoman Elisabeth Revol was saved, unlike her Polish partner, Tomek Mackiewicz, who was stuck in the mountain at more than 7000m high, and who couldn't be saved. RIP. Now back to tennis, with an incredible feat, obviously : Roger Federer's win in the final in Melbourne. The Swiss has now won 20 Grand Slam titles, including 6 in Melbourne. Being the title-holder before the final, he got to keep his trophy, something that hadn't happened to him since he won the US Open in 2007 and 2008. He is unbreakable, and yet, Marin Cilic can have some regrets, as he battled through 5 sets and had some opportunities to take hold of the match… Anyway, we won't see Melbourne until next year. Next stop : the first round of the BNP Paribas Davis Cup next weekend.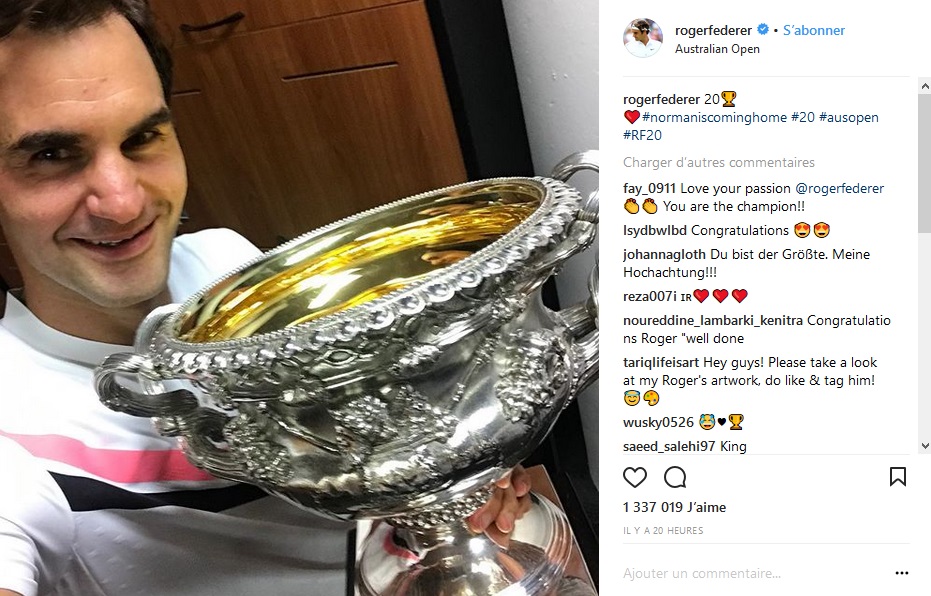 By Régis Delanoë