A week of tennis, flatulences, courgettes and a Rubik's Cube world record.
The best of the past week, on and off the courts, day after day, only for the reader of We Are Tennis by BNP Paribas. With an unlikely final at the Paris-Bercy Masters, flatulences, courgettes, and a Rubik's Cube world record.
Monday, October 30th

First, a huge round of applause for this young Korean who just broke the Rubik's Cube world record in 4,59 seconds. That's a lot shorter than Julien Benneteau's career, who confirmed his upcoming retirement in 2018, and who was therefore playing his last Paris-Bercy Masters. Along with, among others, Rafael Nadal, who mentioned the Catalan independence once again : « It's a sad moment for Spain but I believe in my country and its citizens, and all that I can wish for today is that we manage to walk out of that situation. I feel close to the people in Catalonia, and I think that's the case in a big majority of the country (…). I want things to get better, and not see my country divided. » If only political debates could be this simple…
Tuesday, October 31st
« We're dealing with an aging generation. At 32, you don't recover as well as when you're twenty-two. In the end, all these injuries are pretty logical. » These words are from Guy Forget, the director of the Paris-Bercy Masters, who's regretting the numerous withdrawals in his tournaments. Roger Federer, Andy Murray, Novak Djokovic, Milos Raonic, Gaël Monfils…None of these players was able to make it. Maybe some of them got stuck in the traffic at the toll booth of the A7 motorway, in the Drôme region, France, like many motorists during the night between Saturday and Sunday, because of the time change…the booths weren't functioning between two and three a.m ! Richard Gasquet, on his side, was there, but was disturbed by a putrid smell in his post-match press conference after his win against Benoit Paire (6-3, 4-6, 6-4). « It smells horrible, doesn't it ? Did someone… ? », he asked, making his audience laugh. Let him rest assured…
Wednesday, November 1st

…As British researchers are formal : according to their latest studies, breathing gaz coming from a fart is good for your health. Nobody, except Nadal - who managed to keep his world number 1 spot until the end of the year after defeating Hyeon Chung (7-5, 6-3), resisted after this announcement : Kristina Mladenovic lost for the eleventh time in a row against Magdalena Rybarikova (7-5, 1-6, 7-6), Victoria Azarenka announced her withdrawal from the Fed Cup final and Alexander Zverev lost in the first round at Bercy after bothering the umpire by unlacing his shoes during a change of ends. Even firemen are going mad, as they have saved an inflatable doll from « drowning » in the Canal du Midi. Scientific discoveries are not always supposed to be told.
Thursday, November 2nd

A huge cavity has been discovered in the pyramid of Cheops, Roger Federer has broke a new record of prize money earned (more than 109 million dollars), Lucie Hradecka has teared her ACL, and has to stop playing tennis for six months, and Patrice Evra did an « Eric Cantona » by assaulting a football fan. These were the breaking news of this Thursday.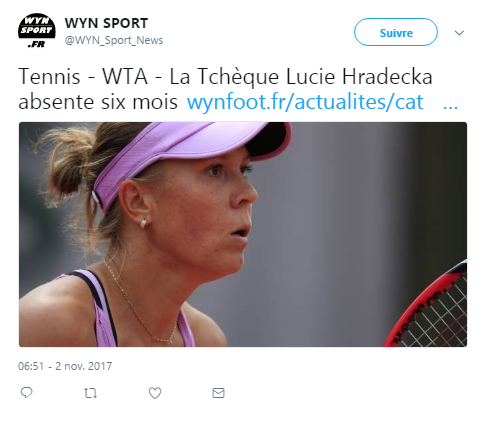 Friday, November 3rd

If France's biggest courgette has been found at Mayet-de-Montagne, the country is not going well : Nadal also had to withdraw in the middle of the Paris-Bercy Masters. « He's incredibly humble, he must have had apologized at least ten times. He said to me 'I'm sorry, I'm sorry', like a child who just made a mistake. I answered that I was sorry for him. I thank him, keeping in mind all the withdrawals we've had to face, for keeping his word », Forget reacted, despite the disappointment. A feeling which Filip Krajinovic, who made the most of this withdrawal to reach the semi-finals, doesn't know. He went through the qualifying rounds and had only won a single match on the ATP circuit in 2007, and one match in a Masters 1000 since the start of his career. « It's unreal », he said. We agree.
Saturday, November 4th

And it's not over for Krajinovic. The Serb, the world number 77, created another huge sensation by qualifying for the final after defeating the world number 9, John Isner (6-4, 6-7, 7-6). Nothing much compared to Jessica Allen's story, as the 31 year old American told the New York Post, that she became pregnant…while she was already pregnant. Is there anything crazier ?
Sunday, November 5th

No, answers Krajinovic. In one of the « weakest » finals if you add the tow player's rankings (the last time the result was worst was 17 years ago with a final between Marat Savin and Harel Levy), the outsider lost against Jack Sock (5-7, 6-4, 6-1), who took the opportunity to qualify for the London Masters with the other nine best players in the world. But because something crazy happens everyday, let's not forget to mention that a lawyer blamed a cocktail for having lead her client to hit a bouncer in the eye outside a nightclub. Good enough ?
By Florian Cadu