A week of tennis, Sunday maths and an exaggerated sleep.
The best of the past week, on and off the courts, days after day, only for the readers of We Are Tennis by BNP Paribas. With the victory of a Juan Martin Del Potro at the top of his form, some Sunday maths, and some exaggerated sleep.
Monday, October 16th
The big news of the day : Japan and the USA have decided to face each other in a giant robot fight, and the FDA (Food and Drug Administration) had to remind everyone that love couldn't be considered an ingredient with all due respect to this bakery which had named it in the list of ingredients of one of their granolas. The most beautiful feeling in the world can however be found in Severin Lüthi's words. « He impresses me and surprises me often, but I know in advance that he's capable of surprising me. I'm ready to be surprised, says Roger Federer's coach in L'Equipe, after he was asked to comment his protégé's triumph in the final of the Shanghai Masters 1000 against Rafael Nadal. But yes, I'm often surprised to see what he's still capable of producing. It's incredible. » Too much love for the Swiss, who once again showed his affection for his Spanish rival. « I'm less fearful of facing Rafa than what I was in the past. It doesn't mean that I was horribly scared but I had lost many times against him, often on clay. » Now, it's his turn to make advances to people.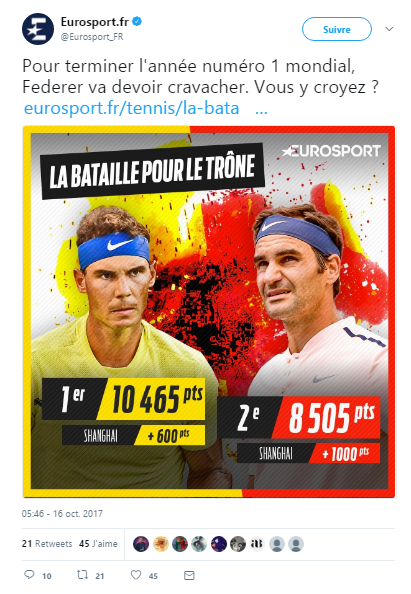 Tuesday, October 17th
Nadal won't be at the Basel Open next week. In one month, however, the BNP Paribas Davis Cup final will see France take on Belgium (from November 24th to November 26th) but the duel has already started in the media. « In men's tennis, they have talented, technically gifted players, who can perform on all surfaces », says Sébastien Grosjean, speaking about the Belgian players. Before developing : « It's practically a french-like school of thought. » His conclusion ? « The French team is the favorite (…) It has many advantages : great substitutes, the doubles, the fact of playing at home… » French humility.
Wednesday, October 18th
Then answer ? It was given by Johan Van Herck, and addressed to Yannick Noah, who had implied that Australia would defeat the Belgian in the semi-finals. « We didn't like that. I hope that he'll underestimate us again in November, said the team captain. I had the experience during the semi-final with Hewitt. For them, victory is all that counts. Hewitt had done all he could to unsettle us. They do all they can to win. It's sometimes borderline, but that's the highest level. » Hearing this battle of words, Milos Raonic decided to imitate Nadal and put an end to his season to get comfy in his couch with his pile of magazines. Johanna Konta, on her side, already knew that she wouldn't be playing again until 2018, and decided to fire her coach Wim Fissette to relax. In the rest of the world, an American man found an old lottery ticket which made him win twenty million euros while a French man played his social security number at the lottery and won six million euros. Enough to buy some quality tickets for the BNP Paribas Davis Cup final.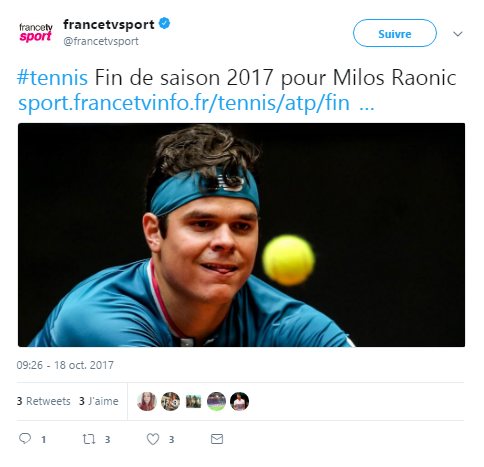 Thursday, October 19th
More and more injured players who want to watch the BNP Paribas Davis Cup final : Thomas Berdych put an end to his season, Nick Kyrgios as well, and Gael Monfils, who withdrew from the Anvers Open, also decided to skip the Vienna Open. Even less luck for the French actress Danielle Darieux, who passed away at the age of 100. As for unusual news, a couple was sentenced to a mandatory jail term for kissing in public in Turkey, and Kristina Mladenovic is back in the world to 10 even if she has just lost her…tenth match in a row ! Is this world serious ?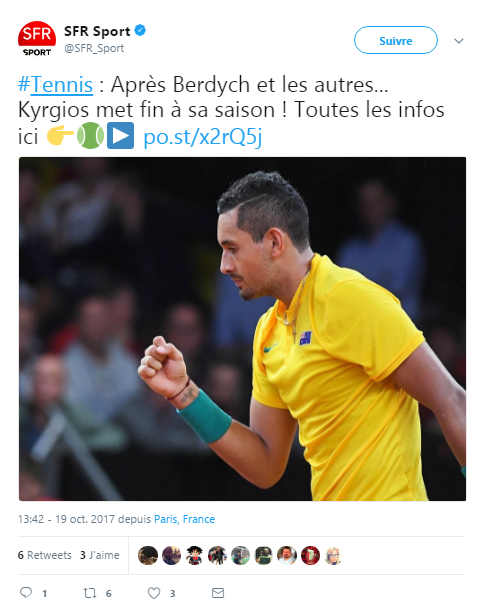 Friday, October 20th
On this Friday, October 20th, the WTA had the honor of rewarding Misses Garbine Muguruza with the prize of the female player of the year ! Her reaction ? « It's a dream come true. Becoming the world number one is the wish I made at every one of my birthdays when I had to blow out the candles. I had to work very hard to get here. And show a lot of passion and love for tennis. There were a lot of difficult moments, but also a lot of wonderful ones. » The Spaniard can now enjoy some well-deserved rest. But without reproducing the experience of this 7-year old American kid who slept for eleven days straight after partying at his uncle's wedding. Was there love in the list of ingredients of his drinks ?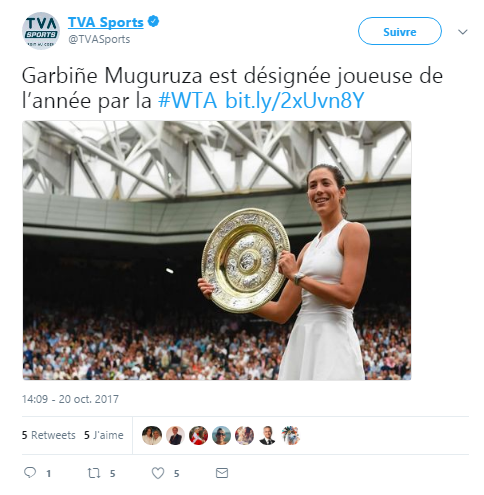 Saturday, October 21st
Everyone gets his moment of glory. After Muguruza, it was Julia Georges' turn, as she defeated Daria Kasatkina in the final of the Moscow Open(6-1, 6-2)… the German hadn't felt this feeling since 2011. Same moment of joy for Carina Witthoeft who defeated Monica Puig (6-3, 7-5) in Luxembourg. Trophies which Andy Murray would like to win again, as he hasn't played since Wimbledon, last July. And judging by his form during training, it shouldn't be long since we see him again.
Sunday, Otober 22nd
« Tennis is also about maths. » Jo-Wilfried Tsonga has really understood the words of his fellow countrywoman Caroline Garcia, the first french woman to qualify for the prestigious Masters. Thanks to his win against Diego Schwartzman in Anvers (6-3, 7-5), the Frenchman takes the fifteenth spot at the ATP ranking. In Stockholm, Juan Martin Del Potro defeated Grigor Dimitrov (6-4, 6-2) to win his first title of the season, while in Moscow, Damir Dzumhur defeated Ricardas Berankis (6-2, 1-6, 6-4). You don't feel like counting today and you're regretting your Saturday night out ? Well, you should know that drinking alcohol helps to speak a foreign language, according to a scientific study showed in Time magazine. Bonne chance !
By Florian Cadu