A week of tennis but also thefts, withdrawals, and daring hiding places.
The best of the past week, on and off the courts, only for the readers of We Are Tennis by BNP Paribas. A week of tennis, of course, but also thefts, withdrawals, and daring hiding places.
Monday, September 25th

Eight consecutive defeats. Kristina Mladenovic's nightmarish series carries on after her defeat in the first round of the Wuhan Open. But the French is still probably suffering much less than this 45 year-old Sri Lankan who hid one kilogram of gold in his rectum, as she remains the world number 15. On his side, Rafael Nadal hasn't won any ATP points despite winning the Laver Cup, but took the time to praise the competition which was organized by Roger Federer : « I really enjoyed this week. For me, this was an unforgettable weekend. I've shared all these emotions and moments with all these incredible players by my side (…) Congratulations to Roger and all his team for this excellent idea (…) I hope that this competition will carry on existing, and let's hope that the young up and coming players will take part in it like we did this weekend. » Because the future doesn't completely lie in their hands.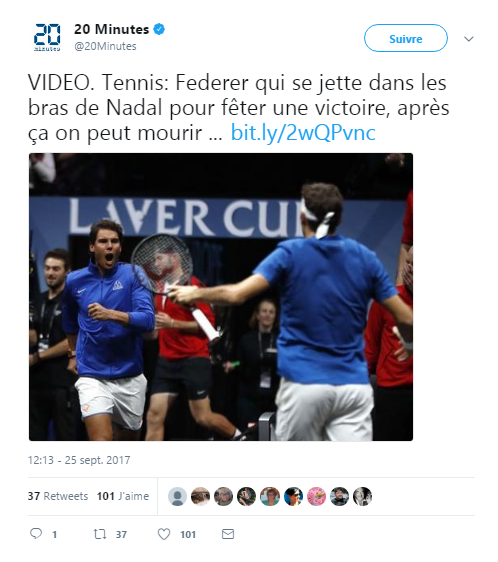 Tuesday, September 26th

News from Novak Djokovic ? The Serb will still be coached by Andre Agassi next season, but he's looking for a second coach. News from Serena Williams ? The American celebrated her 36th birthday on this Tuesday, September 26th but her return to competition is still not planned. News from Agnieszka Radwańska ? The Pole has won the 500th match of her career against Julia Görges (7-5, 7-5), but is still looking to win her first title of the season. News from Theresa Doyle ? The 65 year-old Englishwoman, who's hated all over Slough, close to London, has been attending unknown people's funerals for 14 years. Just to enjoy the buffets. Cold.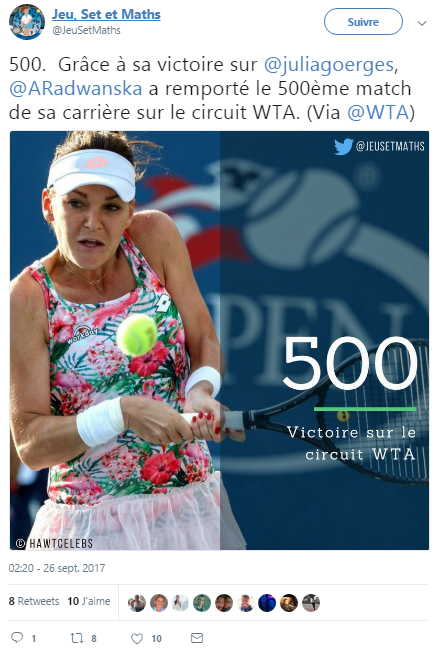 Wednesday, September 27th

News from Stan Wawrinka ? The Swiss has put his crutches away, but it will be some time before he comes back on the court, after his knee operation. News from Alizé Cornet ? The Frenchwoman implied that she needed one more person in her staff, but she qualified for the quarter-finals in Wuhan after winning against Varvara Lepchenko (3-6, 6-4, 6-2). News from Lucas Cavar ? This student at Indiana University has been found in a cave after having gone missing for three days. He had been forgotten there during a speleology field trip, but had to lick the walls to survive. They say no news is good news. Really ?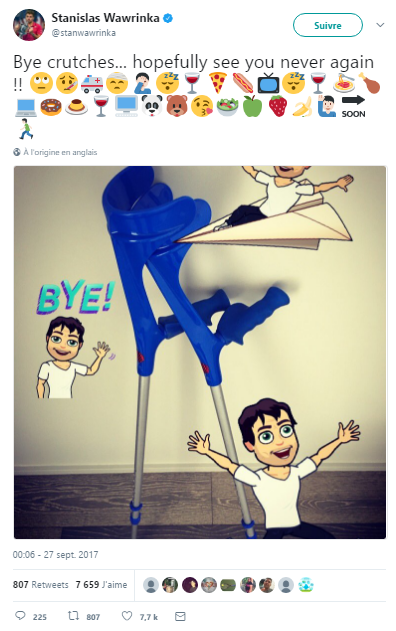 Thursday, September 28th

« I love the fact that people come to watch tennis and that the stadiums are packed. It would be great to have one in women's tennis. » At first glance, Garbine Muguruza's opinion on the Laver Cup seems pretty positive. But wait for the rest : « But it could be hard to find when to plan it. Whatever you try to do with our calendar, it will be very difficult. » Did Caroline Wozniacki find the solution ? Not at all. « If a women's competition was created, everyone would have to be united to play during that week, and not leave to play another tournament. So I'm not sure that would work », says the ex-world number 1. Case closed.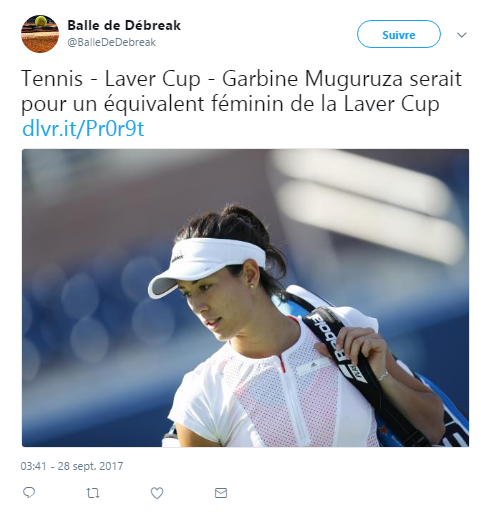 Friday, September 29th

Toni Nadal is practically sure of it : his protégé will win more Grand Slam tournaments than Roger Federer. « I don't think Federer can win another major tournament, said the Spaniard. He looks eternal, but I think that Rafa can overtake him. » To steal his record, the lefty will have to be more inspired than this Australian burglar, who got trapped in the shop that he was robbing. Closer to the courts, tennis fans saw the younger generation take power in women's tennis : the four semi-finalists in Wuhan are all under 24 ! The future lies in their hands.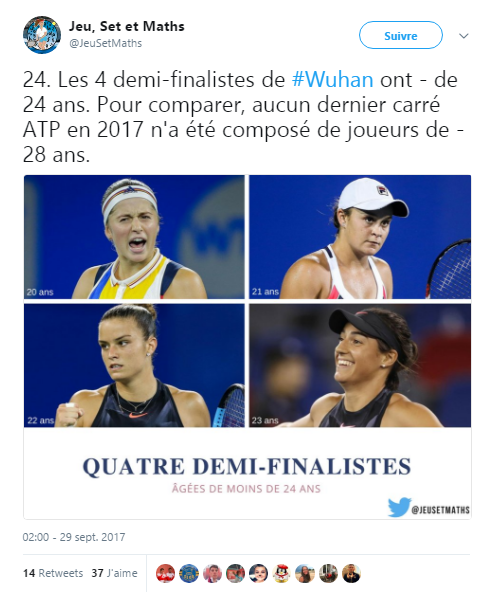 Saturday, September 30th

The weekend and the weather both announced sinuous paths. In Chengdu, Marcos Baghdatis was forced to finish his quarter final before playing the semi-final in the same day, because of the rain, while a driver crashed into eleven wild boars on a road in Saône-et-Loire, France, and a bus driver abandoned his passagers on the road after getting lost during fifteen minutes. A easier road for Kateryna Bondarenko and Caroline Garcia, who respectively won the Tashkent tournament (6-4, 6-4 against Timea Babos) and the Wuhan Open (6-7, 7-6, 6-2 against Ashleigh Barty ; first Masters 1000 won by the Frenchwoman). After the storm comes the blue sky.
Sunday, October 1st

There's nothing better than celebrating the start of the month with a trophy. David Goffin, who hadn't won a tournament in three years, has understood that and defeated Alexandr Dolgopolov in Shenzhen (6-4, 6-7, 6-3). Same thing for Denis Istomin who made the most of Marcos Baghdatis withdrawal from the final to pose with his trophy in Chengdu. However it was the time to take action for Kristina Mladenovic : after nine consecutive defeats, the player decided to take a break. An opportunity to heal her knee and get her confidence back. She can remain positive : foggy October and rainy November calls for good December.
By Florian Cadu