A week made of Davis Cup by BNP Paribas, love stories, a haunted flat and rebellions.
The best of the past week, on and off the courts, day after day, only for the readers of We Are Tennis by BNP Paribas. With a week made of Davis Cup, love stories, a haunted flat and rebellions.
Monday, September 11th

Let's start the week off by doing the math : after earning 2000 points after winning the US Open, Rafael Nadal is way ahead of his rivals at the ATP Ranking. He's miles ahead from Kevin Anderson, his latest rival in the final of the tournament, who gained nine spots and is now ranked at the tenth spot ; he's also in front of Roger Federer, his main rival. He's also very far from the Frenchmen, with no French player ranked among the Top 15 for the first time since 2007. The French however arrived in Lille to make things better as they play the BNP Paribas Davis Cup semi-final. To qualify for the final, they'll have to show the same determination than this young woman from Texas, who was pulled over by the police, and who managed to take off her cuffs, before stealing the police car. And the same mischief than this man from New-York who buried a bottle of liquor in the place where a festival took place three weeks later. It's always about anticipating.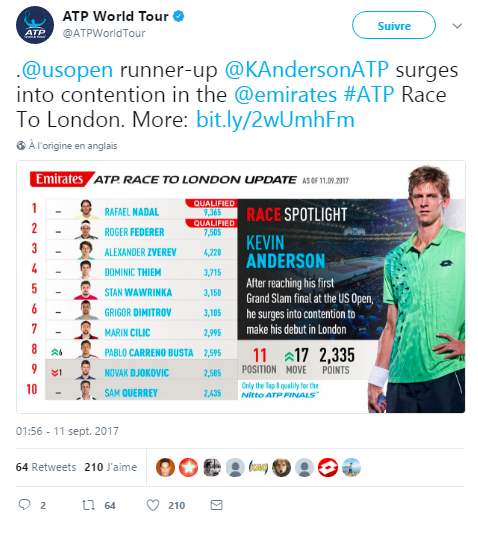 Tuesday, September, 12th

A day of protest marches on this September 12th : while a naked French anti-employment law activist starts to sing a song in front of the French riot police, Nadal takes sides against the Catalan independence. « I can't imagine Spain without Catalonia. I wouldn't like to see that, he said in El Mundo. I really believe that we must make an effort to find a common ground because we are stronger together than divided. Spain is better with Catalonia and Catalonia is better with Spain. » On his side, Yannick Noah prefers to support his own player, who were demolished in the press by Henri Leconte a few days before. « It's wrong in the form and substance, answered the French captain in la Voix du Nord. Nowadays, there are social networks, the bashing, being mean is popular, but it's not very helpful (…). All of a sudden, a week before the match, he says this, it's not the right time. He's not very well placed to say such things. I think we'll make t-shirts with melons printed on them. » Kimiko Date, on her side, preferred to quit tennis after announcing her retirement. Her last result ? A 6-0, 6-0 defeat. Any comment, Henri ?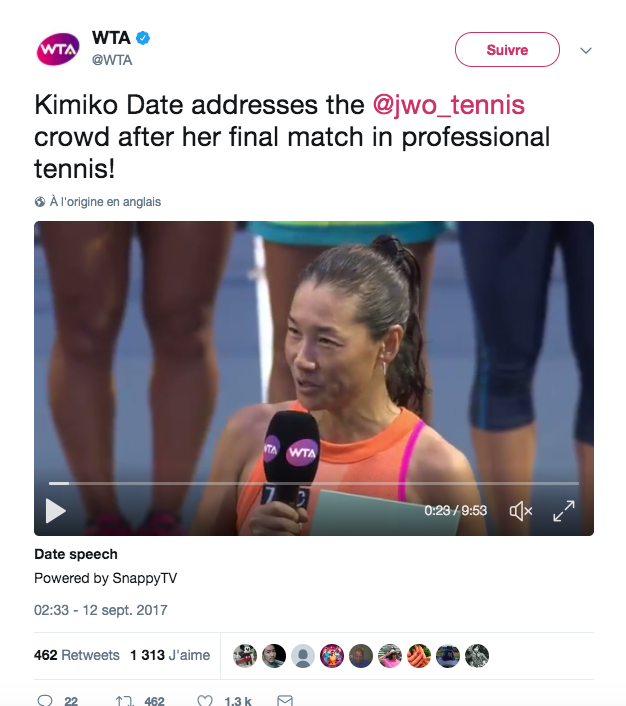 Wednesday, September, 13th
Kristina Mladenovic, the top seed. Samantha Stosur, seeded at the fifth spot. And Naomi Osaka, the seed number 6. The podium of the Tokyo Open ? No, only three favorites being knocked out in the first round of the competition. Enough to think that the three spent the night being terrified by Adam Elis' live-tweet, as the New-Yorker filmed his haunted flat live on the internet. Meanwhile, Serena Williams decides to forget about sports, and gave news of her daughter. « Welcome to this world, Alexis Olympia Ohanian Jr. Born on September 1st, 2017. Weight : 3,11 kg. Grand Slam title : 1. »
Thursday, September 14th

« Djokovic isn't here, but Tsonga, Pouille, Mahut and Herbert will fight for this shirt. We're really hope that this will be a festive weekend. ». Lucas Pouille seems to be really up for this weekend of BNP Paribas Davis Cup. However, he didn't say a word about Richard Gasquet, who hasn't been selected and who's dragging his spleen at the Szczecin Challenger tournament. Speaking of spleen : Conchita Martinez has been fired from her job. She was the captain of the Spanish teams since 2015. Maybe the two sides will find each other again, like these two Congolese colleagues in Tours, France, who found out that they were brothers despite knowing each other. Fate, after all…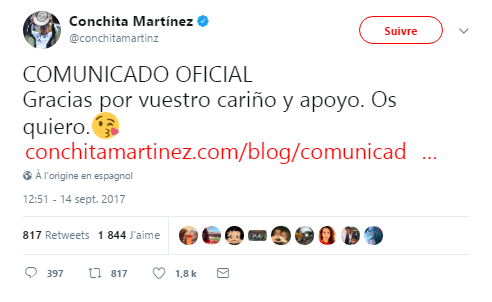 Friday, September 15th

The BNP Paribas Davis Cup is back ! In the duel between Australia and Belgium, Nick Kyrgios equalized for Australia after having been two sets down against Steve Darcis, and having seen his fellow countryman John Millman being defeated by David Goffin. As for France-Serbia, Tsonga looked the part during his win against Laslo Djere. Which wasn't the case for Pouille, who was stunned by Dusan Lajovic. But bad news can sometimes call for good news. The proof with this car driver who was suspended from driving before sending the Morlaix (Brittany) Police unit a thanking letter. The reason ? He found love thanks to a carshare. In other news, Gasquet qualified for the semi-finals of his Challenger tournament. Just like the French team.
Saturday, September 16th

Davis Cup, day 2. Australia takes the lead thanks to a win in the doubles. The same for France. Gasquet ? Already qualified for the final of his Challenger. But the real big news of the weekend is the controversy surrounding Guilherme Clezar. Relatively unknown on the circuit, this 24-year old Brazilian (the world number 244, no ATP victories) is accused of having produced a racist gesture by mimicking Asian eyes, implying that the umpire had a troubled vision. The consequences : a 1500 dollar fine and apologies. « I'd like to underline that it was never my intention to hurt, harm or to be racist towards Asian people in any way. Even if it wasn't my intention to harm, I realize that this gesture doesn't mach an attitude based on respect and I'd like to apologize. » Surely not enough to become popular.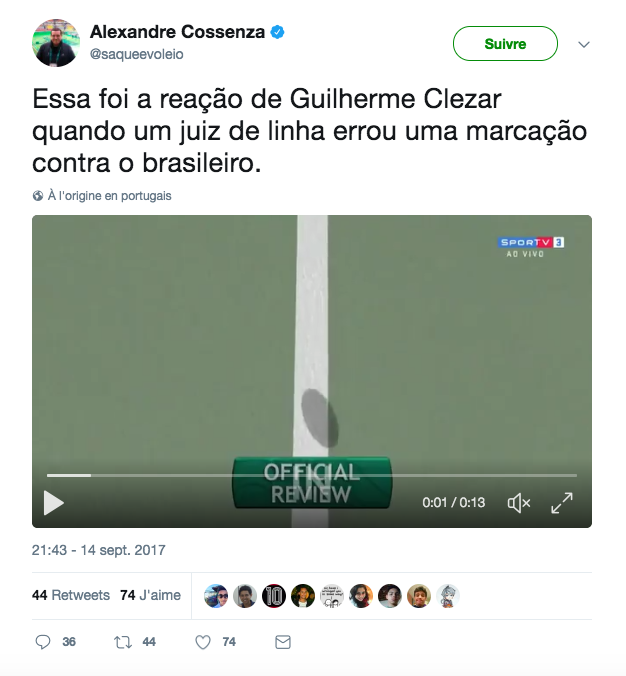 Sunday, September 17th

Belgium is qualified for the final of the BNP Paribas Davis Cup ! Thanks to Goffin and Darcis who respectively defeated Kyrgios and Thompson. France is qualified for the Davis Cup final ! Thanks to Tsonga, who won the decisive point against Lajovic. Gasquet won his final ! Thanks to the French team for leaving him alone to win this title ! Zarina Diyas has won her first trophy ! Thanks to the favorites who didn't look the part in Tokyo ! Frank Giaccio, eleven, has seen his dream come true ! Thanks to Donald Trump, who allowed him to mow the lawn of the White House. Thank you, life, and see you next week !
By Florian Cadu