A week of US Open, of kinky handcuffs, of drug-dealing pigeons with a Peugeot 104.
The best of the past week, on and off the courts, just for the readers of We Are Tennis by BNP Paribas. A week of US Open, of kinky handcuffs, of drug-dealing pigeons with a Peugeot 104.
Monday, August 28th

Stan Wawrinka, Andy Murray, Novak Djokovic, Milos Raonic, Kei Nishikori. Here's the list of the great absents, who were maybe gone to the huge meeting of bobble beanie wearers in Maine-et-Loire, France, where 1058 people had gathered - a world record. However, Benoit Paire refused to acknowledge than Roger Federer and Rafael Nadal were the huge favorites of the tournament. « I'm not sure that they will both reach the semi-finals because I can see a lot of surprises in this tournament, and that could start in the first rounds (…) I really believe that we won't see Roger-Rafa in the semis », said the Frenchman in Tennis Actu. Place your bets.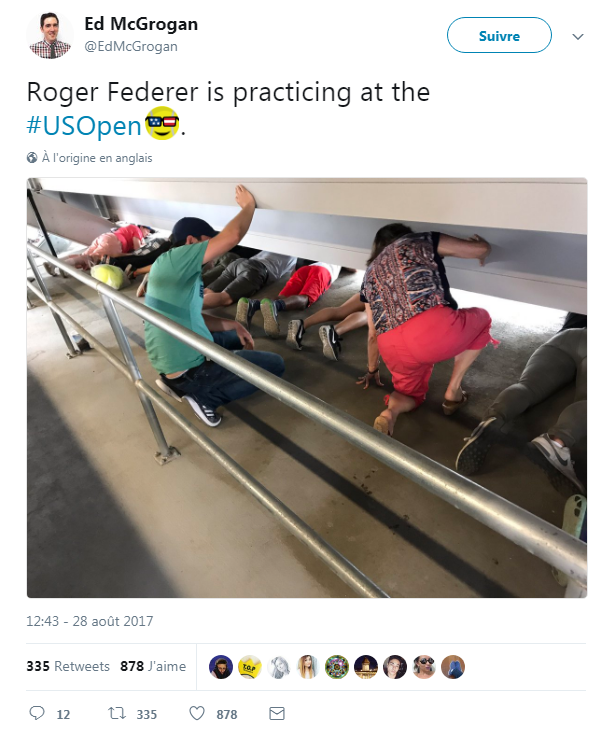 Tuesday, August 29th

The queen of the day ? Maria Sharapova, who shone for her come-back in a Grand Slam tournament. Wearing a black outfit with crystals, the Russian defeated the world number two, Simona Halep (6-4, 4-6, 6-3). In the meantime, Angelique Kerber, the title holder ranked number 6 at the ATP, crumbled and was defeated by Naomi Osaka, the world number 45 (6-3, 6-1). Thankfully, a company based in London has found the solution to get over the disappointment : by creating a « Hangover day off » in case you're having a rough day. By the way, Federer had to battle hard to defeat Frances Tiafoe (4-6, 6-2, 6-1, 1-6, 6-4). What if Paire was right ?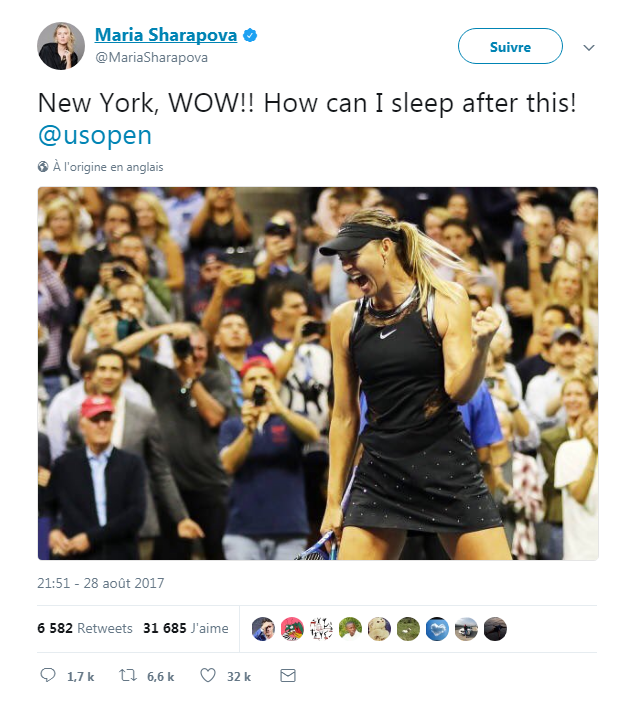 Wednesday, August 30th
We said goodbye to Nick Kyrgios, whose shoulder and nerves let him down against John Millman (6-3, 1-6, 6-4, 6-1). Goodbye to Fabio Fognini, who was defeated by Stefano Travaglia, the world number 145 (6-4, 7-6, 3-6, 6-0). So long, Pablo Cuevas, who lost against Damir Dzumhur (7-5, 7-6, 6-1). Ciao Richard Gasquet, who wasn't on top form and couldn't do much against Leonardo Mayer (3-6, 6-2, 6-4, 6-2). So many of the seeded players have fallen. Another surprise ? In France, the airport of Nantes was looking for the owner of kinky handcuffs, which were lost there. Just like the outsiders of the US Open.
Thursday, August 31st

"I knew he was a cry baby. All he does is cry. From the start of the match, he looks at his team, he cries, he complains (…) I wanted to smash my racquet over his head. I don't think he showed sportsmanship. There are cretins in every sports, he's certainly part of them. » Bam ! The missile was shot by Vincent Millot and aimed at Santiago Giraldo who defeated him after a long battle (6-1, 6-0, 4-6, 4-6, 6-4). There were less hard feelings between them but Alexander Zverev lost against Borna Coric (3-6, 7-5, 7-6, 7-6). The same went for Jo-Wilfried Tsonga, who was destroyed by Denis Shapovalov (6-4, 6-4, 7-6), for Tomas Berdych who was knocked out by Alexandr Dolgopolov (3-6, 6-1, 7-6, 6-2) and for Caroline Wozniacki, who was defeated by Ekaterina Makarova (6-2, 6-7, 6-1). Nicolas Mahut, on his side, won his second match in a row in five sets after going through the qualifying rounds. How does he hold on ? Thanks to a message left by his six-year old son on his phone : « Hi dad, I'd like you to follow my advice. Run up to the net in the important moments, use a serve and volley. And be strong on your backhands to win the match. Big kiss. » Meanwhile, Shelby Rodgers won the longest women's match ever played in the American tournament (3h35). Almost as never-ending as this owner of a Peugeot 104, who found his lost vehicle in a pond, 38 years later. Never lose hope.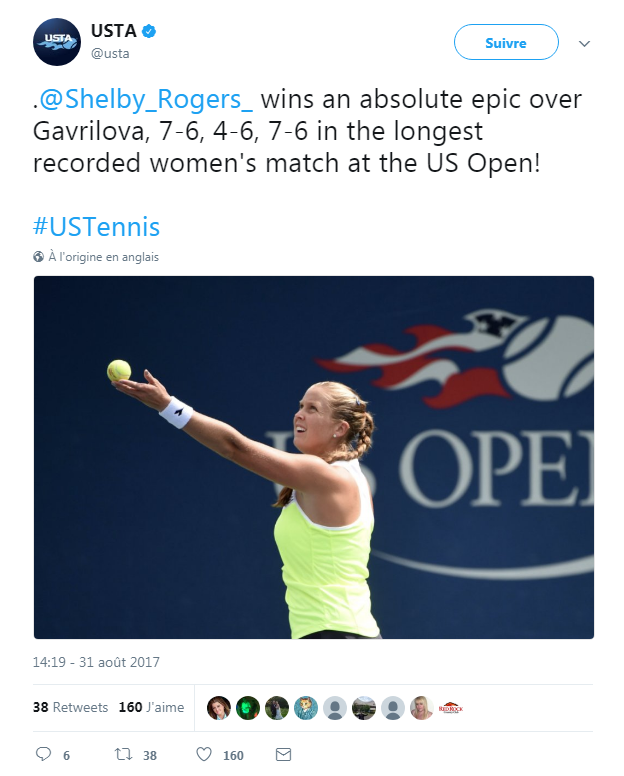 Friday, September 1st
The number of the day : 35, like Paolo Lorenzi's age, as he qualified for the fourth round of a major tournament for the first time in his career. As for Marin Cilic, who lost against Diego Schwartzman (4-6, 7-5, 7-5, 6-4), he can console himself with the great news of the day : Serena Williams has become the mother of a baby girl ! By the way, Federer, who started a Grand Slam with two matches played in five sets for the first time of his rich career, had to battle really hard to defeat Mikhail Youzhny (6-1, 6-7, 4-6, 6-4, 6-2). And what if Paire was right ?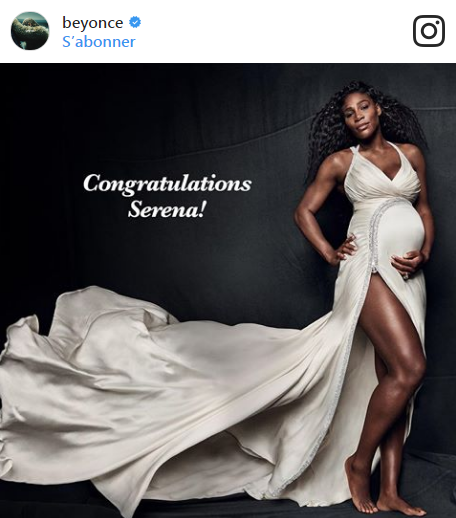 Saturday, September 2nd

In Judo, the Frenchman Teddy Riner confirmed his world supremacy by winning a ninth world championship in a row. Another fight took place with Wozniacki and Sharapova putting on their kimonos. « Setting up a programme with the seed number 5 playing on the court number 5 after 11 p.m is unacceptable, said the first, who implied the Russian was favored. When you look at the programming on the Central court, I completely understand the commercial aspect, but seeing someone coming back from a doping suspension playing all her matches on that court, this I find questionable. » « The only thing I care about is being in the fourth round, and I don't think she's there », answered the second. Ippon.
Sunday, September, 3rd

Famous babies, episode 2 : Far from New York and Texas, where some are fishing in their living rooms, Djokovic has become a dad for the second time. Has Djoko become a mature man ? Surely more than Fognini. Guilty of having pronounced insulting and sexist words towards the Swede umpire Louise Engzel during the doubles, the Italian was sentenced to a 24 000 dollar fine and was suspended from playing in the US Open. In Argentina, the methods are even tougher : police has announced that they had shot a drug dealer…who turned out to be a pigeon wearing a small backpack who flew fifteen times a day in prison cells to smuggle drugs ! The end of the journey for him, just like for Sharapova, who lost in the fourth round against Anastasija Sevastova (5-7, 6-4, 6-2). By the way, Federer and Nadal are still there. And what if Paire was wrong ?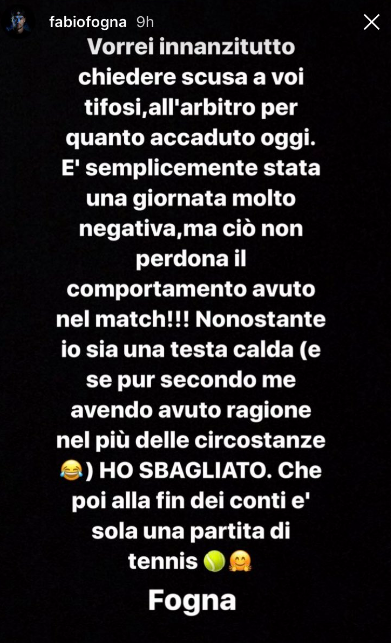 By Florian Cadu