A week of tennis, giant omelet and Rafael Nadal's tears.
The best of the past week, on and outside the courts, day after day, only for the readers of We Are Tennis by BNP Paribas. With a giant omelet, and a puzzling trial ; Grigor Dimitrov's triumph in Cincinnati and Rafael Nadal's tears.
Monday, August 14th
It's a bad time for bodies. If Kei Nishikori, who withdrew from Cincinnati, is used to suffering injuries, Roger Federer also has to pull out from the Masters 1000. Sad news for tennis but good news for Rafael Nadal, who will officially become the new world number 1 at the end of the tournament. Even if he falls against the world number 244 in the first round, just like Benoit Paire against Mitchell Krueger (6-2, 6-1). « I caught some kind of virus. My head hurts, I feel weak, said the Frenchman. I played for forty minutes and I'm completely out of breath… » Damned month of August.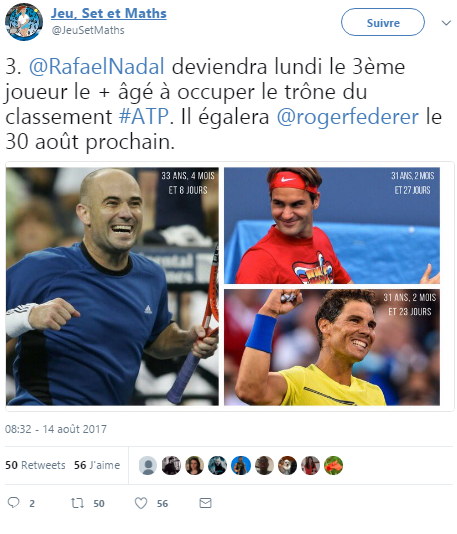 Tuesday, August 15th
There are more and more injuries. While Stan Wawrinka is slowly recovering from his second operation with a smile, Milos Raonic also has to withdraw from the American Masters 1000. A good excuse to try the traditional giant omelet in Belgium on August 15th with a few thousand people…or to help the organizers of Wimbledon, as they announce that a roof will soon cover the court number one…
Wednesday, August 16th
Everybody stay calm : the absents at Cincinnati won't completely stop working for a whole year, like this german tourist who took a year off to look for his dog which he lost during a holiday in France. They also won't have to eat a can of beans to heal themselves, like this Frenchman who found a grass snake in one of them. However, Nishikori's season is already over. It seems like he teared his heel, or that he suffered a wrist injury, according to different sources. Enough to think that the Japanese lost his pet ?
Thursday, August 17th
« Destroyed by what happened in Barcelona. All my support goes to the families affected and to the city. » Nadal is in tears, Spain is crying, and the rest of the world shares their pain. Two attacks have killed fourteen people and injured around a hundred people. A minute of silence.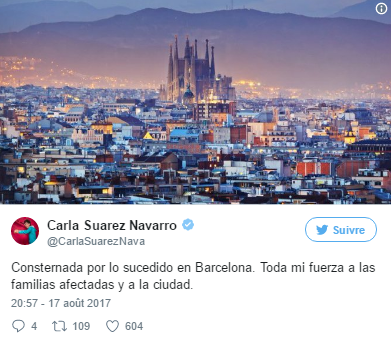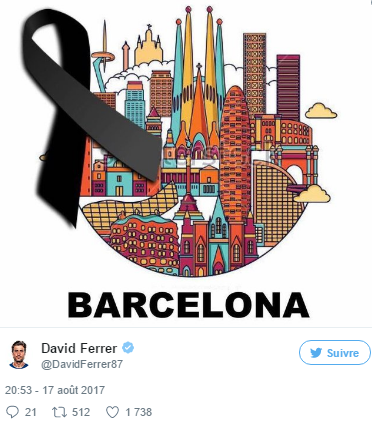 Friday, August 18th
A grey day follows the nightmare. Rain is pouring down on Cincinnati and messes up the match program. So, there are many different ways to kill time : A British citizen who really wanted to sell his Porsche Cayman set up a tombola to designate one lucky winner…and it worked ! At the end of the day, half of the 2500 tickets had already been sold ! Others prefered to watch the trial of this Indian man who was forced to divorce his wife after refusing to install toilets at their home. Now, let's get back to more serious matters.
Saturday, August 19th
A double surprise in the United States : Nadal is defeated in the quarter-finals by a huge Nick Kyrgios (6-2, 7-5) and not a single member of the Big Four (Nadal, Federer, Novak Djokovic, Andy Murray) is present in the semi-finals - a first in a Masters 1000 since Bercy 2012. To celebrate, two Scottish teenagers got locked in a supermarket on purpose to drink for free during a big part of the night. Not too far, a cyclist in Brittany witnessed another incredible scene as a swarm of bees covered her whole bike. Enough to stop here from going home.
Sunday, August 20th
Cincinnati is over ! With two winners who were as breathtaking as they were surprising. In the men's singles, Grigor Dimitrov defeated Kyrgios (6-3, 7-5) and won his first Masters 1000 ; in the women's tournament, Garbine Muguruza destroyed Simona Halep (6-1, 6-0), who missed once again the occasion of becoming the world number 1. And what about the French duo Pierre-Hugues Herbert/Nicolas Mahut, who won their tenth title together, the second in eight days and the third in a row ? Careful, there wasn't only the Cincinnati Masters this week : Victor Estrella Burgos, who hadn't won a match since the first round of Roland-Garros, won the Santo Domingo Challenger in front of his crowd. The result ? 125 000 dollars in his wallet, a little more than what a British couple are willing to pay for their nanny, making the woman the most expensive nanny in the world (110 000 euros each year). There's no need to compare these numbers with the prize money of the US Open, which is quickly coming.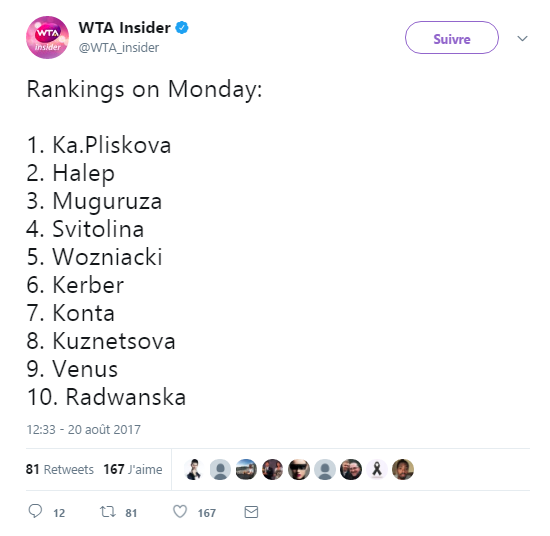 By Florian Cadu