A week of tennis, of stolen street lamps, and of a peanut-butter themed jailbreak.
There's a new date to mark down on the We Are Tennis by BNP Paribas calendar : each Tuesday, we'll offer a summary of news from the tennis world, day after day, mixed with new from the real world. A week of tennis, of stolen street lamps, and of a peanut-butter themed jailbreak.
Monday, July 31st

They've known each other, he recognized her, they lost touch with one another…but Patrick Mouratoglou doesn't want to reunite with Maria Sharapova ! « I don't like the way she's treated. She's treated like the players who come back from an injury or from maternity leave, said Serena Williams' coach, speaking about the invitation given to the Russian by the Stanford tournament. Does she deserve to be invited ? I don't think so (…) I even believe that there should be a rule which forbids organizers from handing out invites to players who have been convicted of doping. » John Isner, who has won his fourth title in Atlanta, in seven finals played, and Leonardo Mayer, who jumped up 89 spots at the ATP Ranking, don't really have the time to think about that. The same goes for Novak Djokovic, who left the Top 4 for the first time since June 2007. Or Jeanne Moreau's close family members, who mourn the death of the actress. The vicissitudes of life.
Tuesday, August 1st

A day of mourning in the world of tennis : at only 43, the ex-French number one Jérôme Golmard passed away after a long battle with Lou Gehrig's disease. Tears were also running down on Carla Suarez-Navarro's face, as she put an end to a ten-year long collaboration with her coach Xavier Budo. Meanwhile, the world is still turning : Amazon announced that it will now broadcast men's tennis tournaments - apart from Grand Slams - in Great-Britain, in exchange of ten million euros ; and twelve men managed to escape from prison in Alabama using…peanut butter ! No, Jo-Wilfried "Kinder Bueno" Tsonga wasn't part of the gang...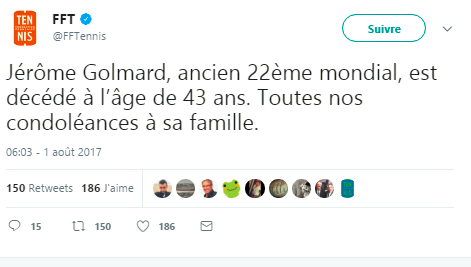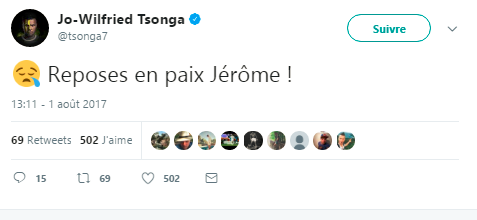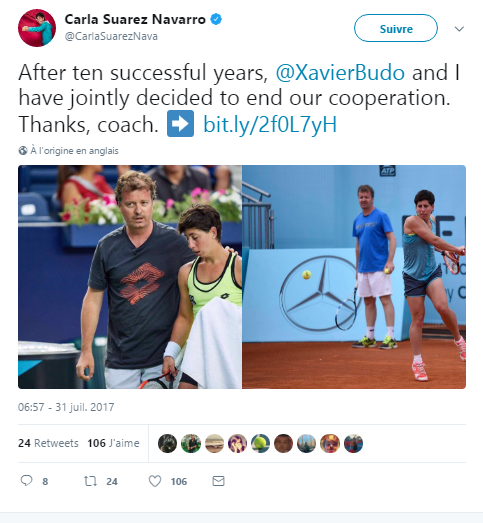 Wednesday, August 2nd

« I'll have you notice that all those who have criticized Maria can't compare when you look at their trophy cabinet. Meanwhile, during this whole time, I haven't heard Serena Williams say a bad word about 'Masha'. » Take that, Patrick Mouratoglou. But Elena Vesnina, who turned 31 on Tuesday, didn't stop there. « I've spoken with Mladenovic, one of the first who severly criticized Sharapova by insinuating that 'Masha' didn't win her titles honestly. She didn't find this topic really interesting, said the Russian, who believed that criticizing Sharapova was an easy way of drawing attention to yourself. It's important for Kristina to speak out to draw the media's attention and to be heard. It must be the same for the other girls. » Looking visibly at ease to handle the agressions made to her fellow countrywoman, the winner of the 2017 Wimbledon doubles could now deal with the possible threat posed by extraterrestrials. The good news is, NASA has just announced that it is looking for someone to do some scientific research on aliens. So, why not ?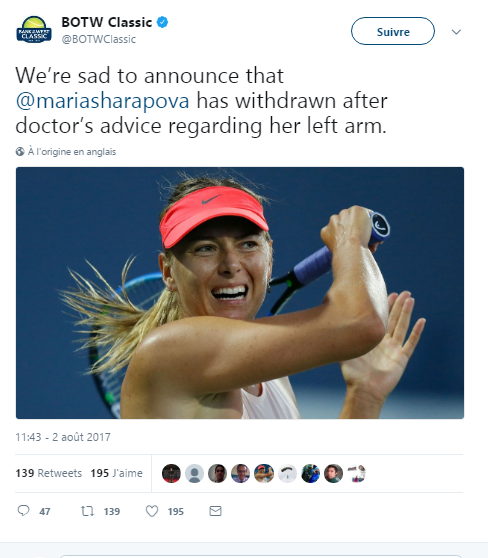 Thursday, August 3rd

The crazy news of the day : after having a little too much to drink, a Dutch citizen stole street lamps which were twice as big as his car…and tried to cross the city the loot on the roof o his car ! Andy Murray also suffered a huge hangover, as he had to withdraw from the Montreal Masters 1000 (just like Stan Wawrinka , Djokovic, Fabio Fognini or Marin Cilic). The same for Lucas Pouille, as was defeated by Tommy Paul, the world number 225 at the ATP Race, in Washington. The day was happier for Garbine Muguruza who only conceded two games in Stanford, in her first match since her triumph at Wimbledon, and for the world number 165 Vincent Millot, who defeated Fernando Verdasco, the world number 38, in Los Cabos. A quick drink to celebrate ?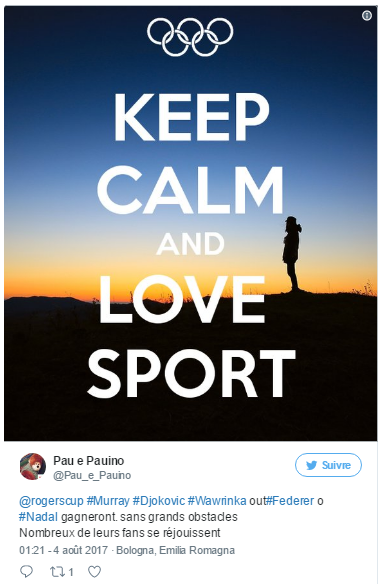 Friday, August 4th

If France was only buzzing because of Neymar's arrival at Paris Saint-Germain, Switzerland was crying : Stan Wawrinka's season is over, and we will not take part in the US Open. Almost as sad as Prodigy's death, who allegedly choked on an egg last June. In other news the International Tennis Federation refused the proposal to reduce matches to best-of-three sets in the Davis Cup. Even if that would surely help Dominic Thiem to finally defeat Kevin Anderson, who beat him in Washington for the sixth time in six confrontations. Six, a number which means something for both Neymar and PSG…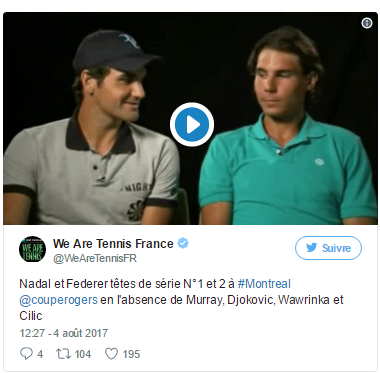 Saturday, August 5th

While the Brazilian star is introduced to the Parc des Princes before PSG-Amiens, for the first game of the 2017-2018 Ligue 1 season, Usain Bolt loses his world champion title on one hundred meters for his last ever (individual) race, as Justin Gatlin defeats him. On his side, Sam Querrey wins his tenth title in Los Cabos during a summer which suits him perfectly, and Philip Kohlschreiber triumphs in Kitzbühel. There's no time for football.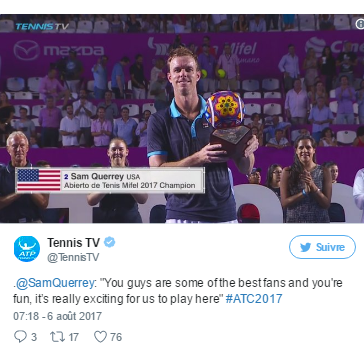 Sunday, August 6th

No holidays for the real warriors. After having won three ATP 250 tournaments and one Masters 1000, Alexander Zverev won his first ATP 500 in Washington, becoming the youngest player to win four titles in one season since Juan Martin Del Potro in 2008. All that while it was only his first week of collaboration with his new coach, Juan Carlos Ferrero. Ekaterina Makarova won the women's tournament. On the other side of the country, in California, Madison Keys defeated CoCo Vandeweghe. Finally, very far from the courts, Serena Williams and Mandy Minella exercised during pregnancy. Which wasn't the case for Aljaz Bedene, who had some good news to announce. Three cheers for the happy couple !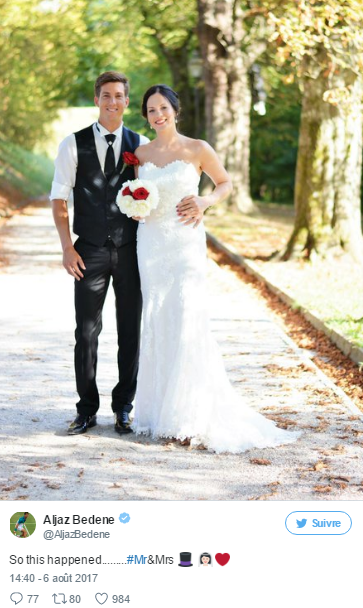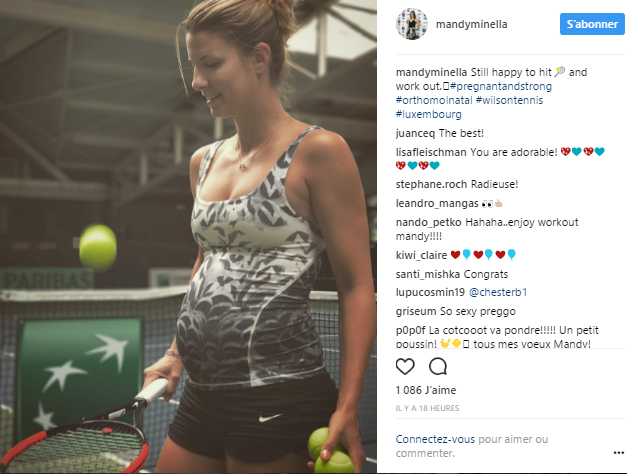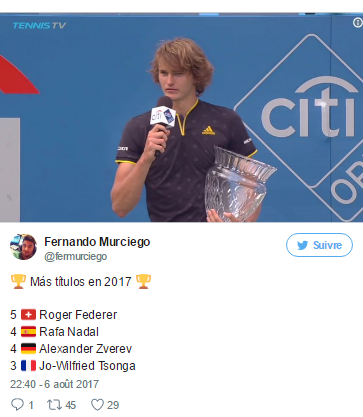 By Florian Cadu