A week of tennis, of old cats, and of banknotes bearing the image of Zlatan Ibrahimovic.
It's a new thing on We Are Tennis by BNP Paris : Starting this month, we'll offer you a fine weekly recap each and every Tuesday detailing what's going on on the little yellow ball's scene and echoing regular news from the world. It's gonna be about tennis then, but also cats and Zlatan Ibrahimovic face-stamped bills.
Monday, July 24th
« Don't play tennis because it's a chore, it's a hard, hard, hard life. I'm stuck and I have to do it. Tennis chose me. It's something with which I've never in love. » It's official : Bernard Tomic is going through a huge burnout. Which is not the case of the young Frenchman Gleb Sakharov, who won the first match of his career on the ATP circuit in Gstaad, Switzerland. While a possible future star rose, another one died : the Australian Mervyn Rose, who won the Australian Open in 1954 and the French Open in 1958, passed away, at 87. Some pretty strange news in the world of tennis which didn't ruin the French mayor of Mont-de-Marsan's appetite, as he held his promise after losing a bet following Barcelona's qualification against PSG in the Champion's League, in March. « If Barça qualify, I'll eat a rat and vote for Mélenchon », he said at the time. He did eat the rat. As for his vote for Mélenchon, well, voters cast their ballot in absolute secrecy…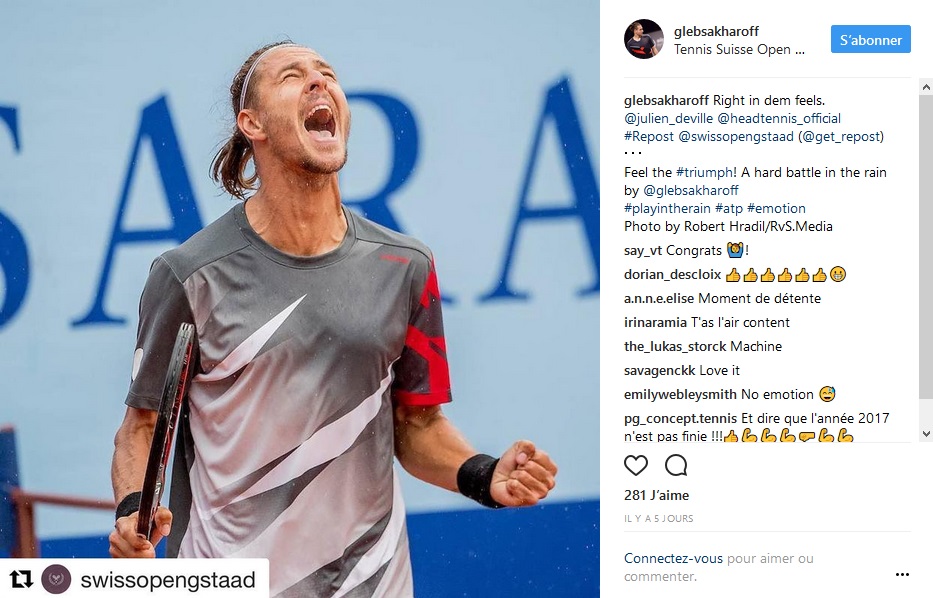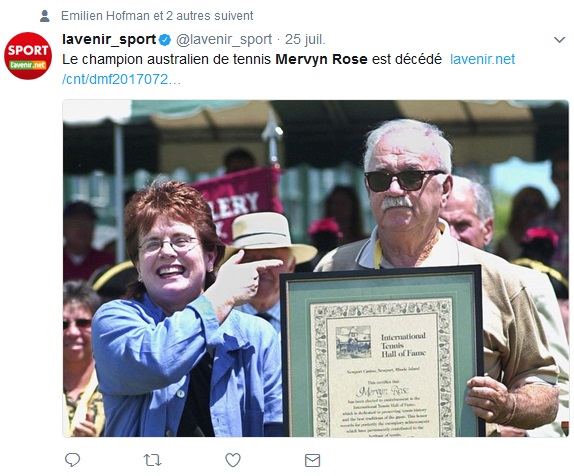 Tuesday, July 25th
« 1. Pella : final (Monaco), 2. Nadal : win (Madrid), 3. Zverev : win (Roma). 4. Wawrinka : final (Roland Garros). 5. Murray : quarter final (Wimbledon). 6. Rublev : win (Umag). With this, good night. Oh, and I forgot : think before you speak. » It's not only on the court that you shouldn't mess with Fabio Fognini, who answered the critics on Instagram. The Italian can be satisfied with his season, but maybe not as much as Roger Federer, and his impressive comeback. « It's a privilege to be friends with him. Roger is one of the most important athletes in History and also one of the best people that I know. He's an example to look up to and I encourage all young players to do so », said his buddy Tommy Haas, while John McEnroe placed the Swiss above his arch-rival Rafael Nadal, who also has a never-ending career : « If you look at the quantity of semi-finals played, Roger is clearly the most constant of the two. And I believe that winning Roland Garros 9 or 10 times wouldn't make a huge difference. He (Nadal, editor's note) would need to win Wimbledon twice, or win the US Open or the Australian Open. Then, people would change their opinion. » Federer, Nadal : two veterans who can learn a lesson from Sasha, who, on July 25th, 2017, officially became the oldest cat in the world. The animal is now 33 years old.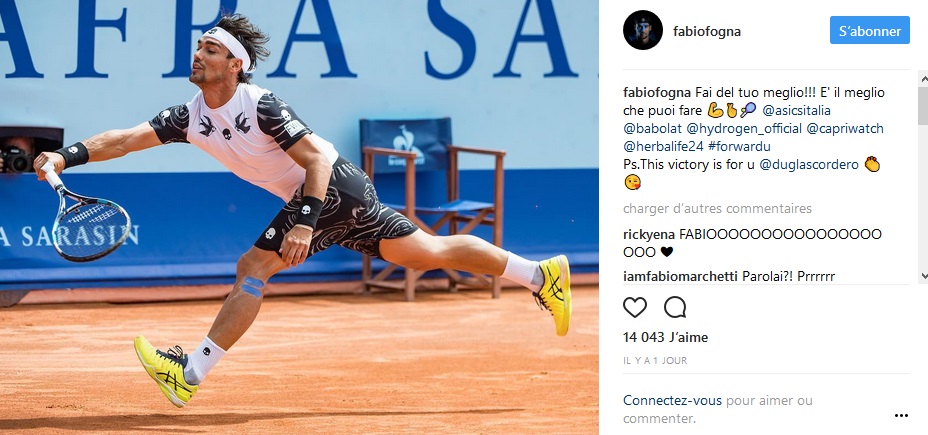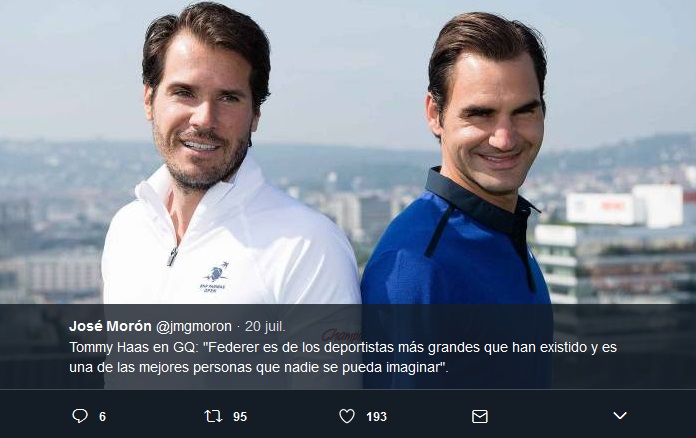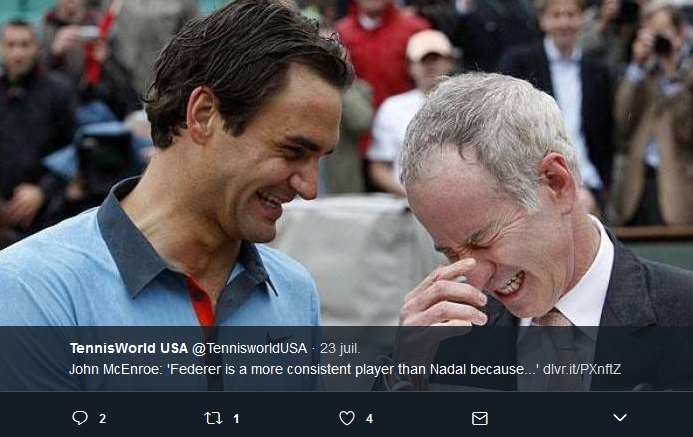 Wednesday, July 26th
Macron welcoming Rihanna at the Palais de l'Elysée ? The Barbadian singer's pretty strange outfit ? It's the least of Maria Sharapova's concerns, as she's working to try to get back to her pre-suspension level, and shut down all the skeptics who criticized her since her return to competition. « I'm sure that the dozens of critics will always be there, just like my thousands of fans, but in the end, there's only one thing that I truly know : I missed tennis », said the Russian player, who also said that she wanted to take example on Venus Williams, who is back to her best level after reaching the final at Wimbledon. Having retired for some time, Jimmy Connors and Rod Laver are enjoying retirement by playing golf. Somewhere else in the world, a 79 year-old granny was pulled over after driving at 238 km/h in her Porsche and an Australian restaurateur decided to put on his menu an ice cream served with…french fries ! Too intense for Novak Djokovic who announced a premature end of his season because of an elbow injury.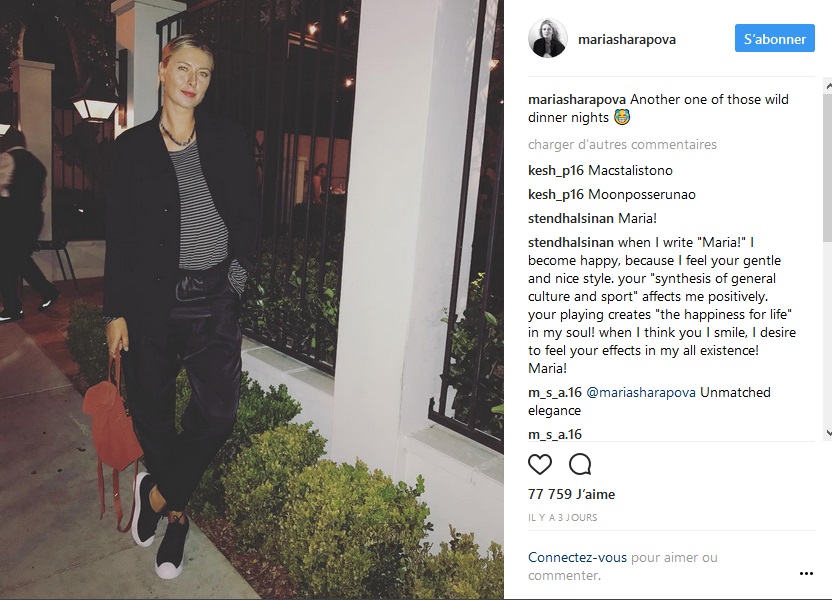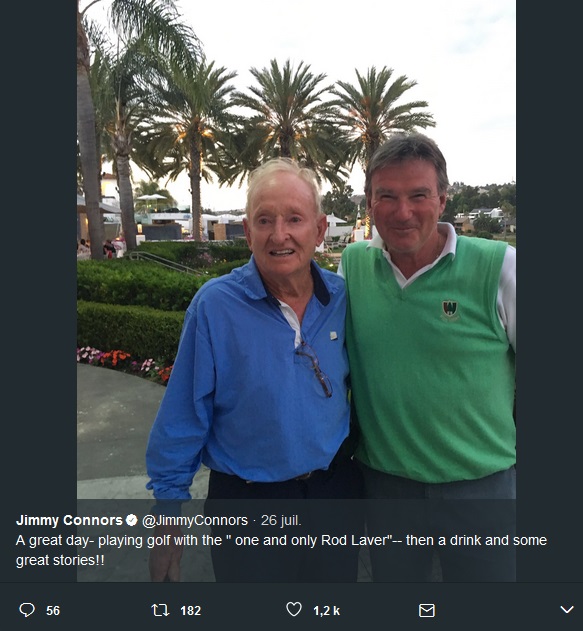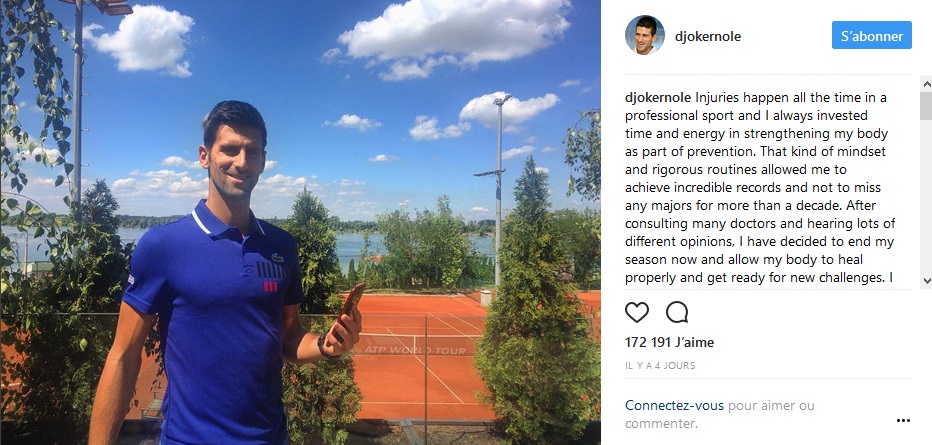 Thursday, July 27th
« When I defeated Murray, I wasn't excited to play the semi-finals. I was mainly excited because I had earned 780 000 euros. » At least, Sam Querrey, who recently defeated the Scottish title-holder in the Wimbledon quarter-finals, is being honest. An other quality which was praised on this July 27th : audacity, with this funfair ride which was stolen in Alsace and found…in Corsica ! Speaking of flaws, a Japanese woman got so angry that she broke 1,2 million dollars worth of violins to take her revenge on her husband who collected them. And there was also clumsiness, with Krystina Pliskova, who had to withdraw from the Nanchang tournament after getting her thumb stuck in a fan which she was trying to turn on during a change of ends. Injury, withdrawal…a real loser.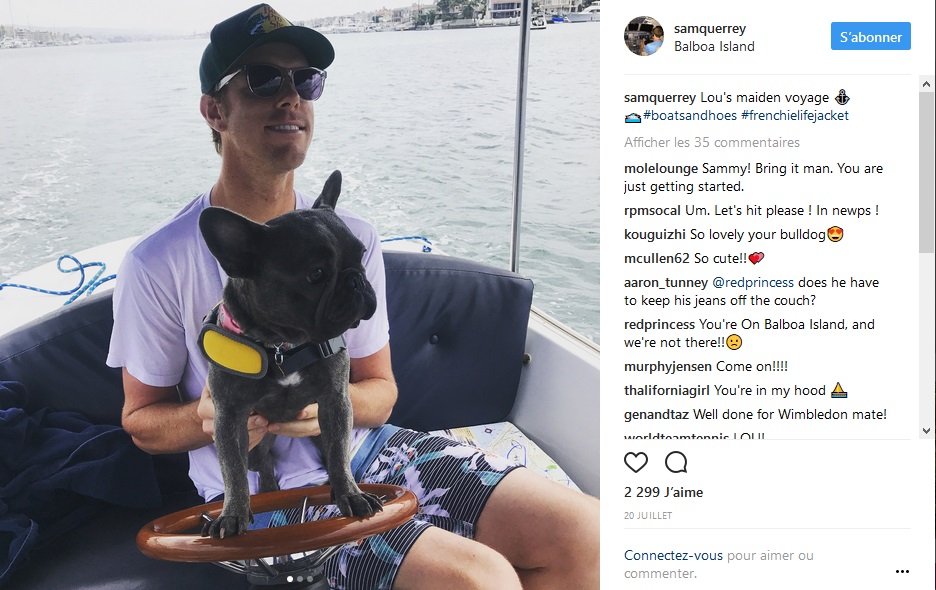 Friday, July 28th
Enrique Iglesias confessed that his girlfriend Anna Kournikova was still as talented as she used to be racquet in hand. Or that he sucked. « I try to be competitive but then you realize that you're an amateur playing against a pro. You have no chance. » In Atlanta, Christopher Eubanks, the world number 461st, who never won a single match before that, reached the quarter-finals. A great performance to immortalize, like Leroy Sané who got a tattoo if himself on his back…In the kingdom of egos, Zlatan Ibrahimovic still remains the master. And there's no chance of that changing, especially after the Bank of Sweden produced banknotes bearing his image.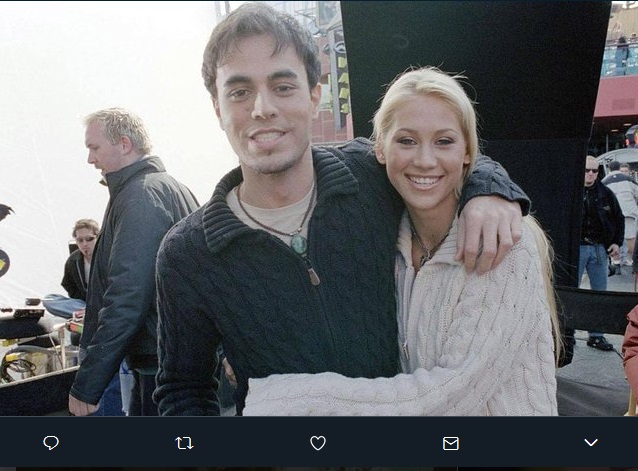 Saturday, July 29th
The great news of the day : after being badly injured on the London grass at Wimbledon, Bethanie Mattek-Sands is already back at the gym. The not-so-great news of the day : Caroline Garcia still hasn't played a final in 2017, as she was knocked out in the semi-finals in Bastad by Katerina Siniakova. A match which this worker from Brittany, who had been declared missing by his boss, has maybe watched on his couch ? « When we broke in his house, he opened his window and told us that he didn't want to go to work today », said the local police station. A story which ended well, like this childbirth which occurred on a flight between Bogota and Frankfurt, at more than 11 800 meters in altitude. Can the Atlantic Ocean be a nationality ?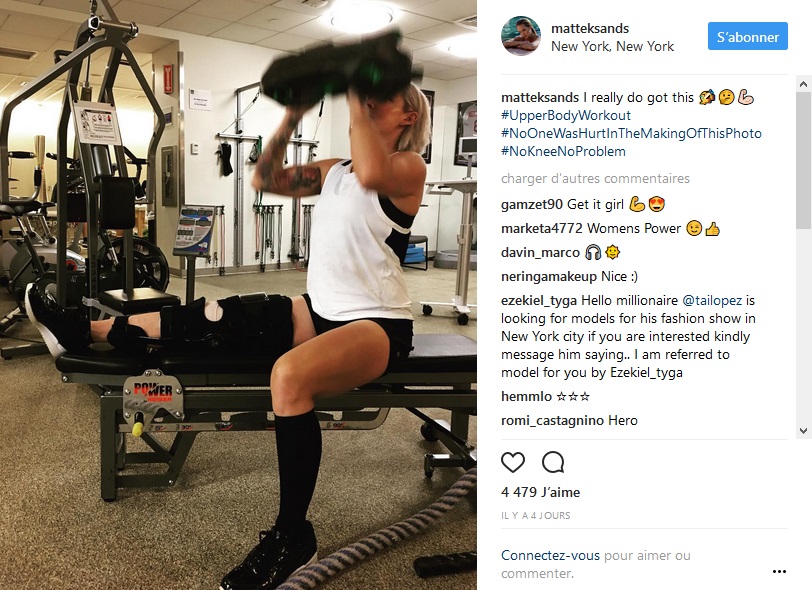 Sunday, July 30th
Sunday is the Lord's day but it's also the day of tennis finals. A day which smiled to Leonardo Mayer, as the lucky loser dominated his homonym Florian Mayer in Hamburg ; to Fabio Fognini who ended Hanfmann's journey in Gstaad ; to John Isner who triumphed in Atlanta for the fourth time of his career ; to Katerina Siniakova who surprised Wozniacki in Bastad and to the Chinese Shuai Peng who won the Nanchang tournament at home. But the real hero of the day was Aliya Shagieva, the daughter of the current president of Kyrgyzstan, who defied her father and traditions by posting a picture of her breastfeeding her baby in her underwear on her Instagram account. « Taking care of my baby and answering his needs is more important than what people think of me », she said as an answer to the controversy. Words which could inspire the future mother, Serena Williams…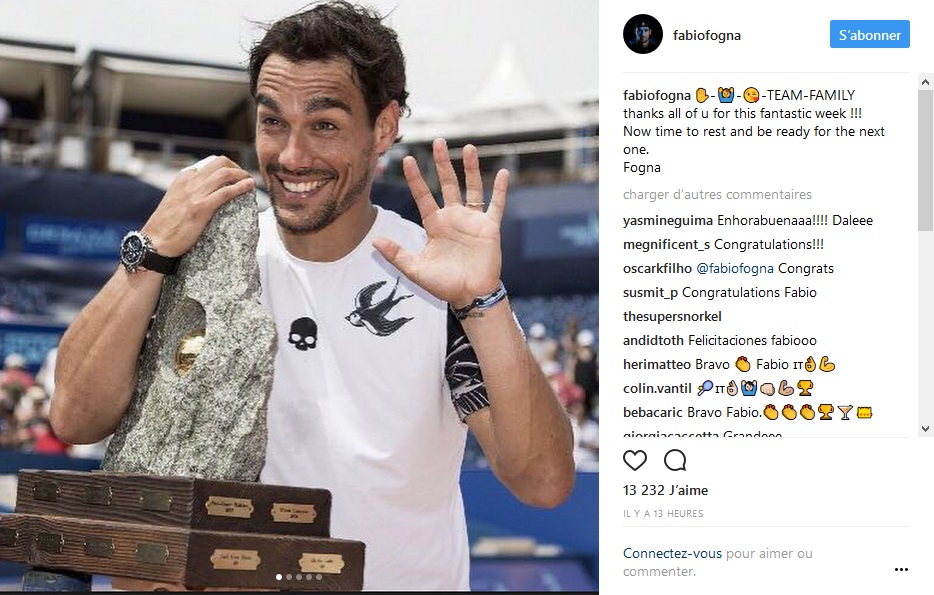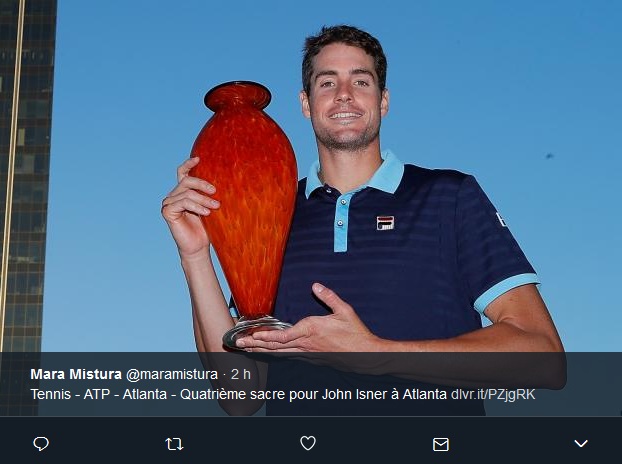 Par Régis Delanoë