It was a bet, it became a demonstration : Roger Federer has won his 8th Wimbledon, five years after his last triumph. Obviously enough to top our weekly ranking.
It was a bet, it became a demonstration : Roger Federer has won his 8th Wimbledon, five years after his last triumph, and reinforced his legend even more. Obviously enough to top our weekly ranking in front of the winner in the women's table, Garbine Muguruza, and the unlucky Bethanie Mattek-Sands.
1/ Roger Federer (+1)
… And in the end, Roger Federer wins. Fourteen years after his first Grand Slam win, here, at Wimbledon, the Swiss lifted the trophy again. For the eighth time. His nineteenth major trophy. A-MA-ZING.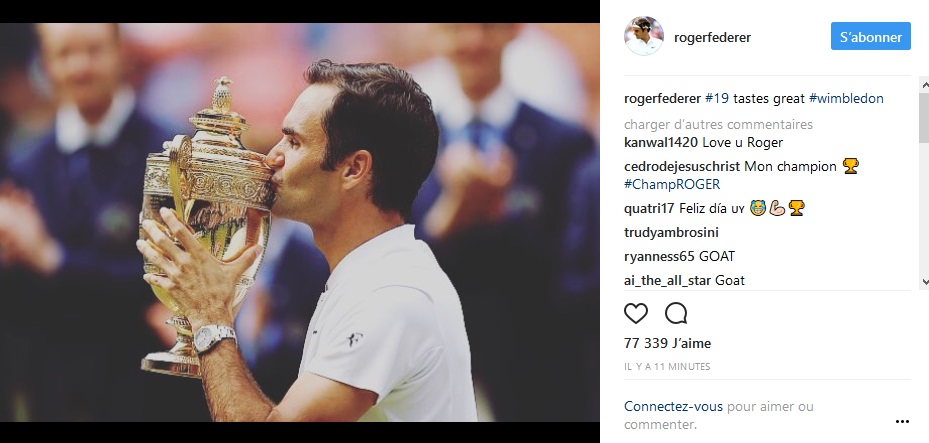 A Federer who appeared to be more imperial than ever all along the fortnight, and who displayed an absolute demonstration during two weeks.
Marin Cilic never seemed to be up for the challenge in the final. Roger quickly won in three sets, before showing his emotions during the post-match ceremony.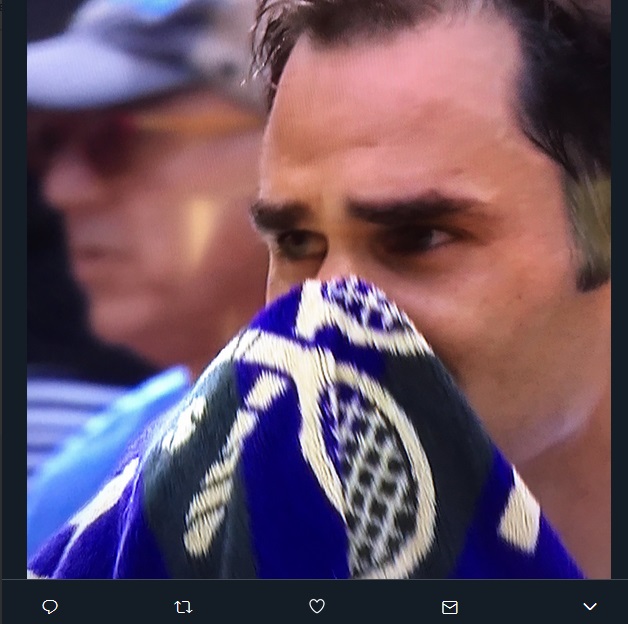 In front of his family.
Roger "class act" when he's handed the microphone. As very often (or always).
A true sporting legend.
2/ Garbine Muguruza (NE)
In the women's table, Garbine Muguruza produced a huge performance, by defeating Venus Williams in the final, and beautifully ending an almost perfect fortnight.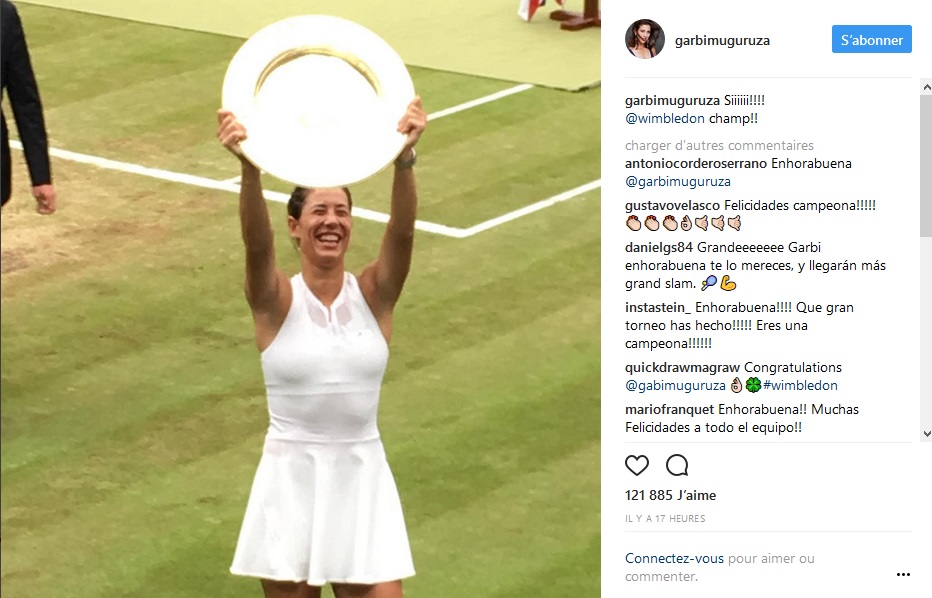 The Spaniard even allowed herself to win the tournament by asking to challenge the match point. And she was able to judge distance by sight.
She played with the trophy during the post-match ceremony.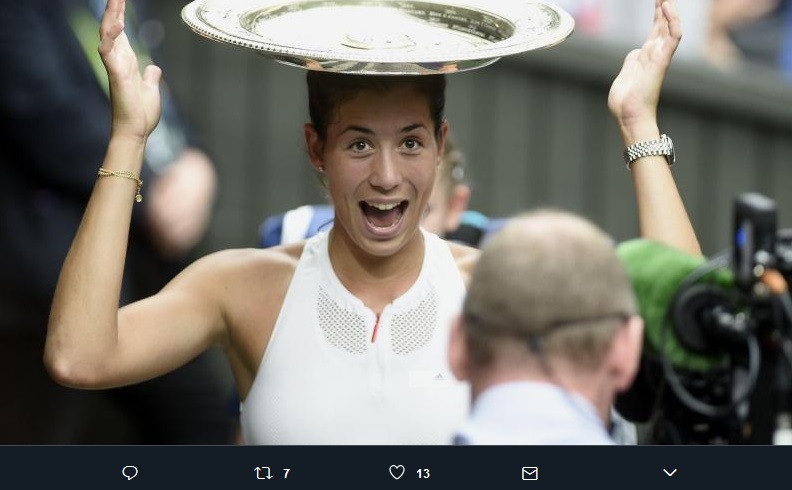 And she checked that her name featured on the tournament's hall of fame.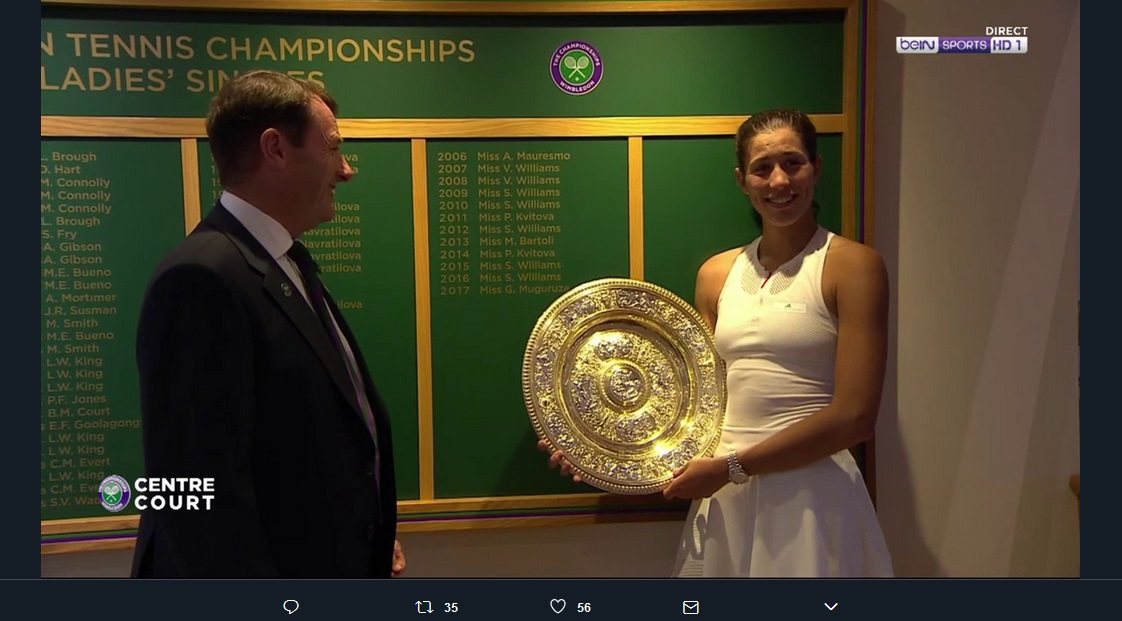 A surprising Muguruza, who hadn't won a single tournament since Roland-Garros - her first Grand Slam title - a year ago. A shining return to form for her, as she became the Second female Spaniard to triumph on the Wimbledon grass after Conchita Martinez.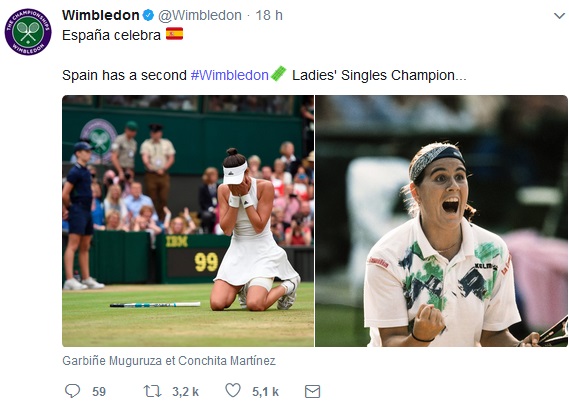 3/ Bethanie Mattek-Sands (NE)
It's certainly one of the striking images of this 2017 edition of Wimbledon : Bethanie Mattek-Sands who crumbled onto the grass, seriously injured, and crying for help.
A harrowing moment which occurred under the eyes of her doubles partner, Lucie Safarova - they are the world number ones - with a long intervention from the emergency services and a transportation to the nearest hospital, where she had surgery on her ruptured tendon.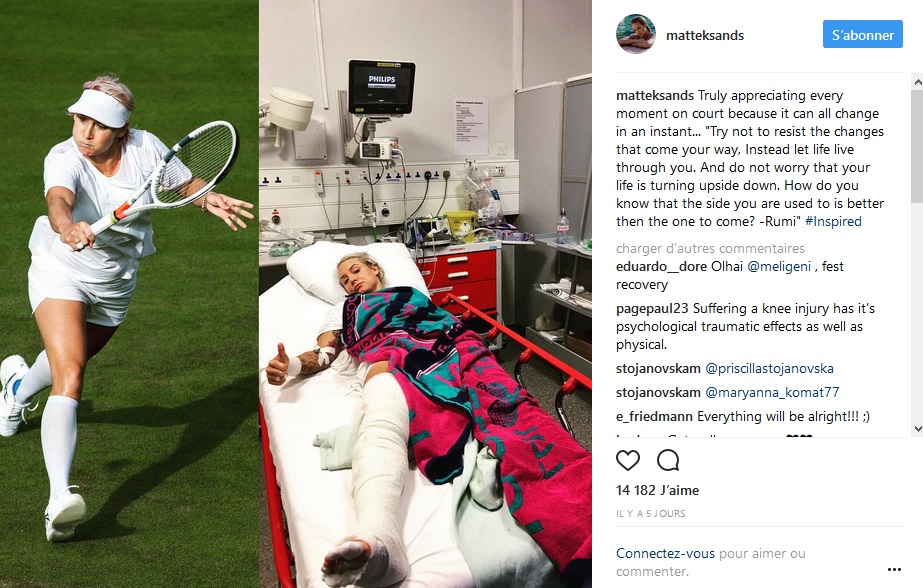 Thankfully, the surgery went well for the American who was smiling again after being visited by her friend Sania Mirza and Sorana Cirstea, who was her opponent when she suffered her injury.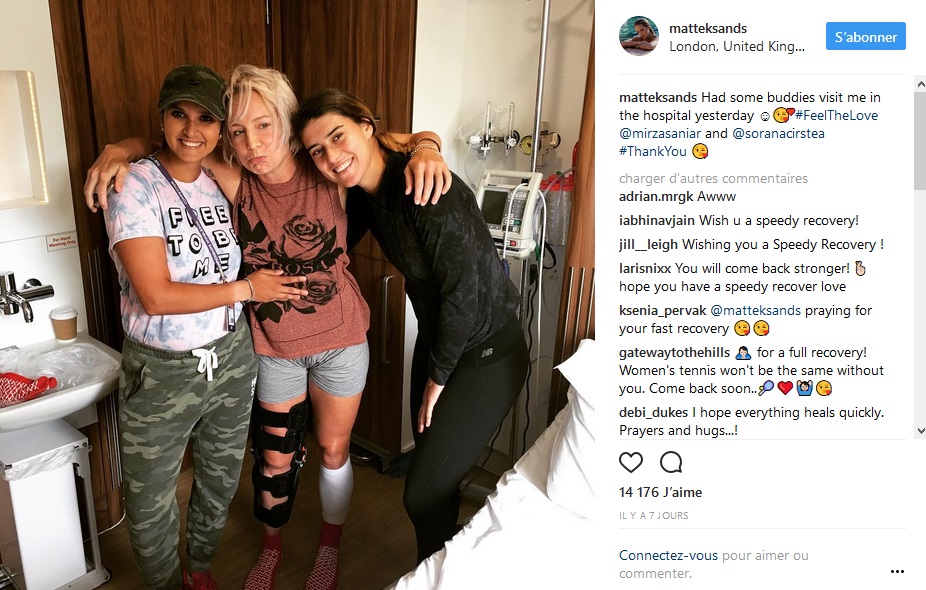 Her rehabilitation will probably be pretty long…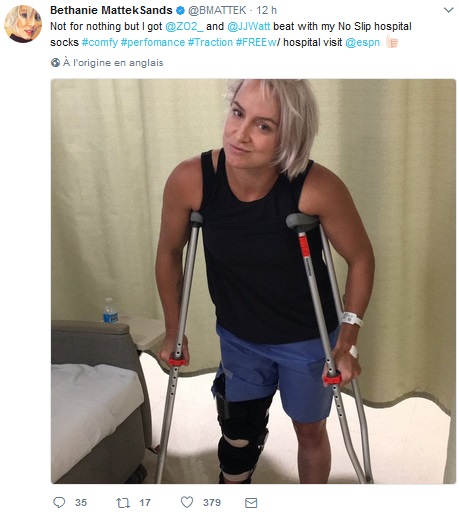 Keep going Bethanie and come back quickly !
4/ Rafael Nadal (+4)
Another striking image of this week : Rafael Nadal bumping his head on the ceiling after jumping too high before entering the court to face Gilles Müller.
He ended up being stunned on the London grass.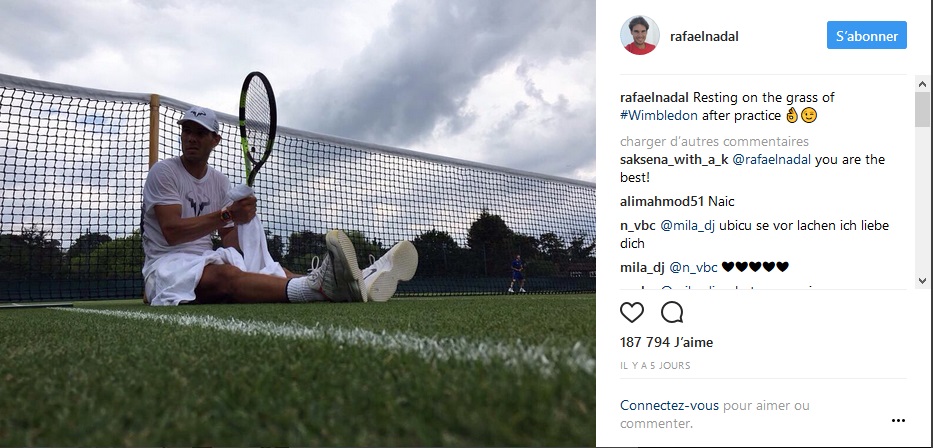 But he mainly lost this epic match against the Luxemburger, with a defeat in five never-ending sets - especially the last one (15-13 for Müller). But that's alright, Nadal will get over it eventually, and he is still as classy as ever.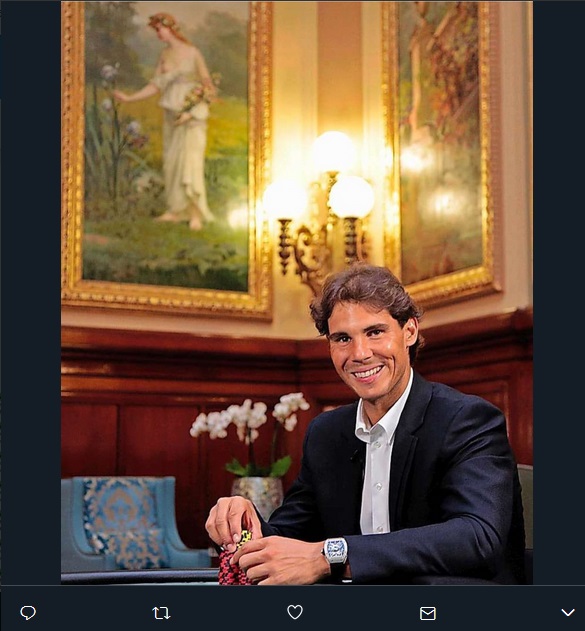 Lots of love, Rafa.
5/ Gilles Müller (NE)
Speaking of Müller : the « Mister Nobody » of the circuit is, at 34, in the form of his life, after having won his first two ATP tournaments this season, and having qualified for the Wimbledon quarter-finals, after having defeated Nadal in the fourth round. A historical performance for him.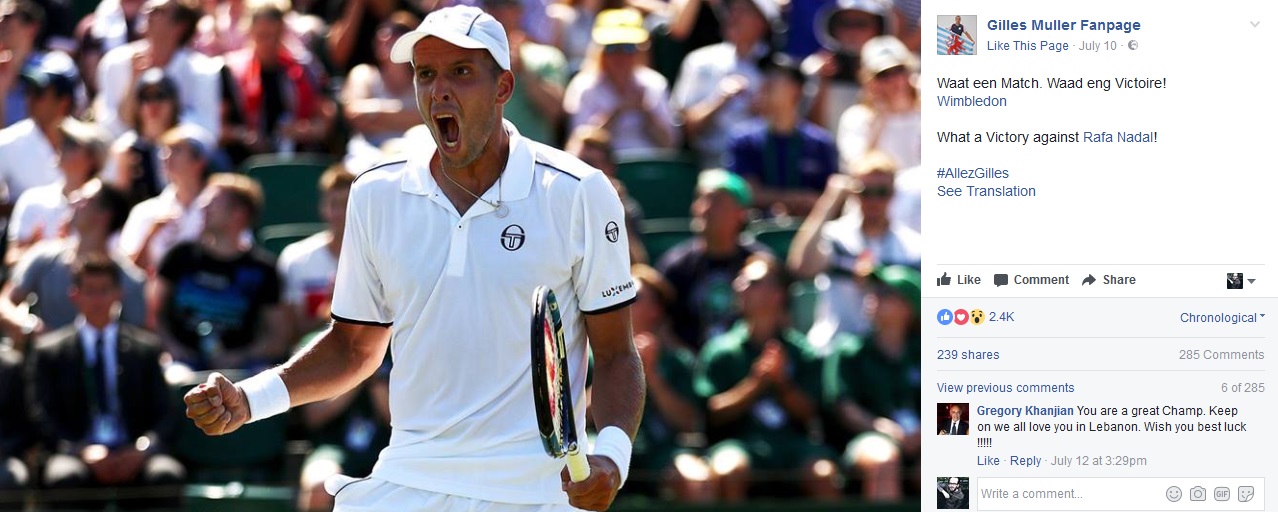 A safe and solid tennis, and a huge mental strength : Müller is a real spoilsport. Even if he then lost against Marin Cilic on his road to the semis…
6/ Marin Cilic (NE)
Cilic also deserves a nice place of honor in our weekly ranking. Having been really impressive until the final, he however crumbled against Roger Federer, even tearing up in the middle of the second set.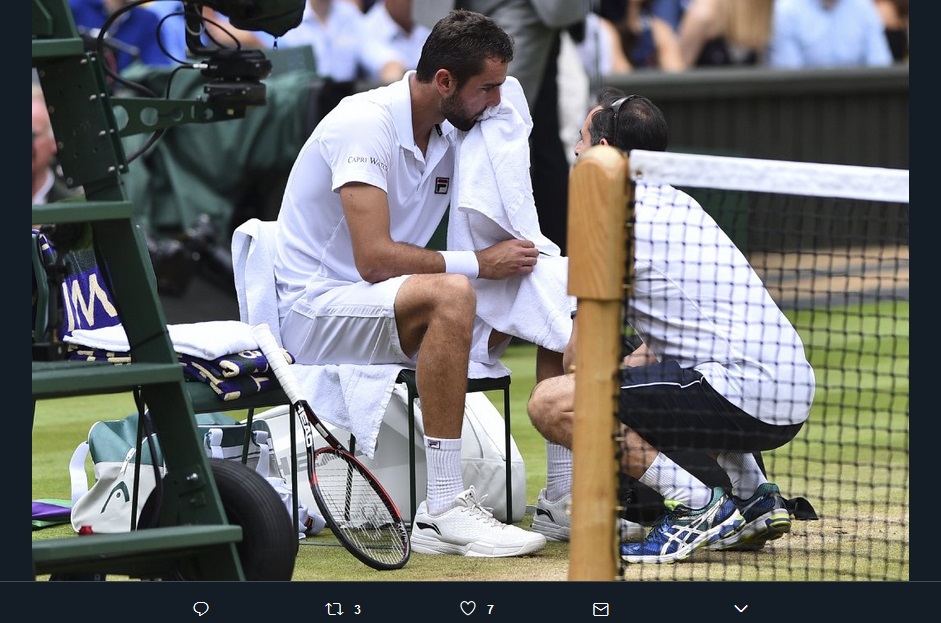 We'll rather remember this image of joy after his semi-final won against Sam Querrey.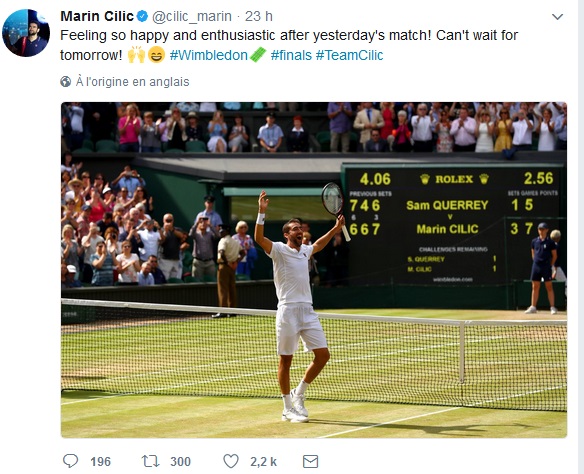 Marin is a good guy and a great champion who deserves to be in the spotlights a little more often.
7/ Venus Williams (-1)
Venus Williams has had a pretty strange fortnight at Wimbledon. We left the American in tears in her press conference, after she was accused of having provoked a car crash which had lead to a death. However, the investigation put the veteran of the circuit (37 years old) in the clear. A first victory and - we can imagine - a huge relief.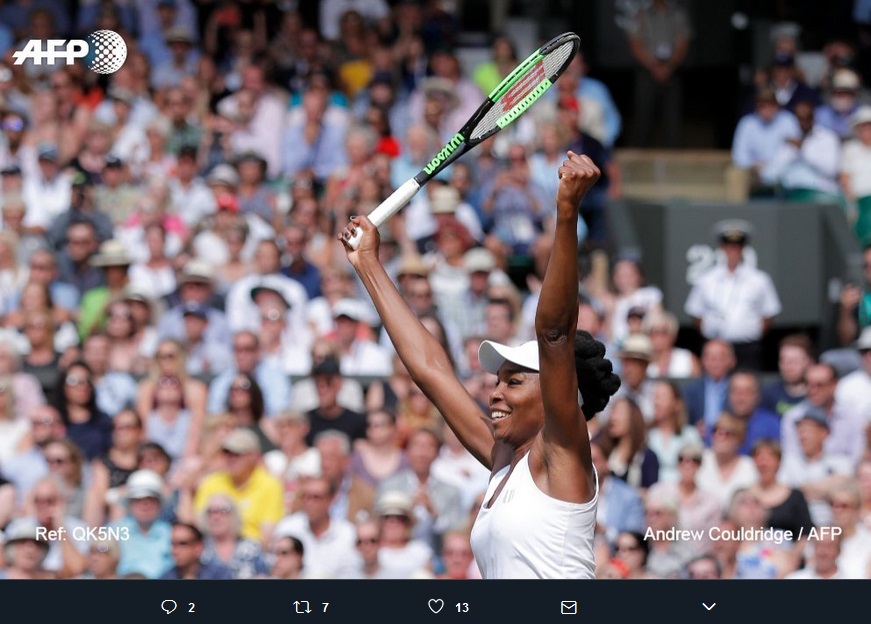 On the sporting side this time, she qualified for the final, where she lost against Muguruza but received a well-deserved ovation, as she has won the tournament five times in the past (the last time was in 2008).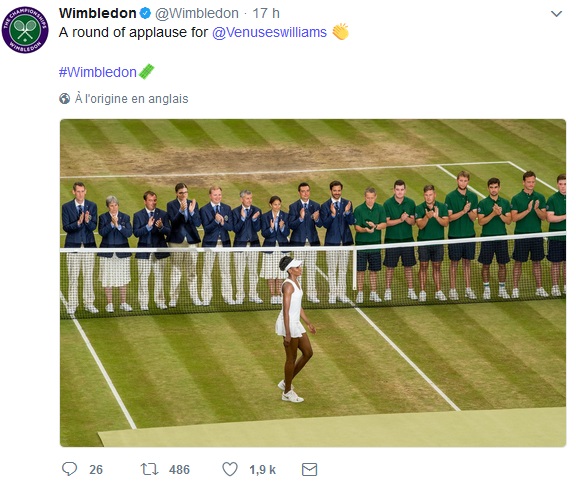 During her post-final speech, she said a few nice words for her sister Serena, who is about to become a mother for the first time.
One thing is sure, the Williams' sister are far from being finished…Their opponents have been warned.
8/ Johanna Konta (NE)
Still in the women's table, the most popular player of the fortnight was the local Johanna Konta, who has been cheered on by the whole crowd in London.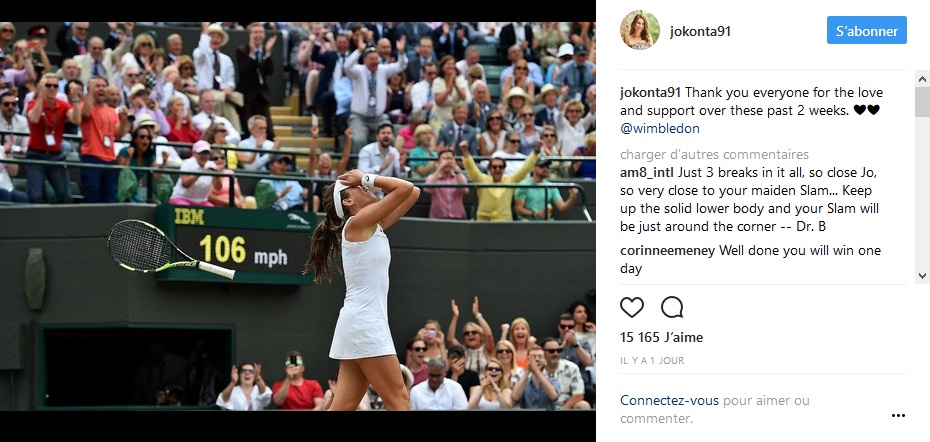 Even Van Morrison is a fan of hers.

The British lost in the semi-final, after being dominated by Venus Williams. Not enough to make her lose her smile, especially when it came to posing next to a big car.
9/ Andy Murray (-8)
In the men's table, the local figure was obviously Andy Murray, who was looking to win his third Wimbledon, after having triumphed in 2013 and last year. The Scot battled hard and pleased his fans.
He was even awarded a huge privilege : entering the royal box.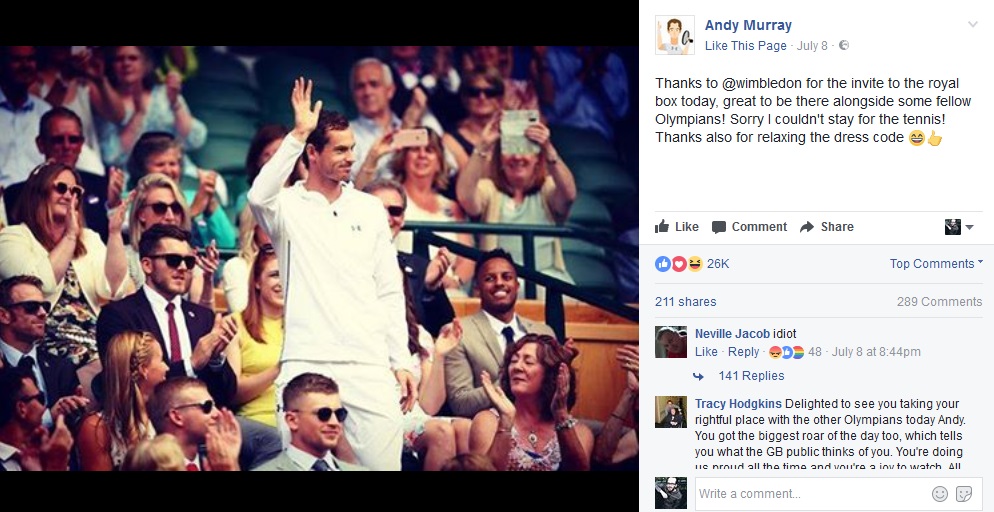 However, his journey stopped more quickly than expected : in the quarter-finals, after being defeated by Sam Querrey.
Insérer photo 2 Murray
A result which however enables him to remain the world number 1.
10/ Novak Djokovic (-1)
It must be said that the competition had a hard time : Nadal was knocked out in the fourth round ; but Djokovic as well, as he had to withdraw from his quarter final against Tomas Berdych.
A pretty disappointing result for the Serb, even if he gained (a little) confidence on grass, and seems to be in better form that a few months ago.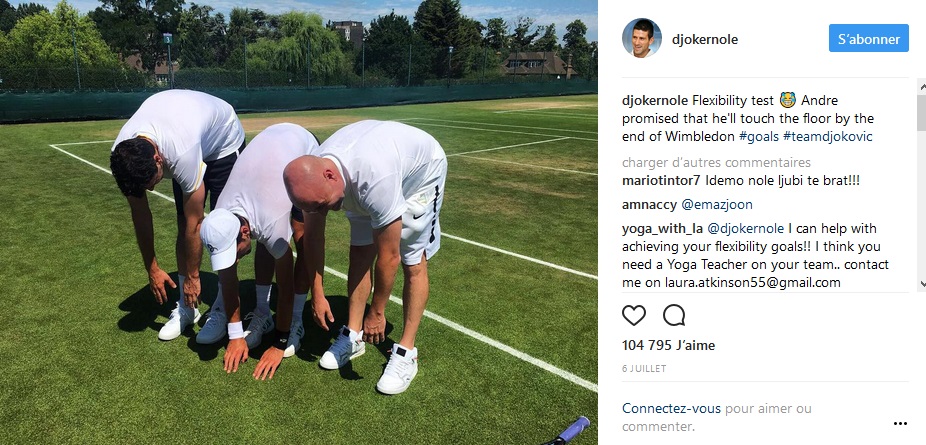 In any case, Djoko and his wife seem to be more in love than ever. The two partners wished each other a happy anniversary, three years after getting married.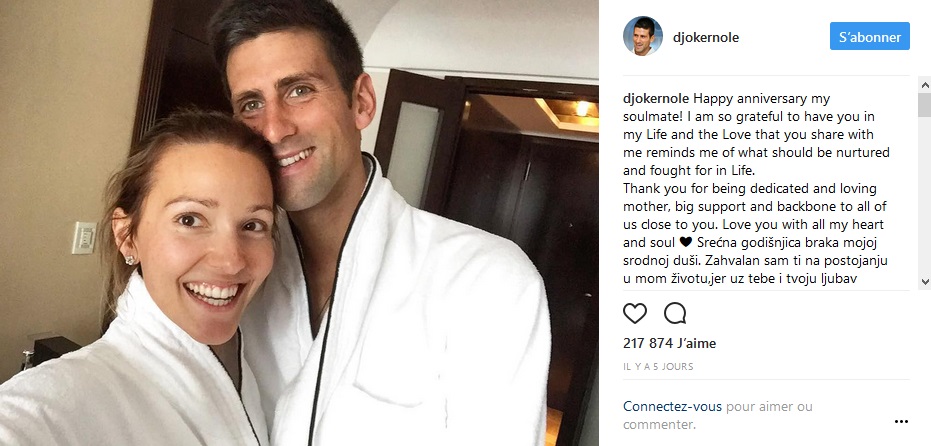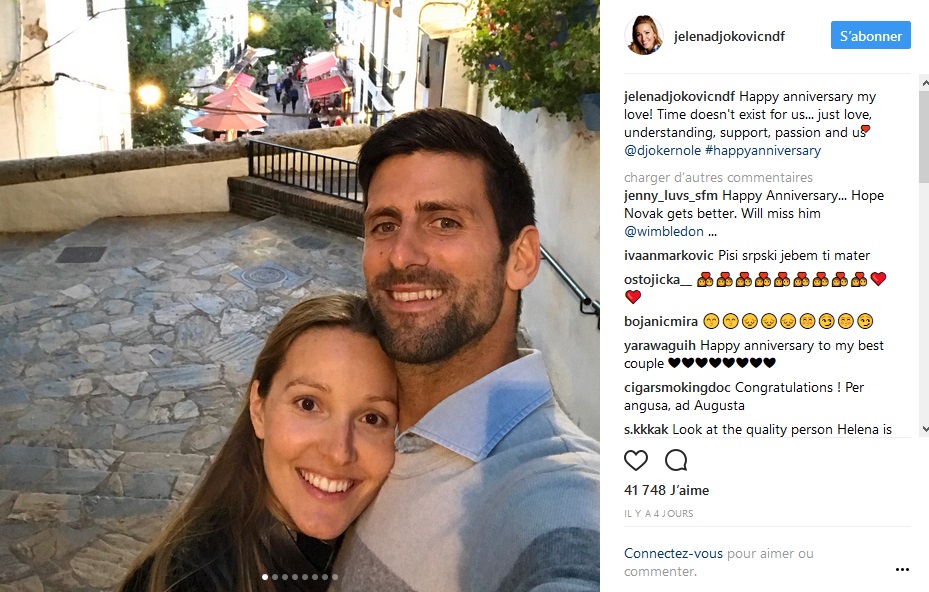 11/ Sam Querrey (NE)
Among the good surprises of this fortnight was Sam Querrey, who restored the image of Men's American tennis.
Insérer photo 1 Querrey
He showed a very solid tennis. Which was also spectacular when needed.
12/ Tomas Berdych (NE)
Tomas Berdych also produced a good performance at Wimbledon, after qualifying for his second consecutive semi-final.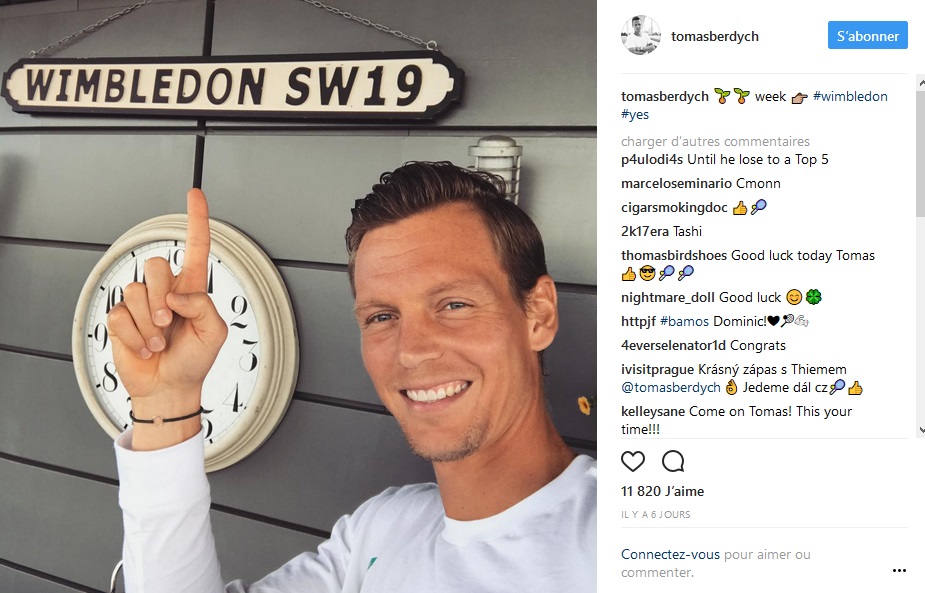 A tournament where he also played his only Grand Slam final : in 2010 against Nadal. His secret ? Eating healthily.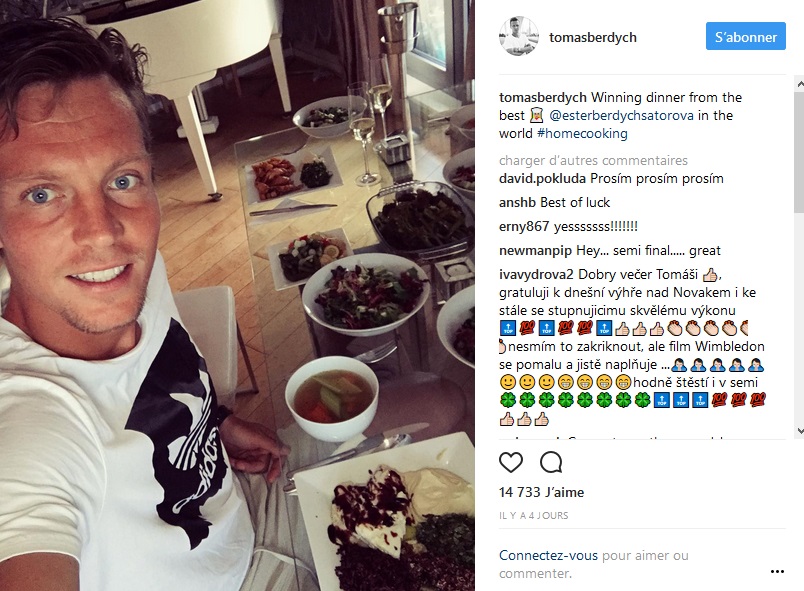 Berdych, the kind of guy you don't invite to get a kebab.
Outs : Minella, S.Williams, Brown, Sock, Ostapenko, Radwanska, Medvedev