Between tennis and politics, the line is sometimes very thin. From players who find themselves to have political ambitions, to politicians who relax racquet in hand, let's take a look at these powerful players.
Between tennis and politics, the line is sometimes very thin. From players who find themselves to have political ambitions, to politicians who relax racquet in hand, let's take a look at these powerful players.
1/ Marat Safin, MP
Sexy, party-animal, multilingual, tennis player, emotionally disturbed – « I broke 1055 racquets over ten years » - and now politician : In 2001, Marat Safin was elected as a deputy at the State Duma, the Russian parliament, with the elected president, Vladimir Putin's political group. « In 20 years, he'll be the president of Russia », even bet his friend Pete Sampras. « I've thought about getting into politics for a long time (…) It's a new life, a new way of thinking, of acting, which has nothing to do with tennis or sports in general », then said the 33 year old ex-world number 1, who remains as charming as ever : « I'm the cutest man of the Duma, but it's just because the others are older than 60. »
2/ Barack Obama celebrated Easter racquet in hand
The White House has had a tennis court since Theodore Roosevelt had one built in 1902. Since that day, American presidents haven't hesitated using a tennis match as a reason to speak with an ally or a political opponent, to discuss a bill, or a project. Roosevelt enjoyed these moments so much that he even spoke of a « tennis government. » If none of his predecessors can pride themselves for enjoying tennis more than him, there is a First Lady with who the 26th president of the United-States would have got on very well, and it's Michelle Obama. Since her husband's election in 2008, she has often spoken about her passion for tennis, and has never missed an occasion of surrounding herself with some of the biggest name of the sport to promote her program against obesity. In 2015, Barack himself came to hit a few balls during the Easter festivities organized at the White House. The Dane Caroline Wozniacki had the honor of playing against a president wearing a shirt-trousers combo.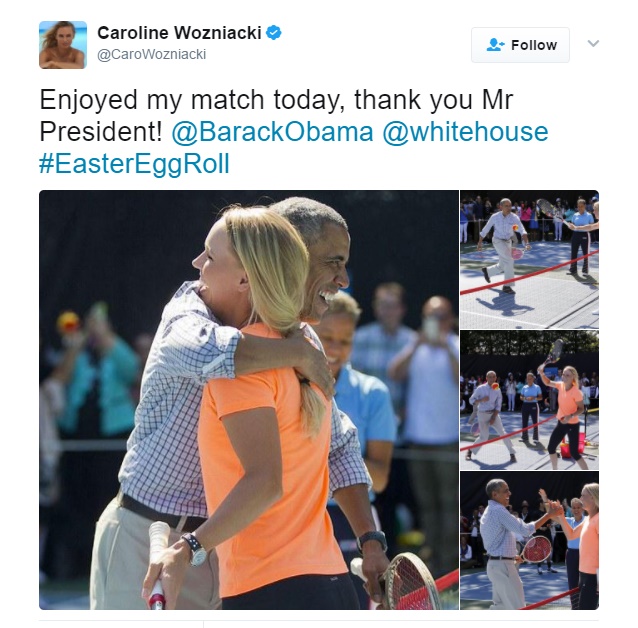 Jean-Vincent Placé, the hooligan
At the 2016 Paris Masters, Stan Wawrinka had some good reasons to be confident. The Swiss was ending a very successful season, had won Roland-Garros, played two other Grand Slam finals, and was the world number 3. But for his first match at Bercy, Wawrinka had a few troubles against the surprising Jan-Lennard Struff, a German who had gone through the qualifying rounds. While the match was starting to go on and on, and it was already late, Wawrinka suddenly stopped playing to yell at a spectator who was speaking a little too loud behind him : « Oh, you don't see that we're playing a match ? No, but seriously, it's midnight, if you don't want to watch, go home. » The fan actually turned out to be…Jean-Vincent Placé, who was a French secretary of State at the time. A dig which didn't stop Wawrinka from losing the match.
4/ Dominique de Villepin et the useless
It's not hard to imagine Dominique de Villepin on a court. Having an athletic figure, long arms and legs, and a natural elegance, the ex-French Prime Minister could easily be mistaken for a tennis player. And when Le Monde asked him tennis, he suddenly got excited : « I was champion of Venezuela », started the man who lived there in his youth. Full of praise, the French politician François Baroin says of him that he has « a nice, beautiful game, a big serve which falls from the sky, a powerful forehand, and a sliced backhand. » But Dominique de Villepin is not the kind to return compliments, and has a much more critical point of view regarding the performances of other politicians : « There is not one who can actually play ! You won't find one ! Apart from Chaban-Delmas, and he's not here anymore, they are all useless ! »
5/ Jacques Chaban-Delmas, a Prime Minister at Roland-Garros
Since the time immemorial, thousands of politicians have tried to incarnate dynamism, but not many have done it as well as the ex-French Prime Minister Jacques Chaban-Delmas. The ex-resistant, who then became the mayor of Bordeaux, the president of the National Assembly, the Prime minister and the losing candidate of the 1974 presidential election, didn't fake it when it came to playing sports. A great sportsman, who was a good rugby player, he was mainly recognized for being a famous tennis player, who had even taken part in the veteran doubles tournament at Roland-Garros in the sixties. A hyperactive side of his personality which didn't really please the President, Georges Pompidou. The latter would accuse him of being idle, and has always thought that his Prime Minister wasn't working hard enough.
6/ Justin Trudeau, tweets and selfies
The Prime Minister of Canada is mainly fond of boxing, but he always congratulates Canadian tennis players. « Mister President, we celebrate today our athletes who inspire us, and who make us proud, » he one day said in the House of Commons to start his speech, congratulating Eugénie Bouchard. Later on, the player made the most of her visit to the Canadian Parliament to take a selfie with Trudeau. And despite his very busy schedule, the Prime Minister (or his community manager) still keeps an eye on the results, and sometimes sends Milos Raonic a tweet, to support him.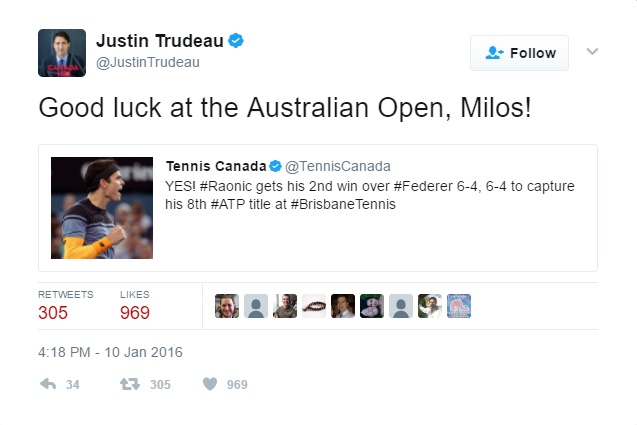 7/ Bruno Le Maire hits a few balls with Djoko
Having become a famous politician in France in a few years time, Bruno Le Maire, ex-candidate to the french presidential elections, doesn't forget to dedicate a bit of time to his passions. In his case there is classical music, literature, but also tennis. « Even when I'm campaigning, my team know that I take a few moments off to play tennis with my older brother », he said to the French magazine Marianne, in 2016, while he was campaigning for the right-wing primary election. In the same interview, he spoke a little longer about his passion for tennis : « I had a ranking when I was younger. I've hit a few balls with Novak Djokovic. » Playing with the world number 1 is cool, but it doesn't help you win an election.
8/ Putin doesn't like tennis shorts
Vladimir Putin is fighting every day for Russia's greatness to be respected, he's therefore a happy man when Russian tennis players are winning. He has often congratulated Sharapova and company for their titles, but when it comes to having a little humor, there's no trace of the Russian president. A department store in Moscow had a bad experience after displaying funny advertising posters in the streets of the capital. On them, you could see a photomontage showing Vladimir Putin and Dmitri Medvedev wearing old-school tennis outfits, with white shorts and stylized polo shorts, racquet in hand. Not really to the Kremlin's liking, as it has ordered the store to take off the posters as quickly as possible. Putin's spokesperson had even spoke at the time, of « a behavior which is very close to vandalism. » The weight of words, after the shock of the photo.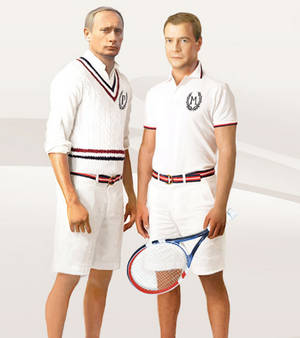 9/ Ilie Năstase at the Senate
After fifteen years of winning titles, of joking around and producing unbelievable shots, Ilie Nastase retired in 1985. But the Romanian still had a lot of energy, and hadn't abandoned his competitive nature. So why not try something in the world of politics ? Deciding to campaign to become the mayor of Bucharest in 1996, he was the big favorite in the polls, but ended up crashing down and losing the election. Not enough to discourage him, as he was then elected as a senator, even if he confessed that part of the codes of the world of politics didn't come naturally to him : « I don't feel at ease in the area of politics. It's difficult because in sports, you win or you lose. Here, you have to make concessions, and I'm not used to that. »
10/ « Sarkozy, on a court, is a real dynamo »
In the United States, presidents George Bush senior and John Fitzgerald Kennedy were great tennis lovers. The latter, who was a very good player, even said once : « I had more laws voted on a tennis court than anywhere else. It was a place where my opponents would drop their guard. » In France, if he has been a judo brown belt, a keen cyclist and a running lover, Nicolas Sarkozy has always dreamt of being a king on the courts. When playing tennis, the ex-French president didn't privilege style, beautiful strokes or tactical precision. But mainly abnegation. « Sarkozy, on a court, is like a dynamo, explained, to Le Monde, Ronan Lafaix, an ex-tennis coach at HEC who observed him during a match played against the singer Didier Barbelivien. He's very powerful on the ball. I could feel that he was tensed, nervous, and put everything in his will and his strength, without any form of relaxation. He was just like in the last presidential debate : he was getting annoyed, while Barbelivien remained cool and relaxed like Hollande. »
By Alexandre Doskov