It's a stunning return from Rafael Nadal in our ranking, as he has won the Madrid Open for the fifth time, and seems to be unbeatable again on clay, with Roland-Garros approaching.
It's a stunning return from Rafael Nadal in our ranking, as he has won the Madrid Open for the fifth time, and seems to be unbeatable again on clay, with Roland-Garros approaching. The Spaniard is in front of Pablo Cuevas, who produced an unbelievable shot, and Mladenovic, the player who keeps on rising…
1- Rafael Nadal (NE).
This time, there is no doubt : Nadal is back. Unbeatable again on clay after his victories at Monte-Carlo and Barcelona, he has now won the Madrid Open for the fifth time in his career.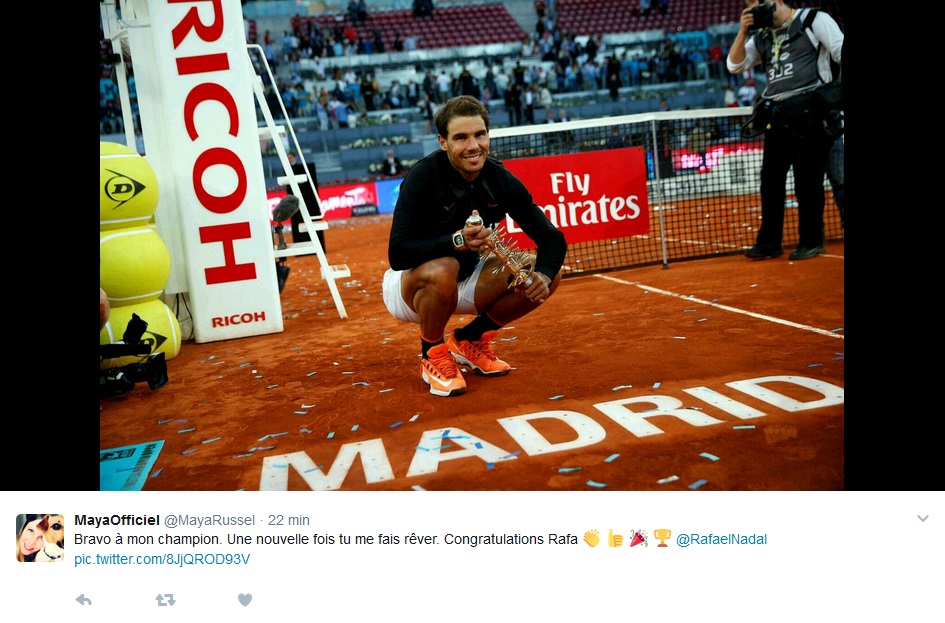 His week in Madrid was brilliant, as he displayed an impressive level of play until the final, which he won after dominating Dominic Thiem, who had nothing to be ashamed of.
Nadal could take some time to thank his staff.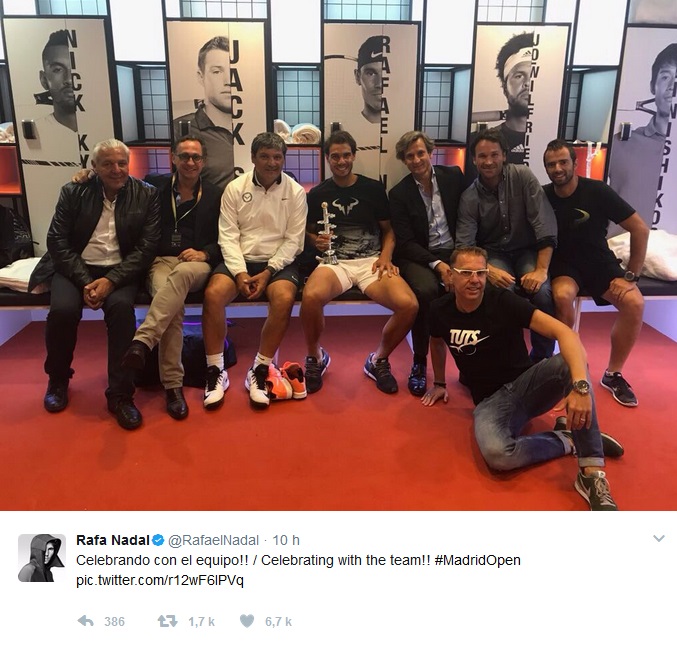 He reassured his fans, before Roland-Garros, which is quickly approaching, and where he'll be the obvious favorite…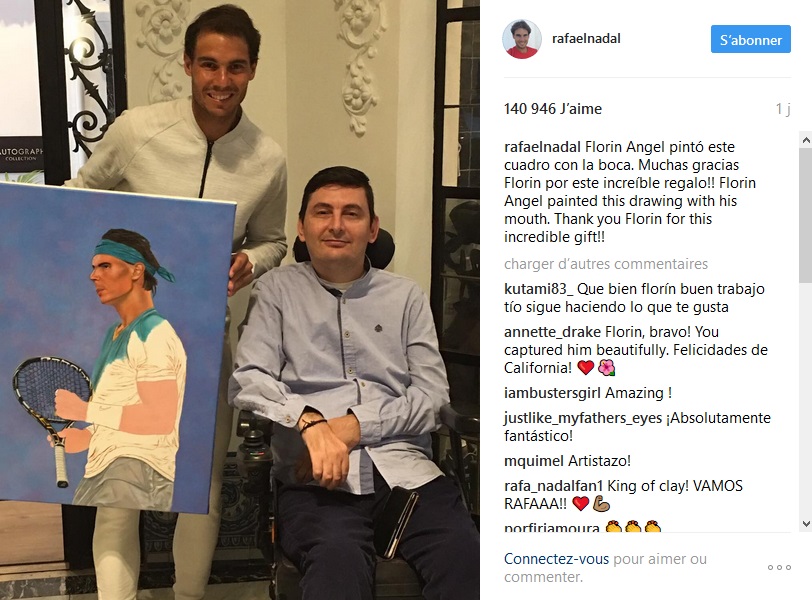 2- Pablo Cuevas (NE).
The Uruguayan produced the most beautiful shot of the week in Madrid. A hot shot which could even be the best one of the season…
A wonder. Enough to please his fellow countrymen and fans.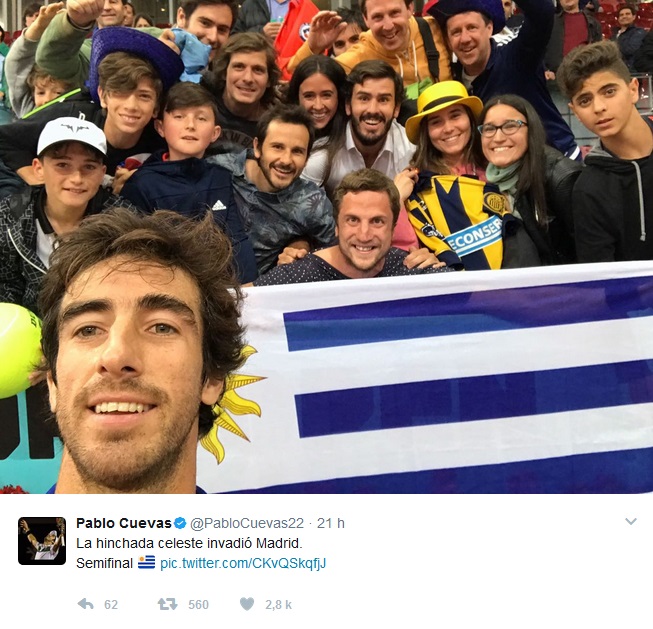 Including the Frenchman Antoine Griezmann, who came as a neighbor.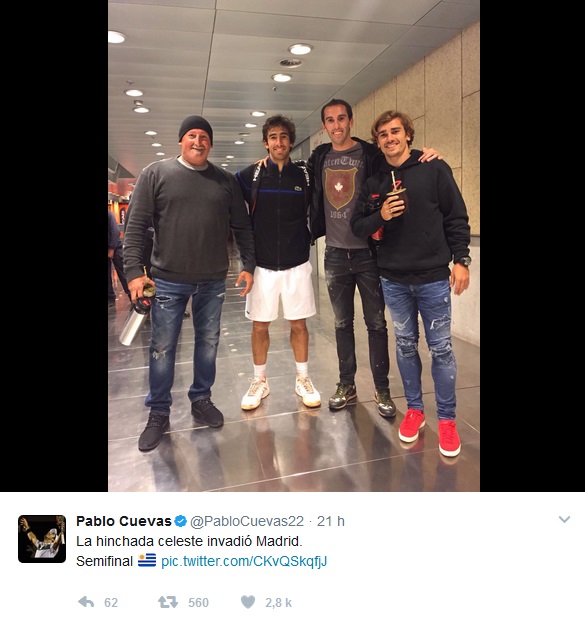 3- Kristina Mladenovic (NE).
Having already played the final in Stuttgart, Kristina Mladenovic confirmed her good form in Madrid by qualifying once again for the final, which she lost against Simona Halep.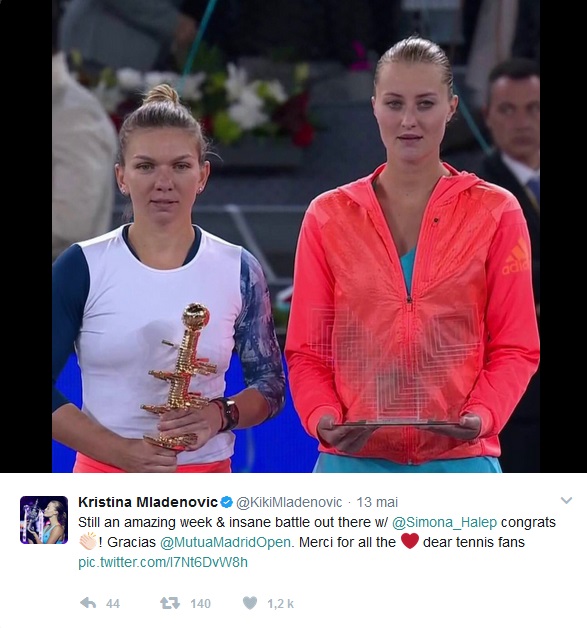 She celebrated her 24th birthday on Sunday with her best ever career-ranking, a world number 14 spot.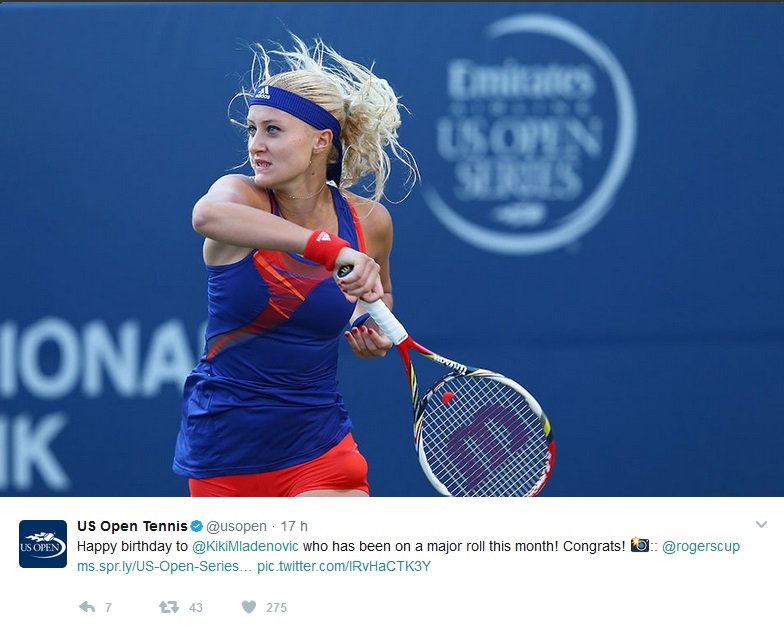 Well deserved, considering her level of play during this week in Madrid.
Her friend Belinda Bencic must be happy for her.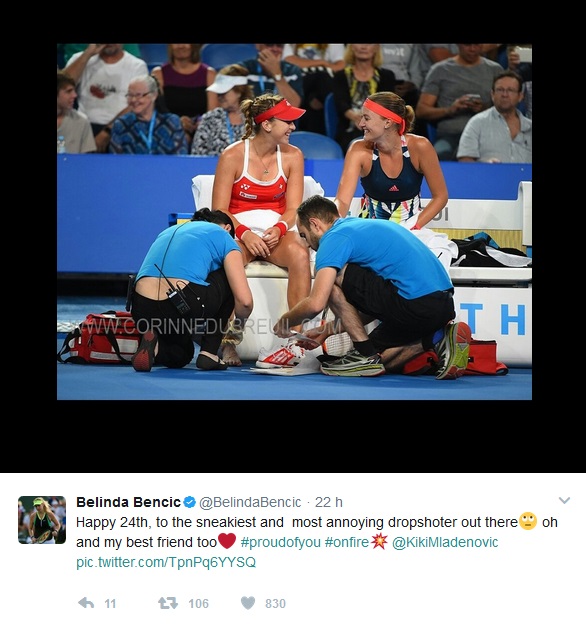 Kiki was even honored by the french press this week, with an interview with L'Equipe Magazine which provoked a lot of reactions.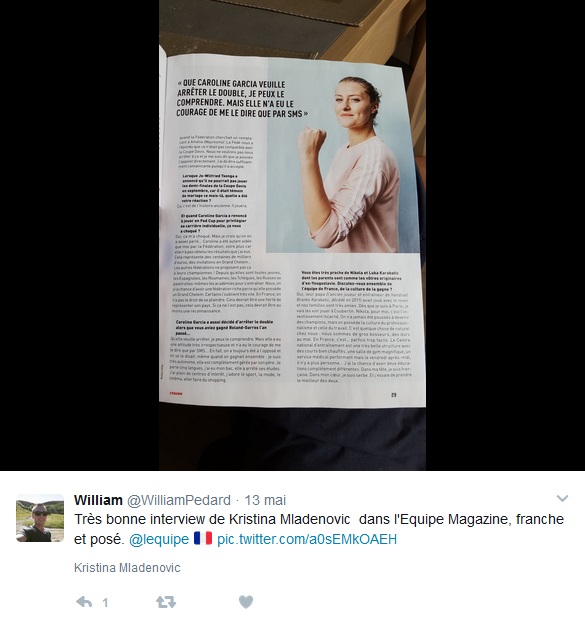 She even gatecrashed Zverev's press conference !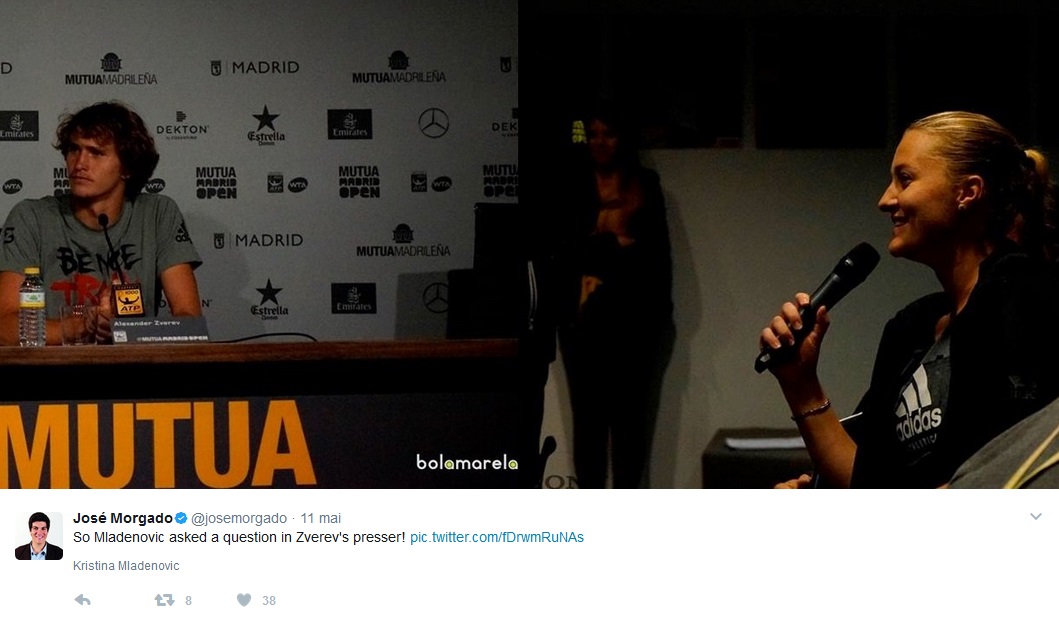 4- Dominic Thiem (NE).
In Madrid, Thiem lost in the final, but it was against Nadal, so that's pretty normal !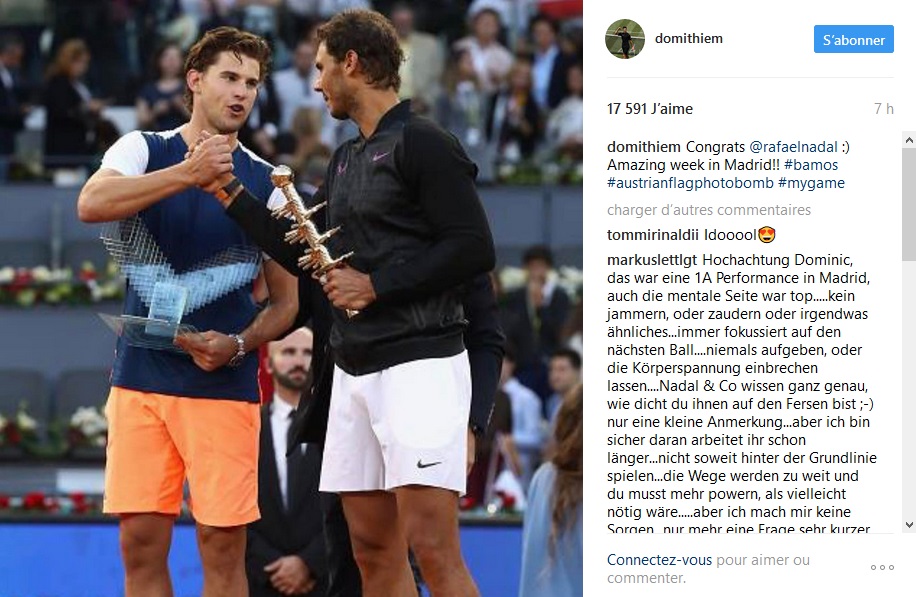 Two defeated finalists are on this picture.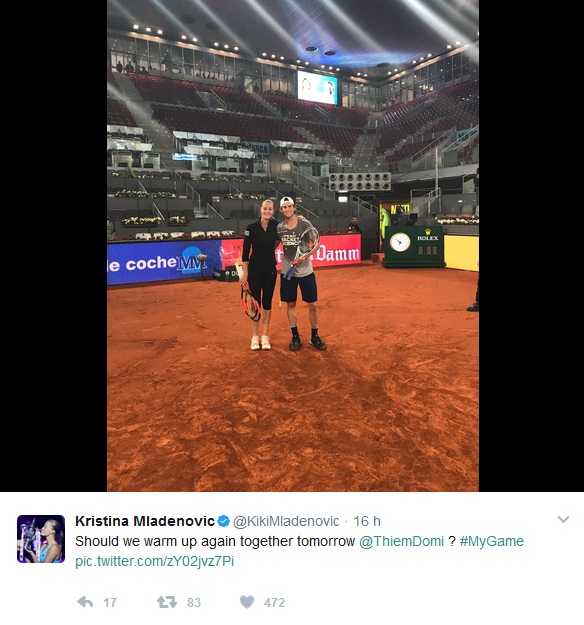 However, he also gave everything he had on the Madrid clay…
In any case, the Austrian, who is a Chelsea fan, didn't hide his satisfaction when the Blues were officially crowned, a few days ago, as Premier League Champions.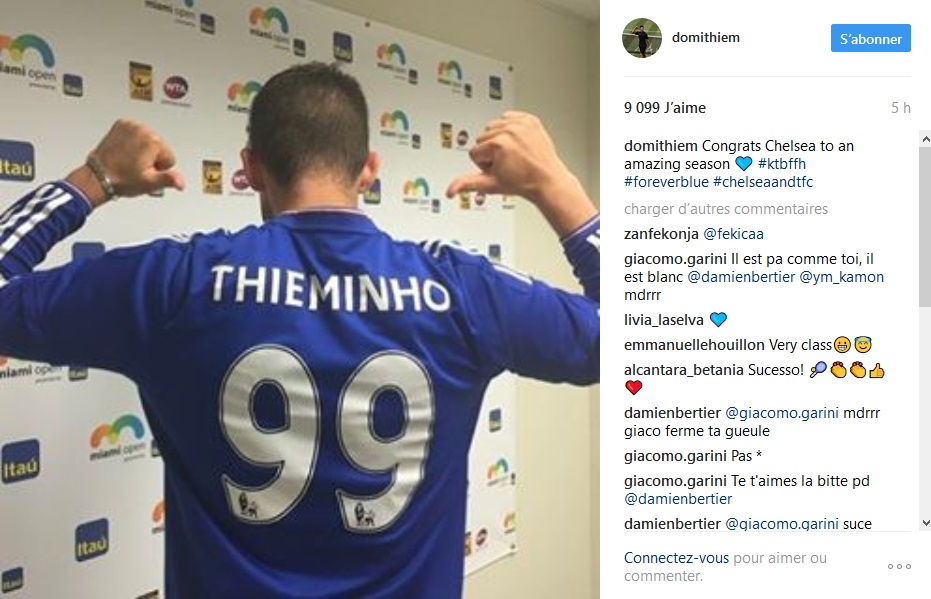 5- Simona Halep (NE).
And there it is, Simona Halep's 15th title in her career !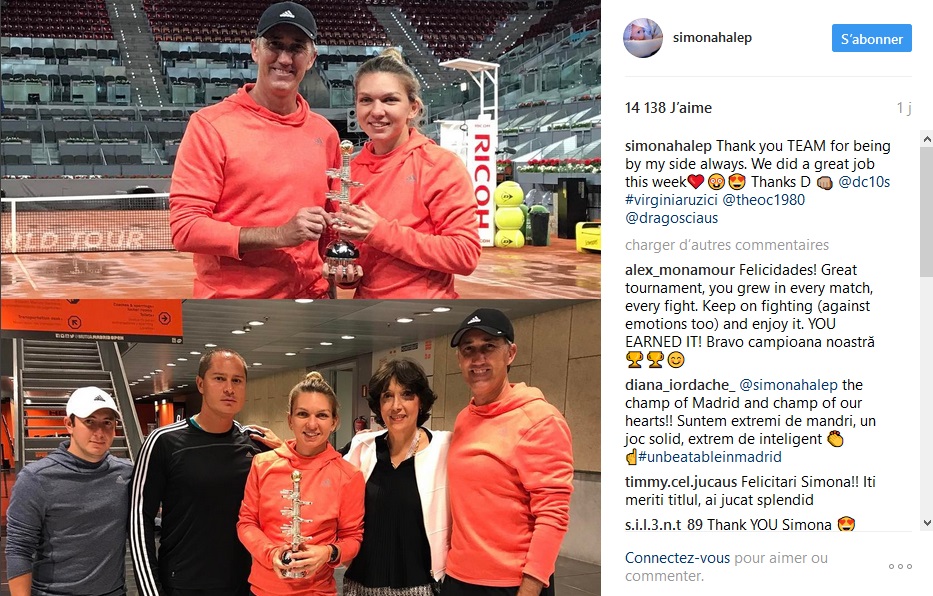 The Romanian had a brilliant tournament, and she pleased the crowd.
It's her second triumph in a row in Madrid, her chosen city.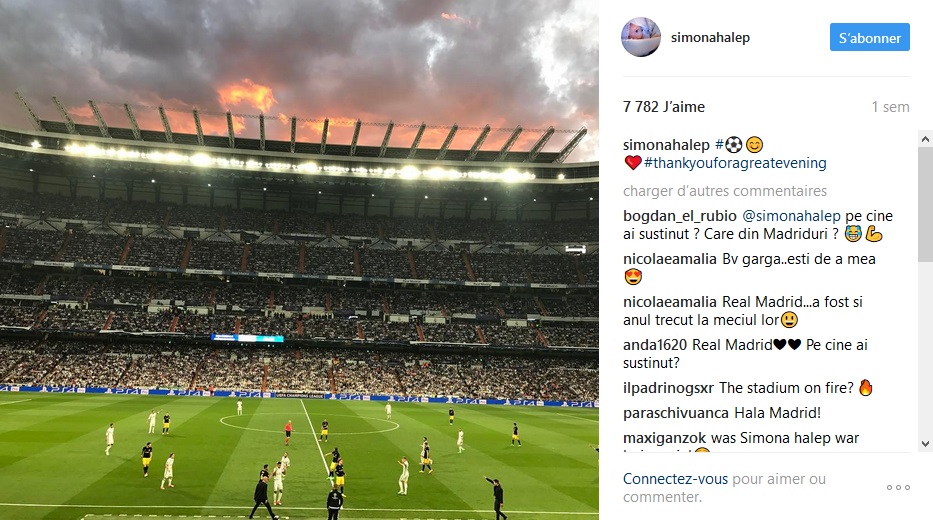 6- Serena Williams (-3).
News from Serena Williams ? Everything's going great, as her bump is adorably getting rounder…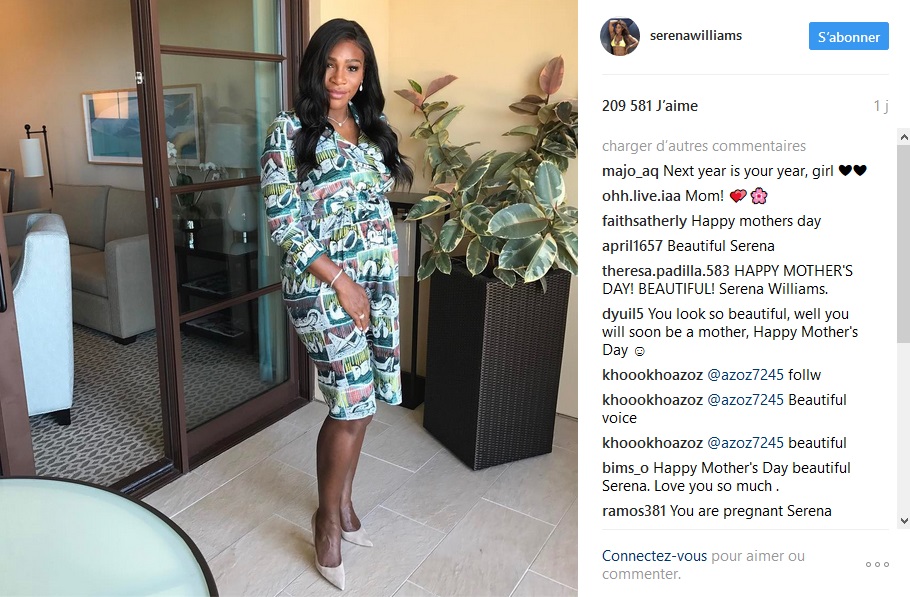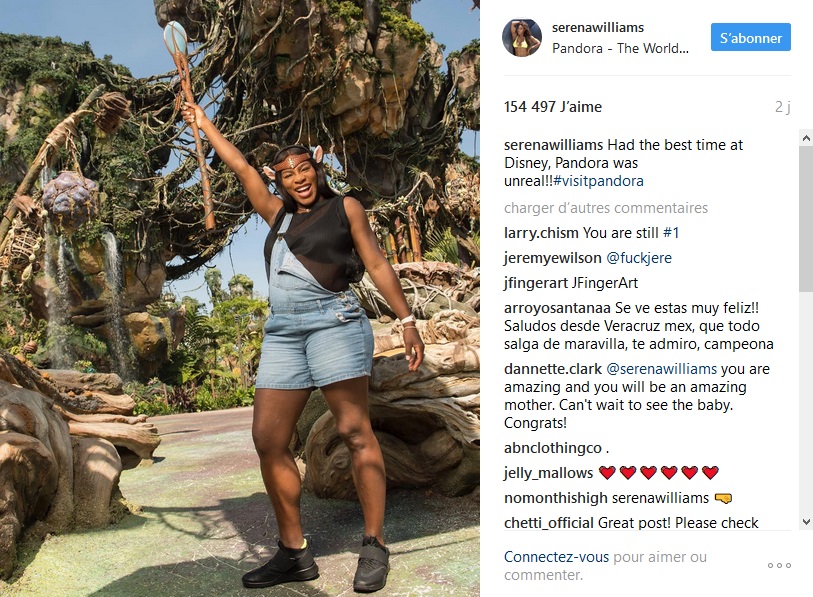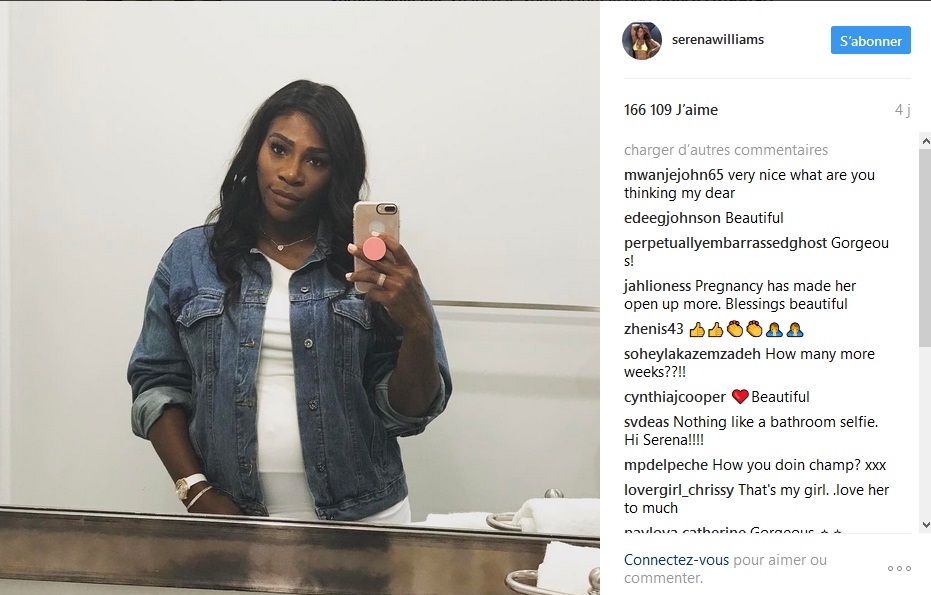 Le legend of women's tennis seems to be having an enjoyable pregnancy.
7- Ana Ivanovic (NE).
It's also a good opportunity to wonder how Ana Ivanovic is doing : everything is also going great for the Serb, who has just retired, and who now lives in Chicago with her football-star husband.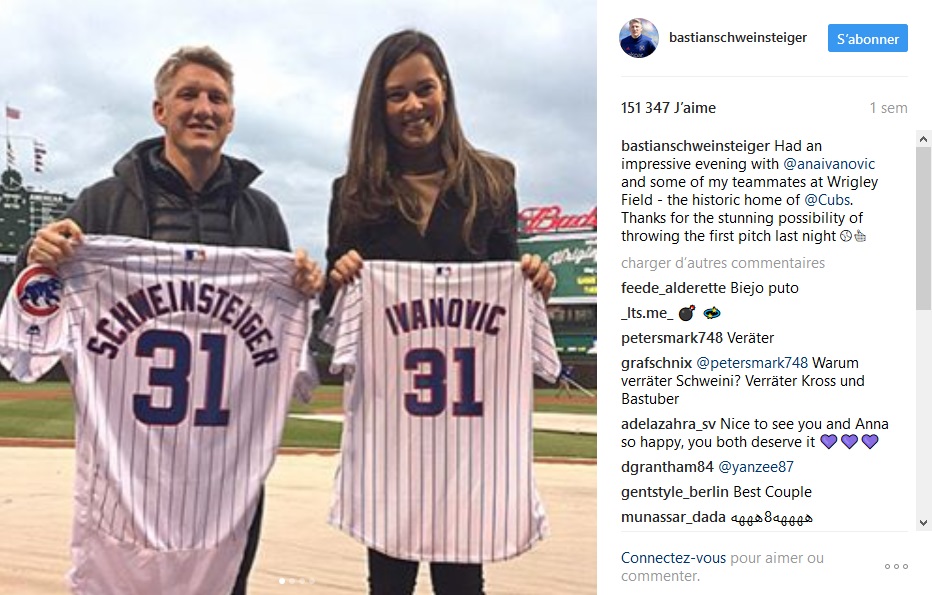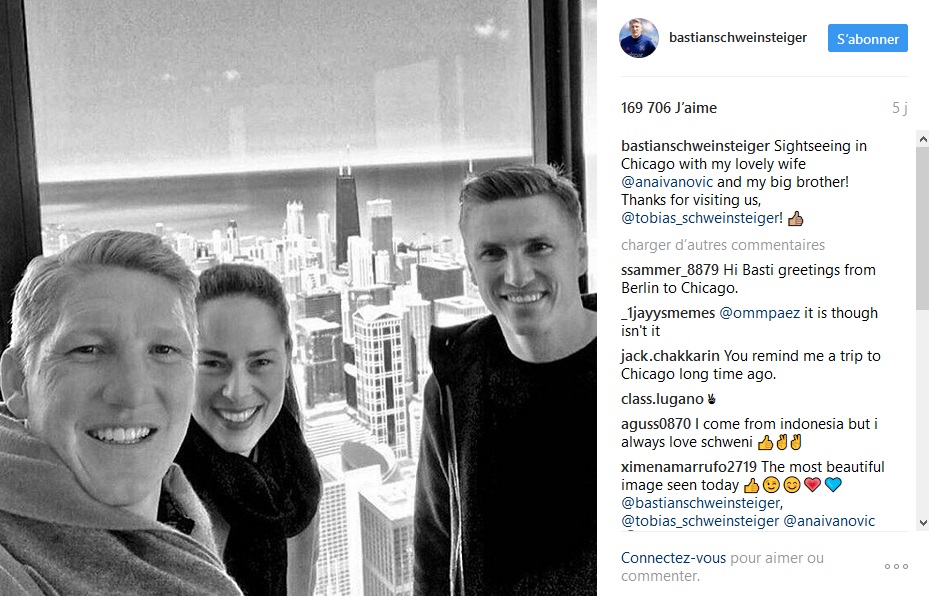 We still miss her on the circuit, to be honest…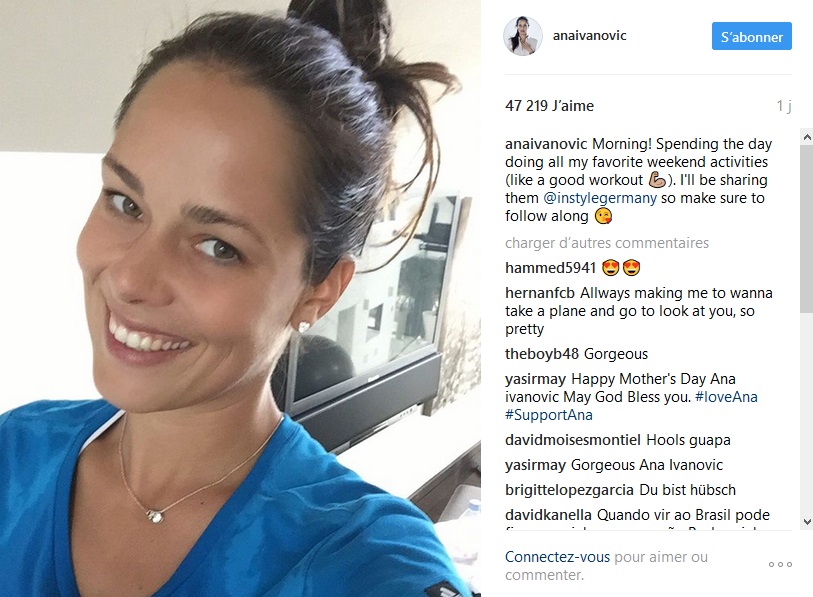 8- Emmanuel Macron (NE).
We found out a few days ago that the new French president played tennis every now and then, and that he even played a match between the first and second round of the presidential election…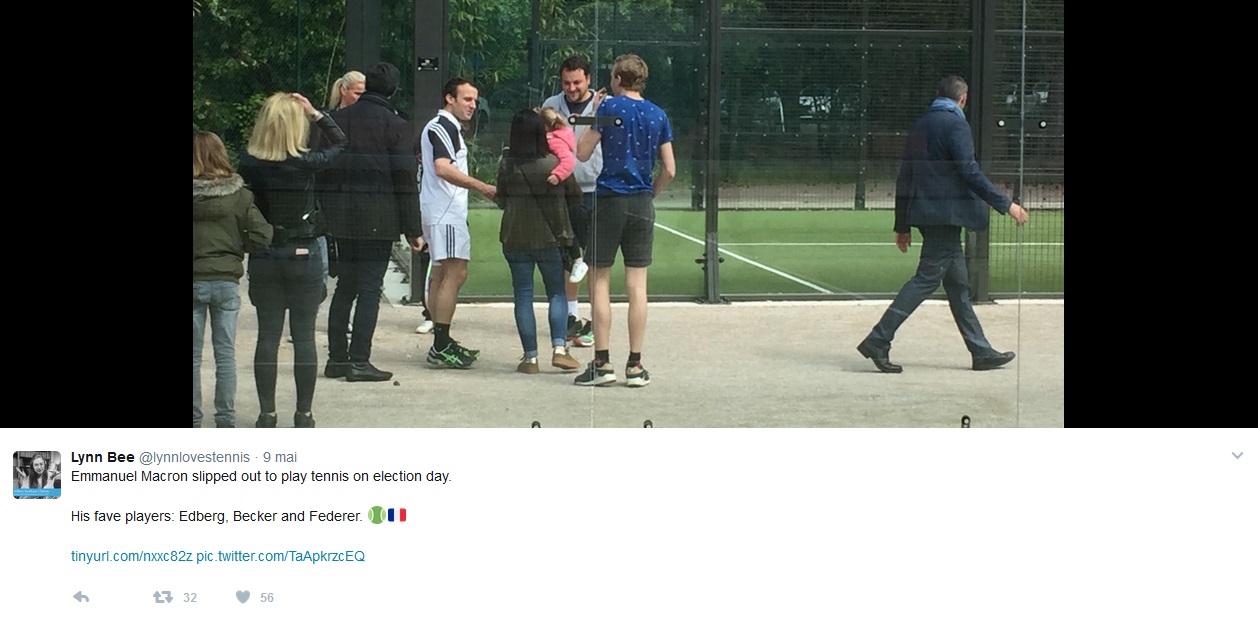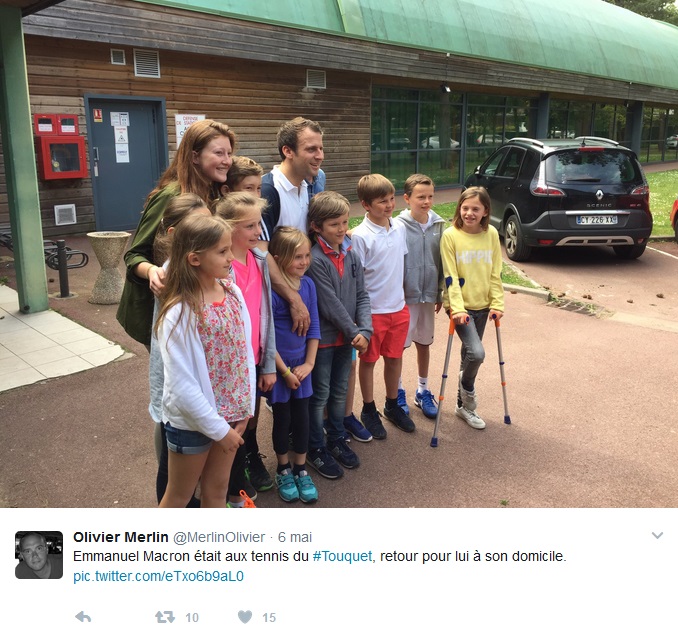 How ever, we don't know if he's any good, racquet in hand !
9- Gérard Piqué (NE).
Among the celebrities who came to watch some tennis in Madrid, was the Spanish international football player Gérard Piqué.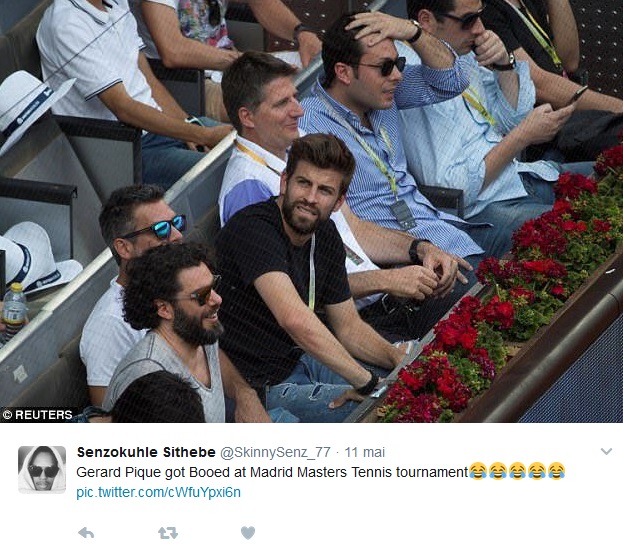 The defender, who is a great tennis fan, has expressed his ideas for this sport : he has a project of organizing a sort of world cup, which would be in competition with the BNP Paribas Davis Cup. An idea which provoked a lot of reactions, including Rafael Nadal's. The Majorcan said that he considered it to be a « great initiative ».
10- Novak Djokovic (-9).
One who currently couldn't aim to win the tennis world cup is Novak Djokovic. The ex-world number 1 is still looking to get back to his best level. Even if he's still doing the job on the Padel court !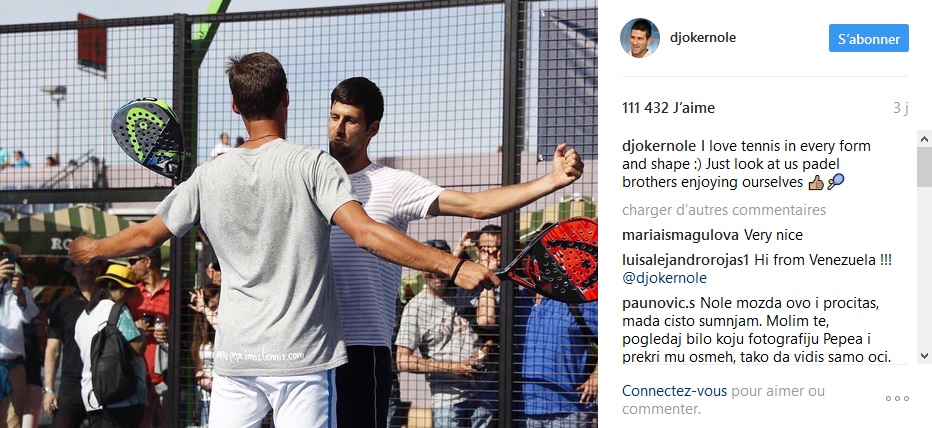 Let's not make fun of him as his confidence seems to be slowly coming back. His touch, in any case, is still here.
Of course, we'll count on him at Roland-Garros.
11- Nick Kyrgios (NE).
Kyrgios is a delight on clay.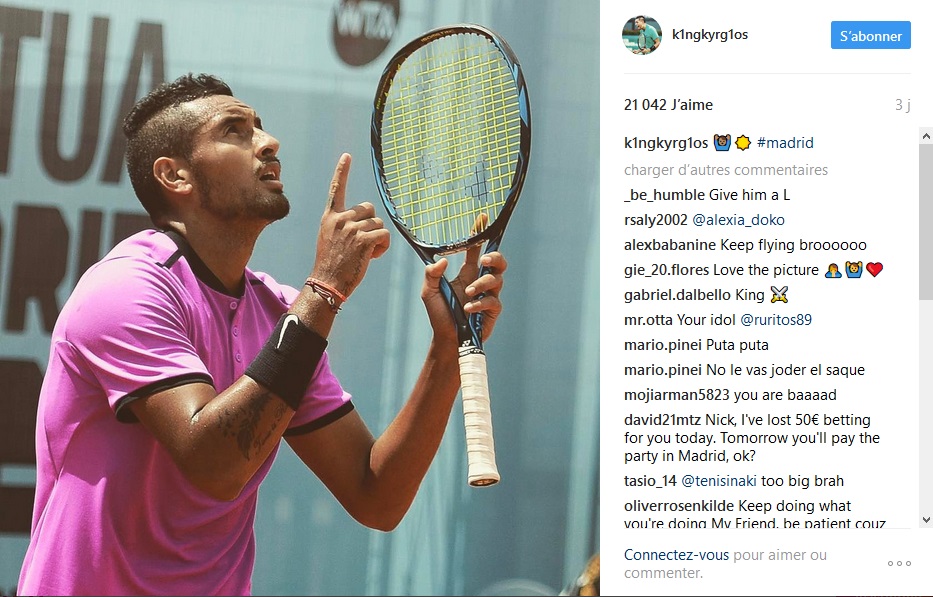 Alone or in the doubles, with this pretty amazing point scored when he played alongside Jack Sock.
His girlfriend, Ajla Tomljanovic, must be proud !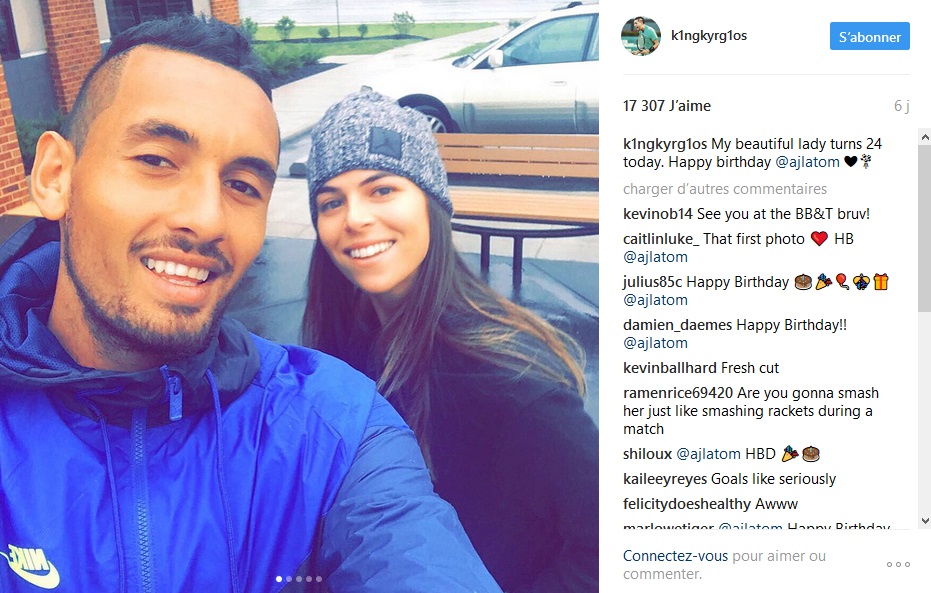 12- Benoit Paire (NE).
Another bad boy of today's tennis, Benoit Paire, could be pretty satisfied with his tournament as he left Madrid with two wins, including one against Wawrinka.

He's almost smiling again.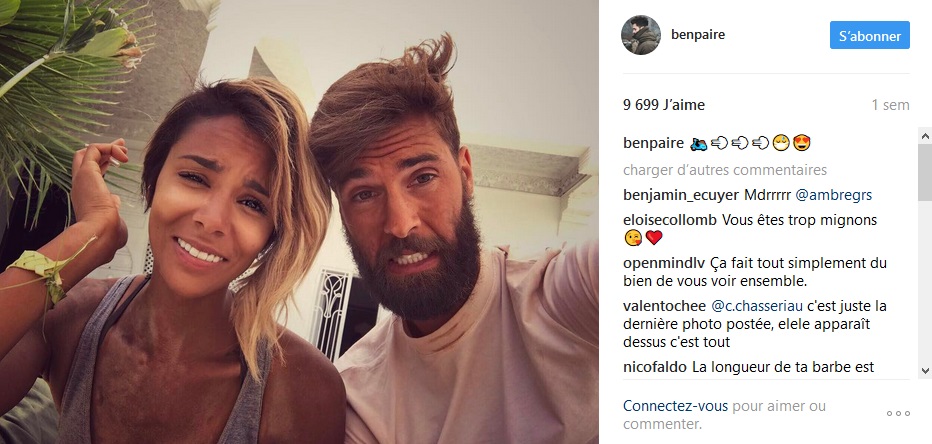 13- Nicolas Mahut (NE).
Still in Madrid, in the doubles, Nicolas Mahut had a great performance, alongside Edouard Roger-Vasselin, as he qualified for the final, which was won by the pair Kubot/Melo.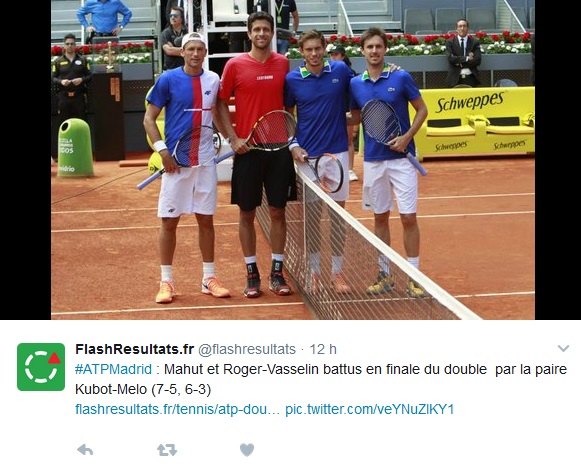 The perfect pair.
But Mahut didn't forget his ex-partner…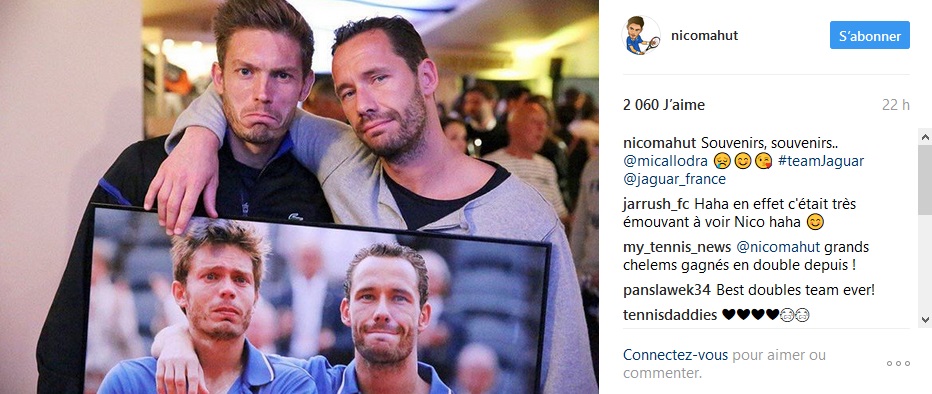 14- Eugénie Bouchard (NE).
Bouchard's training sessions have been paying off.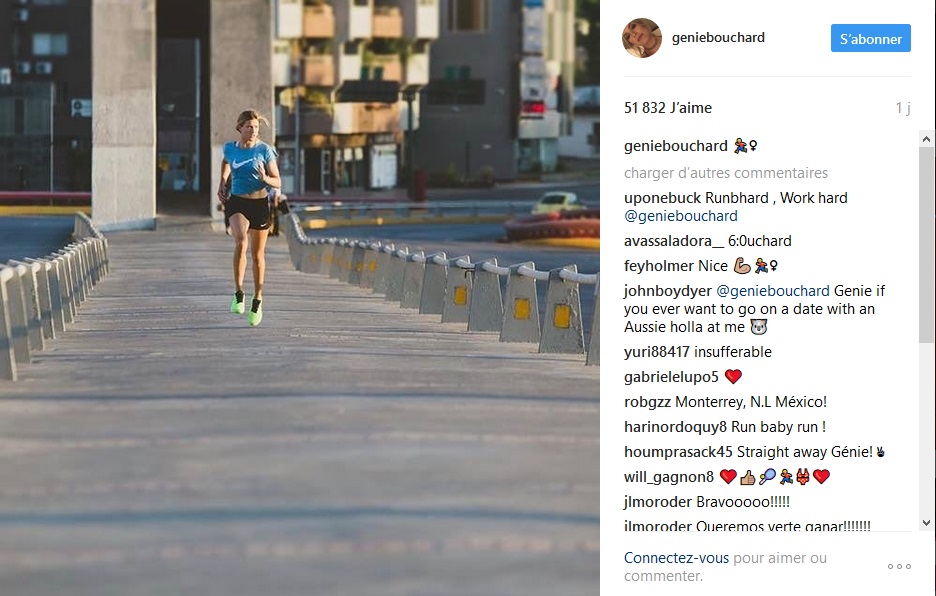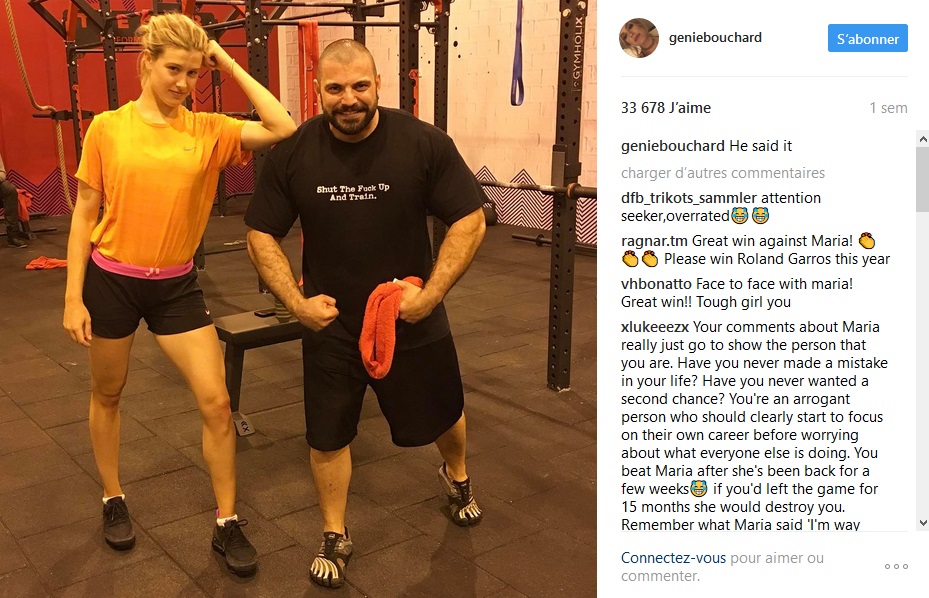 At last, the Canadian is displaying an interesting level of play !
The result : a very promising quarter-final.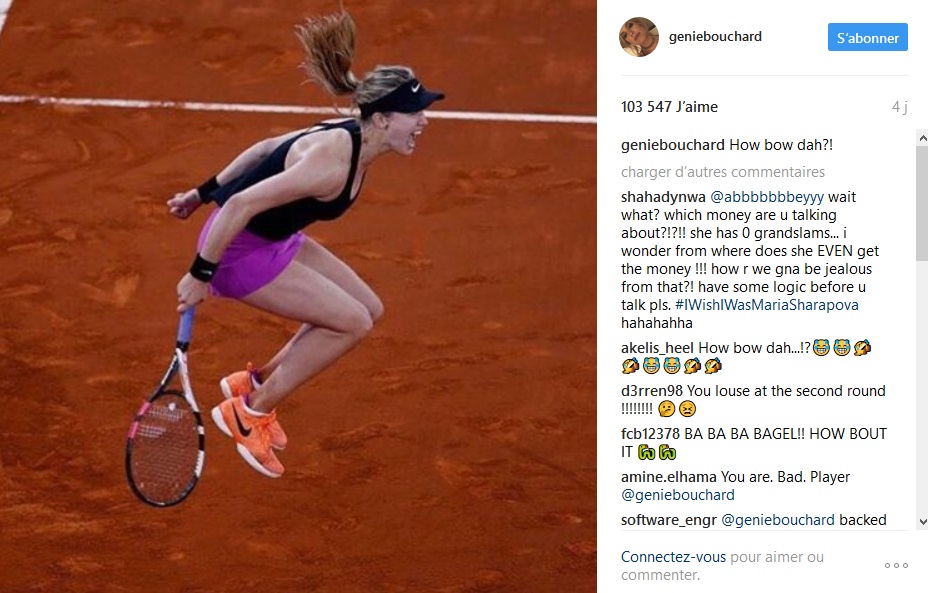 15- Roger Federer (-13).
Still resting, Roger Federer is having a good time.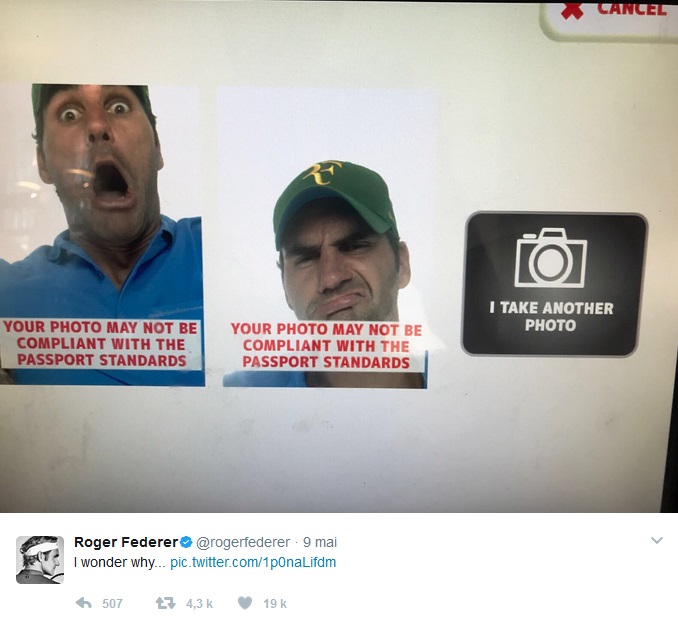 Like any man who's on holiday, he's killing time, sitting on his couch, watching sports on TV, in this case, the ice-hockey world championships.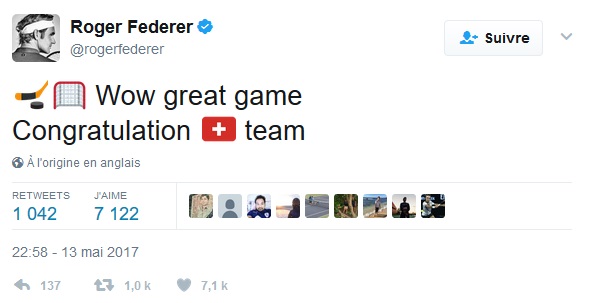 As for whether or not he'll take part in the French Open, he has put an end to the suspense : he has officially announced that he won't be present at the Porte d'Auteuil… to maximise his chances at Wimbledon. Sad.
Outs :
Sharapova, Kvitova, Bencic, Paul, Zverev, Pavlyuchenkova, Nastase, Wawrinka, Barthel, Carreno Busta, Cilic, Baghdatis
By Régis Delanöe