Just like Tommy Robredo, who received a cake for his 35th birthday after his win against Evgeny Donskoy in Estoril, there are many players who have had a small slice of cake for their birthday, during a tournament. When it doesn't happen to be a work of
Just like Tommy Robredo, who received a cake for his 35th birthday after his win against Evgeny Donskoy in Estoril, there are many players who have had a small slice of cake for their birthday, during a tournament. When it doesn't happen to be a work of art.
The most famous : Rafael Nadal
More than a habit, it has become a ritual : each year, the pastry chefs of Roland-Garros bake a huge cake to celebrate the Spaniard's birthday, which takes place on June 3rd. The huge one, which the 9-times champion had back in 2013, for his 27th birthday, was particularly nice. Nadal discovered it, just this once, directly on the court Philippe Chatrier just after having defeated Kei Nishikori to qualify for the quarter-finals (6-4, 6-1, 6-3). The 16 000 spectators present in the stands then starting singing to him, while the Majorcan, politely, answered « It's a very special moment for me. » In whose belly did the cake end up ? That remains a mystery.
The most emotional one : Andre Agassi
"I went to the Isle of Palms, close to Charleston, and won my third tournament. I turned eighteen in the middle of the competition. The director of the tournament had asked for a cake to be brought up on the central court, and everybody started singing. I had never really enjoyed birthdays. » The year is 1988, and Andre Agassi is blowing out candles for the first time of his life. « I had never celebrated mine, at home. But this time, it was different. I became an adult, that's what everyone was telling me. That's what the law said. » This is how the American describes his first time. No real feelings shown, but a true emotion felt inside.
The most treacherous one : Grigor Dimitrov
With a smile, the Bulgarian agreed to play his part. At the time, on top of turning 23, Dimitrov had just qualified for his first Masters 1000 semi-final, after Tommy Haas had withdrew from the tournament, during the second set of the Italian Open. The one who's been presented as the next Roger Federer blew his candle, and let Roger Rasheed, his coach, grab the strawberry pie. As he was about to grab a slice, Rasheed squashed the pie on his face. And what about food wastage ?
The most beautiful one : Yannick Noah
Turning 50 is quite something. Especially when you're named Noah. In that case, no expenses are spared, to create something which looks amazing. Here's the proof.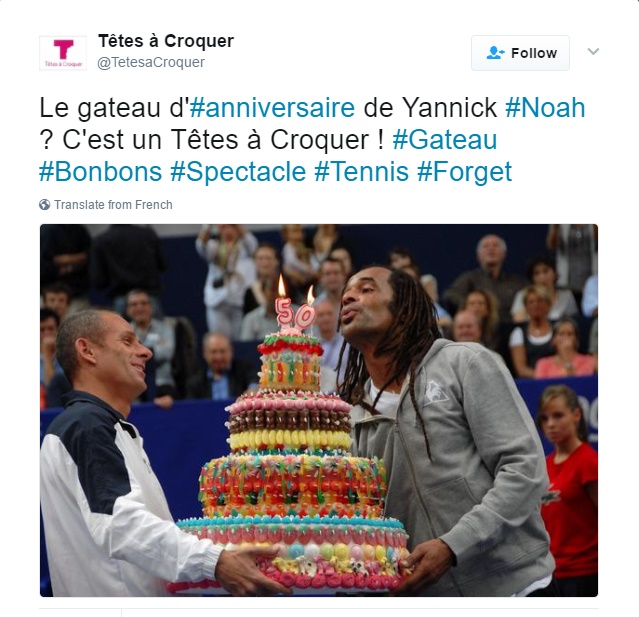 The saddest one : Marat Safin
On Sunday, January 27th, in 2002, we're not sure that Marat really wanted to have a huge piece of cake. As just before dessert, on his twenty-second birthday, the Russian was playing an Australian Open final against the Swede Thomas Johansson. The odds were in his favor, as Johansson was dubbed as a huge surprise who didn't have much of a chance of winning. However, despite a first set won by Marat, Johansson then stepped up to the occasion and won the three following sets with no fear. After his defeat, the organizers still wanted to gift Safin a big cake. The Russian tried to pull off a smile and said : « At least, one positive thing happened to me today. »
The most WTF one : Murray
When you celebrate your birthday, you're one year older. A nightmare for some, who see old age coming a spend their days in front of the mirror trying to picture their future wrinkles. On his side, Andy Murray didn't have this kind of trouble on his 26th birthday as the inhabitants of Dunblane, the Scottish town where he grew up, offered him a cake which was a portrait of himself. A 24 inches-tall portrait made of dough and sugar, which couldn't really get old as it was exposed in the town before being eaten by the inhabitants. Without Andy having a single slice.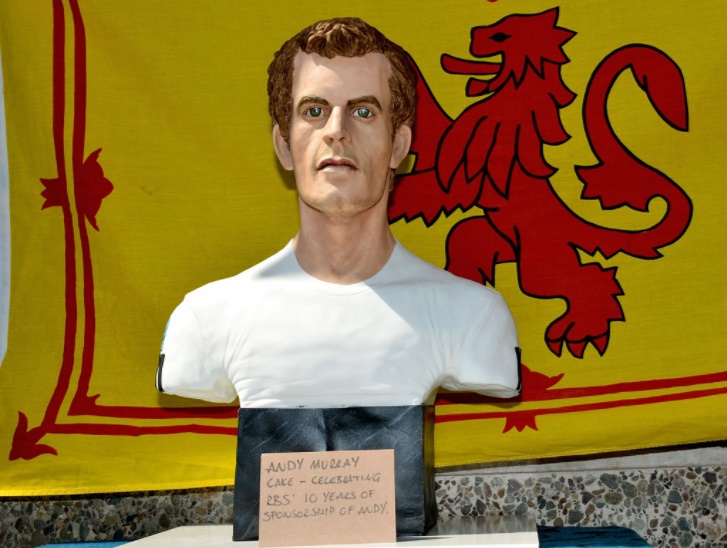 The most personal one : Djokovic
In the last few years, Novak Djokovic has truly become a winning machine and has never hid his secret away from the fans : his gluten-free diet. If some consider it to be a trend for spoilt children, others consider it to be a real plus, the subject has sparked a lot of debate but Novak doesn't change his ways, even on his birthday. Born on May 22nd, just before Roland Garros, the Serb has blown out his candles many times at the Porte d'Auteuil, during birthday parties which have been organized just for him, before the start of the tournament. And if pastry chefs have been inventing many cakes in all different shapes and sizes, they never forget the number 1 rule : no gluten.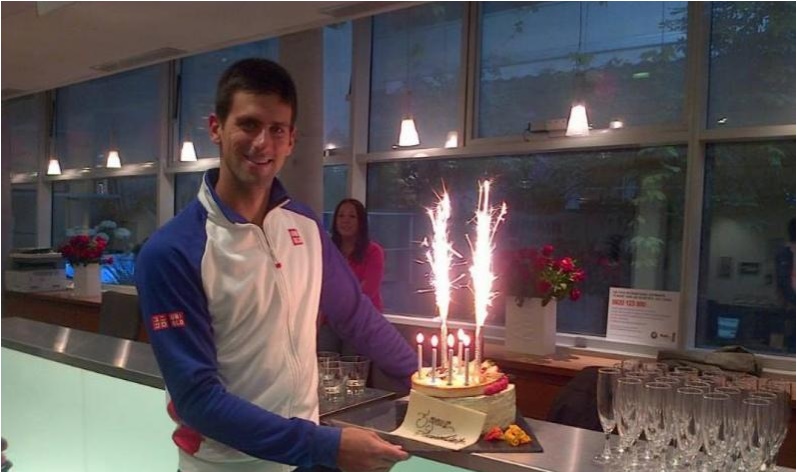 The most statistical one : Williams
On March 23rd, 2015, Serena Williams her eighth Miami Masters. A day just like any other for Venus' sister, but the player was also celebrating her 700th win on the circuit. Almost a birthday, to resume. In any case, that's what the directors of the WTA told themselves, as they offered Serena a big cake. A work of art in terms of pastry techniques which represented the number 700, with the 7 in the shape of a tennis court, a racquet, and the WTA logo on the first 0, and some tennis balls and a congratulations message on the second 0. All that made of dough, of course.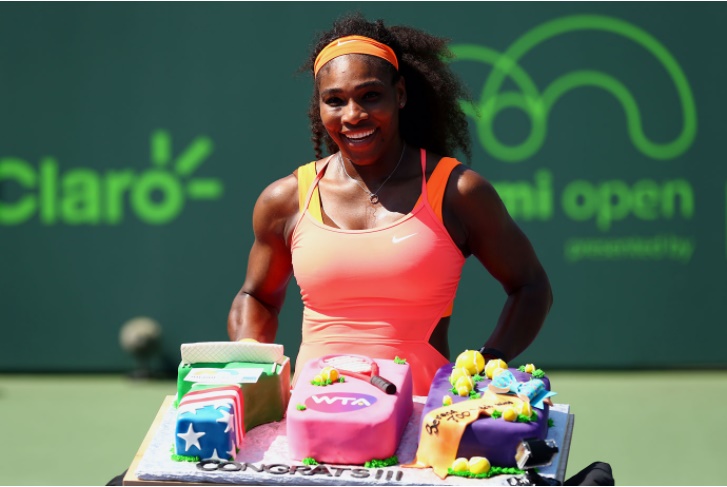 The most bitter one : Cornet
We're in January 2011, and the Frenchwoman Alizée Cornet has made the lyrics of the French singer Lorie her motto : « Nothing is impossible, at twenty, you're invincible. » The player was already famous on the circuit, was close to entering the Top 10 in 2009, started her Australian Open with two wins before facing Kim Clijsters, the world number 3. Corner entered the court on her 21st birthday, an age at which, according to Lorie, you're not invincible anymore. And after losing the first set 7-6, Corner crumbled in the second one, which she lost 6-3. Gutted after the match, she said : « I definitely had the level required to face her. My birthday present was a bit of a failure, it was a poisoned chalice ! »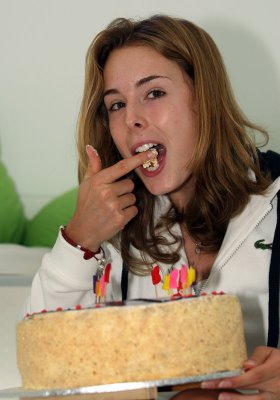 By Florian Cadu and Alexandre Doskov