After more than ten years of collaboration, Novak Djokovic has parted ways with his three coaches. A shock treatment which many players have tried before. Not always with success, but with no regrets.
After more than ten years of collaboration, Novak Djokovic has parted ways with his three coaches. A shock treatment which many players have tried before. Not always with success, but with no regrets.
« I'm grateful to Marian, GG, and Miljan for a decade of friendship, professionalism and commitment to help me reach my personal goals. Without their support, I would've never reach these professional summits (…) They are my family and that will never change. » For Novak Djokovic, the trio formed of Marian Vajda (head coach)/Gebhard Phil-Gritsch (physical trainer)/Miljan Amanovic (physiotherapist), is now gone. This is how the Serb announced the news through an official press release. Having been by the ex-world number 1's side since 2006, the three men can now think about going on holidays or finding a new challenge, far away from the Joker. Mutual consent, or Novak's personal choice ? That remains a mystery. However, all of them will have to be strong in the next weeks and months.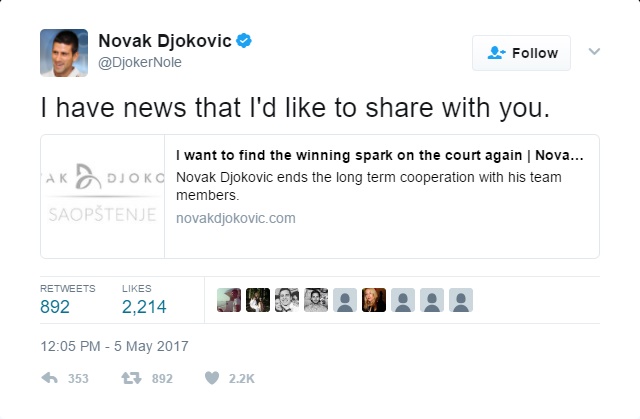 As if this kind of breakup is not rare in the world of tennis, they are still tough to go through. « It's a little strange when it stops, for sure, confesses Loïc Courteau, Amélie Mauresmo's coach between 2002 and 2008. It's like family. » A family to which you must sometimes say goodbye and good luck for the future. « Whether it's a decision made by the player or the coach, it's still hard to accept, says the French coach. It's a little death, in a way. You have to grieve. In the end, we know our jobs and we know that we're going to have to get through moments like these. At the start, with Amélie, I didn't know if I would be there for more than two weeks. We worked together for seven years… » So, do Djoko and his ex-staff have to anticipate this new period by ordering tons of boxes of Valium or Prozac ? And how do you avoid feeling depressed ? « It's not a period of depression. But you have to bounce back, Loïc Courteau carries on. When it stops, you have a lot of agents calling you. Personally, I felt the need to take a break. But the idea is to find a new challenge pretty quickly, to launch yourself into a new adventure. However, it's not always easy to start something new with a new person, to get yourself into a new relationship. Well, thankfully for me, Amelie and I still got on very well. It wasn't a breakup which came after a fight. » Breakup, new relationship, bounce back, family…If these lines weren't about tennis, we could easily have them mixed up for a paragraph on romantic relationships. Which is pretty normal, knowing that a coach spends almost 300 days with his player, and that both their professional rhythms are identical. « It's 24 hours a day. You eat together, you live together, you travel together…it's the person with who you spend the most time. Obviously, that person is very important in your life », Loïc Courteau confirms.
A strategy which pays off
However, this divorce is sometimes recommended, mandatory, and even inevitable. « It wasn't an easy decision, but we all figured out that we needed a change », Djokovic even said. And if the Serb ended up taking the plunge, it's because this sort of strategy has often payed off for the ones who have made that decision before him. As a specialist, Stan Wawrinka has never hesitated to change everything when his career was stagnating, and it often worked pretty well. In 2010, during the summer, he even ripped up a whole page of his life as on top of separating from his coach, the Swede Peter Lundgren, he also divorced his wife. The following season, he got in the world Top 15 and reached two Grand Slam quarter-finals. He did it again in September 2011 : Wawrinka said his goodbyes to Lundgren, trained alone for a while before finding a new staff in 2013, with who he went on to win three Grand Slam tournaments, becoming a solid reference among the best players of the circuit. Five years ago, Serena Williams had also decided to make a big change at a time where her career was plunging. Which was even more difficult as she was already thirty years old and that her coach was her father. The American had joined the Frenchman Patrick Mouratoglou's team, before starting to win titles after titles and being back on the world number 1 spot.
Killing the routine
The separation generally benefits the player. Loïc Courteau even confesses that it was him who advised Mauresmo to split up with him, for her own good : « I had been suggesting the idea for a while, and she then took the decision. It's important, after a while, to hear something new. The player who's hearing the same words after seven years can need something new to get back to the top. » According to Courteau, routine is progression's main enemy, as he had felt it at the end of his collaboration with the ex-world number 1 : « She didn't manage to get back to her best level. And on my side, I couldn't find the words to give her a new message. » As for the coach who is left alone, it's also his mission to find his own benefits : « The coach can also need a new challenge. » While keeping an eye on their ex-protégé's results, even if they're in the arms of someone else. Like after any other breakup, in the end.
By Florian Cadu and Alexandre Doskov