Seen crying after having been insulted by Ilie Nastase during a BNP Paribas Fed Cup play-off match between Great-Britain and Romania, Johanna Konta is not the only player who's had to dry her tears on a tennis courts. Whether they were tears of joy or s
Seen crying after having been insulted by Ilie Nastase during a BNP Paribas Fed Cup play-off match between Great-Britain and Romania, Johanna Konta is not the only player who's had to dry her tears on a tennis courts. Whether they were tears of joy or sadness.
Stan Wawrinka
If he remains a great player, The Swiss sometimes has trouble keeping his nerves. That's how, in 2016, the Vaud-born player totally crumbled before his US Open final (which he ended up winning against Novak Djokovic). « I was more nervous than I had ever been. I was shaking in the dressing room, he admitted. Five minutes before the match, when Magnus Norman started talking to me, I started crying. I was completely shaken.» Even more recently, Wawrinka broke down again during the BNP Paribas Indian Wells Open post-match ceremony, after a final which, this time, he had lost against Roger Federer. « I'm sorry, I'm just very tired after these last ten days. I'd like to congratulate Roger. He's an asshole but it's ok, he laughed between two sobs. I've had difficult defeats against you, but when you played the Australian Open final this year against Rafa, I was still your biggest fan. »
The French women's team
They were so close…In November 2016, Amélie Mauresmo's team reached the BNP Paribas Fed Cup final. But the ex-player saw her protégées stumble on the last step against Czech Republic. If Caroline Garcia pulled off two feats to gift her country with two points, it wasn't enough. After their defeat in the doubles, the French had to accept finishing second. Too hard to take for the players, who couldn't stop themselves from crying when they stepped on the podium. Cruel.
Ana Ivanović
If Ivanovic has been the world number 1 during twelve weeks, not everything has been bright during her career. The Serb has been through numerous injuries along her career, which brought tears to her eyes on different occasions. First at the 2008 Beijing Olympic Games. « I was the world number 1 at the time, but I had to withdraw from the Olympics because I was injured. I've never been sadder in my career. (…) I had my heart set on playing in these Olympics to represent my country for the first time (…) I will never forget the press conference in which I had to make my withdrawal official. I was crying, it was a very difficult moment », she confessed. It happened again on June 14th, 2009, when she withdrew from Wimbledon during a match against Venus Williams, and left the court in tears. « It's time for me to take a step back. I'd like to temporarily forget about tennis », she said at the time. It occurred one last time during the quarter-finals of the 2011 BNP Paribas Indian Wells Open, when she broke her racket out of rage and cried after losing. After all, being the world number 1 doesn't prevent you from being frustrated.
Roger Federer
Federer could even confirm that statement. After having been defeated once again by Rafael Nadal in the 2009 Australian Open final, the Grand Slam record-holder completely broke down during his post-match speech. The Spaniard didn't really know how to react, and Mirka looked shaken. Years later, Roger cried again, of joy this time, on multiple occasions : to celebrate the Swiss victory at the 2014 BNP Paribas Davis Cup, or his win at the 2017 Australian Open against…Nadal.
Alizé Cornet
It's what you call a nervous breakdown. In 2014, at Eastbourne, the French broke down in front of the umpire, who told her : « You can't blame me after all my calls. It's a correct decision, what can I do ? » Not a first for Cornet, who has got a habit of mentally crumbling in the middle of matches, and who sometimes has to be consoled during a change of ends. It was the case at the Dubai tournament in 2014, or at the 2014 GDF-Suez Open. An uncontrolled emotion which sometimes enrages her opponents.
Eugénie Bouchard
« I asked her if it was because of her concussion. She said it was and told me that the symptoms came back when she was physically very active. » During this month of October 2015, even Andrea Petkovic seemed sad to see her opponent of the day withdraw after feeling dizzy, following the concussion she suffered at the US Open. After hitting rock-bottom, the Canadian could only cry to answer her health issues. Which haven't completely left her alone to this day.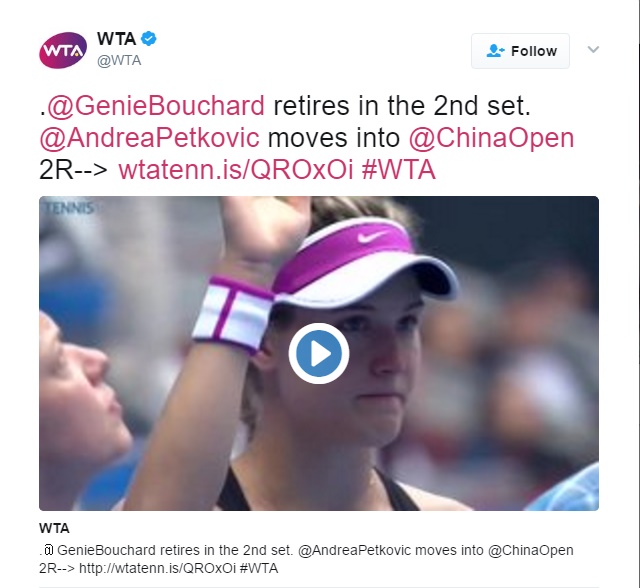 Pete Sampras
It's a famous story, but it's still a very emotional one. On January 24th, 1996, the world number 1 was struggling against Jim Courier in the quarter-final of the Australian Open but, despite having lost the two first sets, he managed to come back to equalize. The moment chosen by a spectator to scream : « Win for your coach ! » A sentence which greatly moved the American, who broke down in tears. The reason behind those tears ? Tim Gullikson, Sampras' beloved coach, had just been hospitalized in the US, after being diagnosed with a brain tumor. Being a class-act, Courier asked Sampras if he wanted to finish the match the following day. Pete declined the offer, and won the decisive set. Hats off.
The spectator who had lost her daughter
How do you stop a match between Nadal and John McEnroe ? By crying for the loss (in the literal sense) of your daughter. During an exhibition match played in 2016, the two men briefly paused their confrontation when they realized that something was happening in the stands : a panicked woman was looking for a « blonde little girl. » As she apologized, the Spaniard calmed her down : « No, no, your little girl is the priority. » In the end, the crying spectator quickly found her missing little girl and everything ended well. With a McEnroe pretending to dry his eyes.
Jo-Wilfried Tsonga
We often see it during football matches, but a little less in tennis. Before the doubles between France and Switzerland in the 2014 BNP Paribas Davis Cup final, Tsonga was shaken by an intense emotion during the French national anthem, and his cheeks looked a bit wet. Not enough to boost his teammates, who lost against the duo formed by Federer and Wawrinka.
The ball boy
Is taking one of Vasek Pospisil's serve in the stomach painful ? Apparently, yes. During the 2016 Shanghai Masters 1000, a poor ball boy had to deal with the tough experience. The shot even made the young kid tear up, even if he tried to mask his pain. He still received Dimitrov's armband in exchange, as the Bulgarian came to check on him. A deal which the victim hadn't really wished for.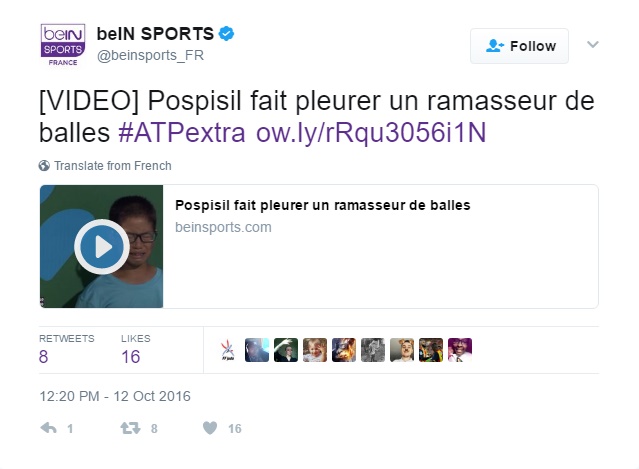 By Florian Cadu