A Russian brute, an ex-party animal British artist, a new wonderkid from Eastern Europe who's been training with Mouratoglou…Let's discover a few players who will make their debuts in Paris this year…
A Russian brute, an ex-party animal British artist, a new wonderkid from Eastern Europe who's been training with Mouratoglou…On Monday (the ATP and WTA rankings from April 17th being the proof), we discovered the list of the players (minus the ones who will go through the qualifying rounds) who will take part in Roland-Garros (the first 104 in the men's table and the first 108 in the women's.). Among those who will make their debuts in Paris this year, there are a few interesting profiles…
Karen Khachanov, 20, world number 52
« He'll be in the top 20 before 2015 ! ». Saint-Petersburg, October 2013. The ex-world number 1 Yevgeny Kafelnikov announced this prophecy. Having not had a rank at the ATP yet, the young and unknown Karen had just defeated Janko Tipsarevic. Of course, « Kafel » got a bit ahead of himself : since the last 6 months and his last tournament won, his powerful game has been breaking more than it has been making it, and K.K is still struggling to enter the top 50. But careful, as this superb 1.98m athlete, coached by the clay specialist Galo Blanco under the Catalan sun, has ended a three year spell without titles for Russian tennis by winning the Chengdu tournament last fall. If he's won only three matches since the start of 2017, a great amount of top-seeded players will want to avoid facing him in the first round in Paris. After all, the argument is irrefutable : a player who managed to defeat Roberto Bautista-Agut on Barcelona's clay is very capable of defeating any other member of the elite.
Dan Evans, 26, world number 44
Even if this funny chap has largely confirmed the reputation of British players being not able to slide - his record is clear : zero match won on clay - his first participation in the main draw of Roland-Garros is already an event. Firstly because in the last two years, Evans has finally become aware of his potential, which, until now, he mostly expressed at parties : « He doesn't make any sacrifices for his sport, he doesn't understand that tennis must be his priority, » said his Belgian coach Julien Hoferlin of him. The death of his coach in 2016, following a battle against a brain cancer was his electroshock. Last September at the US Open, Dan Evans was only a point away from knocking out the future winner of the tournament, Stan Wawrinka, in the third round. He finally defeated his first top 10 player, Dominic Thiem, last January in Sydney, before doing it again against Marin Cilic in Melbourne, where his reputation of being an ex-party animal combined with the fact that he now plays without a sponsor and buys his polo shirts himself made the headlines…
Daniil Medvedev, 21, world number 62
He has no family relationship with Andreï, who was the losing finalist in Paris in 1999. The only resemblance is his very Russian soul, and the genius side of his personality. Just like the « other » Medvedev was when he started, the big Daniil (1m98) is ambitious : if he has only played one final on the main circuit, in Chennai last January, The Muscovite doesn't hesitate to say that he's aiming for the top 10. And just like the Ukrainian, he's as awkward with borderline jokes as he's talented racquet in hand. Exactly one year ago, he was disqualified from the Savannah Challenger tournament for saying out loud that the umpire had the same color of skin than his opponent Donald Young…Based at the Jean-René Lisnard academy in Antibes, Daniil Medvedev is fluent in French and shouldn't go unnoticed for too long at the Porte d'Auteuil, where, until know, he has only played in the Juniors tournament in 2013 and 2014.
Catherine Bellis, 18, world number 57
She has probably kept a very bad memory of her last stay in Paris in 2015 - a logical defeat against the Paraguayan Veronica Cepede Royg in the first qualifying round, one morning on the very small court number 11, in front of four spectator. More generally speaking, she's not very fond of clay. But her title of being the 2014 Juniors world champion, and her status of being the youngest player of the top 100 could be enough for her to be one of the attractions of the Parisian tournament.
Ernesto Escobedo, 20, world number 73
Here's one who has never set foot in the Parisian stadium. He never played there in the Juniors category, nor did he play the qualifying rounds. But he's from a tennis family. His aunt, Xochitl, represented Mexico at the Seoul Olympic Games in 1988. His father, who was also a good player, didn't want Ernesto to follow in his footsteps…until he saw his 4-year old son with a racquet in hand. If you see him at Roland-Garros, you'll probably notice his physical and tennis resemblance with the ex-top 20 player Vince Spadea. As a newcomer in the top 100, he has recently proven that he was able to slide and resist during three hours by defeating John Isner in Houston on the epic score of 7/6 (8/6) 6/7 (6/8) 7/6 (7/5).
Thiago Monteiro, 22, world number 80
Gustavo Kuerten will be mentioned a lot this year. It's already been twenty years since we've seen the Brazilian, who nobody expected at the time, win the tournament after defeating three ex-winners on his way to the title. The anniversary could inspire the young left-handed player Thiago Monteiro, who's too young to remember the 1997 saga, but guarantees that he remembers the end of « Guga »'s great era, at the start of the year 2000's. Just like Kuerten and Tomaz Belluci, Thiago Monteiro has also been coached by the Brazilian miracle-maker, Larri Passos. An excellent start, while waiting for the click.
Jared Donaldson, 20, world number 74
The first time that he was spotted was in 2014, when Roger Federer had invited the young 17-year old American to train with him for three weeks in Dubaï. An epic stay for J.D, who didn't take long to enter the top 100, in which he's currently the fourth youngest player behind Alexander Zverev, Borna Coric and Karen Khachanov. His victories last summer against Fabio Fognini (in Toronto) and David Goffin (at the US Open), even make him one of the most promising players of US tennis…One last detail : he's not a complete stranger to Roland-Garros. He played in the qualifying rounds two years in a row, in 2015 and 2016, only to be defeated by the same opponent : the Georgian Nikoloz Basilashvili.
Yuichi Sugita, 28, world number 94
Mostly known for having defeated Alexander Zverev in Cincinnati, last summer, Yuichi Sugita hasn't won a single match on clay yet. Having played the qualification rounds four times (2010, 2012, 2014 et 2015), he has always been punished in the first round, in two sets. A first round against Rafael Nadal could be a disaster…
Nicolas Kicker, 24, world number 96
Having won two Challenger tournaments on clay in 2016, the discreet Nicolas Kicker has entered the top 100 on April 17th, and validated his ticket for the main draw at the very last second. This participation at Roland-Garros will only be a big bonus for this Argentine who has, until now, only played 10 matches on the big circuit, and who will play his first Grand Slam tournament at the Porte d'Auteuil.
Natalia Vikhlyantseva, 20, World number 78
Behind this very hard to pronounce last name, there is one of Patrick Mouratoglou's protégés. Having just turned 20 at the beginning of February, a month in which she reached the semi-final of the Saint-Petersburg tournament, this nth Russian wonderkid (but the youngest of the top 100) has been training at Sophia Antipolis since last year. A good opportunity for her to pose on the terrace of the Monte Carlo Country Club and post the picture on Twitter, with the caption : « there are so many reasons to be happy ».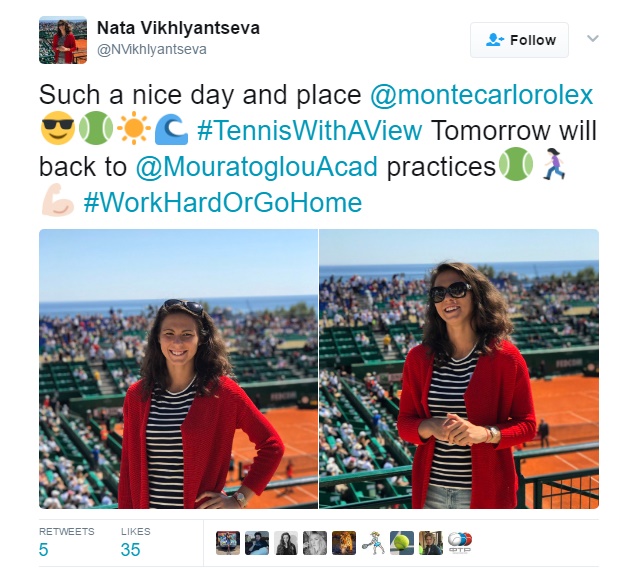 Playing her very first Roland-Garros should be another one…
By Julien Pichené