The 2017 clay season has started just as expected : by Rafael Nadal's triumph at Monte-Carlo, the tenth of his career, with a level of tennis which was close to perfection. Enough to take the first spot of our weekly ranking,
The 2017 clay season has started just as expected : by Rafael Nadal's triumph at Monte-Carlo, the tenth of his career, with a level of tennis which was close to perfection. Enough to take the first spot of our weekly ranking, in front of a Serena Williams who has announced her pregnancy, and Maria Sharapova, who is making her big return on the WTA circuit.
1- Rafael Nadal (+5).
Rafael Nadal has ideally launched his season on clay, his preferred surface.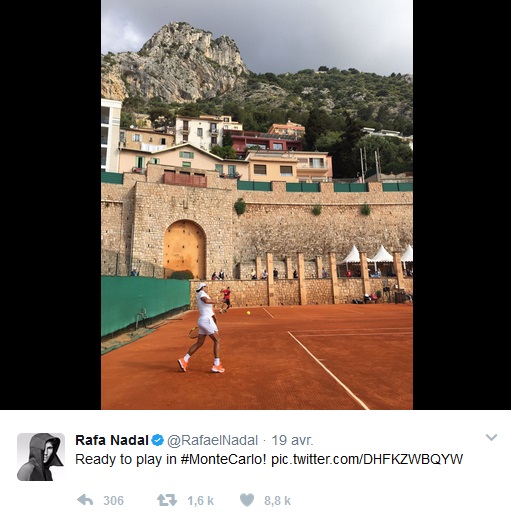 In Monaco, the Spaniard has produced an impressive level of play, until the final, played against his fellow countryman Albert Ramos Vinolas.
He has won the first major title of the clay season without being truly challenged.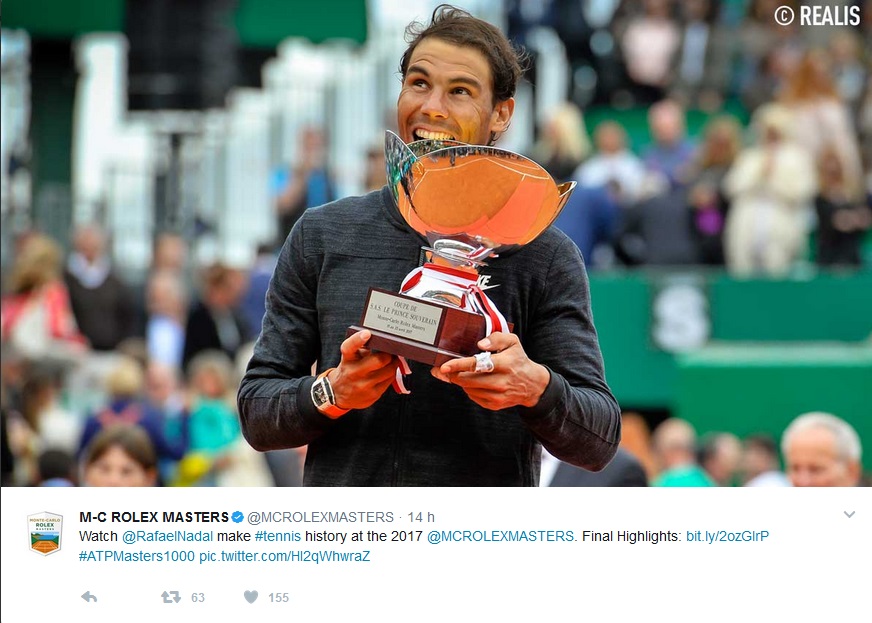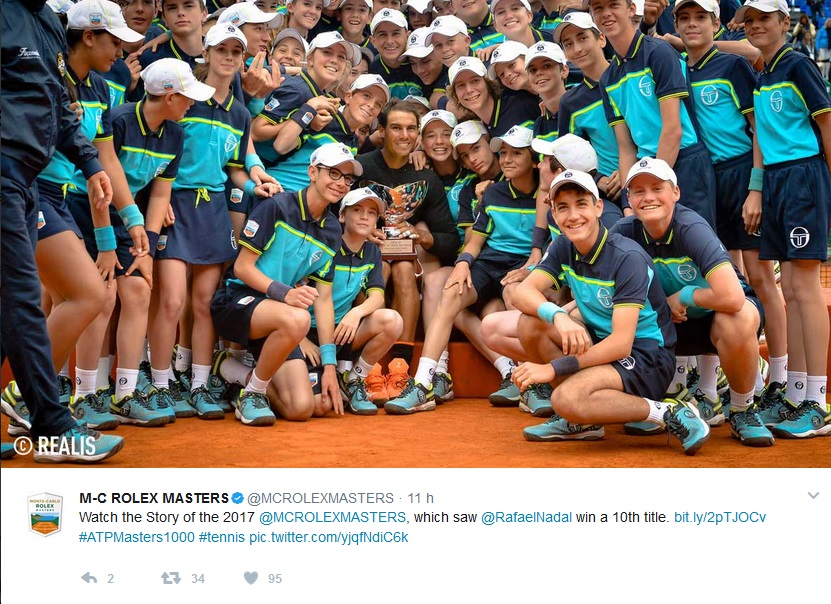 Which is becoming a habit : it's his tenth victory in Monte-Carlo. A symbolic decima which brings him a little further in the legend of this surface.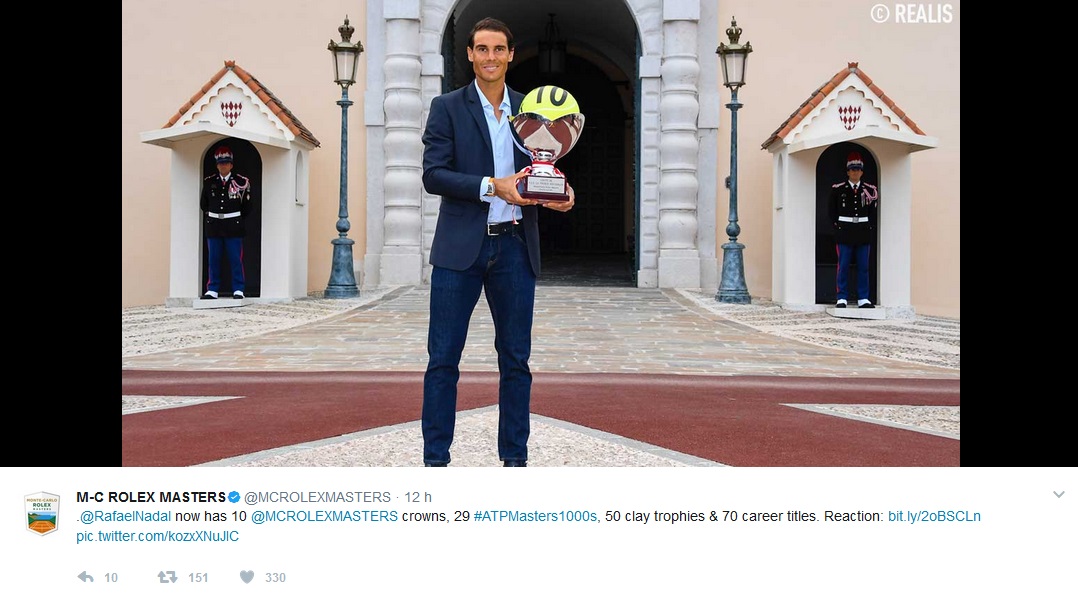 2- Serena Williams (+10).
Serena Williams had been a little enigmatic on Instagram these last few days.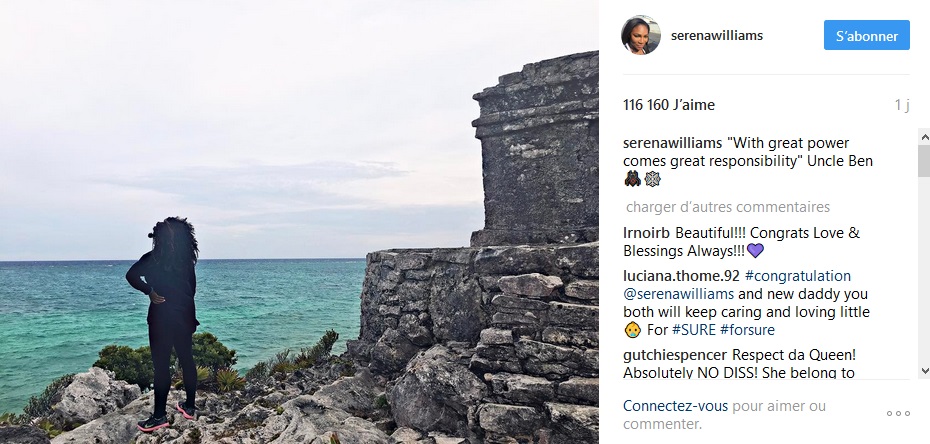 But she didn't maintain the suspense for too long, as she announced her pregnancy herself.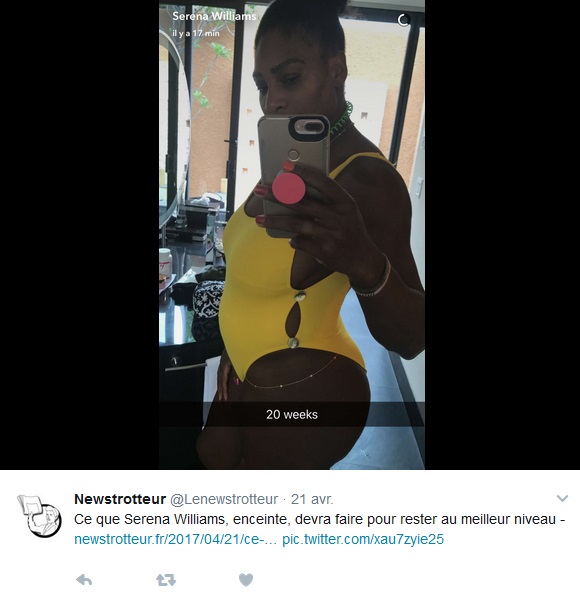 She will be out of the circuit for a little while.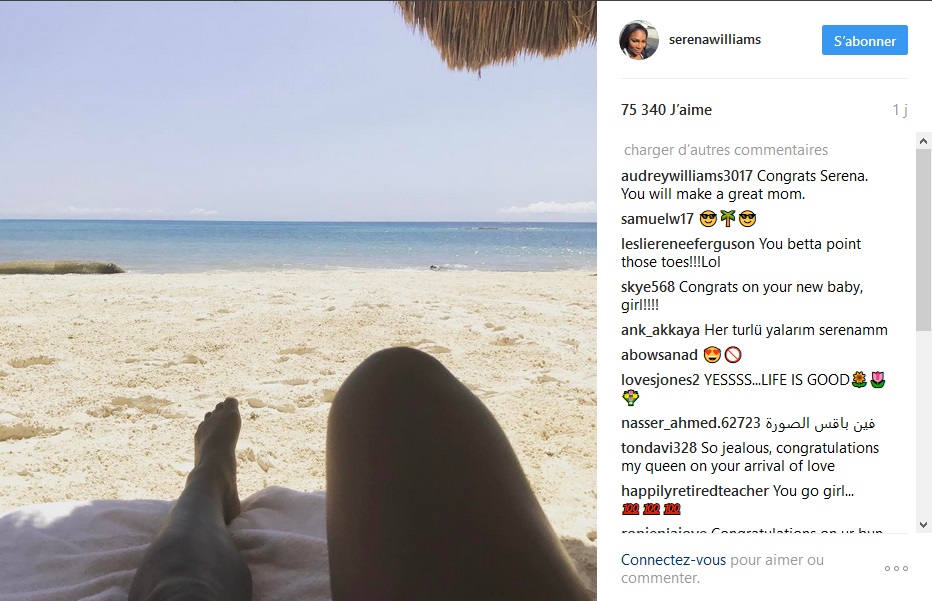 But will this pause end up being permanent ? No, said her relatives, who announced that if she will definitely not play again during the 2017 season, she hadn't ended her playing career, and was hoping to make her come-back next year.
3- Maria Sharapova (NE).
There's an imminent return however : Maria Sharapova's, fifteen months after the start of her suspension. One last training session…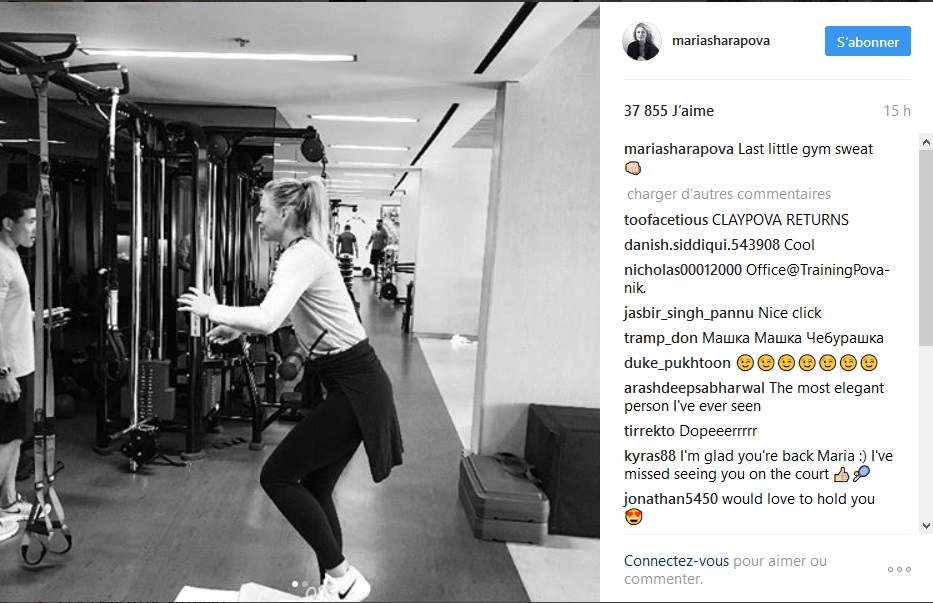 And there is the Russian, leaving for Stuttgart, to play the first tournament which has granted her a wild-card.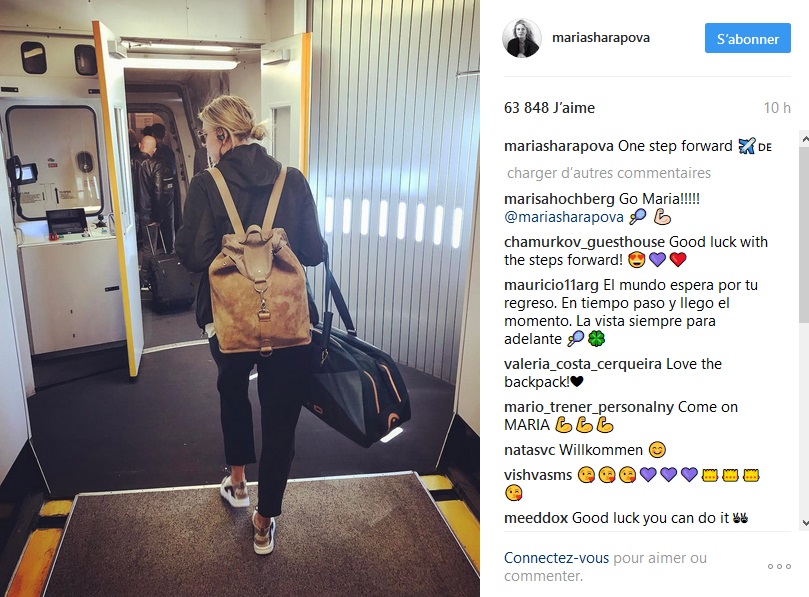 The rest of her season depends on the tournament organizers' goodwill. The announcement of Serena Williams' pregnancy could benefit her, notably for Roland-Garros, where her participation is still uncertain.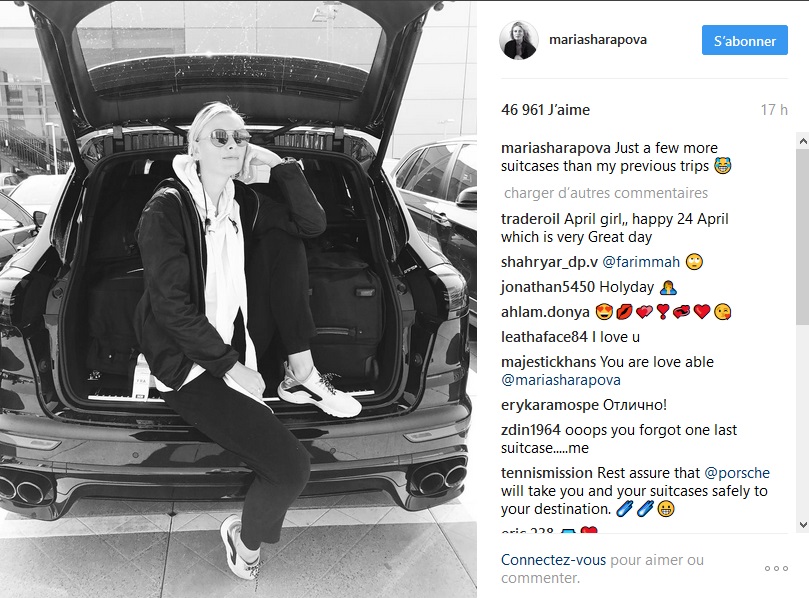 4- Viktoria Azarenka (NE).
Viktoria Azarenka will also be returning to the competition pretty soon. Meanwhile, she's been training hard.
A return after her pregnancy which will please her fans…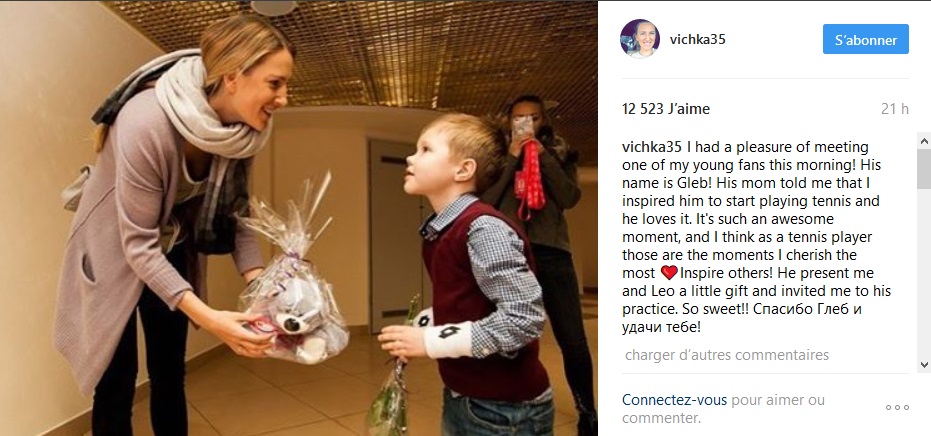 …and her fellow countrymen, as the Belarusian team has qualified for the BNP Paribas Fed Cup final last weekend, under their leader's cheers.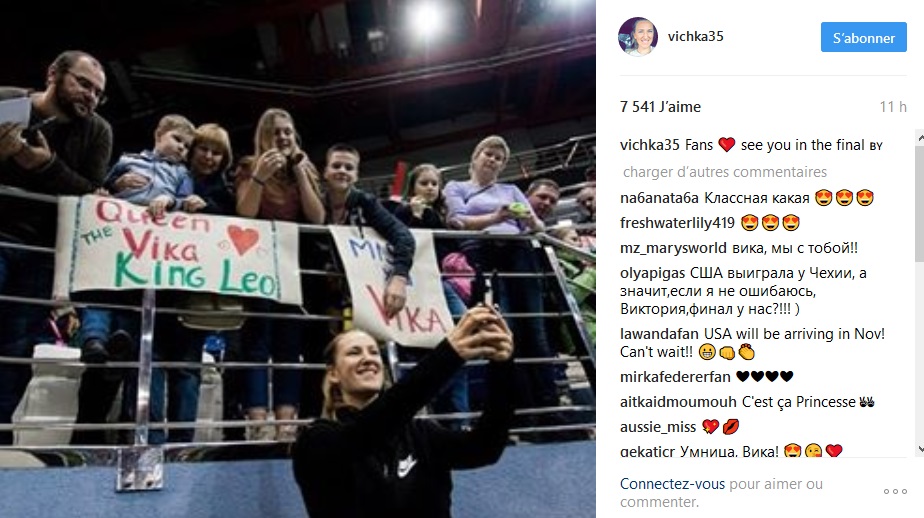 The first tournament in which she is supposed to play this season is Stanford, at the end of July.
5- Novak Djokovic (/).
In Monte Carlo, Novak Djokovic is at home. He can take his bike to get to the tournament…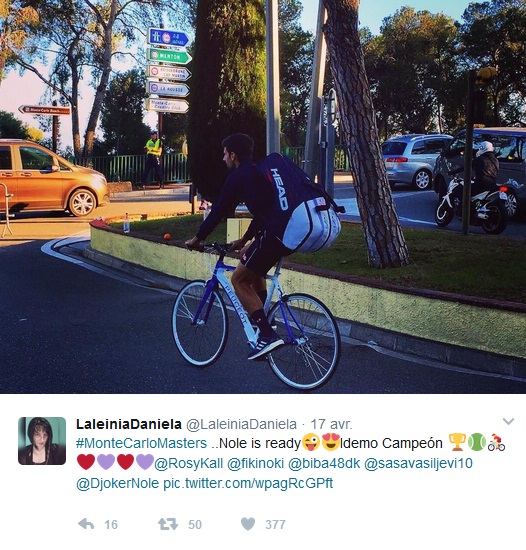 …and also support the local football team, through their Champions League journey…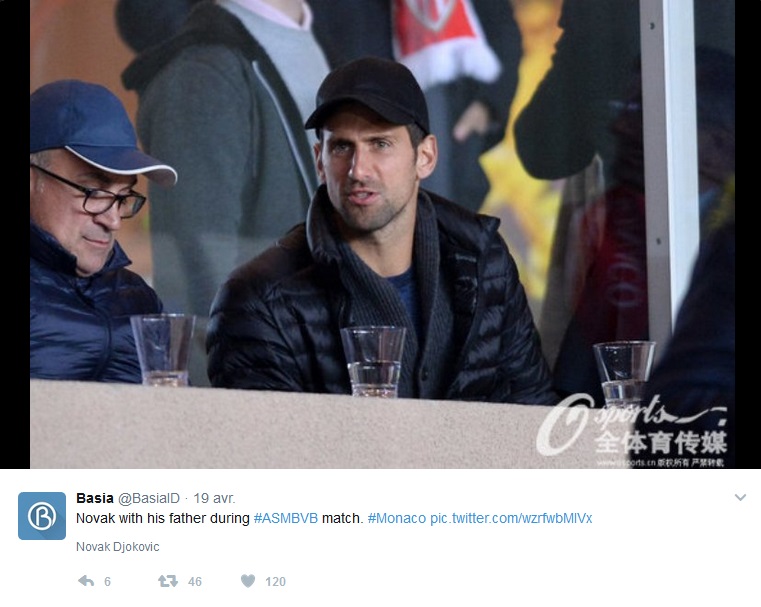 On clay, the Serb has shown a few sparkles…
…but it wasn't enough to avoid his fall. Quite literally.
A defeat against David Goffin in the quarter-finals which leaves us with a single question : when on earth will we see Djoko back at his best level ?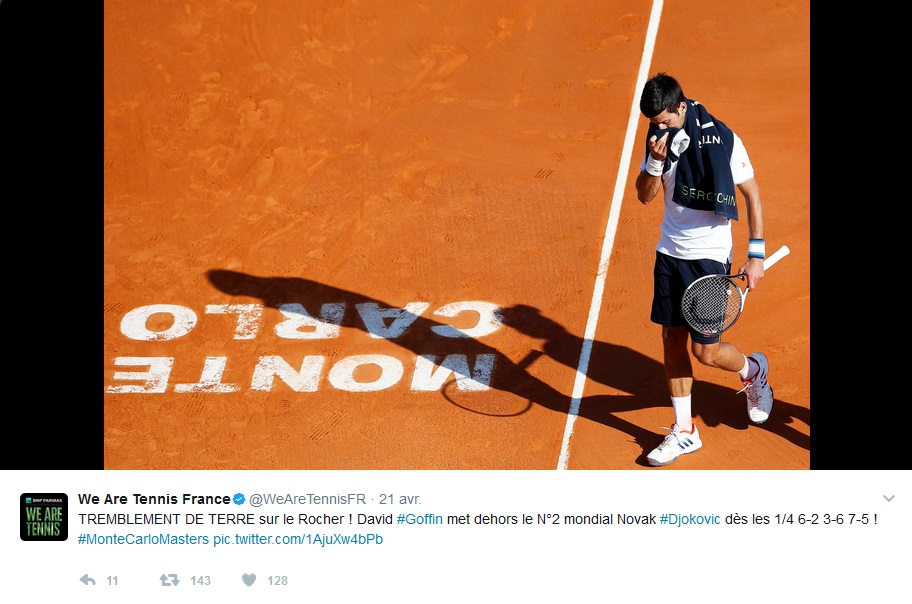 6- Andy Murray (-5).
And what about the current world number 1's current troubles ? Well, it must be said that the Scot has a pretty strong alibi, as he was making his return in Monte-Carlo, with an elbow injury which wasn't completely healed.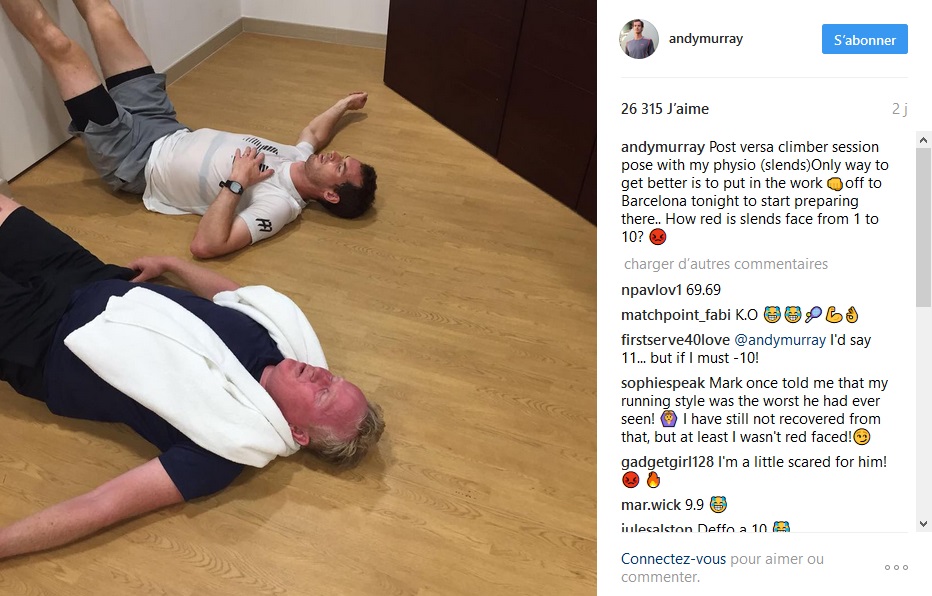 The result ? He was predictably knocked out pretty early, which didn't stop the organizers of the Estoril tournament to hope for his participation. In this video, Murray is being hit on in a pretty fun way.
7- Lucas Pouille (NE).
Some of the stars of the circuit's below average performances have at least enabled some youngsters to show themselves. It's the case for Lucas Pouille, who has produced some great performances last week on clay.
The Frenchman reached the semi-finals of a Masters 1000 for the second time in his career.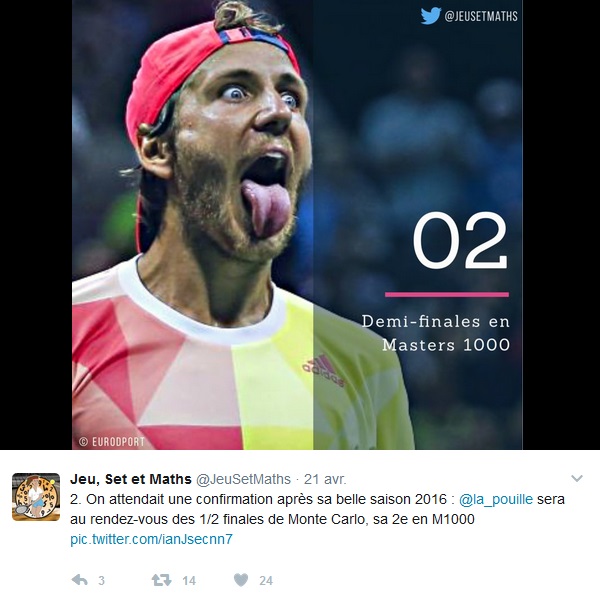 His girlfriend must be proud.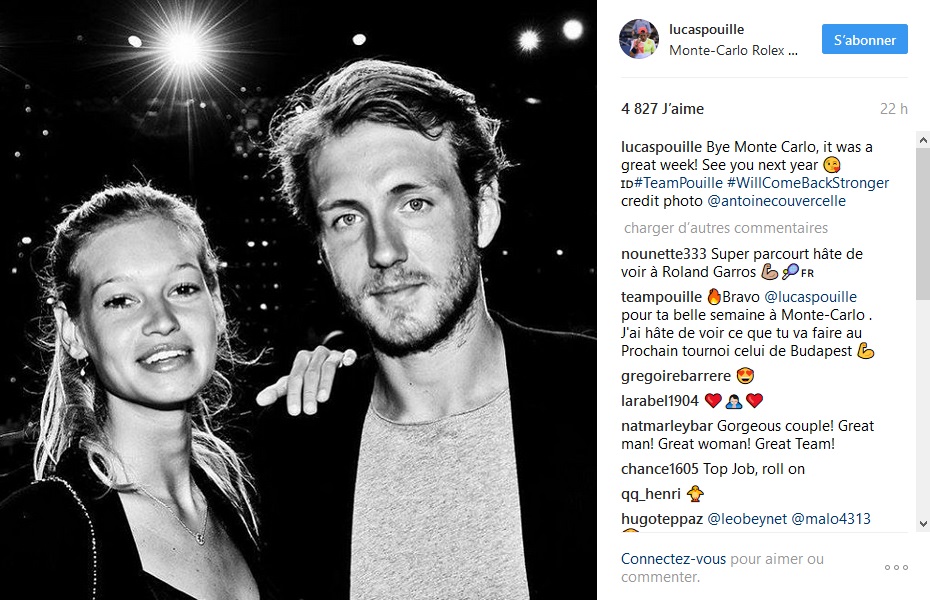 8- David Goffin (NE).
Another one who took his chance was David Goffin, who defeated Novak Djokovic, if you please !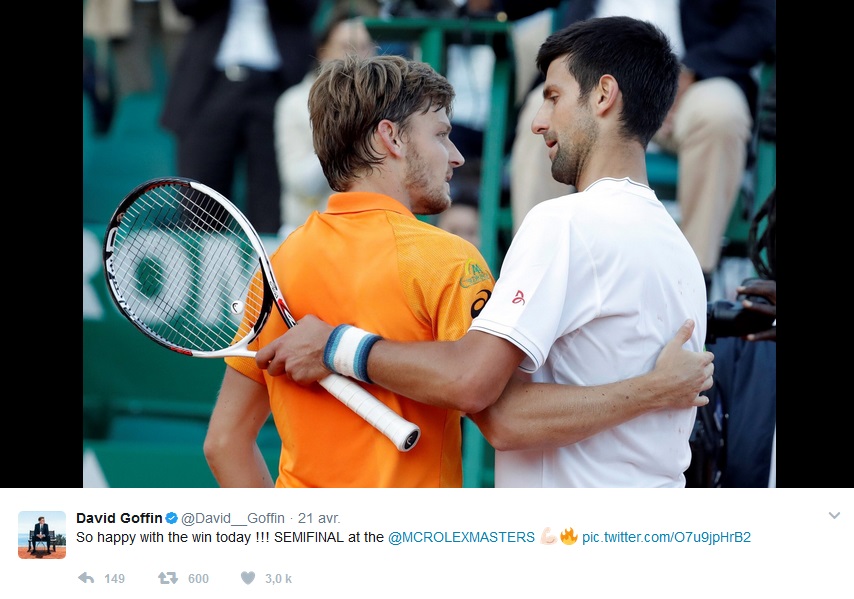 The Belgian is getting more and more confident, and not only with a racquet in hand. When he disapproved with the umpire, he didn't hesitate to let him know, as he showed during this surprising moment which was recorded by the cameras of the Monegasque tournament.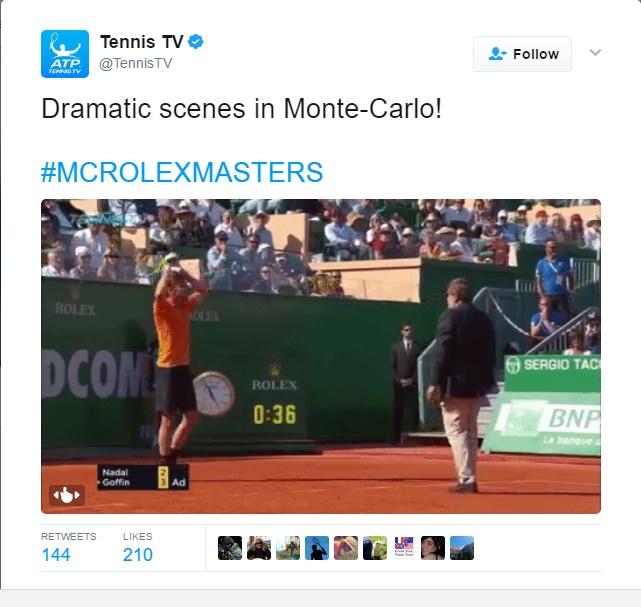 9- Kyle Edmund (NE).
If Kyle Edmund didn't achieve the feat of knocking out the future winner of the tournament Rafael Nadal, he wasn't too far from it, as he showed an impressive level of play.
As a result, even a pigeon tried to sneak in to watch the match !
Voilà qui change des iguanes de Miami…
10- Frances Tiafoe (NE).
A small detour through Florida for what is definitely the video of the week : intense love-making in the middle of Frances Tiafoe's match during the Sarasota tournament, which amused the young American.
Tiafoe who, by the way, has been improving constantly. He has even won the tournament after defeating his fellow countryman Tennys (yes, « Tennys ») Sandgren.
11- Kristina Mladenovic (NE).
Another great performance and a huge relief for the French BNP Paribas Fed Cup team. Despite the scandal provoked by Garcia's withdrawal, the team strengthen itself around its leader Kristina Mladenovic.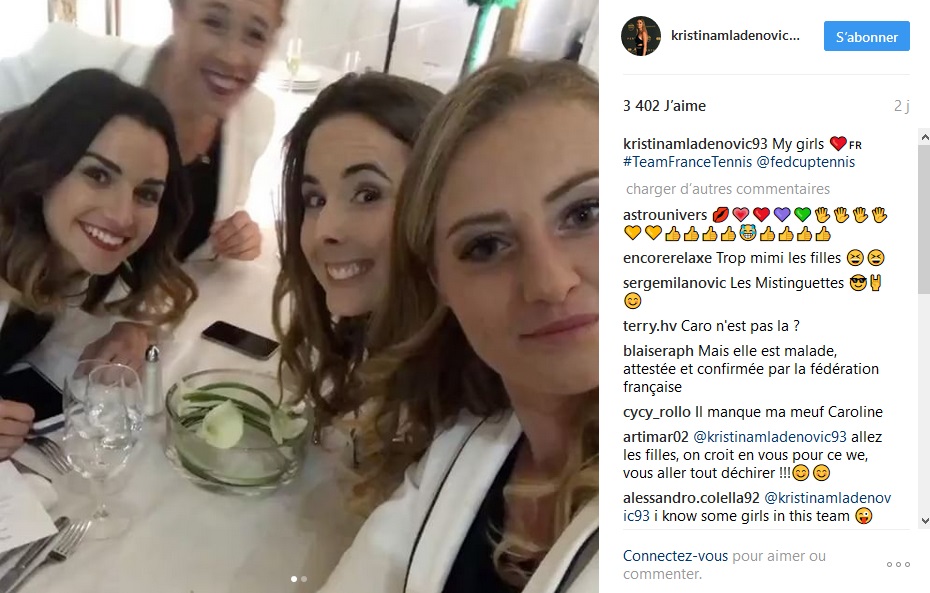 A Mladenovic who took the role seriously by winning her two points in the singles, including the winning point against a modest Spanish team. France has managed to stay up in the World group.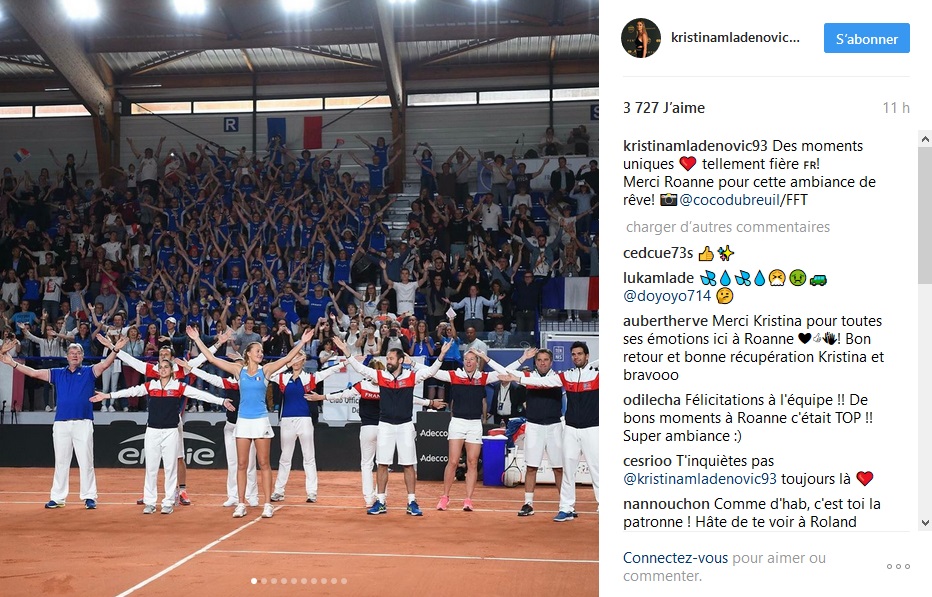 12- Dominika Cibulkova (+2).
A below average performance however for Cibulkova's Slovakian team, which was defeated at home by the Netherlands, and has been relegated in the second division.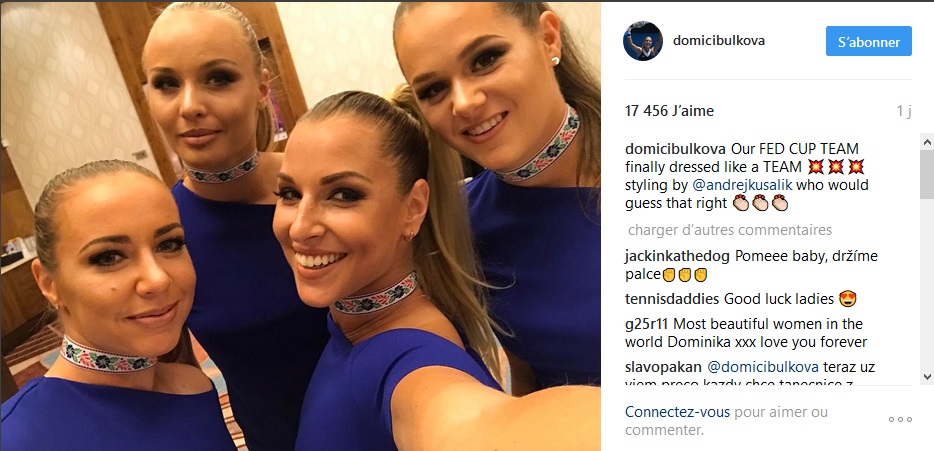 A Cibulkova who's still on top of fashion…or not. Whatever floats your boat.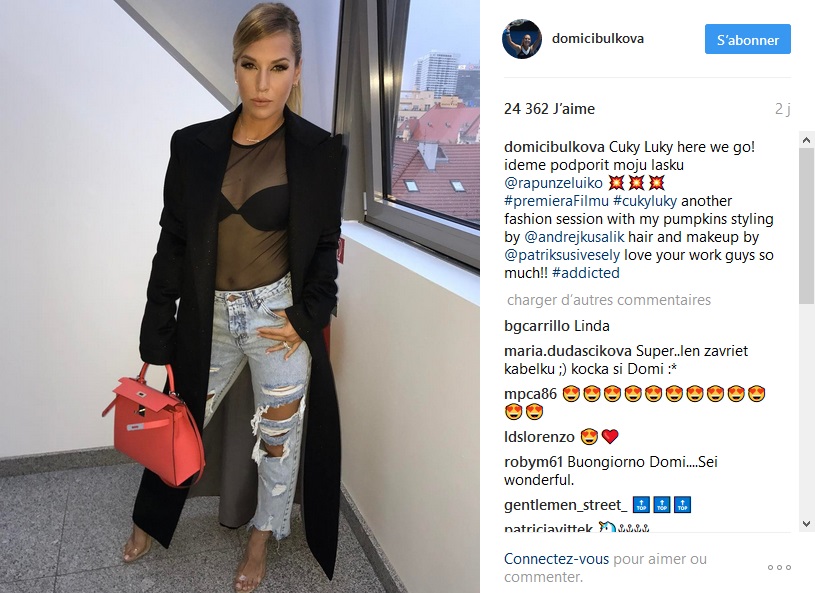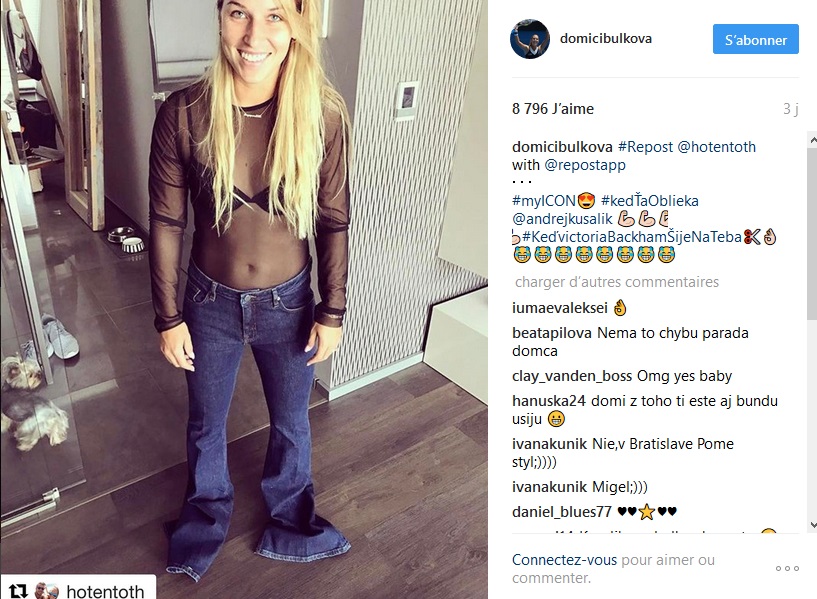 In any case, she hasn't played a single BNP Paribas Fed Cup match this week ? Because of this cast around her arm ?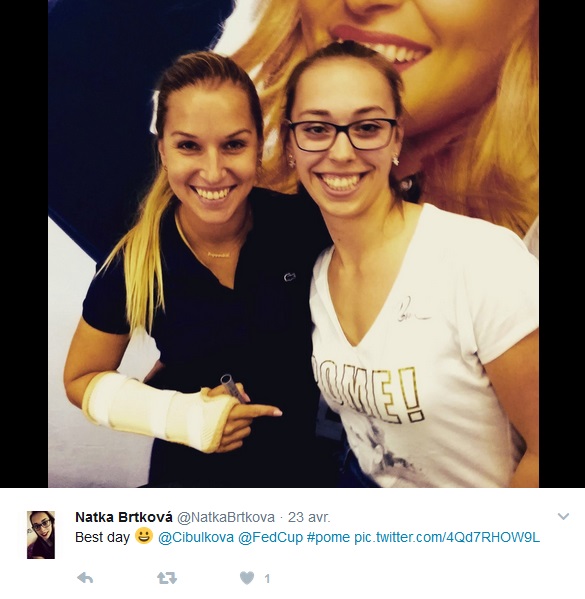 13- Johanna Konta (NE).
The scandal of the week occurred during the match which saw Halep's Romania face Konta's Great-Britain.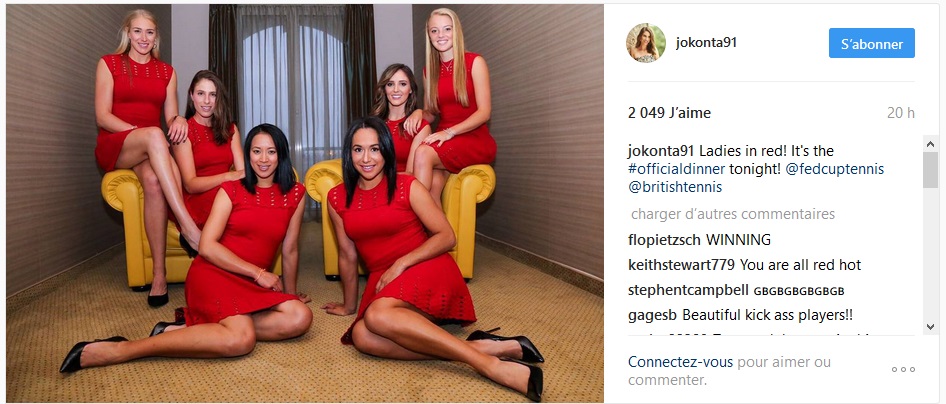 At home, Romania managed to put pressure on its opponent and its captain, Ilie Nastase has literally lost the plot with unacceptable words addressed to the British players, but also to Serena Williams, who had nothing to do with the match. Misogyny, racism…unfortunately, nothing was spared.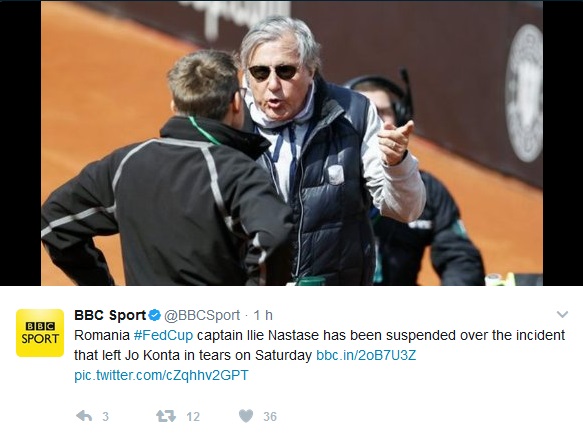 As a result, the-ex star of the ATP circuit has had his accreditation taken away from him, and he could be facing new sanctions. Romania won against Great-Britain as the British were obviously far from being 100% focused, notably Johanna Konta who couldn't hold back her tears.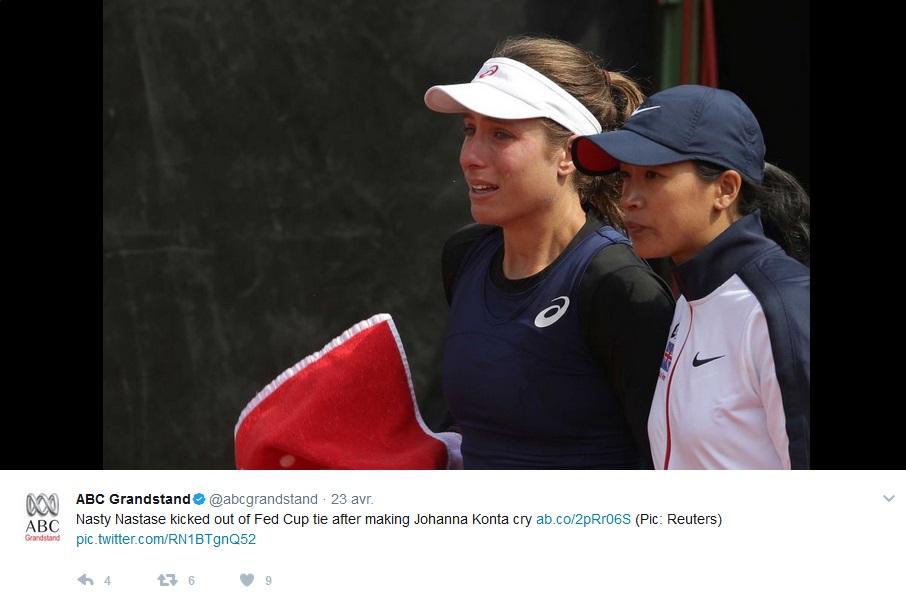 14- Benoit Paire (NE).
Another scandal for Benoit Paire, who left Monaco with his head down.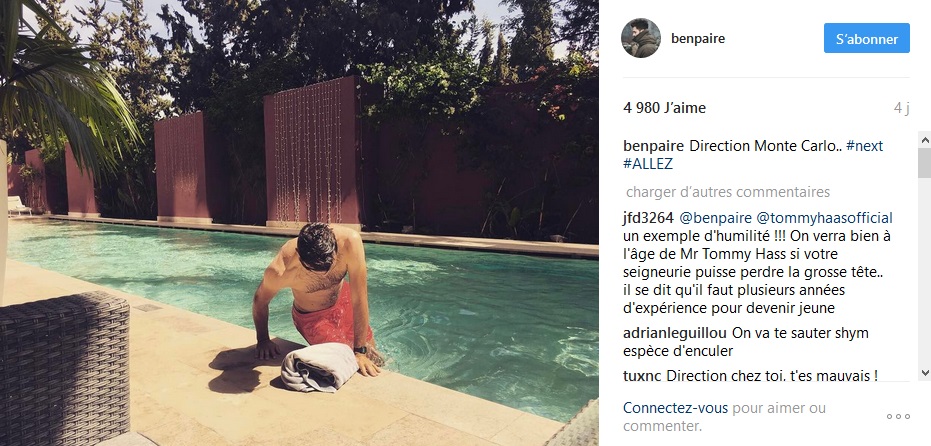 The Frenchman was annoyed at himself and his level of play against Tommy Haas and didn't hesitate to tell the veteran of the circuit some pretty inappropriate things.
The result wasn't surprising : he logically lost in the first round of the tournament. A humbling experience ?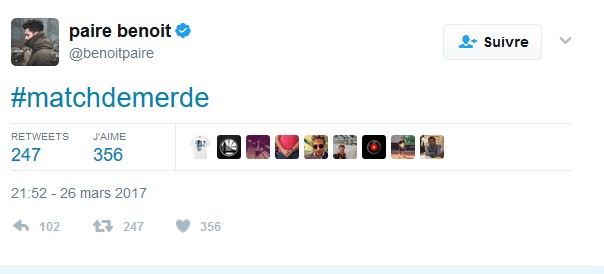 15- Pablo Cuevas (NE).
The shot of the week ? Most probably : a stroke of genius from Pablo Cuevas, who hit the ball with such an underspin that the ball came back and landed on his side of the net.
Cuevas who, alongside the Indian Bopanna, actually won the tournament against the Spanish pair Feliciano Lopez/Marc Lopez.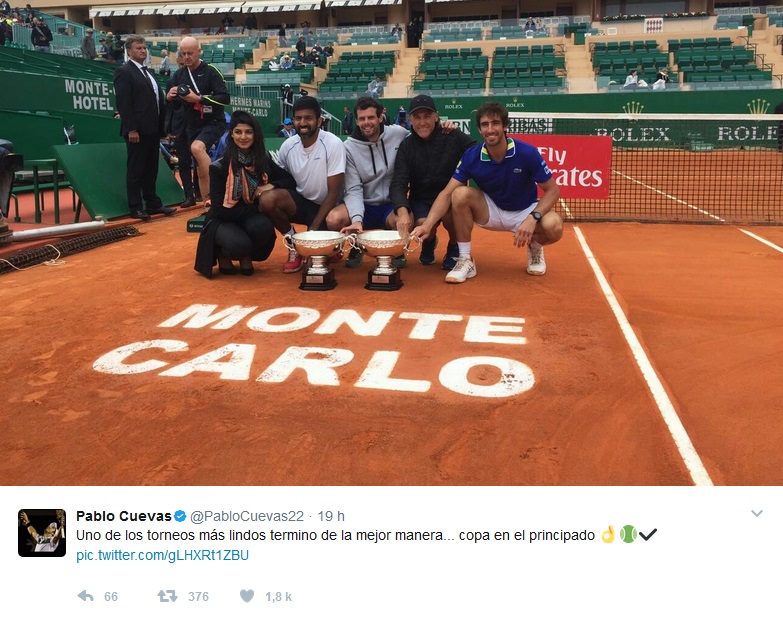 Outs :
Federer, Garcia, Kyrgios, Dimitrov, Verdasco, Wozniacki, Kerber, Brown
By Régis Delanöe