It wouldn't take much for us to forget that the current world number 1 remains Andy Murray. Very discreet since the start of the season, the Scot has reappeared in the news these last few days, and he's looking forward to having fun on Monaco's clay
It wouldn't take much for us to forget that the current world number 1 remains Andy Murray. Very discreet since the start of the season, the Scot has reappeared in the news these last few days, and he's looking forward to having fun on Monaco's clay courts. In this week's ranking, he's in front of Roger Federer, who's still on top, and Caroline Garcia, who's had a bad buzz.
1- Andy Murray (NE).
In Zurich last week, Andy Murray shared the stage with Roger Federer during the « Match for Africa », a charity exhibition match where the atmosphere seemed happy.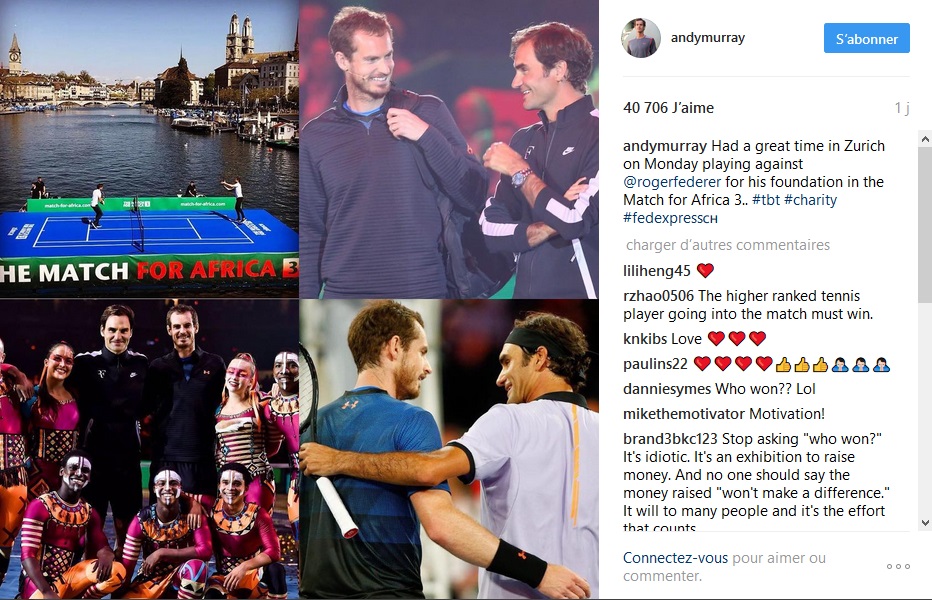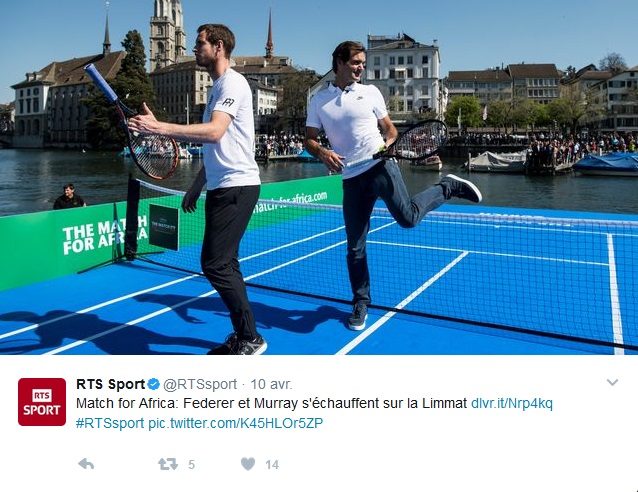 So happy and relaxed that the world number 1 even let a ballboy play the match point.
Nice. Otherwise, concerning the competition, it's now time for the Scot to defend his leadership, which has been seriously questioned lately. A mission which starts with a good clay season. First step : Monte Carlo and its luxurious addresses, where he feels at home.
As for training, he was able to try out the courts of the Mouratoglou Academy with ex-Premier League footballers Louis Saha and Sylvain Distin.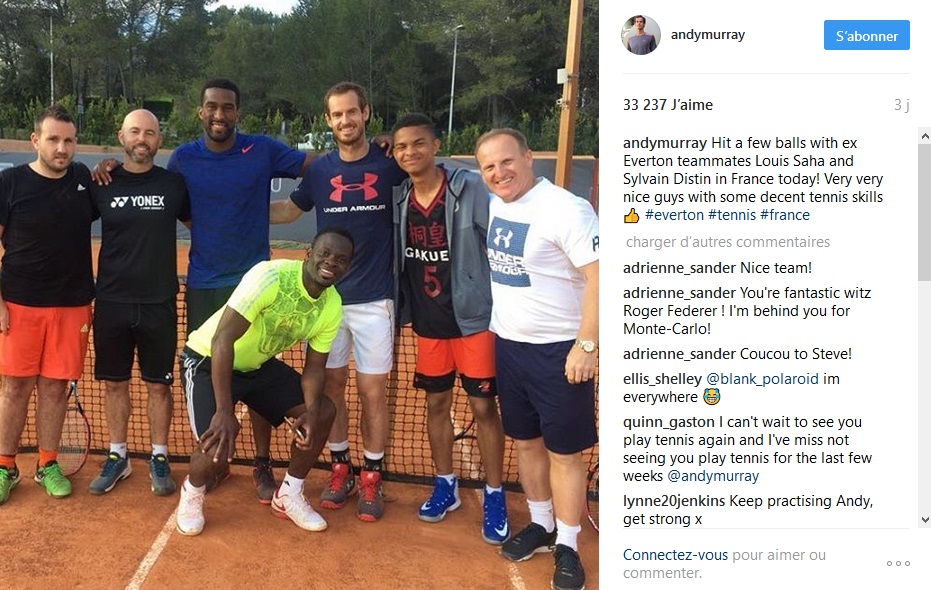 2- Roger Federer (-1).
The Swiss also seemed to enjoy his stay in Zurich, at home, or almost, for the charity exhibition match.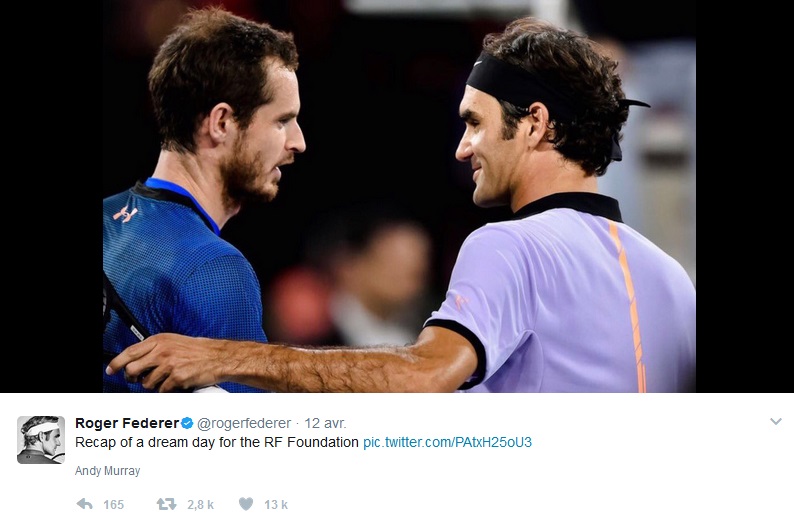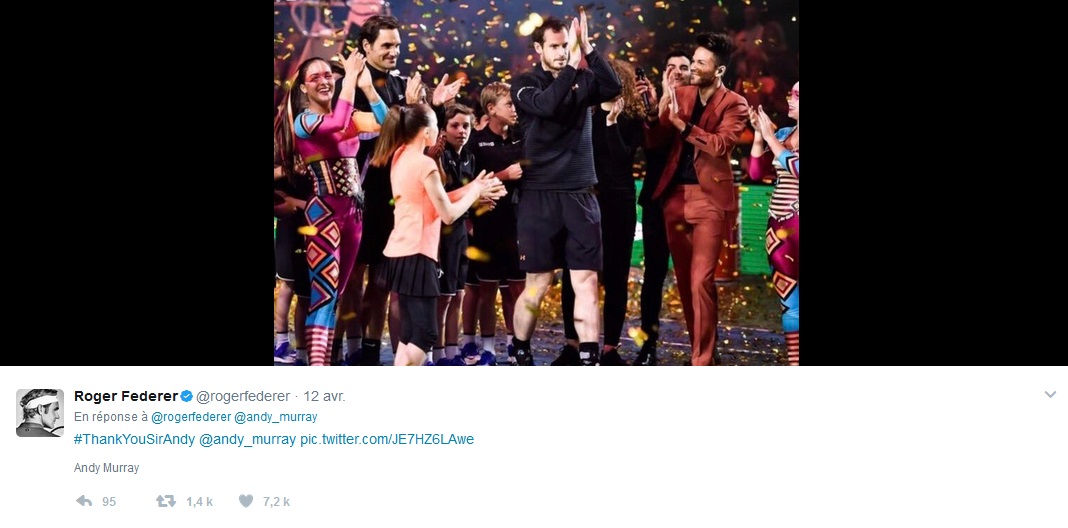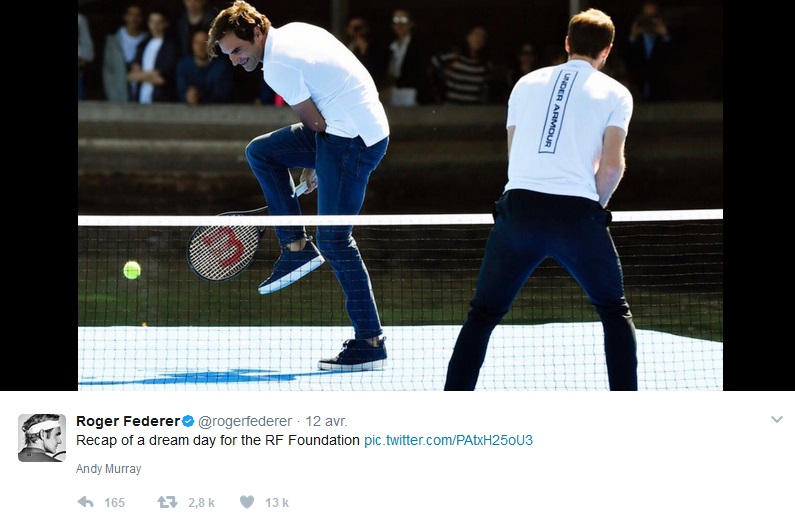 He pleased the crowd with a beautiful tweener.
Otherwise, for Easter, Federer payed a visit to some sick children.
Well, it was one of his sponsor's initiative, but it's still a nice gesture.
3- Caroline Garcia (NE).
However, the atmosphere in the French BNP Paribas Fed Cup team seems to be anything but cute. Called up to play in the play-offs against Spain, the French announced her withdrawal straight away with a press release posted on her social networks.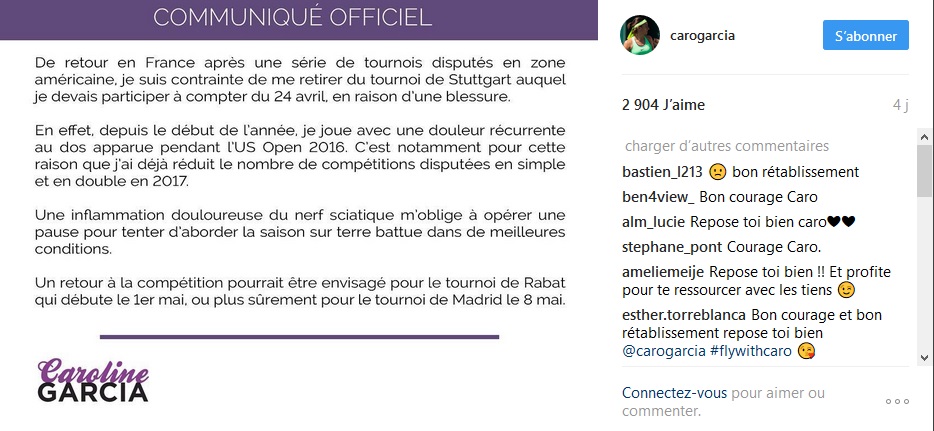 A withdrawal which provoked a few reactions from her fellow countrywomen and team partners, with a pregnant « LOL » posted a few minutes later…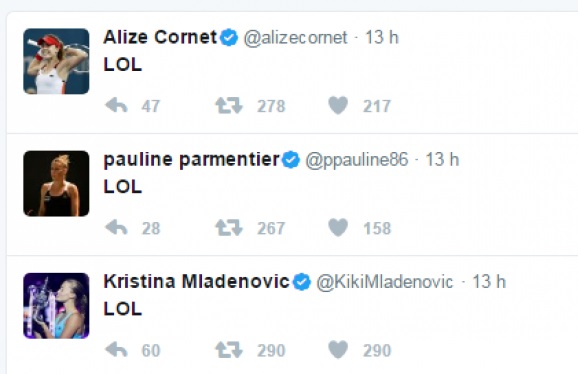 If Garcia's withdrawal for injury was then officially confirmed, this « LOL gate » shouldn't remain without consequences. What if this image really belonged to the past ?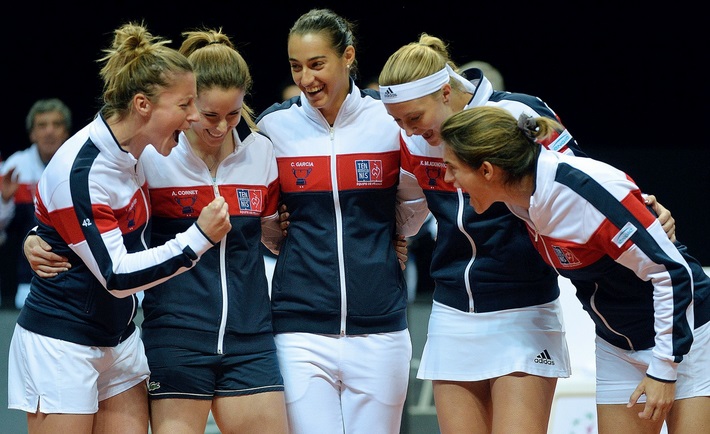 4- Nick Kyrgios (+11).
Nick Kyrgios is currently going through family issues. With a few touching pictures and words, he announced to his fans that he needed to spend some time with his close ones, as his grand-father, who's very close to him, is fighting cancer.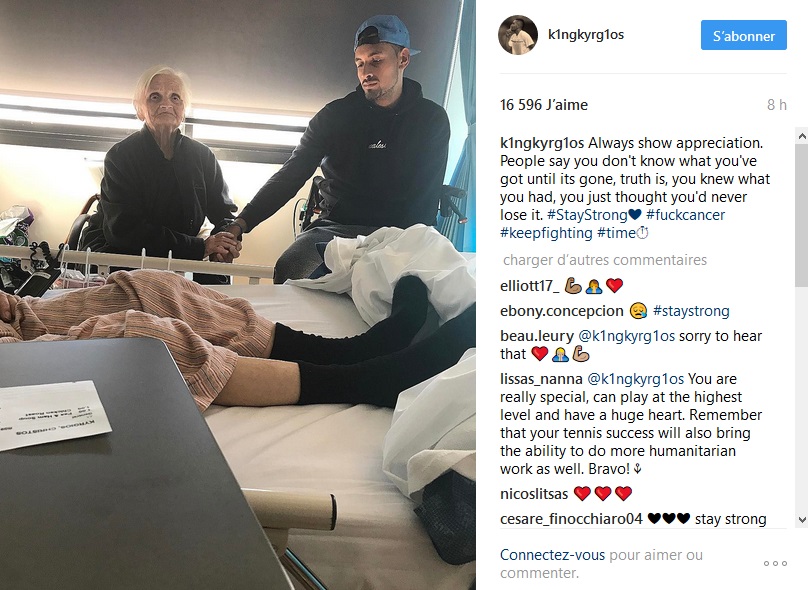 The result : the Australian, who has been on great form lately, has pushed back the start of his clay season. He won't be at Monaco, but at Estoril instead.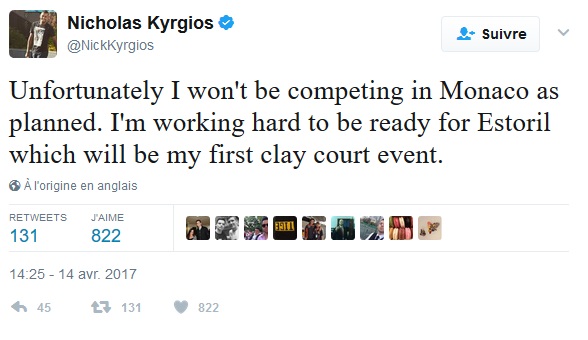 A withdrawal which, surely, everyone can understand.
5- Novak Djokovic (+3).
Feeling better after his victorious quarter-final in the BNP Paribas Davis Cup, Novak Djokovic is back on great form. His morale is good and he's started joking around again, notably with Hugh Jackman on the web, who challenged him, and was welcomed with a nice answer.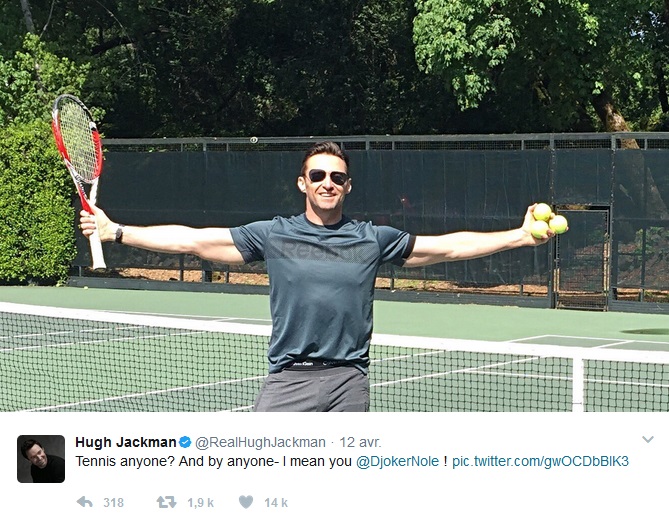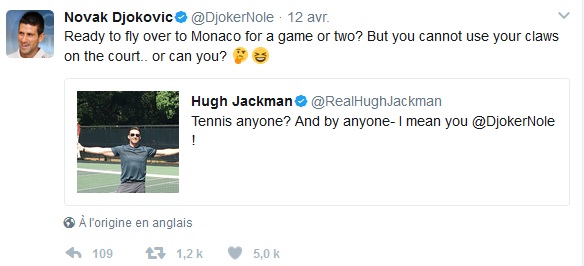 In other news, the local press seems to still have a strong interest for his couple…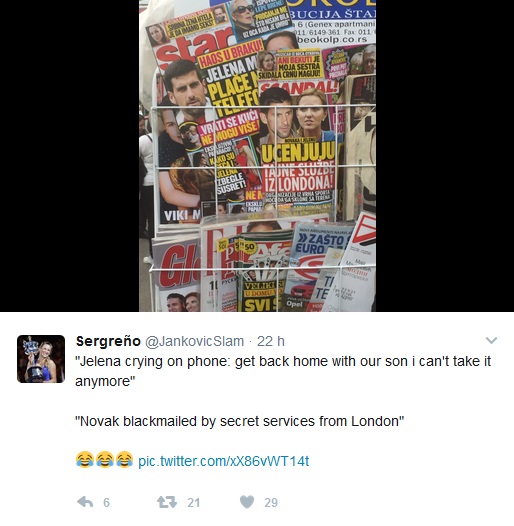 6- Rafael Nadal (-3).
The overview of men's tennis' leaders carries on, with a hard-working Rafael Nadal, who looks ready for the big tournaments played on clay, where he will obviously be very expected.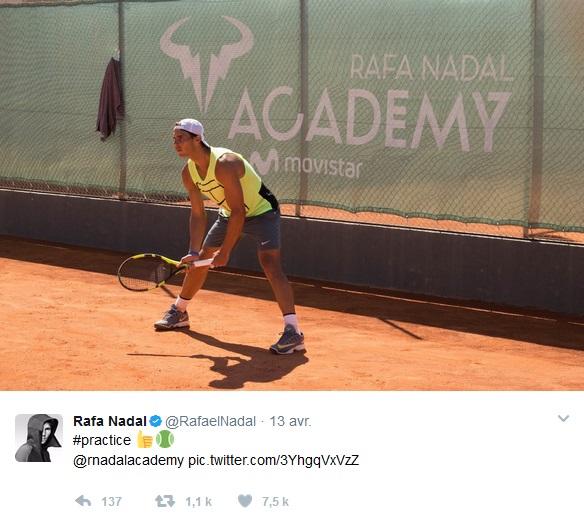 After Roland-Garros, the Tour de France for Rafa ?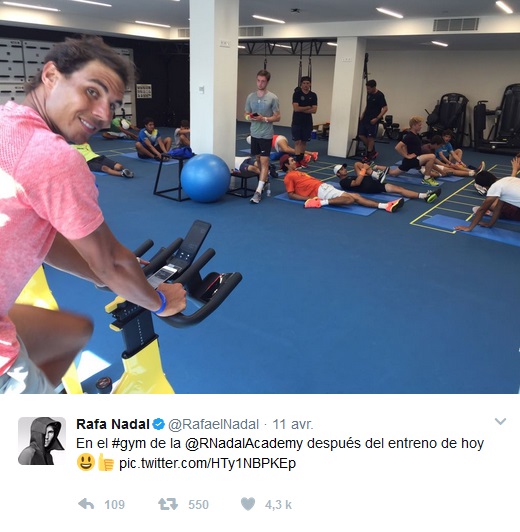 7- Grigor Dimitrov (NE).
After a good start of the season, Grigor Dimitrov has decided to rest. Number 1 seed at the Marrakech tournament, he made the most of the invite.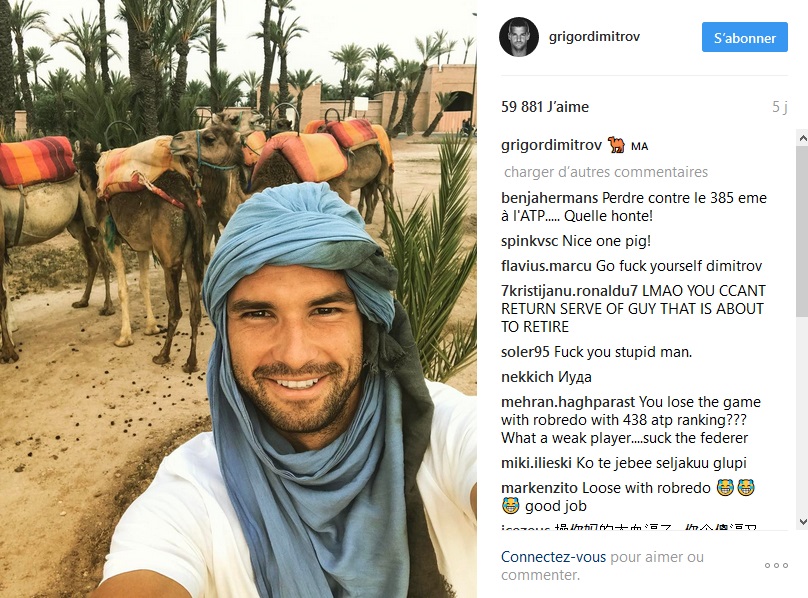 The Bulgarian chilled out.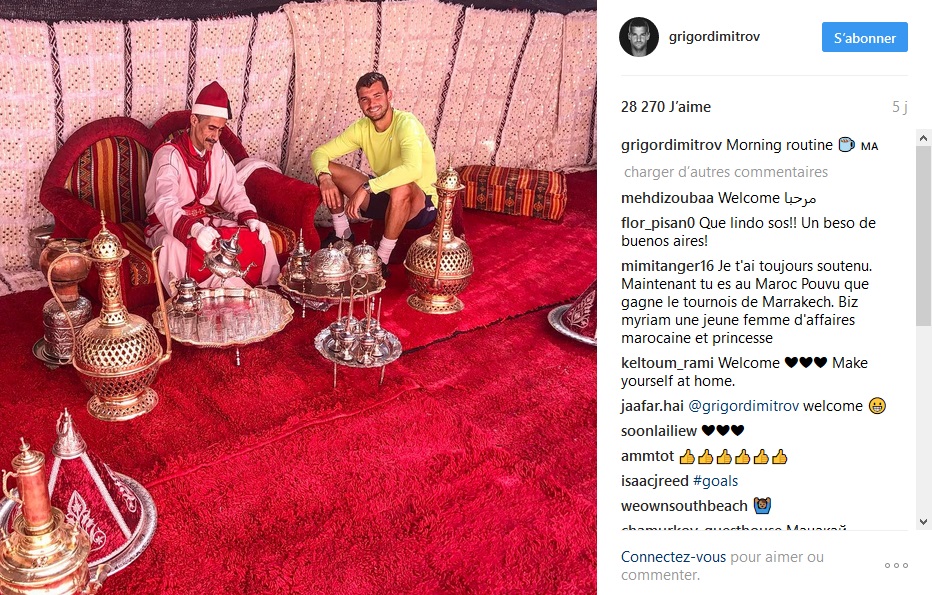 On the courts however, he lived another disillusionment with a first-round defeat against the veteran Tommy Robredo. Sad.
8- Fernando Verdasco (NE).
Another Spanish veteran who produced great performances last week is Fernando Verdasco, who reached the quarter-finals of the Houston tournament.

By the way, he also won his 200th match on clay on the ATP circuit.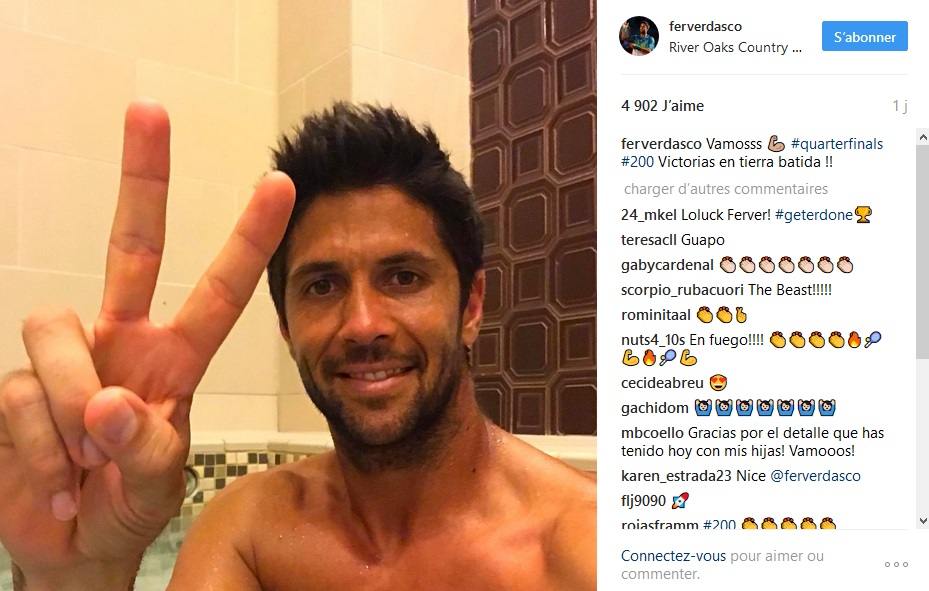 At 33, the Spaniard remains a fierce competitor and is at the gates of the world top 30.
9- A monkey (NE).
The buzzing video of the week : the one showing this trained monkey hitting a few balls racket in hand, with a preference for volleys.
Troubling, don't you find ?
10- Maria Sharapova (NE).
Save the date and get ready : Maria Sharapova's return on the courts is now imminent.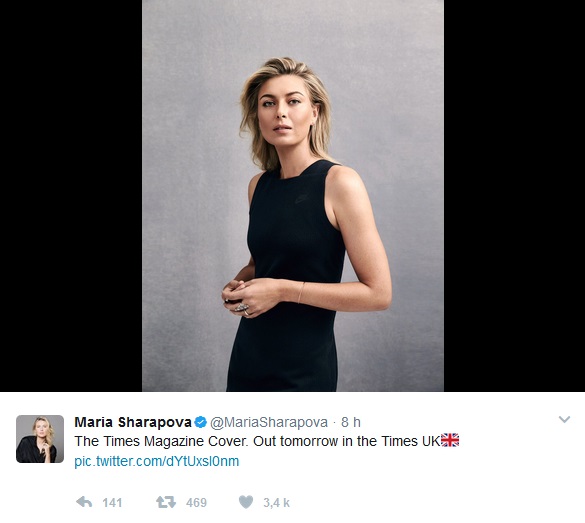 It will take place on April 24th, at the Stuttgart tournament, where she'll be playing thanks to a wild card. Invites which, according to her, have been pretty rare. « I served my sentence, so why would you give me a hard time ? Is there a reason for carrying on punishing me ? Personally, I don't see any, » she explained in a recent interview, while her presence at Roland-Garros remains in the hands of the organizers…
11- Caroline Wozniacki (NE).
Caroline Wozniacki, on her side, will be present in Paris. Meanwhile, the Dane took a break during a few days, flying private to an unknown destination.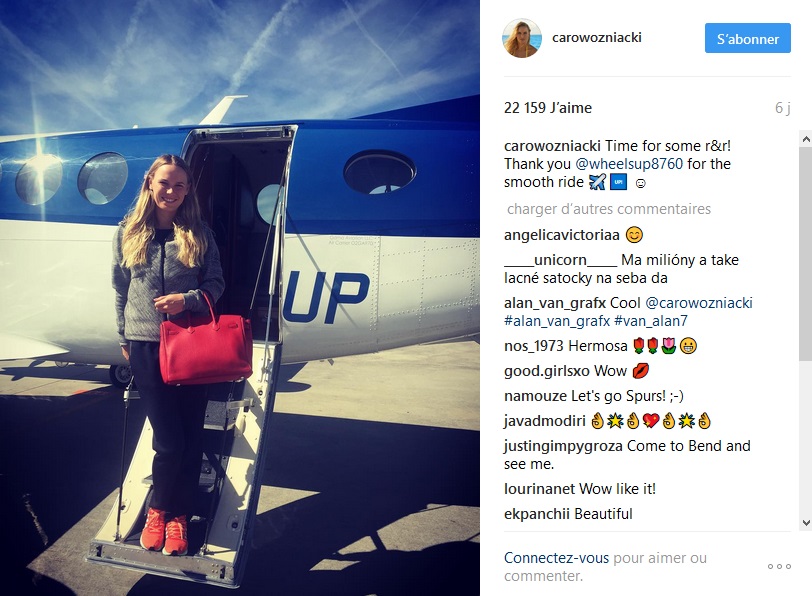 She surely was looking for a beach and a nice weather. Because yes, Caroline loves wearing swimsuits, it's one of her passions.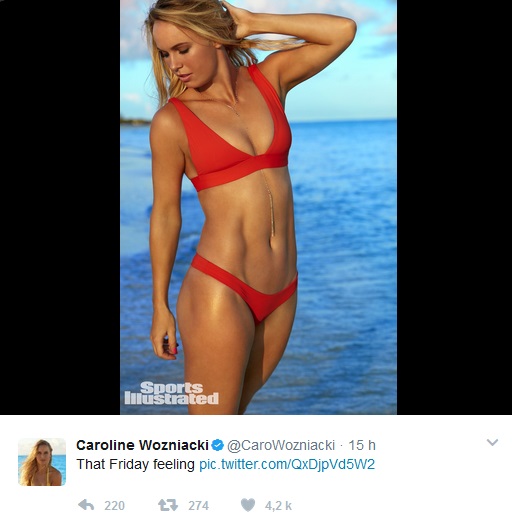 12- Serena Williams (-8).
Serena Williams visibly loves swimsuits as well.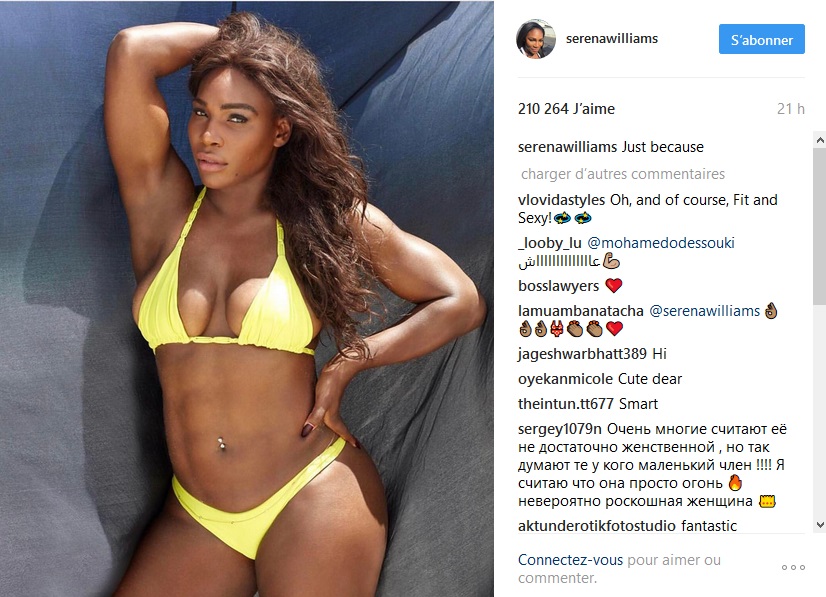 A Serena who also took a break, with active holidays however, as she went quad-biking, as she showed her Instagram followers.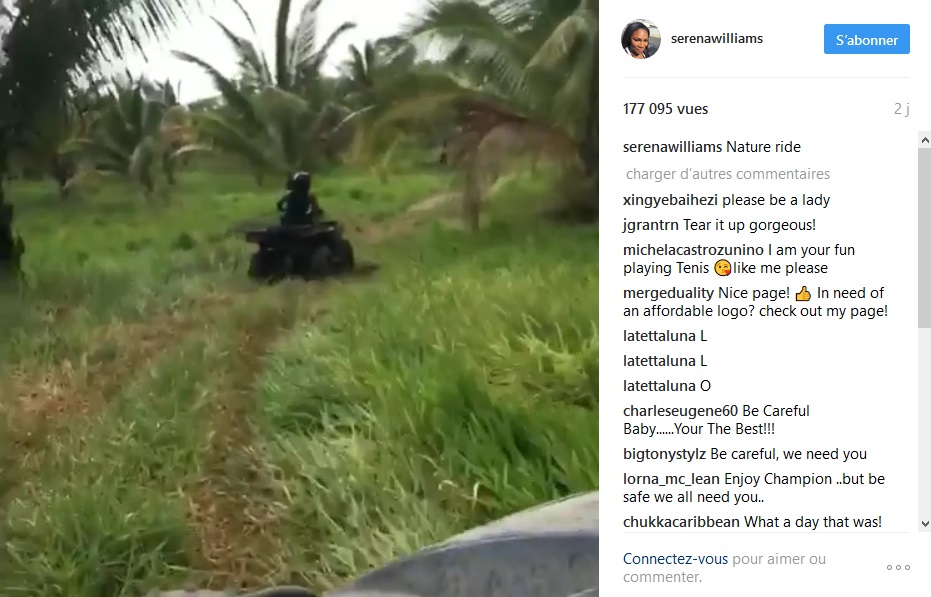 13- Angelique Kerber (NE).
Well, it looks like nobody has been working really hard lately on the WTA circuit. Angelique Kerber also made the most of this break to rest and support her team, Bayern Munich, at their stadium. A support which didn't bring the Bavarians luck, as they were defeated by Real Madrid in the Champions League quarter-final.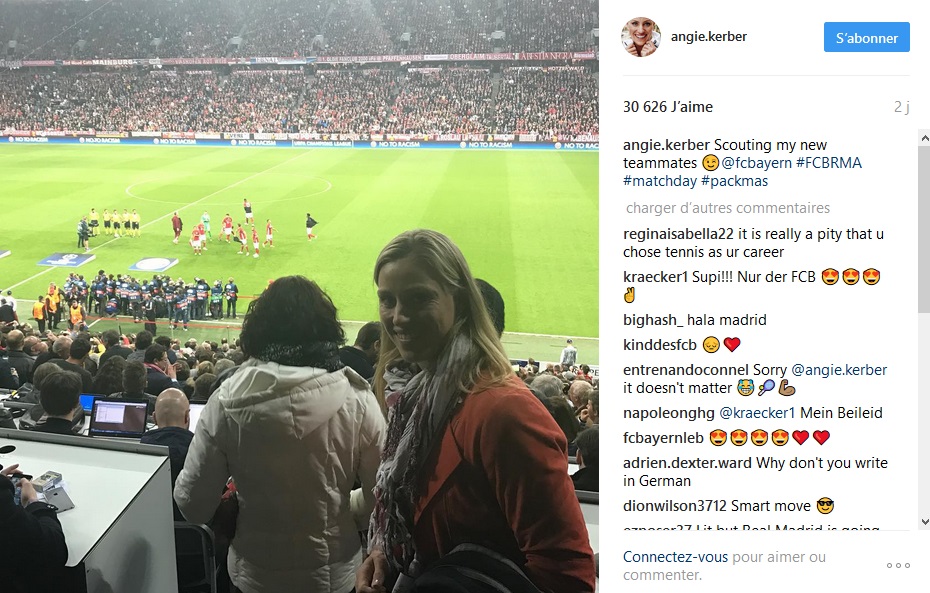 Otherwise, the German cooked a little.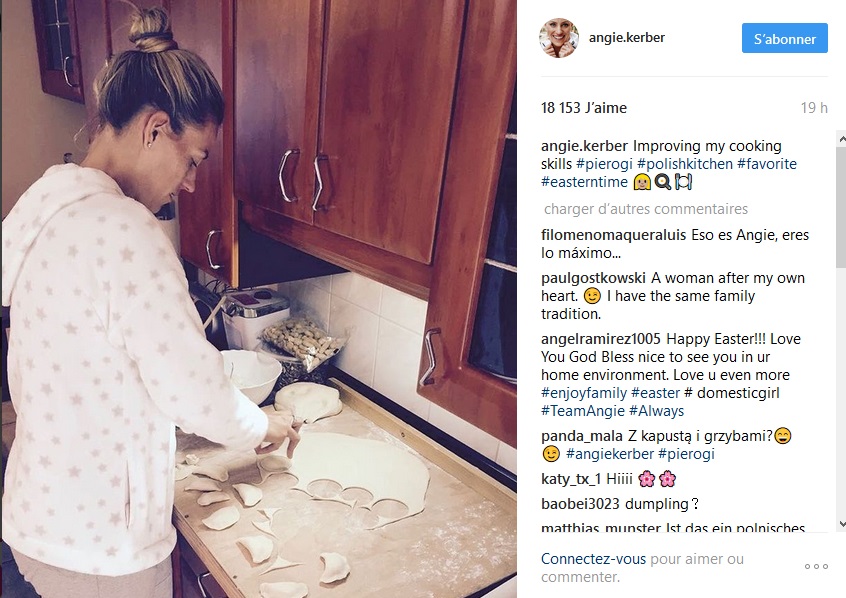 14- Dominika Cibulkova (-4).
As for Cibulkova, who also took a few days off work, it was also time to chill. However, when she went out, we couldn't say she looked really natural and relaxed…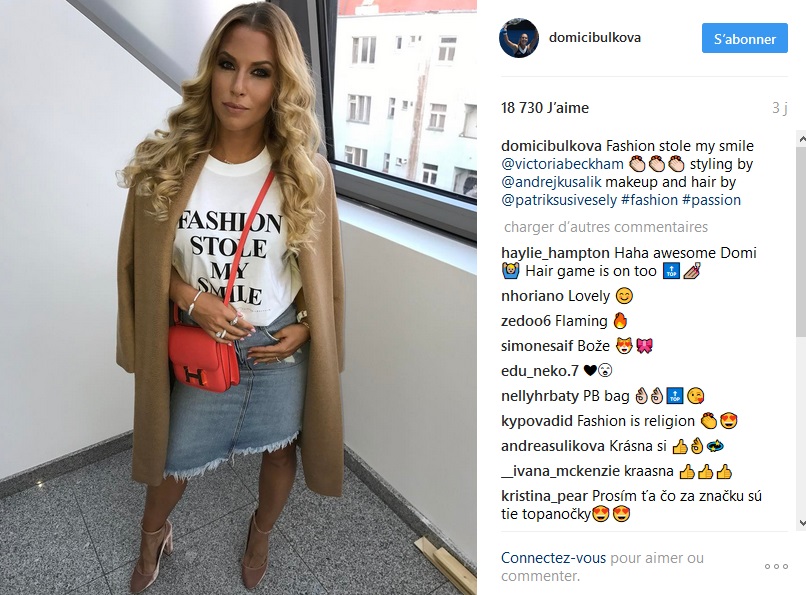 She seems to like contemporary art.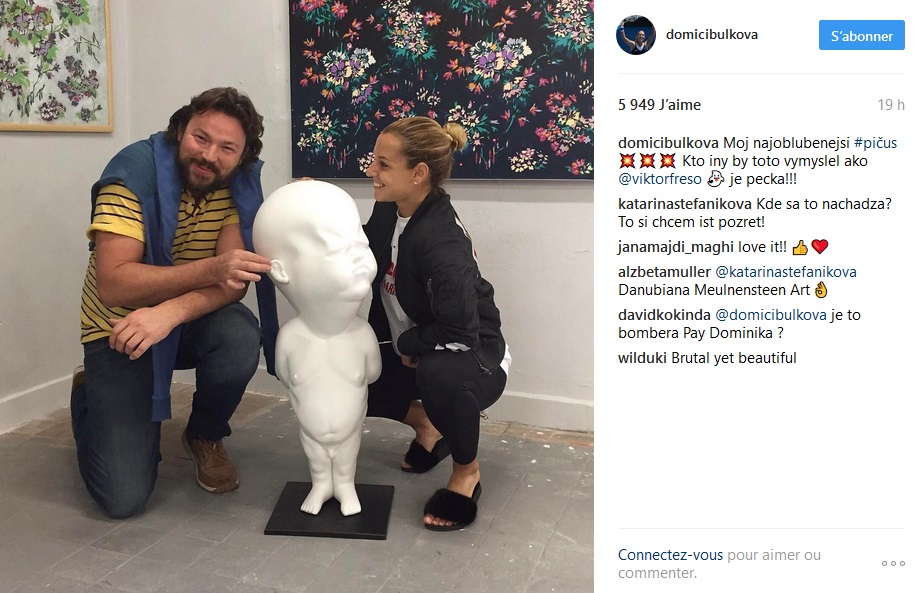 Enough to steal this strange misshapen statue with her boyfriend ?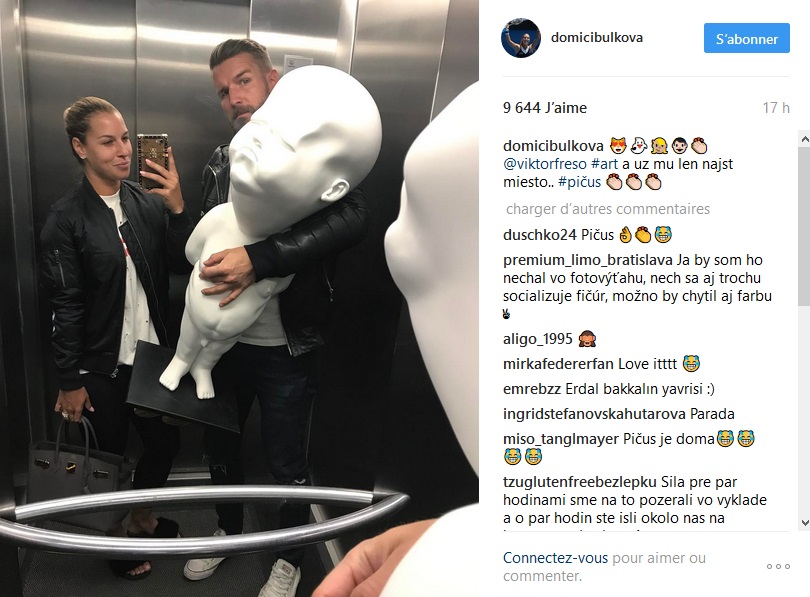 15- Dustin Brown (NE).
In other news, Dustin Brown still looks on form.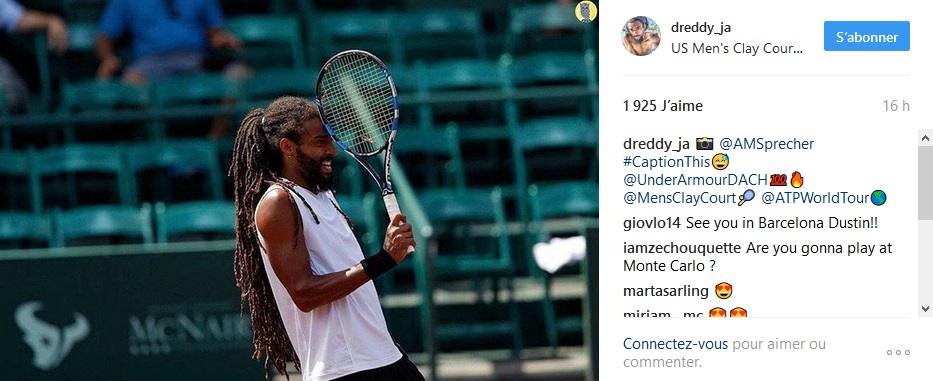 The proof with this tweener tried and scored during a match last week.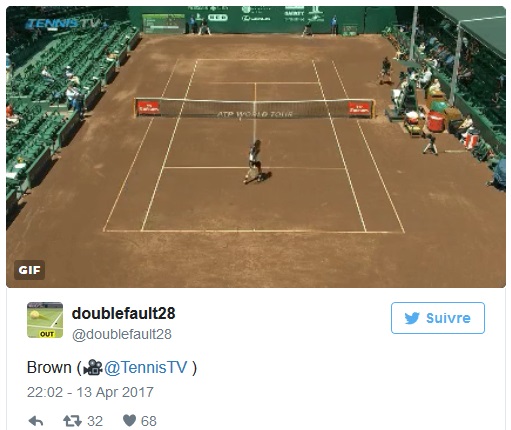 We all love him.
Outs :
Azarenka, Mahut, Goffin, Kasatkina, Troicki, Isner, Date, Del Potro
By Régis Delanöe