Three tournaments in a row, eleven years later : After winning the Australian Open and the BNP Paribas Indian Wells Open, Roger Federer has managed to triumph in Miami, while producing great performances. Enough to take the first spot of our ranking.
Three tournaments in a row, eleven years later : After winning the Australian Open and the BNP Paribas Indian Wells Open, Roger Federer has managed to triumph in Miami, while producing great performances. Enough to take the first spot of our ranking, in front of a Kyrgios who has been more spectacular than ever, and a Serena Williams who was on holiday, and…preparing for her wedding.
1- Roger Federer (/).
Open d'Australie, BNP Paribas Open and now Miami : Roger Federer has won the third major tournament of the tennis season and is producing - let's not be afraid to say it - one of sport's history's most spectacular come-back, after having spent six months without playing last year, and at the age of 35.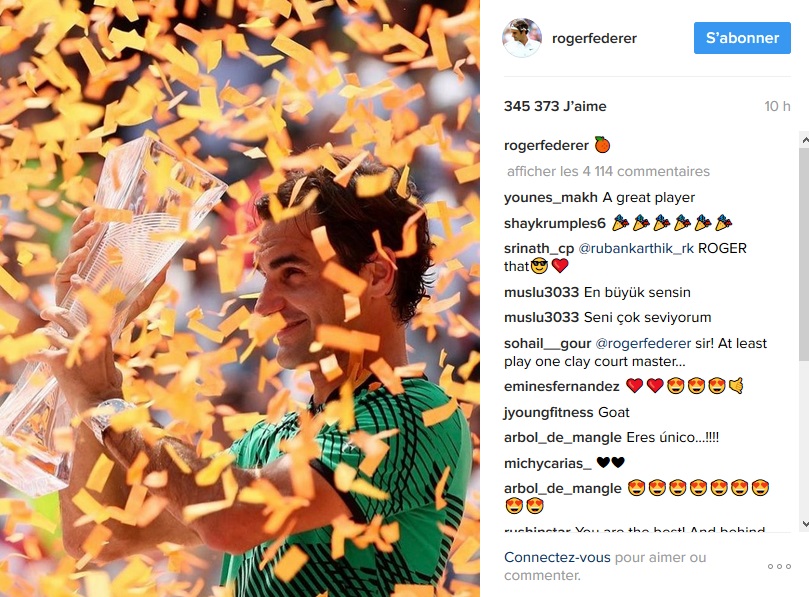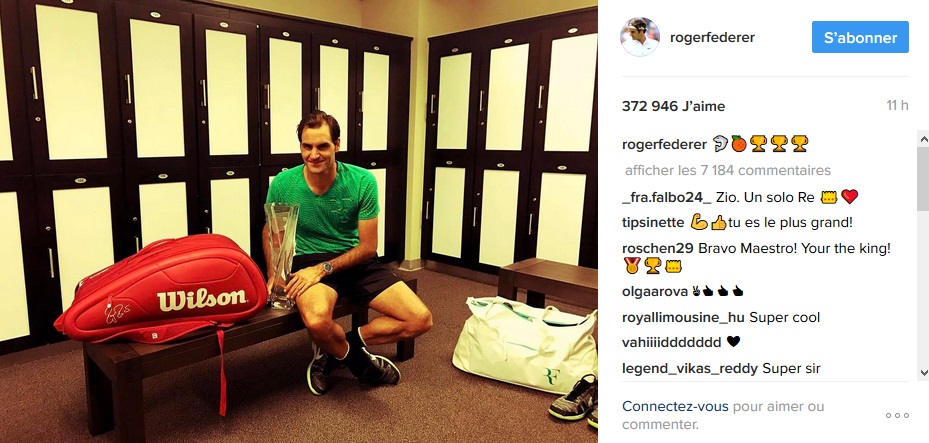 He's been crushing all his opponents since the start of the season.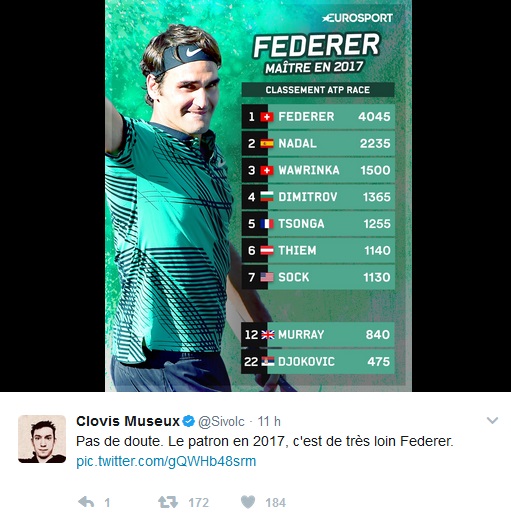 The last time he won the three tournaments in a row was eleven years ago. It's been an eternity.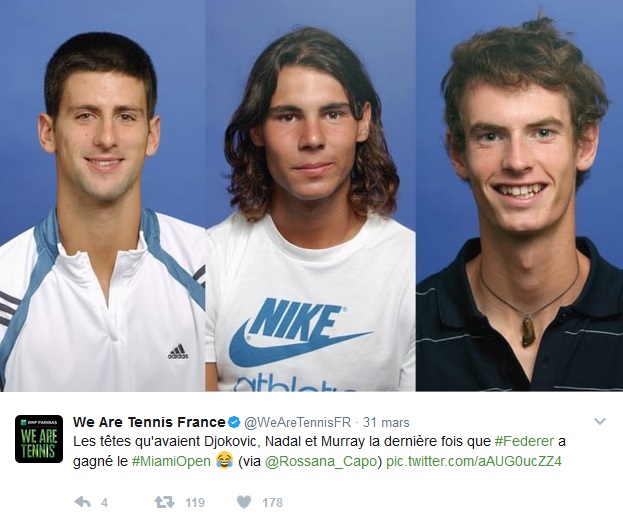 In Florida, the Swiss once again showed an unbelievable level of play.
It's now time to rest for the champion, before returning on the courts for Roland-Garros, at best.
2- Nick Kyrgios (+6).
In Miami, the youngsters also shone, with Zverev, but mainly Kyrgios, who was more spectacular than ever…
…with his special shot, the winning tweener.
The Australian had a good time during the Floridian fortnight, with a great level of play, but also a positive mindset, which was pleasant to see. A composure which we've also noticed on his latest photos.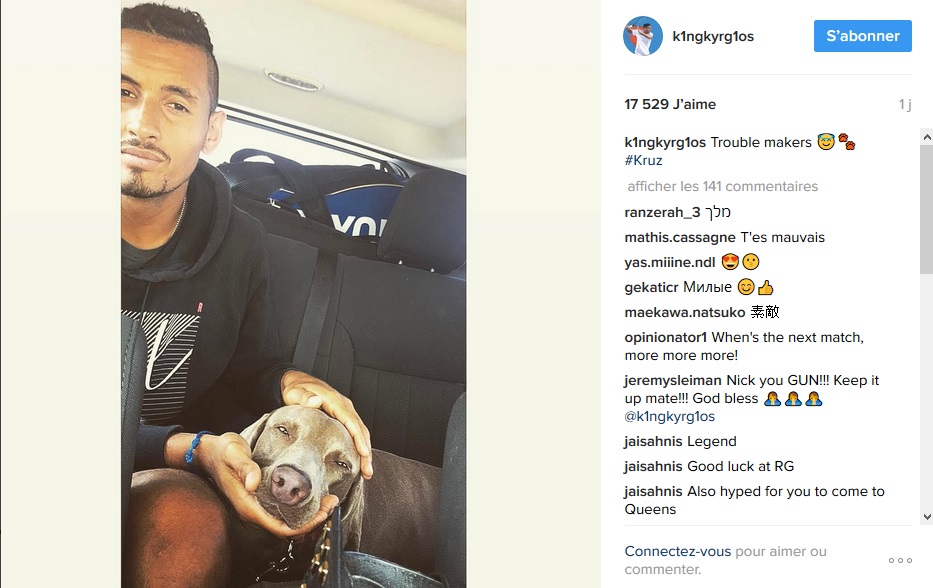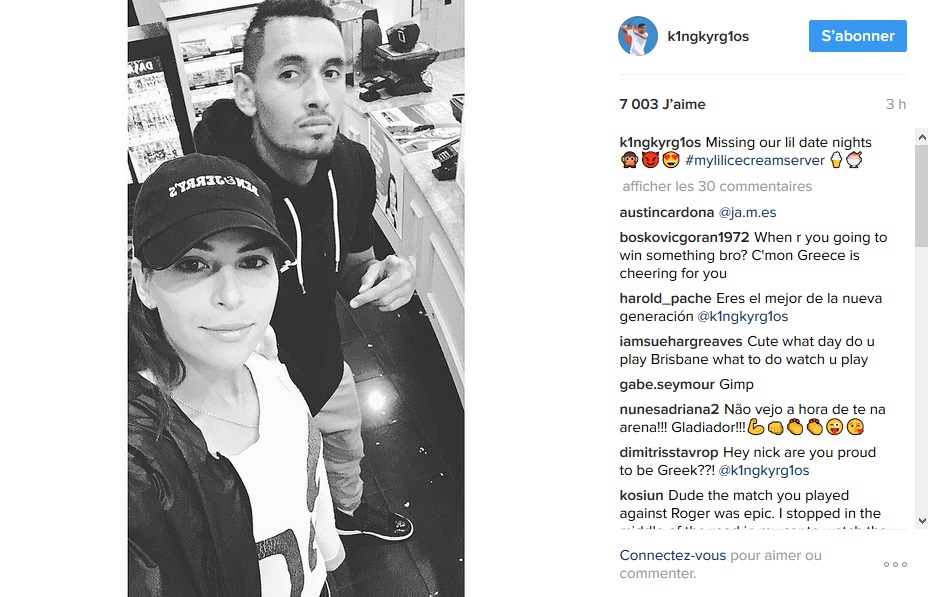 Well, he still got a little bit annoyed during his semi-final against Federer…
…but for his defense, the crowd didn't really help.
3- Serena Williams (NE).
Meanwhile, Serena made the most of her holidays.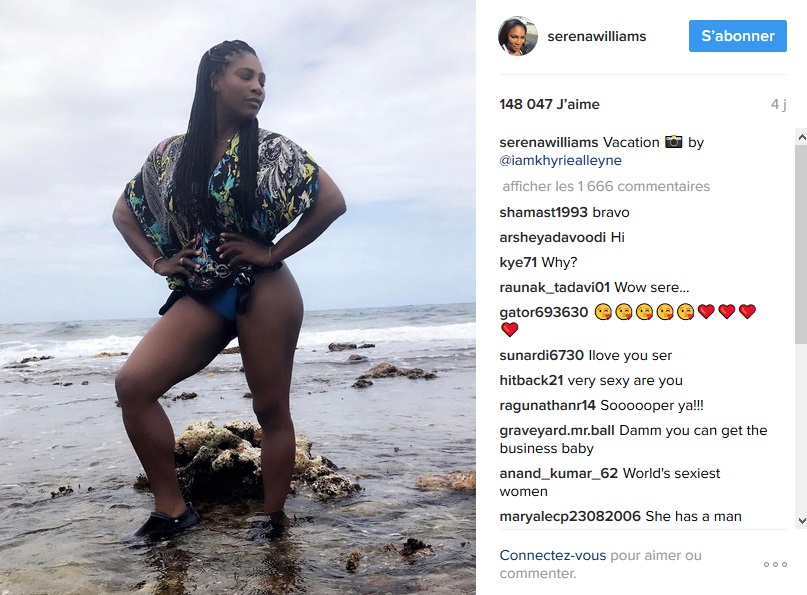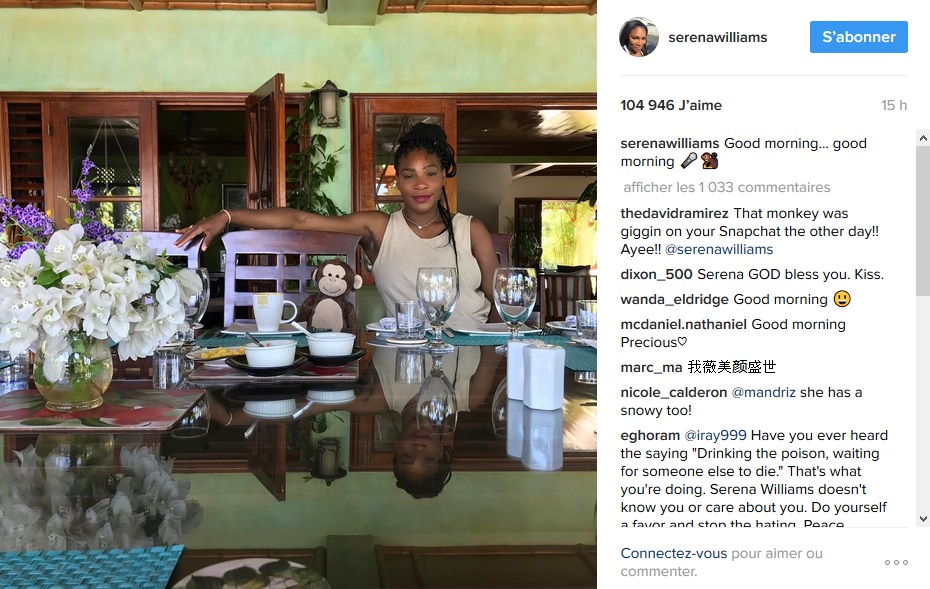 Serious holidays however, with what's looking like a preparation for her wedding…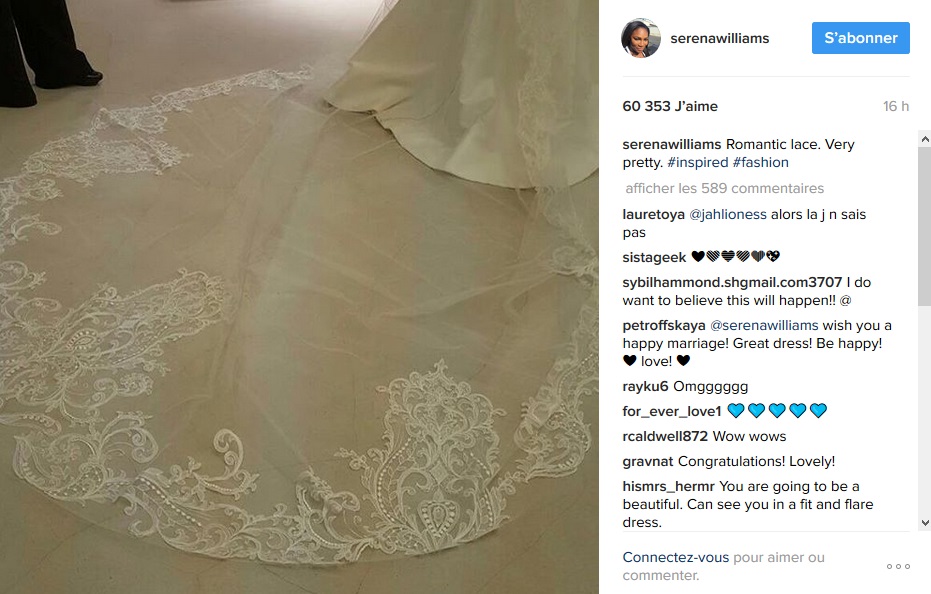 Her union with Alexis Ohanian already sounds like the unmissable tennis/gossip event of the year, with already some very prestigious names on the guest list, like Beyoncé or Prince Harry.
4- Venus Williams (NE).
On her side, Serena's sister has broken longevity record, becoming the oldest player to defeat a world number 1, after dominating Angélique Kerber in the fourth round in Miami.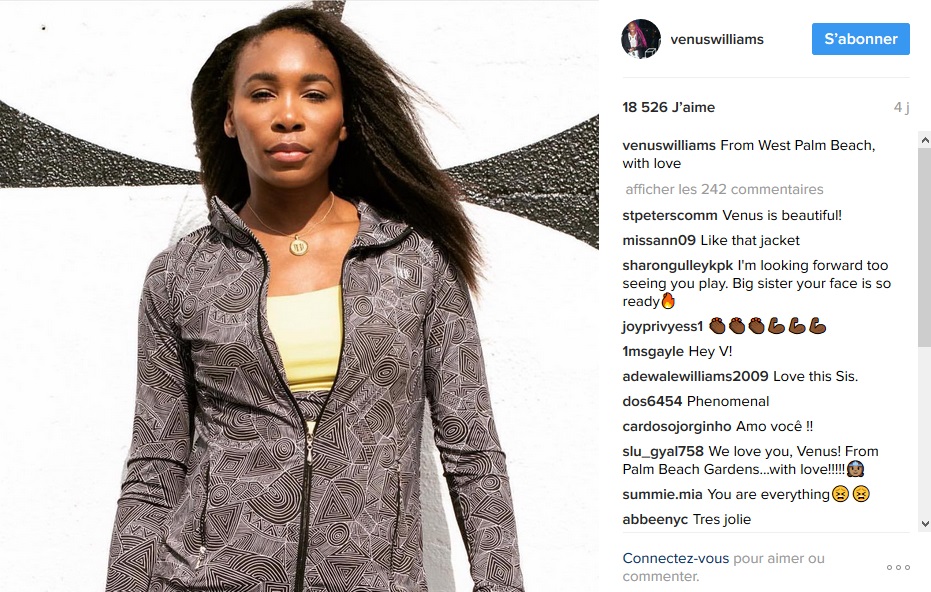 Hats off, Venus.
And an hommage to dad on top of that.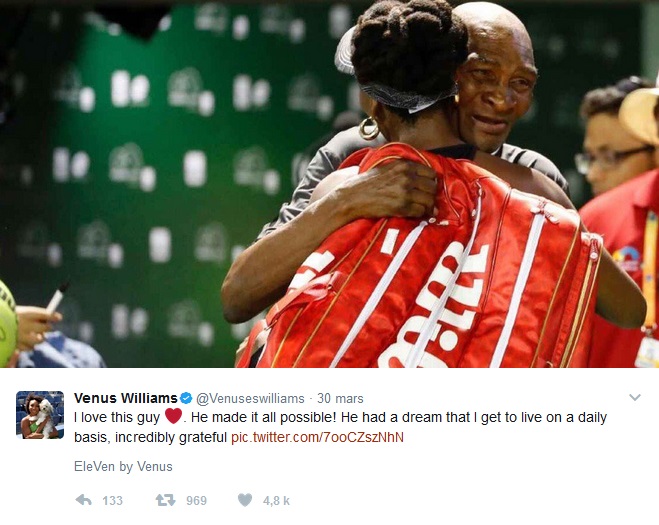 5- Maria Sharapova (-1).
Sharapova's fans only have a few nights to count before seeing her return on the circuit.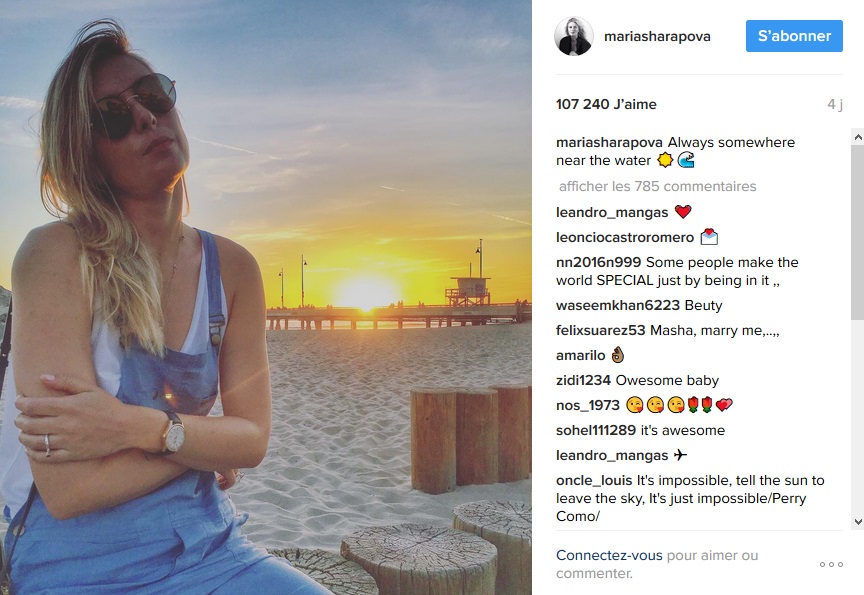 The Russian took a break from her training sessions to pose alongside Billie Jean King, among others, to support a good cause.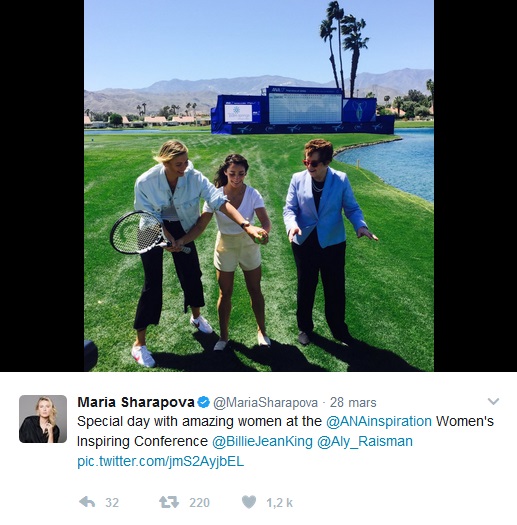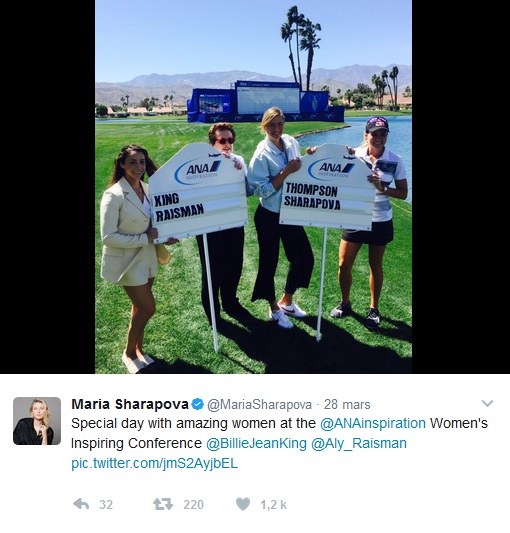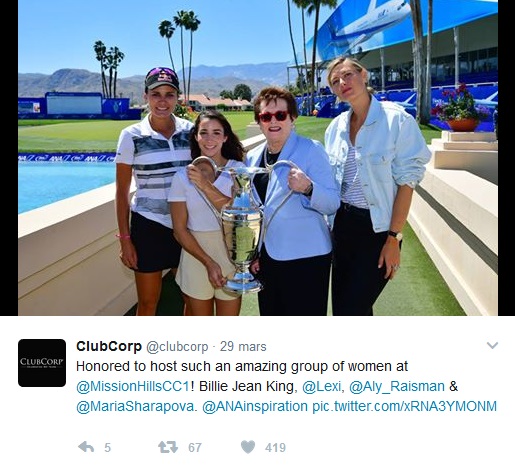 Her return from her suspension will be a real curiosity. We can't wait to see her level when she comes back…
6- Johanna Konta (NE).
Meanwhile, one of the rising talents in these last few weeks is Johanna Konta, who won the third title of her career in Miami (the second of the season), and surely the most prestigious one.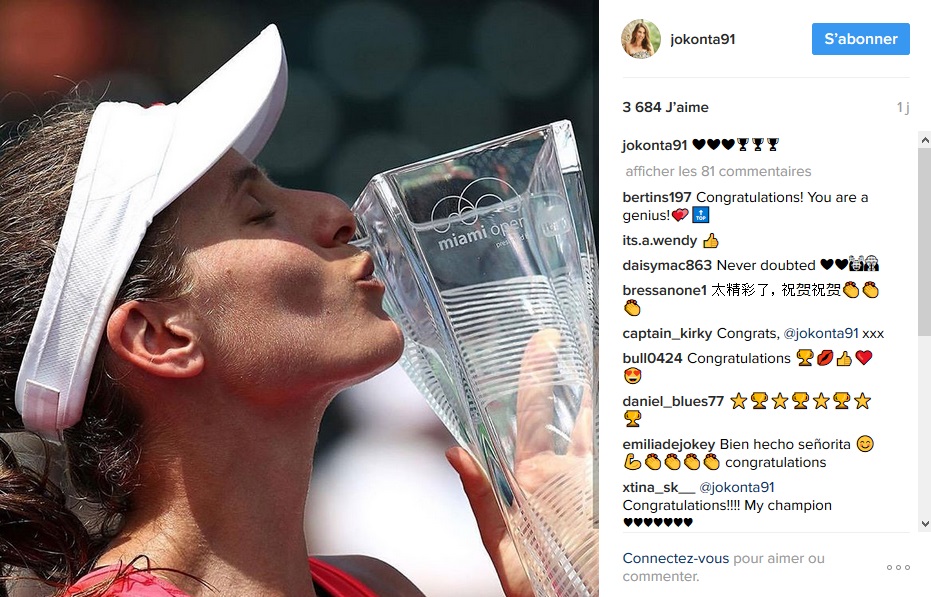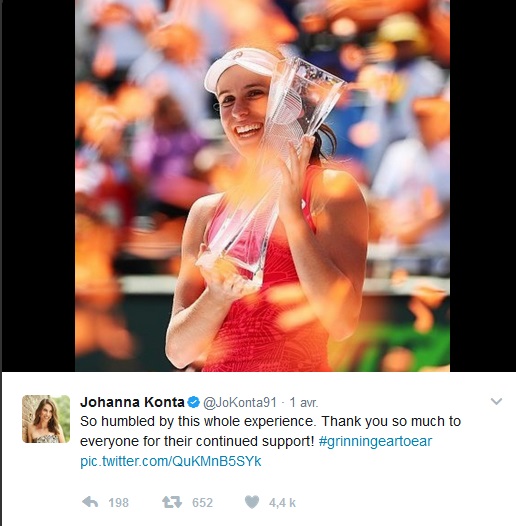 A well-deserved victory…
…before a nice break by the seaside under the Floridian sun.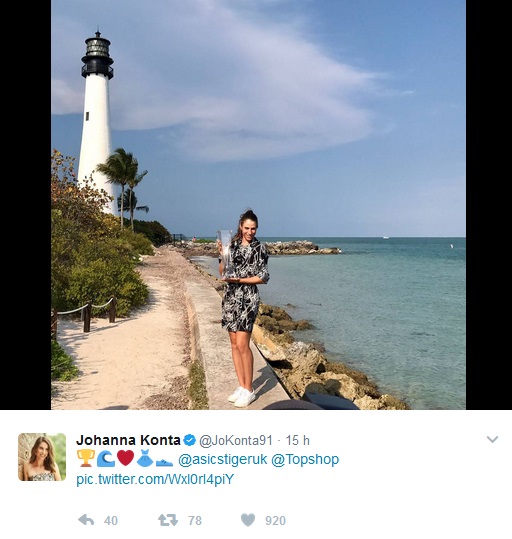 7- Caroline Wozniacki (NE).
The unlucky finalist in Miami was Caroline Wozniacki, once again ! It's her third defeat in a final this year after Doha and Dubaï.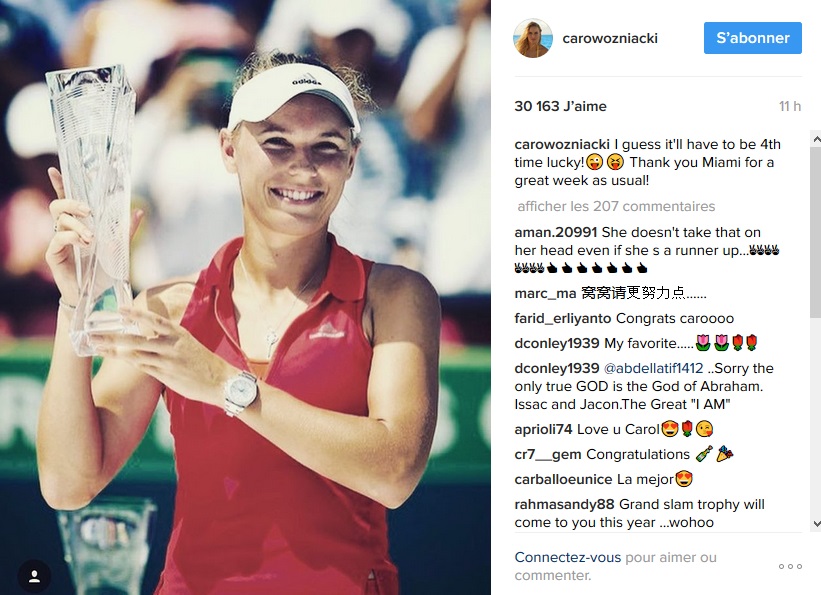 The Dane can dry her tears, as she remained the queen of social networks this week with a symbolic record : she now has a million followers on Instagram.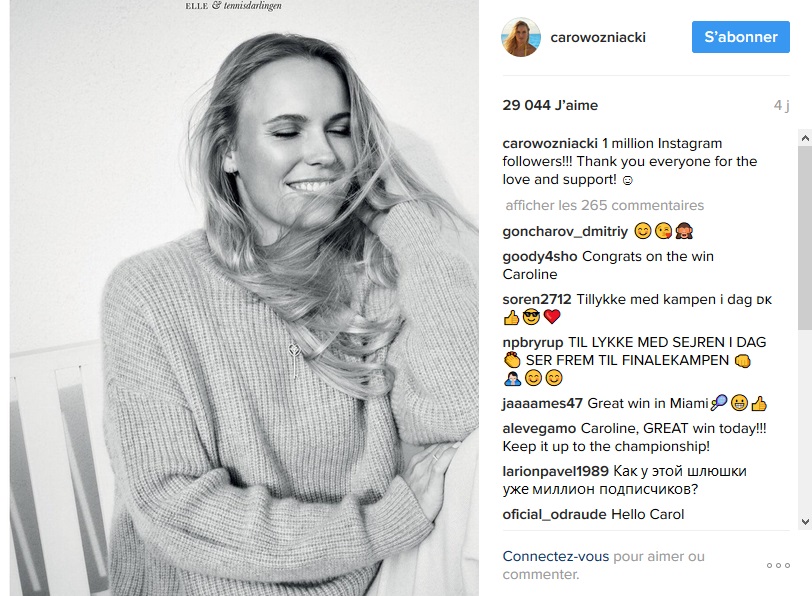 8- Rafael Nadal (+1).
Here's the video which created a buzz this week in Miami : Nadal losing his shoe in the middle of his match against Fognini.
Apart from that, the Spaniard has shown a remarkable level of play, only to be defeated in the final by his eternal rival, Roger Federer.
Nadal has show some serious progress, and looks physically sharp, before starting the clay season, where he will obviously be scrutinized.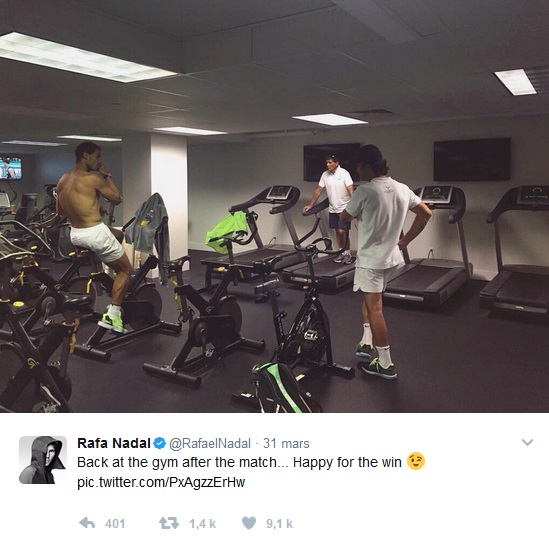 9- Fabio Fognini (NE).
Fognini also had a great tournament in Miami, after qualifying for the semi-finals, thanks to a level of tennis that we, sadly, don't always see when watching his matches.
A fortnight which ended beautifully, as he hugged his wife, whose bump is nicely starting to show…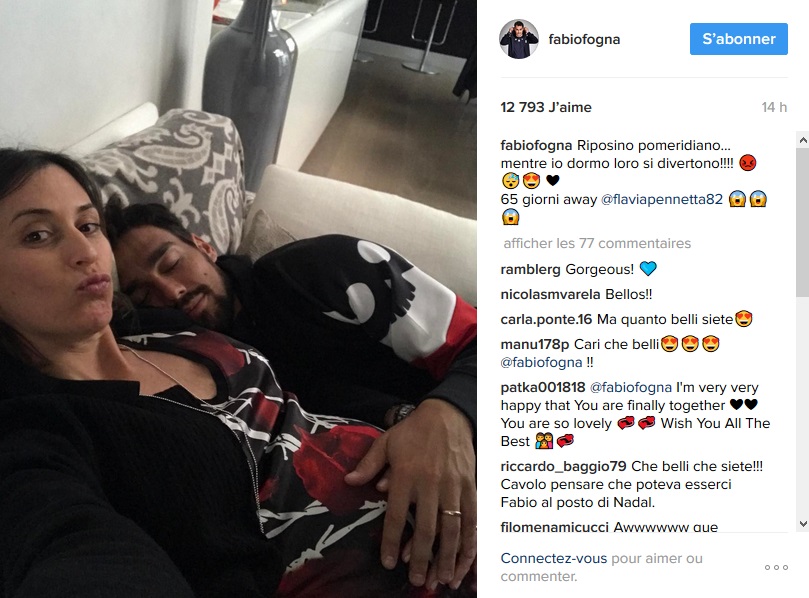 And watched the final on TV, like any other regular tennis fan.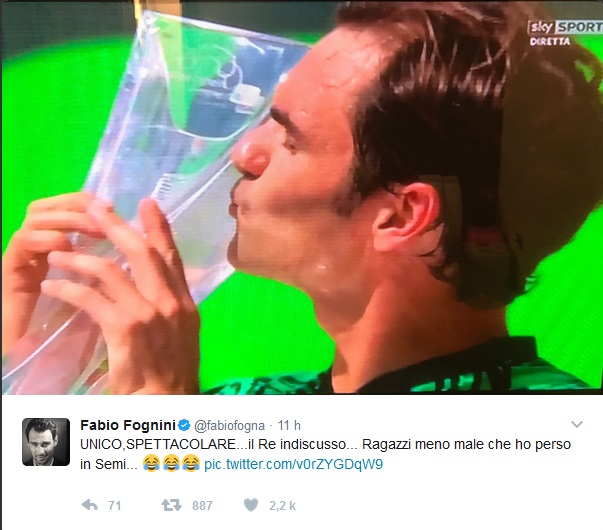 10- Novak Djokovic (NE).
Any news from Djoko ? The ex-world number 1, who has been having a pretty hard time these last few months, has spent some refreshing family time these last few days.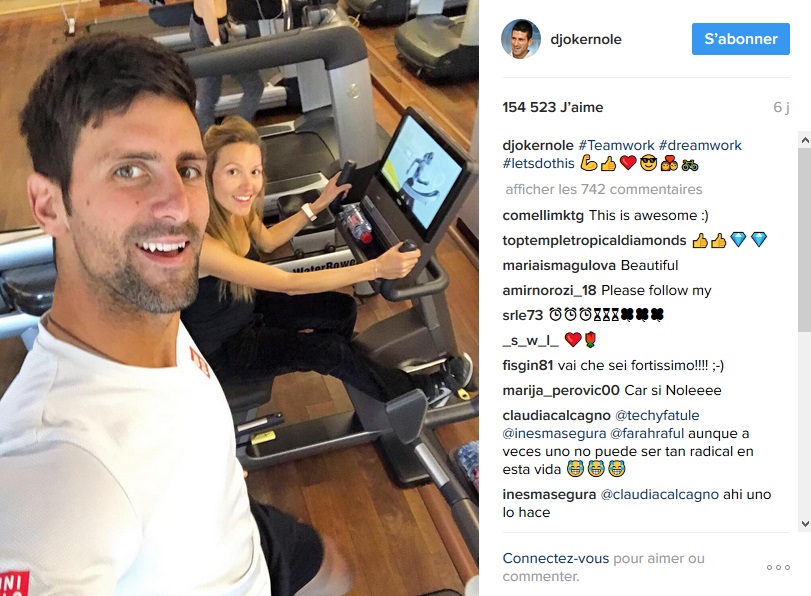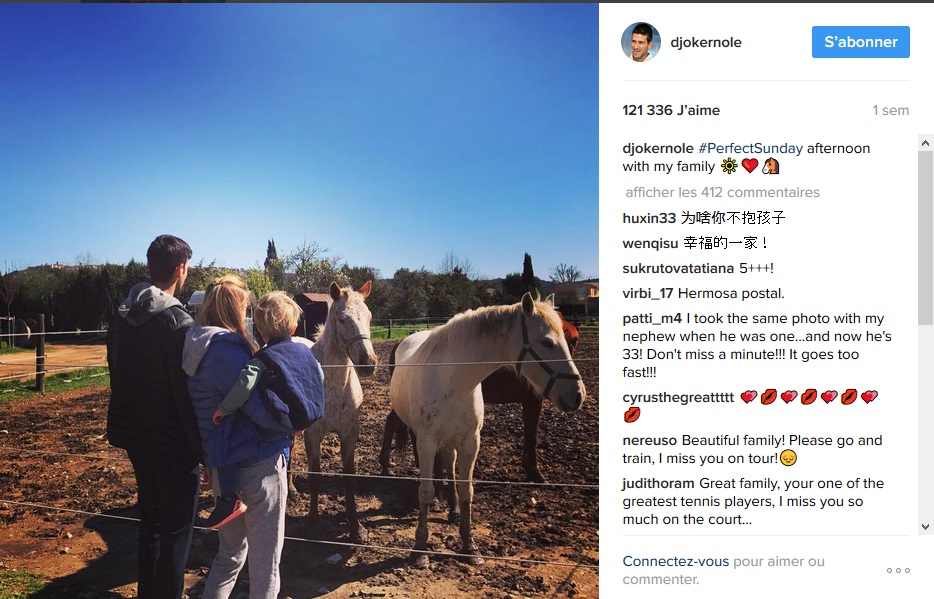 And seems to be ready to kickstart his clay season.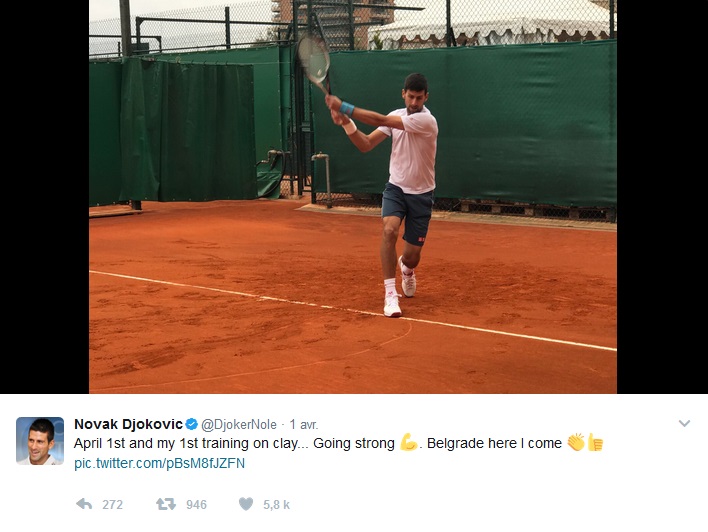 The Serb also saw a pretty funny lookalike in Miami.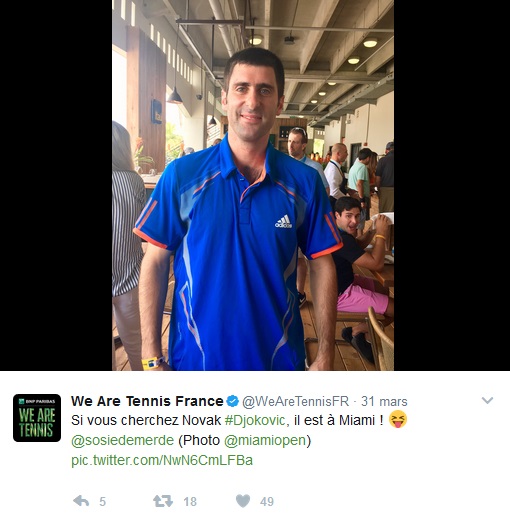 11- Juan Martin Del Potro (-1).
As for Del Potro, he approaches the clay season a little differently. The Argentine's method to find peace and calmness is to go fishing by himself.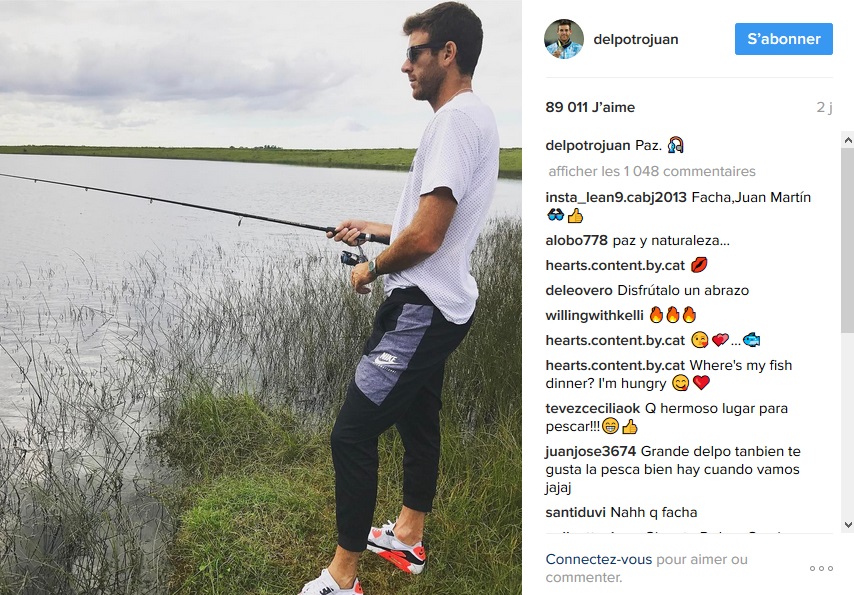 Class in any circumstances.
12- Stan Wawrinka (NE).
Last week, Wawrinka celebrated his birthday. The Swiss turned 32 on March 28th, and celebrated the event a few days earlier in a club in Miami. In pretty good company.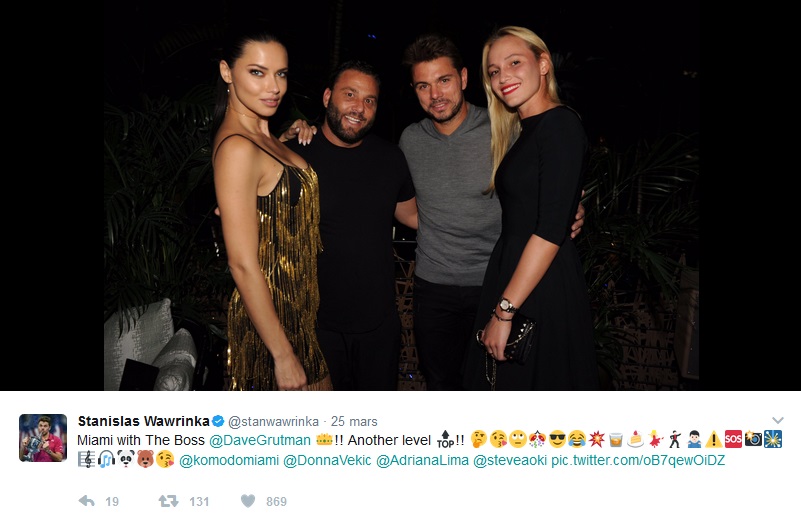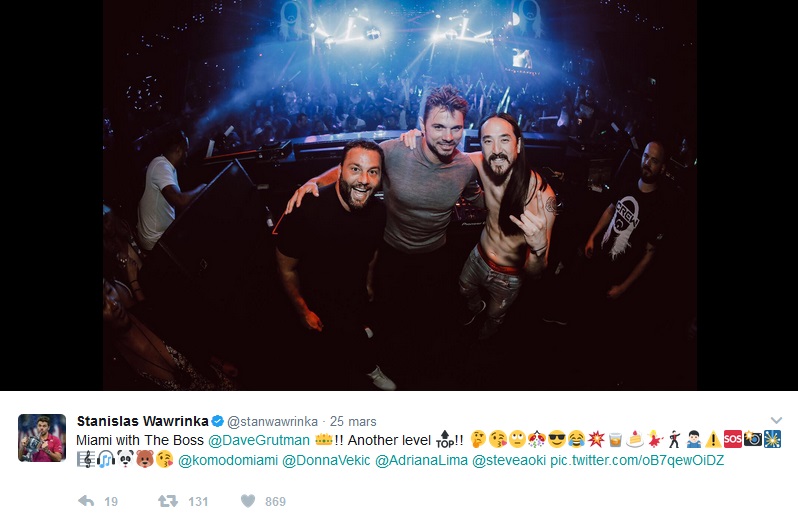 13- Romain Boutillier (NE).
At the Saint-Brieux Challenger tournament, in Brittany, Romain Boutillier made one of the most beautiful hot-shots of the week, against his fellow countryman, Corentin Moutet. What a touch !
In the end, Moutet won the duel, and the Belarusian Egor Gerasimov won the tournament.
14- Gaël Monfils (NE).
Still with the Frenchmen, here are some news from Gaël Monfils : everything seems to be going great, as he published this picture where he poses with the actor Adrien Brody.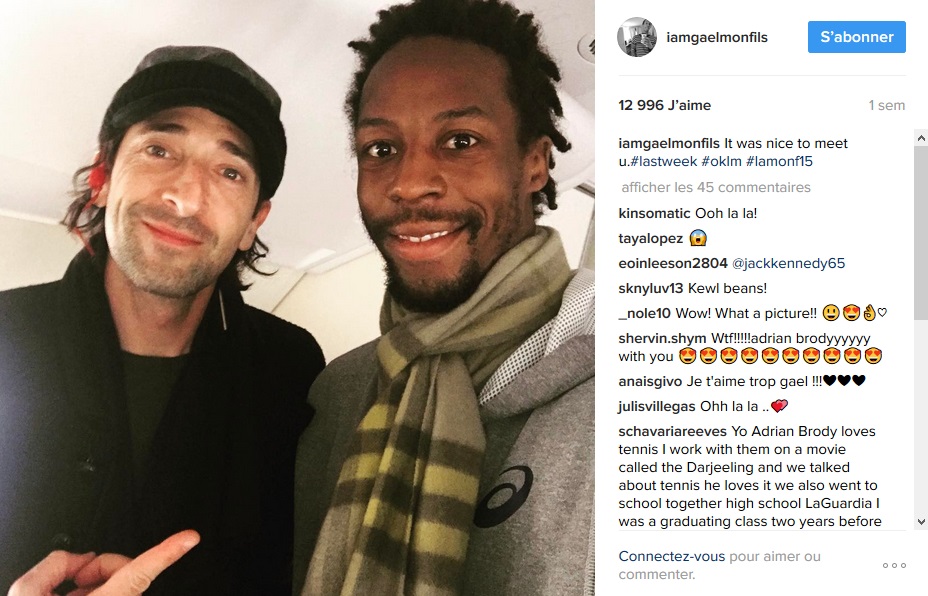 15- Jo-Wilfried Tsonga (-8).
As for Tsonga, who had the joy of welcoming his first child a few days ago, we also found out that his son's name is Sugar, thanks to an unintentional indiscretion from Yannick Noah in front of the press. And an hommage to his father : Jo's dad wanted to name his son Ray Sugar, in reference to the famous boxer, but his mother refused at the time. There now is a Sugar in the Tsonga family !
Outs :
Haas, Azarenka, Kvitova, Bouchard, Radwanska, Mattek Sands, Kerber, Paire
By Régis Delanöe