Loved by the fans and the crowd, hard to realize and beautiful to watch, the tweener has a good reputation. But the one Kyrgios did against Tsonga in Marseille raised a question : is it a provocative shot if it's not intended to win the point ?
Loved by the fans and the crowd, hard to realize and beautiful to watch, the tweener has a good reputation. But the one Kyrgios did against Tsonga in Marseille raised a question : is it a provocative shot if it's not intended to win the point ?
He was not smiling despite the cheers coming down from the stands. He slightly clenched his fist after having dodged the ballboy. For Nick Kyrgios, this tweener which answered Jo Wilfried Tsonga's drop shot wasn't an unusual shot. But in this specific context, the Australian didn't seem to need to that. If he won the point thanks to it, tennis' bad boy could have easily hit a powerful forehand to get the same result. Which would have probably been wiser. Especially in a tight semi-final (2-2, 15-40) at the Marseille ATP 250. So, why did Nick allow himself to take such a risk ? Was the goal to infuriate his opponent ?
« He wasn't looking to provoke, or tease him, says Thomas Giraud, a member of the Soyez P.R.O team, which is a method of mental coaching created by Ronan Lafaix, who works with Gilles Simon and Stéphane Robert. There are two scenarios with the tweener : it's either a shot which enables you to get out of a difficult situation, like when Roger Federer has to defend after a very long lob close to the baseline and that he doesn't have any better technical options, or it's a shot which isn't really needed to win the point, like here, with Kyrgios. Here, the main ambition is to enjoy yourself. » To the cost of the result ? Not really. As for certain players, like Kyrgios, the playful aspect in tennis is essential to his fulfillment, and to his results. It's not the first time that the 21 year-old has tried an inappropriate tweener regarding the situation. Last February, he shot a ball between his legs after Andreas Seppi's harmless return, on a match point against him in the fifth set at the Australian Open. Chilled out.
« Trying such shots is essential for this type of player. It gives him a positive energy, a new dynamic, and put him in a better state of mind, says Thomas Giraud. Because for Kyrgios, the playful aspect is very important. If you just tell him to hit balls for an hour, he'll hang himself. »
Here is the analysis : if the majority of tennis player is capable of turning into machines and stay away from any diversion to focus pragmatically on the result, it's impossible for others to imagine playing without a hint of craziness. For these players, tennis has to remain a game. And, « if you forget to play, you take things to seriously, you're not able to detach yourself from the result, you're too involved, says the mental coaching expert. As a consequence : you're thinking too much, and you underperform. » An analysis which is particularly true for all the « Monfisians »That's why Gaël Monfils is always treating himself with risky shots in the middle of the match, even when he only has to do an easy forehand to win the point. When he tried his 360 degrees smash - which he had practiced in training - at the 2013 Halle tournament against Tommy Haas, everyone was surprised, and nobody imagined that this bizarre inspiration could have helped him to win the point. But nobody suspected that the Frenchman didn't only do it to light up the crowd.
One question remains : can these tricky shots offend the opponent ? If he loses on a winning passing shot, thanks to a perfectly executed defensive tweener (like the one Lucas Pouille scored in the final in Marseille), no problem : as they are generally good sports, the opponents see the beauty of the shot, and can even applaud it. But what if it's an « unessential » tweener ? « It can be hurtful, and you can feel a lack of respect. You can be touched mentally, says Gaël Passarius, an ex-coach in the Guadeloupe League, and a youth coach these days. But the good answer is to carry on like nothing happened. And tell yourself that you're playing a singular player. I've had the chance to see Monfils train in Guadeloupe, and I can tell you that he's always trying new things. So he doesn't do it just to provoke. »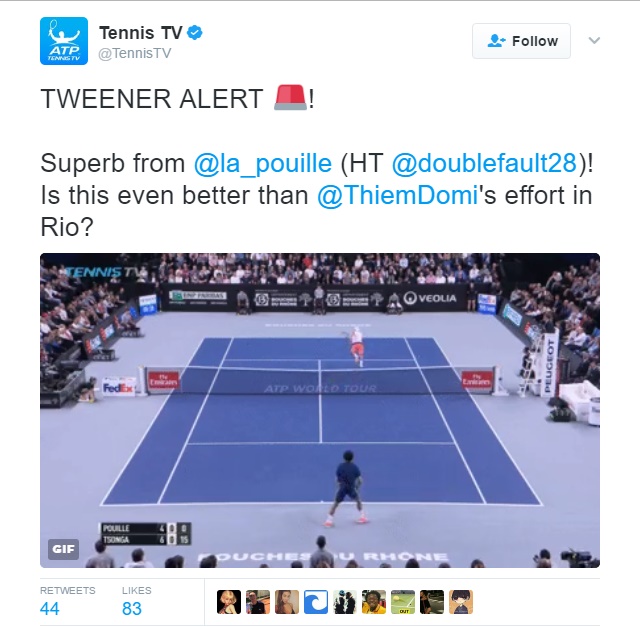 An attitude which Tsonga has fully understood, as he remained self-assured after Kyrgios' shot. Pretty normal, as the Frenchman knew his opponent and confusing personality very well, according to Thomas Giraud : « Jo was expecting unusual, strange, and creative shots. He was prepared, it's crucial. Let's take Michael Chang and his underarm service in the fourth round of the 1989 Roland-Garros. Nobody was expecting that, and especially not Ivan Lendl, who was completely unsettled. He had never imagined that Chang, who was more of a wall-like player at the time, could do that. » The Czechoslovakian maybe should have tried to hit a tweener to get over it.
By Florian Cadu