After a crazy fortnight at the Australian Open, the tennis world has gone back to being a little calmer, and has offered us a previously unseen trio at the top of our offbeat ranking : Bouchard, who can't seem to stop enjoying her holidays, Shapolavov a
After a crazy fortnight at the Australian Open, the tennis world has gone back to being a little calmer, and has offered us a previously unseen trio at the top of our offbeat ranking : Bouchard, who can't seem to stop enjoying her holidays, Shapolavov, who was responsible for Canada's disqualification in the BNP Paribas Davis Cup, and Svitolina, the rising talent of the WTA circuit…
1- Eugénie Bouchard (NE).
There haven't been so much tennis news these last few days : a pretty tasteless BNP Paribas Davis Cup first round, two minor women's tournaments…the perfect occasion to catch up on Eugénie Bouchard, who's still taking it easy and enjoying her fame. Last week, she was still on holidays, in Costa Rica.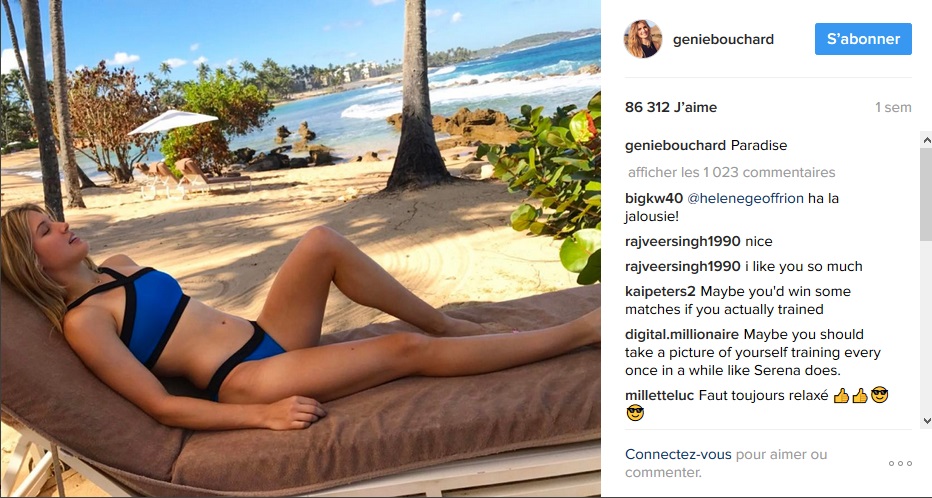 With good company, in fact her fellow countryman Jordan Caron, a hockey player.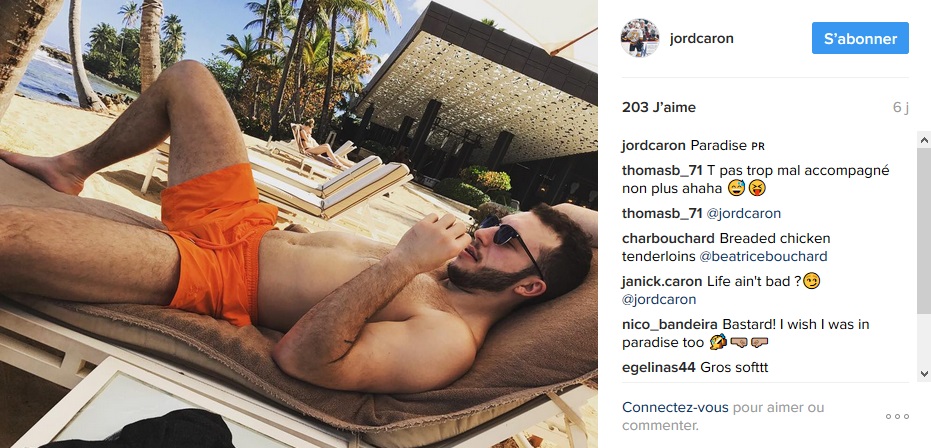 Yes, Eugénie isn't single anymore.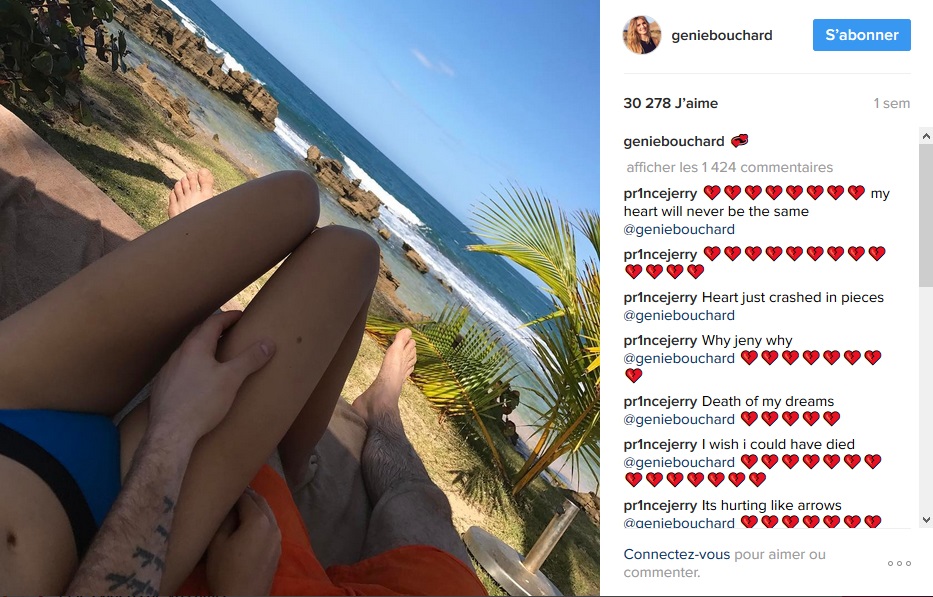 Are they planning to move in together ?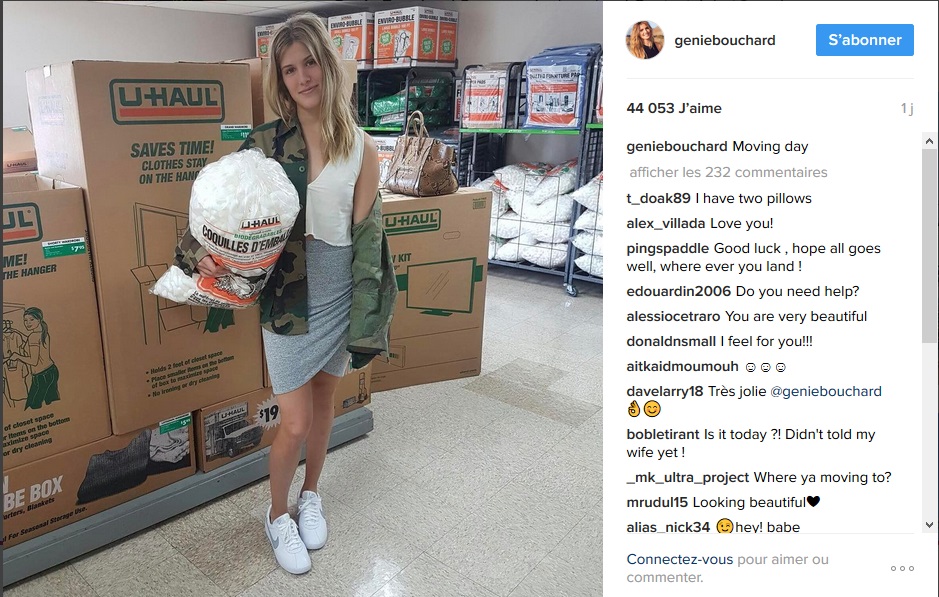 The good news however, is that she doesn't seem to have completely forgotten that she is a tennis player.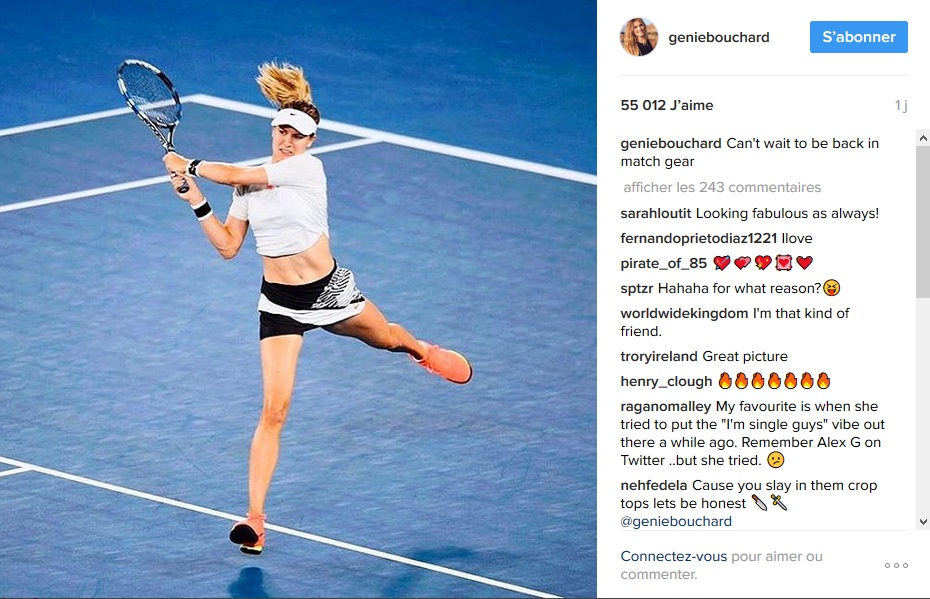 And she still gives her opinion on the news. The most dramatic…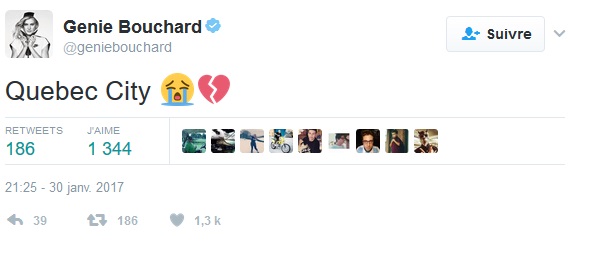 But also the one which rocks North-America once a year : the Super Bowl…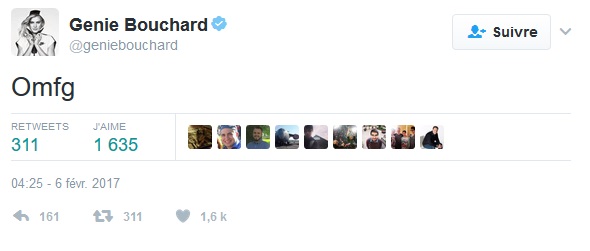 …and Tom Brady, who's added another episode to his personal legend.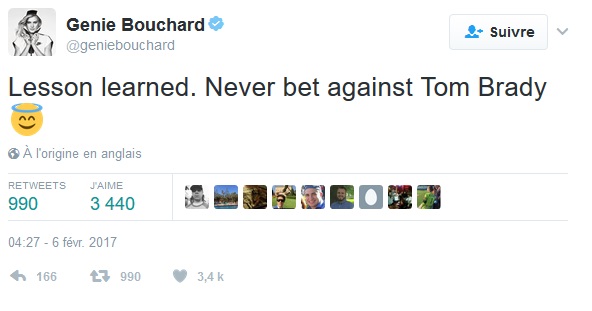 2- Denis Shapovalov (NE).
The week had started very well for Denis Shapovalov, the very grungy young Canadian, who's been selected in the BNP Paribas Davis Cup team to face Great-Britain, after Milos Raonic's withdrawal.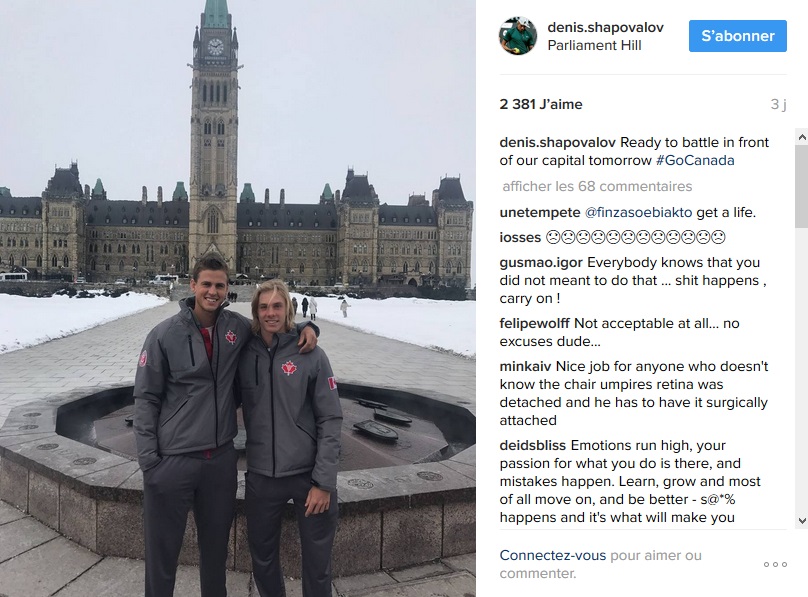 But in the decisive match (to win the 5th point), he - accidentally or not - shot a ball at full speed towards the umpire.
The result : a bad buzz, a black eye for the french umpire, a pathetic disqualification and apologies from the player, who admitted feeling « ashamed »…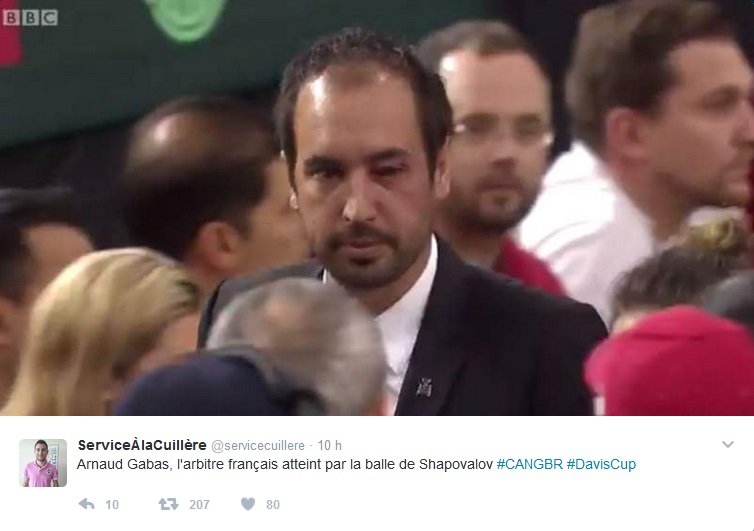 3- Elina Svitolina (NE).
She's one of the players who's on top form in this start of the season on the WTA circuit : Elina Svitolina, who, after a semi-final in Brisbane, has won this weekend in Taiwan her fifth tournament after dominating the Chinese Peng Shuai in the final.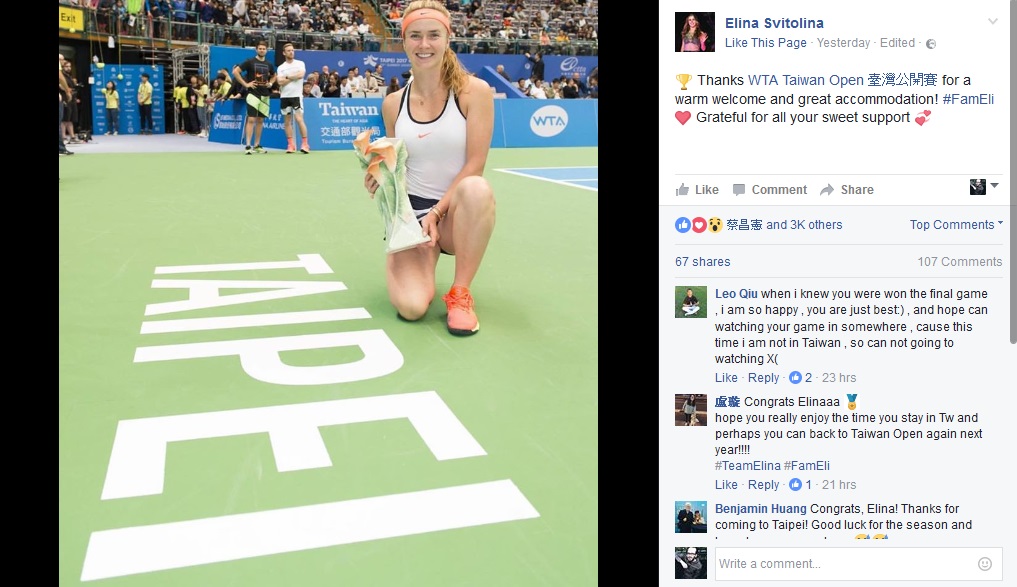 A great performance for the Ukranian, who lived up to her reputation as she was seeded at the number 1 spot in the tournament…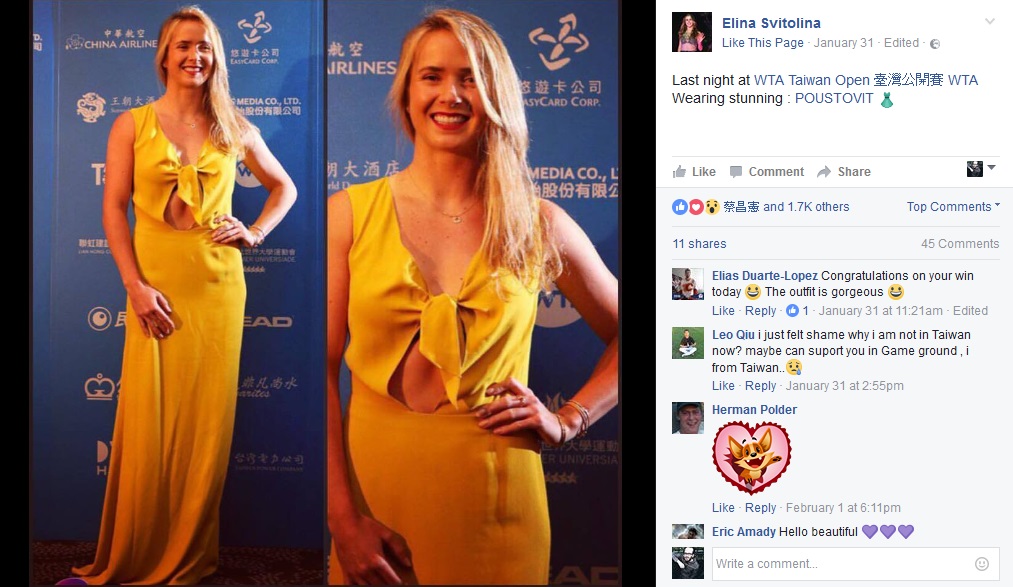 …where she displayed numerous and spectacular winners.
Enough to please her fanbase, which is growing every day.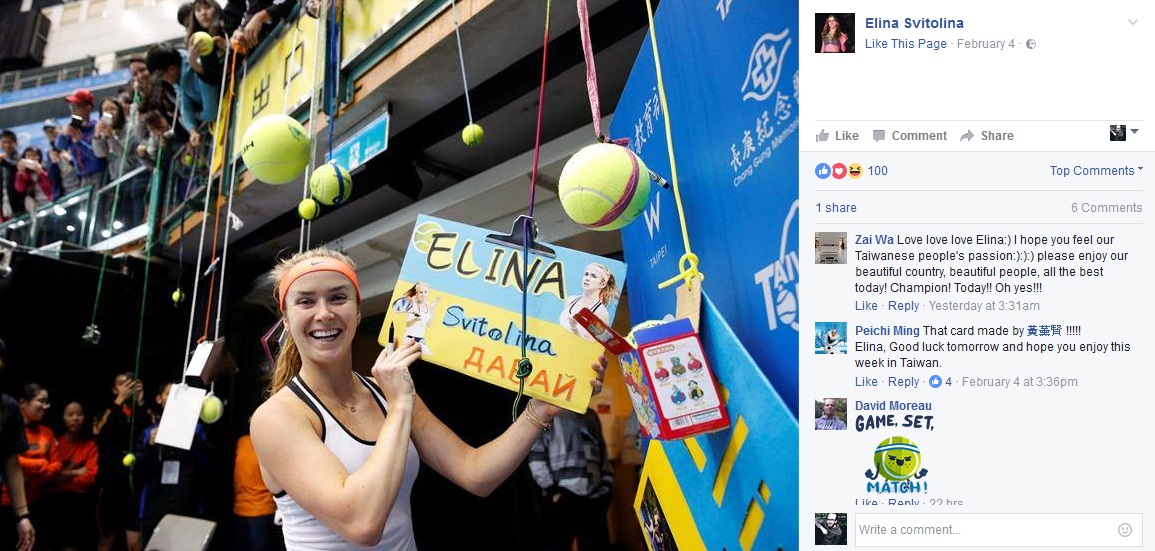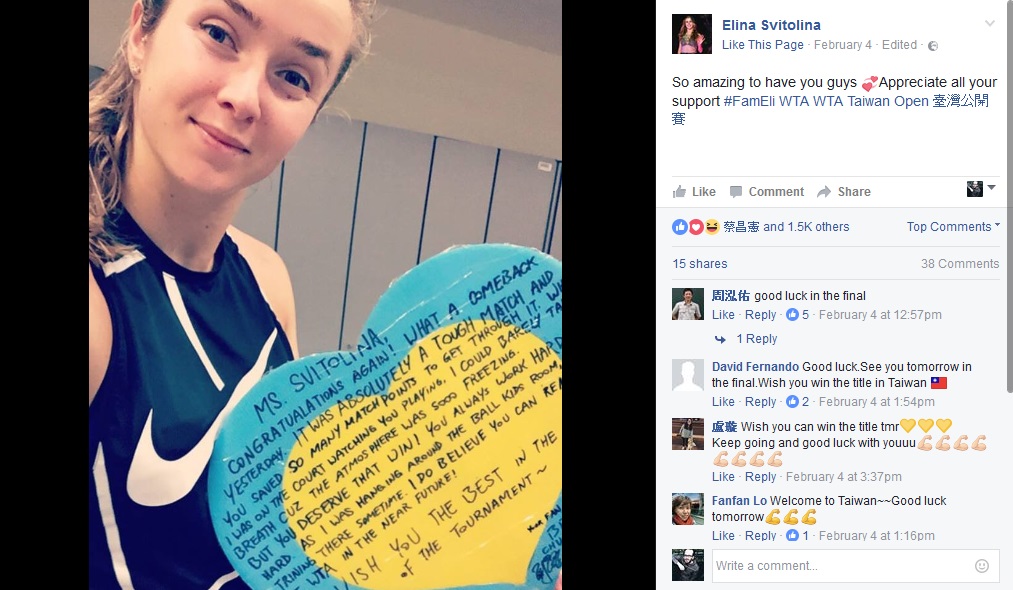 4- Kristina Mladenovic (NE).
A title in the singles, at last ! Kristina Mladenovic made the most of the Saint-Petersburg tournament to win her first WTA title.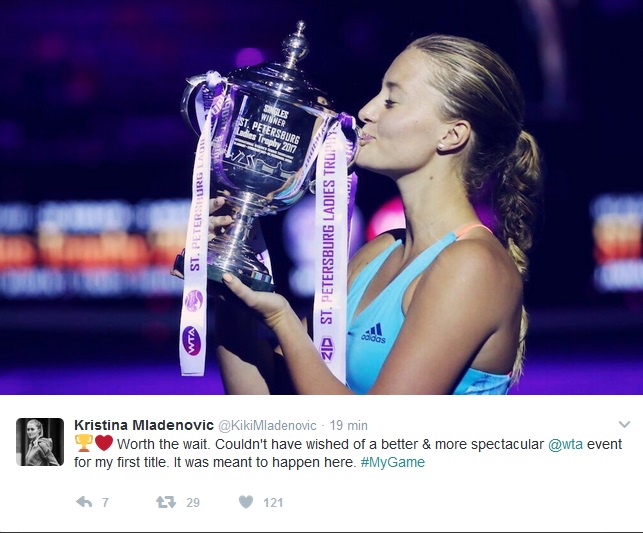 A victory in the final against Putintseva, who had the support of one of her good friends on the circuit, Victoria Azarenka.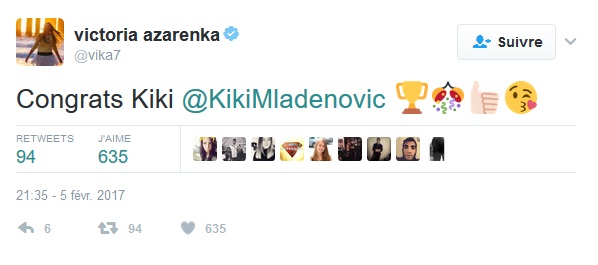 Mladenovic is pretty popular in Russia.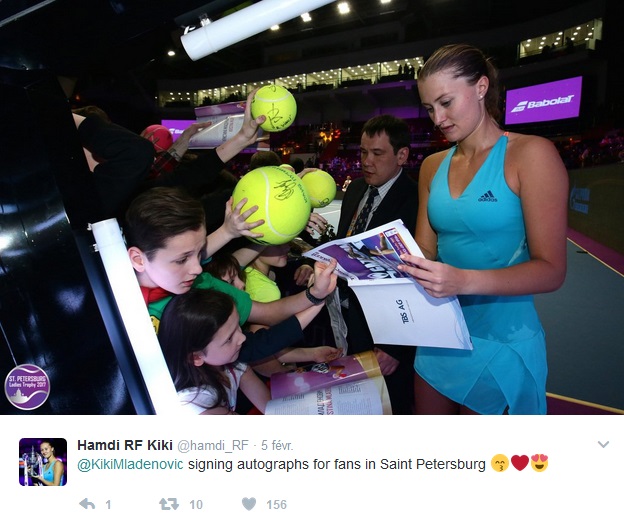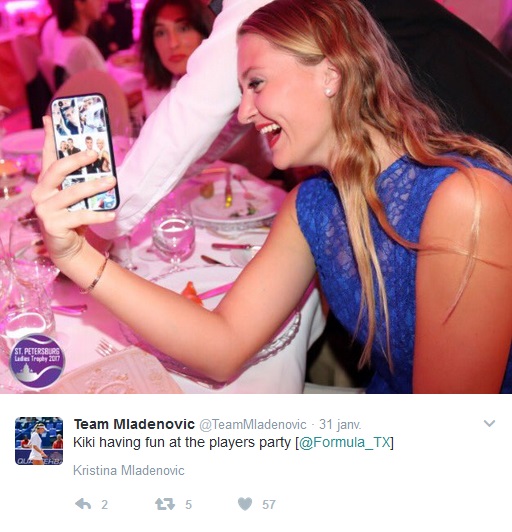 Nothing too surprising when you look at her winners.
5- Carlos Berlocq (NE).
The news of the week in these last few days also revolved around the BNP Paribas Davis Cup. An image to remember in this World Group first round is this one : Maradona as a fan, cheering on Carlos Berlocq.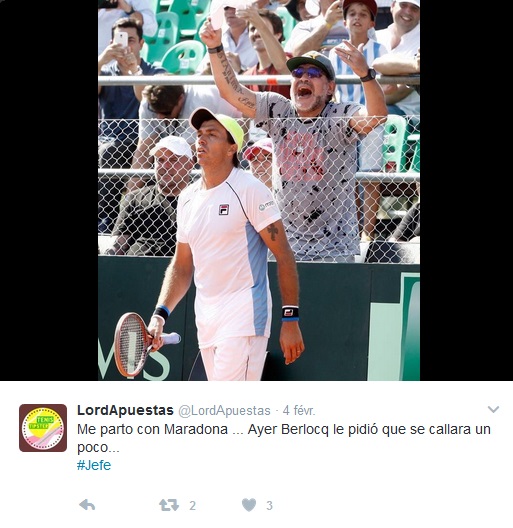 Cheers which were a bit too loud according to the player ! « I heard him way too much. He was by the court screaming my name. I had to ask him to calm down and not to scream when Seppi was serving. But he didn't hear me, and started to scream louder, » he said. It must be said that when Berlocq plays for his home country, Argentina, he gives everything he's got. Enough to make the spectators go nuts, including the most famous, and crazy, of them !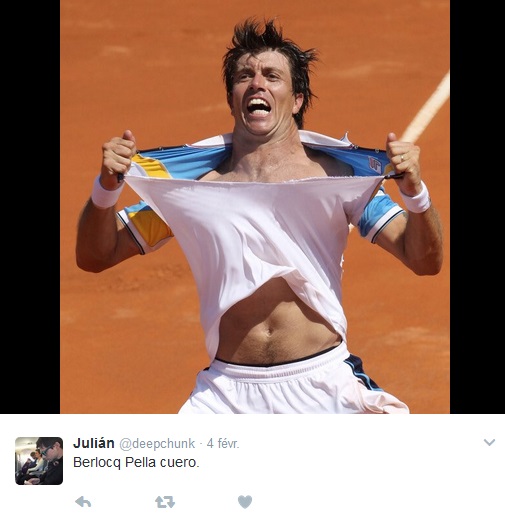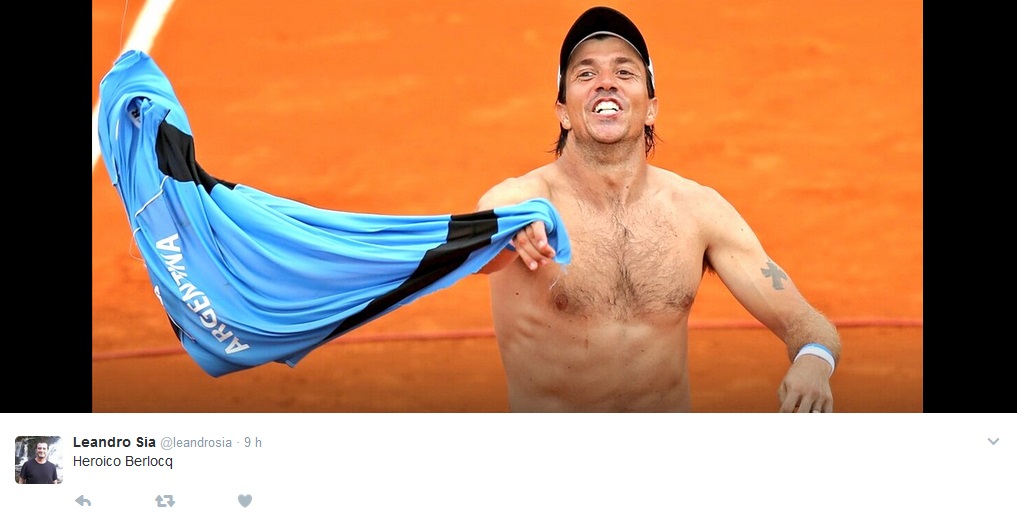 6- Nick Kyrgios (NE).
Kyrgios + Hewitt = bromance.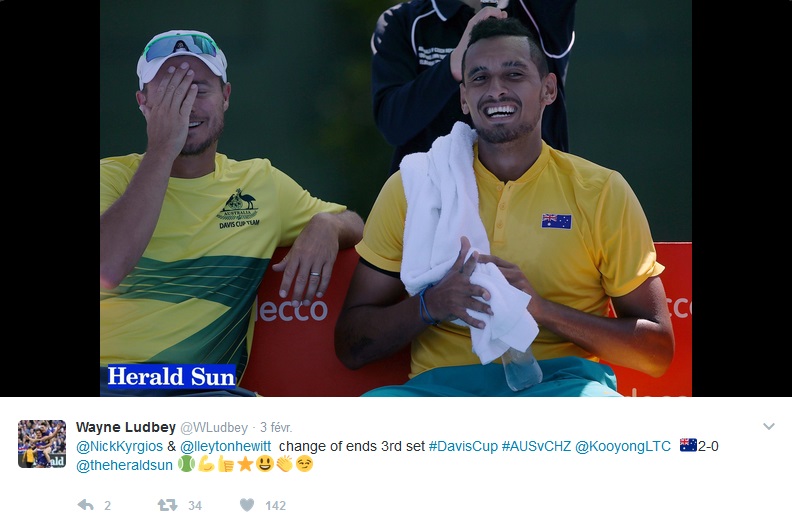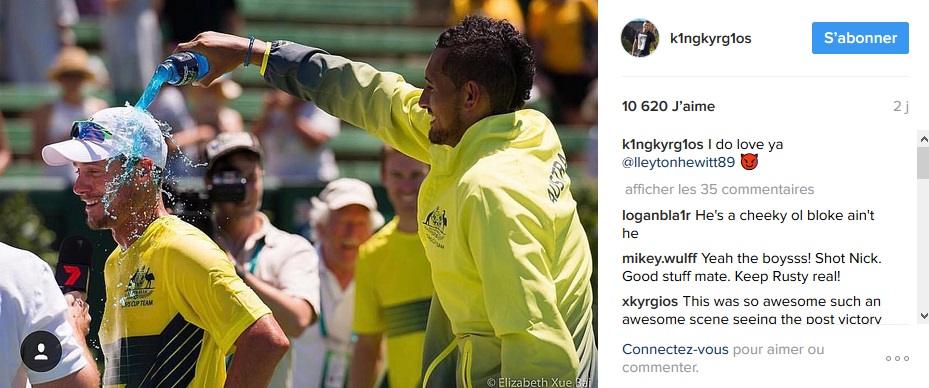 Thanks to Nick the Menace, and Hewitt the captain, but also Jordan Thompson, Sam Groth and John Peers, Australian defeated Czech Republic in the BNP Paribas Davis Cup and will face the United States at home in the next round.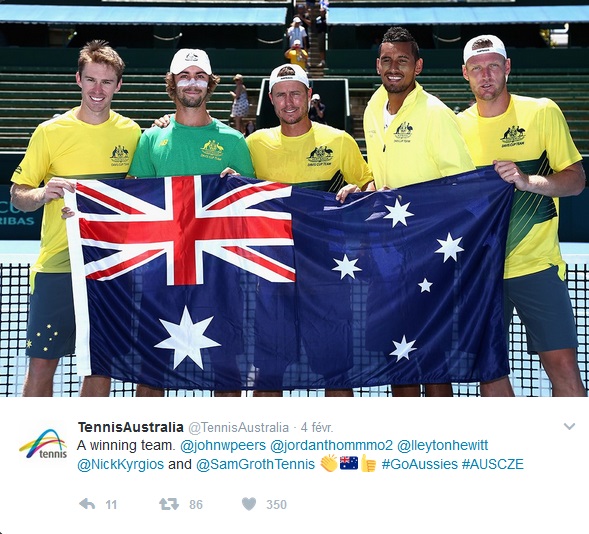 7- Steve Darcis (NE).
In Belgium, the hero is Steve Darcis, never more at ease on the court than when he's wearing the Belgium national football team shirt.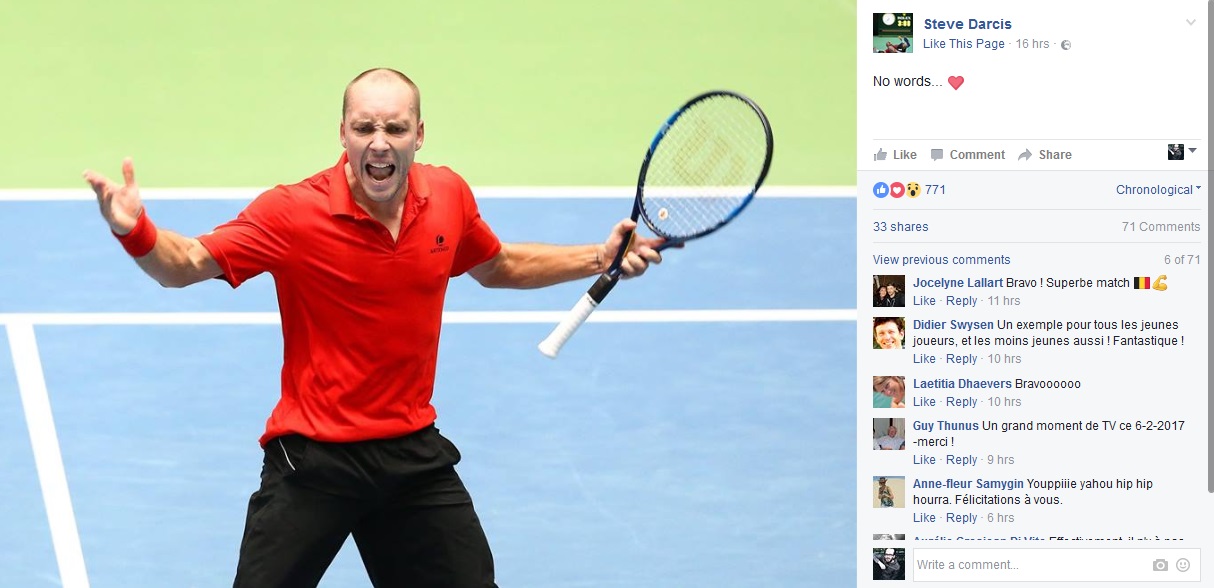 Feeling ecstatic, Darcis won his two singles matches against the Germans Kohlschreiber and Mischa Zverev, to offer his country the qualification.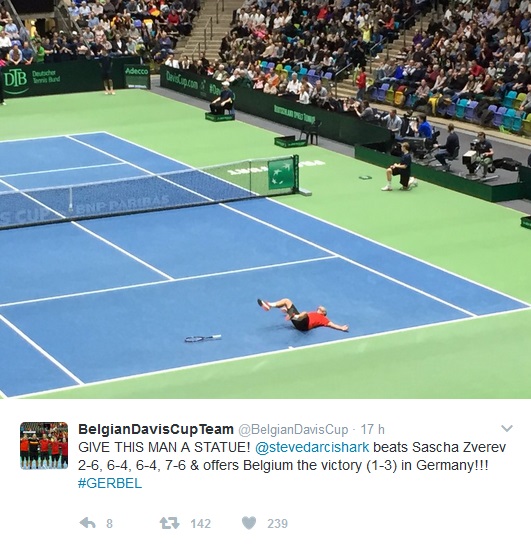 Which very much deserved his fellow countrywoman Kim Clijsters' praise.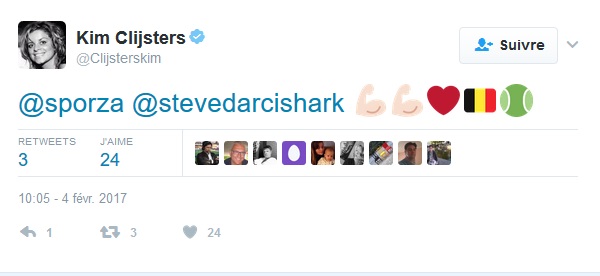 8- Novak Djokovic (NE).
A BNP Paribas Davis Cup first round against Russia won at home without trembling or losing too much energy…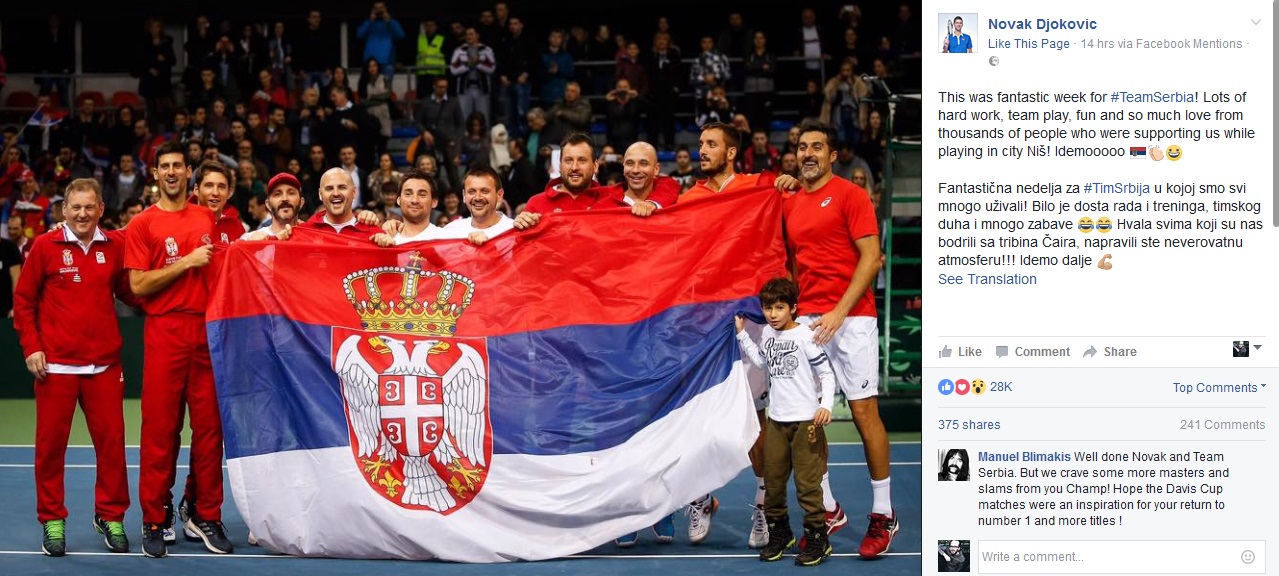 And add to that a visit to the children of his foundation.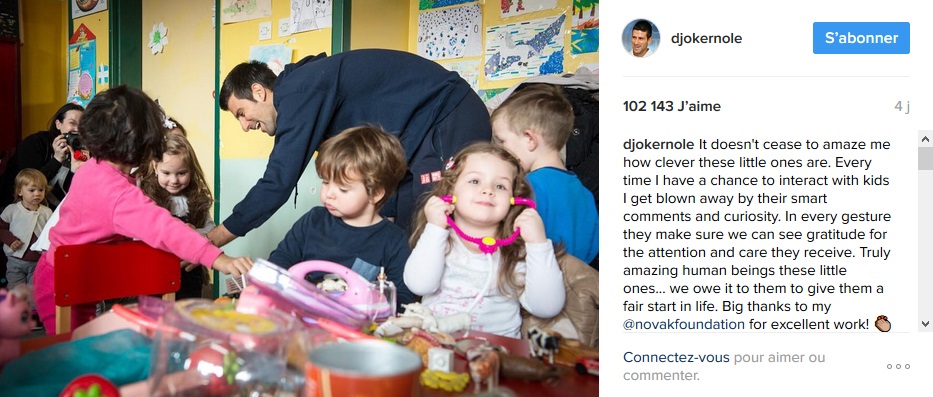 In Serbia, Djoko looks like he's been recharging his batteries, and found a mental boost and the motivation to give his season a needed kickstart. Come on, we believe in him !
9- Jack Sock (NE).
The leader of American tennis at the moment is definitely Jack Sock. After winning his singles match and the doubles alongside Steve Johnson, he enabled the team USA to defeat Switzerland without too much trouble.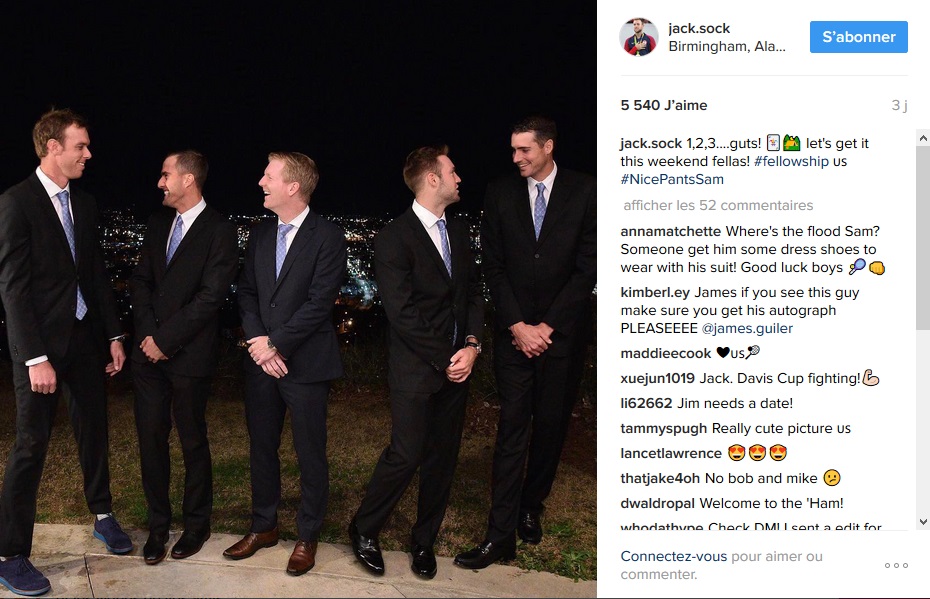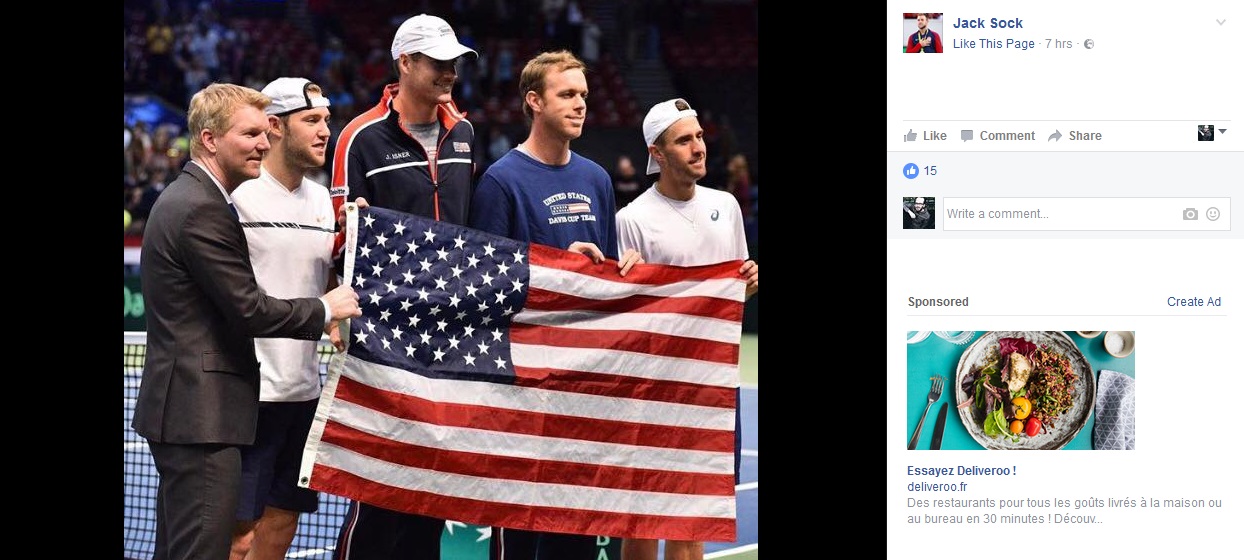 Without facing Federer or Wawrinka, it's obviously easier. Nevertheless, his fans enjoyed his performance.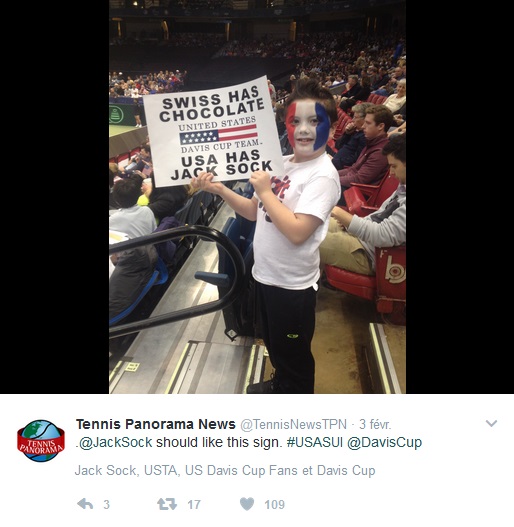 And like a true American, Jack Sock watched - and commentated - the Super Bowl.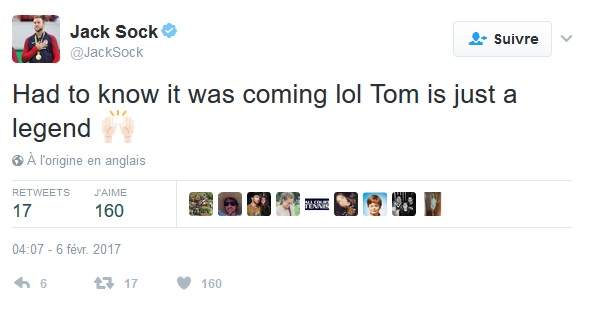 10- Taylor Fritz (NE).
His fellow countryman Taylor Fritz wasn't picked to feature in the BNP Paribas Davis Cup but he played in the Dallas Challenger tournament.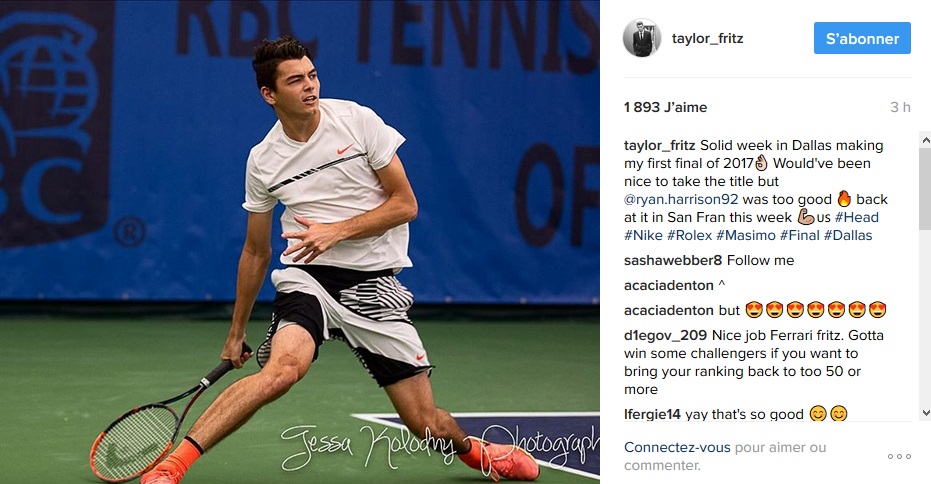 Where he stood out with a very spectacular game, which enabled him to reach the final (where he was defeated by Ryan Harrison).
11- Roger Federer (-10).
Last week, Master Roger came back home after his Melbourne triumph.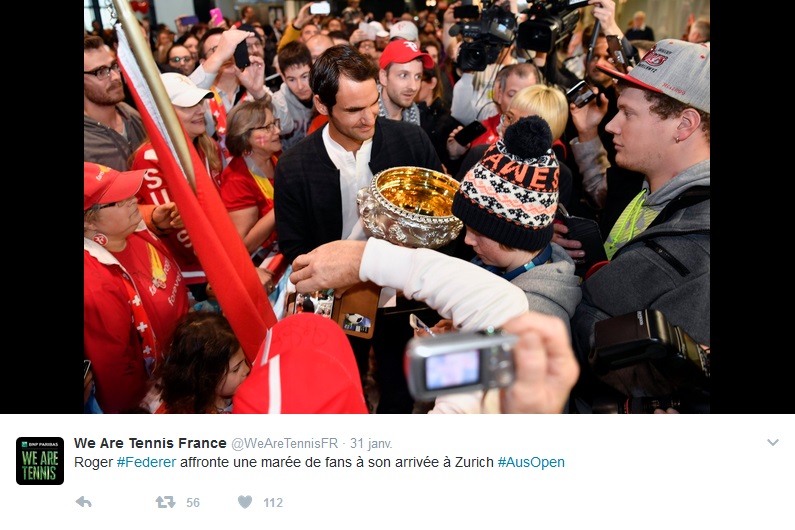 He received a royal welcoming at the Zurich airport.
Other news for the Swiss : the publication of the last Forbes ranking of the best-payed sportspeople. He's ranked at the fourth spot, which makes him the highest earning tennis player.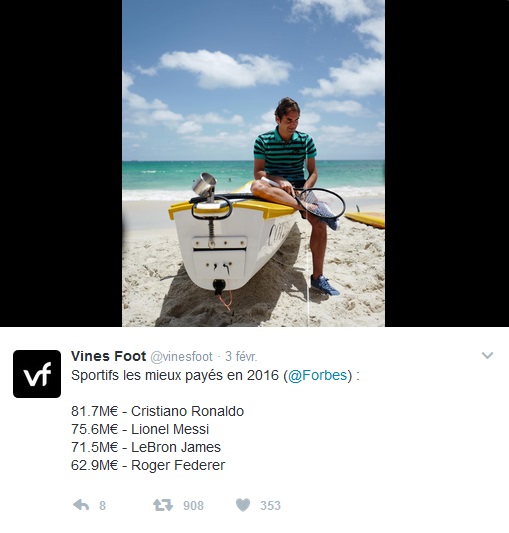 12- Grigor Dimitrov (-7).
Another one to come back home was Grigor Dimitrov, who will take part in the Sofia Open.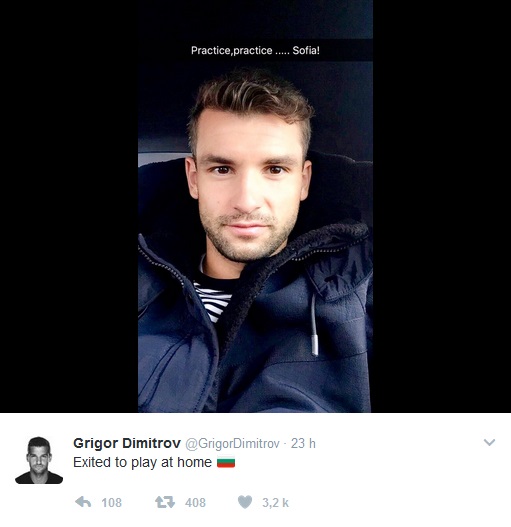 And it's an understatement to say that he will be expected !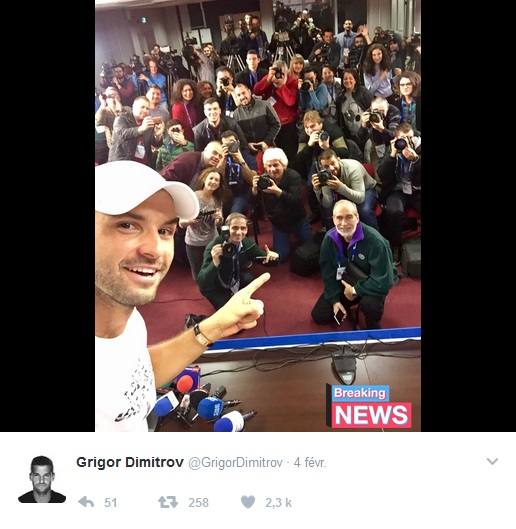 With a bonus, a little souvenir picture from Melbourne, where he reassured a lot of his fans on his current form.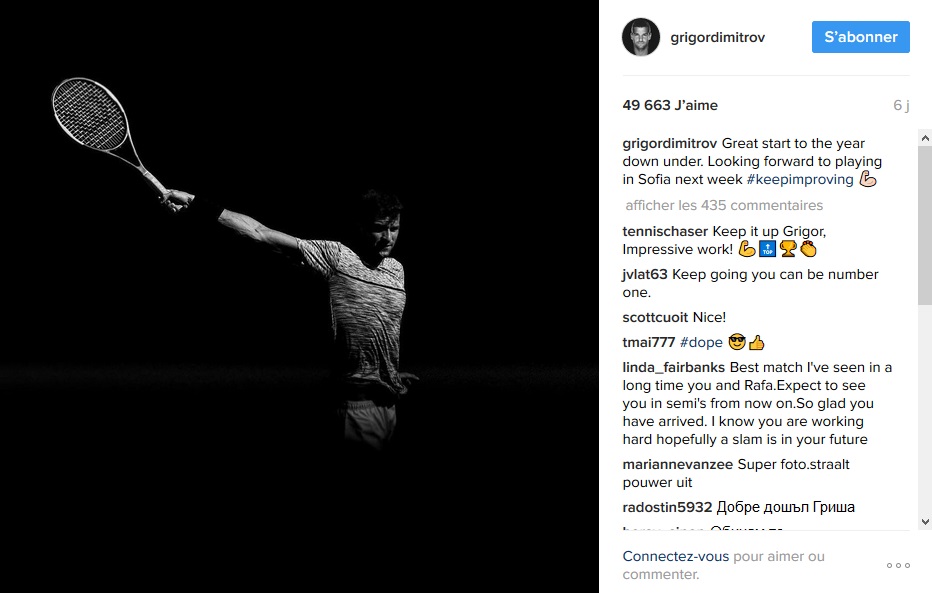 13- Rafael Nadal (-11).
The last ex-Melbourne hero to come home was Rafa Nadal, who changed his profile pic on the social networks.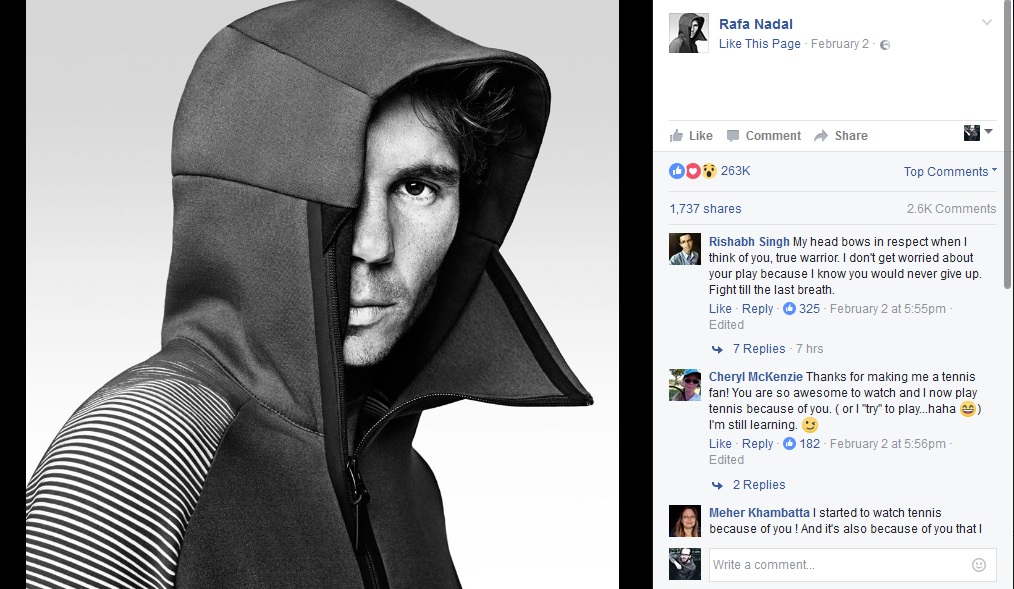 And chose a new picture with a nice product placement…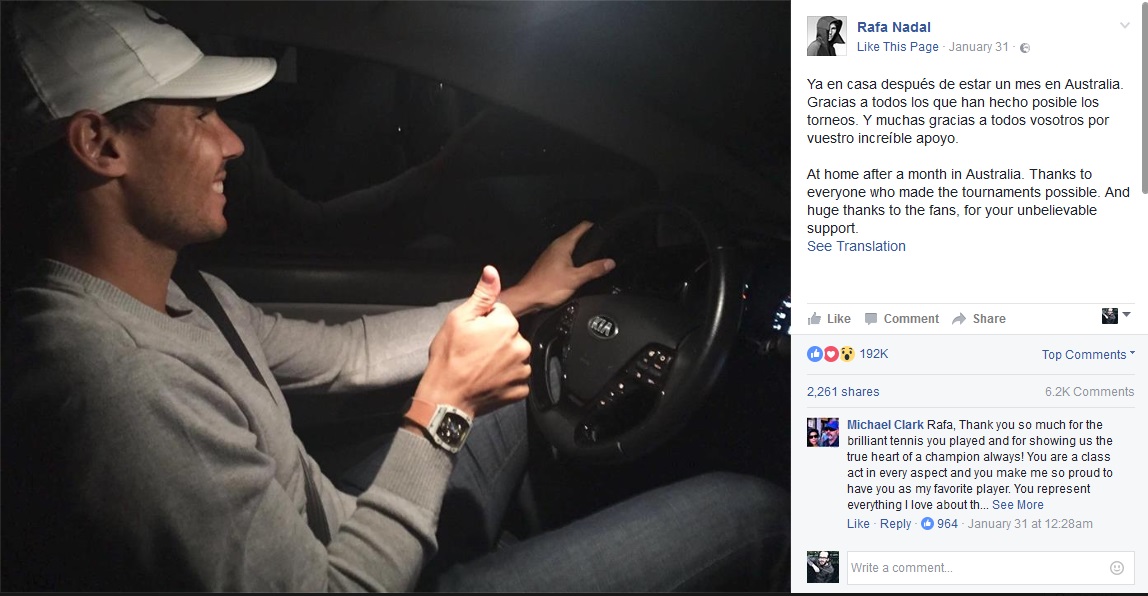 14- Serena Williams (-11).
Tennis and business : Serena Williams also knows how to deal with both, maybe better than anyone else. The American visited her main sponsor these last few days.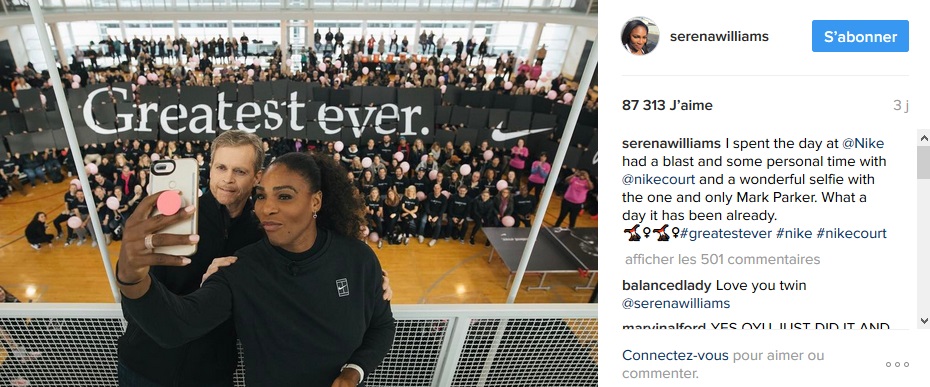 She also found out that her Grand Slam record has inspired her racket sponsor, which, to celebrate the occasion, has launched a special edition - 100% golden - which is already out of stock…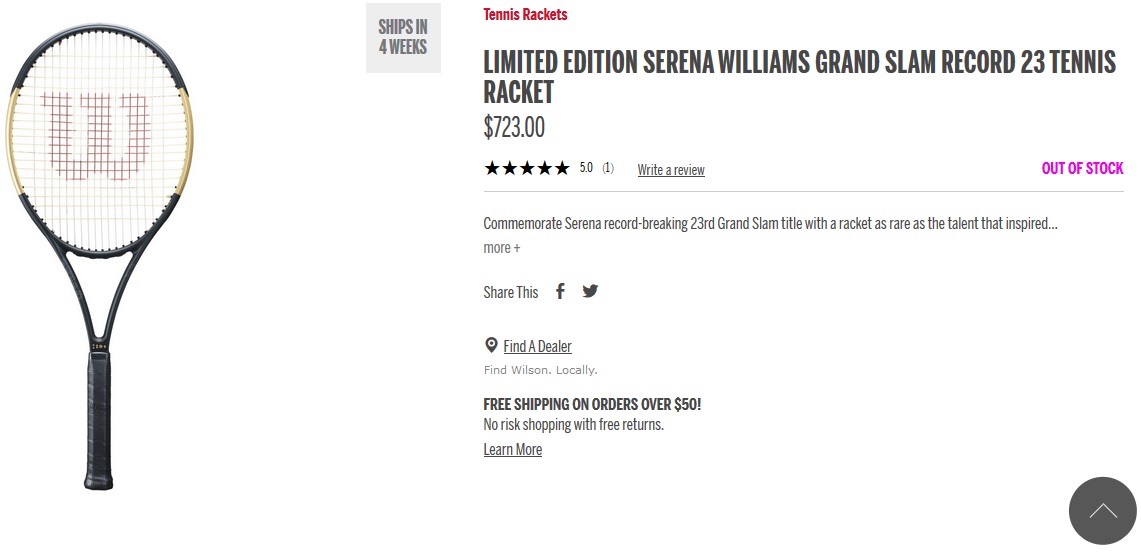 She also payed a visit to the new mother Viktoria Azarenka. And that wasn't for promotion, promise !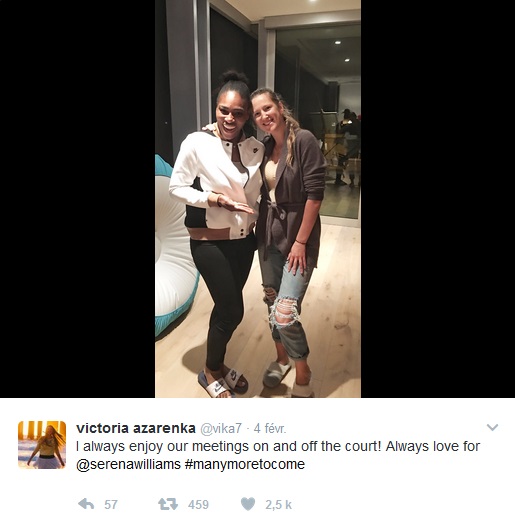 15- Ana Ivanovic (NE).
The WTA circuit now has to deal with Ana Ivanovic' absence, and honestly, we haven't quite gotten over it…Meanwhile, the Serb has been enjoying retirement, and playing the part of the perfect housewife : a walk in Manchester with her football star husband…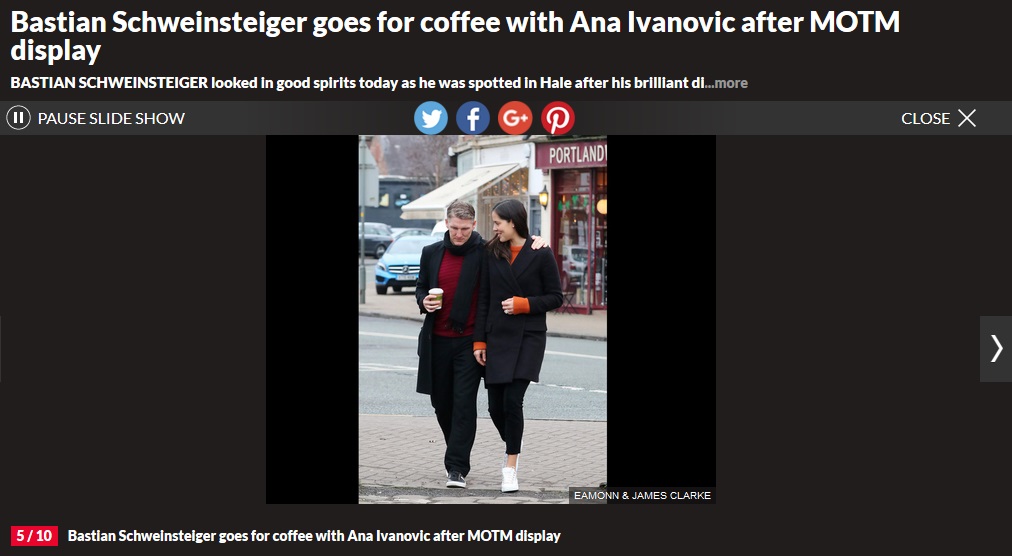 a bit of shopping…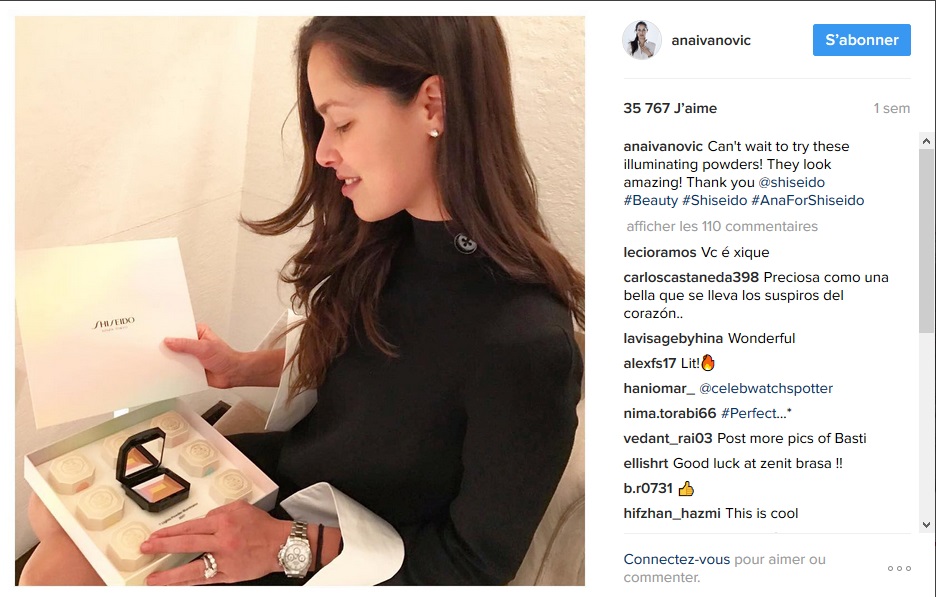 Are you sure that you don't want to come back, Ana ?
Outs :
Lucic-Baroni, Wawrinka, V.Williams, Vandeweghe, M.Zverev, Safarova, Mattek-Sands, Hingis, Roddick, Clijsters, Viviani, Tsitsipas
By Régis Delanöe