This first Australian's thunderclap came Denis Istomin, who defeated Novak Djokovic. Keeping in mind that there was a difference of 11 282 points at the ATP ranking between the two players…
This first Australian's thunderclap came from Uzbekistan. At 30 years, Denis Istomin has accomplished the biggest feat of his career. Indeed he knocked out the world number 1 Novak Djokovic in five sets. To realize how big of an achievement this is, let's keep in mind that there was a difference of 11 282 points at the ATP ranking between the two players…On the third step of the podium, Nick Kyrgios, the beautiful loser, with his tweener.
1/ Denis Istomin (NE).
By defeating Novak Djokovic in five sets in the second round, the Uzbek Denis Istomin, world number 117, has created the huge surprise of the first week.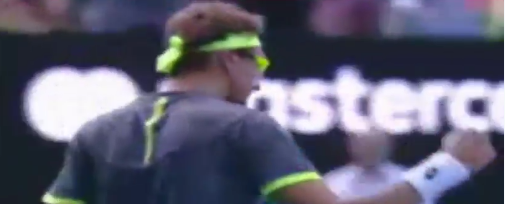 Which called for a joyful scream.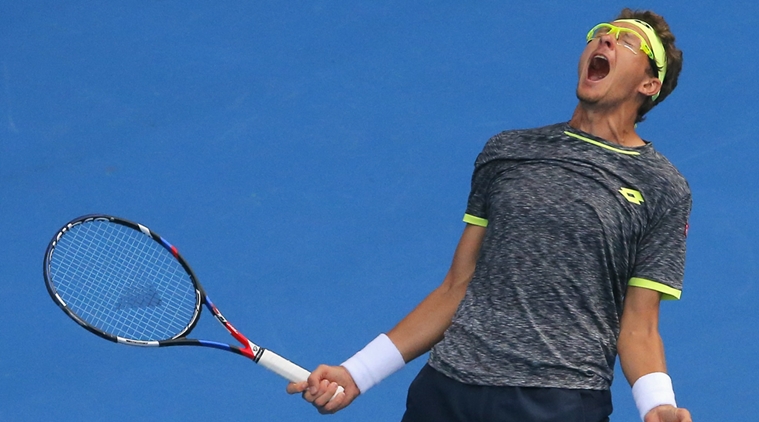 The player who is still coached by his mother seemed pretty moved and satisfied in the post match press conference : « It's surreal, defeating Novak in five sets is a big victory. I didn't expect it to happen, I loved the way I played. » We get him.
2/ Novak Djokovic (-1).
After a Dantean season, with him feeling lethargic, Novak is still stuck in mid-water as he lost in the second round of the Australian Open. The Serb won't be able to say he didn't have supporters.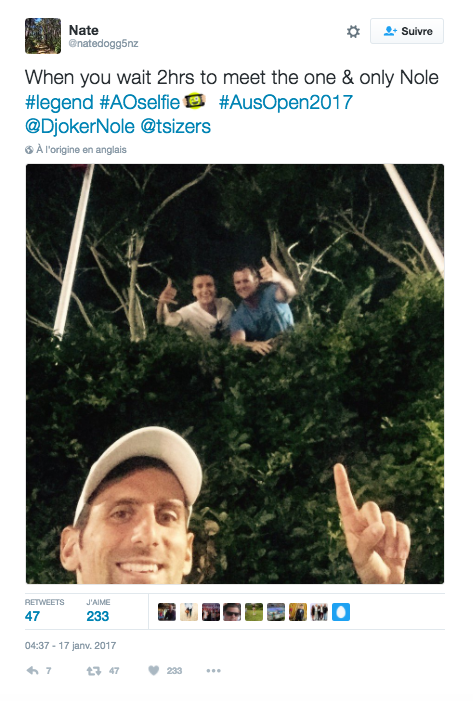 Or that he didn't have any friends there.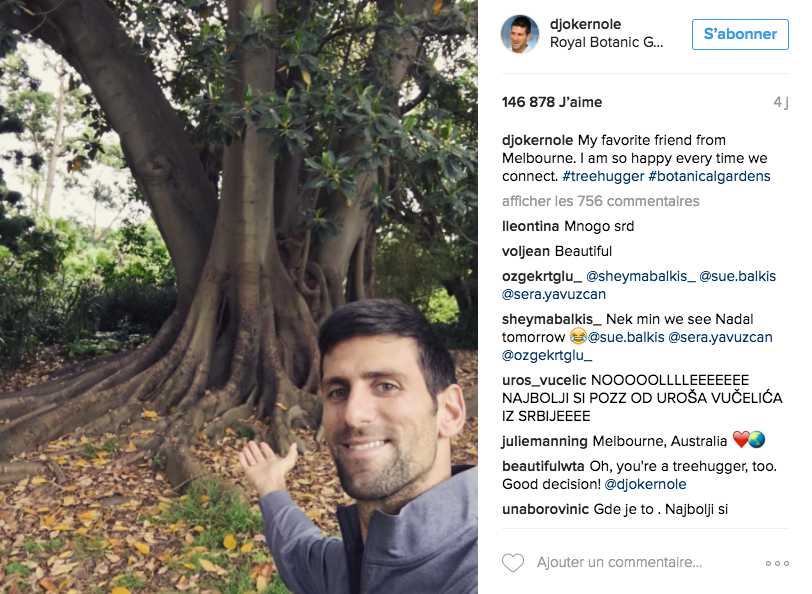 Or that he hadn't prepared well...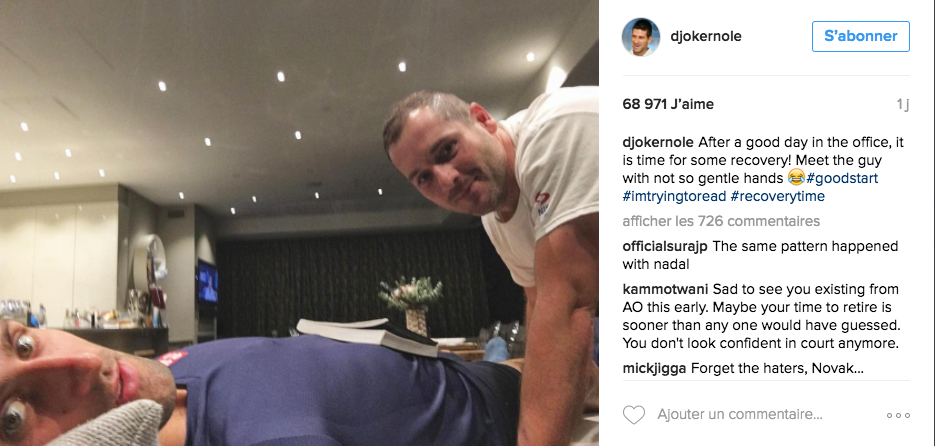 Now is time to rest with his family. « I'm taking my bags and I'm going home. (…) For now, I just want to go home and spend some time with my family. That's it.
3- Nick Kyrgios (NE).
Despite losing in the second round against the Italian Andrea Seppi, Nick hasn't disappointed. The Australian even rewarded us with a « tweener » while Seppi was serving to win the match in the fifth set, with no pressure whatsoever.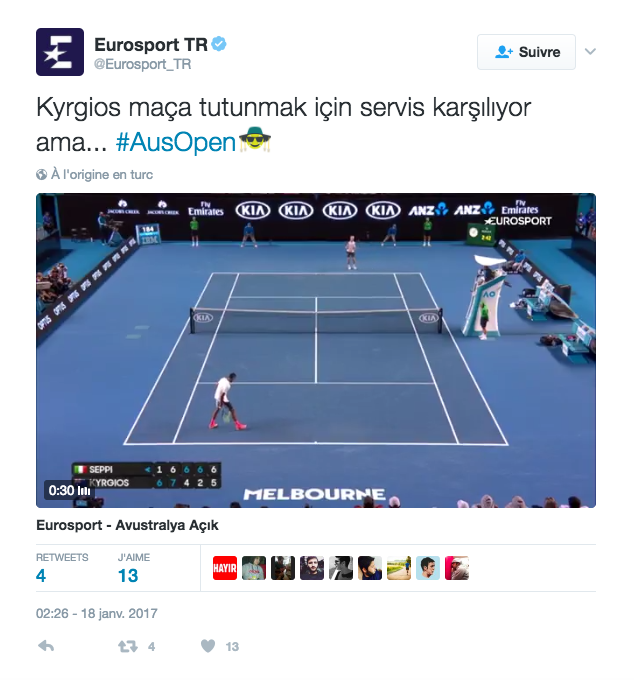 He looked like he wanted to silence a few people.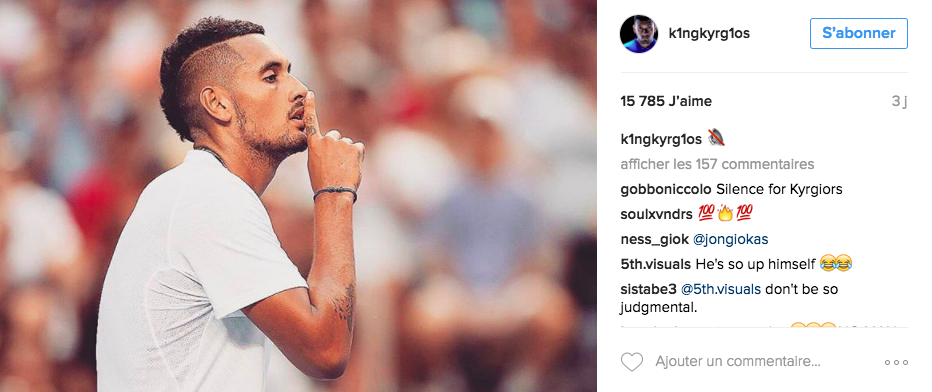 Or sneeze.

After that, the young Australian received compliments on Twitter. Compliments which he accepted.

4- Andy Murray (+9).
Andy has made himself an easy route to the second week. In the second round, he had a very good time against the Russian Andrey Rublev, world number 152 (6-3, 6-0, 6-2), and another easy match against Sam Querrey (6-4, 6-2, 6-4).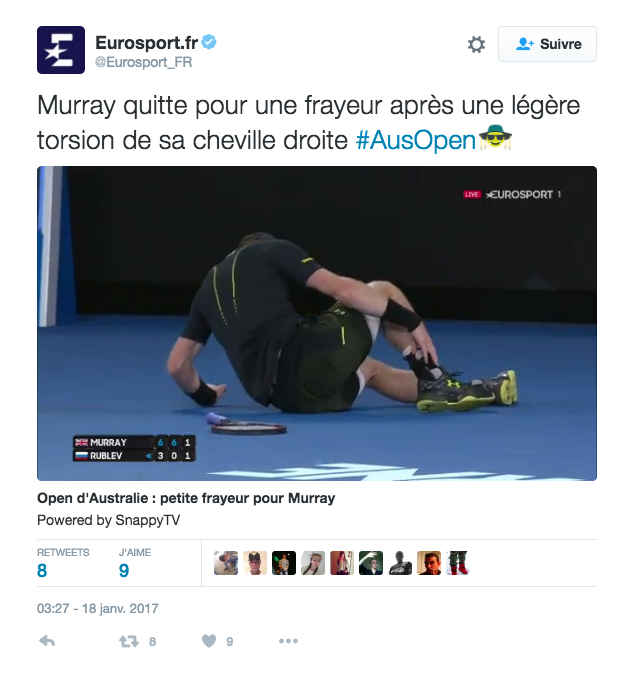 And that he argued with his bottle.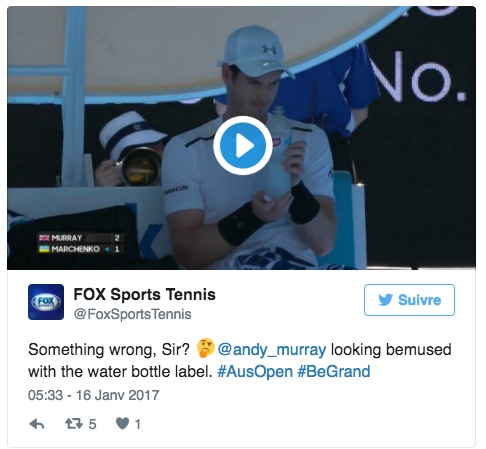 5- Yulia Putintseva (NE).
The most beautiful celebration of the week was shown to us by the Russian Yulia Putintseva, world number 31, after defeating the Spaniard Lara Arruabarrena in the first round.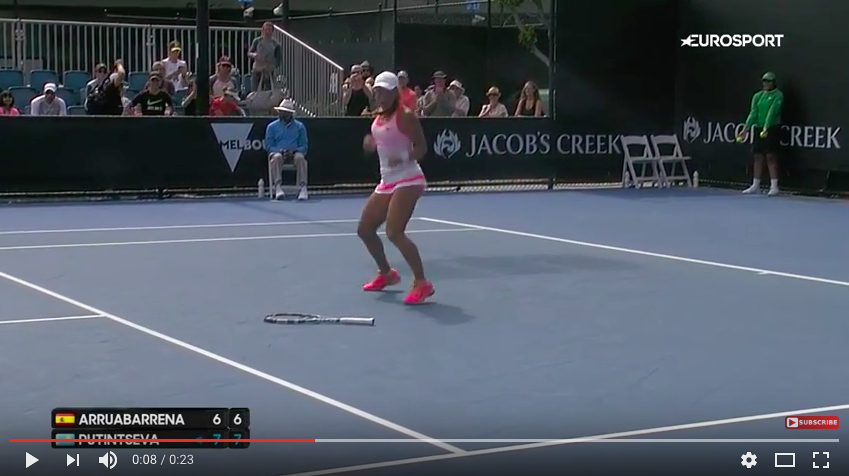 A desire to win which she transposed on Instagram.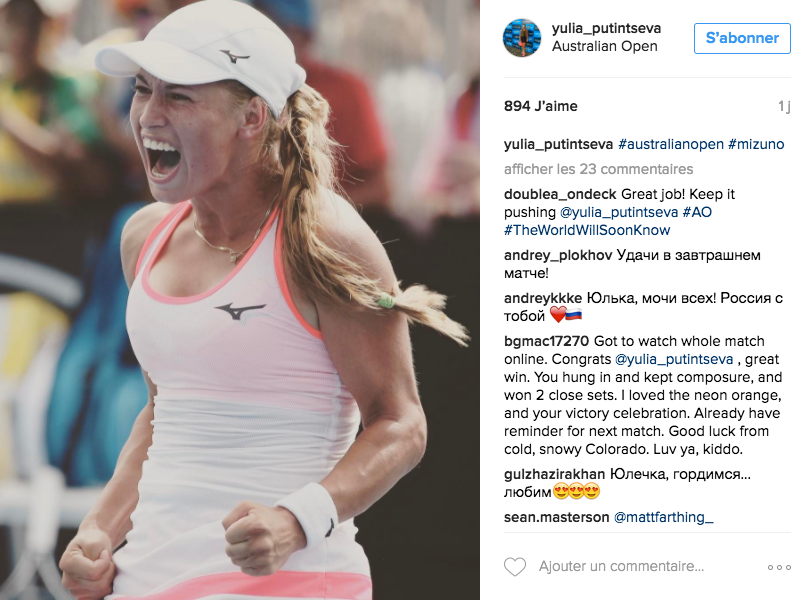 6- Vasek Pospisil (NE).
The big fail of the week. Playing in the doubles with Radek Stepanek, the young Canadian accidentally aimed at his parter while serving.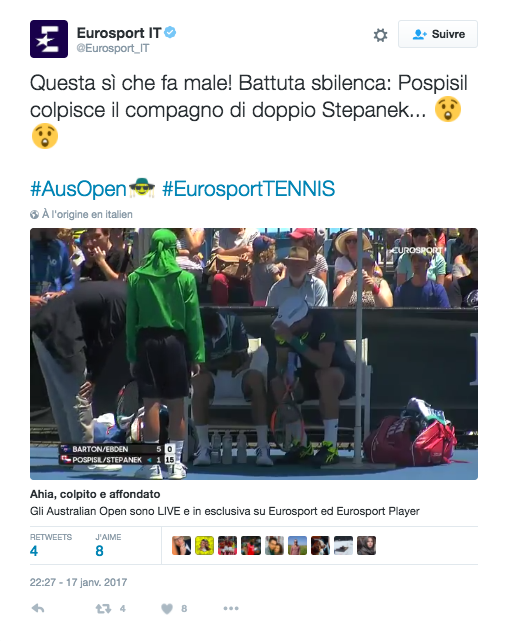 Looking at the score, it might have been a clever strategy to slow the tempo of the match. Bad luck, the duo was defeated in the first round by the Australian pair made of Matthew Barton and Matthew Ebden.
7- Victoria Azarenka (NE).
The young Leo, madam's son, looks like he found his first idol. Unless it is Victoria who has been sending her child messages.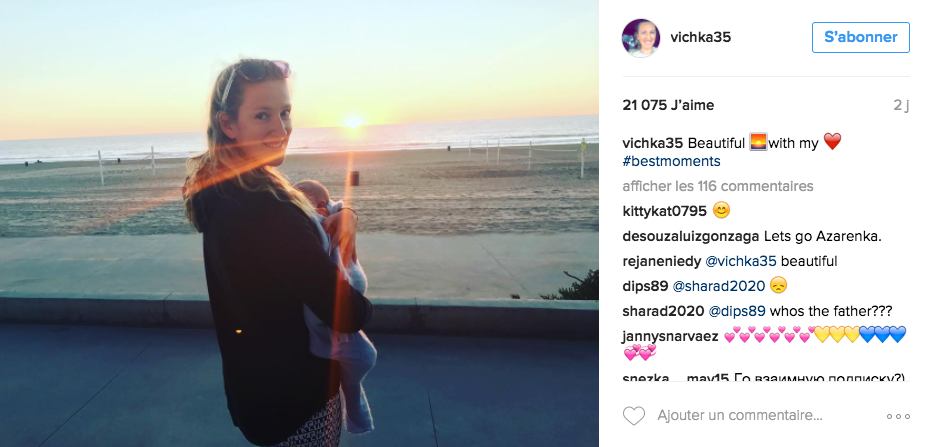 Victoria's been watching the Australian Open from far way. In good company.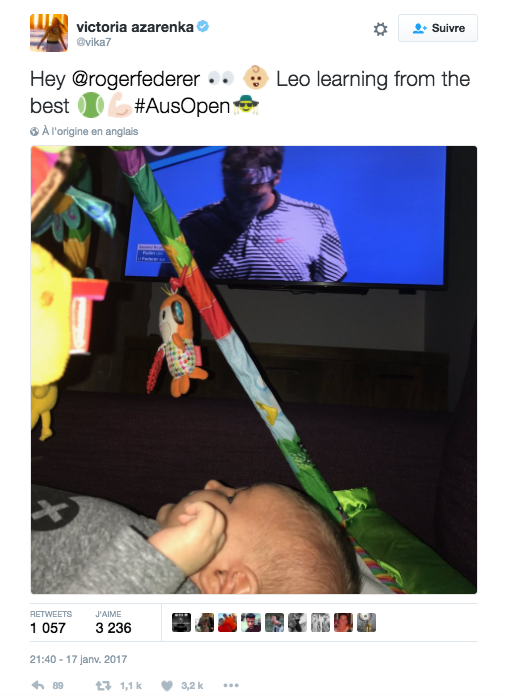 8- Roger Federer (-6).
After six months with no competition, King Roger is slowly coming back. He's qualified for the fourth round - in which he will face Kei Nishikori - and Federer has still got it. Here's the proof in training.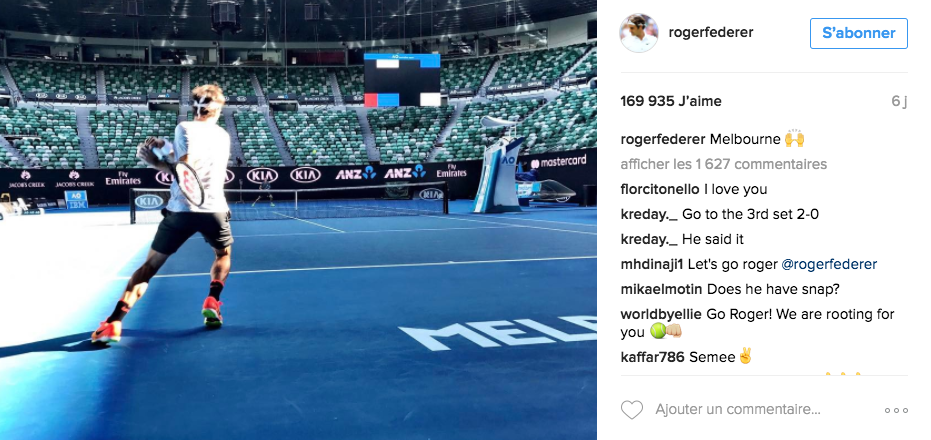 Another proof, as well, against Jürgen Melzer.
9- Rafael Nadal (NE).
After a complicated year, Rafa hasn't lost his science of rallies.
Or his smile.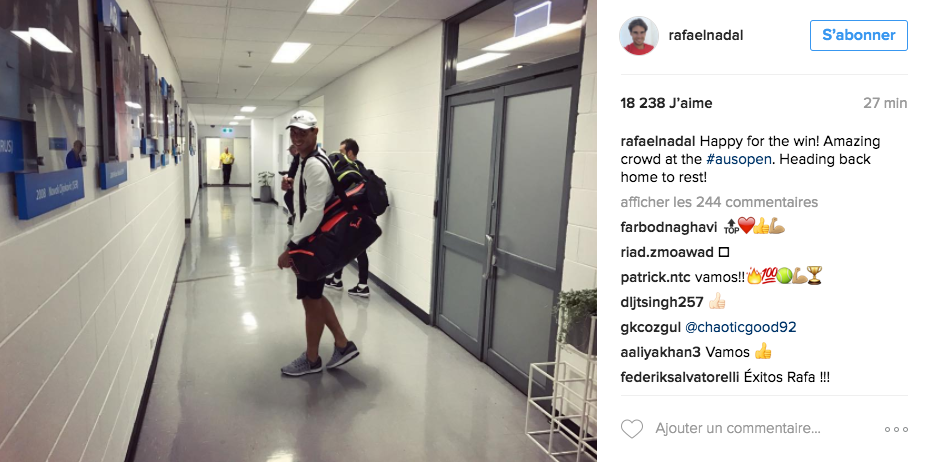 10- Maria Sharapova (NE).
Tennis is never too far for Maria, who's been actively preparing for her return.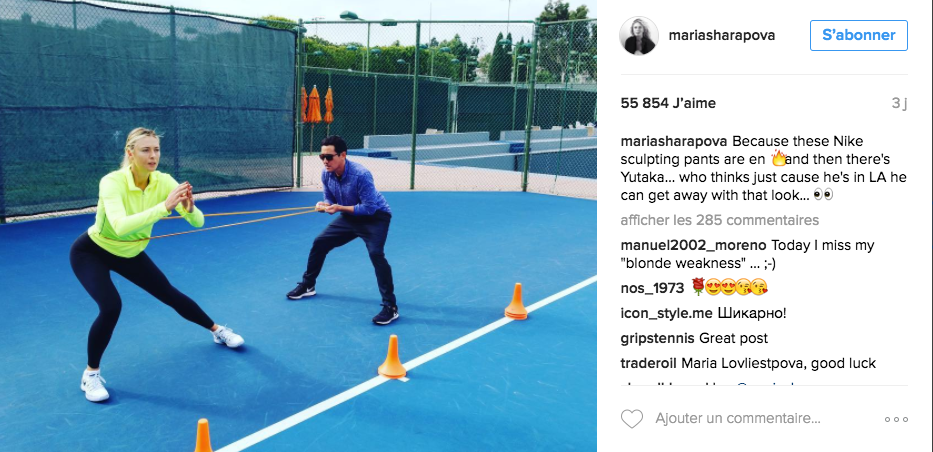 Fashion is never too far either.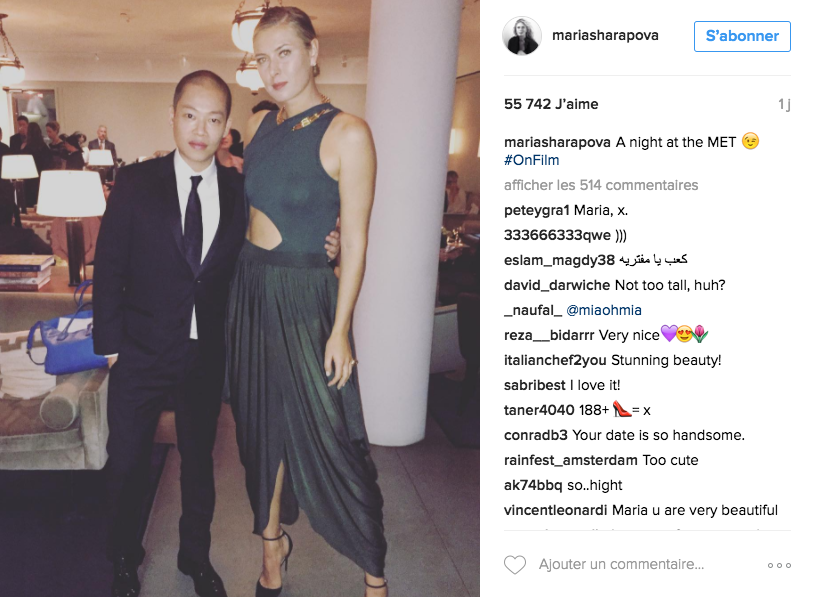 11- Eugenie Bouchard (-3).
Cool as ever and qualified for the third round (Hey !), Eugénie appeared to be as one with the Melbourne crowd.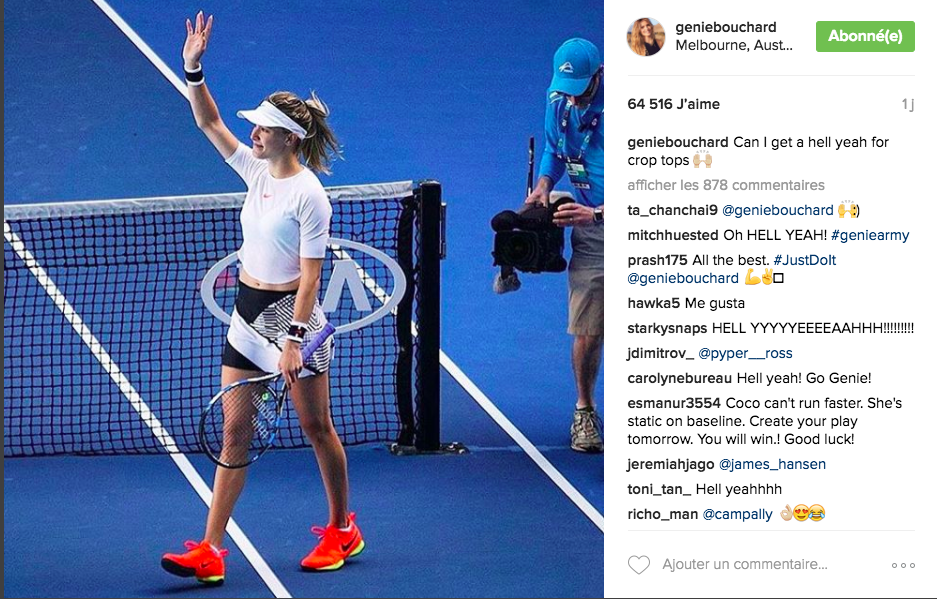 She then had to deal with an intrusive fan on Instagram, who turned out to be none other than Jim Parsons, the famous Sheldon Cooper in the series The Big Bang Theory.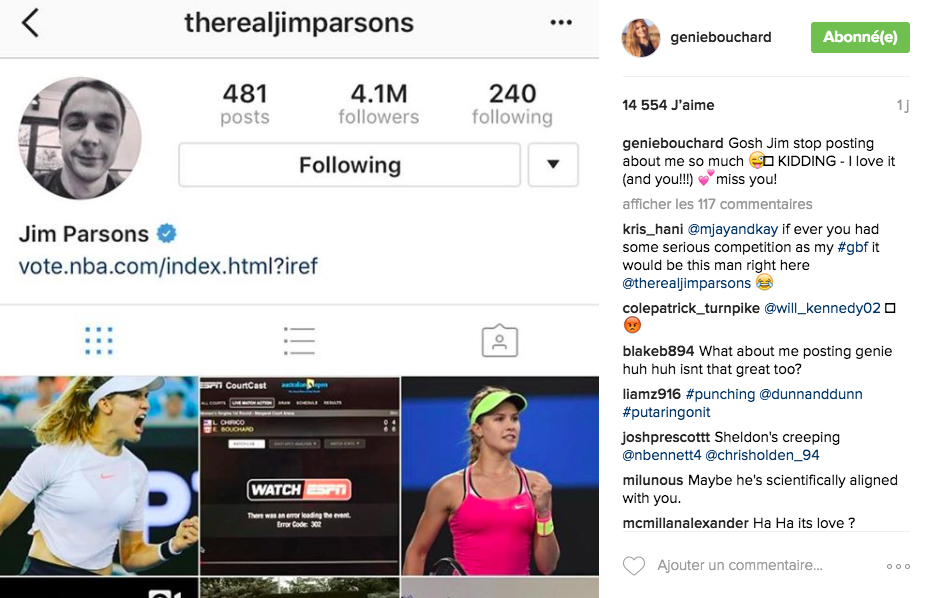 12- Caroline Wozniacki (NE).
After also qualifying for the third round, Caroline also wanted to have fun on Instagram.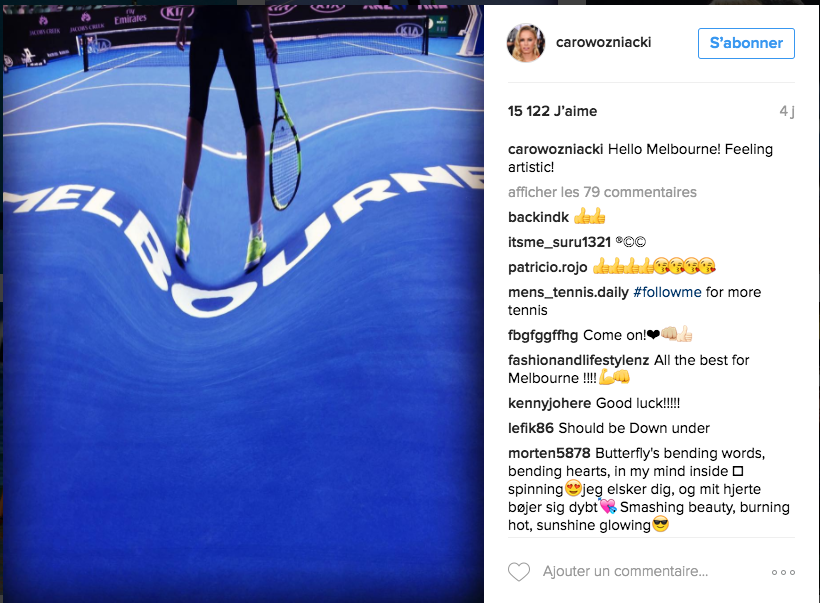 Obviously, she sounded pretty satisfied after her qualification.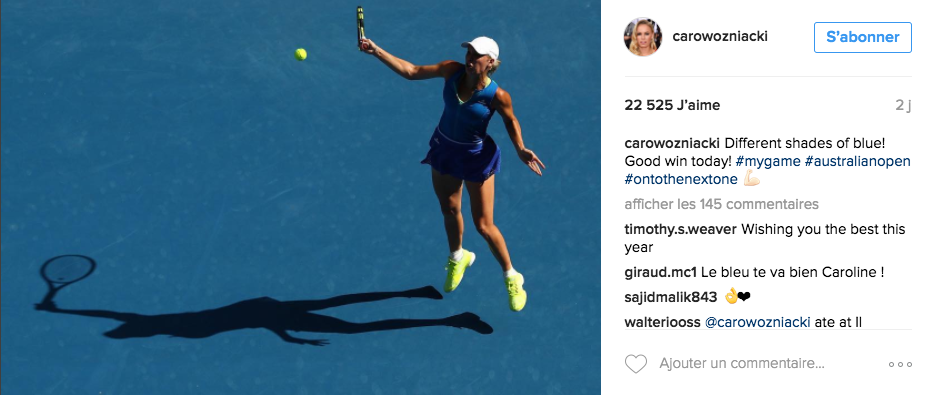 Before looking for her buddies on Twitter.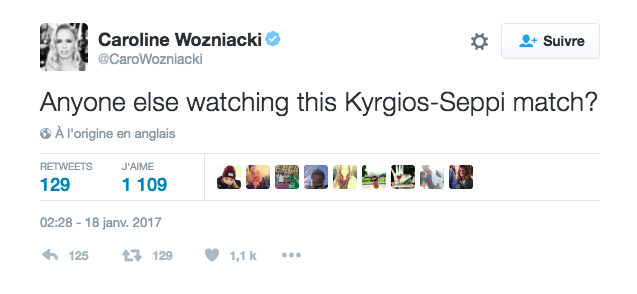 13- Pierre Hugues Herbert (NE).
A superb retro smash for PHH.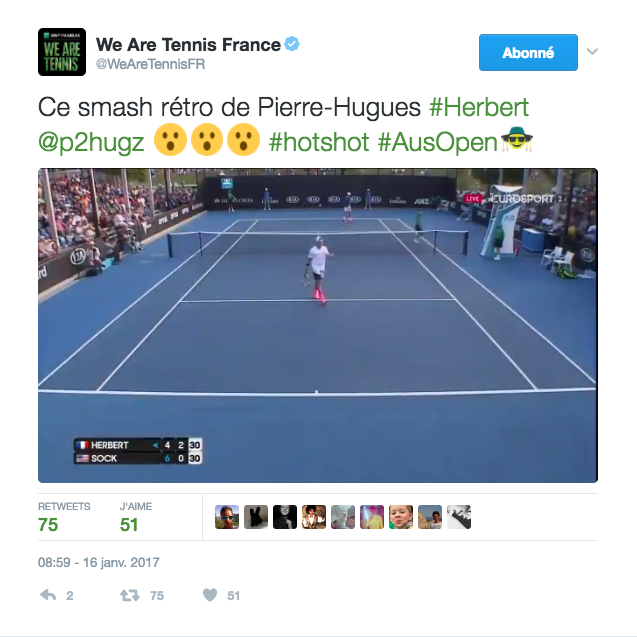 Which directly earned him the 13th spot of our weekly ranking.
14- Ana Ivanovic (-7).
After having announced her retirement very recently, Ana has been seen going down a few slopes.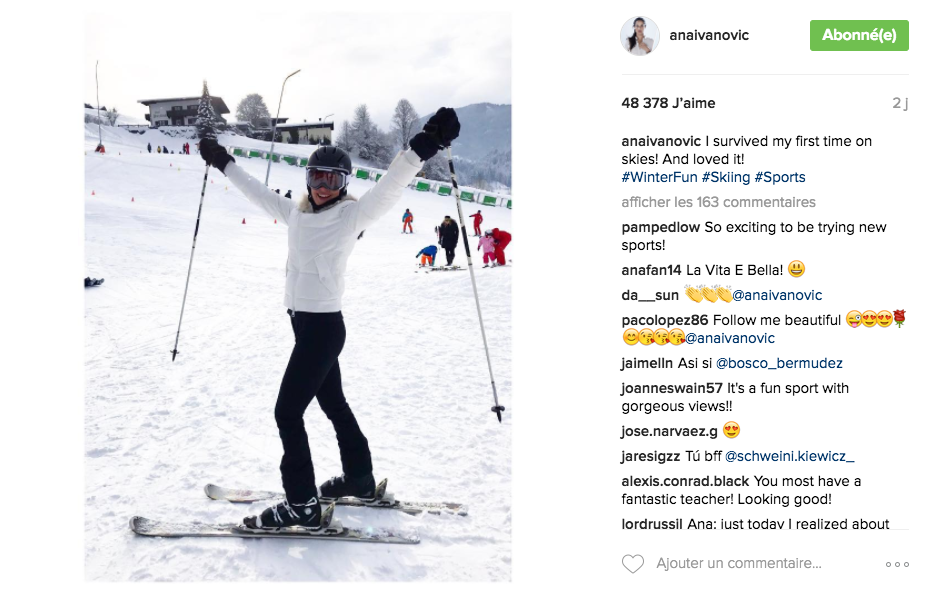 With a few adverts along the way.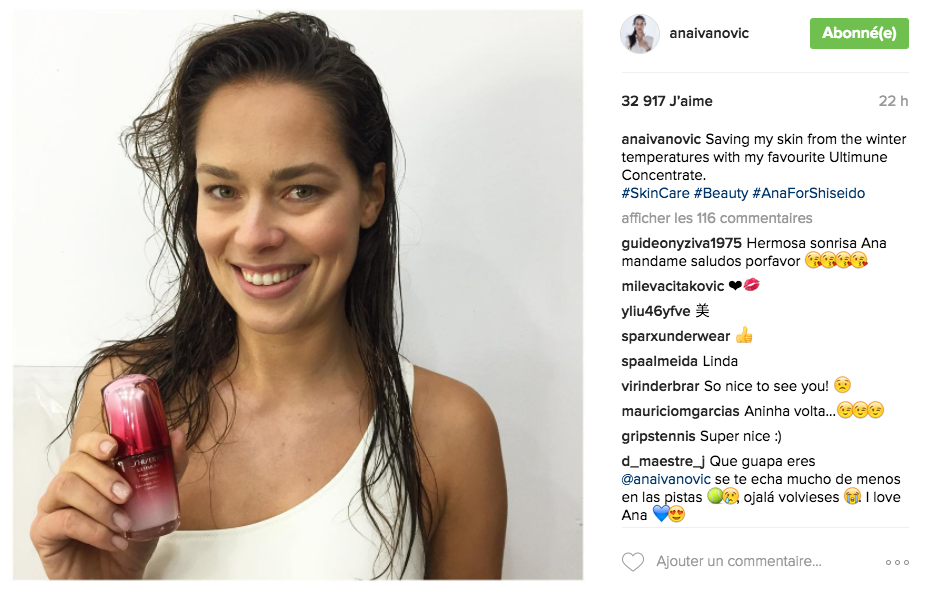 15- Anna Kournikova (NE).
Far, very far from the shaking world of tennis, Anna Kournikova is still spending her life with her dog. Who is now playing football.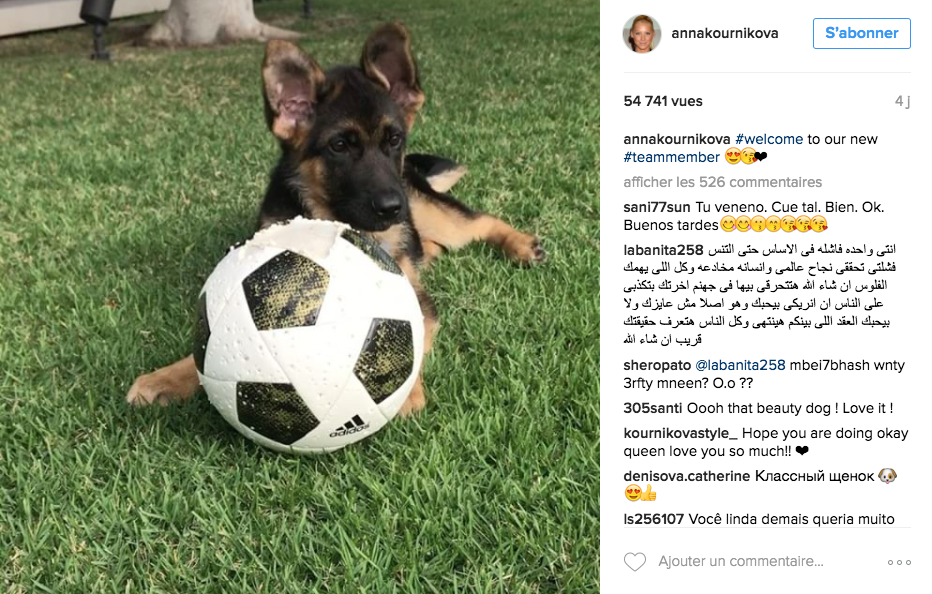 Outs :
Alexander Zverev, Serena Williams, Agnieszka Radwanska, Karolina Pliskova, Grigor Dimitrov, Jack Sock, Richard Gasquet, Roberto Bautista Agut, Kei Nishikori, Horacio Zeballos
By Antoine Mestres