For our first weekly ranking of this new year 2017, Roger Federer has the place of honor, after showing himself on top form on new year's eve, and very much expected for his return on the courts. Long live the King !
For our first weekly ranking of this new year 2017, Roger Federer has the place of honor, after showing himself on top form on new year's eve, and very much expected for his return on the courts. He's in front of Nick Kyrgios, who has a big part to play in this start of the season which takes place at home, in Australia, and an Eugenie Bouchard who's been as present as ever…on all social networks.
1- Roger Federer
HE IS BACK ! After having spent too many long months out on the sidelines because of injuries, the eternal Roger Federer has rose again and plans on carrying on playing as long as his body enables him to. He made the most of the New Year's eve festivities in Australia to play to the gallery with a superb photobomb.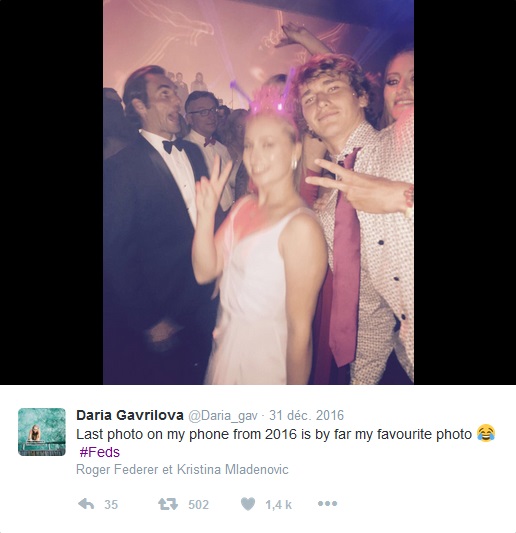 A party organized by the Hopman Cup, in which we saw some beautiful people : Kyrgios, Zverev, Bencic, Mladenovic…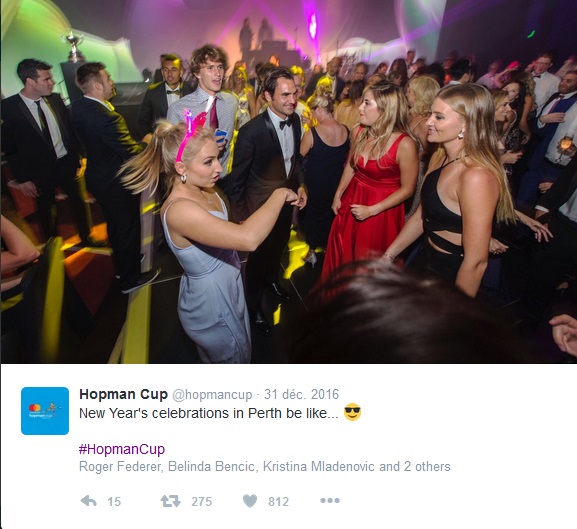 As popular as ever, Federer had a tough time finding peace in Australia these last few days.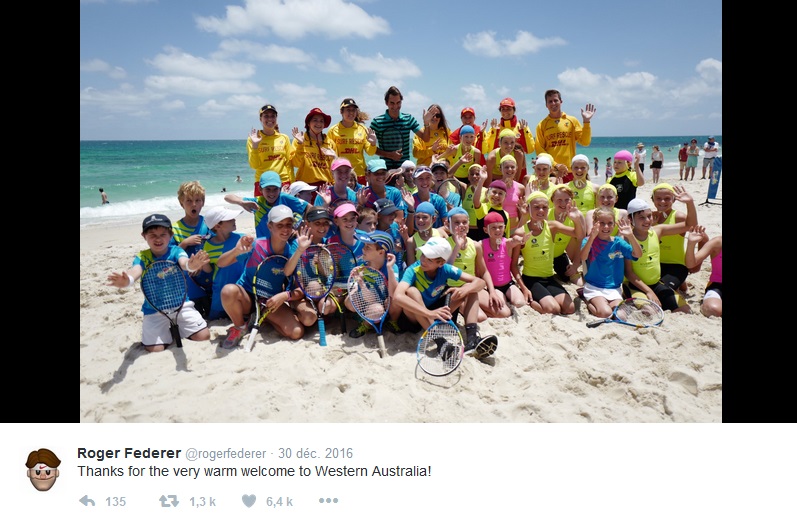 But it looks like he still managed to do so in the end.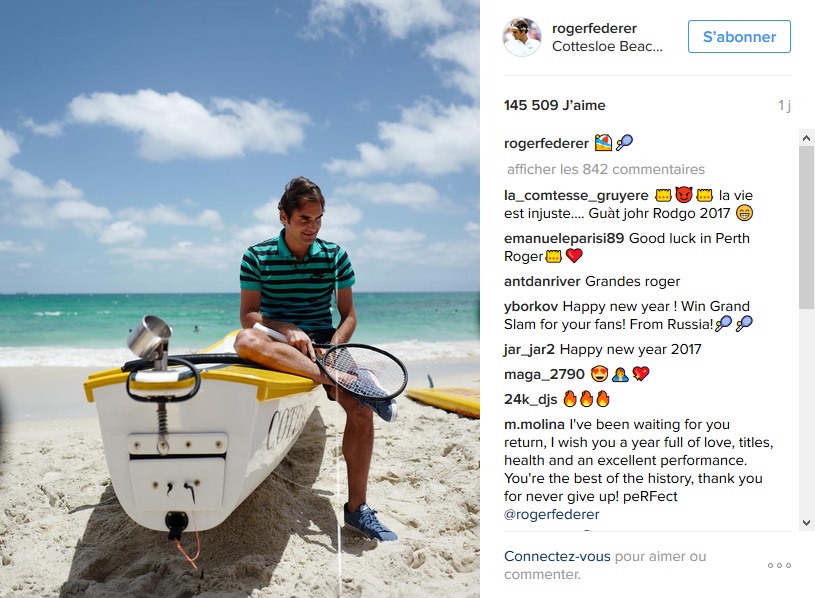 His imminent return on the courts is still very pleasant. Probably the best news of this start of the year.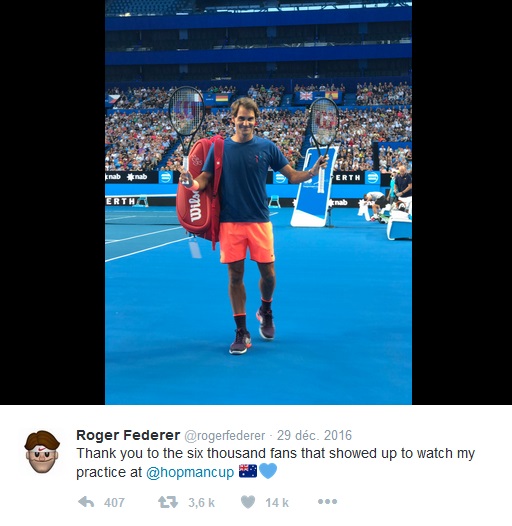 2- Nick Kyrgios
On the social networks, Nick Kyrgios showed himself to be pretty sober to celebrate the new year.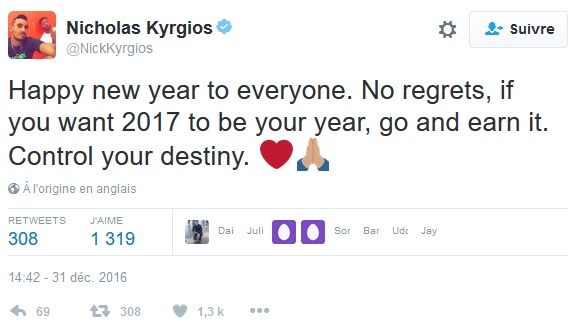 He nevertheless remains an unmissable figure of the circuit, especially at home in Australia, where we've seen him with dalmatians…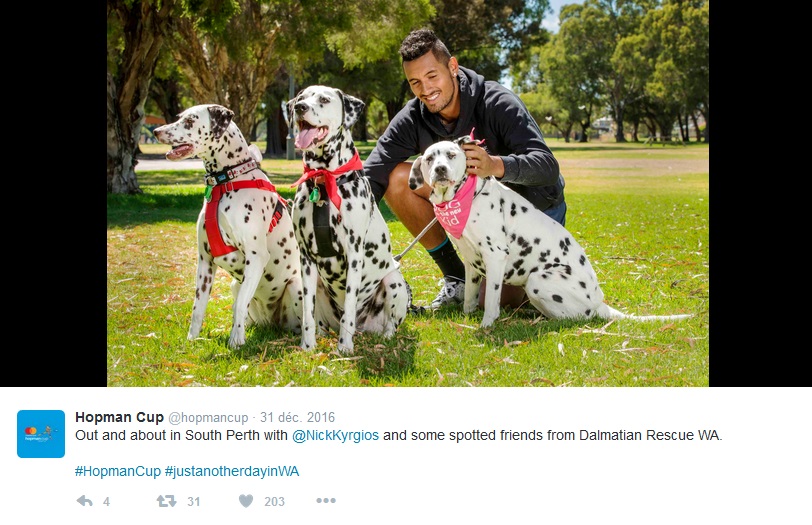 A fish…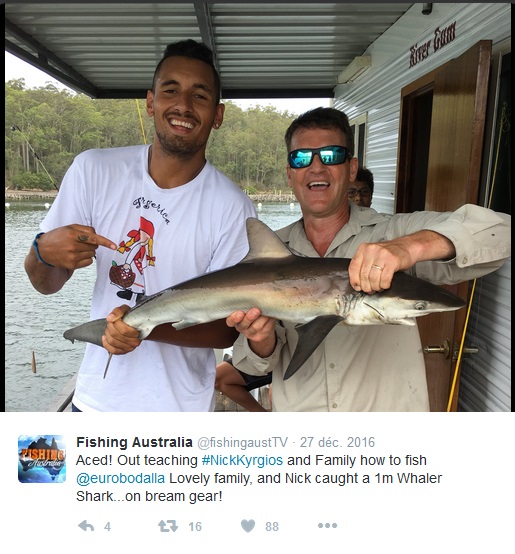 And with his girlfriend, more in love than ever.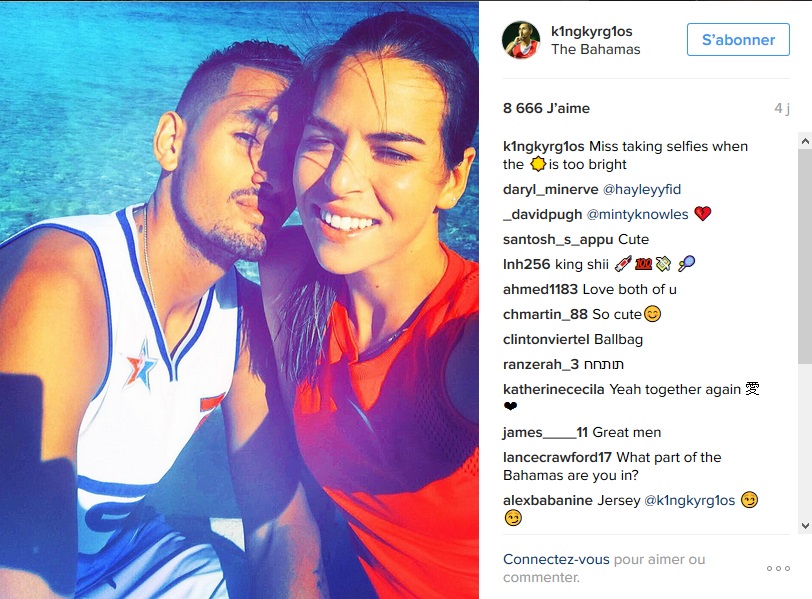 He was also very smart on the 31st for the Hopman's Cup new year's eve party.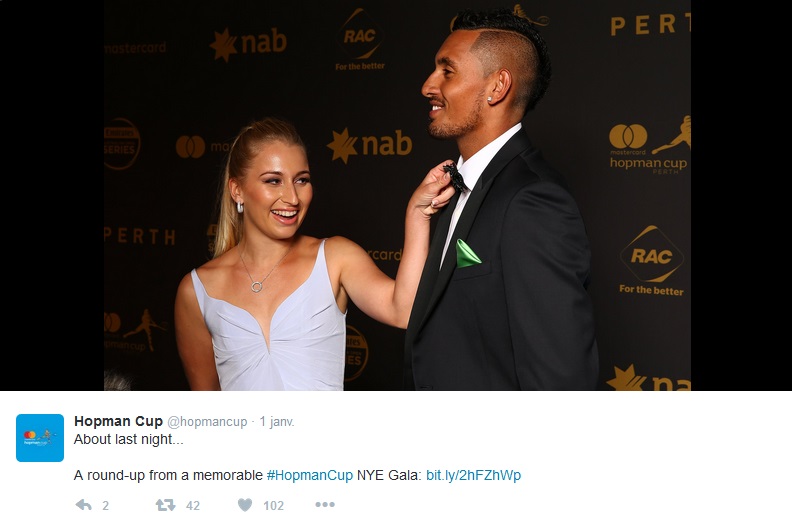 2017, the year of wisdom for the Australian troublemaker, who has just got back from his long suspension ?
3- Eugénie Bouchard
Will we ever see Eugénie Bouchard on top of her form on a tennis court ? Nothing to be sure of. In any case, she's more and more active on the web, where she wished her fans a happy new year.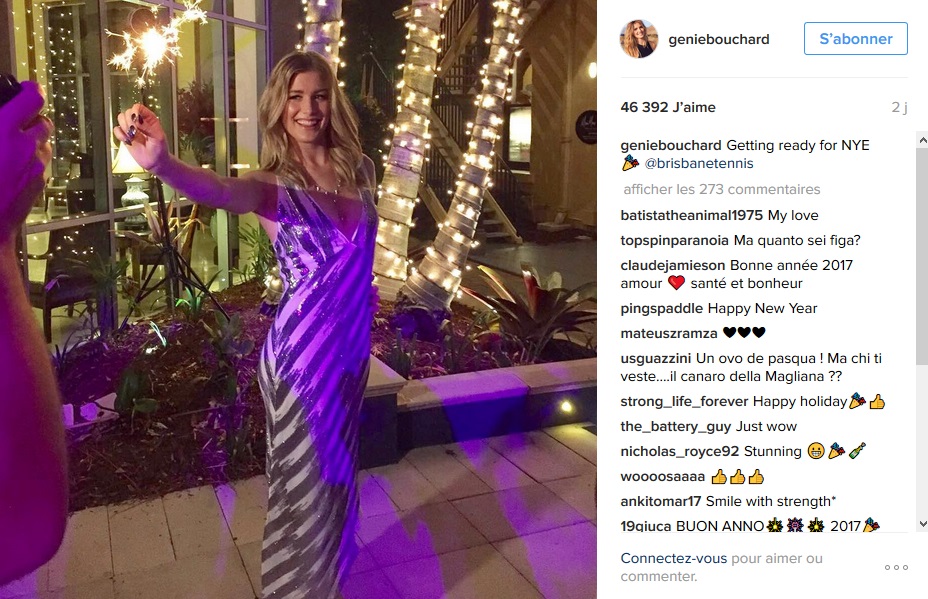 A week earlier, for Christmas, the Canadian won the prize of the best christmas jumper with no serious competition.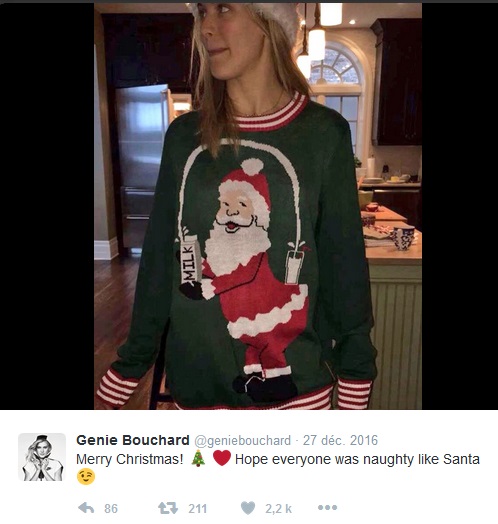 Anything looks good on her. Really anything !
4- Maria Sharapova
Maria Sharapova only has a little more than a hundred days of suspension pending before being authorized to get back to competing. Yay !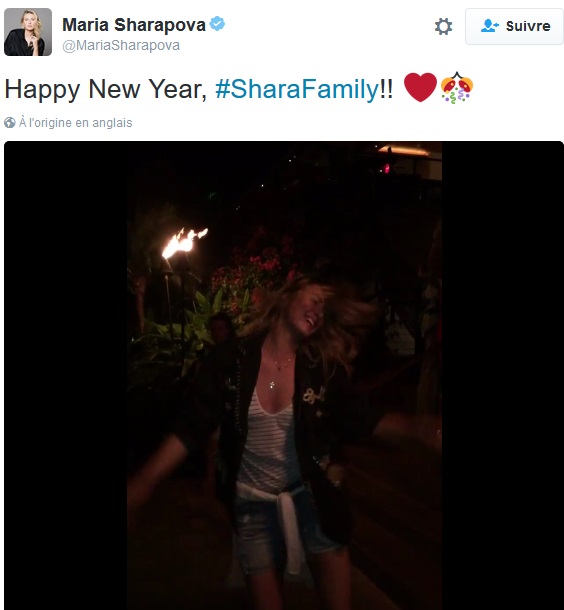 Anyway, Sharapova is still Sharapova : enjoying posing and posting many natural (or almost) pictures on her social networks.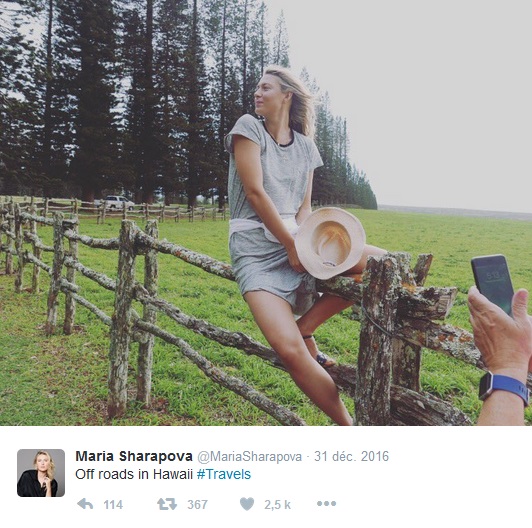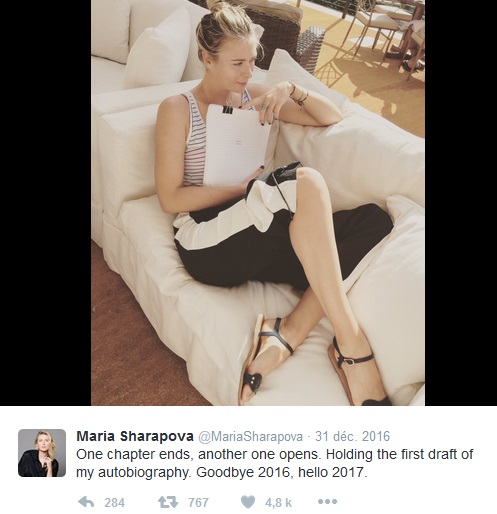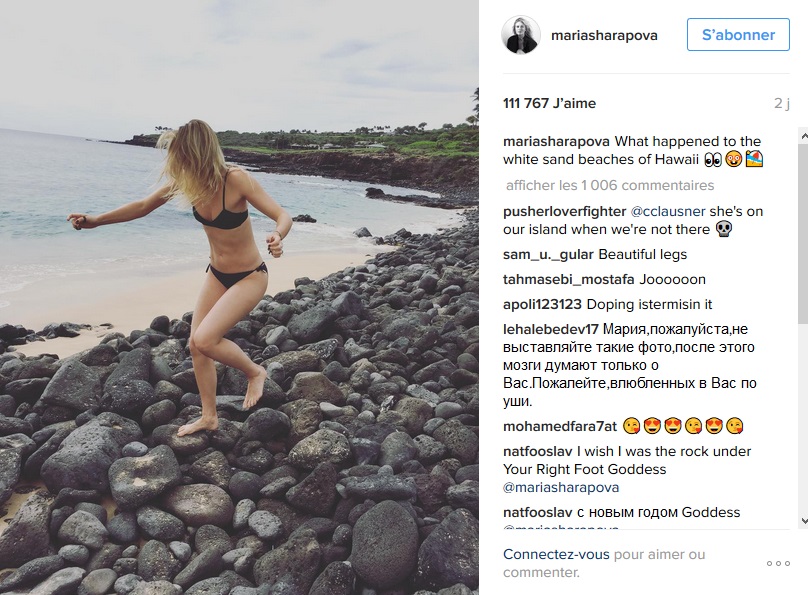 « No filter » mode in Hawaii.
See you very soon then, Maria.
5- Novak Djokovic
For New Year's eve, Djoko kept a low profile, at home in Serbia.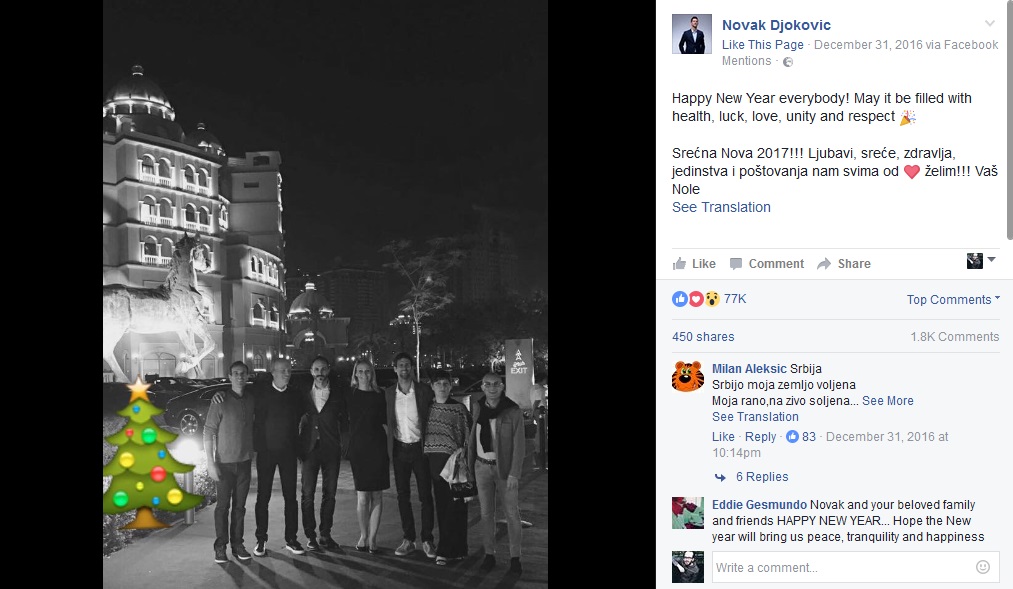 The end of last season had been a tough one so the ex-world number 1 had decided to spend the holidays with his family, calmly, with his wife and the heir.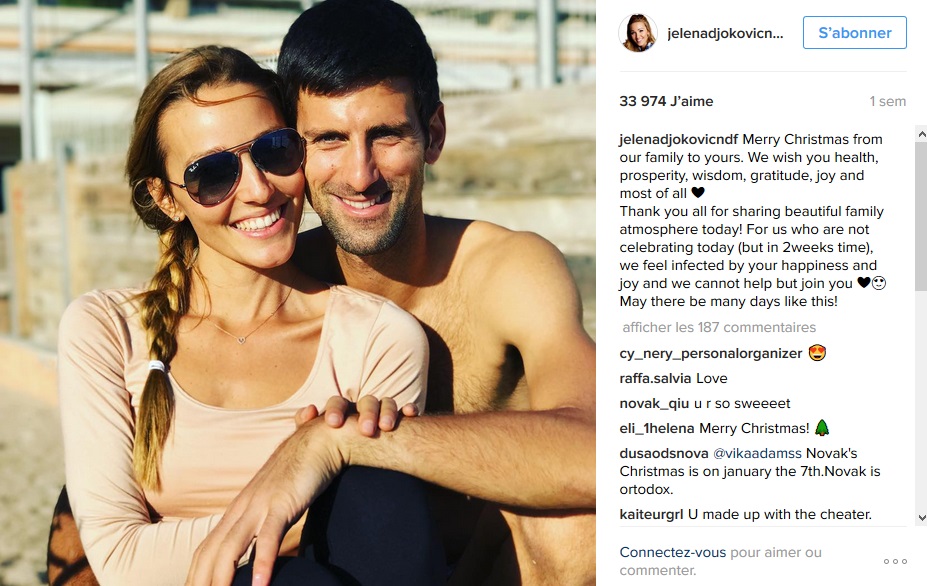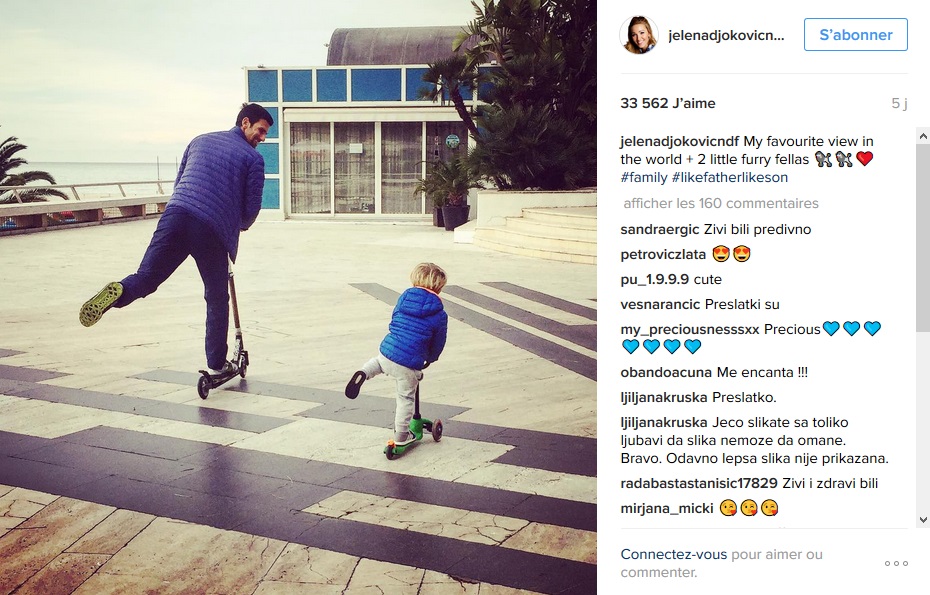 He'll make his return to the competition this week at the Qatar Open, where he is the titleholder.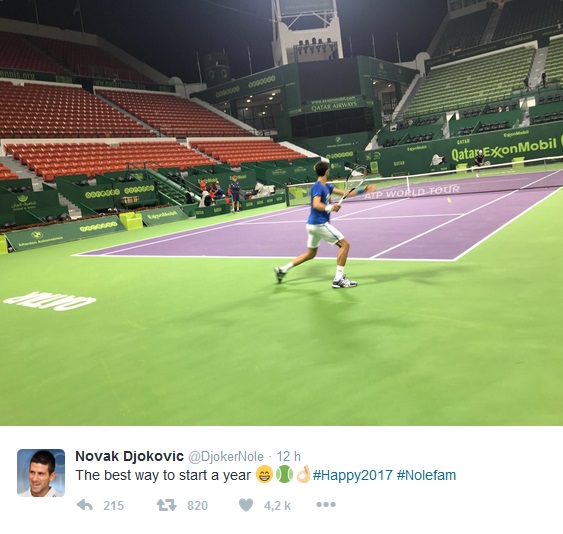 6- Andy Murray
This season, the fight for the number 1 spot at the ATP ranking should be a very tough one between Djokovic and Murray, the current leader. As for his message to celebrate the new year, the Scot chose to remember the best moments of the incredible season he has had.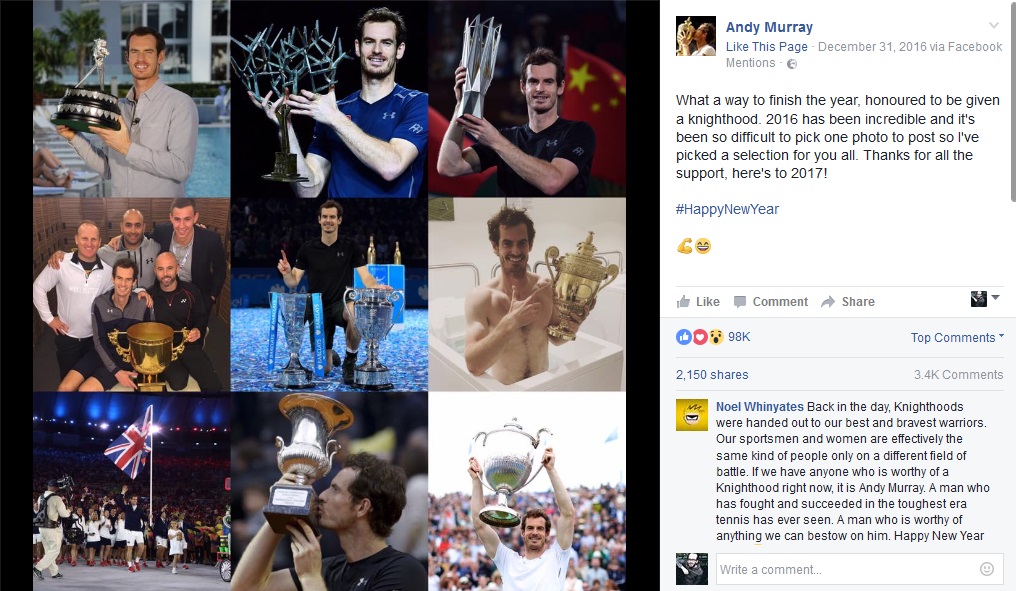 After playing an exhibition match last week in Abu Dhabi with Rafa Nadal, Murray is the number 1 headliner of the Qatar Open this week.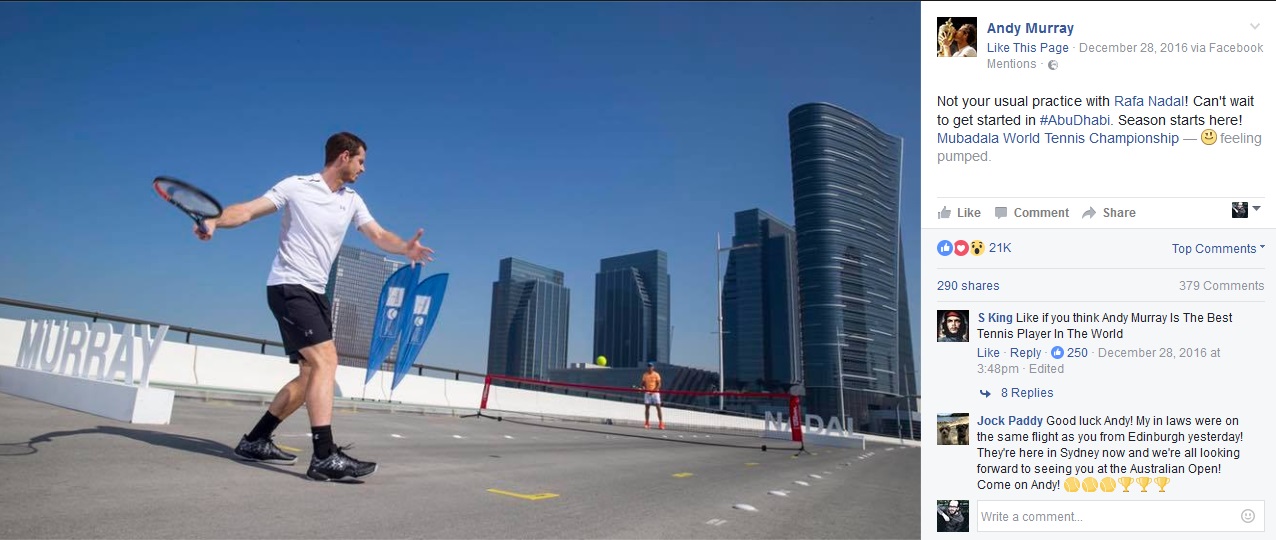 Djoko and Murray playing in the same tournament in the first week of the year : the fight will start very early this season ! Meanwhile, we've seen a nice picture of Andy with a koala…who's had a bit much to eat ! In any case, the picture made Petkovic laugh.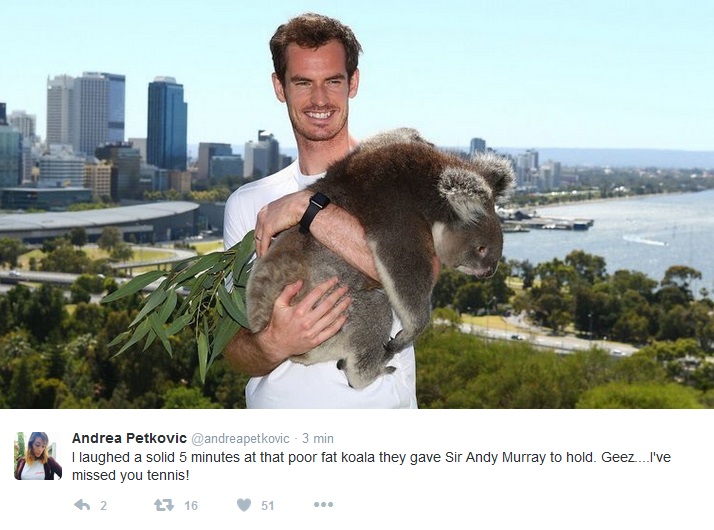 7- Angelique Kerber
On the world number 1's side, everything also seems to be going very well. Kerber is impatient to start the new season.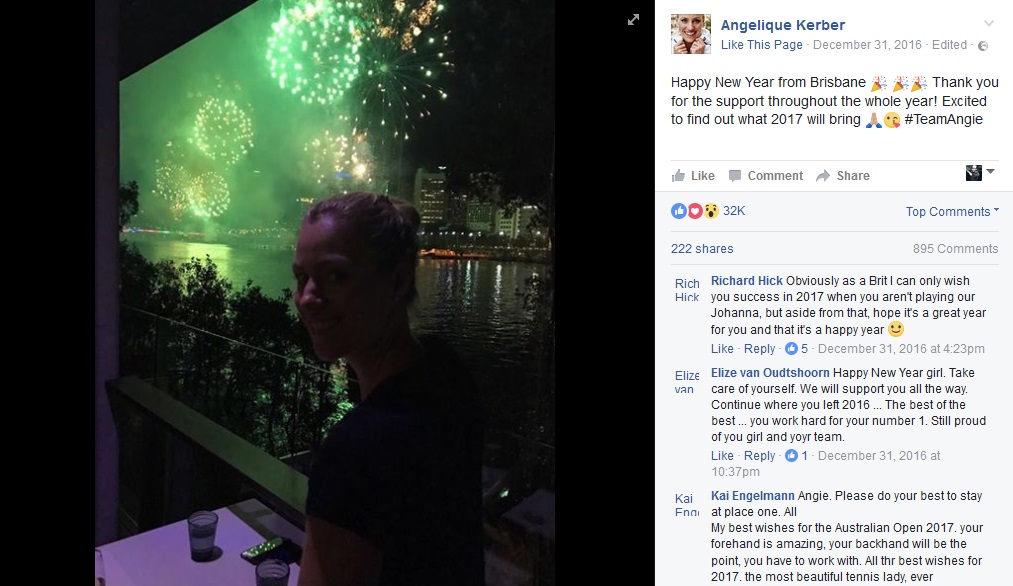 She will go back to the competition this week in Brisbane.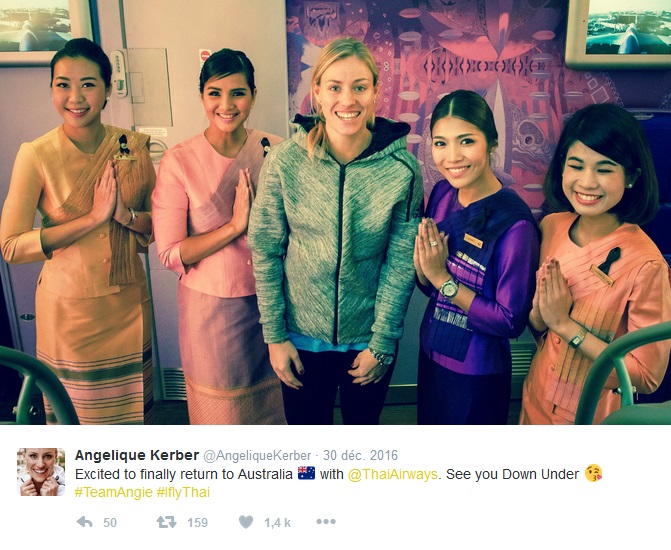 The German is still pretty sad to have said her goodbyes to one of her best friends on the circuit, Ana Ivanovic.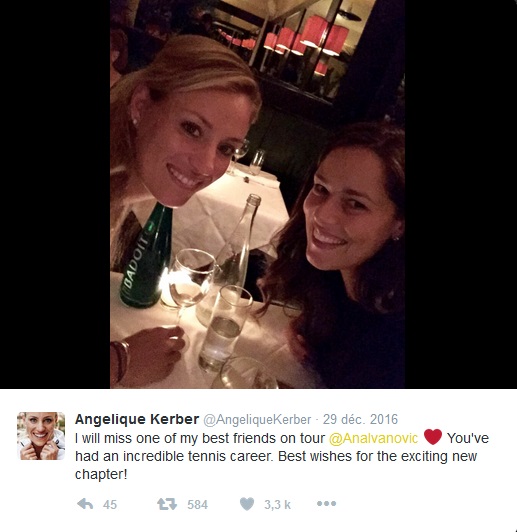 8- Ana Ivanovic
It's an announcement which has made a lot of fans pretty sad and nostalgic : Ana Ivanovic has decided to retire and has officially announced the news with a press release.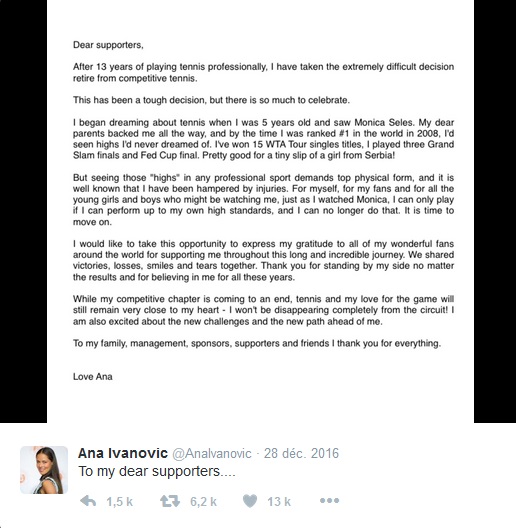 We're still hoping that she remains in the tennis world one way or another.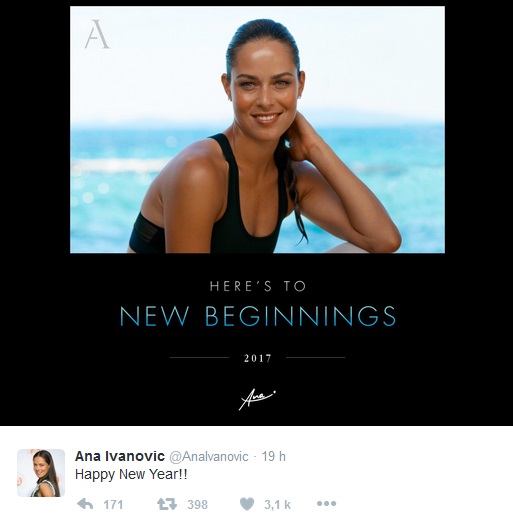 Happy new year Ana, and good luck for your new projects !
9- Serena Williams
In other news this week, and happier news this time : Serena Williams is getting married ! She announced her engagement with Alexis Ohanian, the co-founder of Reddit. Nice couple.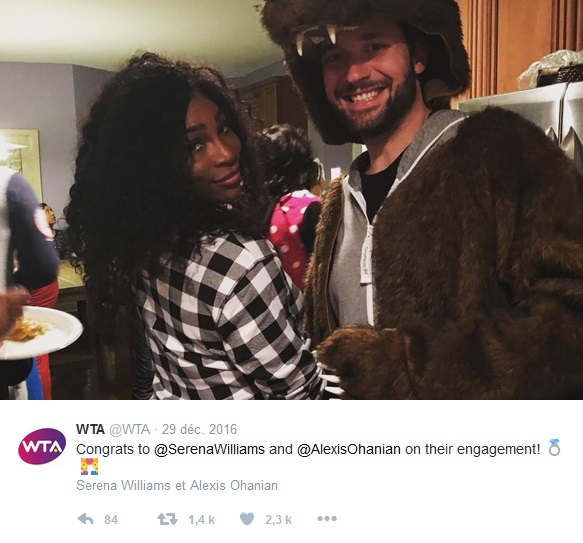 The American looks happy, and more radiant than ever. We're hoping that she will keep her motivation to carry on with her sporting career…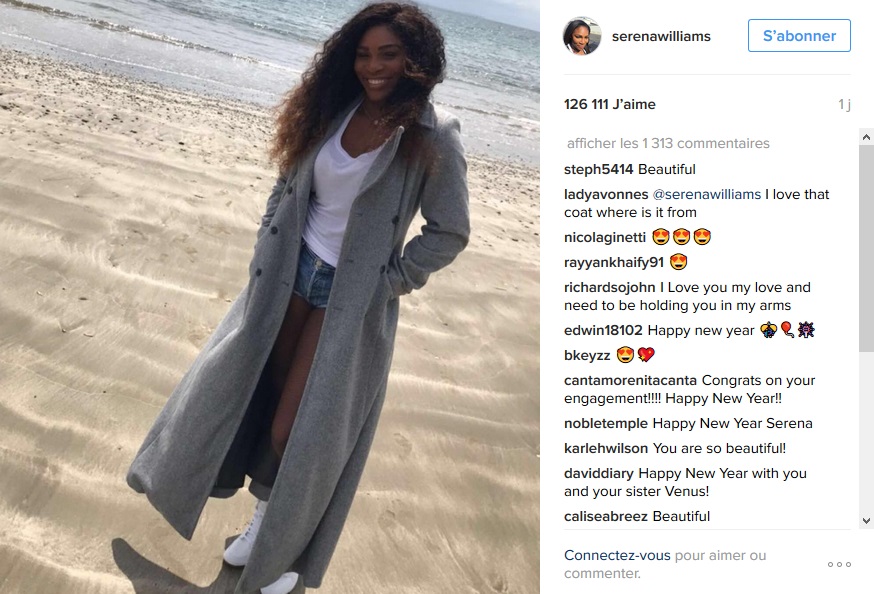 10- Jo-Wilfried Tsonga
We've known the news since last November, but Jo-Wilfried Tsonga will become a father in the spring. Meanwhile, his partner Noura El Shwekh's belly is shaping up nicely.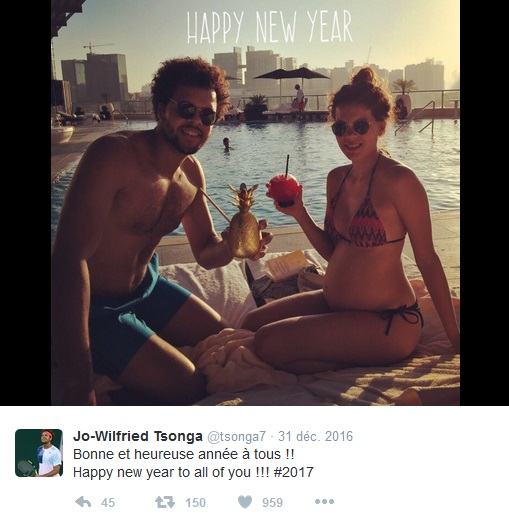 The couple wished everyone a happy new year and a happy christmas on the social networks.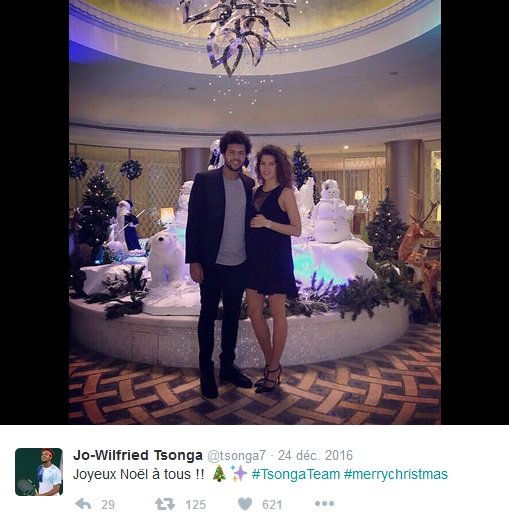 The year 2017 sounds full of positive emotions for the Frenchman.
11- Fabio Fognini
Fognini is also happy and in love with Flavia Pennetta. A communicative happiness for the two of them…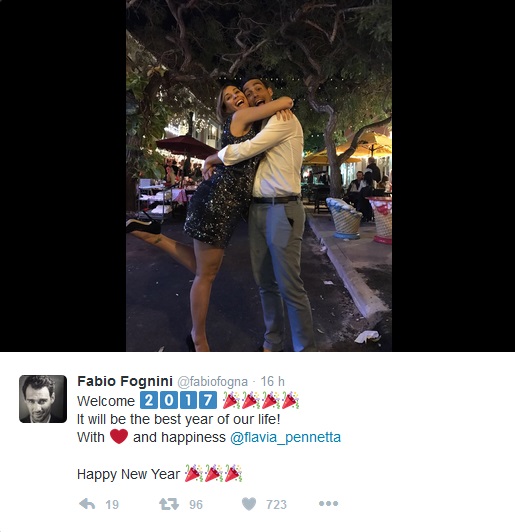 And soon the three of them !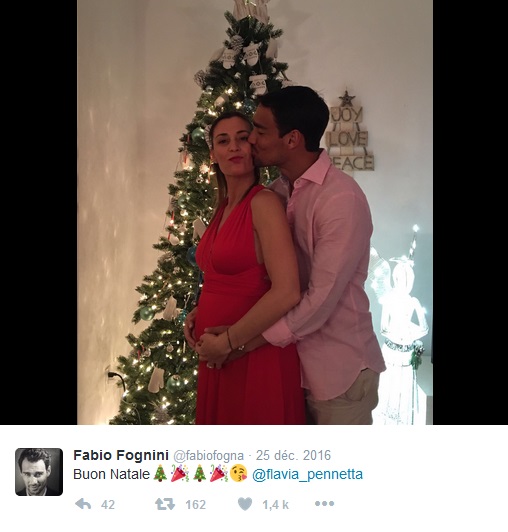 12- Victoria Azarenka
The news surrounding the tennis world really is linked to babies these days. On her side, Azarenka has given birth, on December 20th, to a little boy named Leo, who didn't have to wait long to learn about his mommy's workplace.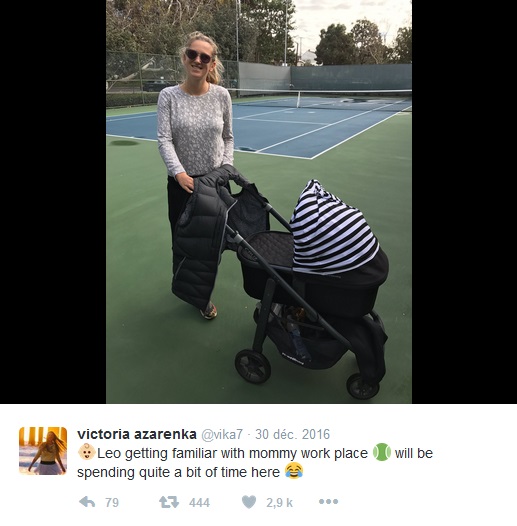 The Belarusian's first steps as a mother seem to be going very well.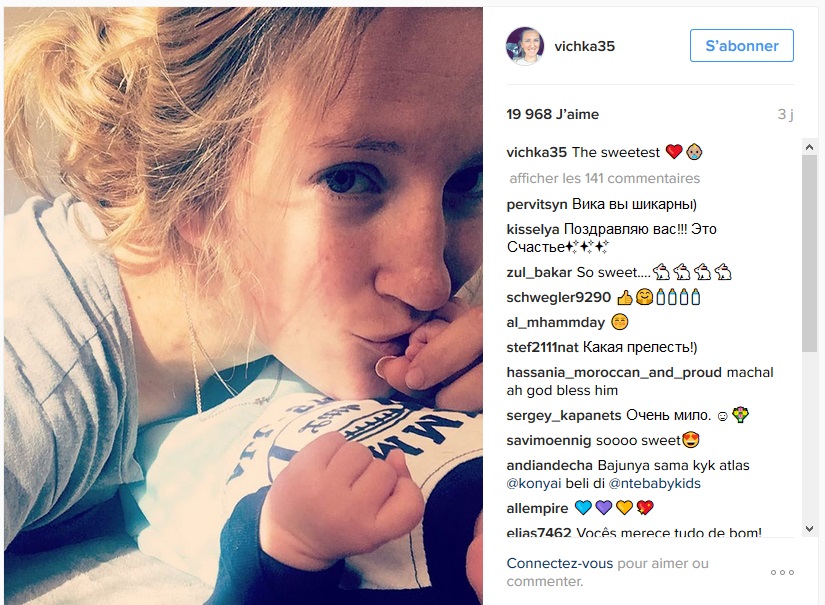 13- Tomas Berdych
Still with lovebirds, with one of the most glamorous couples of the moment : Tomas Berdych and his wife Ester.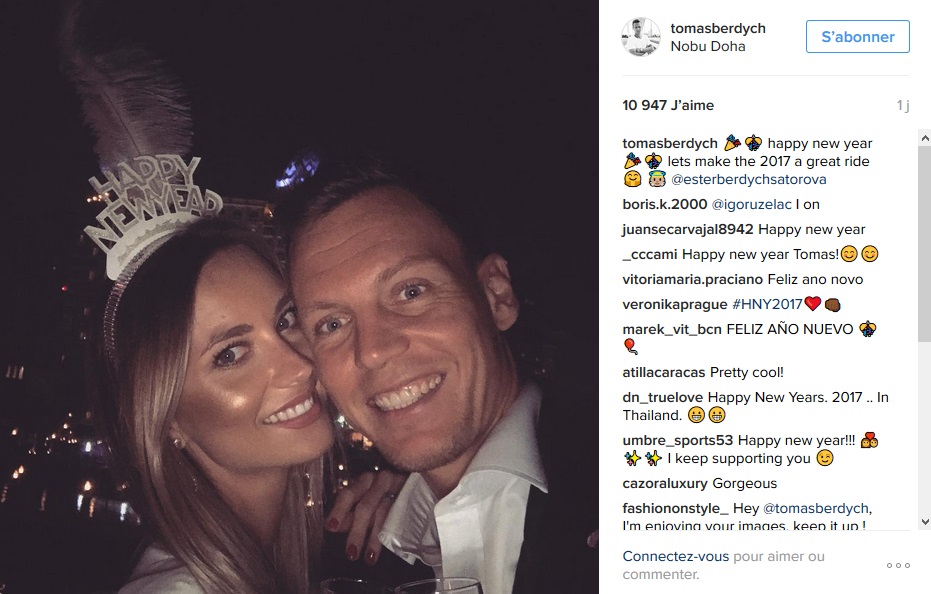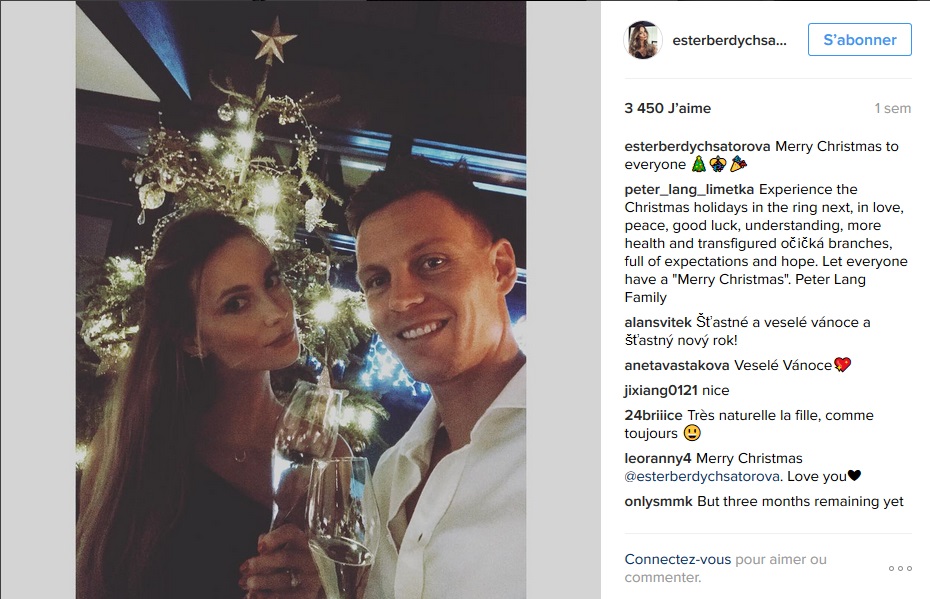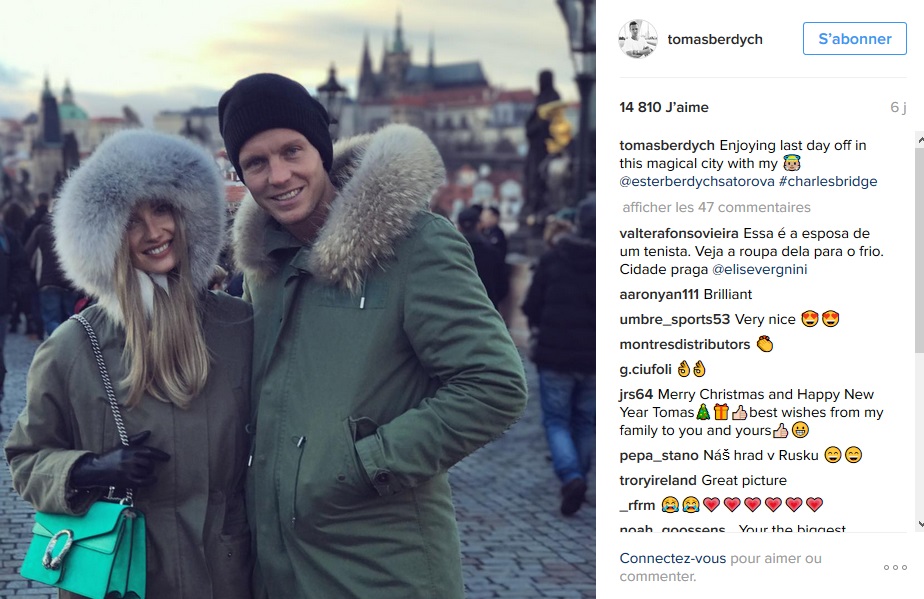 As for elegance, they are way in front of everyone else.
14- Juan Martin Del Potro
For New Year's eve, Del Potro kept things simple, with friends, with his shirt off and a towel around his neck, and a glass of champagne in hand.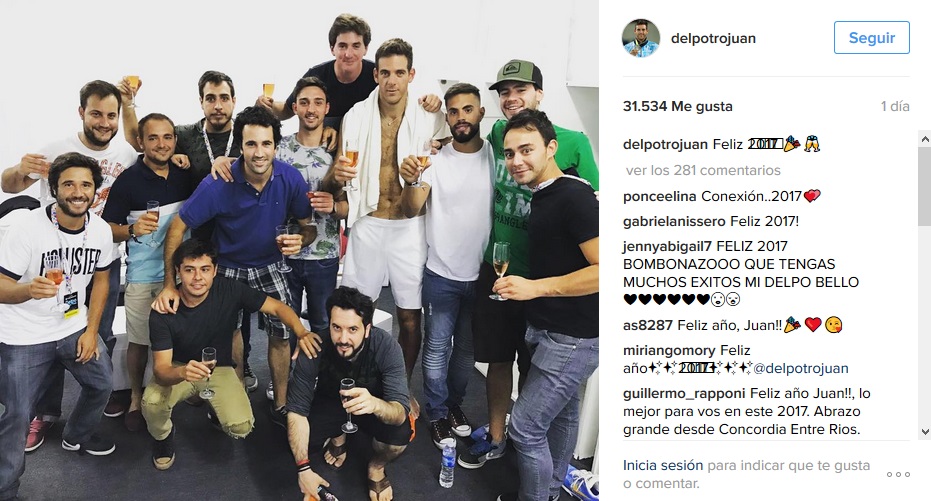 The holidays at home are now over, and his return to the competition is imminent.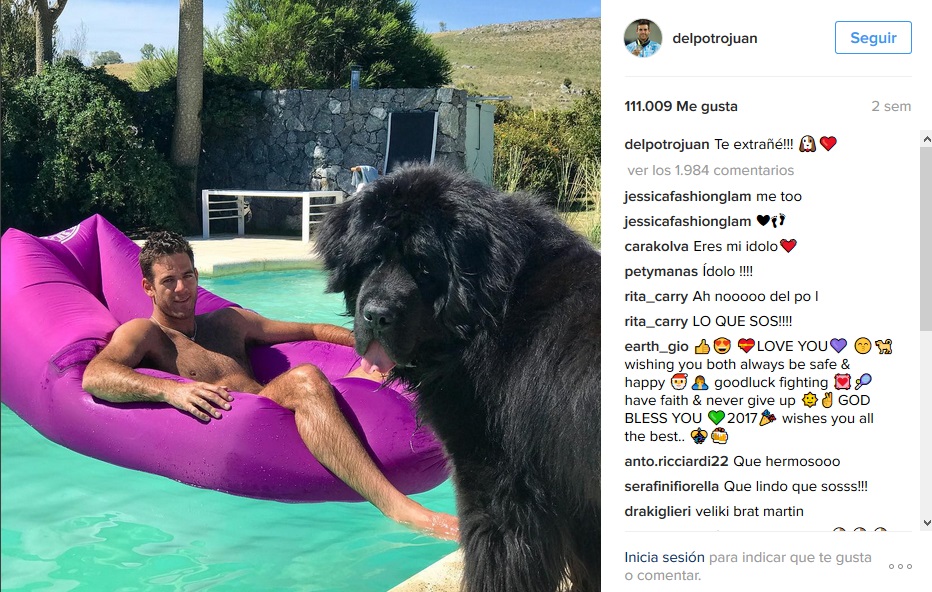 15- Caroline Wozniacki
A last smile to end the first We Are Tennis ranking of this year 2017 ? Caroline Wozniacki's then, as she's still on top form !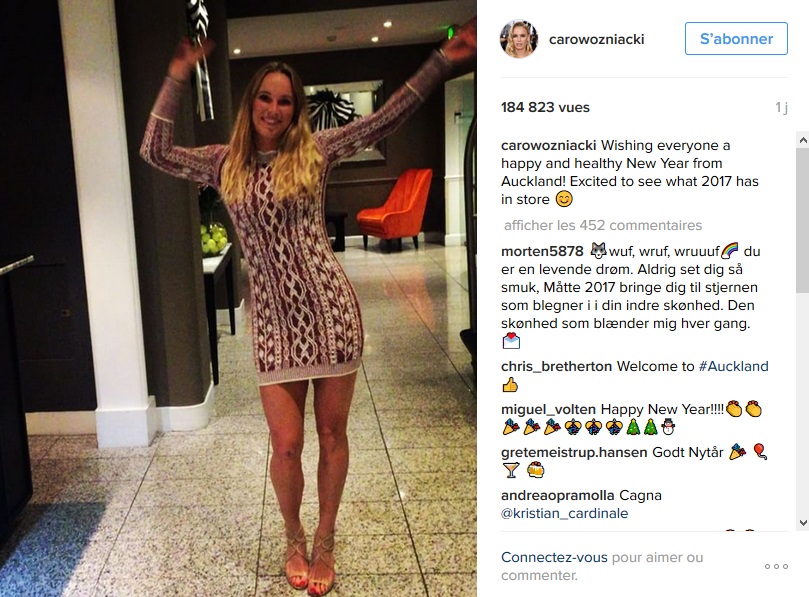 Now, let the season begin for Caroline, Novak, Andy, Serena, Jo, Angelique and all the others !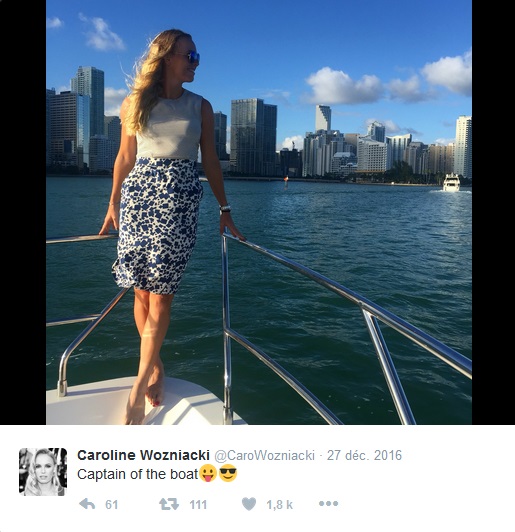 By Régis Delanöe