Just like in the two previous editions, the Czech Fed Cup by BNP Paribas team ended up lifting the trophy,. In the same time, on the other side of the world, the majority of the circuit was enjoying the holidays…
Just like in the two previous editions, the Czech Fed Cup by BNP Paribas team ended up lifting the trophy, in Strasbourg this time. Not too far away, the London ATP World Tour Finals was opening its doors and on the other side of the world, the majority of the circuit was enjoying the holidays…
1- Barbora Strycova et Karolina Pliskova (NE).
For the second time, the pair Strycova/Pliskova has offered the Czech team the fifth point in the BNP Paribas Fed Cup final. For the third consecutive year, the country won the team competition. Which deserved a « handczech »…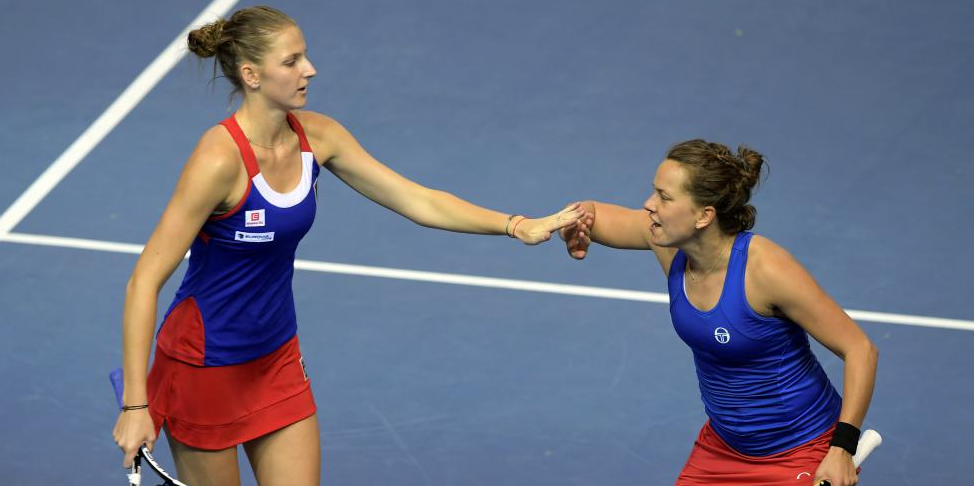 …And a tweet from their fellow countryman and Arsenal's goalkeeper, Petr Cech, congratulating them.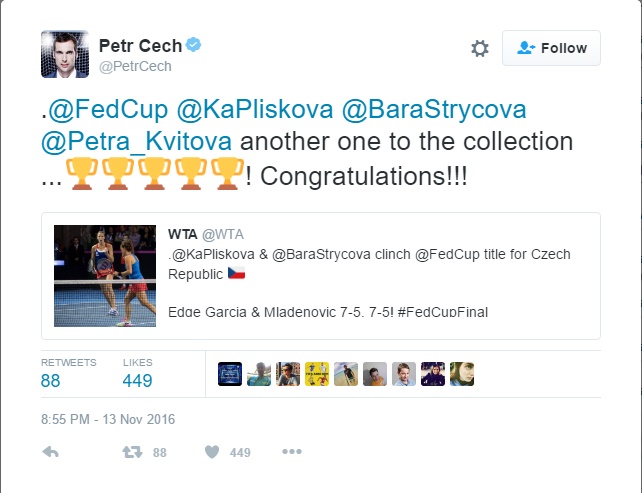 The two players have been helped by the French on a few uncommon points. Like this one.
But they mainly did everything to ensure their victory at the end of a very tight match. Especially when they came close to the net.
An idyllic week for them, as they made the most of their stay in Strasbourg to visit the city and enjoy it's picturesque aspect.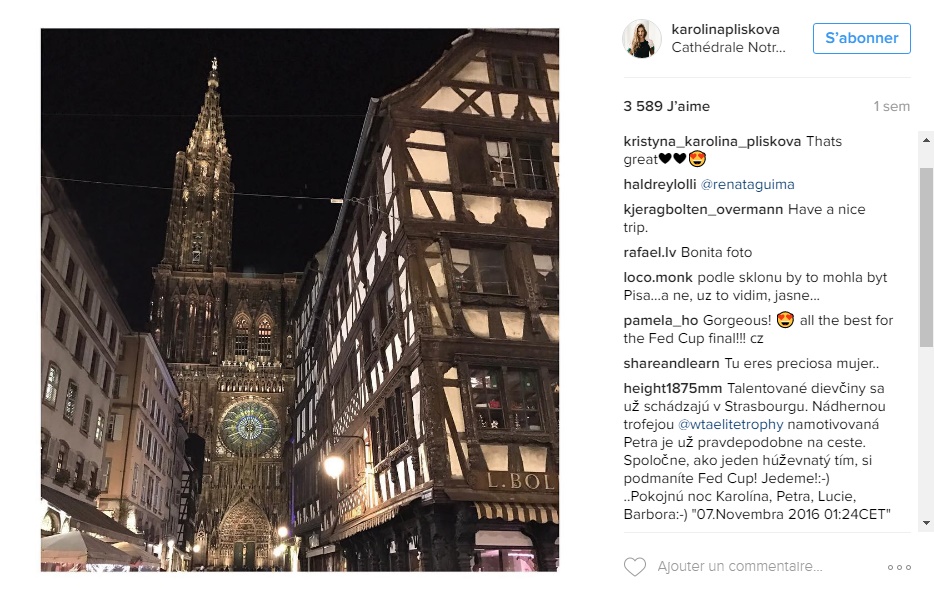 2- Novak Djokovic (NE).
Novak Djokovic was happy again before London and he made us aware of that. Firstly during his press conference, where he said : « I think I still have fuel in the gas tank and many years in front of me. » And then by taking a selfie with his racquet.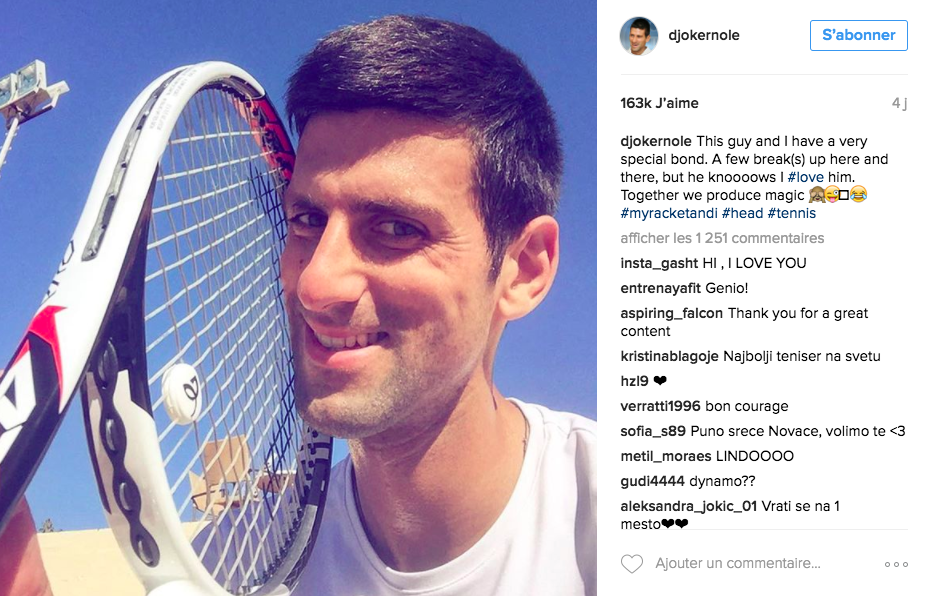 And finally by playing the piano and singing.

It visibly worked as Djoko started the competition with a win, 6-7, 6-0, 6-2, against Dominic Thiem.
3- Dominika Cibulkova (NE).
Since her victory at the BNP Paribas WTA Finals, the Slovakian player hasn't left her little cloud. Here, in a nightclub, dancing the night away. « When I party, I PARTY »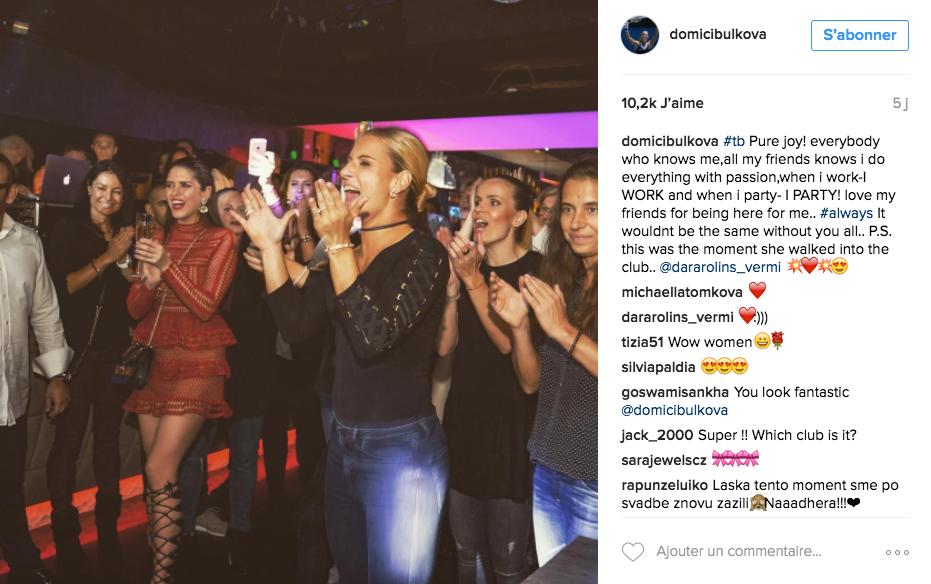 Here on holidays, on the beach, on a heavenly desert island, enjoying a coconut.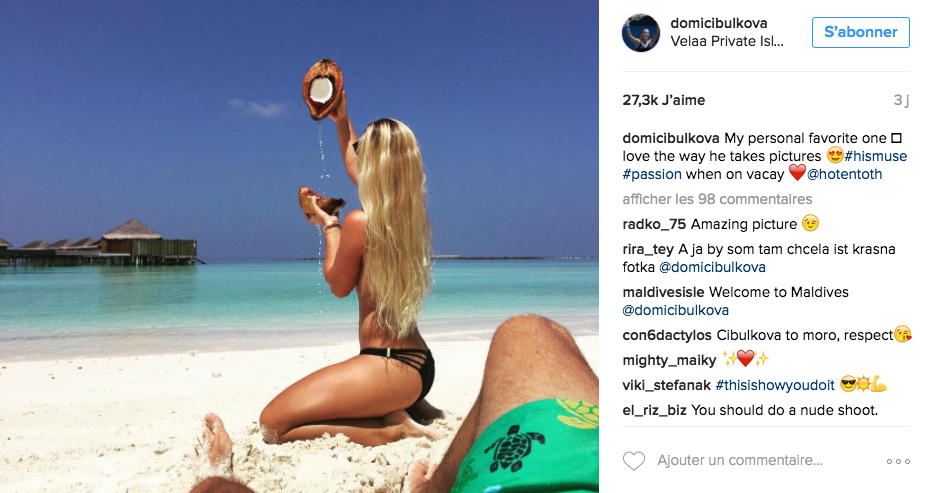 Still not far from the beach, but in an overflowing swimming pool.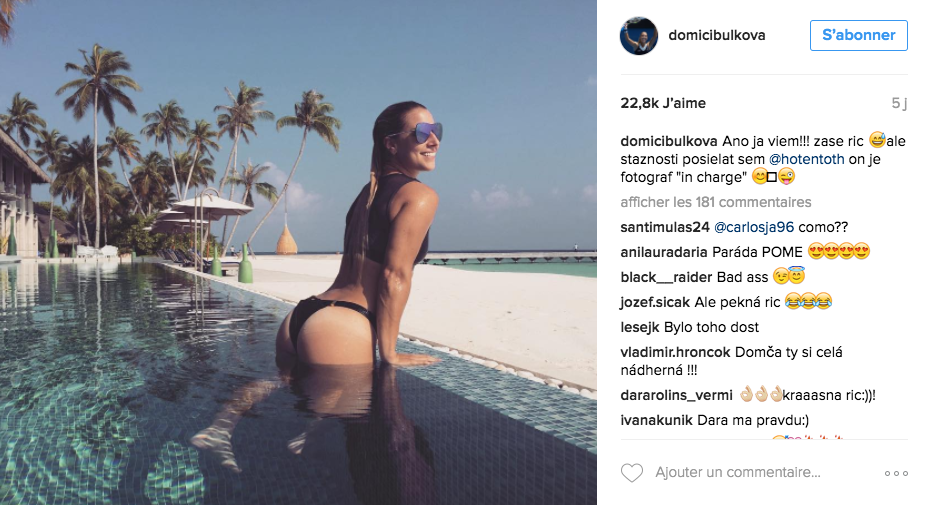 Still in the same pool, having fun with her boyfriend.

4- David Nalbandian (NE).
The retired Argentine, ex-world number 3, now spends most of his time driving cars. Last weekend, he took part in the Entre Rios rally, a race located a few hours away from Buenos Aires. And the ex-world number 3 gave himself a big fright. Happily, he was fine after the accident.
5- Andy Murray (-4).
The world number 1 is on the form of his life. So Andy Murray took a break to read If, the poem written by Rudyard Kipling, the famous English writer, where a father speaks to his son, about doubts, victories, defeats and integrity. A message to share, Andy ?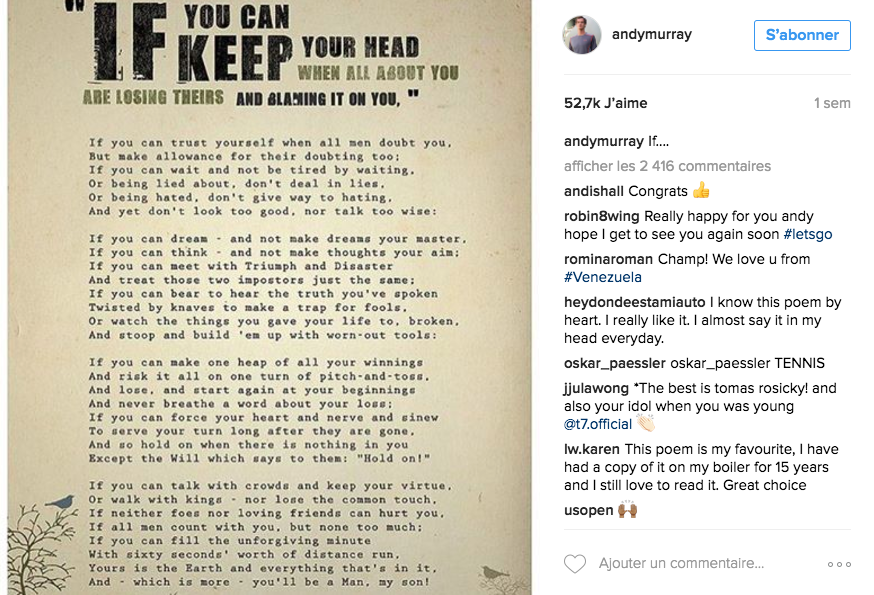 6- Dominic Thiem (NE).
The Austrian, world number 9, and last player to qualify for the London ATP World Tour Finals, has discovered the joys of this particular week. The media requests, first.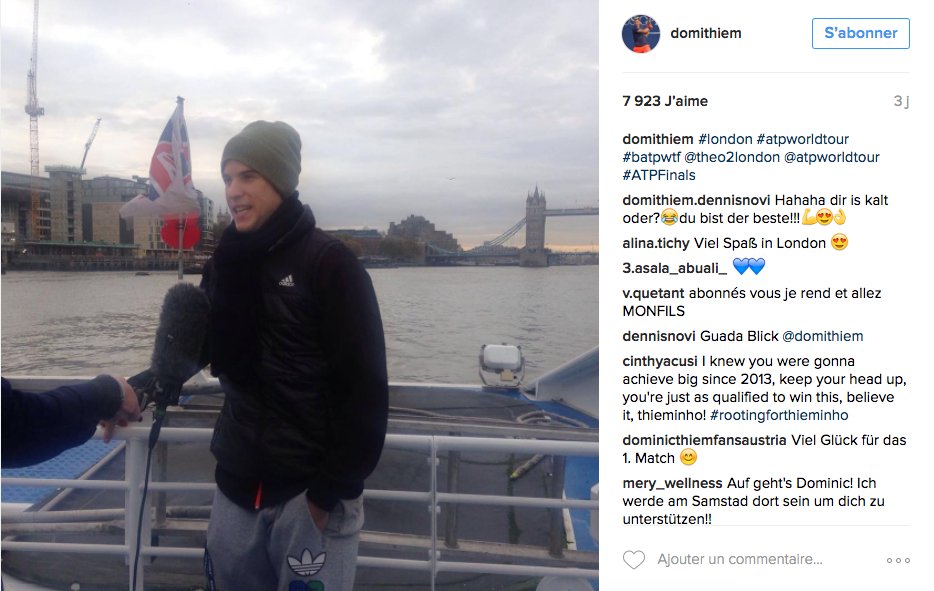 Then, the official photographs.

With a few positive sides in between, like the qualifying match for the World Cup in Russia between England and Scotland, in Wembley.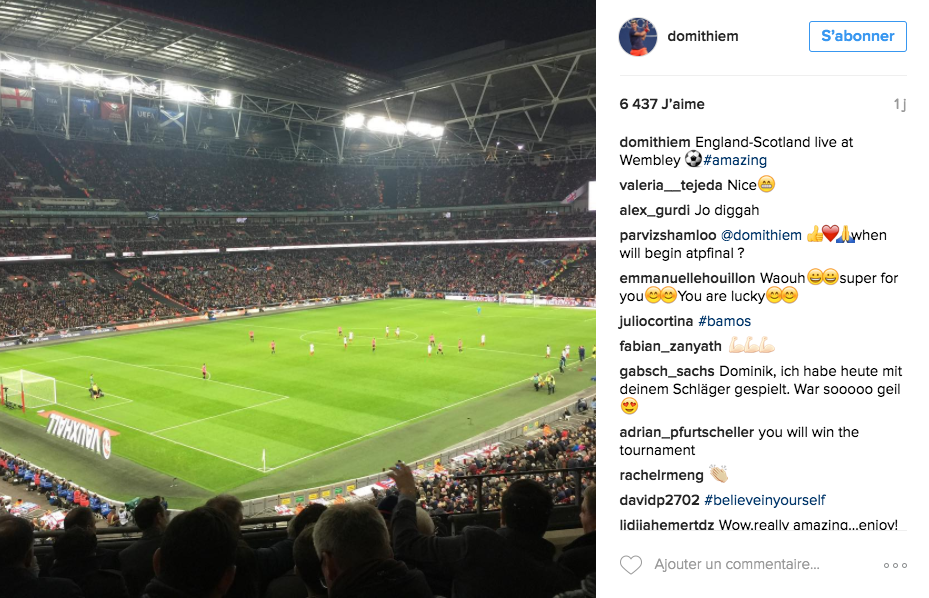 And finally the real competition, with a big match against Djoko to begin with. Despite losing in three sets, Dominic has scored some beautiful points.
7- Eugenie Bouchard (-4).
For Eugenie, who spent the week in New York, life could be resumed in three things. Chilling.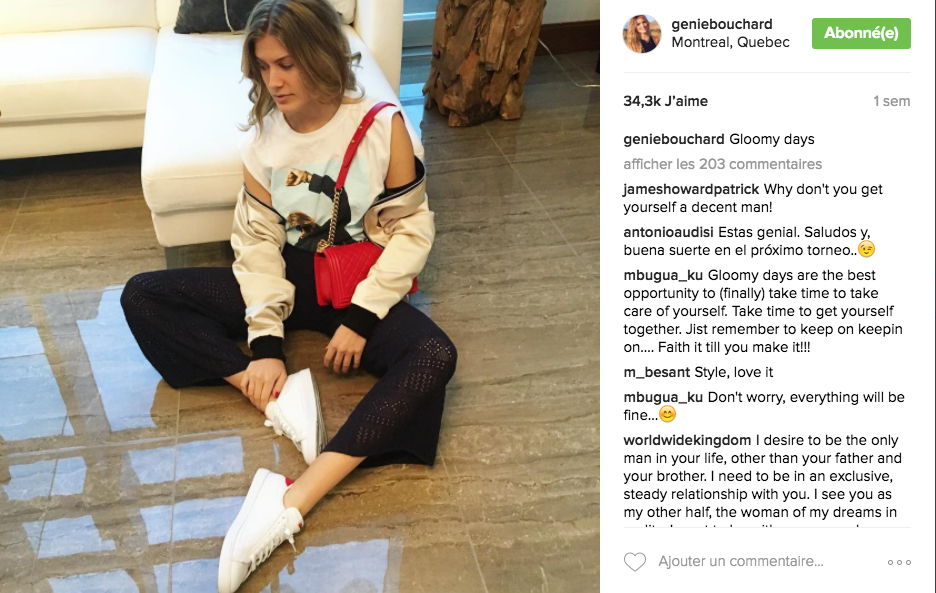 A walk in Manhattan.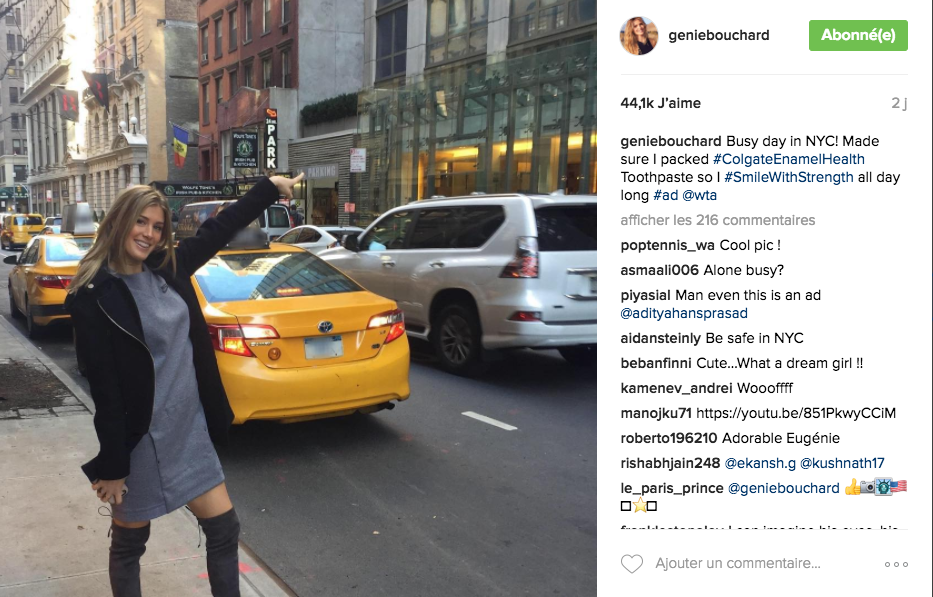 And reaching the sky.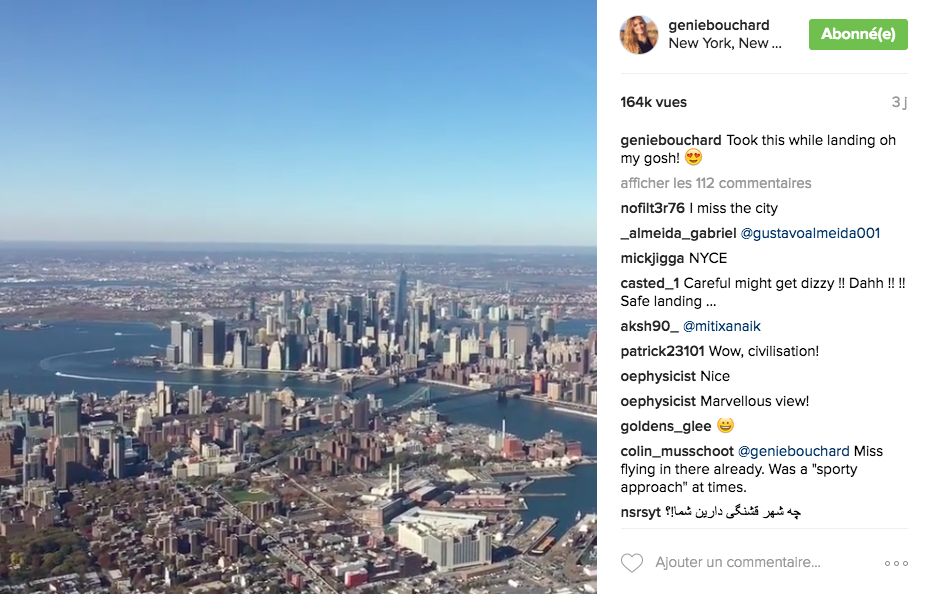 8- Ana Ivanovic (NE).
This week, Ana celebrated her 29th birthday…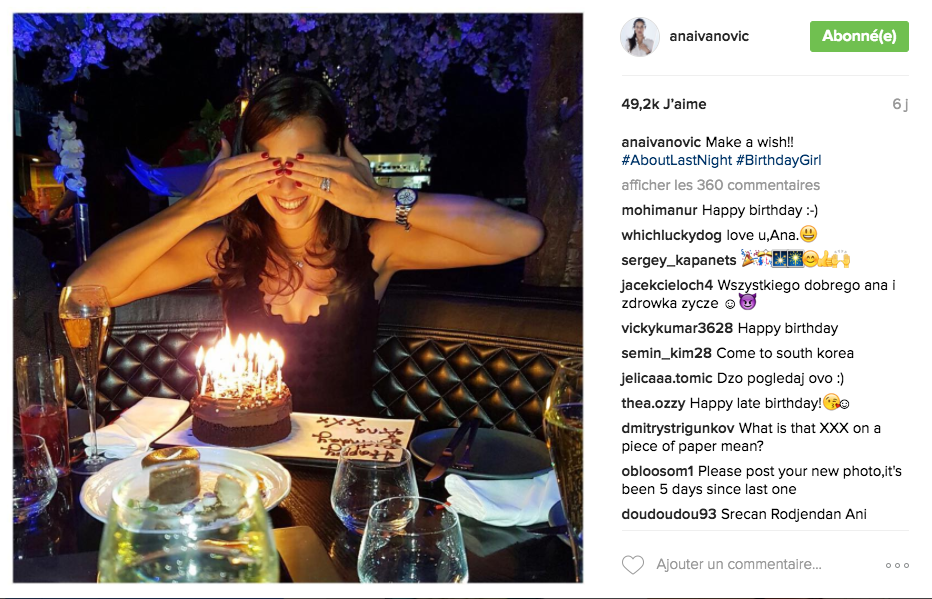 …and posed with flowers. And boots.
9- Nick Kyrgios (/).
An NBA game with Anja.

And hard work.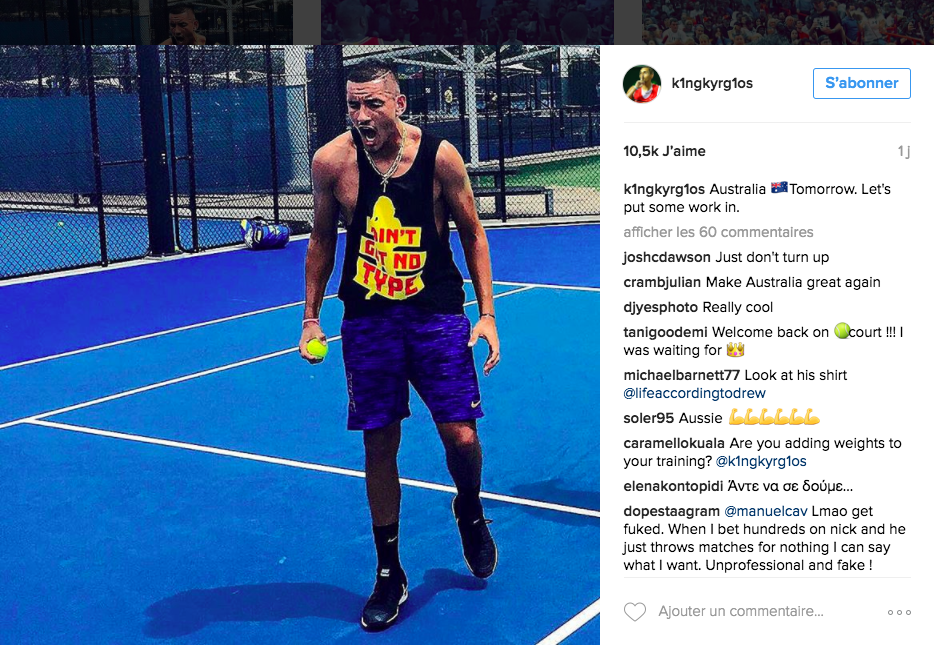 A routine for Nick, while waiting for his return on the courts.
10- Grigor Dimitrov (NE).
During the winter break, some players rush for the idyllic beaches, others, like Grigor, try to discover the South-African wildlife.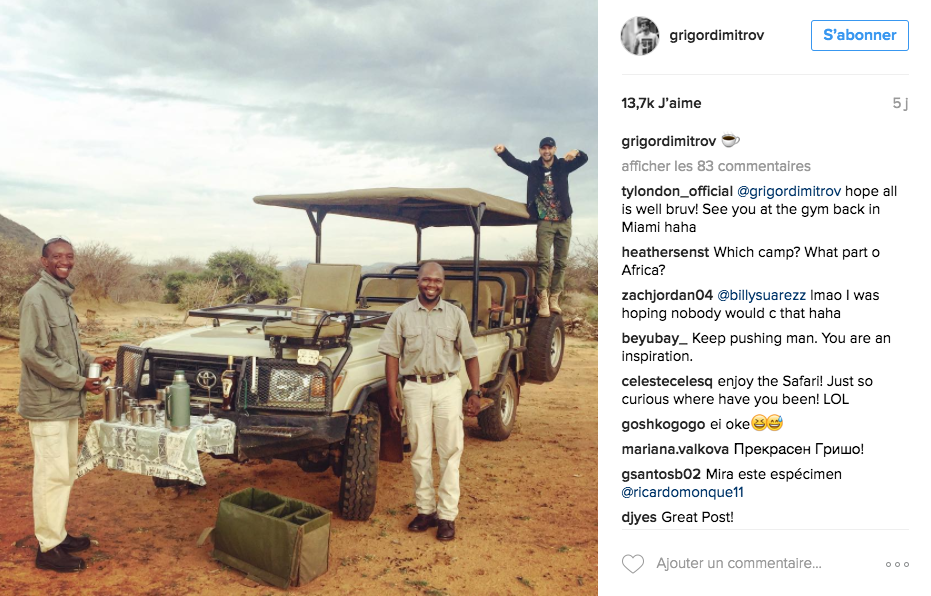 Without forgetting the camping stove.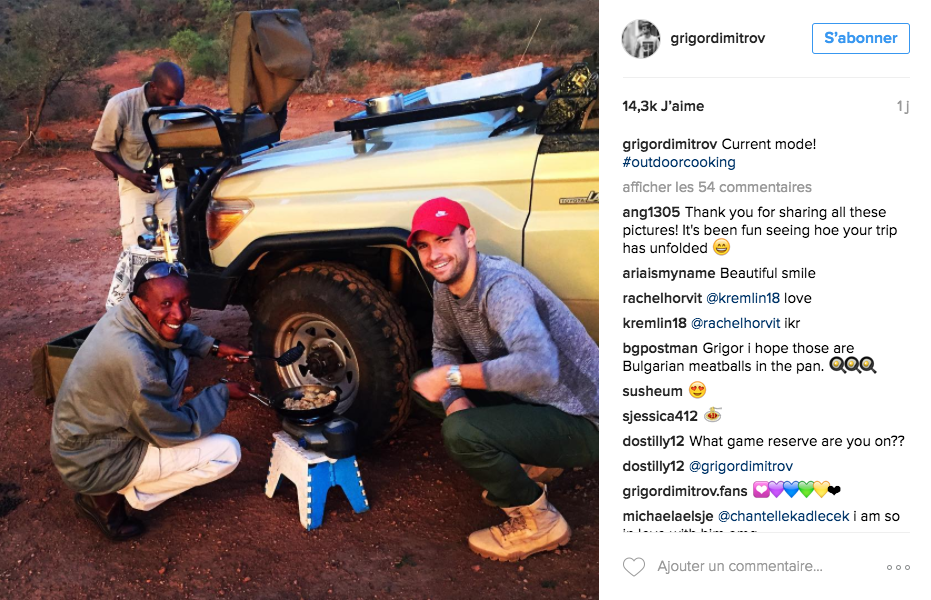 Here are his new buddies.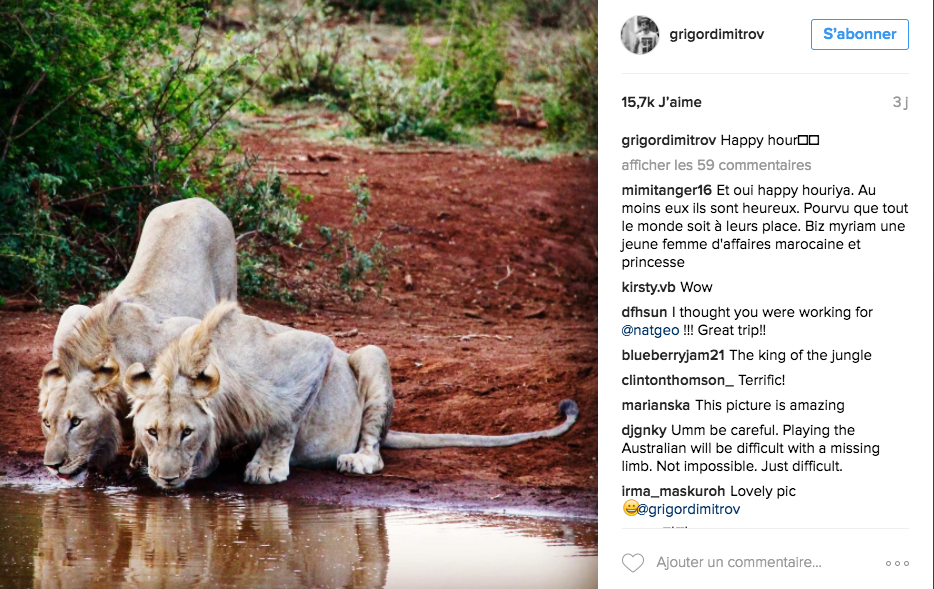 11- Sabine Lisiscki (NE).
Sabine Lisicki has trouble choosing when confronted to the big choices of life. So, she needs you.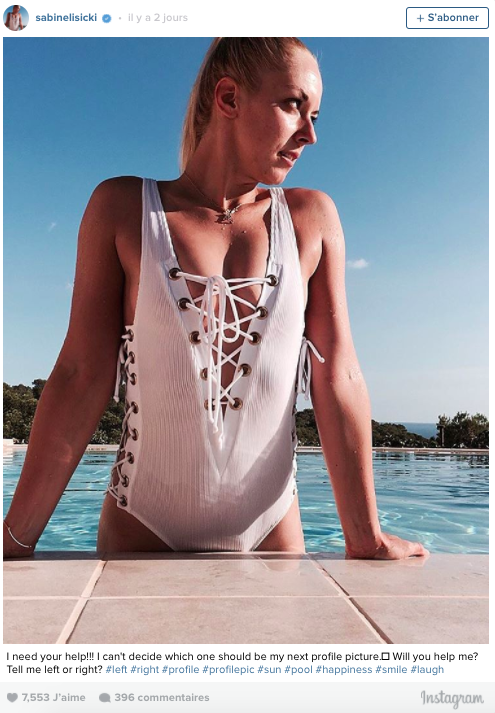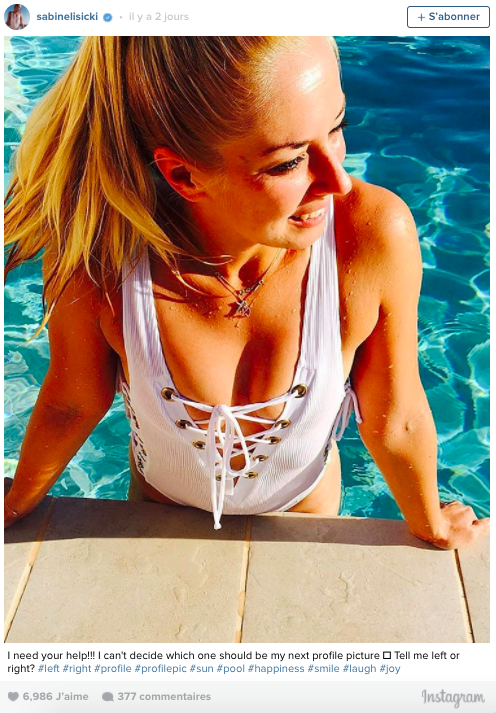 12- Elina Svitolina (NE).
The Ukrainian, who has entered the top 10 this week, has enjoyed the break, on a beach, all alone…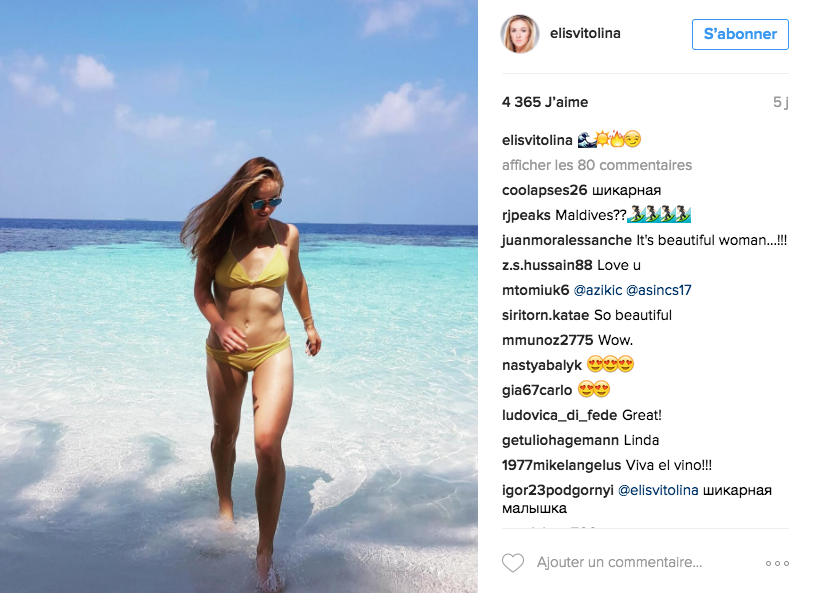 …and dining in a posh Parisian restaurant. A taste for contrasts, without a doubt.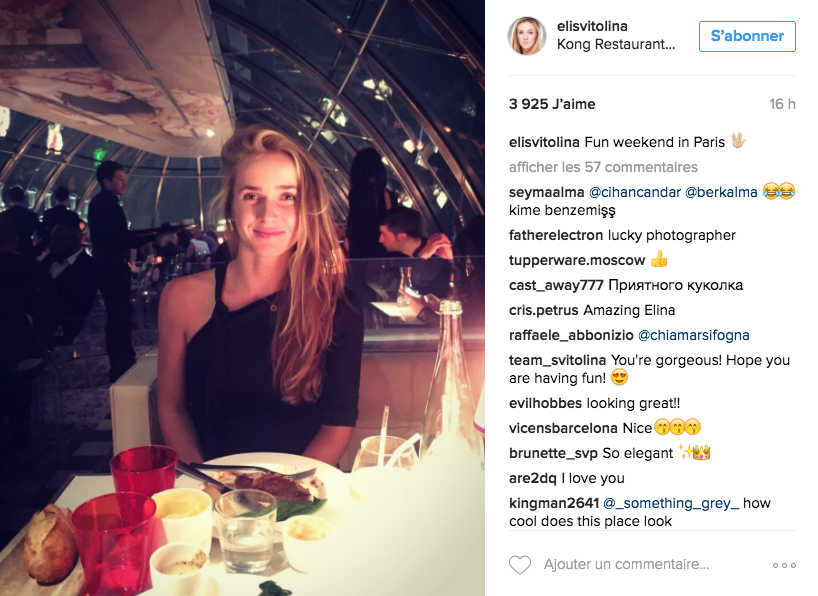 13- MacKenzie Mcdonald (NE).
MacKenzie Mcdonald, visibly injured during his quarter-final against Peter Polansky at the Knoxville Challenger tournament, has used an underarm serve for most of the match, before withdrawing during the third set. He still managed to win the first set with this type of point.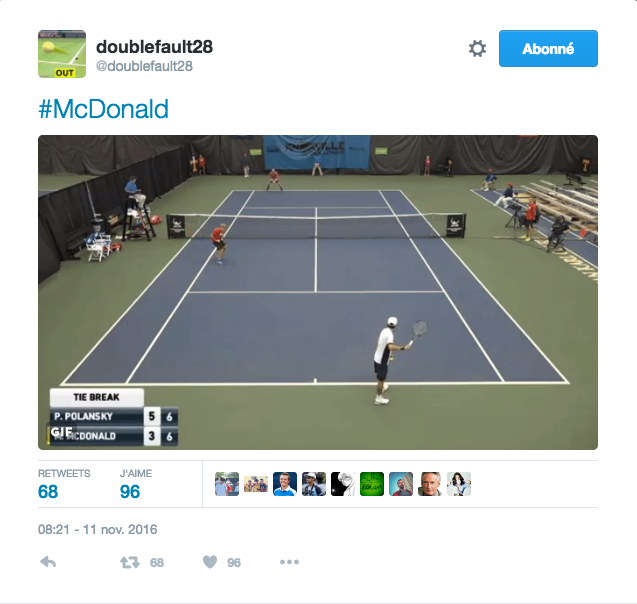 14- Gaël Monfils (NE).
Visibly, Gaël Monfils looked happy to be at the London ATP World Tour Finals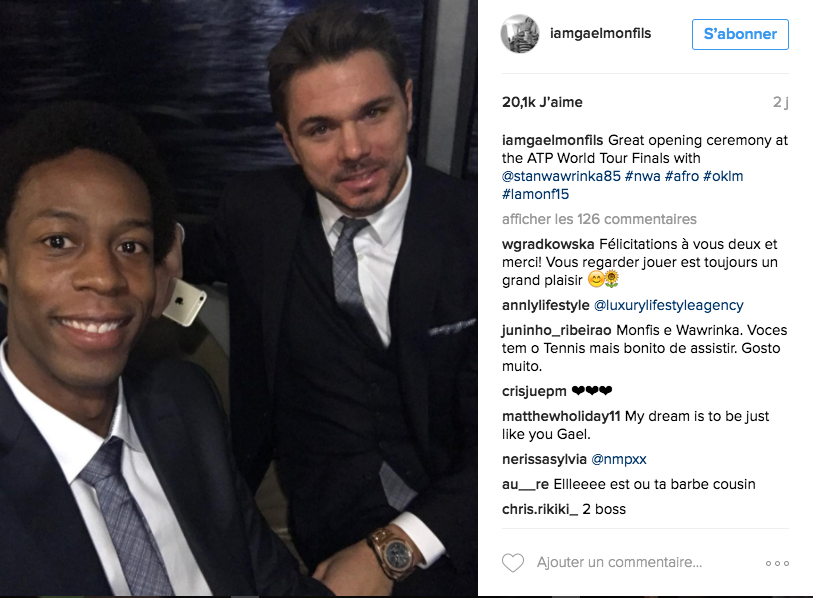 Which didn't stop him from losing in two straight sets (6-3, 6-4), against Milos Raonic.
15- Le chien d'Anna Kournikova (NE).
This week, Anna's friend decided to put on glasses.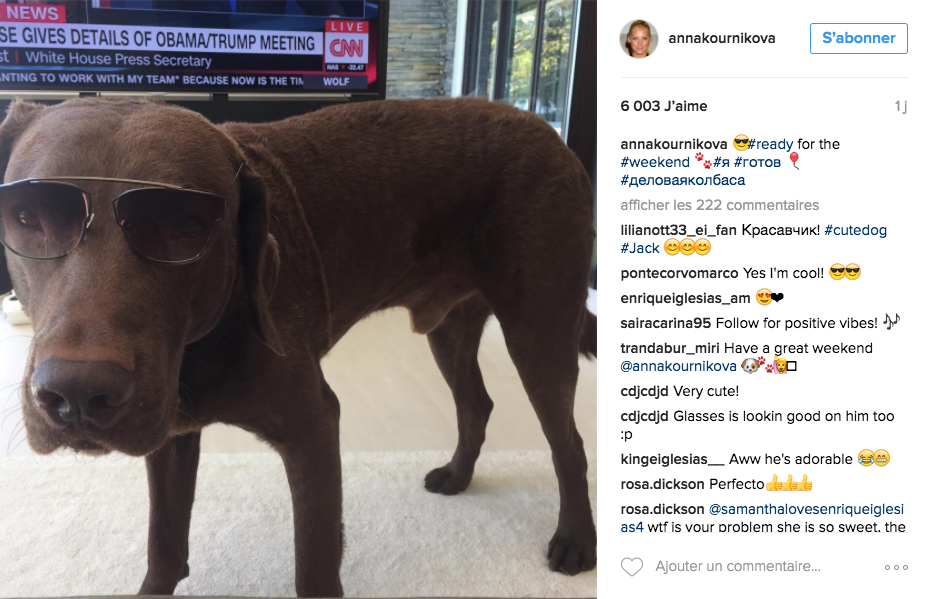 Which deserved a comeback in this ranking.
Outs :
Stanislas Wawrinka, Dominka Cibulkova, Caroline Wozniacki, Svetlana Kuznetsova, Jack Sock, Maria Sharapova, Serena Williams, Daria Gavrilova, Tomas Berdych, Marin Cilic, Andrea Petkovic, Marion Bartoli
By Antoine Mestres