At last. After his victory at the Paris Bercy Masters 1000, Andy Murray is world number 1. A performance which deserved praise from the rest of the circuit. And the number 1 spot of We Are Tennis' offbeat ranking, for the second week in a row.
At last. After his victory at the of Paris Bercy BNP Paribas Masters, Andy Murray is world number 1. A performance which deserved praise from the rest of the circuit. Which, during that time, dressed up, traveled and even sang.
1- Andy Murray (/).
And another one which makes it 8 ! After Vienna, Andy Murray won in Bercy his eighth trophy of the season, defeating John Isner in the final(6-3, 6-7, 6-4). Here, the match point.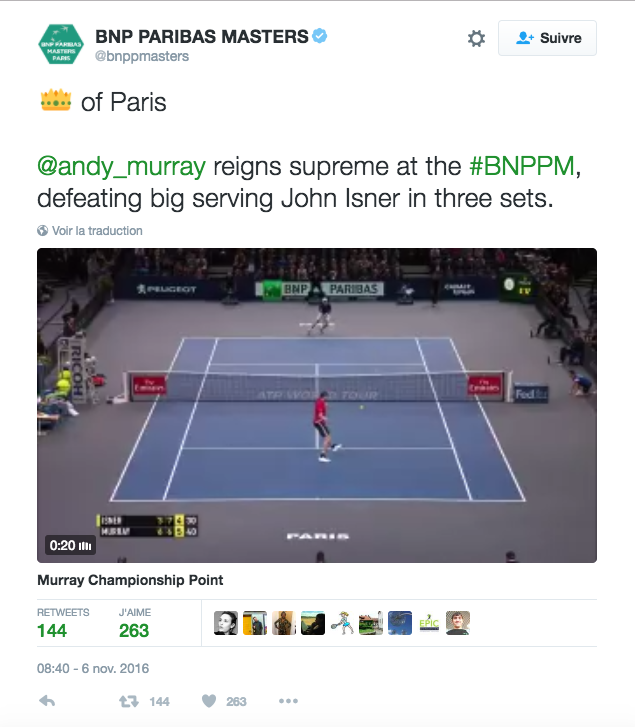 He's now world number 1 for the first time ever.

With congratulations from King Roger.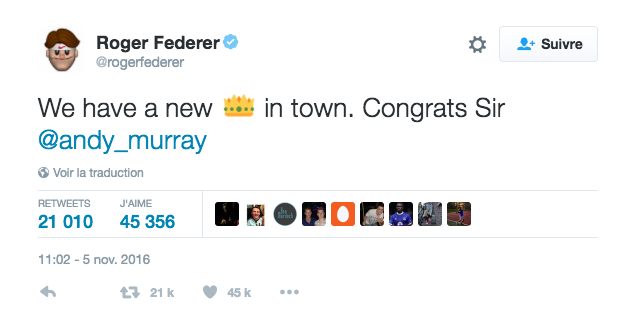 And a few beautiful points on the way.
2- Stanislas Warinka (NE).
Being up against the German Jan-Lennard Struff, world number 91, in the first round, Stan lost in three sets (6-3, 6-7, 6-7), at the BNP Paribas Masters. But nevermind, as he scored the winning point of the tournament, after hurling abuse at the environmentalist senator Jean-Vincent Placé in the middle of the match : "Oh, do you mind that we're playing a match ? No but seriously, it's midnight, go home if you don't want to watch."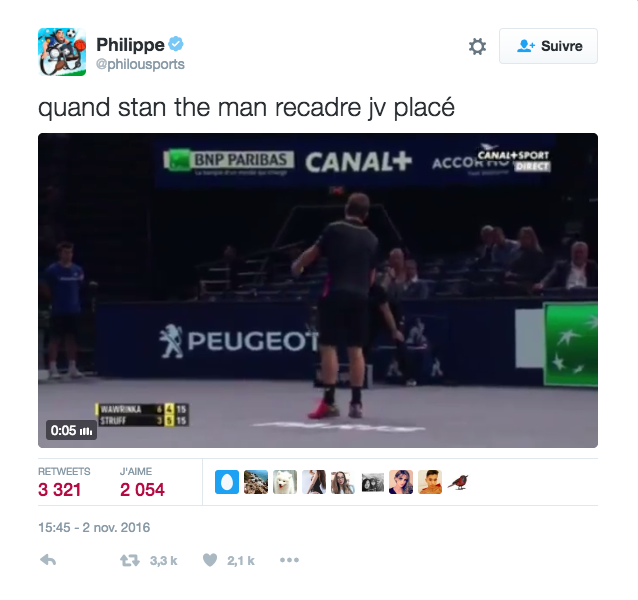 The answer from the accused: «It's like in classes with students. There are 30 pupils, everyone's whispering, so you go for the most famous one, and it ended up on me. I was whispering at Jean Gachassin's ear, that's true. I mainly believe that Wawrinka was pretty furious already." Stanislas, on his side, wasn't convinced by his defense.

3- Eugénie Bouchard (+1).
This week, Eugénie met up with the rich and famous. Kim Kardashian, first, for Halloween.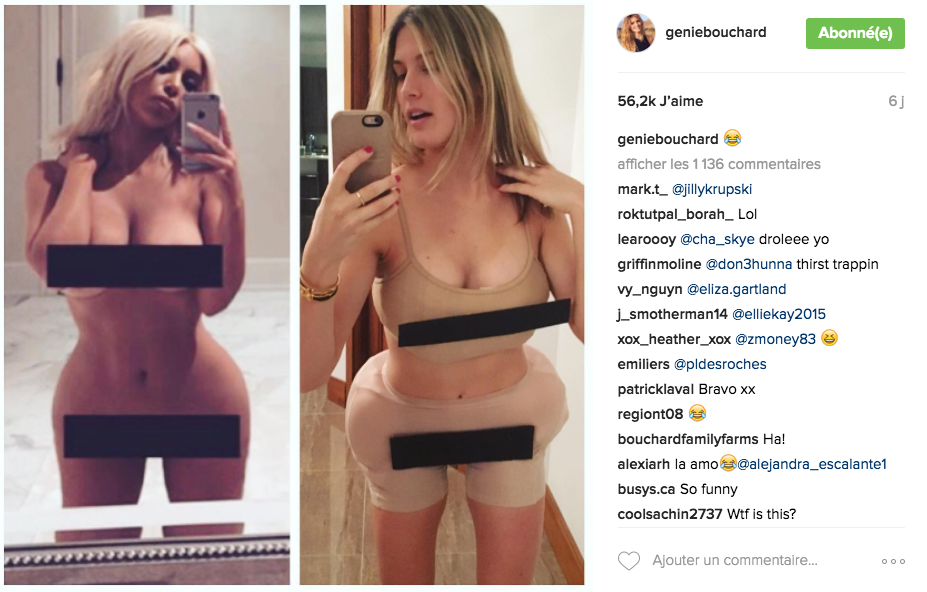 Asking the real questions.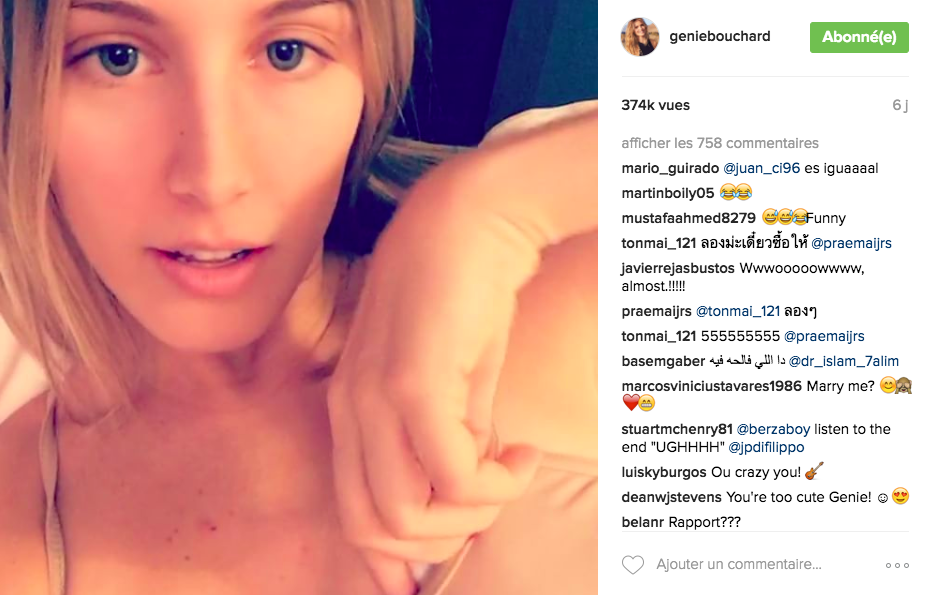 Then with Justin Trudeau, her Prime minister in Canada, with a juvenile smile.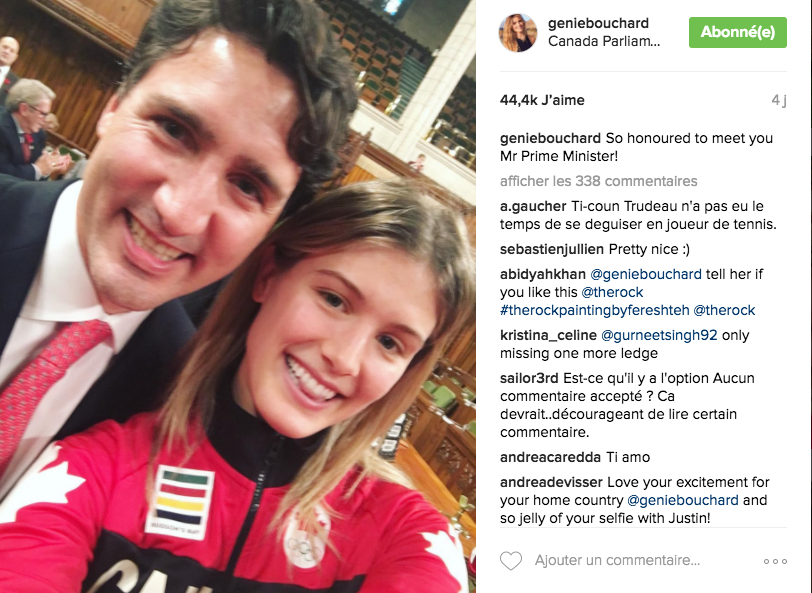 4- Dominika Cibulková (-2).
After her victory at the BNP Paribas WTA Finals of Singapore, Dominika took a break by meeting the president of her country, Czech Republic.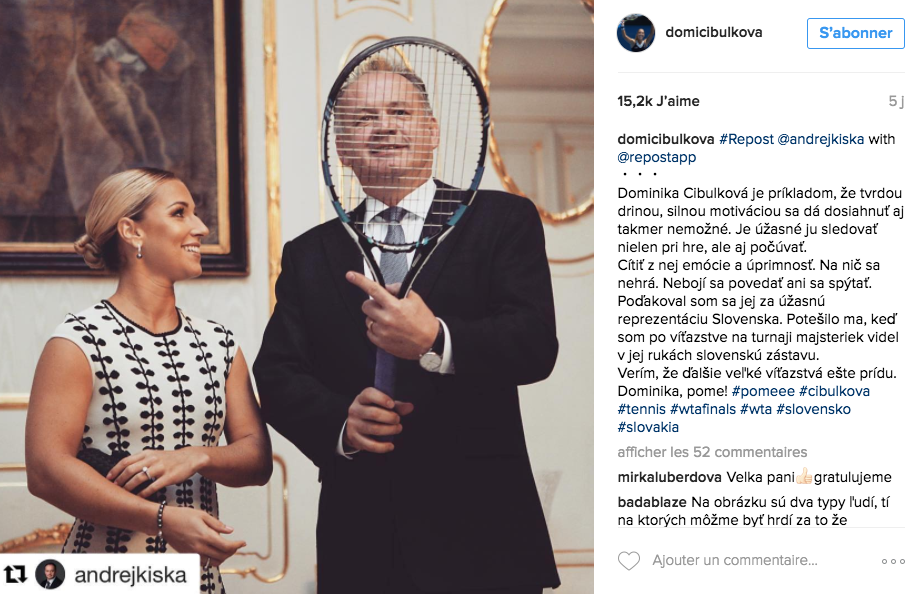 She then took care of herself. Away from everyone.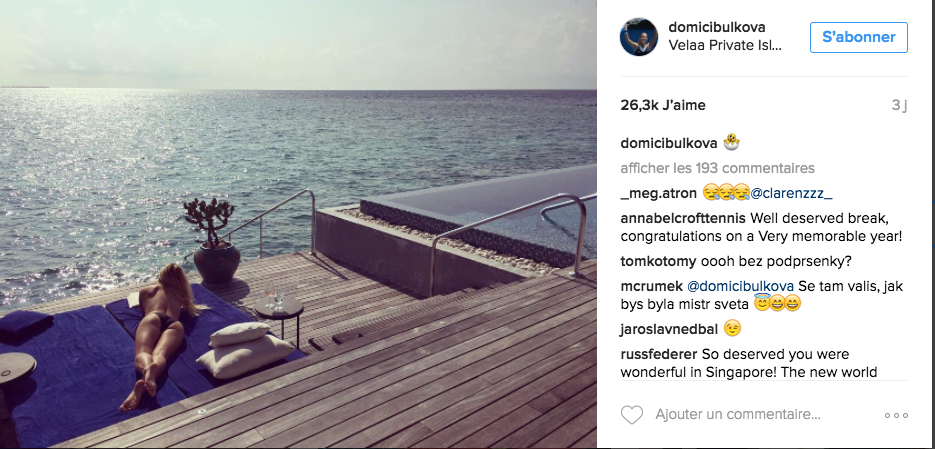 And as a couple.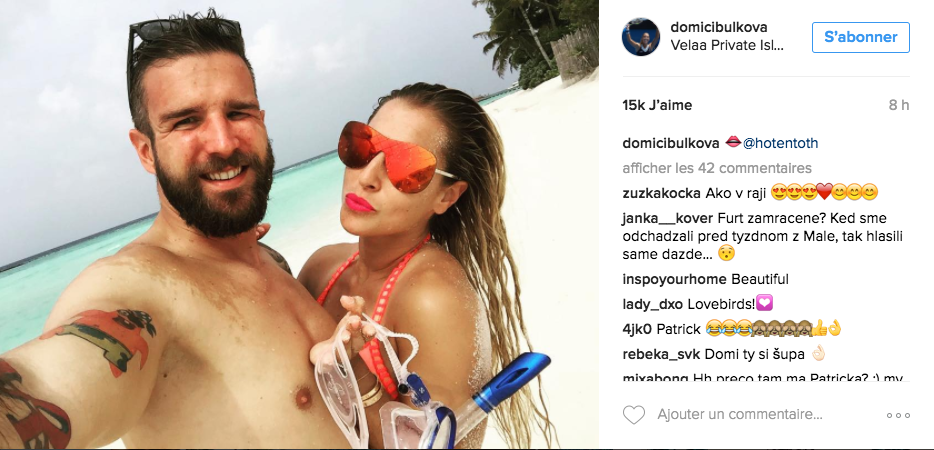 5- Caroline Wozniacki (+5).
Now that the season's over, the players can do whatever they want. Caroline decided to try on a pair of boots in Texas.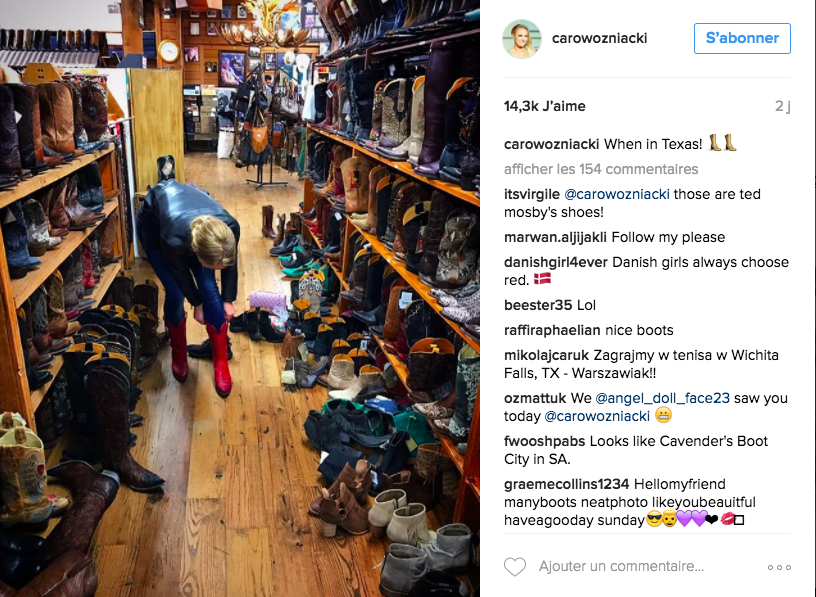 And to dress up as a pumpkin for Halloween. She suited the theme a little bit better than Eugénie Bouchard…
6- Svetlana Kuznetsova (+2).
For Svetlana, holidays so far have essentially revolved around selfies with a man bearing a crazy mullet haircut.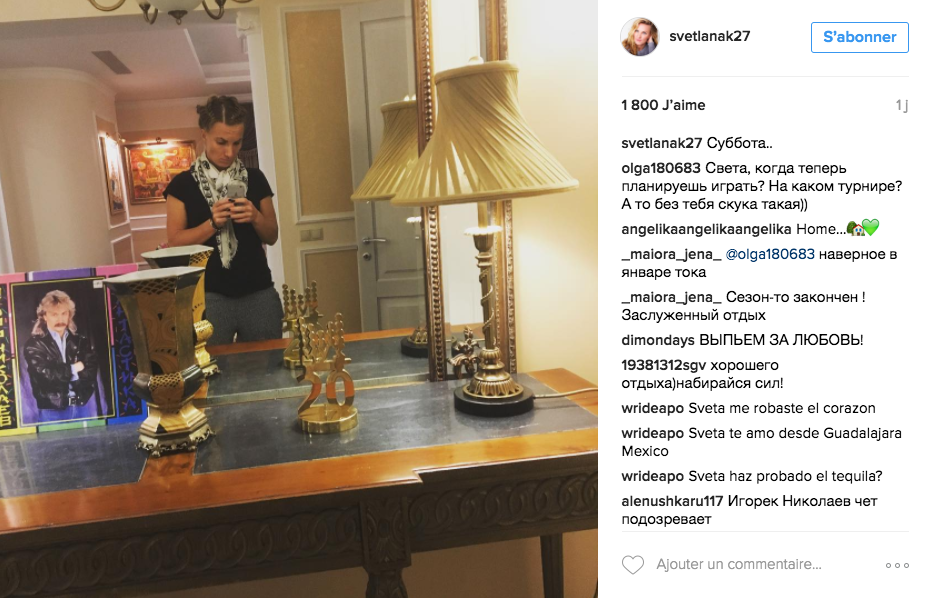 A little bit of showing off by the pool table, as well.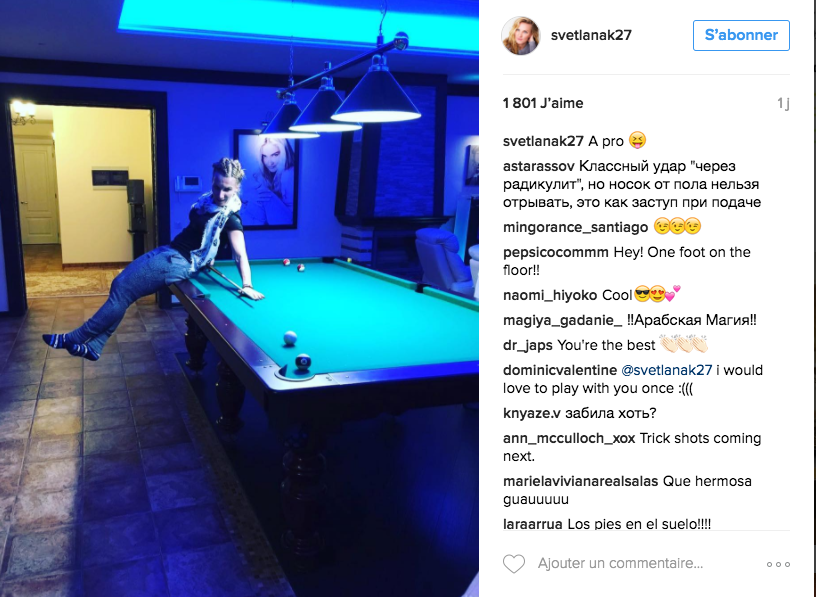 And time spent with her dog under the snow.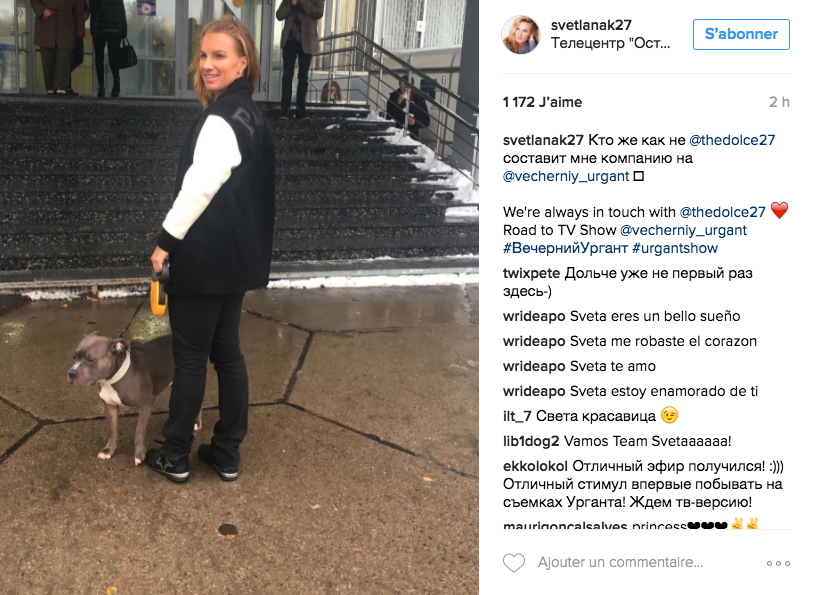 7- Jack Sock (NE).
Jack 'boom boom' Sock, world number 23, shot the screamer of the week at the Paris-Bercy BNP Paribas Masters.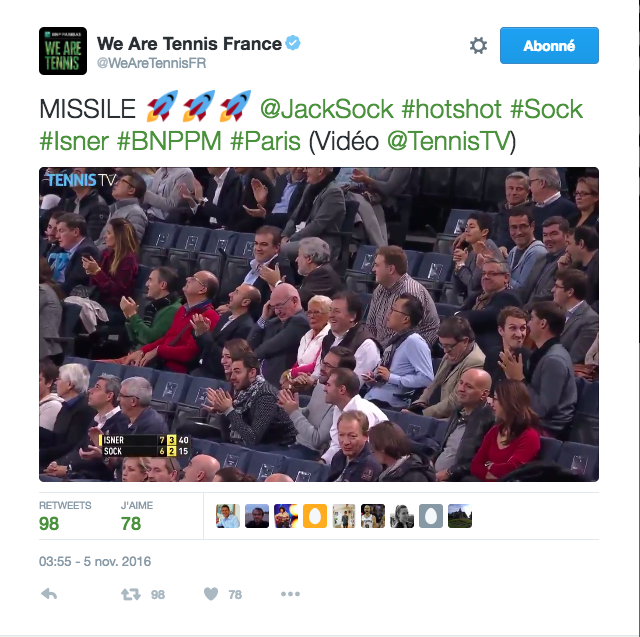 After the emotion, he announced that he was pulling out of the presidential campaign…

8- Maria Sharapova (-2).
While waiting to be able to play again, Maria is still going through her dry spell. While waiting for the end of the tunnel, the Russian has been training hard.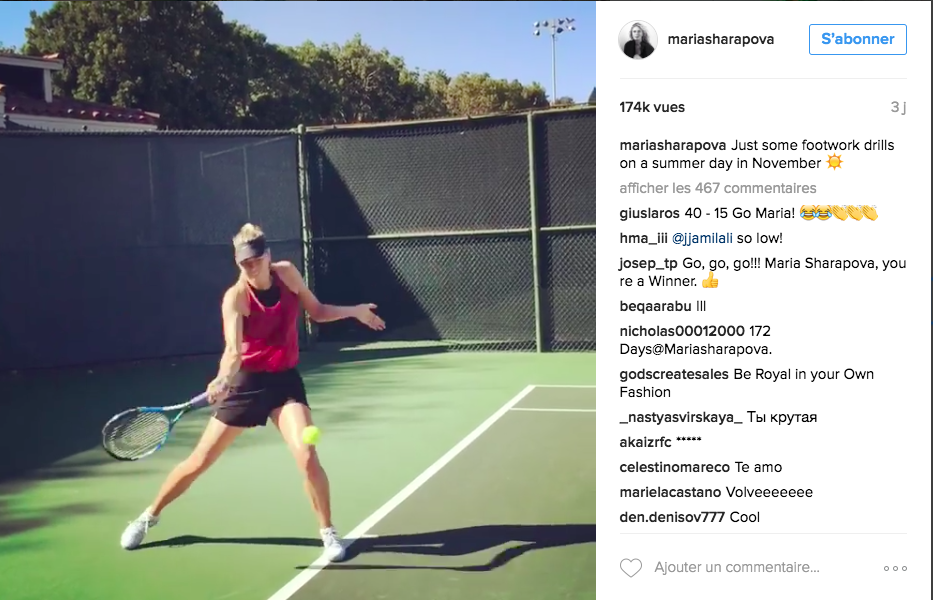 She's also been dunking in heels, on the side.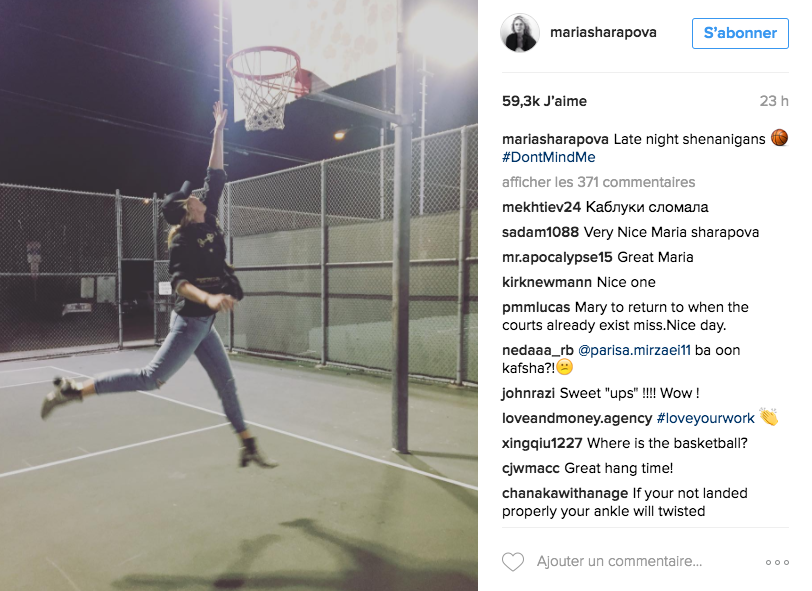 And welcoming friends.
9- Nick Kyrgios (-4).
Suspended as well, Nick carries on training.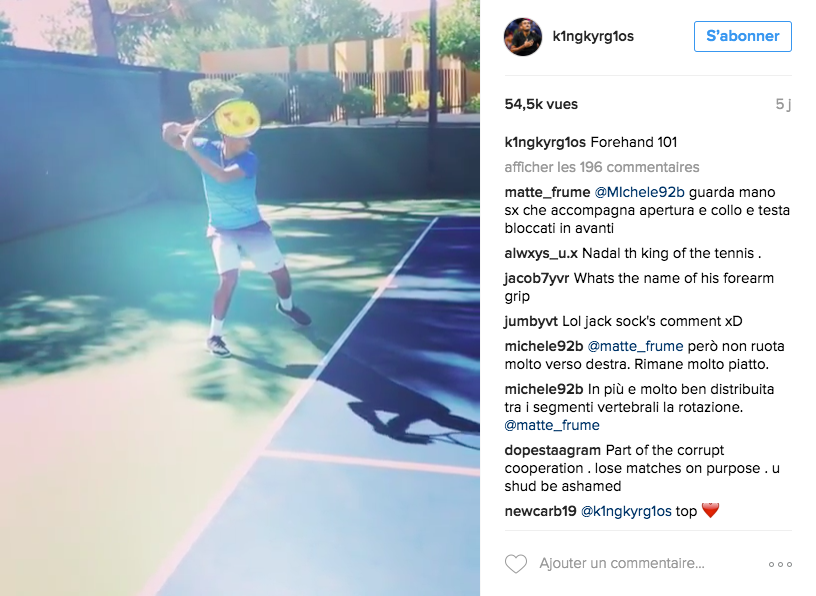 Then, fair-play, he greeted Andy for his number 1 spot at the ATP ranking.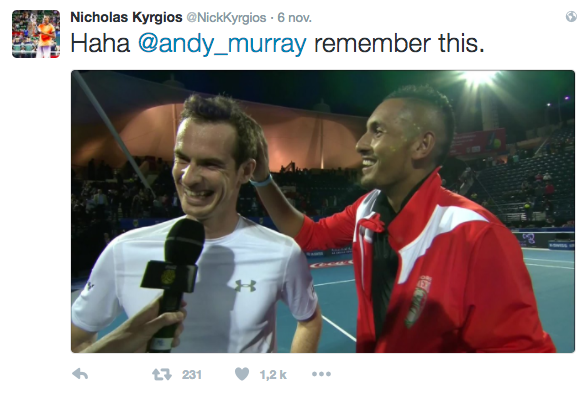 10- Serena Williams (-4).
Serena needed to let herself go this week. So she organized a karaoke at home. At had a solo session on Always, by Bon Jovi.
11- Daria Gavrilova (/).
As an answer, Daria gave us a play-back on I was here, by Beyonce,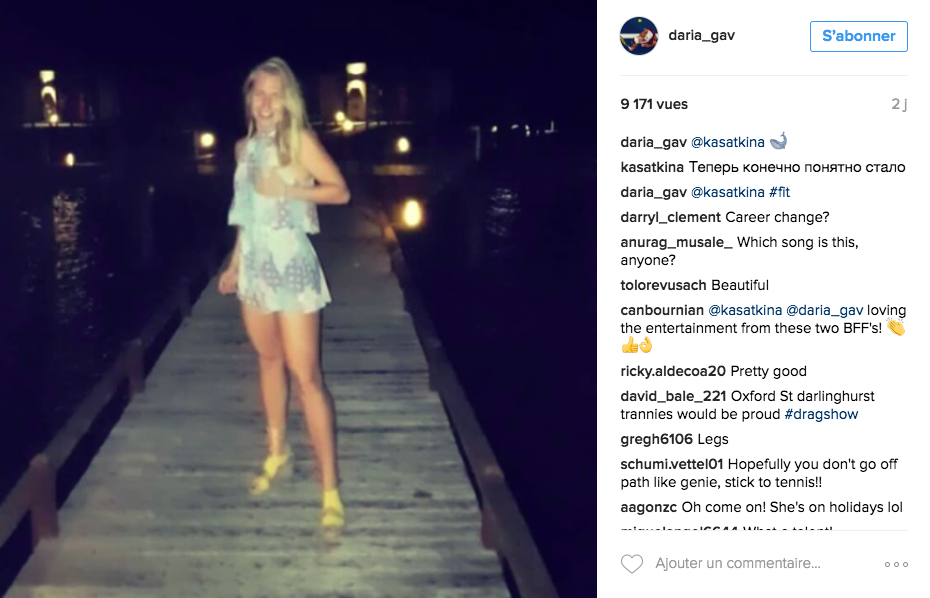 12. Tomas Berdych (NE).
Tomas Berdych watched his wife Ester Satorova cook for him.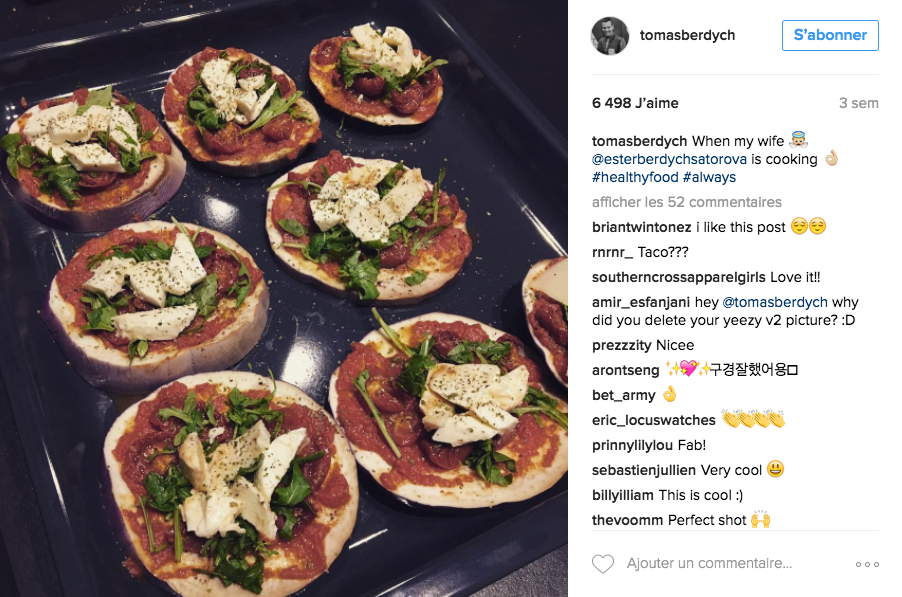 In return, he accepted posing with her for their first « mirror selfie ».
13. Marin Cilic (NE).
The Croatian, defeated in the semi-final at the BNP Paribas Masters, by John Isner's heavy hits (18 aces), was still happy on Monday morning, as the best ranking of his career was made official.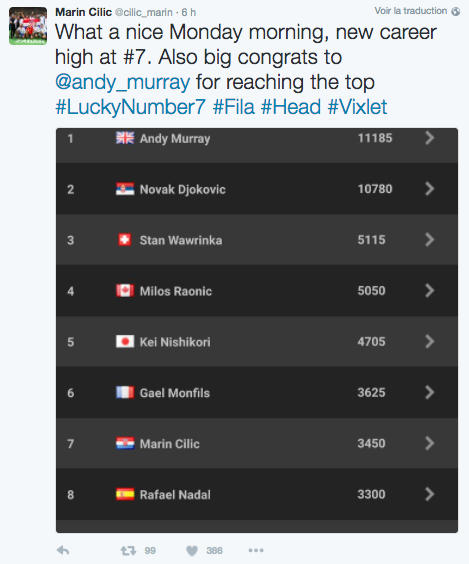 14- Andrea Petkovic (/).
This week, Andrea invented nothing less than the Petkodance.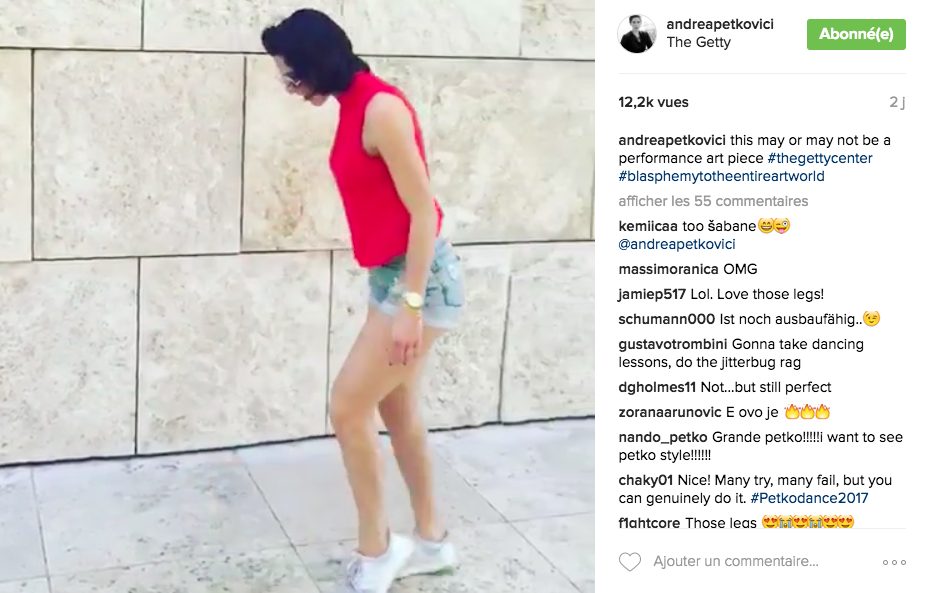 15. Marion Bartoli (NE).
Has Marion Bartoli managed to finish the New-York marathon ?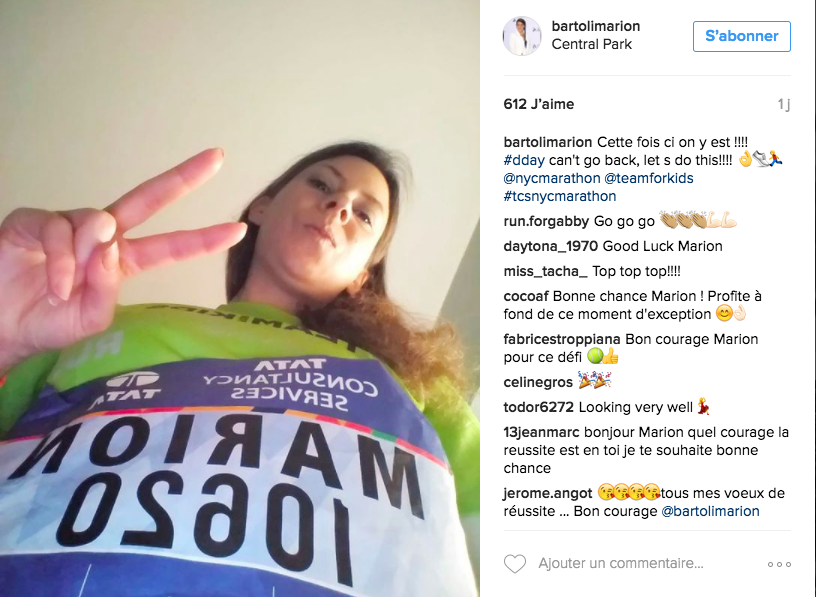 Yes, and she looked very happy.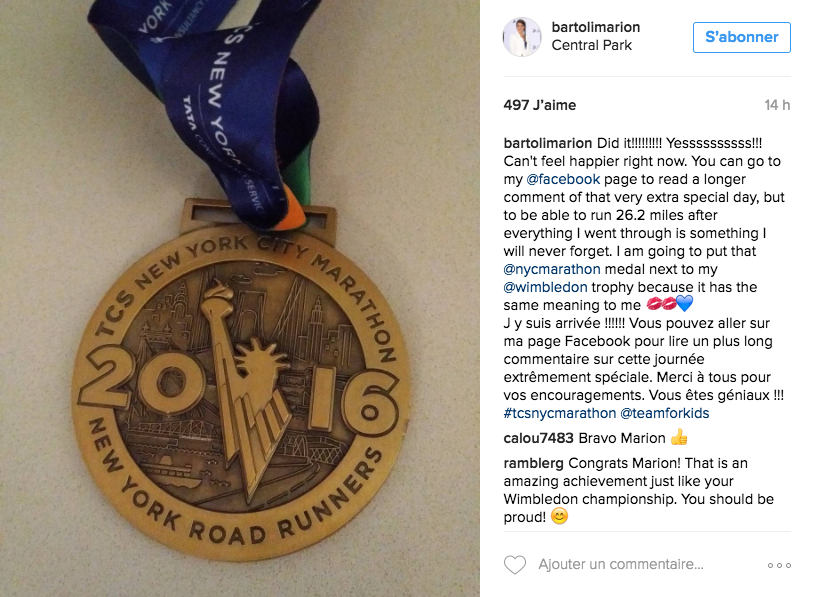 Outs :
Gaël Monfils, Novak Djokovic, Alexander Zverev, les frères Bryan, Anna Kournikova.
By Antoine Mestres