When Roger takes a break on the circuit, his opponents call him back. For an opening ceremony, or a training session. A godsend for the We Are Tennis' offbeat ranking.
When Roger takes a break on the circuit, his opponents call him back. For an opening ceremony, or a training session. Otherwise, this week, in the small world of tennis, we've had fun with make-up, dresses, beers and even…toilets !
1 - Roger Federer (NE).
Having stopped since Wimbledon, Roger Federer is preparing for a return which he hopes will be a lasting one. It's at least what he implied in the newspaper Tages-Anzeiger: « My last stand, which I hope will be in a few years, won't be a single tournament or a match. Otherwise I wouldn't have taken such a long break. » Meanwhile, he still has keep busy. These last few days, King Roger helped his old mates. First Rafael Nadal, for the opening ceremony of his academy in Mallorca.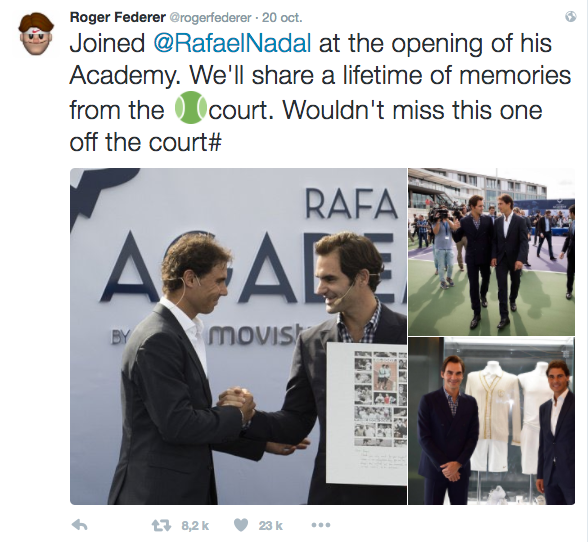 Then Stanislas Wawrinka, who is preparing for the Basel tournament, and who needed a quality sparring-partner. Who better than the local, seven times winner of the tournament ?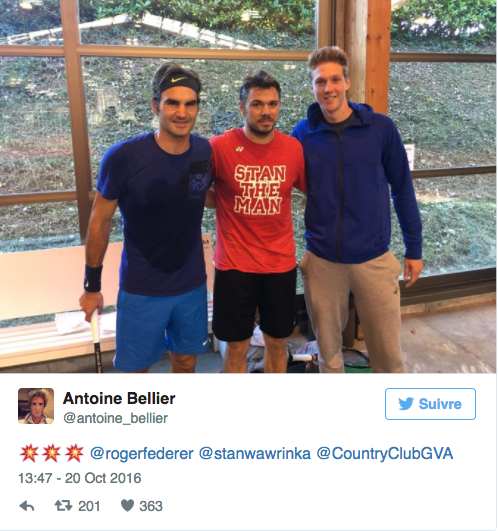 2 - Novak Djokovic (NE).
Novak Djokovic is going through a rough patch, a sort of post-success depression. So everything goes when it takes to cheering up a little. Like running in the morning and chatting with his fans.
Taking part in make-up sessions during his son's birthday.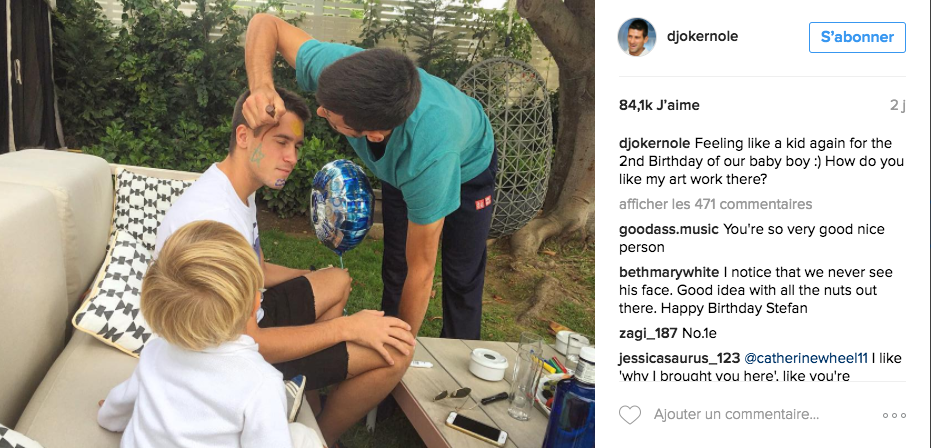 And having fun by the pool.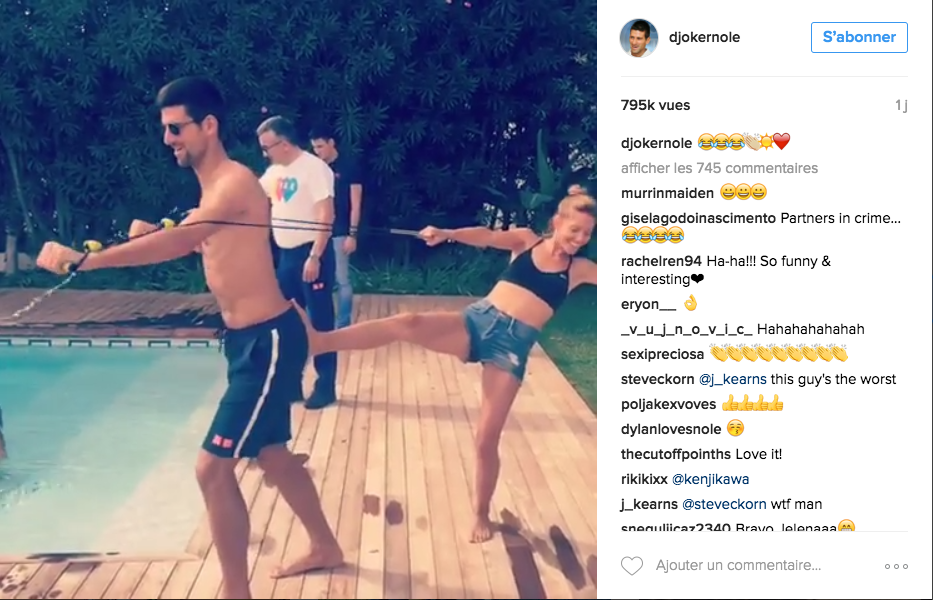 3- Juan Martin Del Potro (NE).
Nobody is doubting it anymore, Juan Martin Del Potro is back for good in the game. The Argentine, after three years of consistent wrist injuries, has won the 19th title of his career in Stockholm, the first since January 2014, against the American Jack Sock (7-5, 6-1). He's now back at the 42nd world spot…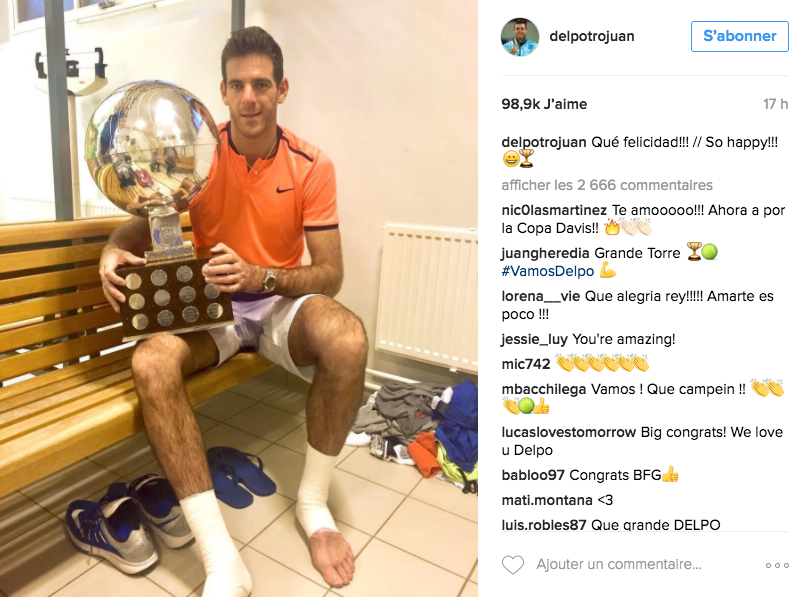 With, by the way, a bit of a heated exchange with an umpire :
A discreet hommage payed to Jimmy Connors ?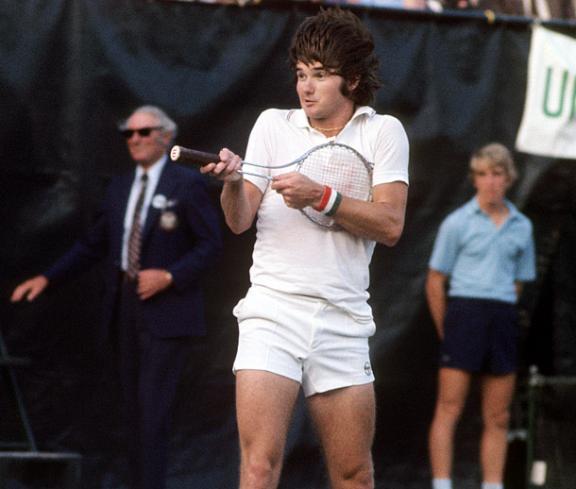 4- Svetlana Kuznetsova (NE).
Having now spent 16 years on the circuit, the Russian Svetlana Kuznetsova has no more time to waste. So this week, she posed alongside her doppelgänger.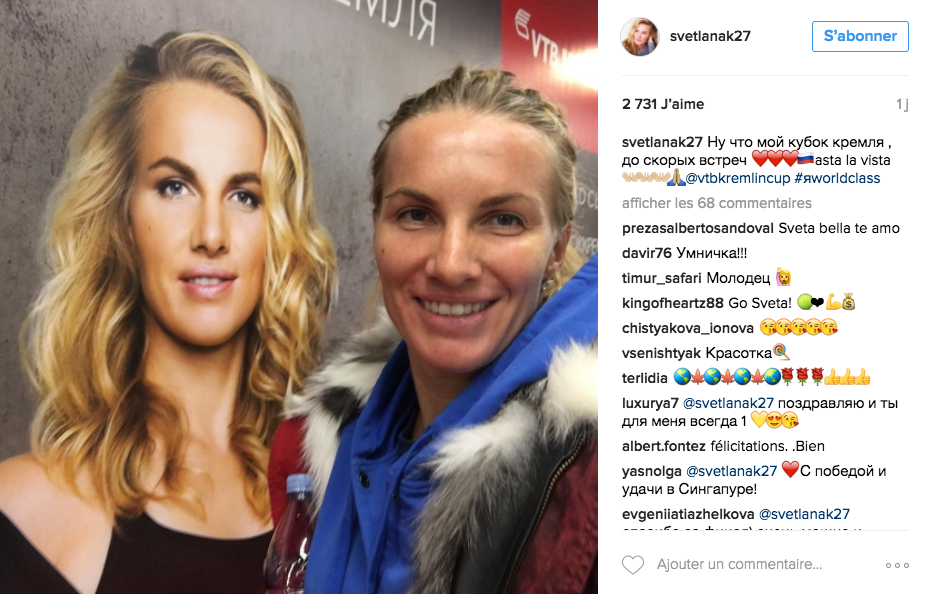 Then she destroyed Daria Gavrilova in two straight sets in the final of the Moscow tournament (6-2, 6-1), managing to qualify for the Masters.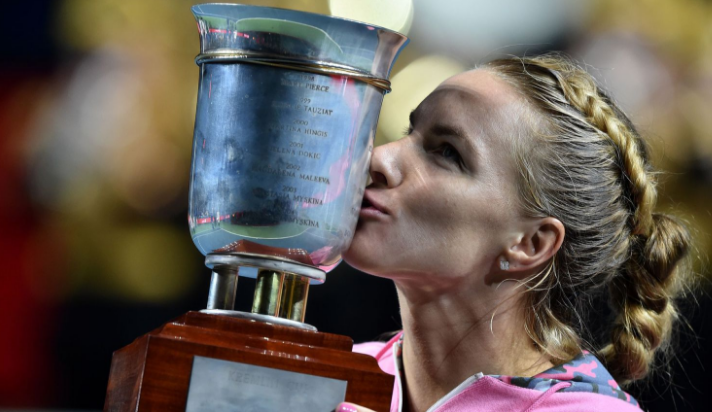 Heading to Singapore…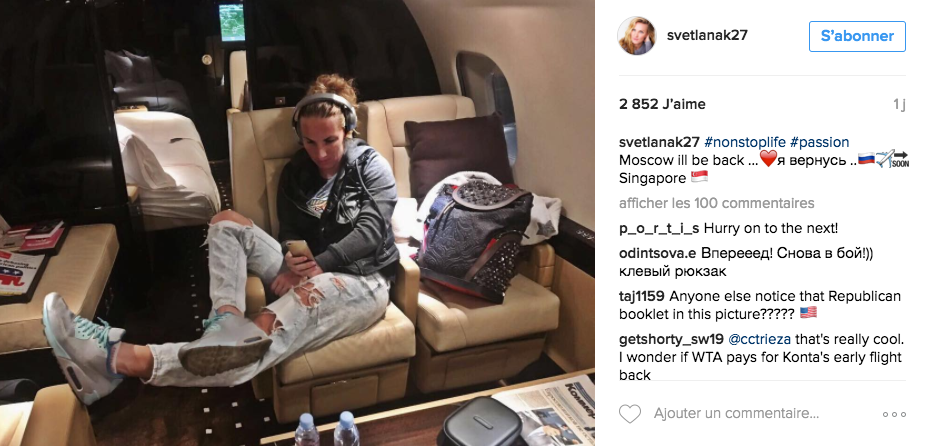 5- Maria Sharapova (-1).
While waiting to make her return on the circuit next April, Maria Sharapova is still living the good life. With a few encounters. Here, Tiger Woods.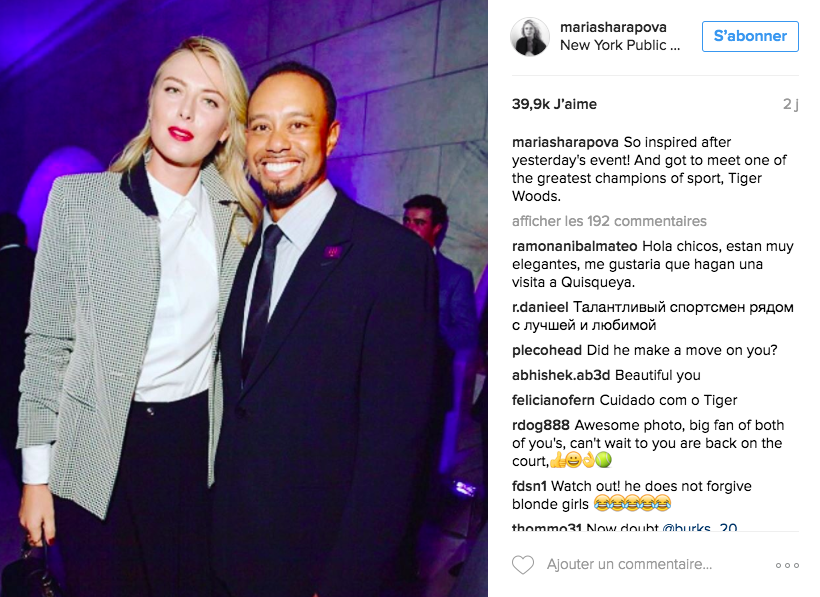 Walks in town.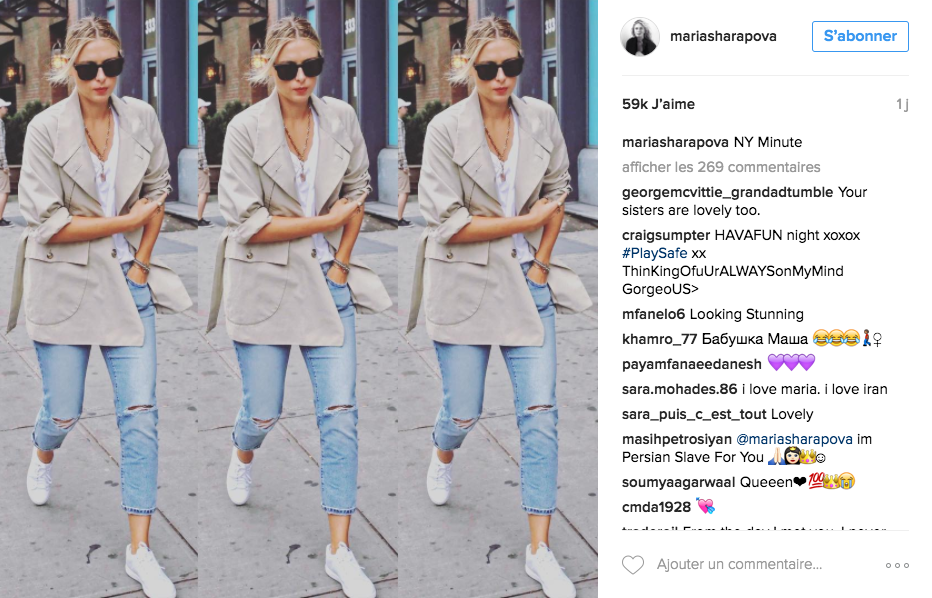 And interviews given to press on the meaning of life.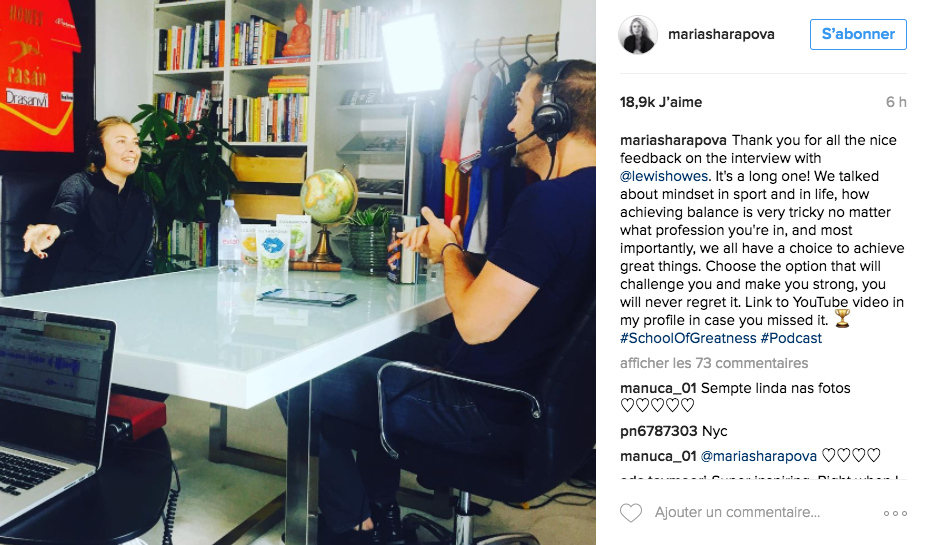 6- Nick Kyrgios (-5).
Despite Nick's suspension, the Kyrgios-Tomljanovic couple sticks together. Here, during training.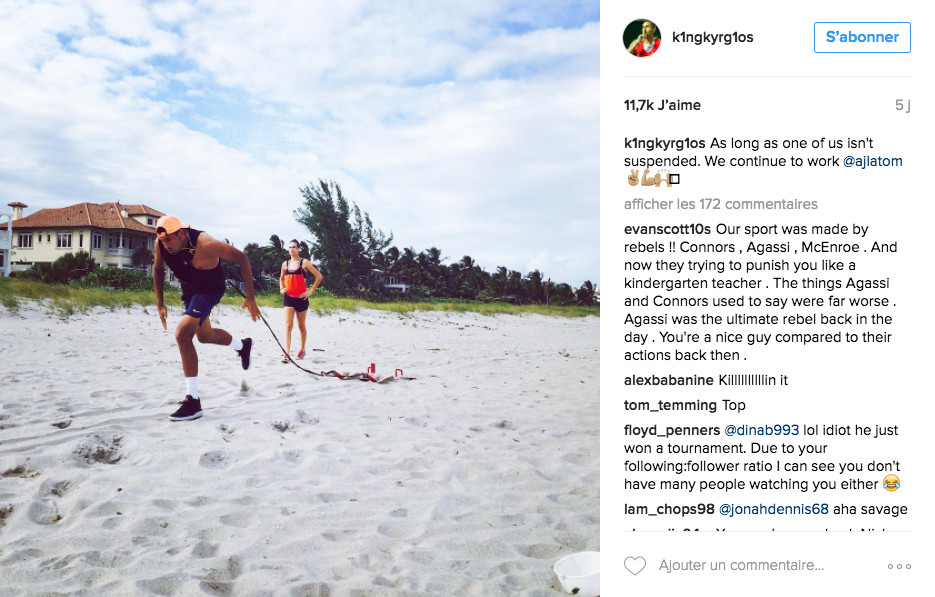 And on the road.

Without forgetting the dog, obviously.
7- Eugénie Bouchard (+2).
Eugénie Bouchard is having a hard time. After Linz, the Canadian lost again in the first round, in Luxembourg this time. After that, she had to change her mind. At a fashion show, with a bare-chested model.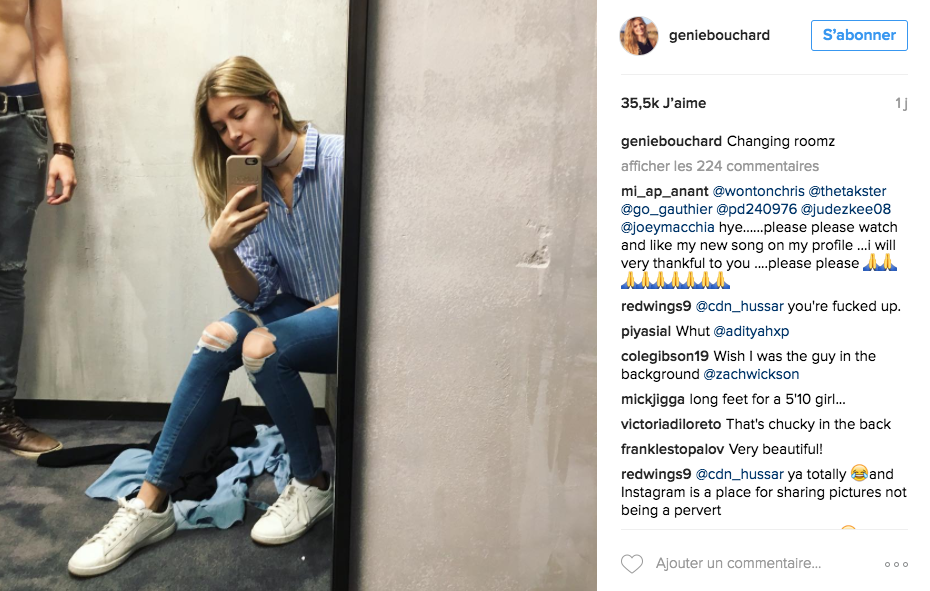 With friends.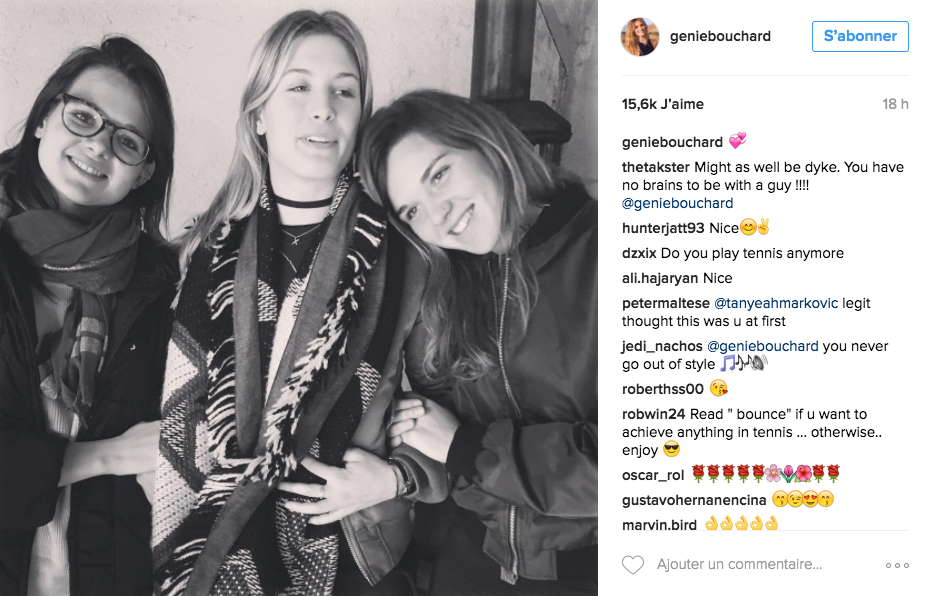 In the Swiss mountains, to breathe pure air and feel the strong wind.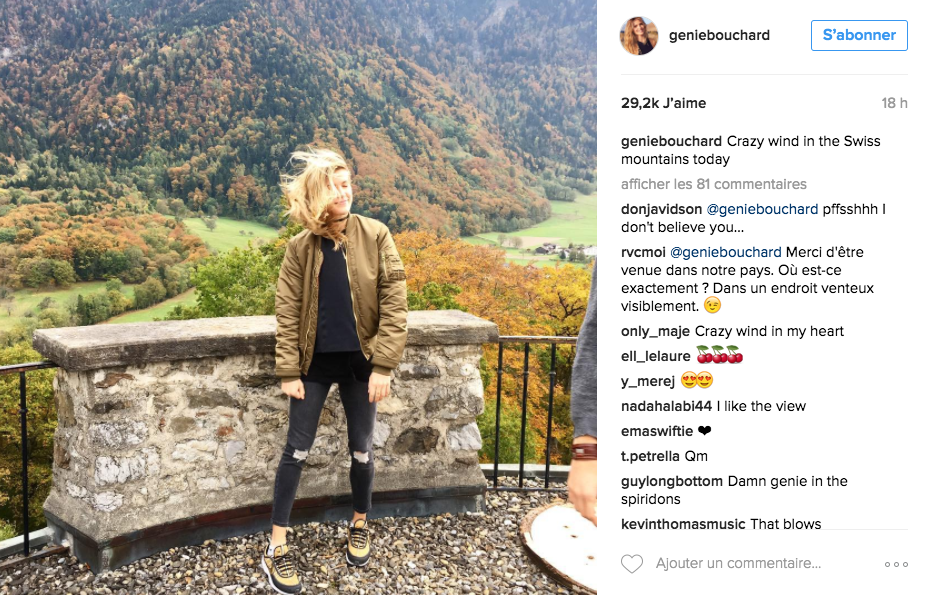 Which she proved with a video.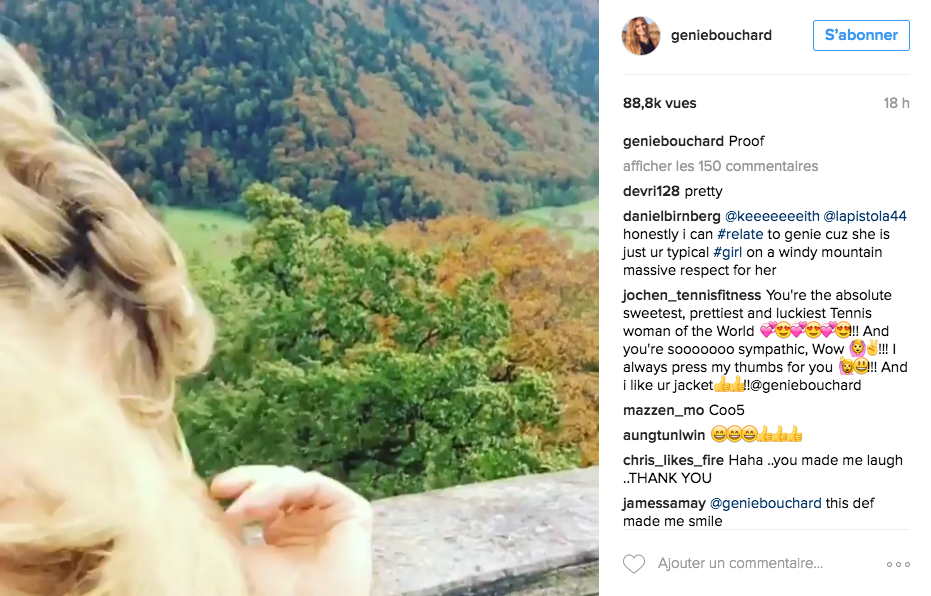 8- Daria Gavrilova (NE).
How do you win a tight double ? The Australian born-Russian Daria Gavrilova has made her choice : by knocking out her opponent Ekaterina Makarova. The proof in pictures.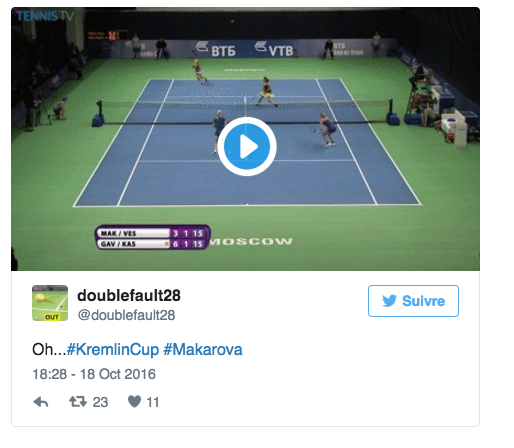 Just after that, the pair Gavrilova/Kasaktina defeated the pair Makarova/Vesnina 10-6 in the super tie-break. Good call.
9- Serena Williams (-6).
Serena Williams made the most of her withdrawal in Singapore to try her luck in fashion. For Versace first.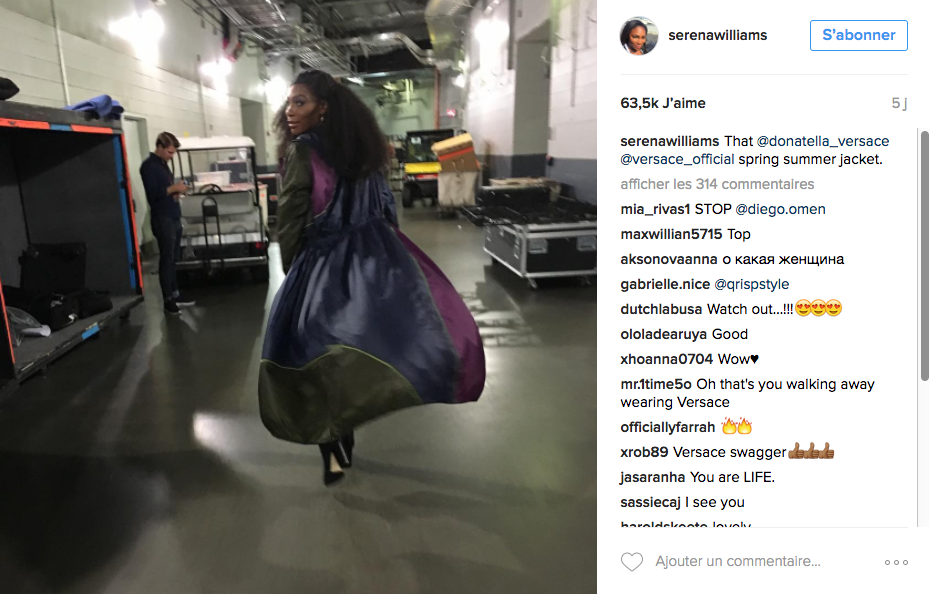 For Armani next.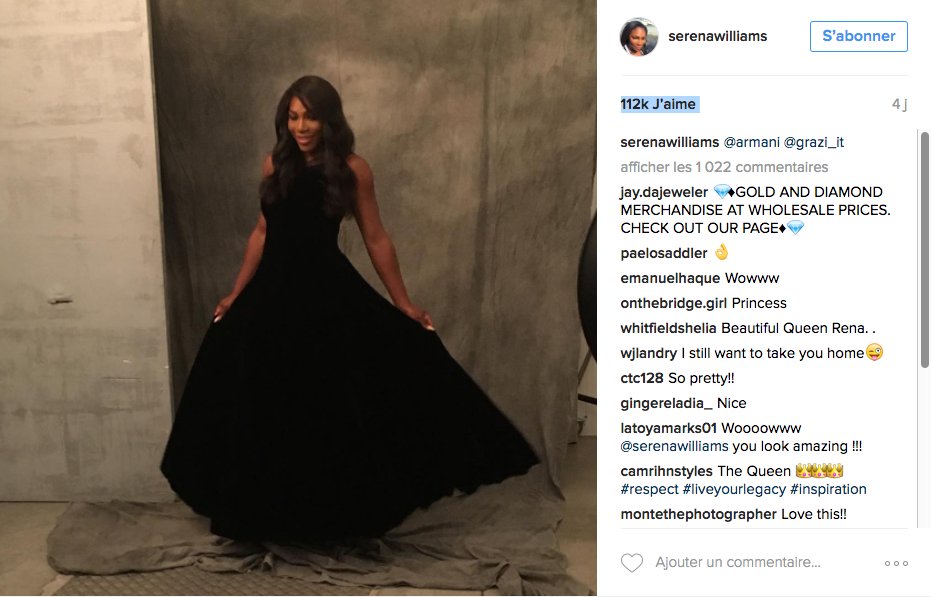 Then for Nike, her lifelong sponsor, in an obviously more sportswear atmosphere.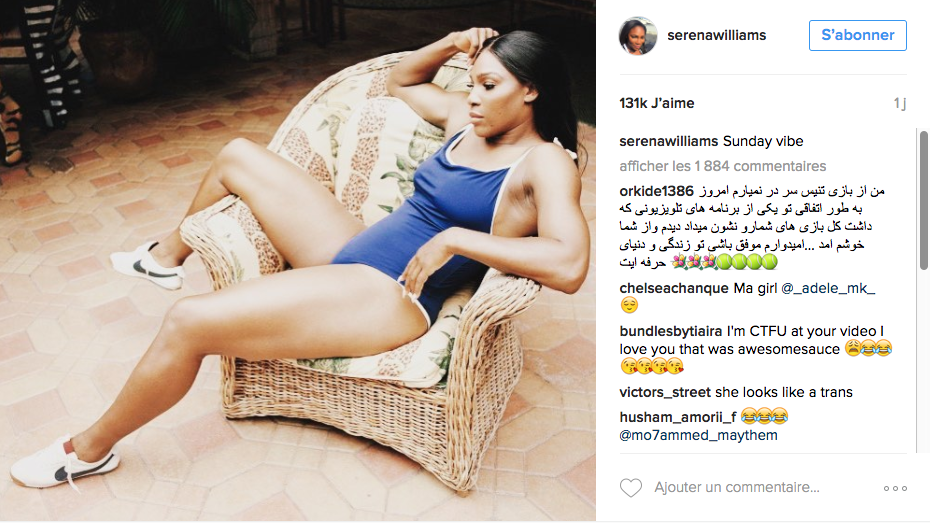 Before taking a selfie in her bathroom. On a different note.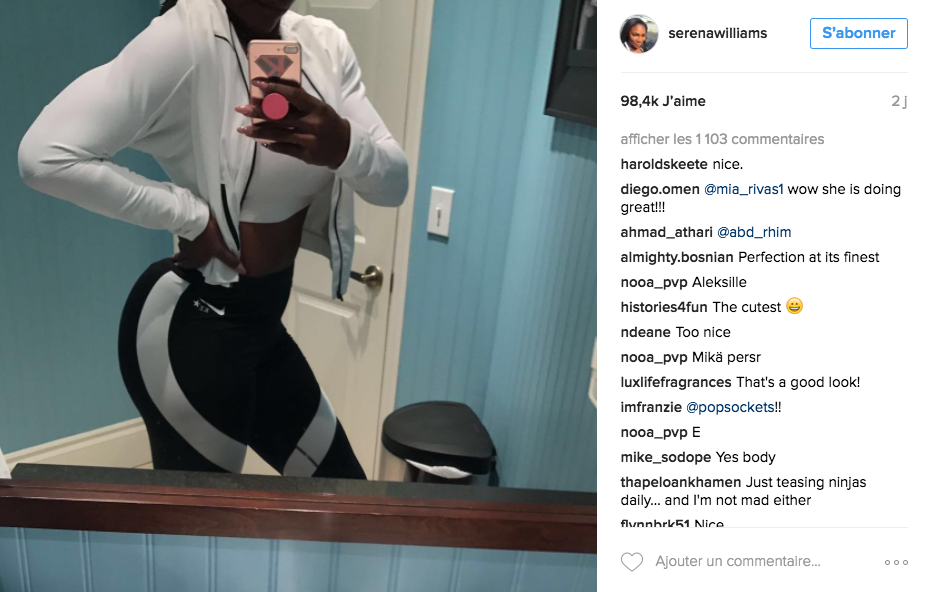 10 - Tommy Robredo (NE).
Quickly defeated (6-2 6-2) in the first round of the Anvers tournament, Tommy Robredo decided to react with humor.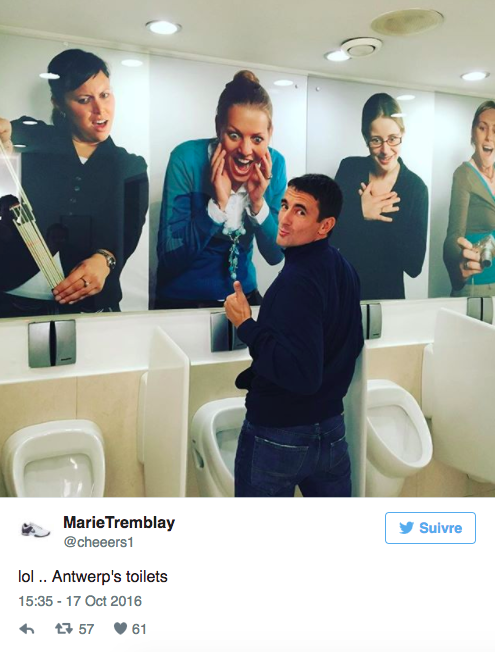 11- Yevgueni Kafelnikov (NE).
Yevgeni is still alive and he visibly looks in shape.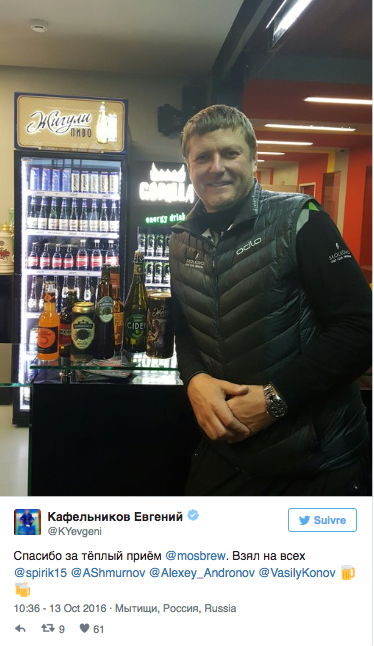 12- Fabio Fognini (NE).
Defeated in the final in Moscow by Carreno Busta, Fabio was however keen on sharing love messages. With his father first.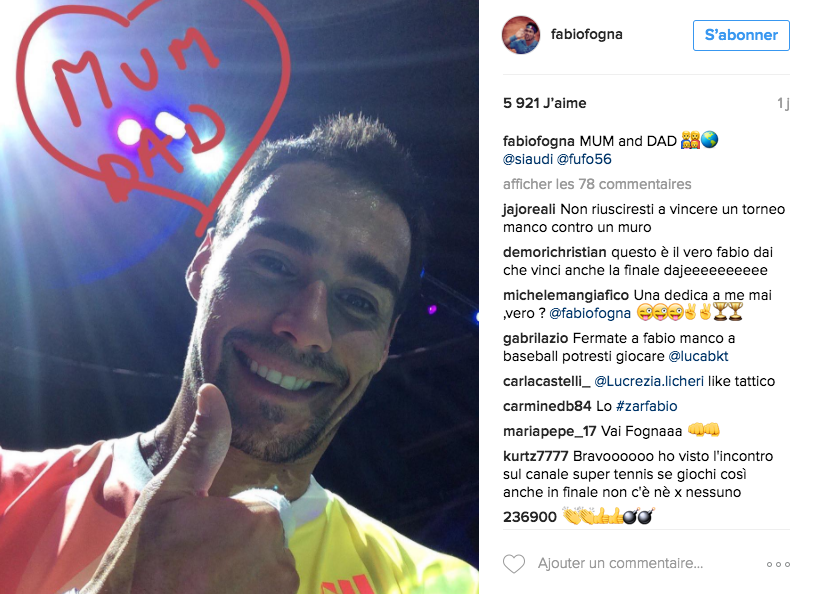 With his sister next.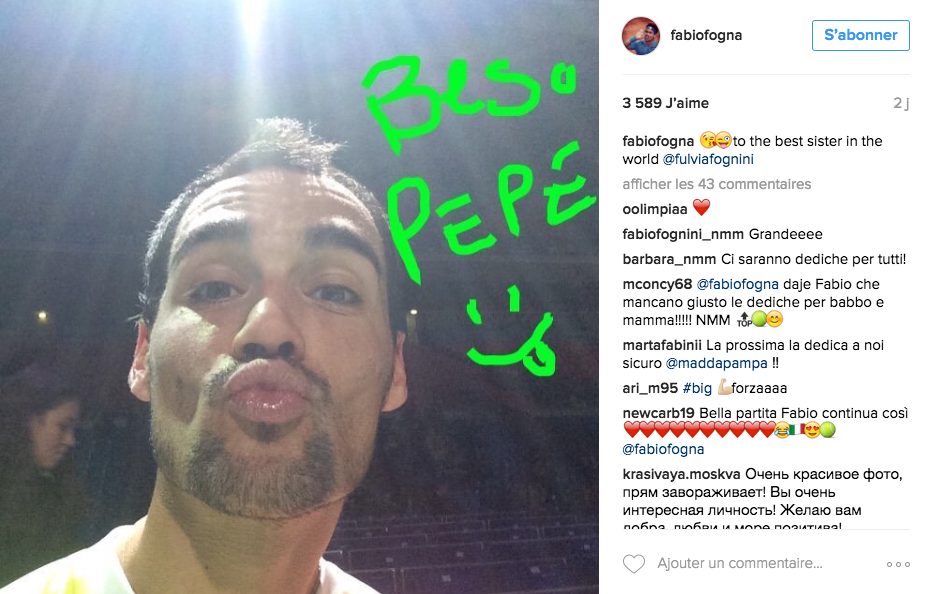 Which brings us to a question : has Fabio changed ?
13- Alexander Zverev (-3).
This week, the young German hope made a ballboy cry with an ace. Then he wanted to offer him a present but the ballboy left. Fail.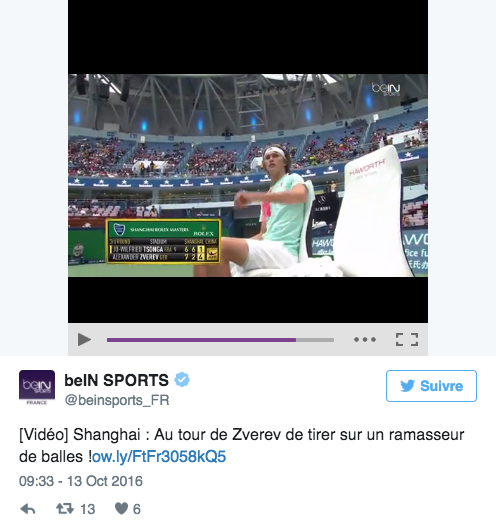 14- Gastao Elias (NE).
How do you celebrate a win in the first round of the Stockholm tournament against Gaël Monfils ? The Portuguese Gastao Elias, world number 61, gives us an answer : by imitating Cristiano Ronaldo.
On the ATP's website, the Portuguese justified his choice with a promise: « I promised someone I would do it if I won. » Who ? We'll never know.
15- Caroline Wozniacki (-10).
Since she has won in Tokyo and Hong-Kong, Caroline needs to rest. Proof here.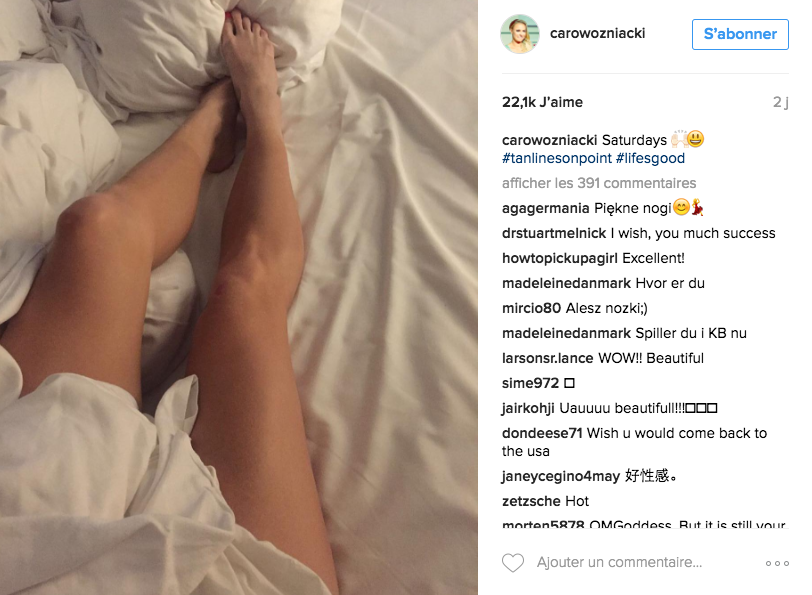 Outs :
Andy Murray, Dominika Cibulkova, Rafaek Nadal, David Goffin, Roberto Baptista-Agut, Johanna Konta, Carla Suarez Navarro, Flavia Pennetta, le chien d'Anna Kournikova.
By Antoine Mestres