How do you go from glory to a long suspension in a couple of days? Nick Kyrgios shows the way. A life lesson which enables him to take the first spot of our offbeat ranking.
How do you go from glory to a long suspension in a couple of days? Nick Kyrgios shows the way. Meanwhile, the rest of the circuit danced, did the hula hoop and drank coffee.
1- Nick Kyrgios (+1).
Nick Kyrgios never disappoints. This week, he entertained the circuit again. Firstly by throwing away his match against Alexander Zverev. How ? With this type of point.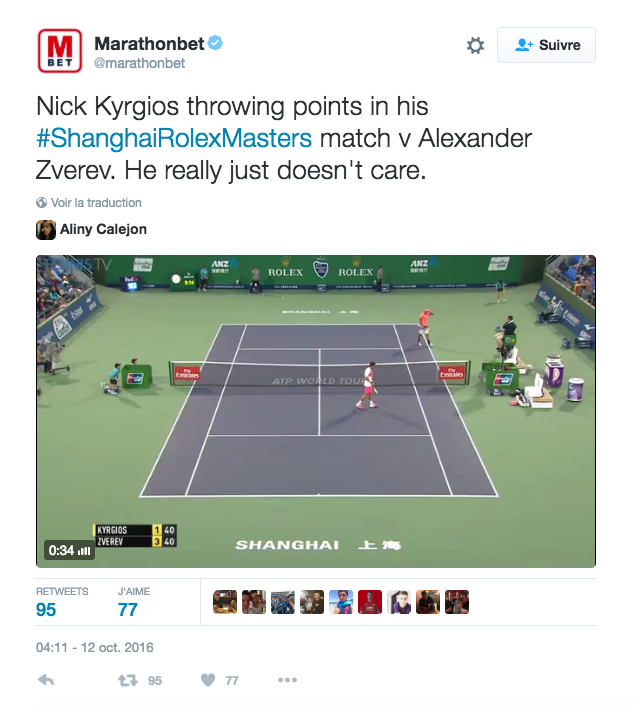 Also by throwing in a couple punchlines.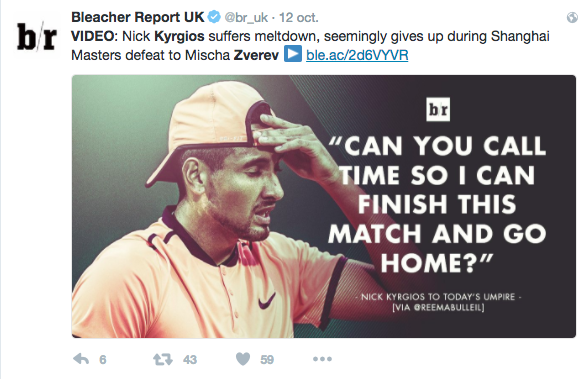 Then by receiving, for the whole of his actions on and off the courts, a 16 500 dollars fine from the ATP, and a suspension until January 15th, 2017, just before the Australian Open. All of this after having won the Tokyo tournament the previous week…So Nick went to console himself in the arms of his girlfriend Ajla Tomljanovic.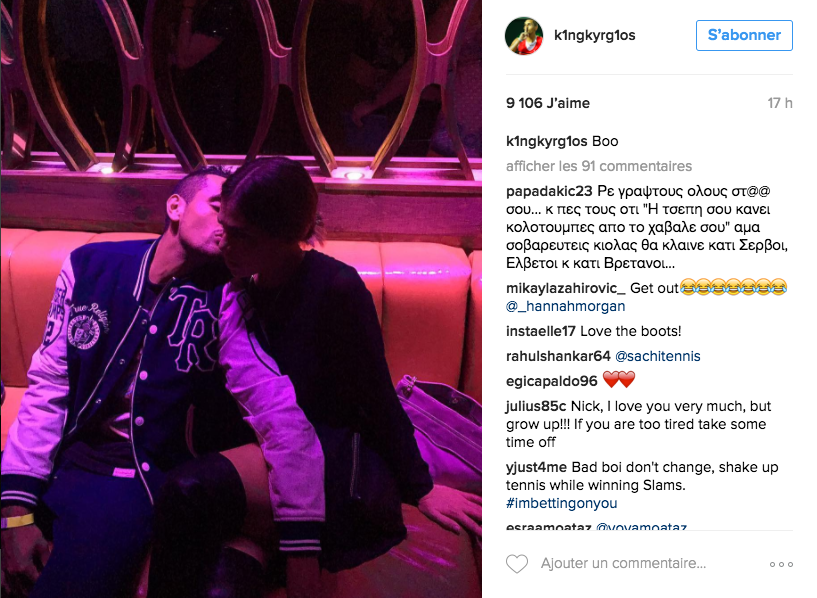 2- Andy Murray (+4).
Winner of the Shanghai Masters 1000, Andy Murray has won his sixth title of the season.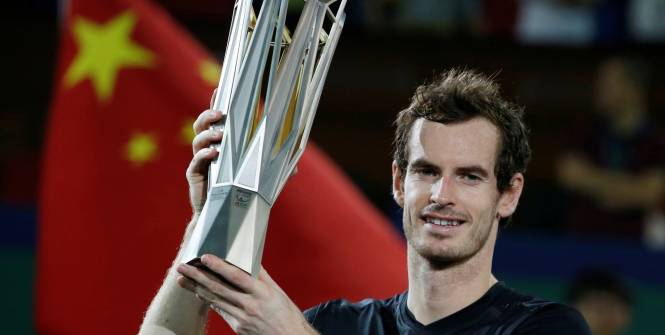 With a few hot shots along the way.
Which puts Novak Djokovic's first place at the ATP Ranking in reach…
3-

Serena Williams (+1).
Serena won't be able to play the women's tennis Masters in Singapour and she informed the world with a video:
Which didn't stop her from showing us a few dance moves.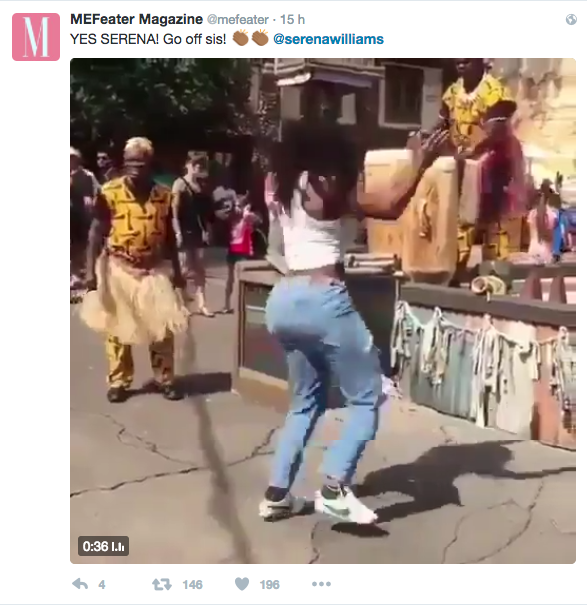 Or from supporting education programs.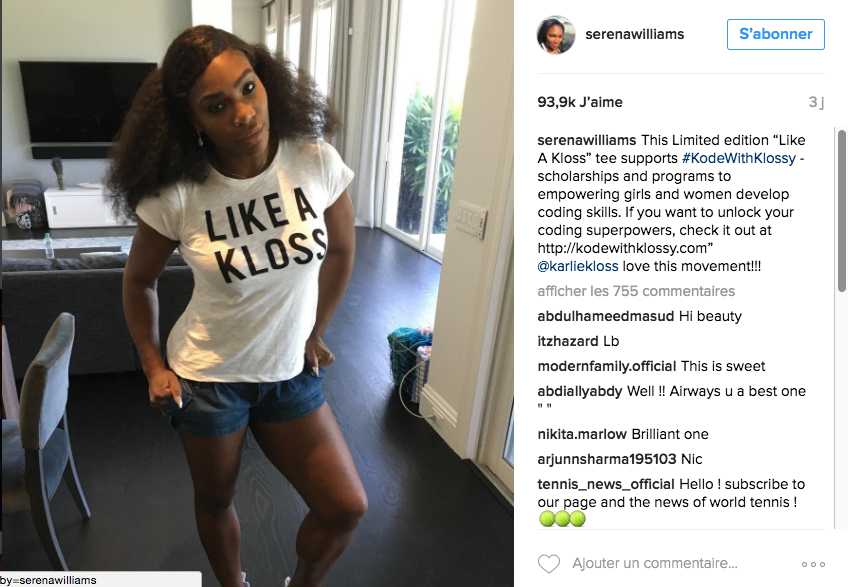 4-

Maria Sharapova (-1).
How do you deal with autumn coming in ? Maria Sharapova gives us a few answers.
1. By taking poetic pictures.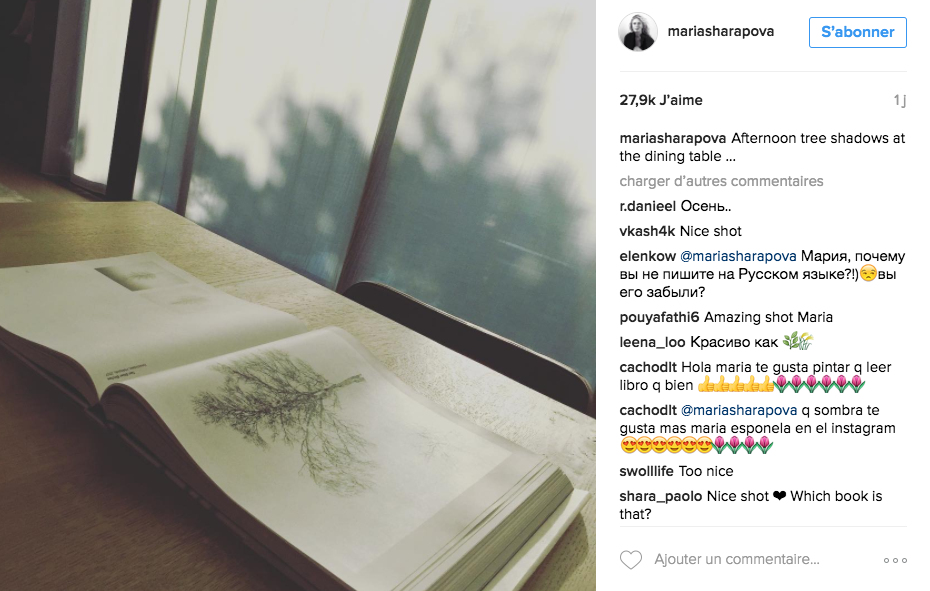 2. By unwinding on the ring.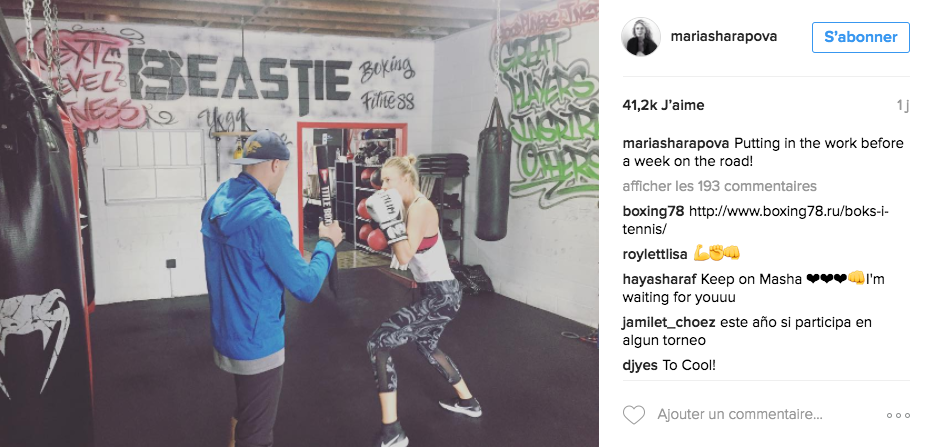 3. By getting back on the courts. After all, her return on the courts of the WTA circuit is in eight months.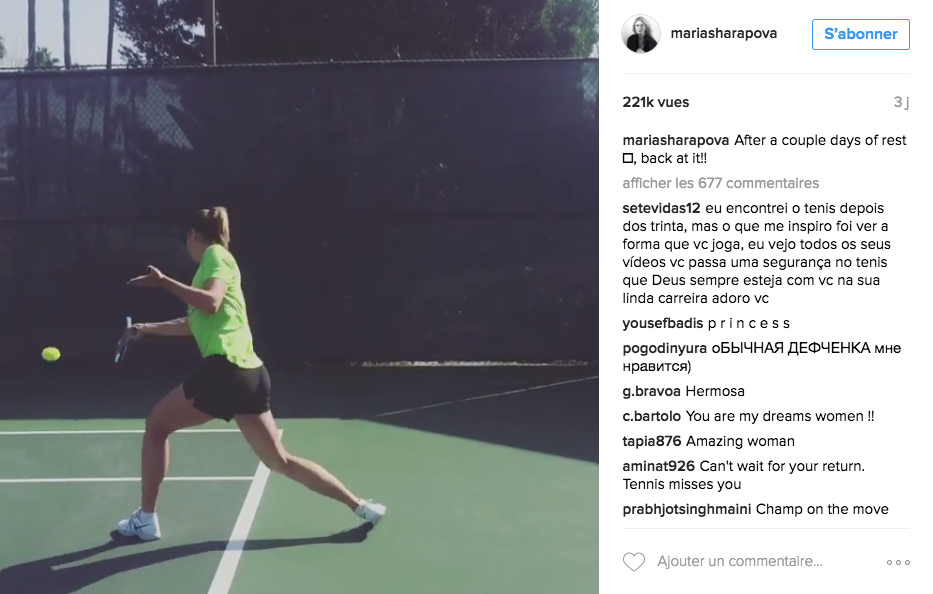 5- Caroline Wozniacki (NE).
After winning in Hong-Kong (after Tokyo) against Kristina Mladenovic in the final (6-1, 6-7, 6-2), Caroline Wozniacki is definitely back in the game.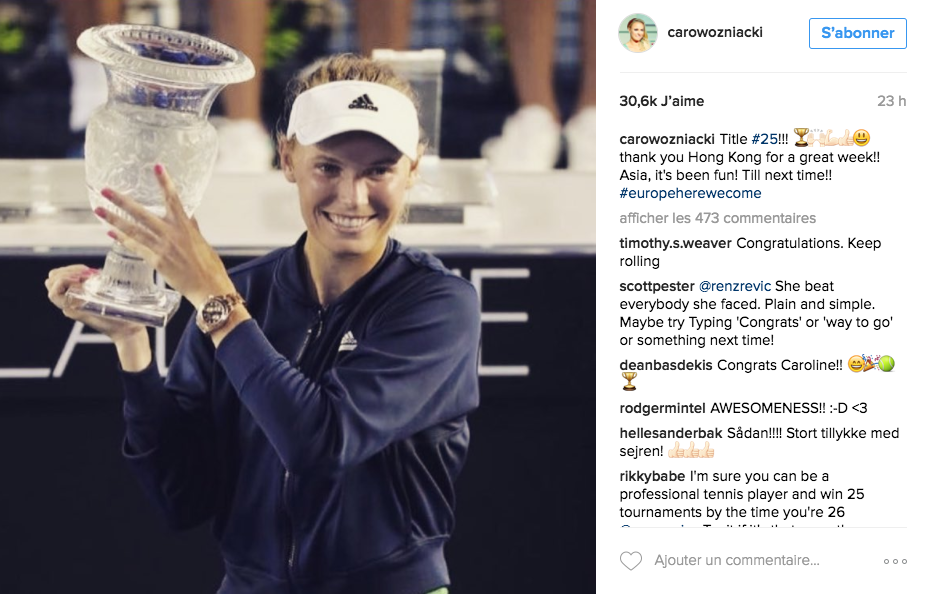 As often in moments of euphoria, we look back to the past. So Caroline remembered her first entry in the tournament, in the doubles alongside Venus Williams, ten years ago.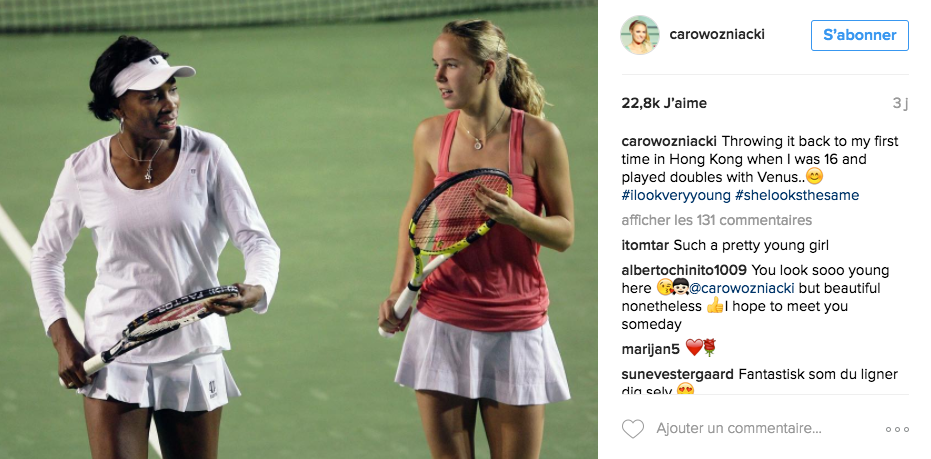 6- Dominika Cibulková (NE).
This week in Linz, before winning, Cibulková felt like taking pictures of herself…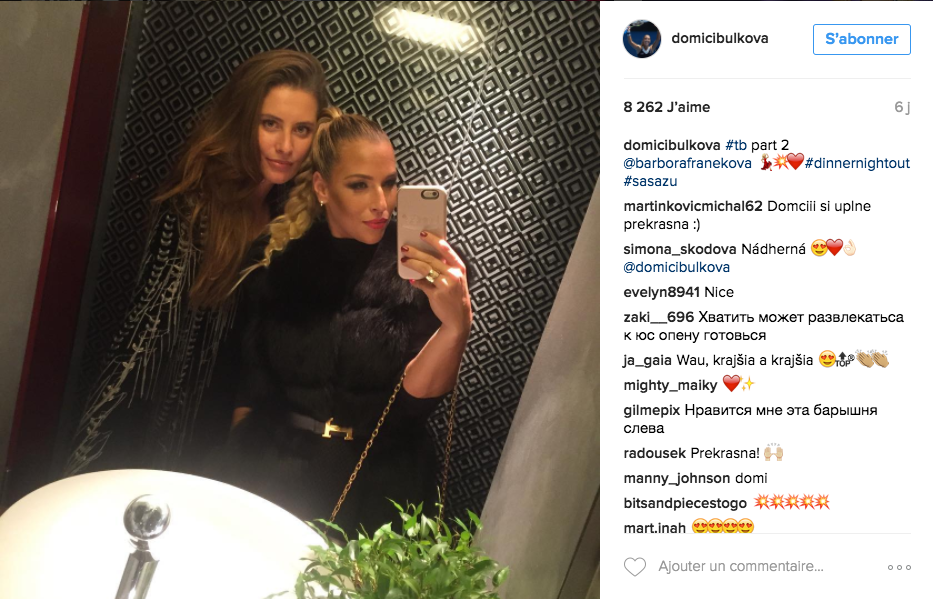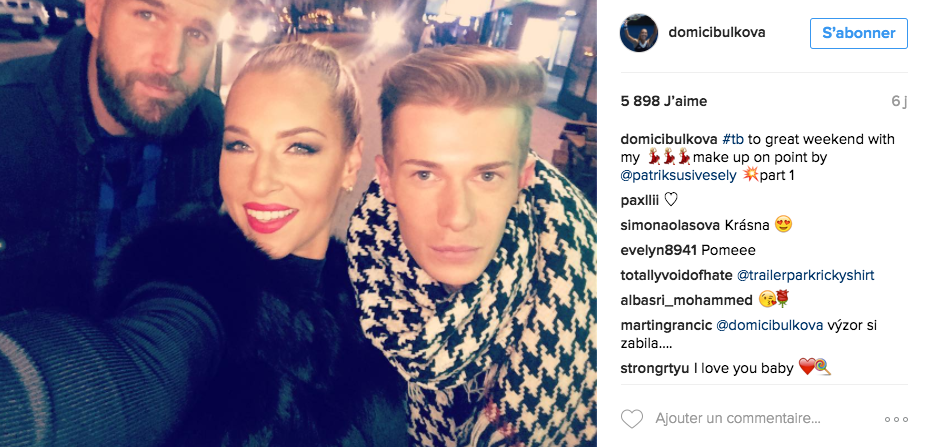 Maybe because she's starting to be on magazine covers at home, in Slovakia…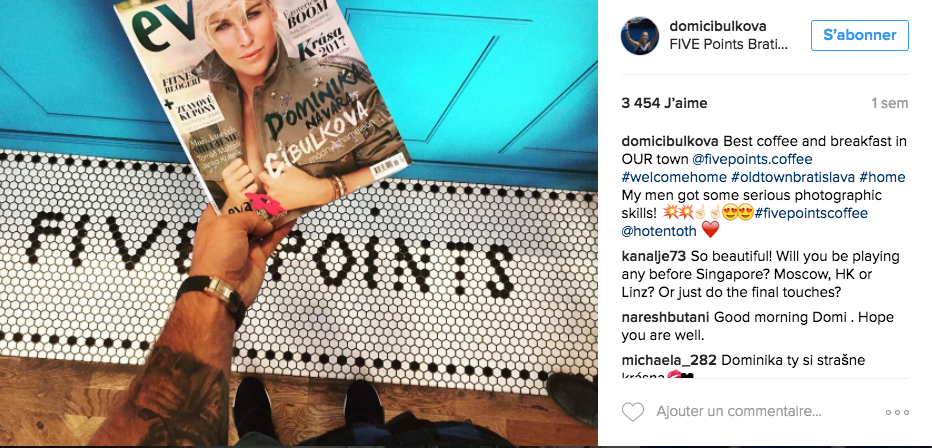 7- Rafael Nadal (NE).
After his defeat in Shanghai in the first round, Rafael Nadal seemed tired, and lost. During the press conference, the Spaniard notably said : « I cannot say now what I'm going to do during the next month. I'm not 100 percent sure about my calendar, the things I need to do to be ready for the next year. » Invited by the radio station Cadena Ser, Toni Nadal put his hands back on his protégé's communication and sent a few messages : « I see Rafa's retirement far away, I'd say in probably four years. He's well on the circuit. Rafa lacks tranquility and when a problem arrives, everything seems bigger. » Alternatively, the player, who's not among the Top 5 anymore, seemed in shape in the new Nike advert.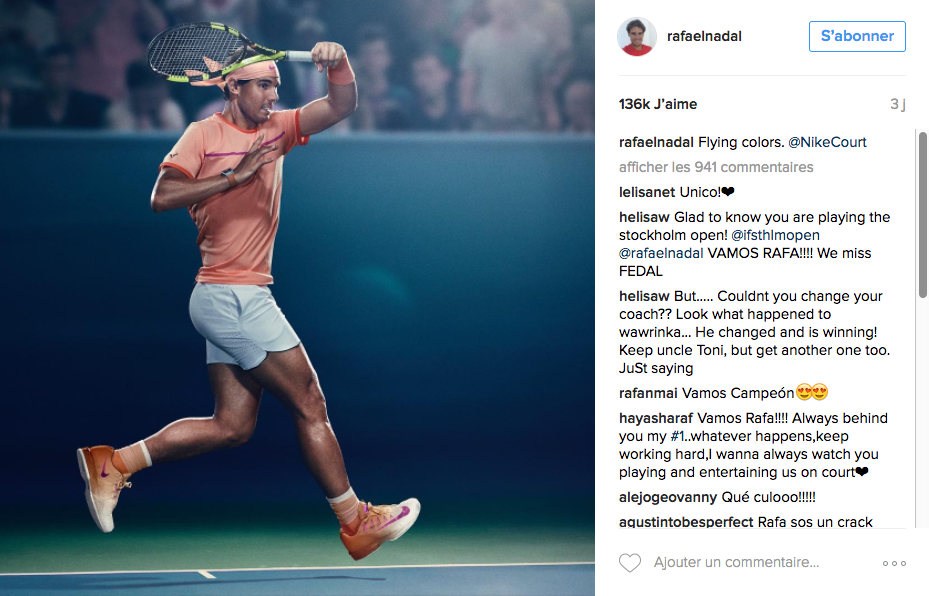 To send the competition a last message ?
8- David Goffin (+6).
Defeated by Kyrgios in the final in Tokyo, David Goffin needed a few cups of coffee to carry on with a new week in Shanghai.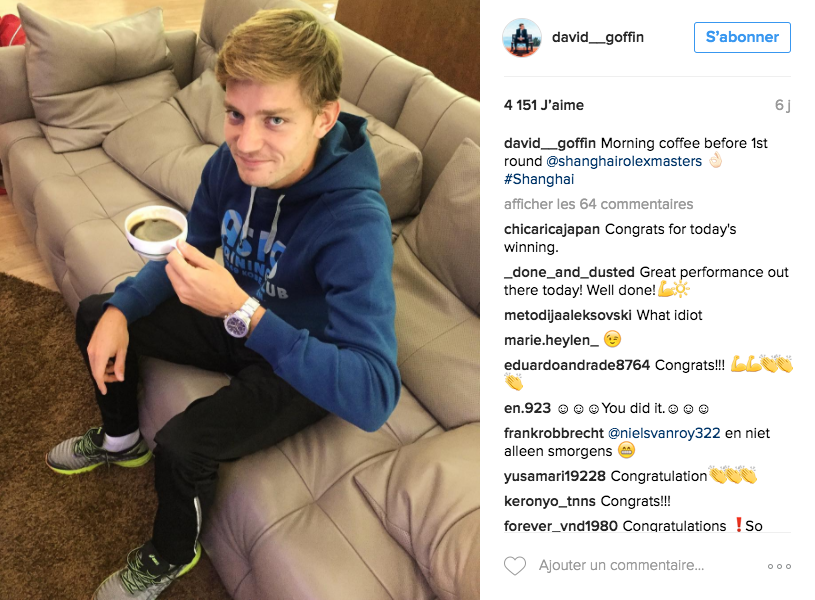 Where he was stopped in the quarter-final.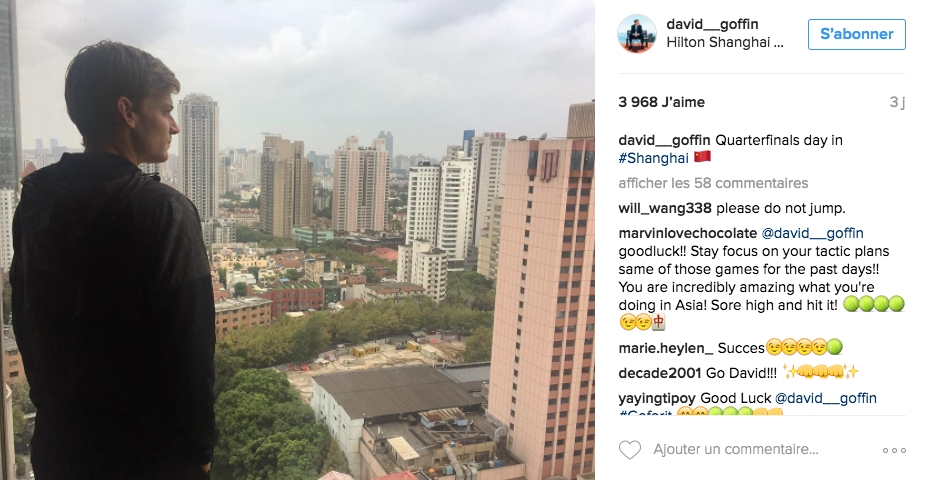 9- Eugénie Bouchard (NE).
Eugénie has had a string of bad results lately. So she carries on training…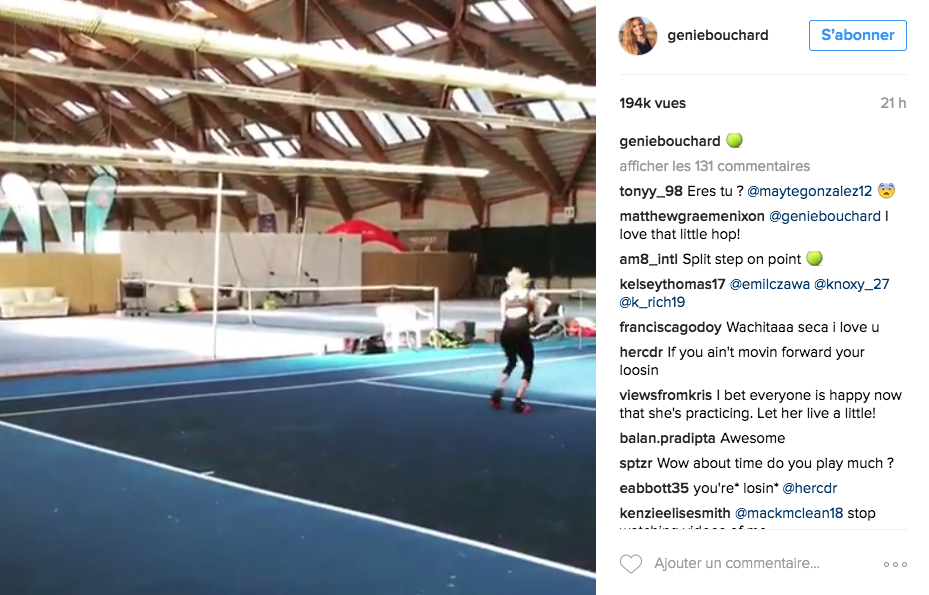 …and enjoys the room service of the nice hotels she is staying at.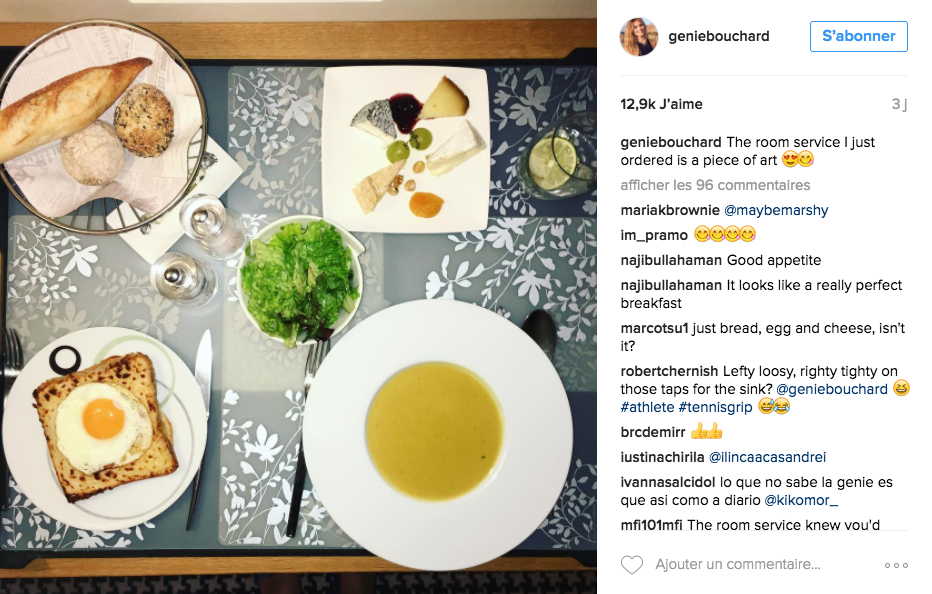 Without forgetting to have a bit of fun. Here, in the middle of a hula hoop session.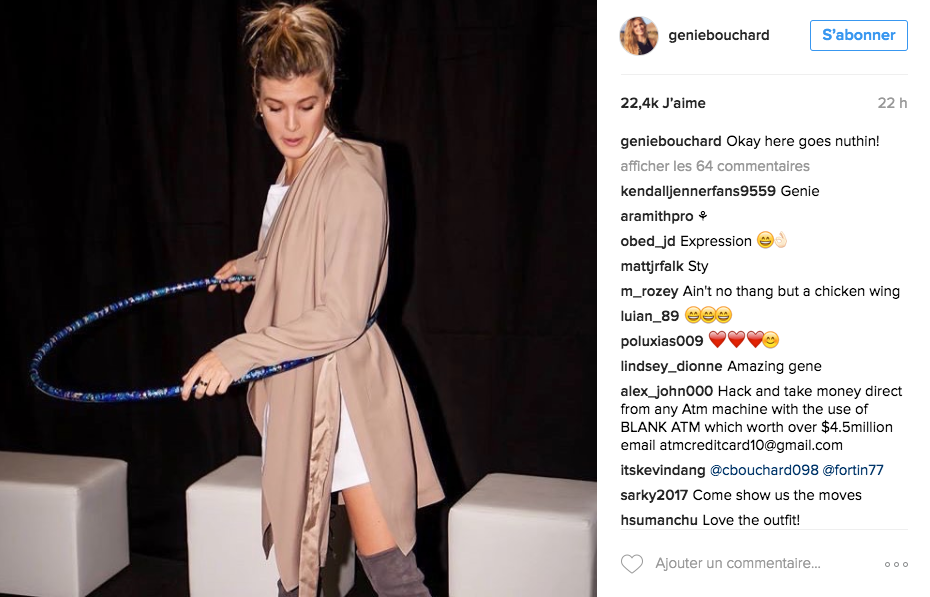 10- Alexander Zverev (NE).
The young German with a bandana is starting to make a name for himself. Defeated in the quarter-finals in Shanghai, the world number 20 has showed that he was what we call a « counter-attacker ».
11- Roberto Bautista-Agut (NE).
In China, Bautista-Agut (world number 13) has defeated Novak Djokovic in the semi-final. Which truly deserved a picture.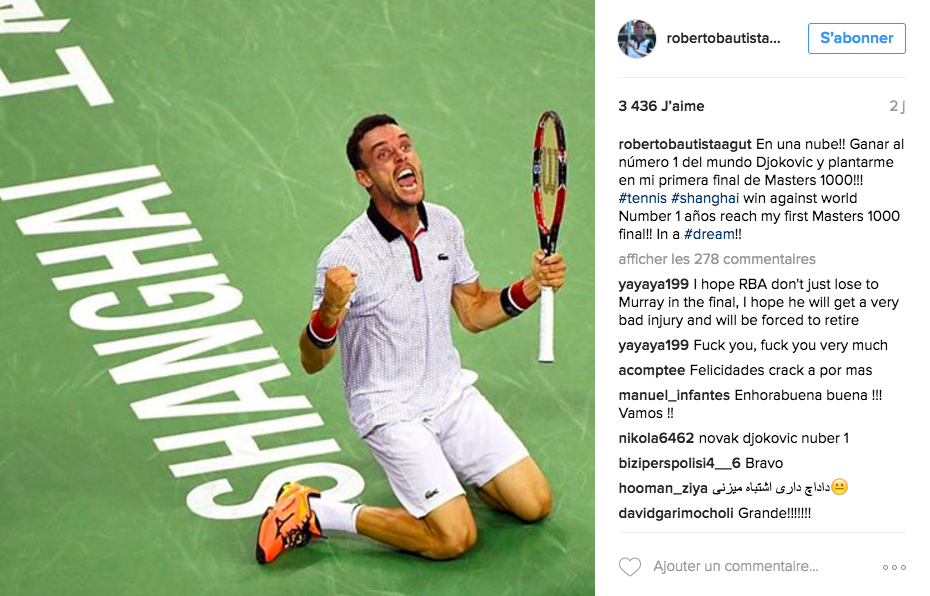 And a shoutout to his parents.
12- Johanna Konta (-2).
The British tennis player consoled herself after her lost final in Shanghai in Eastbourne's semi-darkness, in the south of England.
13- Carla Suarez Navarro (NE).
The Spanish player lost in the semi-final in Linz.
Not too bad after all, as she was able to pose with a plush tiger.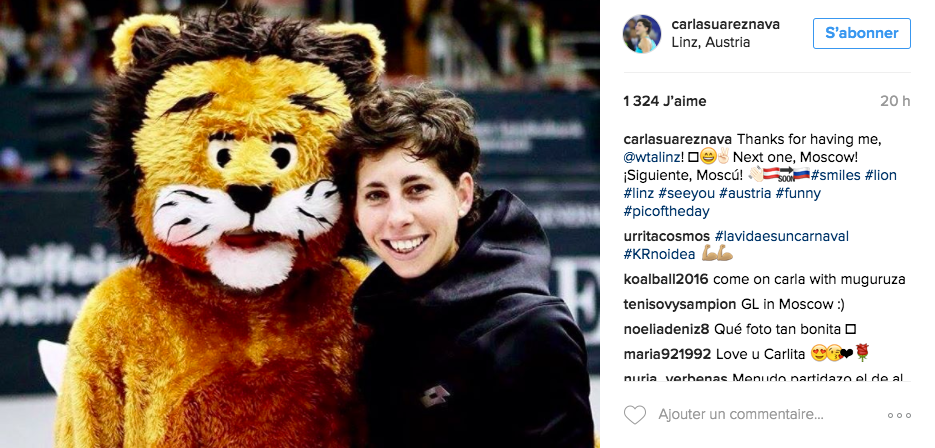 14- Flavia Pennetta (NE).
Everything is going for the best in Flavia Pennetta and Fabio Fognini's love world.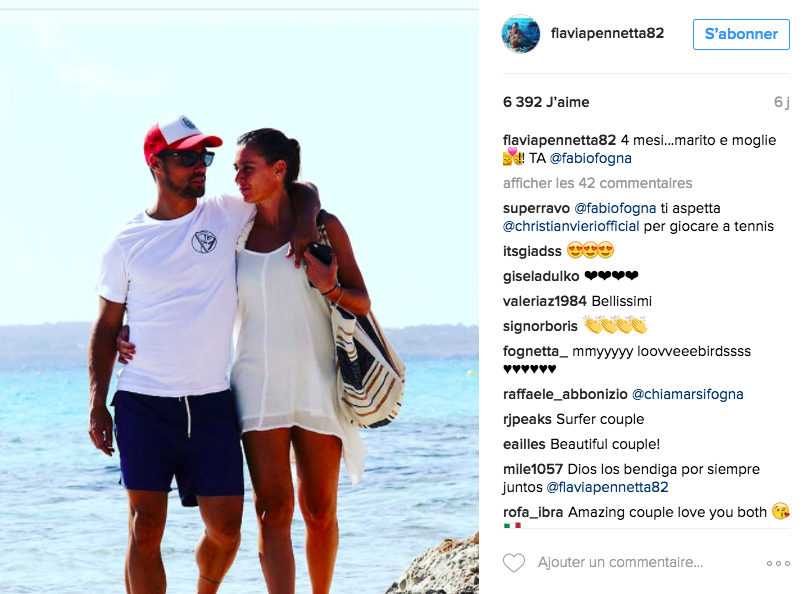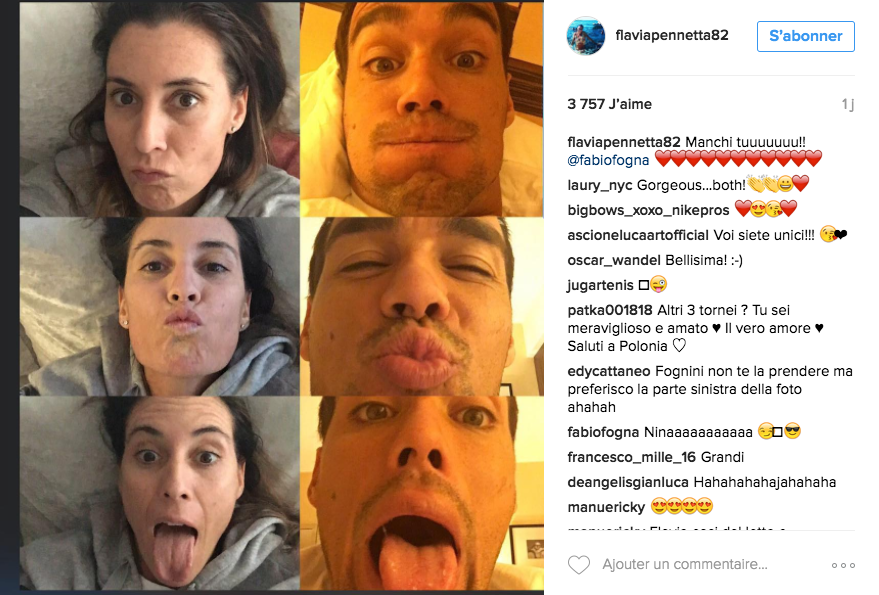 15- Anna Kournikova's dog (NE).
Anna's dog is on form, as he has just celebrated his fifth birthday.