Absent of the circuit for a few weeks now, Roger Federer should make his return at the start of next season. Meanwhile, he's been working on his public image during the Paris Fashion week.
Absent of the circuit for a few weeks now, Roger Federer should make his return at the start of next season. Meanwhile, he's been working on his public image during Fashion week, and is therefore ranked number 1 in our weekly ranking, in front of a gourmet Kyrgios, and a Sharapova who's seen her suspension being lifted earlier than she initially thought.
1- Roger Federer (NE).
His fans are longing for him to come back. They'll still need a bit of patience : Roger Federer should make his return on courts at the start of next season. Meanwhile, he was one of the stars of the Paris Fashion Week, with a very classical, almost austere, style…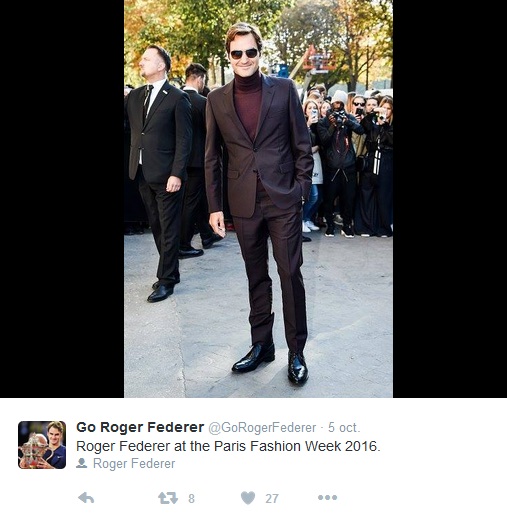 He saw Anna Wintour, Fashion's Pope, at the Chanel show…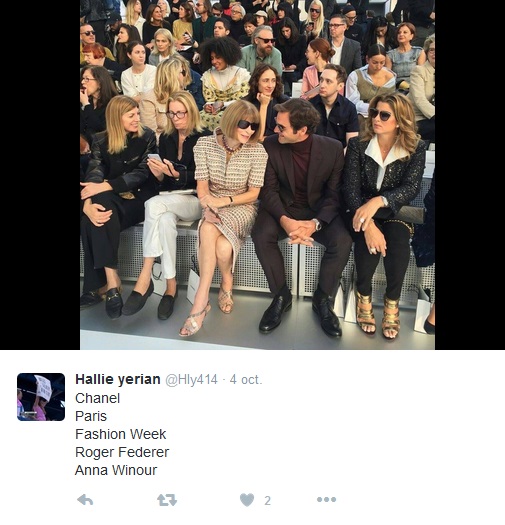 …but also Bernard Arnault, chairman of LVMH, at the Vuitton show (out of respect for Federer, we won't be commentating his sneakers-turtleneck combo…).
…and actresses Jennifer Connelly and Alicia Vikander.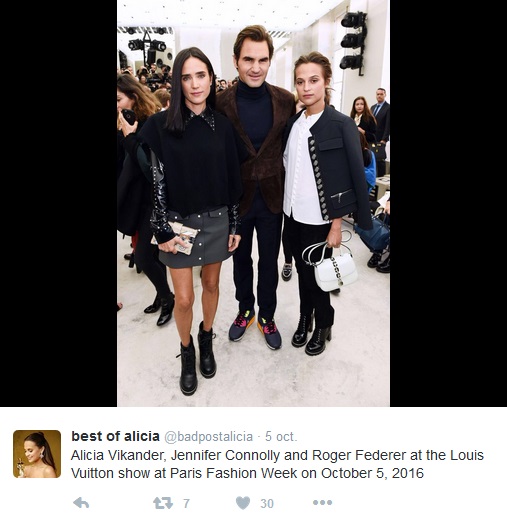 Promise, the Swiss hasn't forgotten to train hard, here's the proof :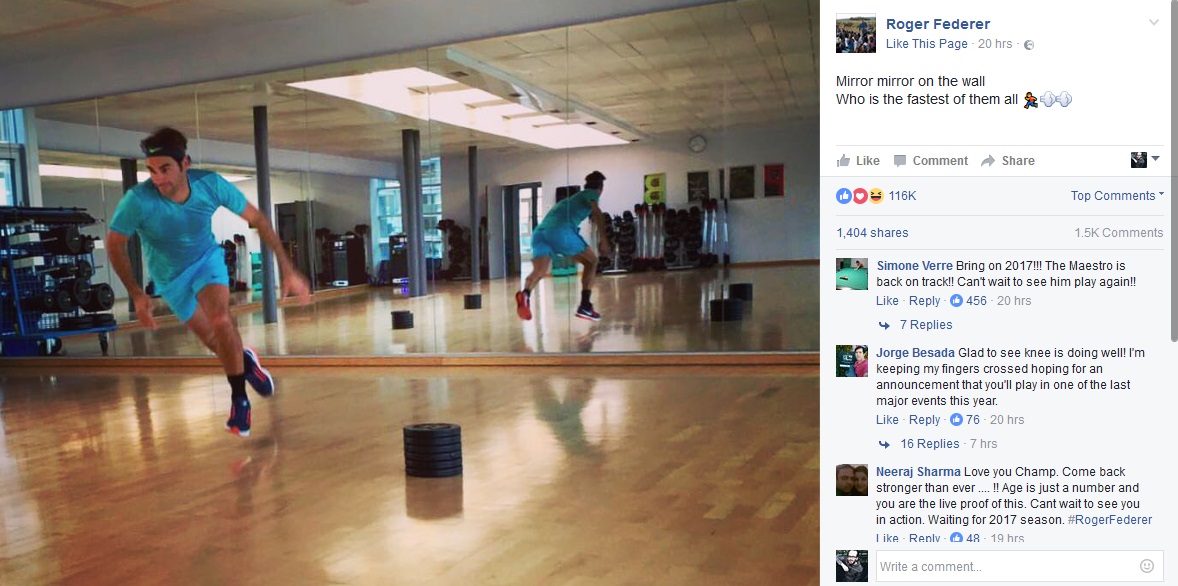 Can't wait for 2017.
2- Nick Kyrgios (NE).
Hop, one more title for Nick Kyrgios ! The Tokyo Japan Open with a victory over David Goffin in the final.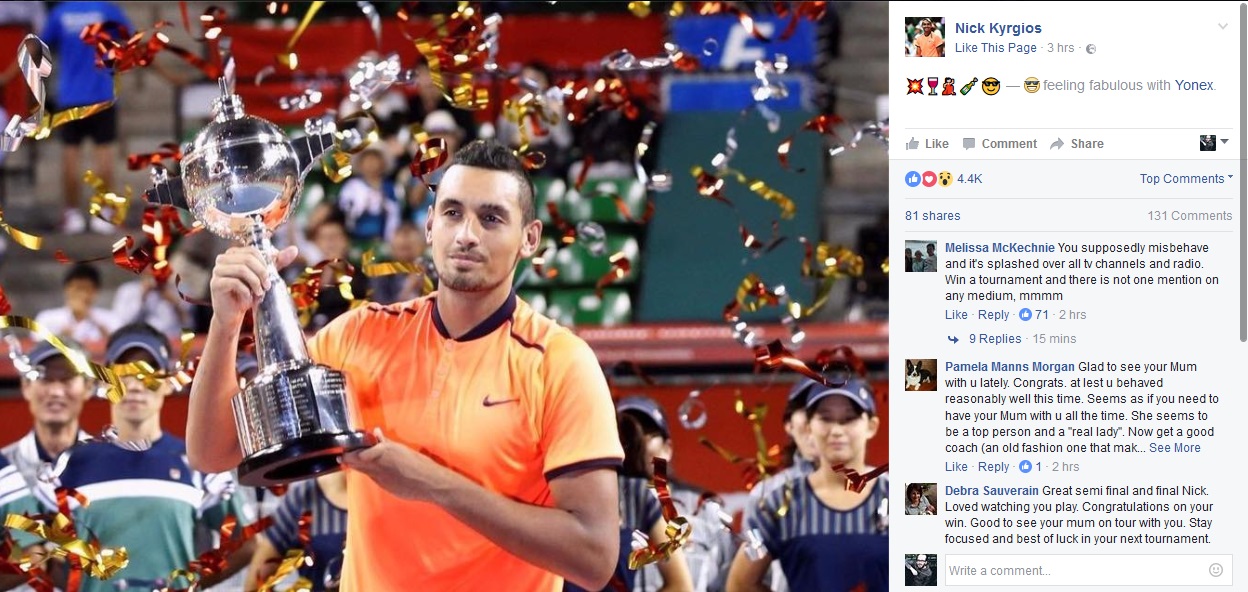 The Australian had a lot of fun during his Japanese week.
He was smiling in any circumstances.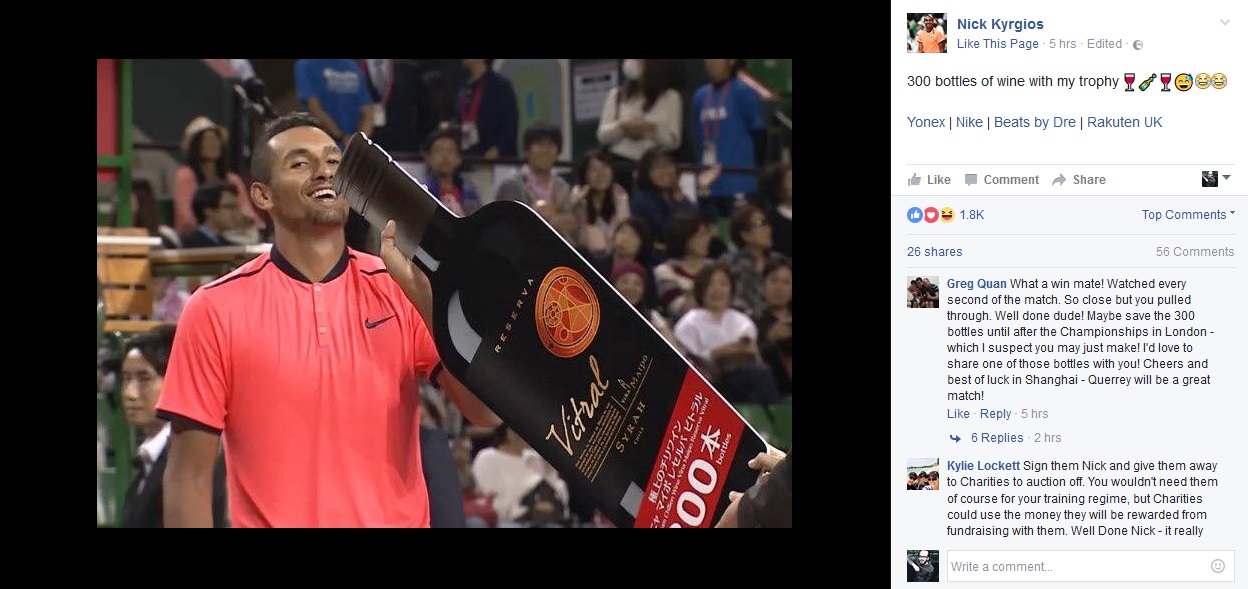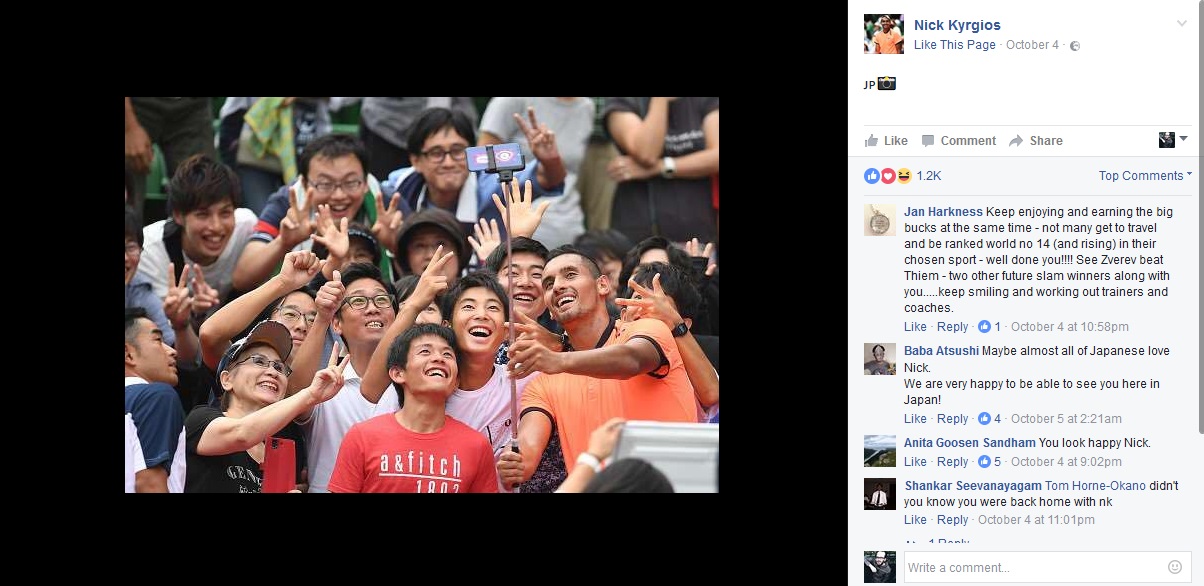 Including after his victory against his buddy Gaël Monfils.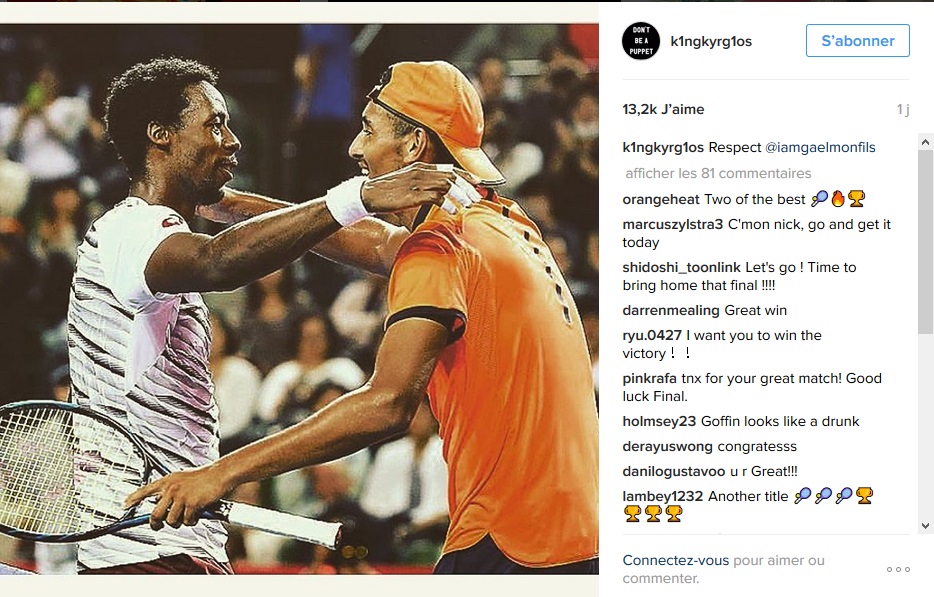 He also seemed to really enjoy the local specialties.

It's Kyrgios' third title, after the two won this season : Marseille, and Atlanta.
3- Maria Sharapova (+4).
At the start of last week, Sharapova was worried. She was waiting for the decision concerning her suspension for doping.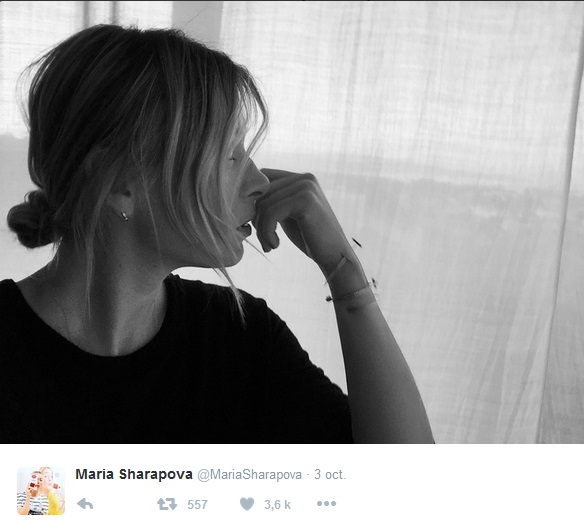 In the end, it's a victory for the Russian. She's still convicted of doping by the ITF but her suspension has been reduced from 24 to 15 months. In concrete terms, she'll be able to get back to the competition next April.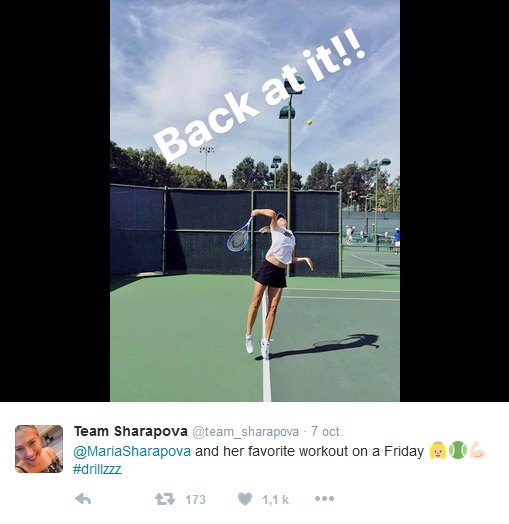 As such, she will multiply her efforts to get back to the level which was hers before her suspension.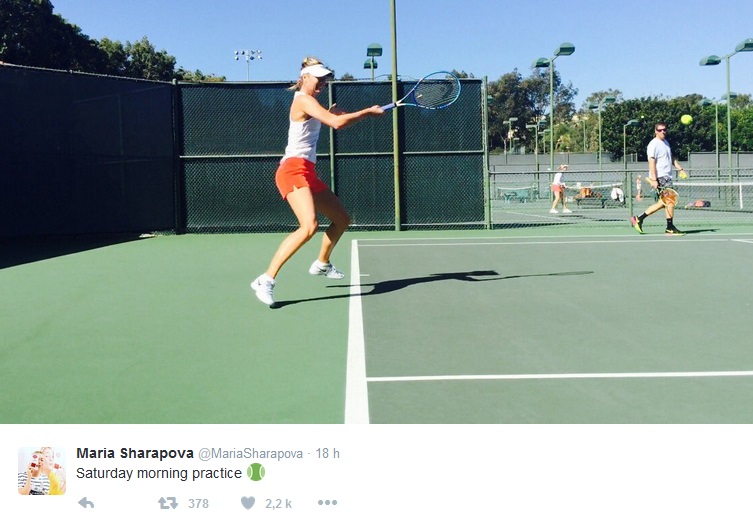 In terms of popularity and aura, Sharapova still has no serious rivals on the circuit.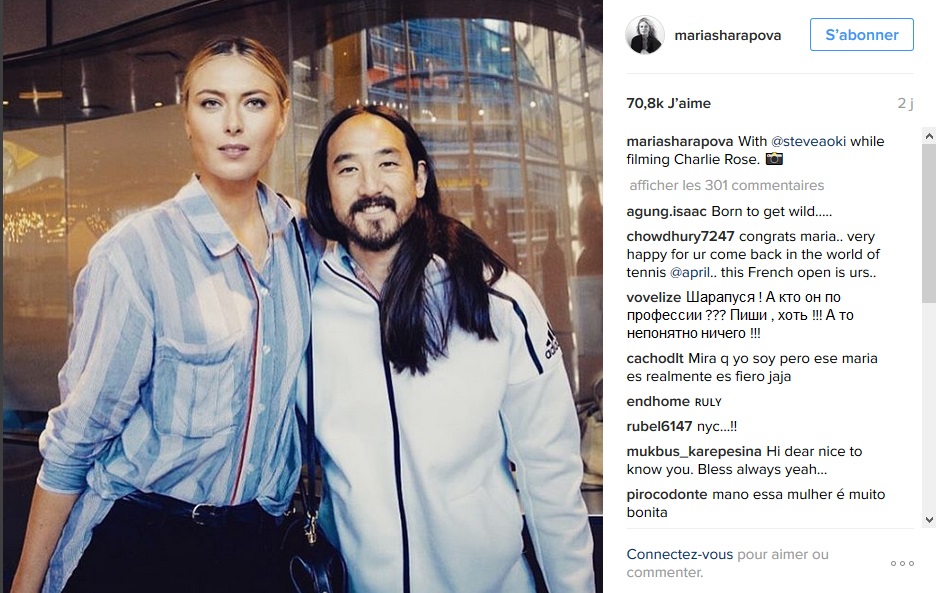 4- Serena Williams (-1).
Sharapova's only real contestant in terms of popularity remains Serena Williams, who was seen last week dancing on stage with Beyoncé !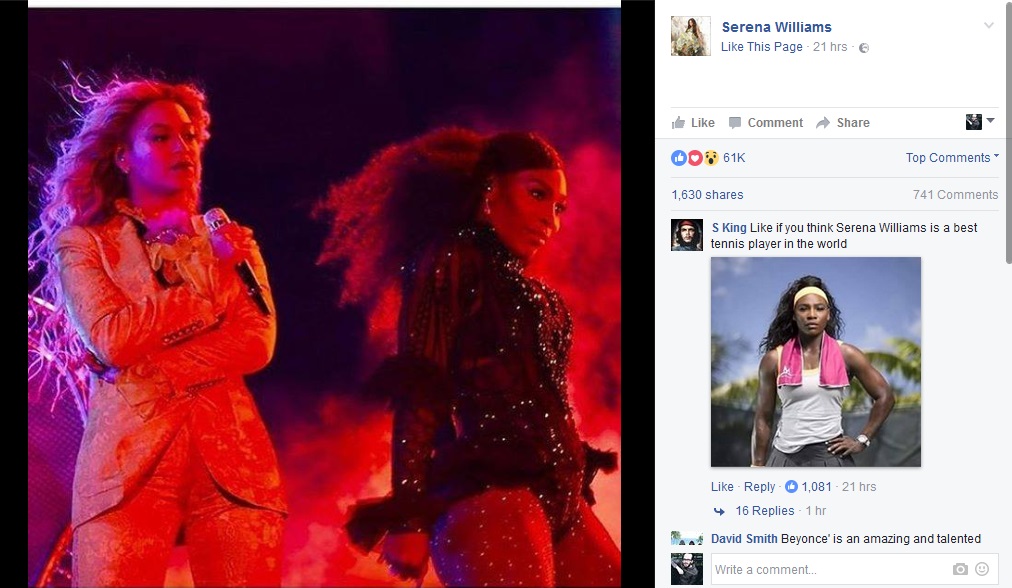 For the occasion, the ex-world number 1 wore a not-so-glamorous outfit…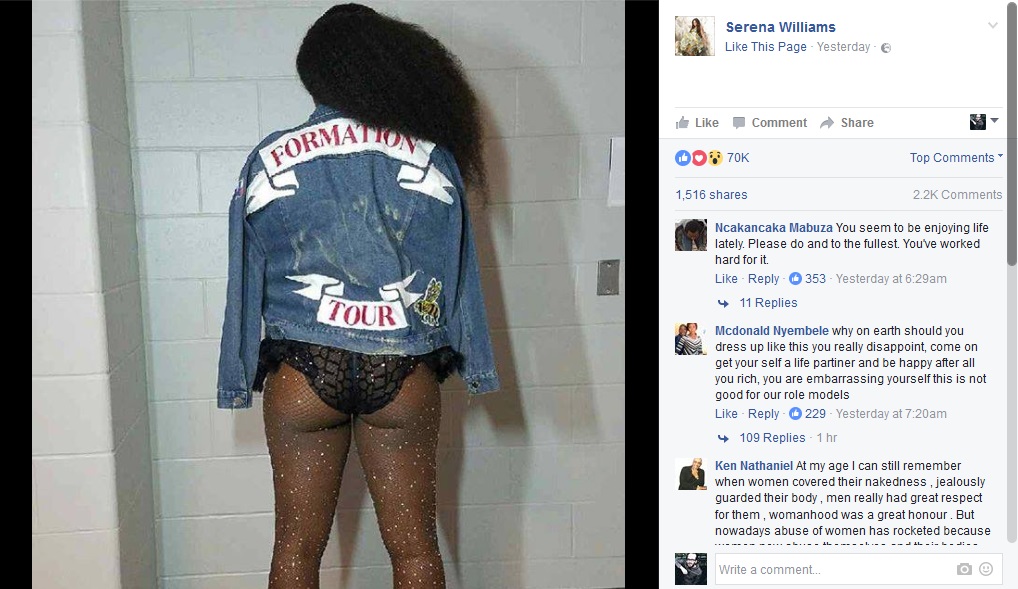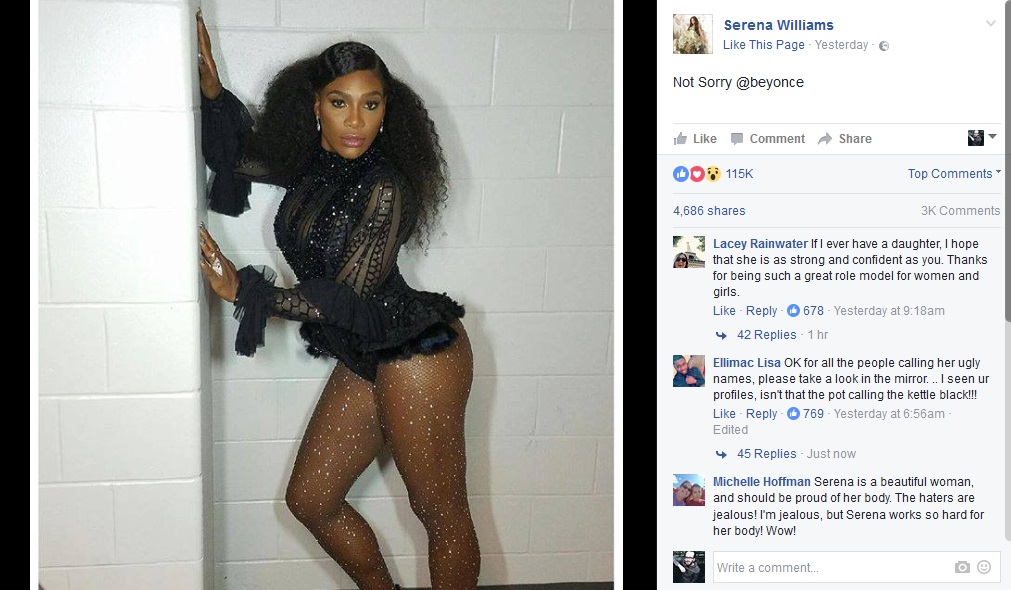 Serena Williams indisputably remains one of the major figures of today's tennis, still regularly appearing on magazine covers.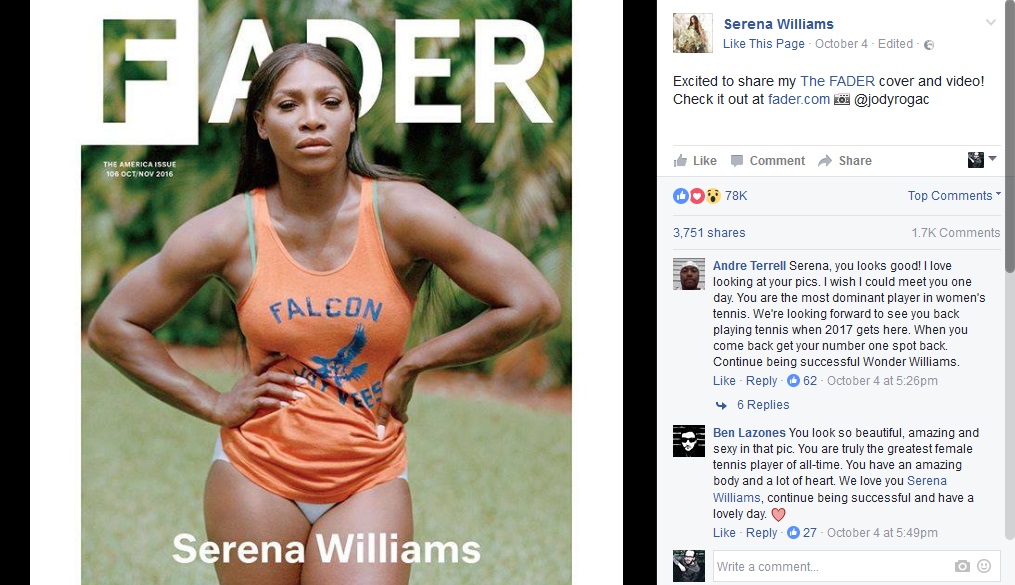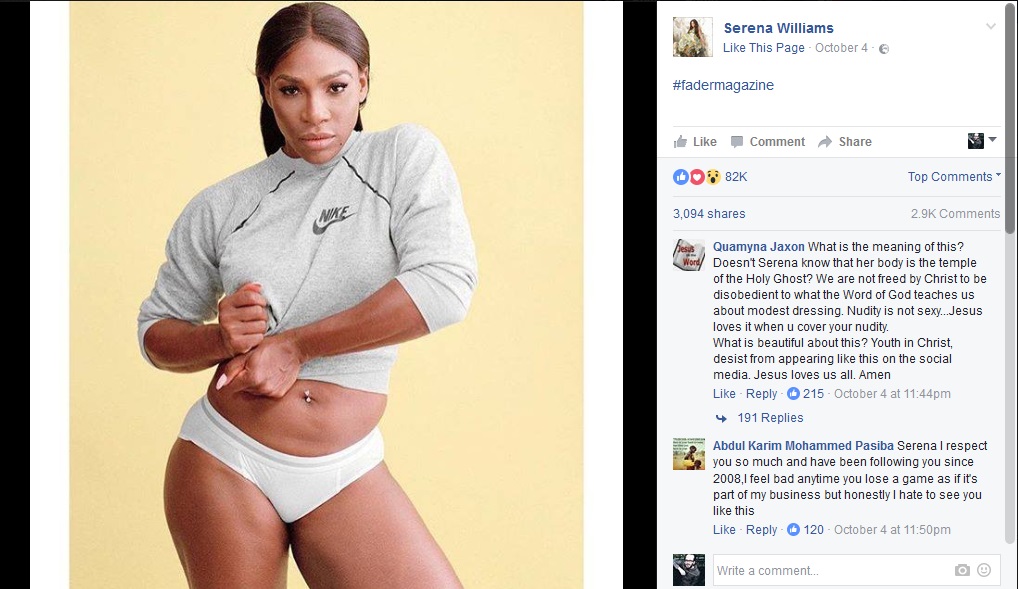 However, we still don't know when she'll make her return on the courts…
5- Andy Murray (NE).
Chilled like Murray. The Scot won the Beijing China Open, defeating Grigor Dimitrov in the final. A victory which deserved a nice selfie with his Chinese fans.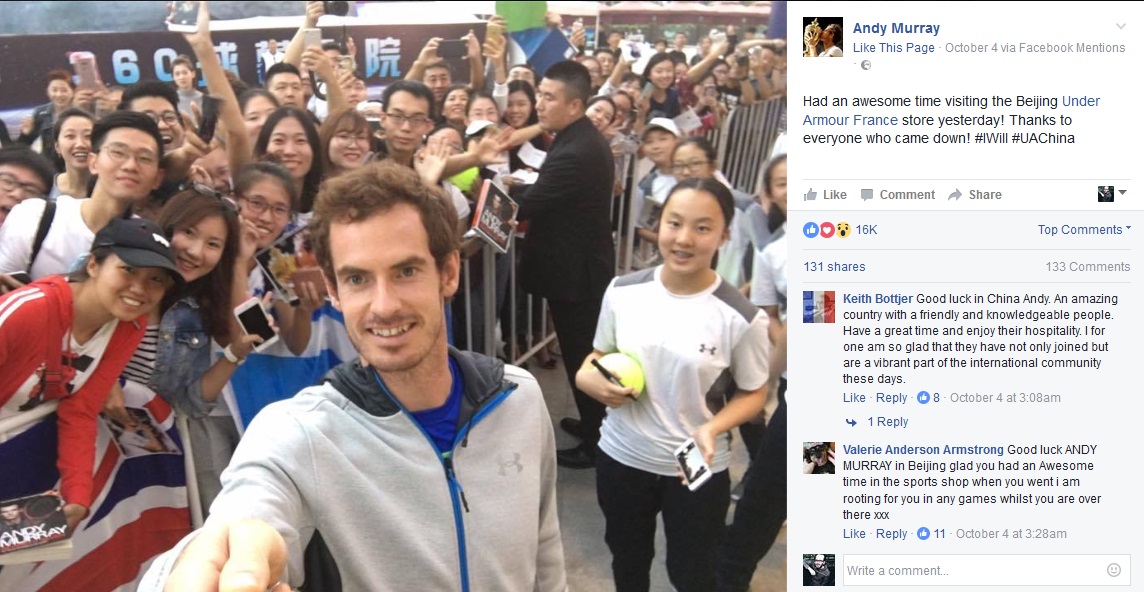 A triumph which the Scot partly owes to his crib sheets about his opponent.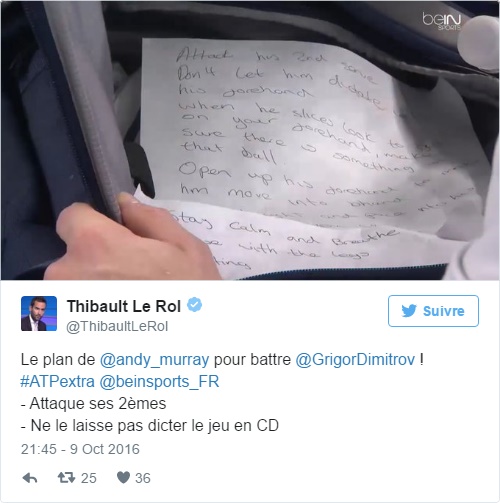 Murray also had people speaking last week after a press conference during which he explained he had been a victim of a fairly bizarre maid. She apparently followed him during several tournaments and stroke his arm while he was still asleep. « I don't know if it's a fan thing, but it was still pretty extreme », he commentated. Indeed, Andy, indeed…
6- Steve Johnson (NE).
The incredible look of the week : Steve Johnson with a mustache.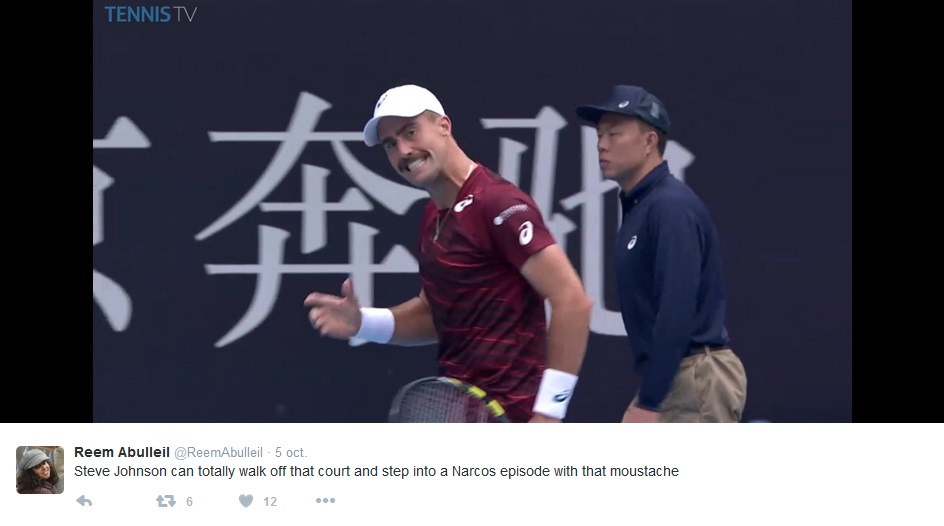 Not even a discreet mustache, the real, original 80's « 'tache » !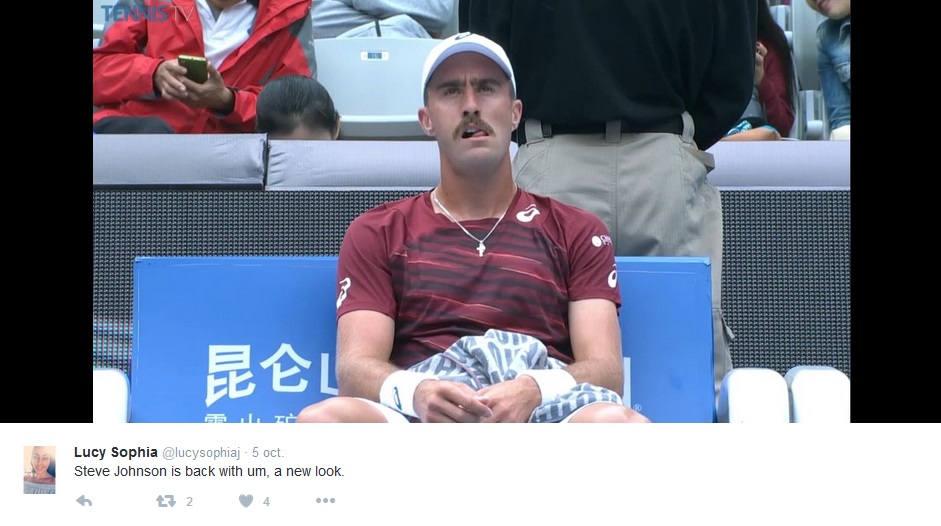 Meanwhile, the American made the most of his trip to China to visit the Great Wall…in the fog.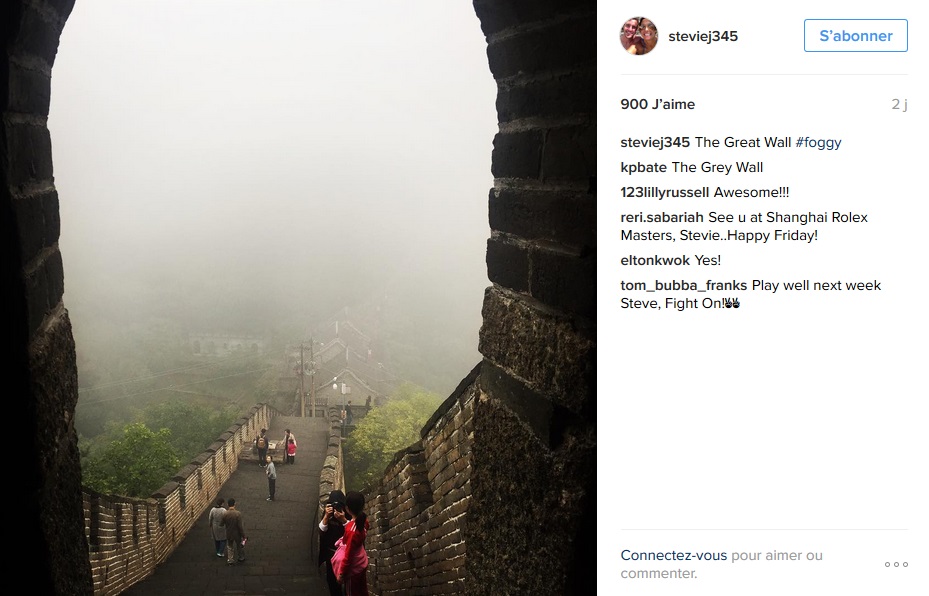 A good way to cover up his strange facial hair…
7- Novak Djokovic (-6).
Djoko landed safely in Shanghai. Yep, it's him, right at the end !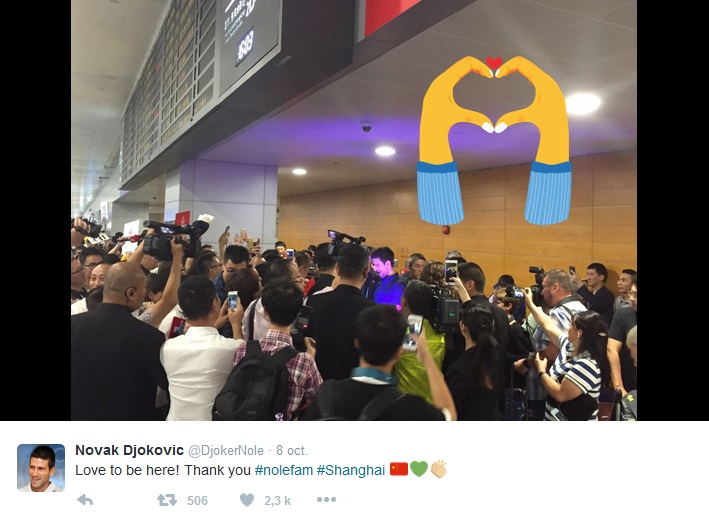 Do you want to play « Where's Djoko » ?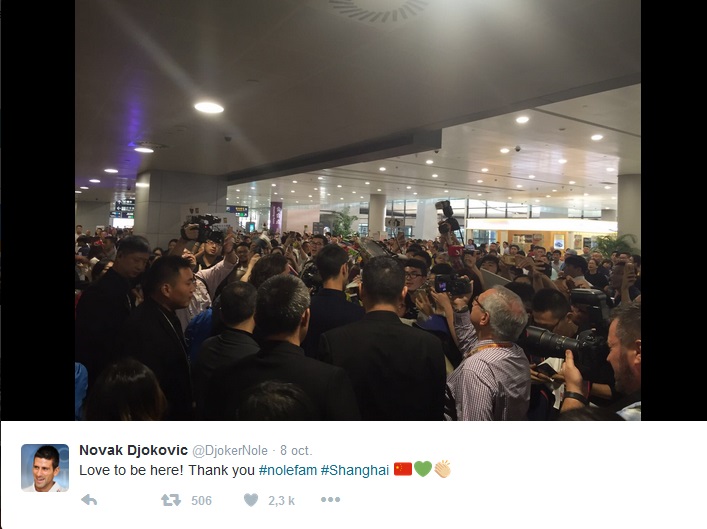 Obviously, the Serb is awarded prestigious sparring-partners.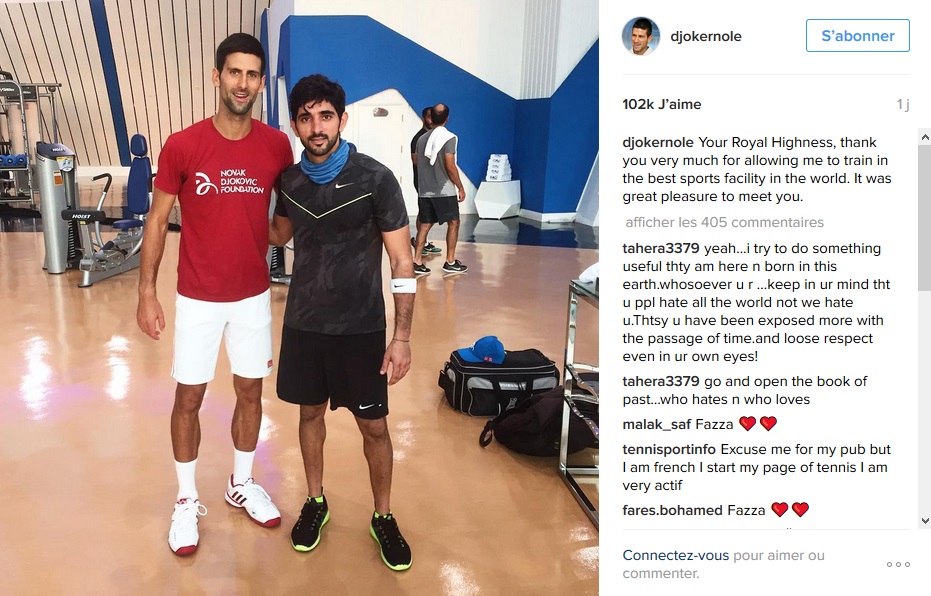 But the world number 1 hasn't been on top form these days, as he explained it himself : he's been through a rough patch. « These last three months have been marked by ups and downs. I don't feel this interior joy of playing anymore. So my priority before anything is to find that interior joy, and to feel happy on the court. » Djoko, human after all.
8- Shia LaBeouf (NE).
This time, it's on : we've seen the first image of Shia LaBeouf and Janus Metz Pederson as McEnroe and Borg.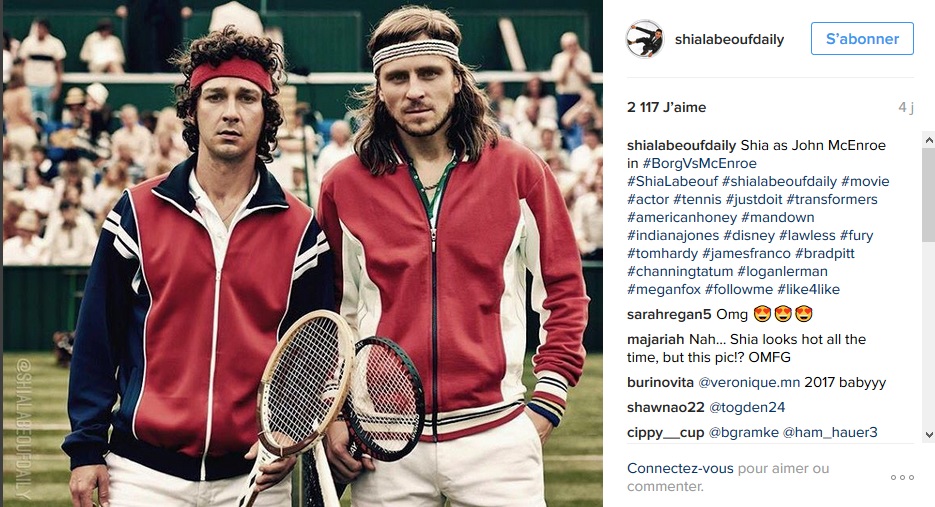 It's physically quite convincing, no ?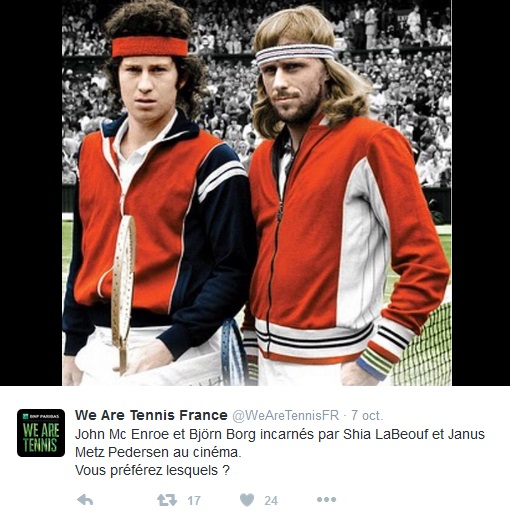 In any case, McEnroe wasn't too convinced. « This actor (Shia LaBeouf) is supposedly crazy, so maybe he'll do the job…but physically, he'll have to work a lot more to convince me », he said. Ouch…
9- Agneszka Radwanska (NE).
There was only one tournament on the program of the WTA Circuit last week, and it was won by Aga Radwanska. She gets the huge salad bowl !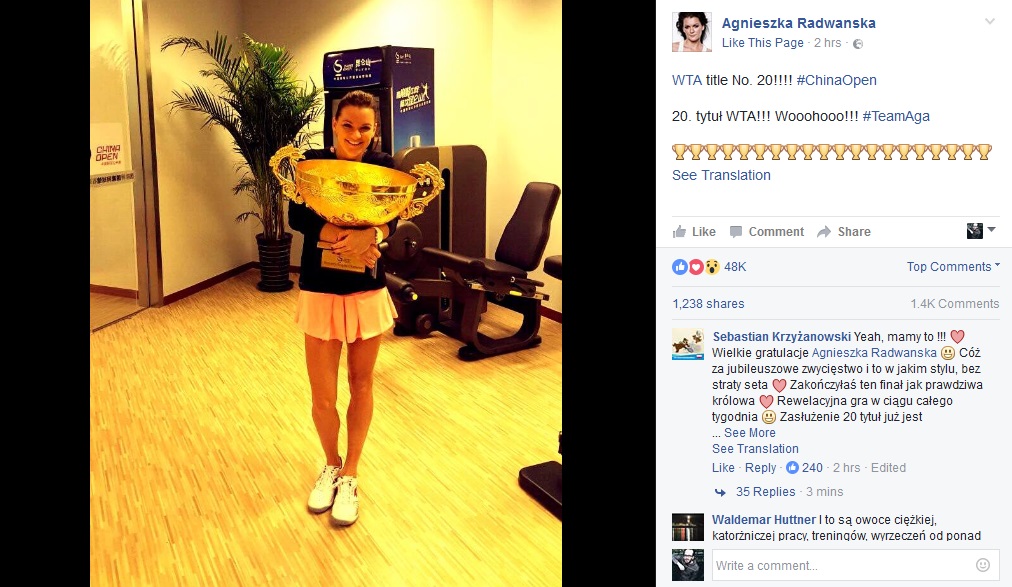 It's her twentieth title, already, the third of the season, and the fifth out of the last six without losing a single set in the final.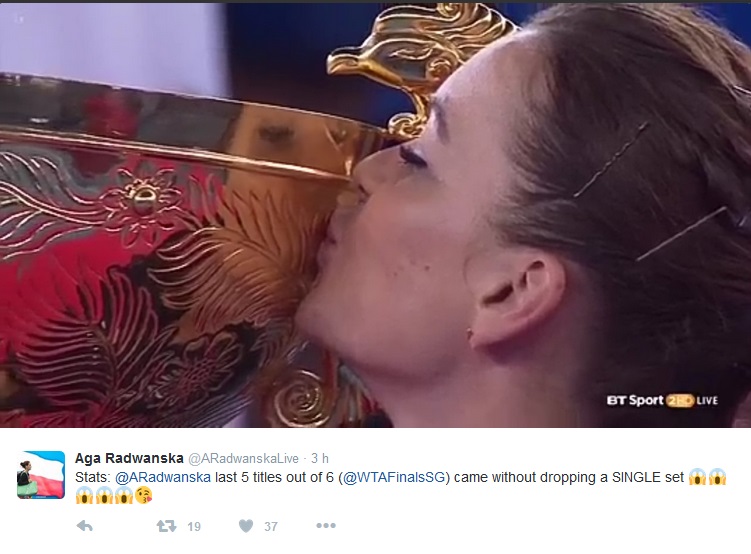 It's always a pleasure to see the Pole play with her spectacular game.
10- Johanna Konta (NE).
The defeated of the final is Johanna Konta, a girl who puts on cream with a spoon.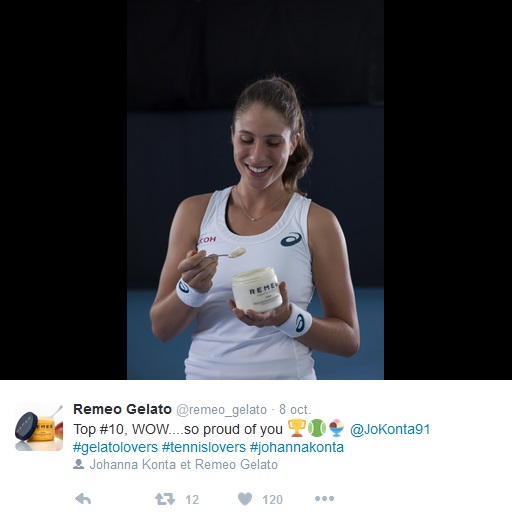 Radwanska got the giant salad bowl, Konta got the silver plate.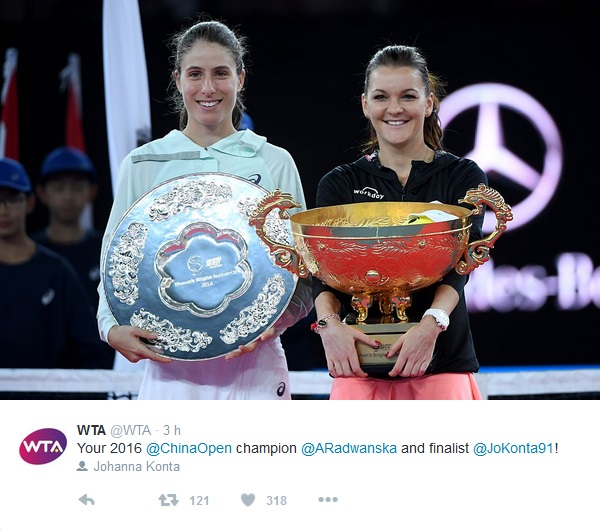 Too bad, because Konta has also been playing an incredible tennis these last few days…
11- Petra Kvitova (-5).
Still in the women's circuit, there's also Petra Kvitova. The Czech is still on form.
A romantic evening…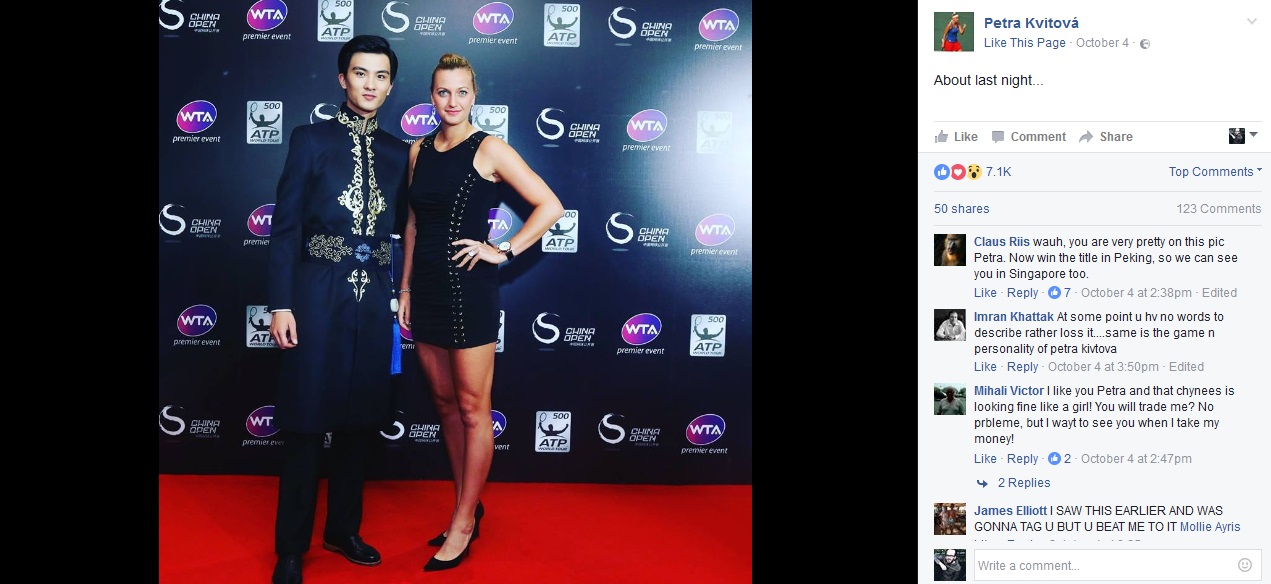 A massage…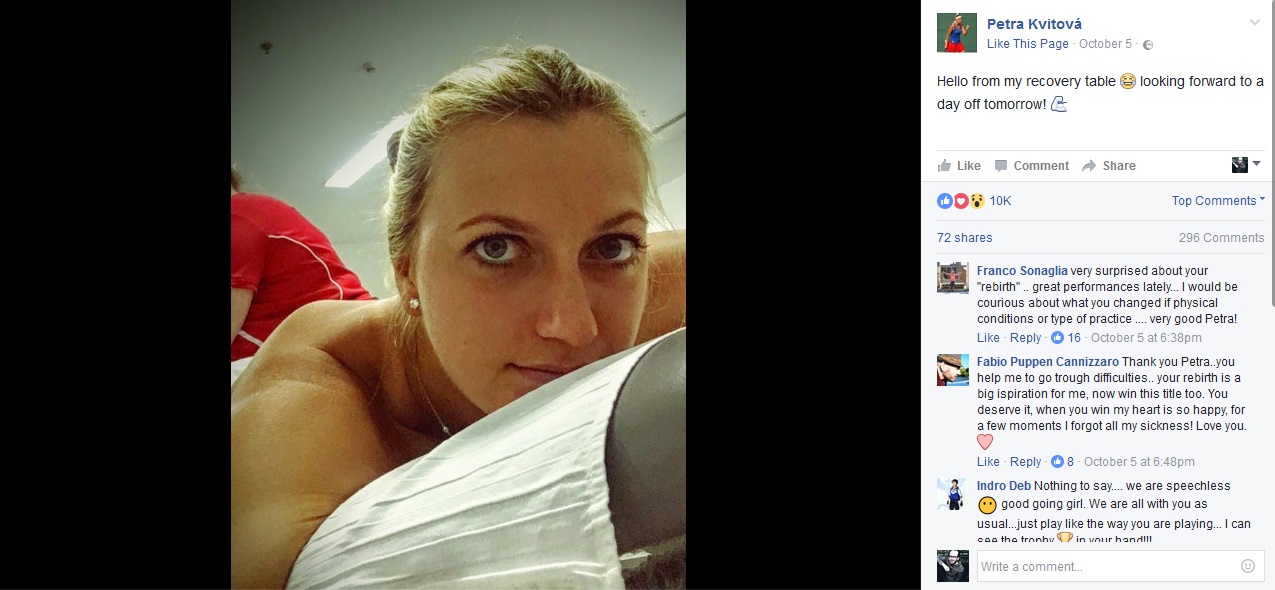 An ice-cream…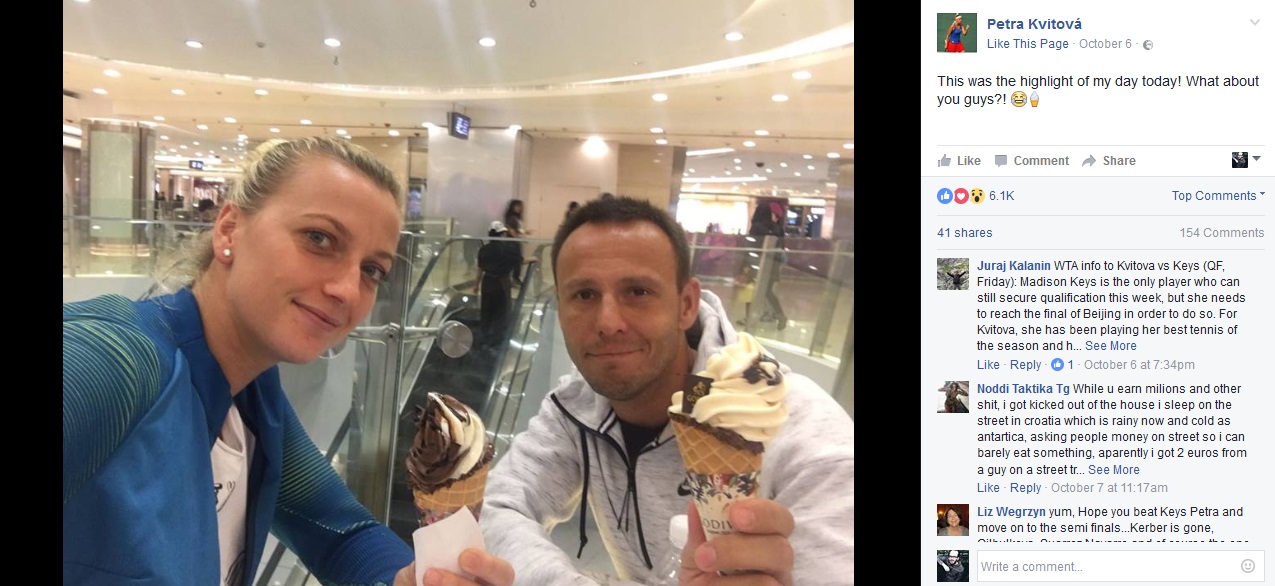 A meeting with her girlfriends…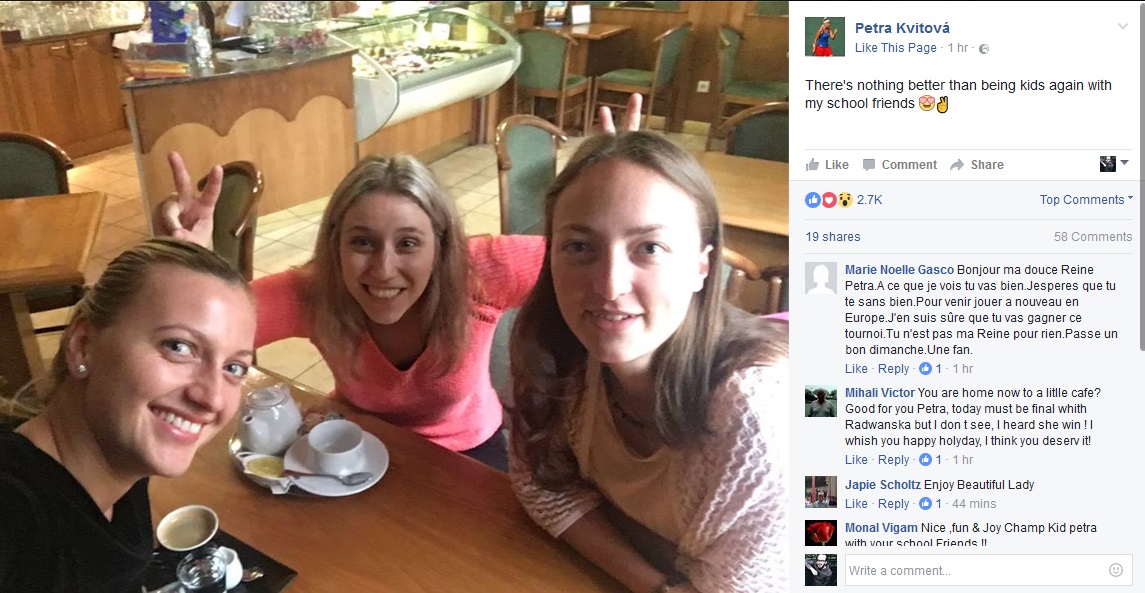 And here's the world number 11 boosted up to get into this 2016 season's money time.
12- Alizé Cornet (NE).
At the Beijing China Open, Alizé Cornet only went through two rounds but she knocked out Cibulkova, which is already quite something. Enough to boost her confidence and strike weird poses…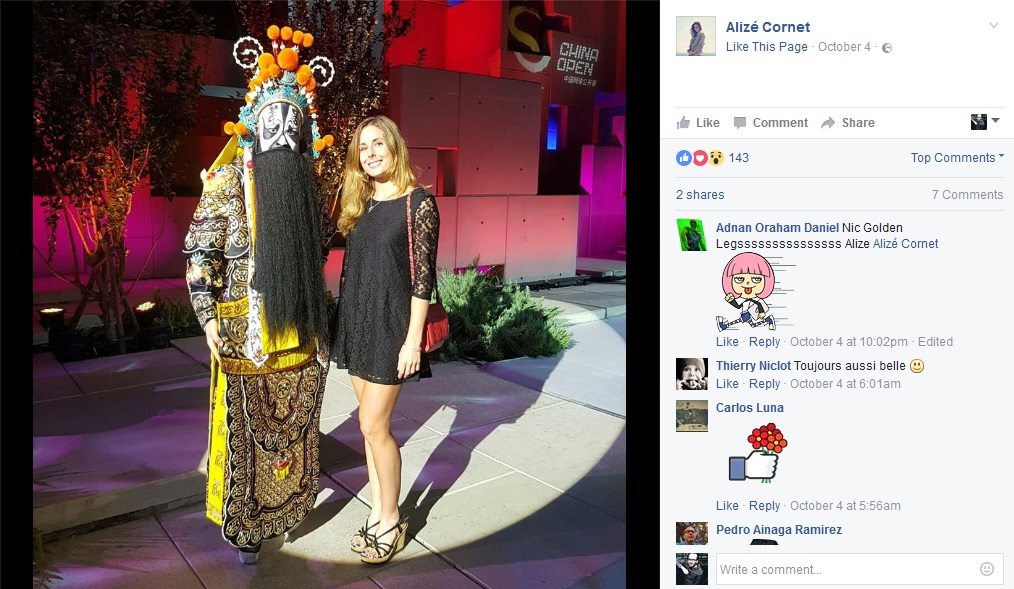 The good thing about an early knock-out, is that you can go sight-seeing. The Great Wall of China, alone or with friends, is always a pleasure.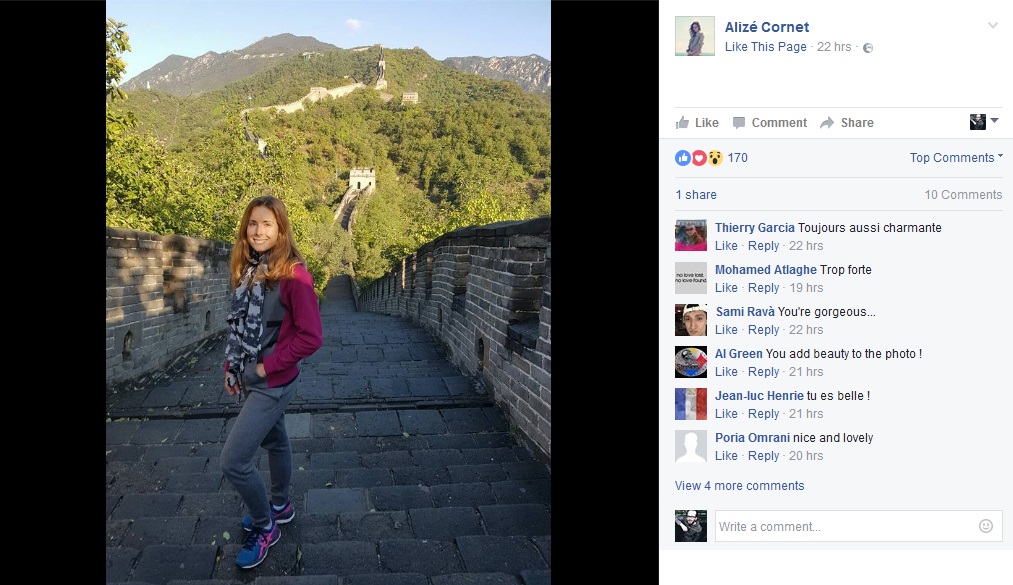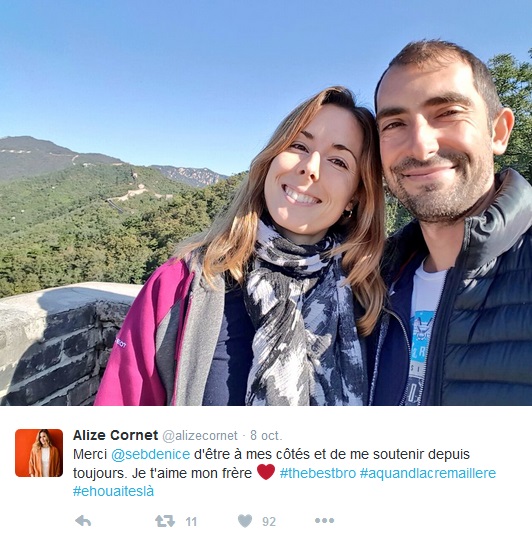 13- Grigor Dimitrov (-2).
No news of the romance between Dimitrov and Nicole Scherzinger last week but the Bulgarian showed that he remained an excellent tennis player.
It wasn't enough however to defeat Murray in the final.
14- David Goffin (NE).
Goffin might have a lucky teddybear…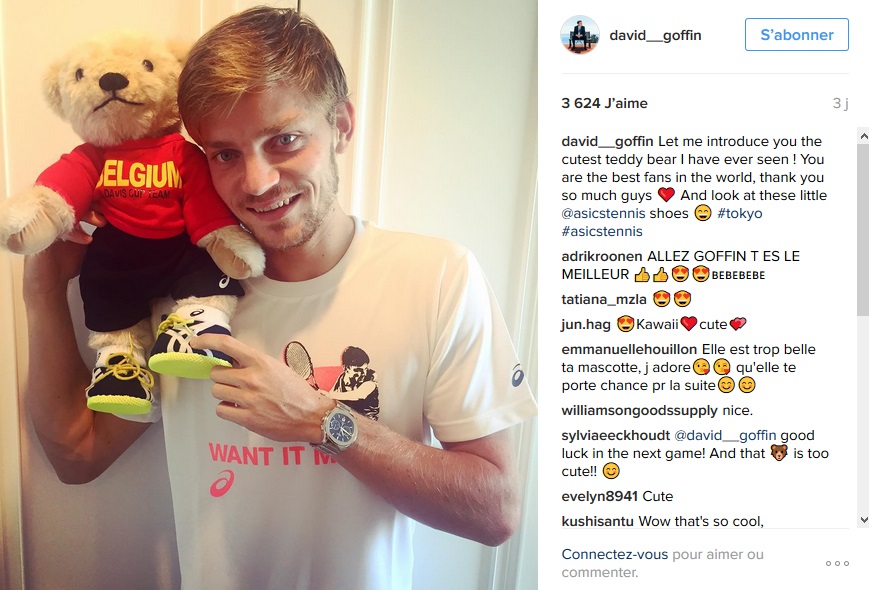 …and loyal fans…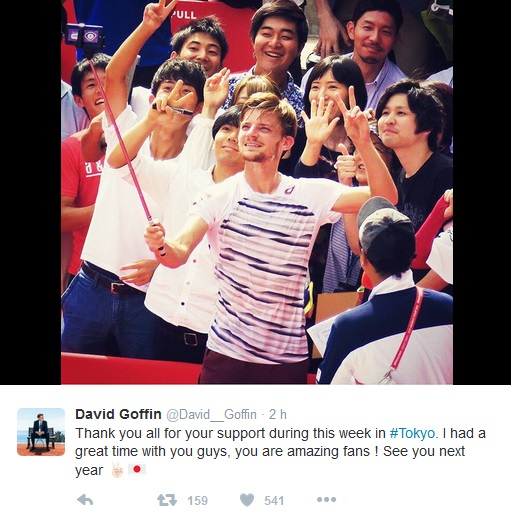 …he couldn't do much against Kyrgios in the final in Tokyo.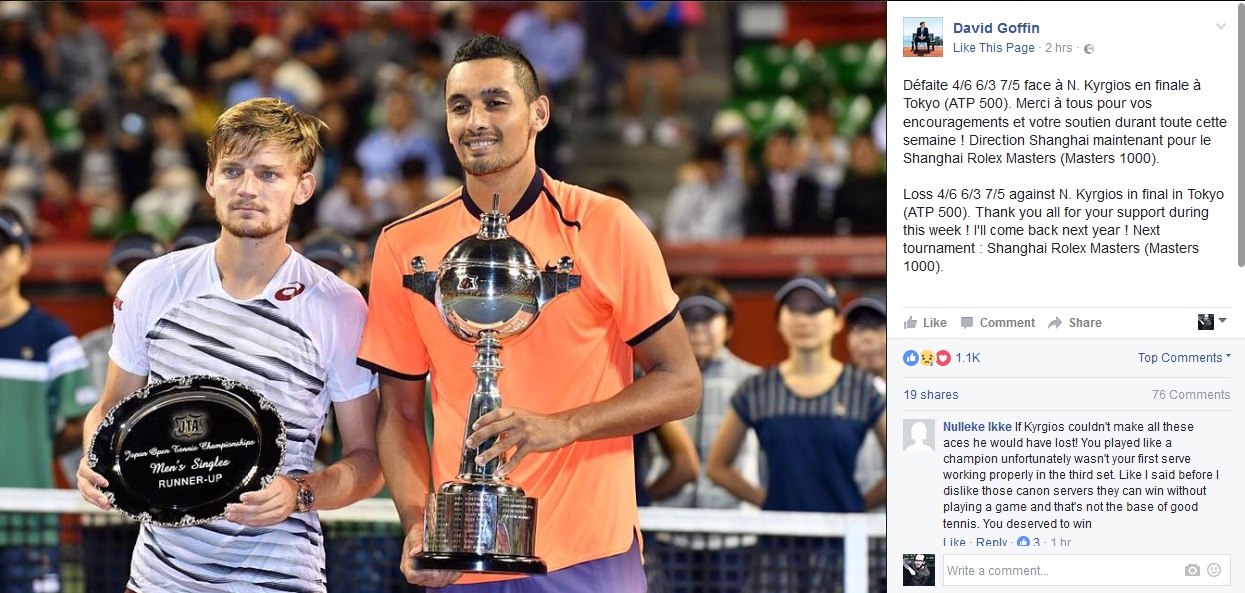 It's the Belgian's fourth defeat in a row in a final…
15- Jo-Wilfried Tsonga (NE).
Oh, Tsonga's back !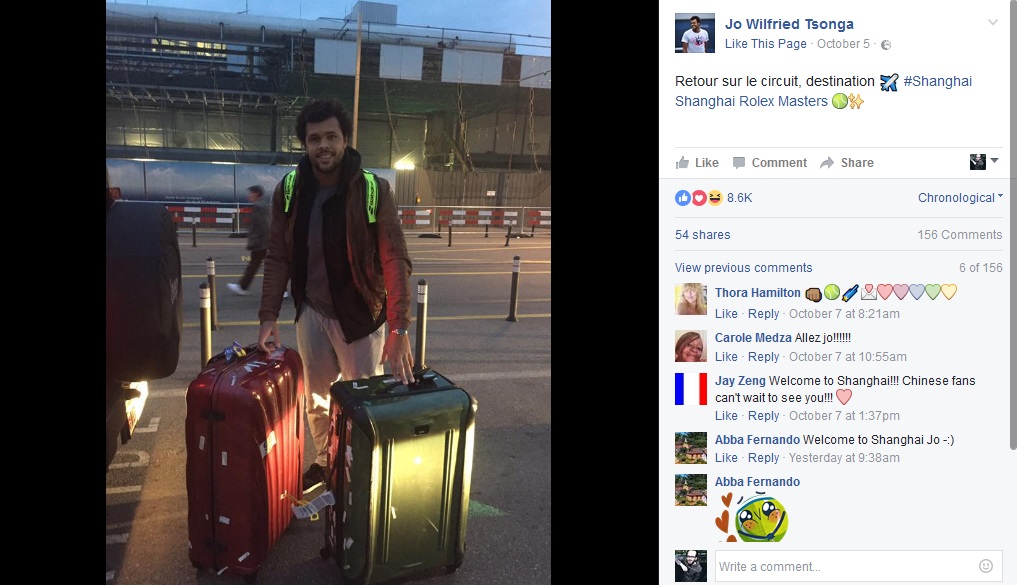 With huge suitcases, a big motivation and Verdasco as his sparring-partner.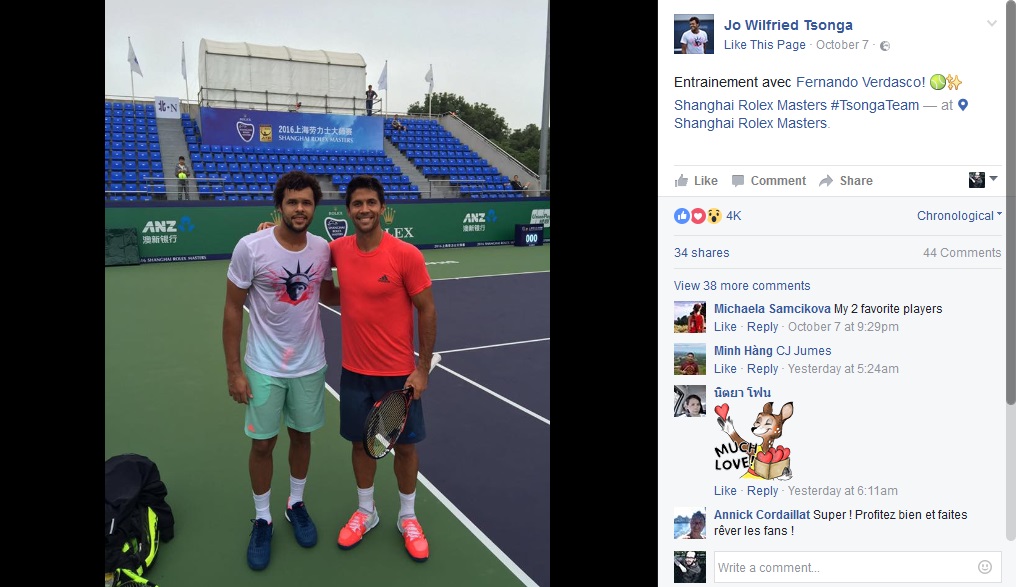 We can't wait to judge his form during the Shanghai tournament this week…
Outs :
Karlovic, Del Potro, Bencic, Pouille, Khachanov, Berdych, Nadal, Kr.Pliskova, Thiem, Fognini
By Régis Delanöe