Winning come-back for Djokovic. After winning in Toronto, the Serb couldn't have possibly dreamt of a best timing to take on the olympic challenge in Rio. Moreover, he met with Richard Branson and a bad Vin Diesel lookalike.
Winning come-back for Djokovic. After winning in Toronto, the Serb couldn't have possibly dreamt of a best timing to take on the olympic challenge in Rio. In this week's ranking, the Serbian world number 1 remains untouchable and outdistances the local star Eugénie Bouchard, a fan of her fellow countrywoman Céline Dion, and the very popular Simona Halep, who won in Montreal and showed herself to be a master of selfies.
1- Novak Djokovic (-).
Unavoidable. Indisputable. His opponents thought that he might have been shaken by his below-par performance at Wimbledon but Novak Djokovic made a very solid come-back on the circuit by winning the 30th Masters 1000 of his career in Toronto.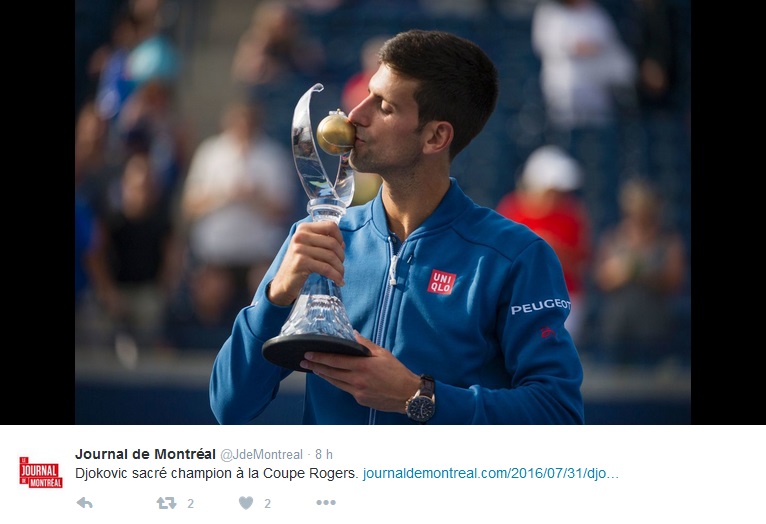 When he reaches that level, he is unplayable.
Djoko also made the most of his Canadian trip to pose alongside the chairman of Virgin, Richard Branson…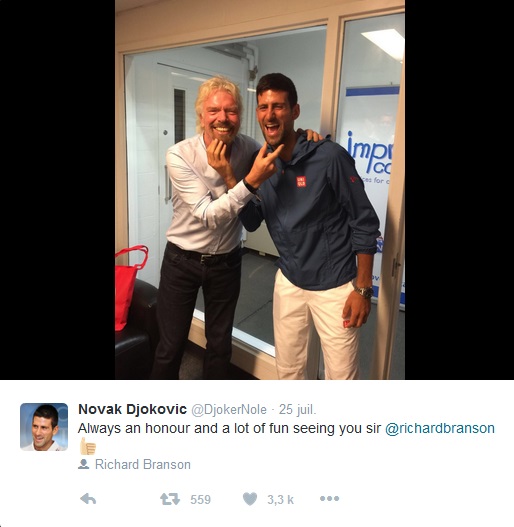 …but also with a Vin Diesel lookalike. Well, almost.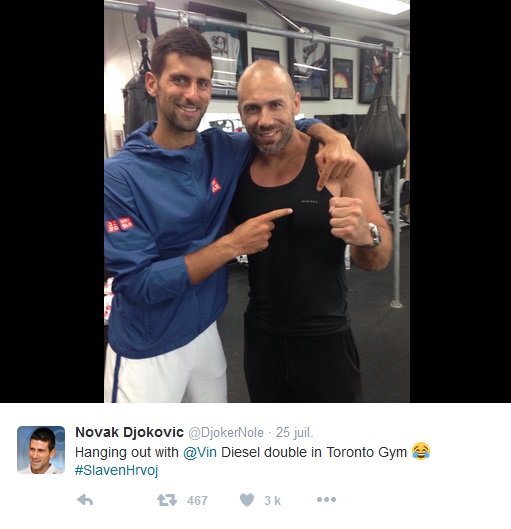 In short, a perfect week for the world number 1, ideally propelled towards one of the last remaining challenges he still has to take on in his career : winning the olympic gold medal. The holidays with his wife really did him good.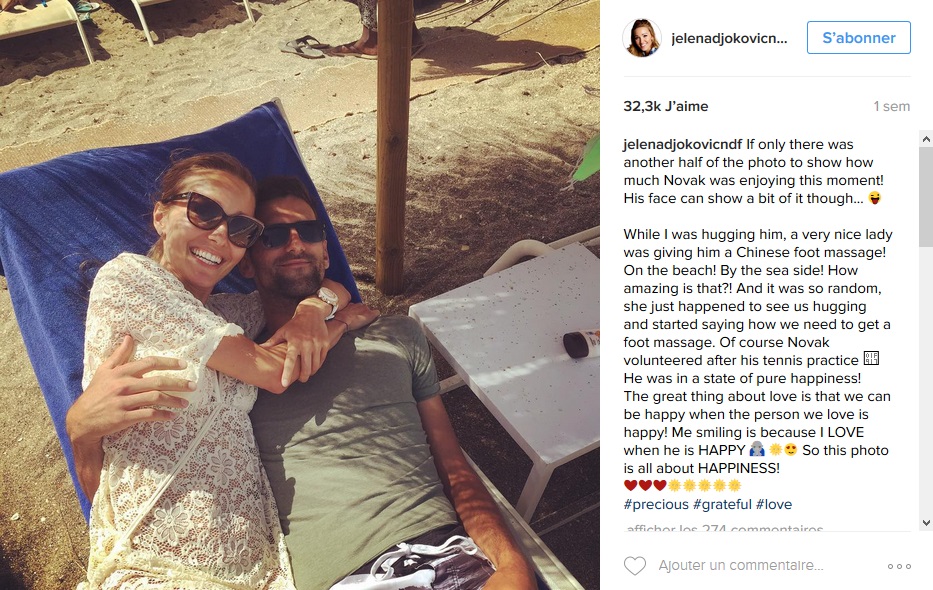 2- Eugénie Bouchard (NE).
In Montreal, the star is named Eugénie Bouchard. Not as big of a star as Céline Dion but almost. In any case, the two seem to get along.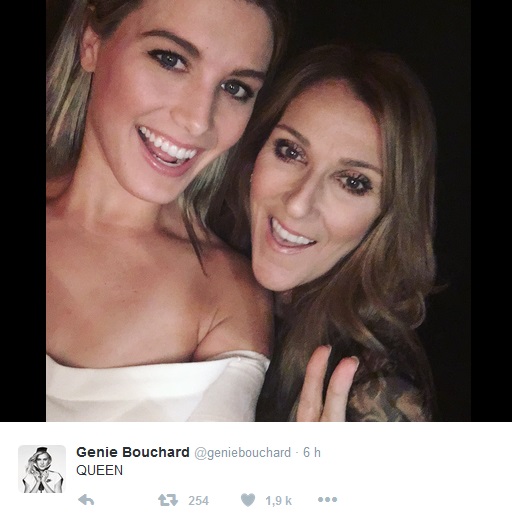 And Bouchard seems to be a fan of Céline…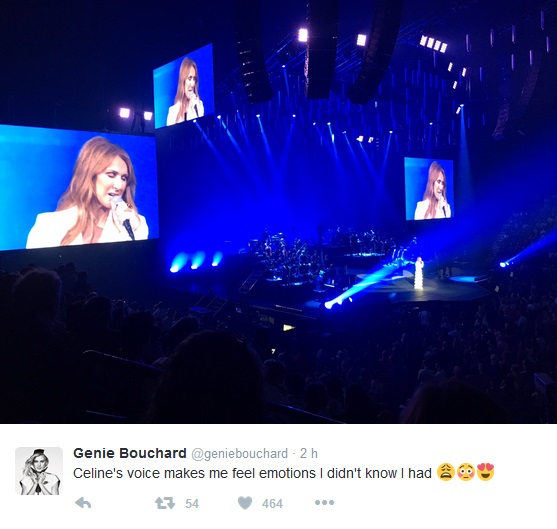 At home in Canada, Bouchard pleased her audience, with non-stopping autograph sessions.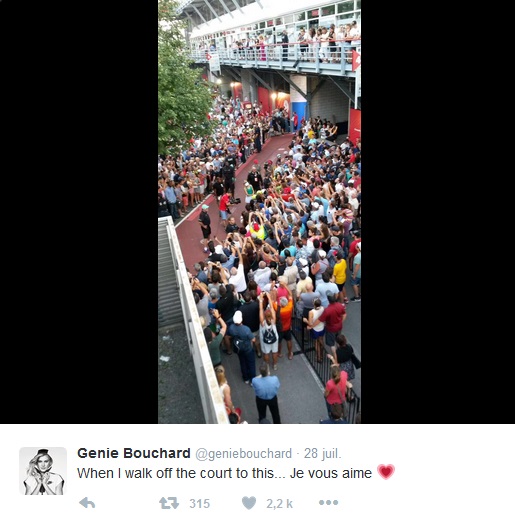 And with a great attitude on court to reach a promising third round.
She also posed for the photographers. Accompanied.
And alone, naturally. Well…almost !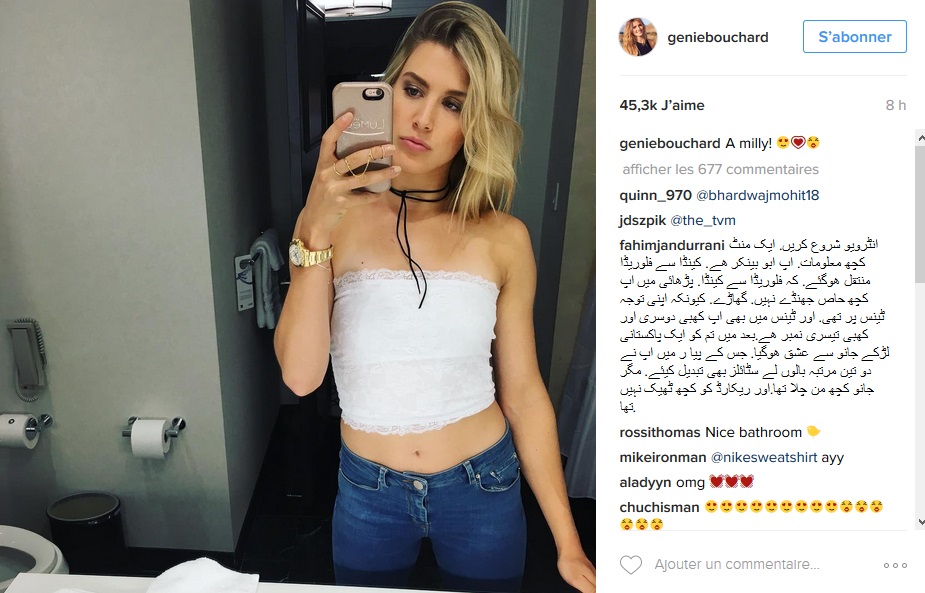 3- Simona Halep (NE).
The true winner in Montréal was Simona Halep. The Romanian defeated Madison Keys in the final, in two sets.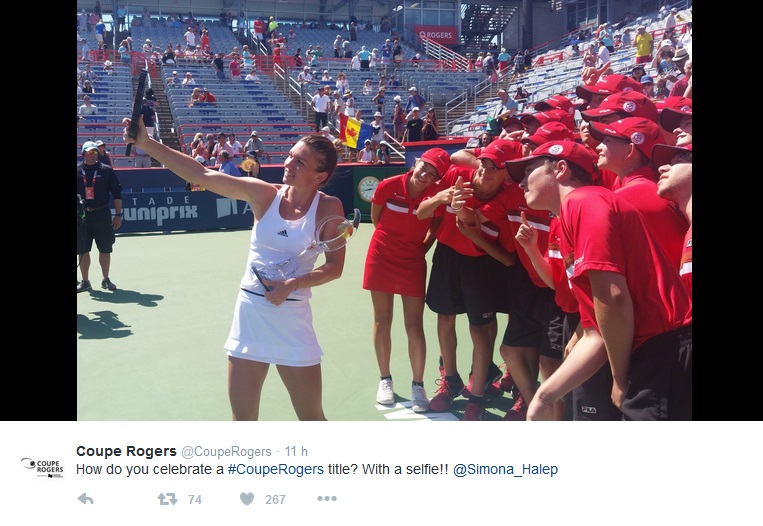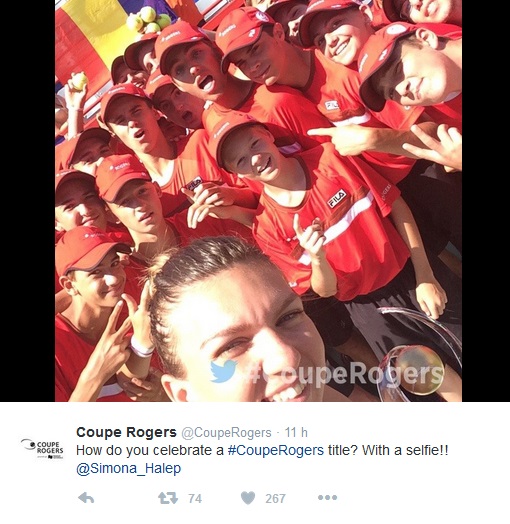 The popularity of the Romanian in America is obviously huge. Autographs, selfies…She happily complied with her fans' sollicitations.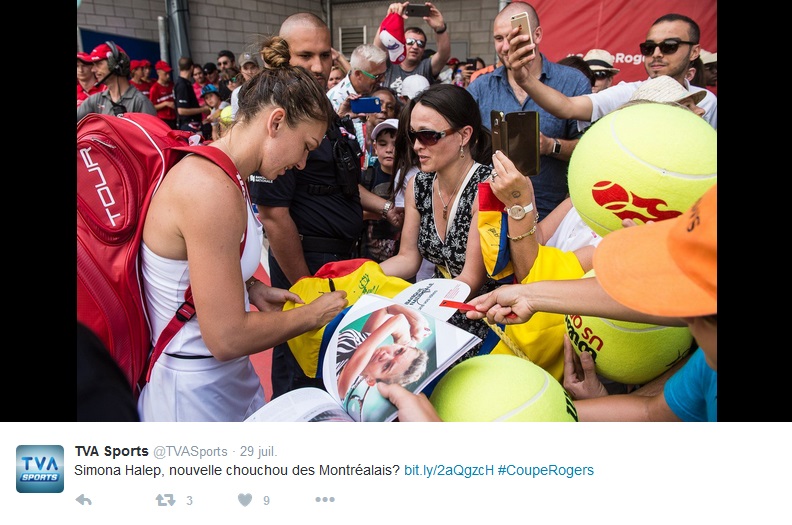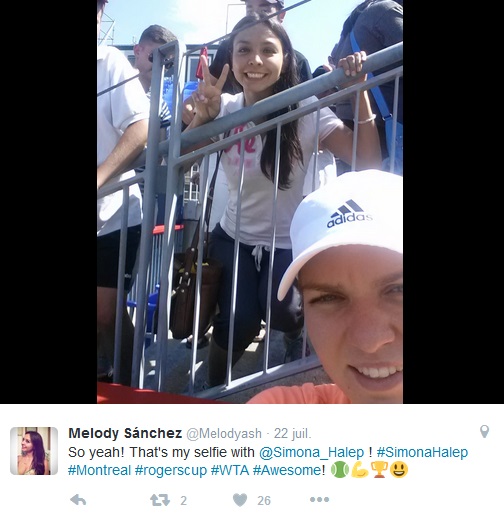 It must be said that with a game like hers, it's natural to get excited.
4- Milos Raonic (NE).
Alike her fellow countrywoman, Eugénie Bouchard, in Montréal, Milos Raonic was at home in Toronto. He met with the mayor of the city.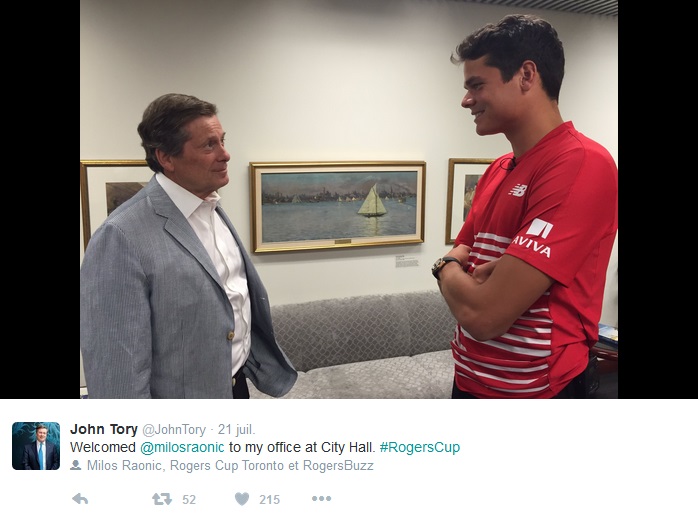 Richard Branson (and a vintage racquet).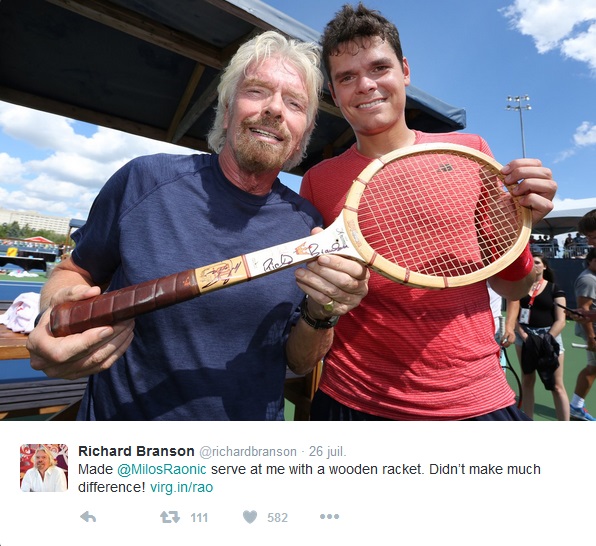 But also Connor McDavid, the Edmonton Oilers hockey player.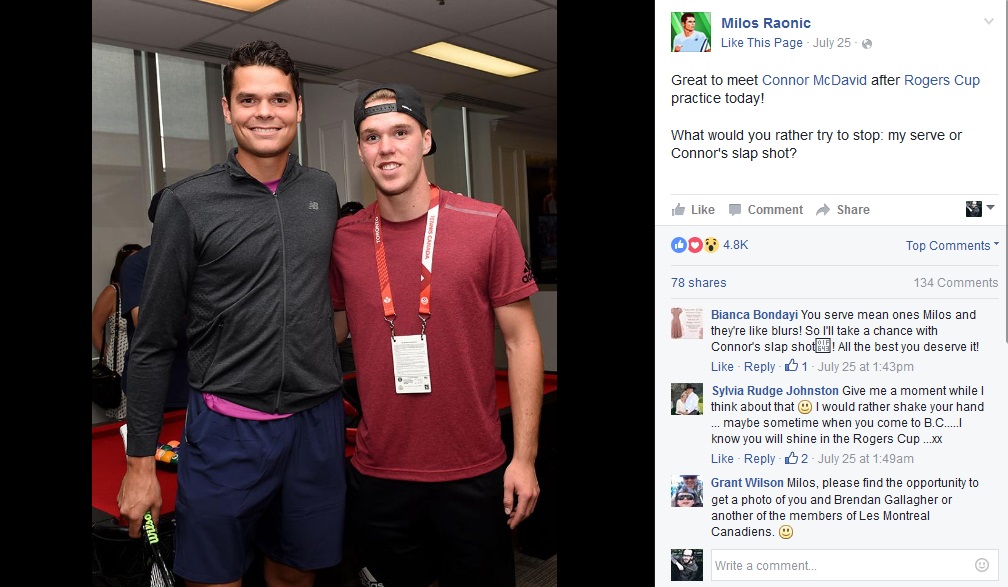 As for the game however, a small disappointment for the Canadian, knocked out of the tournament as early as the quarter-finals. His fans still managed to receive a nice litte message on the social networks. And too bad if he won't be present to defend his country's chances at the Olympic Games…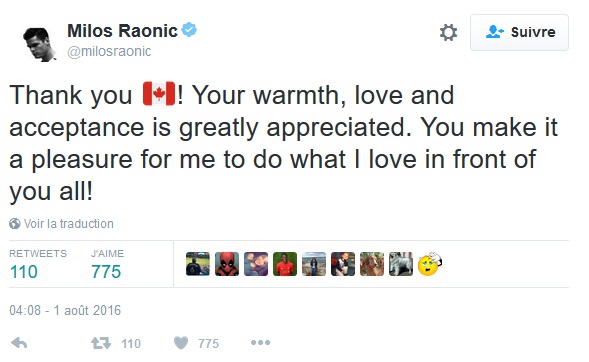 5- Gaël Monfils (-3).
Raonic's executioner in the Rogers Cup quarter-finals was a certain Gaël Monfils, who put on a great performance in Canada, just after his victory in the previous week in Washington.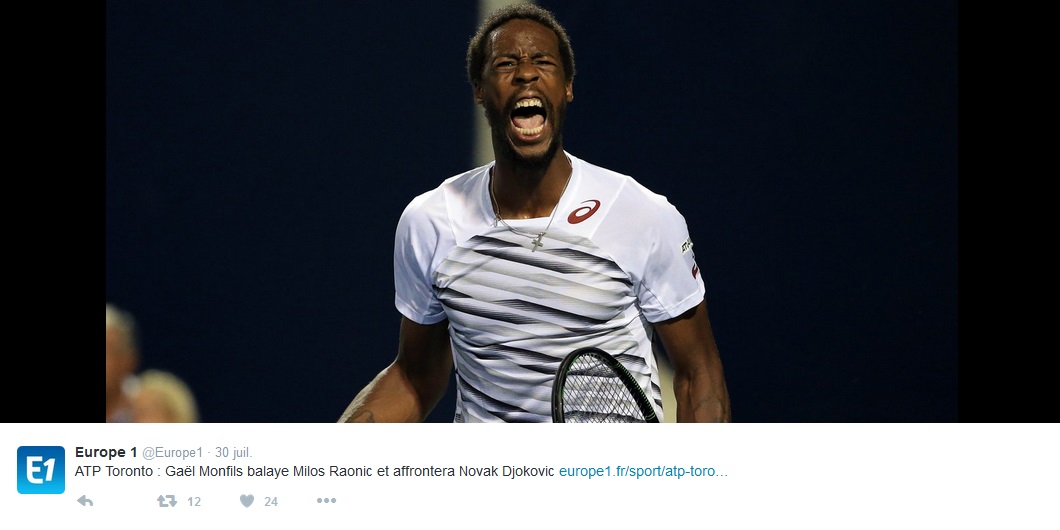 However, the Frenchman ended up being completely lifeless in the semi-final against Djokovic. Too bad, but Monfils' regular « hot shots » still remain…
6- Denis Shapovalov (NE).
In Canada, Monfils however found his master in terms of unbelievable shots with another local, Denis Shapovalov, 17 only, and an incredible boldness on the court.
Remember his face, you should see him in the future.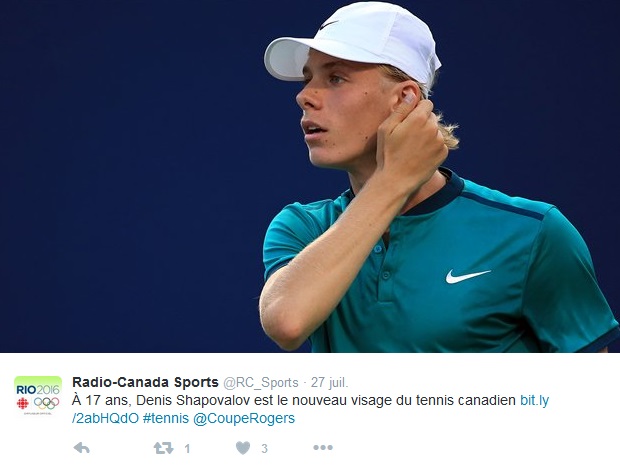 7- Nick Kyrgios (-3).
Shapovalov's big victim this week was named Nick Kyrgios. We understand his funny face a little better.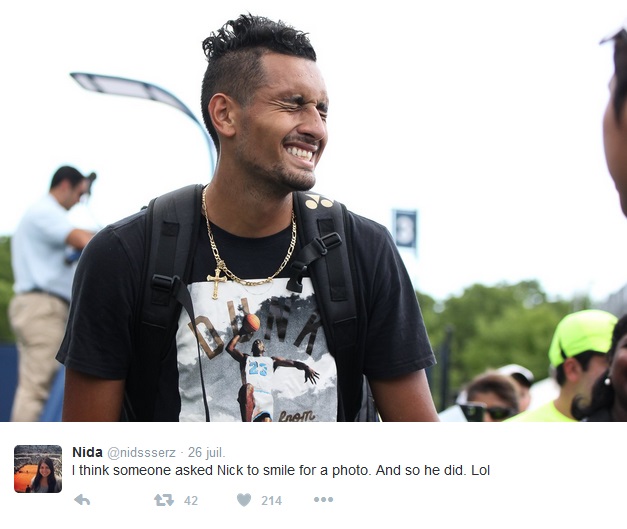 It must be said that at the moment, the Australian seems to have his mind set more on Pokemon GO than on tennis.

Kyrgios's next hunting field : the Atlanta tournament, where he is visibly expected.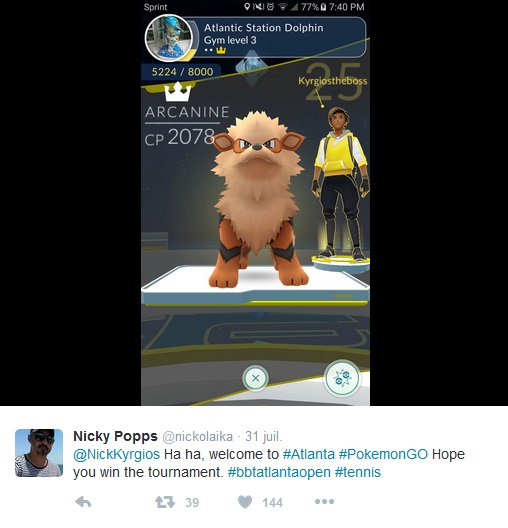 Having arrived very early in Georgia, the bad boy could dedicate himself to another passion : basketball.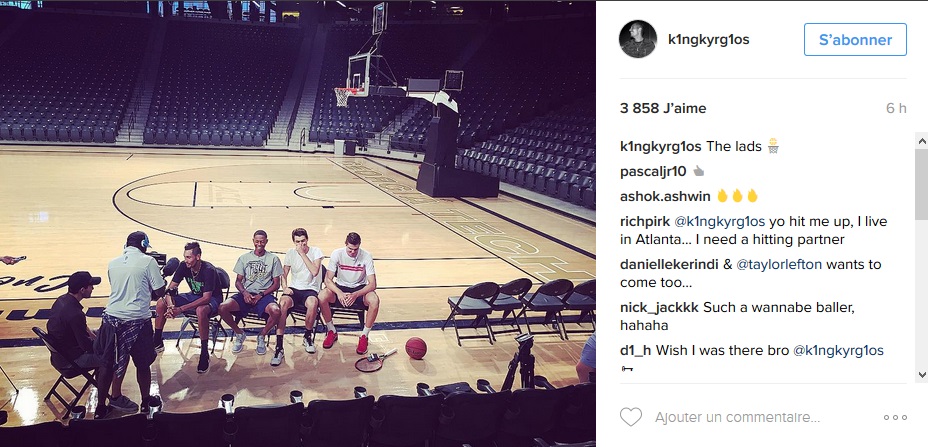 Otherwise, it seems like he is missing his dear girlfriend…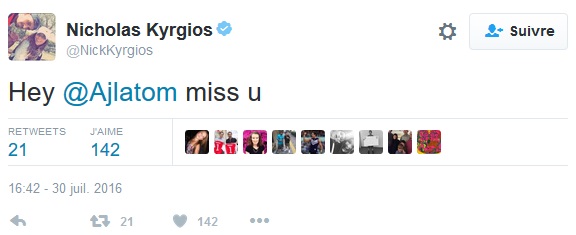 8- Grigor Dimitrov (NE).
A nice Canadian week for Grigor Dimitrov, quarter finalist in the singles, thanks to his game which has been brought back to life.
And who also went through one round in the doubles with Stan Wawrinka. The performance is not that food, but the two colleagues seemed to get on quite well.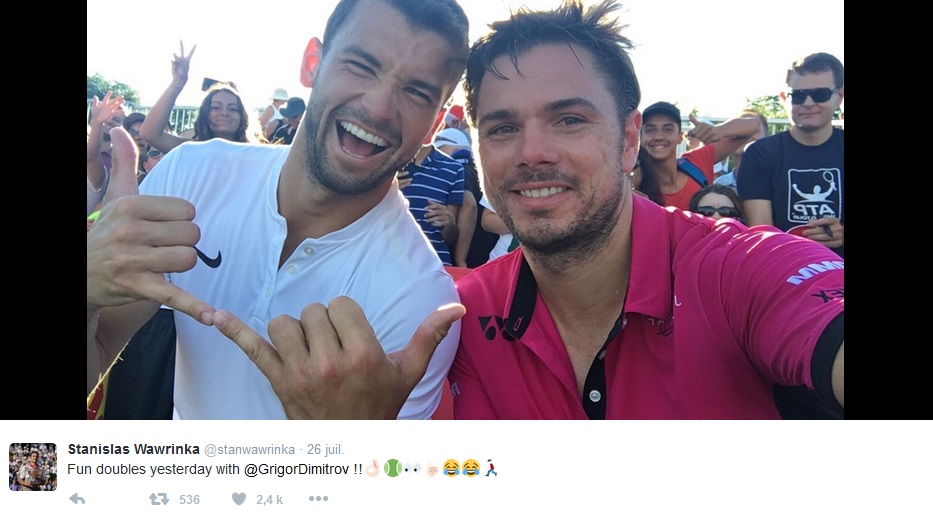 Otherwise, if you wanted to know what the Bulgarian looked like when he was younger, he gave us a nice picture in a home-knit outfit which suited him well.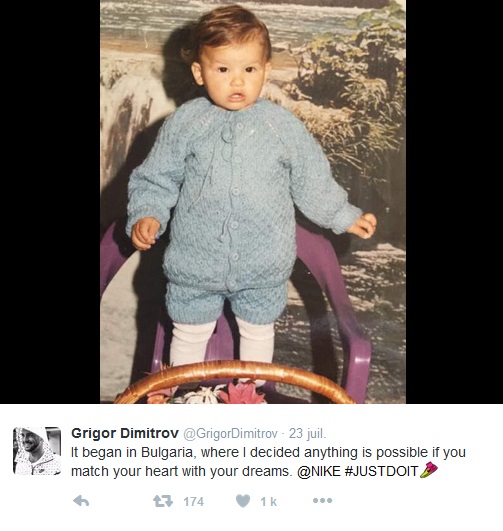 9- Stan Wawrinka (+5).
Dimitrov and Wawrinka's bromance was one of the highlights of the Rogers Cup 2016.
Wawrinka, more at ease in the singles, was defeated right before the final, by Kei Nishikori.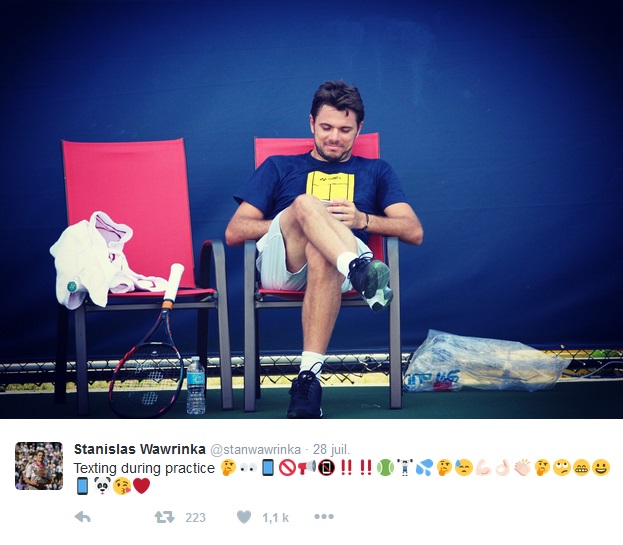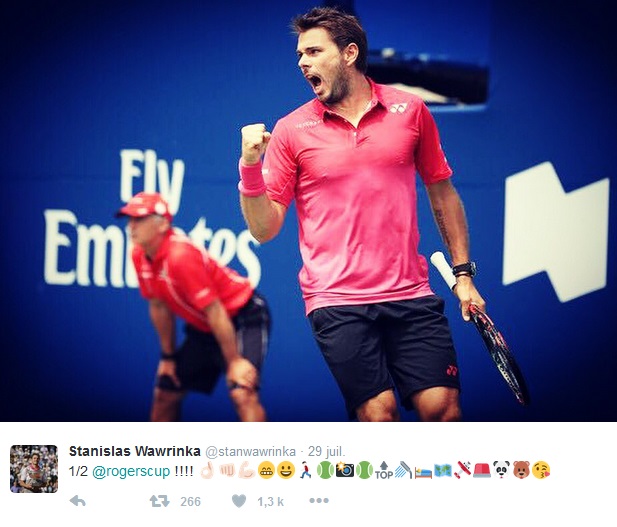 To go even further, he might want to put his phone away for a while and calm down with emojis, no ?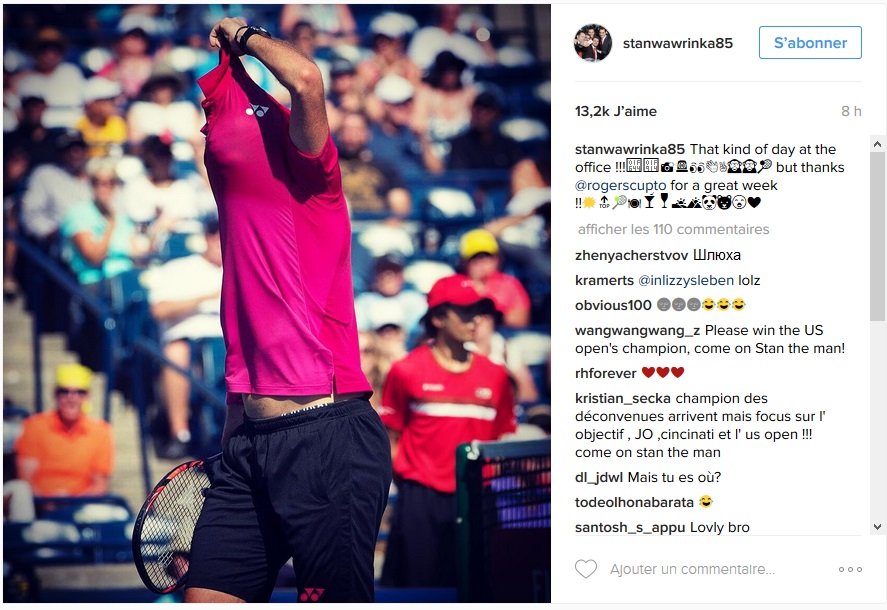 10- Kei Nishikori (NE).
And one Masters 1000 final for Kei the survivor, one ! The third in the Japanese's carrer, which he all lost.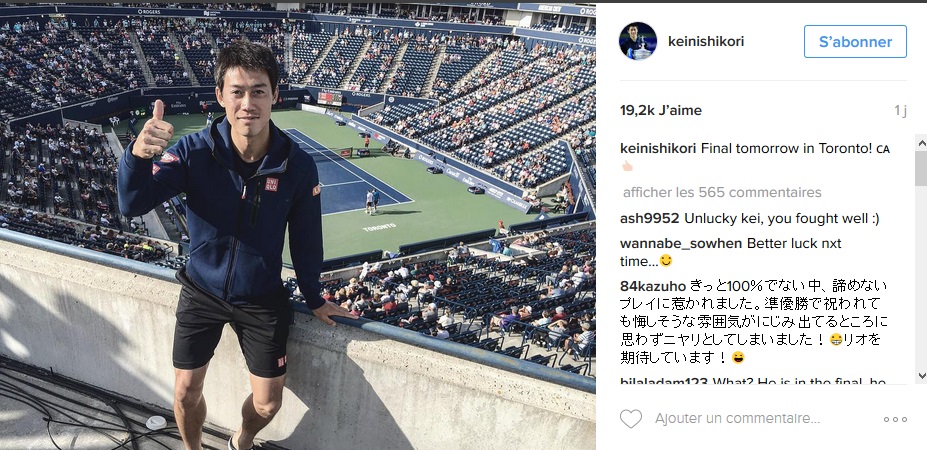 Earlier in the season, in Miami, Nishikori had also been defeated in the final, and it was already against Djokovic. It's however not for wanting of trying his best tennis all week.
He could also count on his fans' support, among which his fellow countryman and football player Tsubasa Endoh, who plays for…Toronto.