One week before Wimbledon, Andy Murray is ready : he's made it very clear on the Queen's courts, a tournament which he has won for the fifth time.
One week before Wimbledon, Andy Murray is ready : he's made it very clear on the Queen's courts, a tournament which he has won for the fifth time. Meanwhile, on the rest of the circuit, we've seen broken ping pong racquets, keepy uppies, and a videoclip.
1. Andy Murray (/).
Andy Murray is ready. On Sunday, he's won his fifth trophy at the Queen's tournament, in three sets, against Milos Raonic (6-7, 6-4, 6-3 in 2h12'). He overtakes his predecessors John McEnroe, Andy Roddick, Boris Becker, Lleyton Hewitt and Roy Emerson, who only won it on four occasions.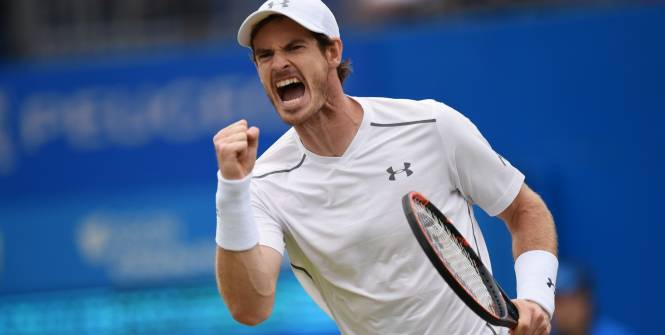 We can see him playing amazingly well, in the semi-final against Mario Cilic.
Or against Aljaz Bedene in the fourth round.
Andy is in shape, one week away from Wimbledon. And he's hungry.
2. Nick Kyrgios (NE).
What do you do when you're knocked out in the first round of the Queen's and your name is Nick Kirgyos ? First of all, relax before the NBA Finals and support LeBron James' Cleveland Cavaliers.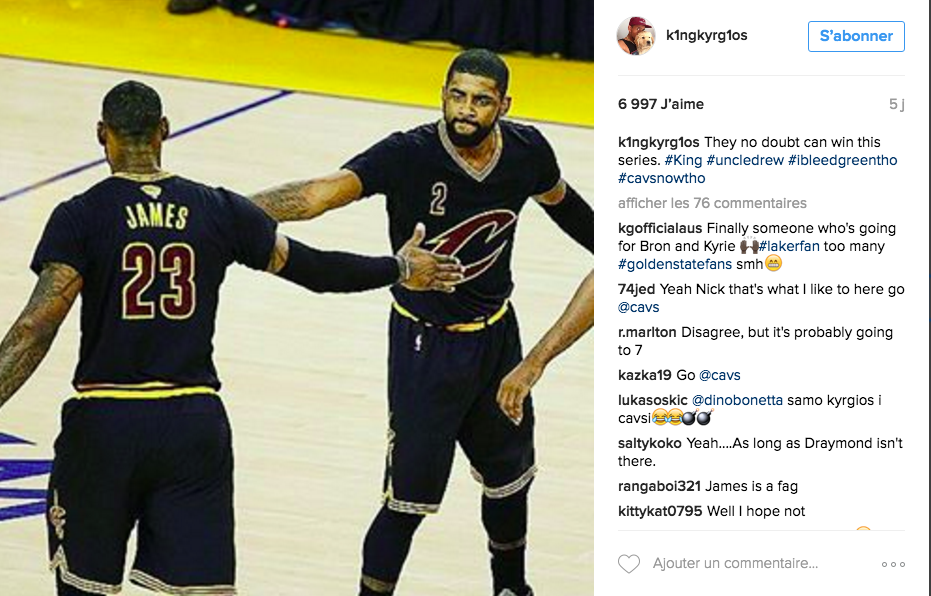 Then, spend hours on an RPG video game.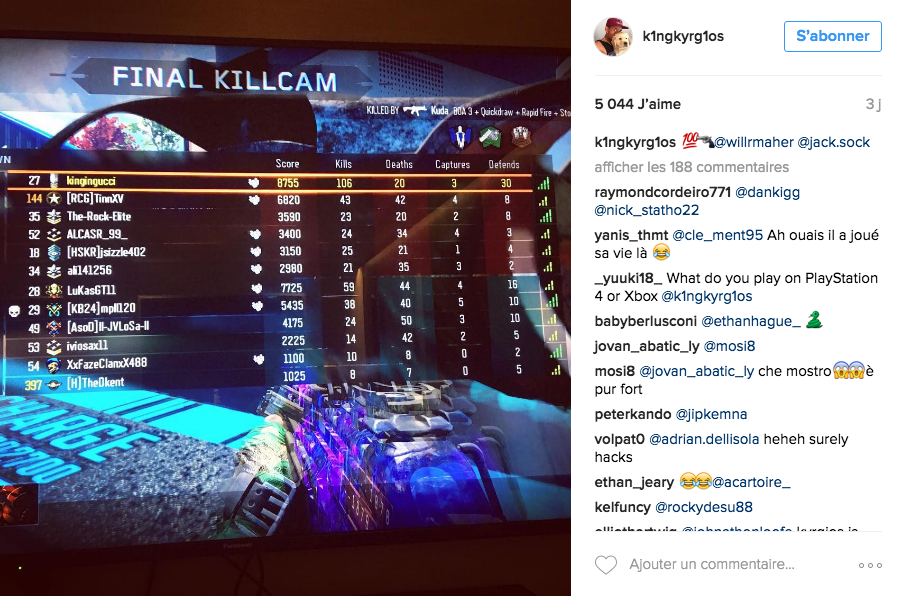 And finally, break a ping pong racquet.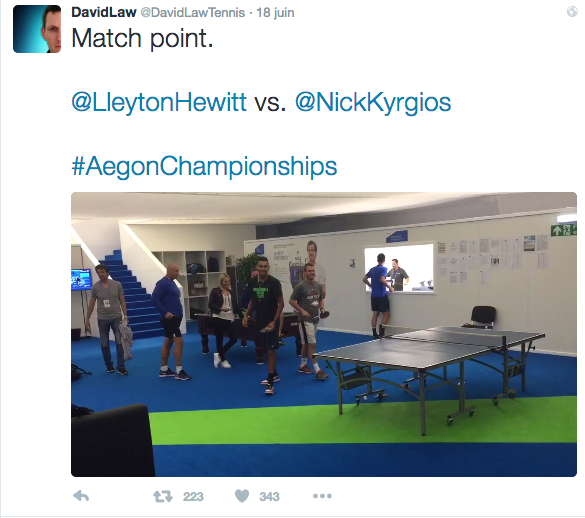 There's no doubt, Nick needed to unwind.
3. Caroline Wozniacki (+9).
While waiting to play a match in Birmingham, Caroline Wozniacki did a few keepy uppies.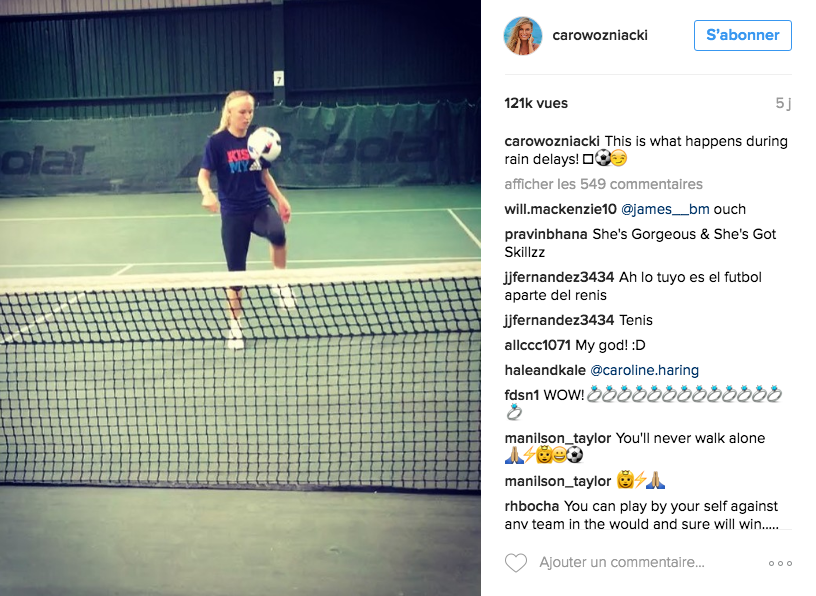 Then she took a selfie in the dark.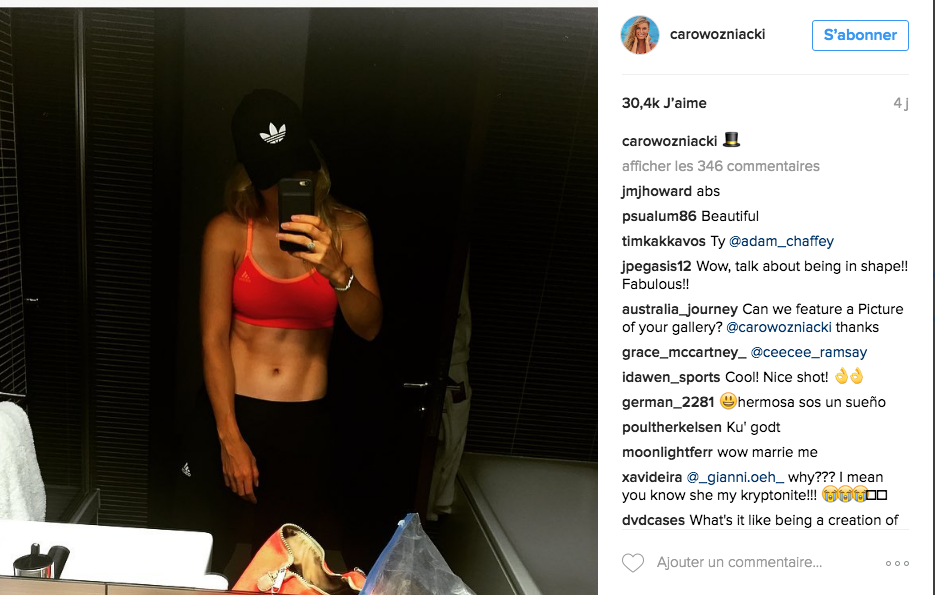 And wished an old friend a happy birthday.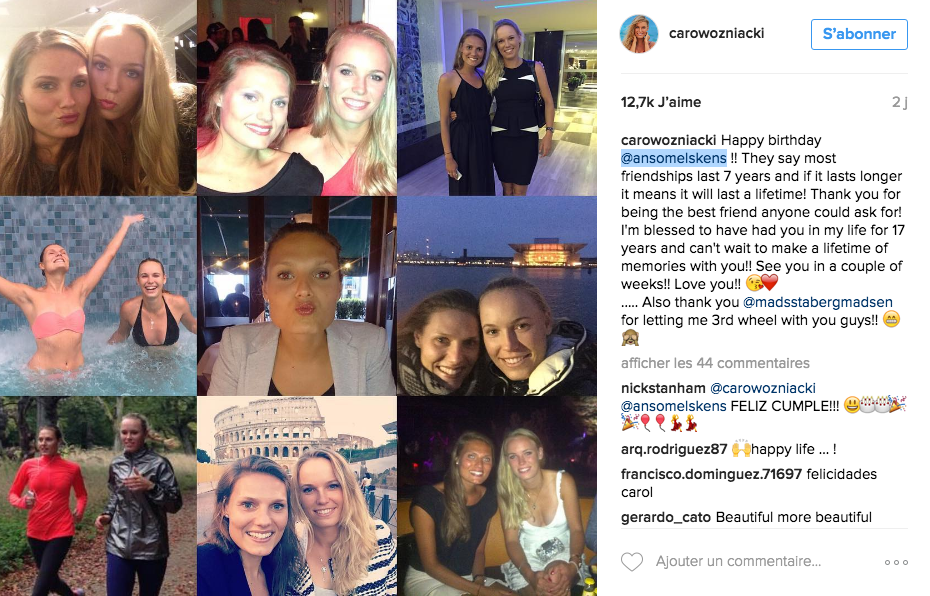 She went jogging with a bit of music on, to prepare for Eastbourne.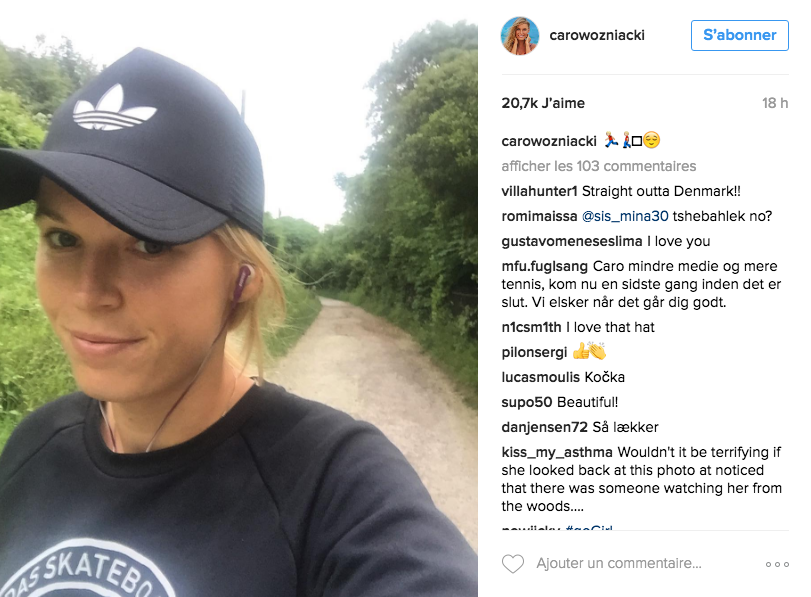 Caroline is definitely an all round girl.
4- Rafael Nadal (NE).
Forfeit in Roland-Garros and Wimbledon because of a wrist injury, Rafa announced his return for the end of July, and the Canadian Open of Toronto, before the Olympic Games. « The plan is to play in Toronto. We're on the right path », said his uncle Toni. Meanwhile, his nephew paid a visit to his academy during the Mallorca tournament.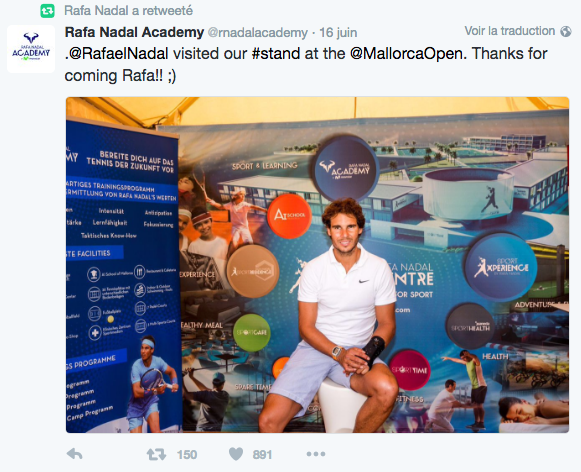 He also appeared in the Red One videoclip (at 1:18) alongside other stars.
Nice dance in front of water. And nice legwork.
5- Serena Williams (-3).
This week, Serena took a Snapchat, incognito, in a spectacles shop.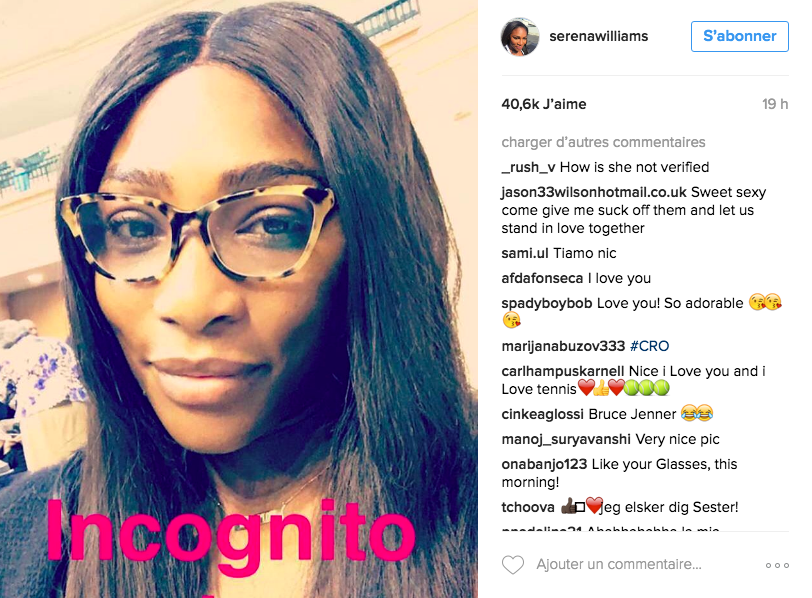 She tried on sports bras and took a selfie to ask her followers for advice.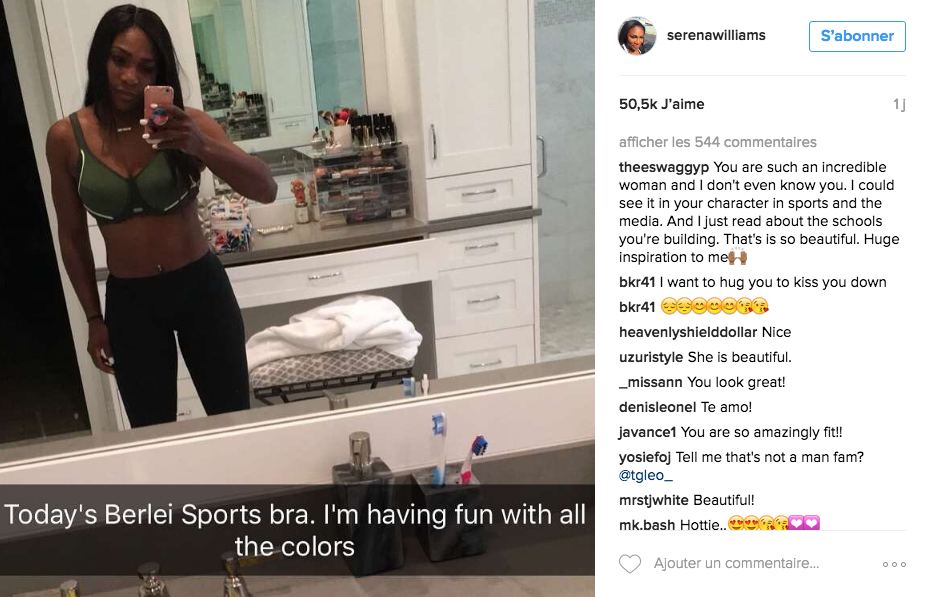 She organized a karaoke in London…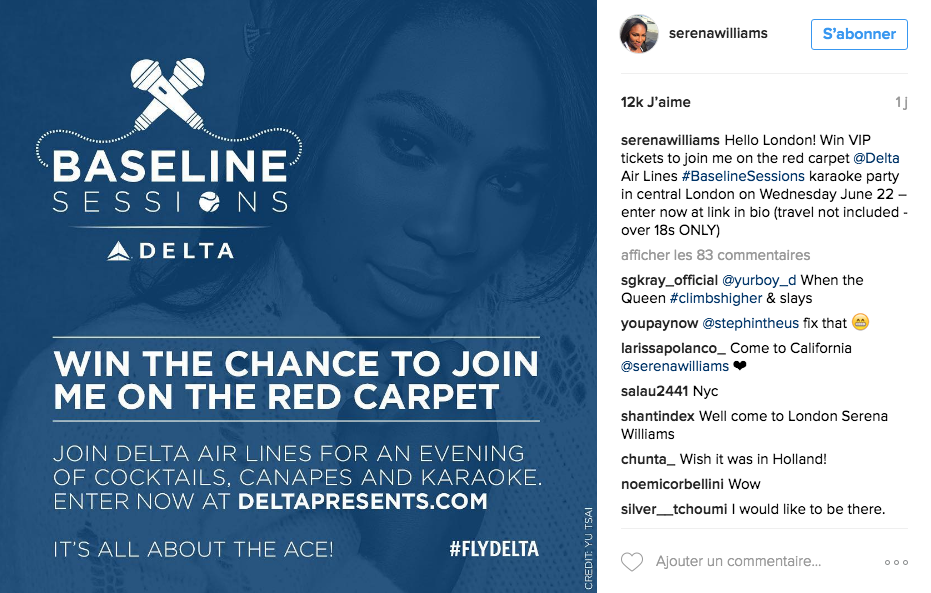 …and went back into her childhood.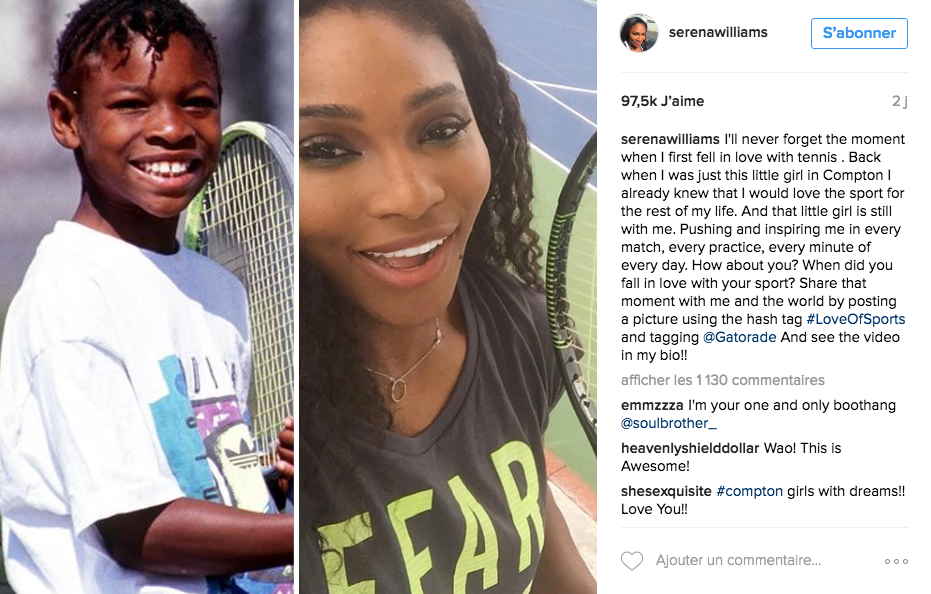 Serena's life is too quick for most of us.
6. Maria Sharapova (/).
Suspended two years for doping, Maria Sharapova launched an appeal in front of the Court of Arbitration for Sport. While waiting for the result, the Russian caries on training, as hard as ever, like nothing happened.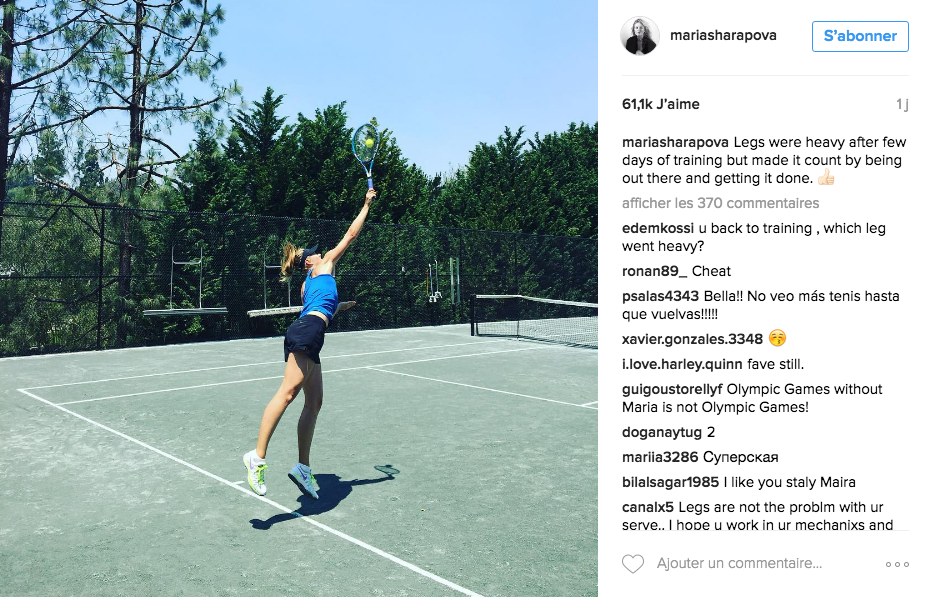 On her selfie however, her usual smile has disappeared.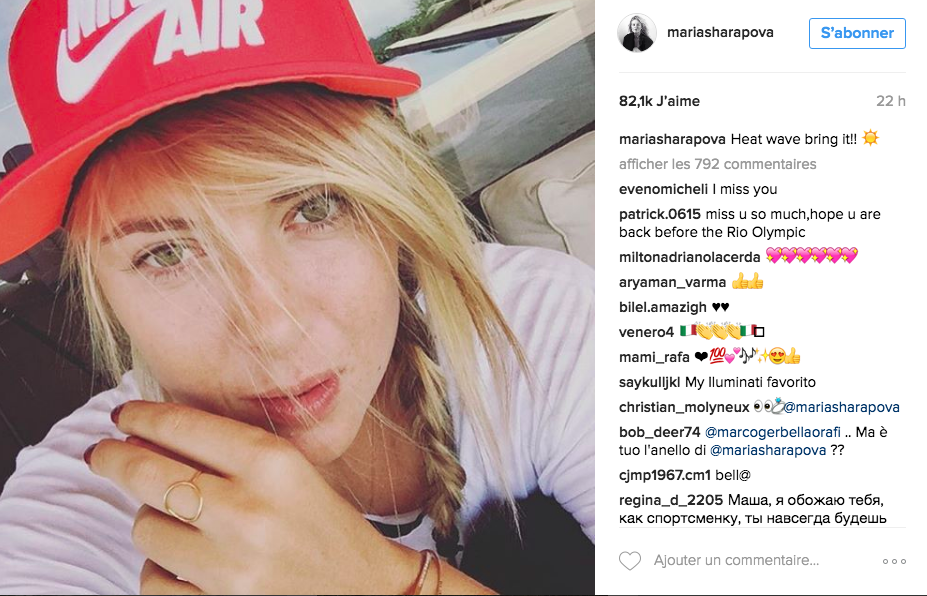 More surprisingly, the player thanked Ivanka Trump, Donald Trump's daughter, for promoting her Sugarpova sweets.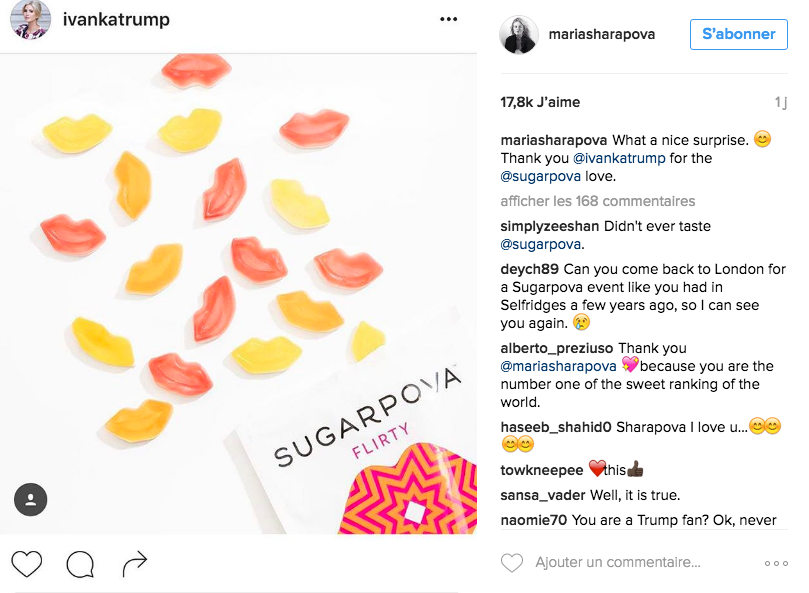 Finally, Maria went to relax in the water.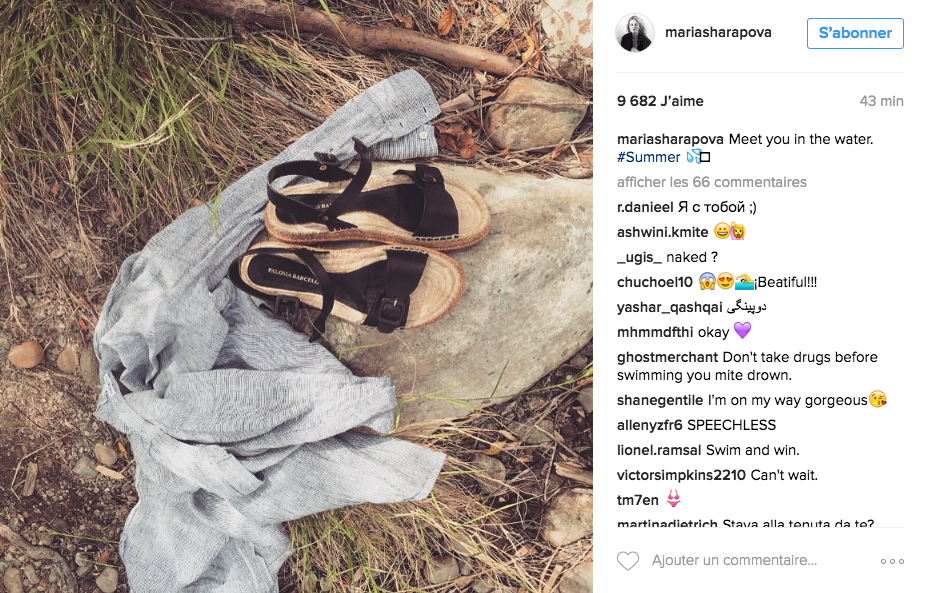 Seeing the bad times she's having to face, we understand.
7. Novak Djokovic (-4).
Just before Wimbledon, Novak has seen his coach Boris Becker sing his praise in Tennis Now. « I think he wants more, he wants to break records, said Boom Boom. There are many aspects of his game which have improved in the last two or three years. I've never seen a player defend better than Djokovic. He returns the balls which you think are impossible to return. » Before carrying on : « Djokovic always wants more, he has no limits, there isn't one training session where he doesn't give his best. It's this mentality that brought him where he is today. He know who has won Grand Slam tournaments, and how many times, but he doesn't speak about it all the time. He wants to be part of the best and he knows what he still has to achieve. » What else ? Djokovic celebrated his love for his wife on the social networks.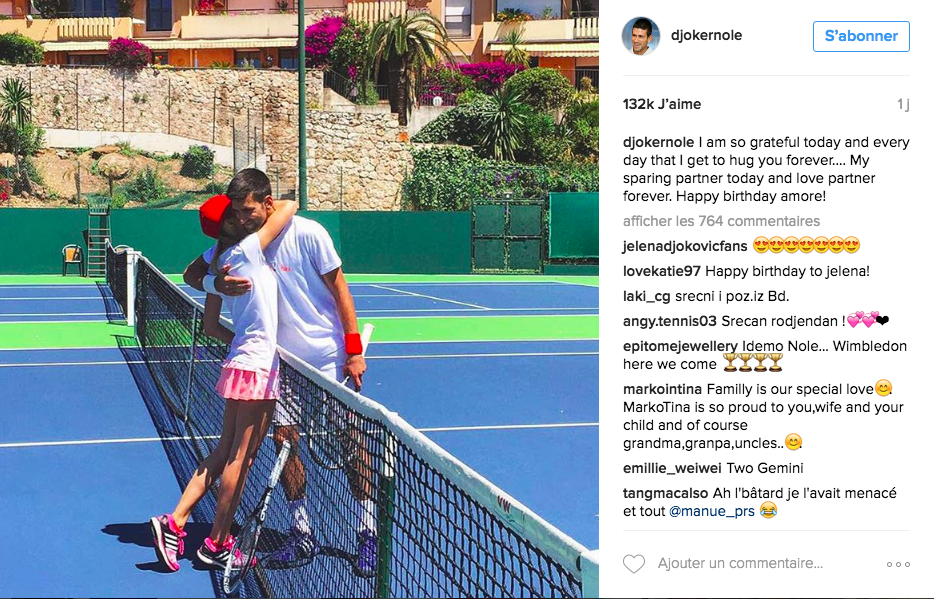 And took a picture with the skier Nevena Ignjatovic.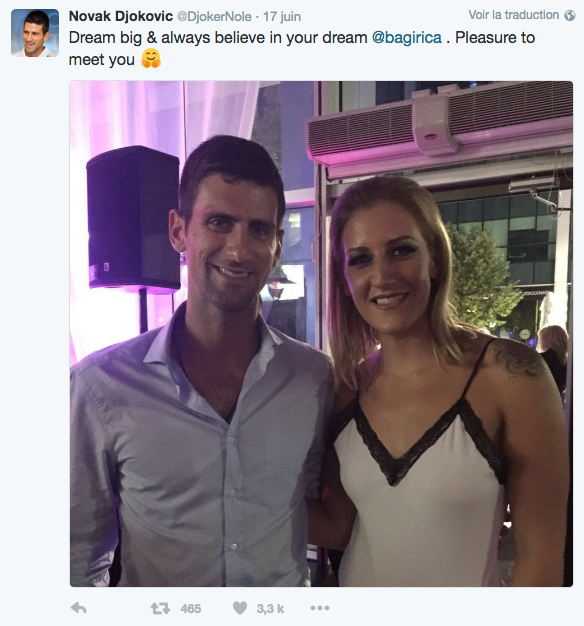 Djoko is always in good company.
8. Ana Ivanovic (NE).
How do you recover from a defeat in the semi-final in Mallorca against Caroline Garcia ? Most likely with this healthy snack.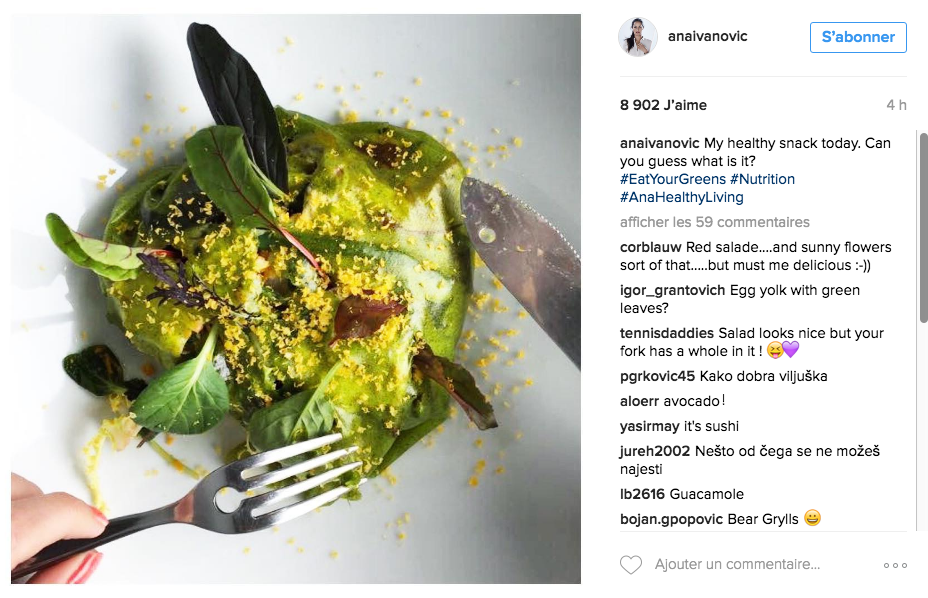 How do you move forward ? Most likely by wishing her father a happy father's day.

9. Alexandre Zverev (NE).
Yes, Alexander Zverev lost in the final in Halle against Florian Mayer, but the young German has dazzled the tournament with his long hair and this tweener.
The rest of the time, he slipped…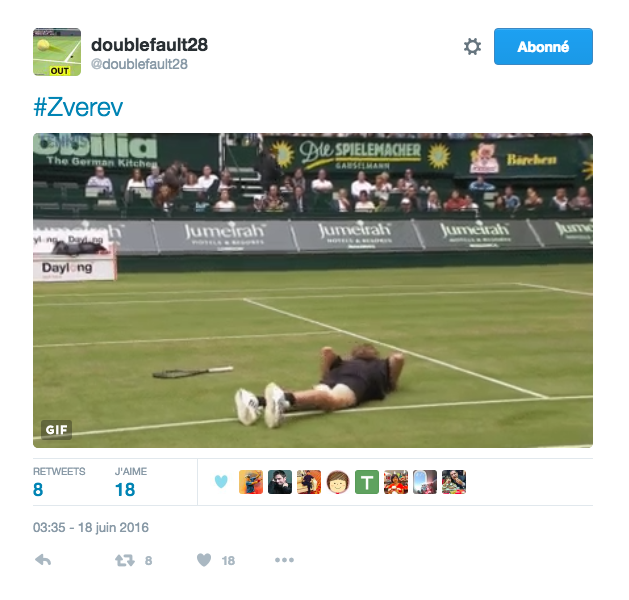 ….and put on a show for the crowd.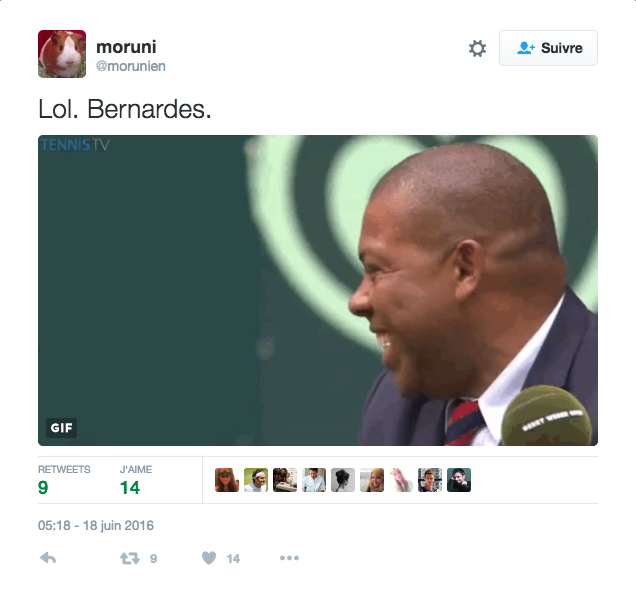 10. Fabio Fognini (-6).
Since his wedding last week with Flavia Pennetta, Fabio Fognini hasn't came back to earth and said it on his Instagram account.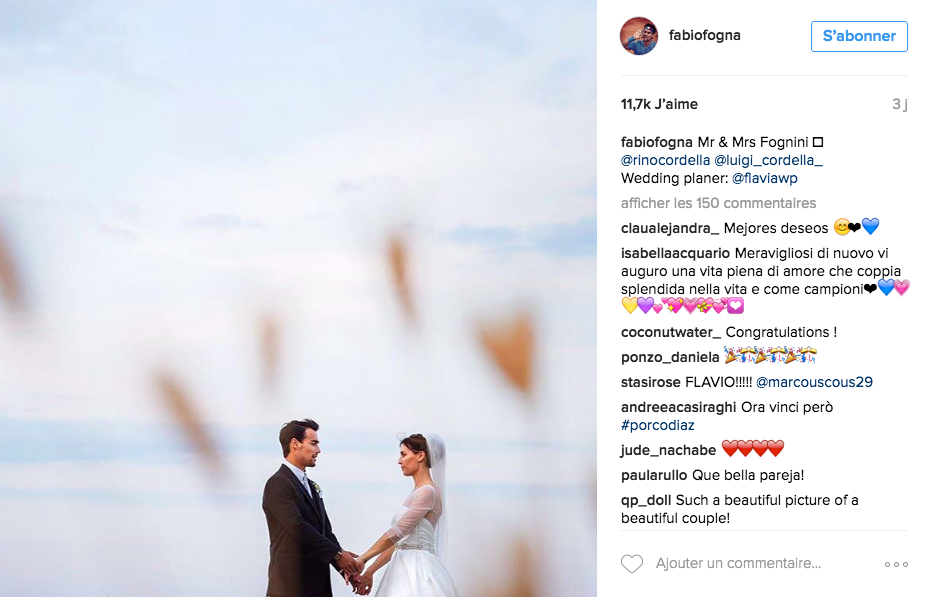 So Flavia replied with hers.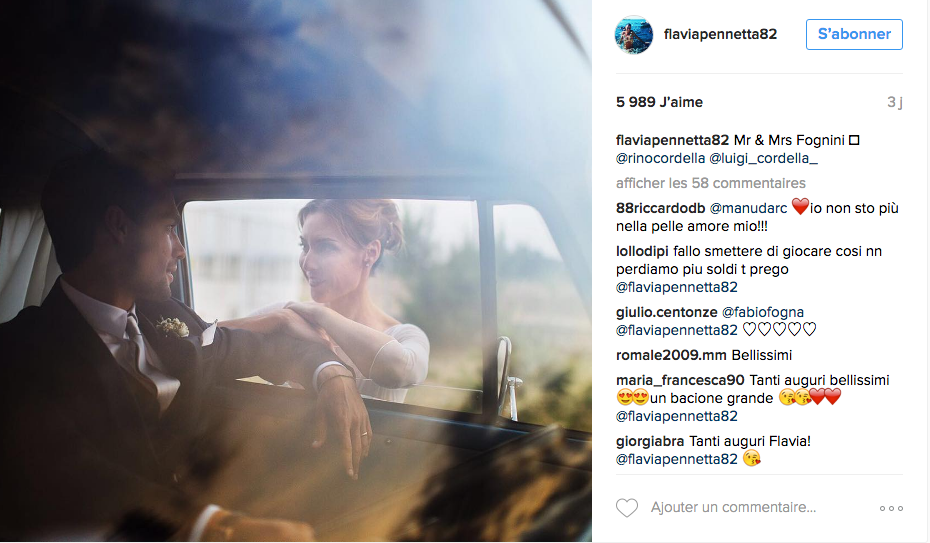 For the occasion, Fognini was gifted a suit by Armani.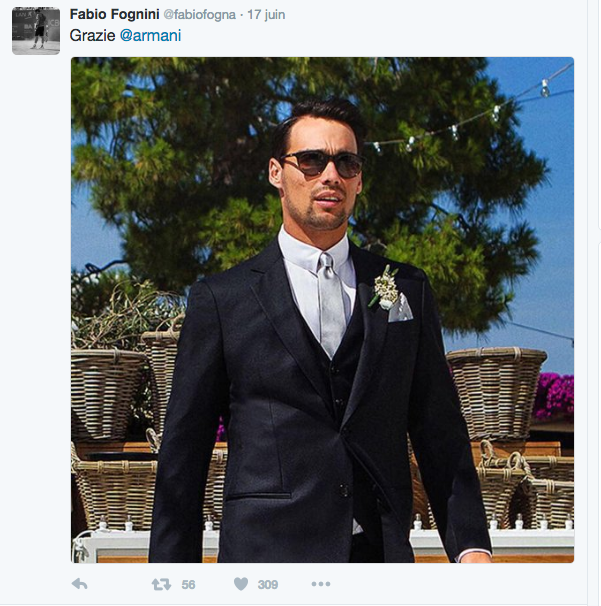 11. Garbine Muguruza (-6).
How can you tell when a girl is happy ? Most likely when she's riding a quad bike standing :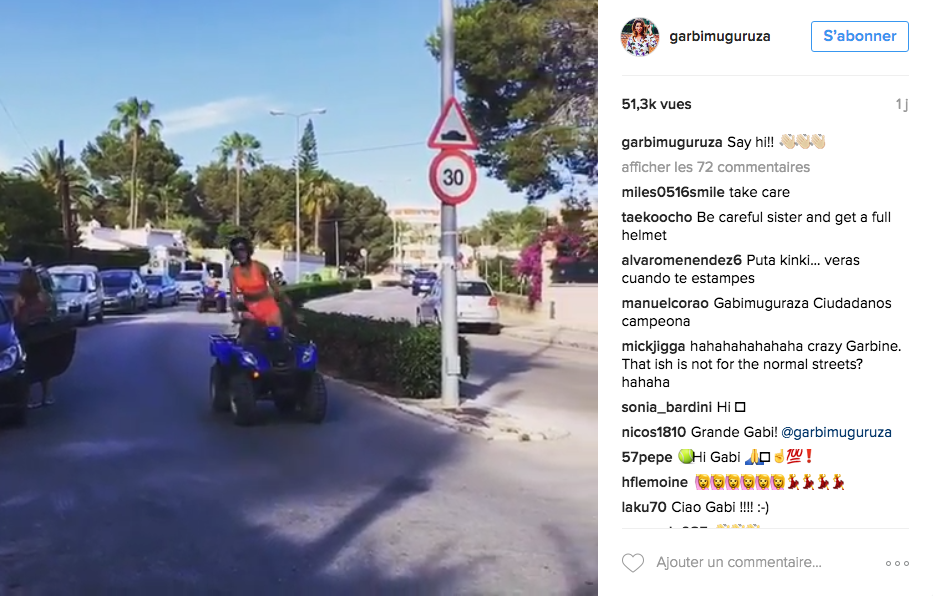 During the rest of the week, the Spanish player trained with Jo-Wilfried Tsonga. After all, Wimbledon is close, and after her success at Roland-Garros, Garbine can't disappoint England.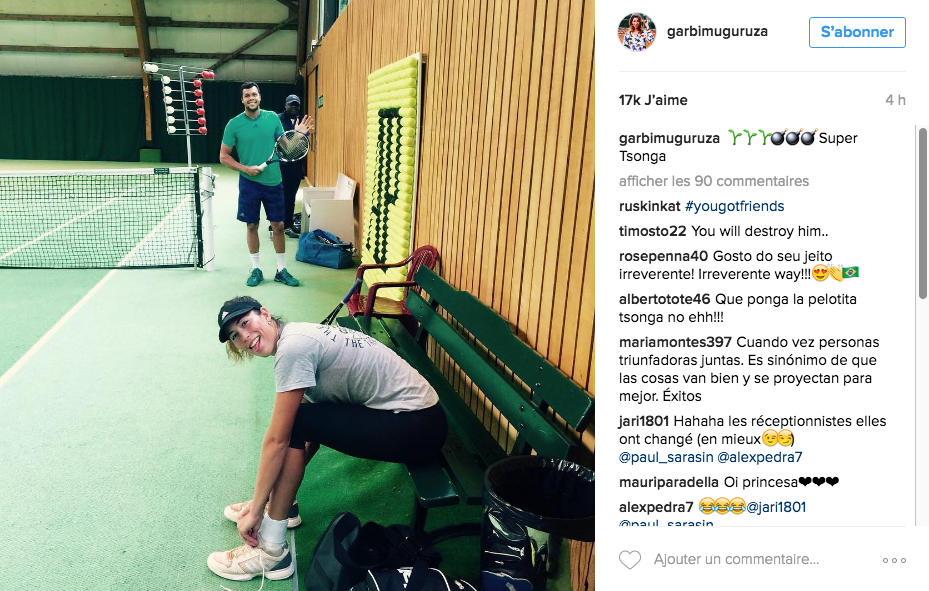 12. Caroline Garcia (NE).
There was Strasbourg a month ago, there is now Mallorca. In the Balearics, Caroline Garcia has won the final against Anastasija Sevastova in two sets (6-3, 6-4). Which called for a little kiss to her dad, who was in the stands.
13. Aljaz Bedene (NE).
The Slovenia-born British player, world number 58, was defeated in the fourth round by Andy Murray but he mainly made a ballgirl's head spin.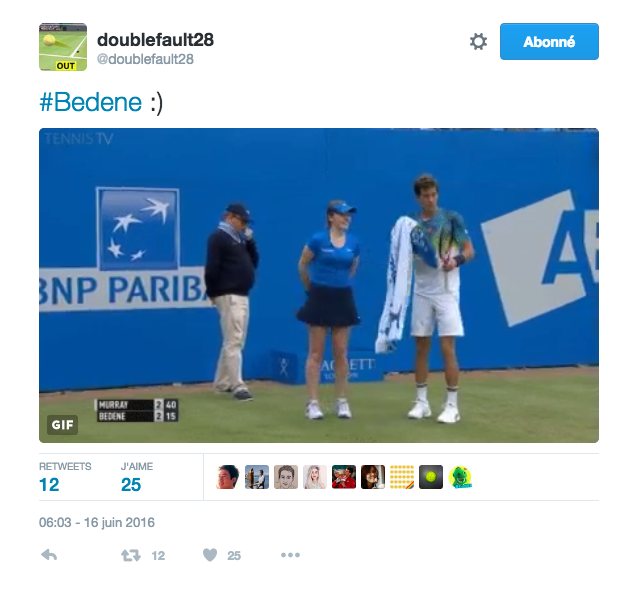 14. Florian Mayer (NE).
Florian hasn't only won the second title in his career in Halle, the German also hit some Boris Becker-like volleys.
15. Madison Keys (NE).
The young american won her first tournament, at 21, in Birmingham. Enough to enter the top 10 with a smile on her face.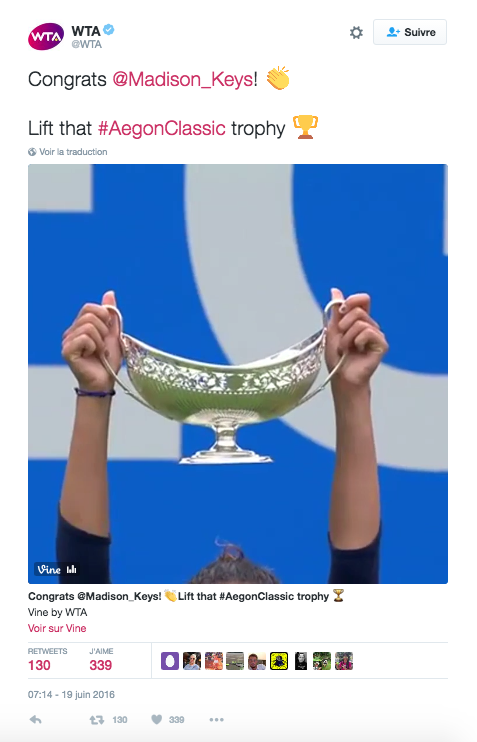 Outs :
Kristina Mladenovic, Coco Vandeweghe, Dominic Thiem, Roger Federer, Angelique Kerber, Karolina Pliskova, Nicolas Mahut
By Antoine Mestres