Two years of suspension for Maria Sharapova ? Maybe she needs to think about a life without a racquet in hand ? If she goes for a career change, the Russian has many options…
The sanction is here : After being tested positive to meldonium during the last Australian Open, Maria Sharapova has now been suspended for two years by the international tennis federation, or until January 2018. By then, she will be older than 30. Maybe she can already think of a new life, without a racquet in hand ? If she decides to change her career path, the Russian has many options…
Television pundit, to keep one foot in the circuit
Guilty of having kept on using meldonium after this product had made it's entry on the list of prohibited substances, Maria Sharapova isn't banished from entering the tournaments to do something else than playing tennis. She could commentate the matches, for example, as Tatiana Golovin, Amélie Mauresmo, or Marion Bartoli have done before her. Sharapova is gifted with what we could call a « television physique » and could perfectly analyze the matches of different tournament as well as being a charming interviewer. Incredibly at ease when it comes to her personal communication, she shouldn't have to much trouble being on the other side of the microphone…
Coach, like Amélie Mauresmo
If Sharapova wants to keep the taste of competition even if she isn't authorized to play, she can offer to become a coach. The role is generally perfect for ex-champions, like Amélie Mauresmo for example, who had, until a few weeks ago, the double role of being the captain of the French BNP Paribas Fed Cup team as well as being Andy Murray's coach. If it is publicly known that Maria Sharapova wasn't the most popular player on the circuit, it would nevertheless be quite surprising if one of her ex-rivals, or a player of the men's circuit wouldn't imagine that they could benefit from the advice of such a champion. Recently, tennis players like Benoît Paire or Tomas Berdych have parted ways with their coach and must be looking for a replacement. However, we're not quite sure they would be the easiest guys to handle for a beginner…
Russian ambassador, to sing the praises of her glorious country
If Sharapova has left Russia at the age of 8 to move to Florida and attend Nick Bollettieri's intensive training sessions, she hasn't forgotten her roots. During the last Olympic Games in London in 2012, she had been named flag-bearer of the Russian delegation. An honor among many other : her last distinction goes back to last February, when the ex world number 1 received the Medal of honor of the Russian ministry of sports, in Moscow. It seems clear that she wouldn't have to much trouble to get a job at the federation or at the ministry to advertise Russian sport. She has already done it for the Sotchi Olympic games, and could for example promote the future football world cup, which will take place in Russia in 2018, the year in which her suspension will finish.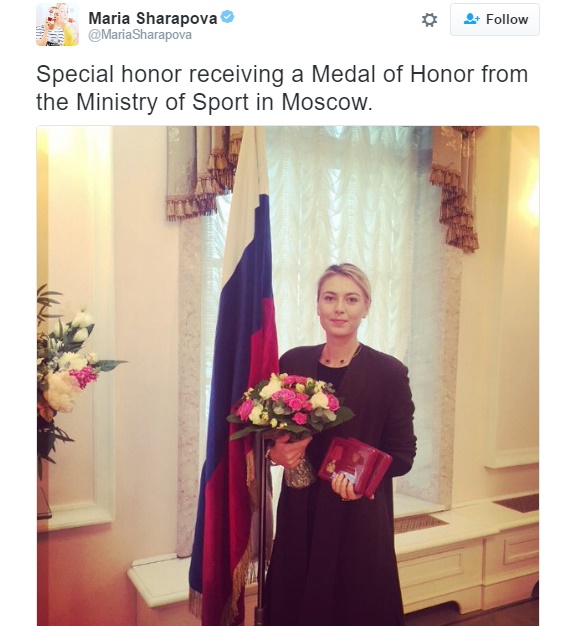 Confectioner, to sell her sweets
Launched in 2012 by the tennis player to diversify her commercial activities (and increase her personal fortune), the sweets brand Sugarpova has faced a first bad buzz a year later when nutritionists have alerted the public opinion on the astronomical amount of sugar they contain (84 grams by packet on average, the equivalent of 21 sugar spoons). The fact that the ambassador of Sugarpova has been suspended for doping also hasn't helped increasing the sales of these top of the range sweets…But maybe if Sharapova made the most of her suspension to sell the sweets herself, she could sell more ? She has already done it - exceptionally - in London last year.
Stylist, to dress her ex-rivals
When she was still shining on the courts, Sharapova was always dressed well : simple and classy dresses, a good color, a subtle layered cut…Class. And for a good reason, as she designed her clothing and shoe lines herself, in collaboration with her sponsors. As they haven't all terminated her contracts when they found out that she was suspended, it's possible to imagine that she could still become a stylist for them. And this time, not for herself but for her ex-rivals.
Instagramer, to carry on with her passion for photography
As it seems to have now become an official job for some narcissistic smartphone addicts, being an instagramer is the last possible career change which Sharapova, the indisputable tennis champion on the social network, could imagine. Her account is followed by more than 1,7 million people, addicted to her always very professional pictures (even when they seem natural), where she's often the central character…
By Régis Delanoë