Novak made history on Sunday, after becoming the first player since Rod Laver to hold the four Grand Slam titles at the same time. But after Federer and Nadal's withdrawals, the outcome was (almost) already written. While Muguruza came as a big surprise
Novak made history on Sunday, after becoming the first player since Rod Laver to hold the four Grand Slam titles at the same time. But after Federer and Nadal's withdrawals, the outcome was (almost) already written. While Muguruza came as a surprise in the women's table. And what a surprise !
1- Garbine Muguruza (+7).
Ladies first in this ranking, or should we say THE lady of this Roland-Garros fortnight : Garbine Muguruza, brillant rising star of women's tennis, who won her first Grand Slam title after defeating Serena Williams in the final.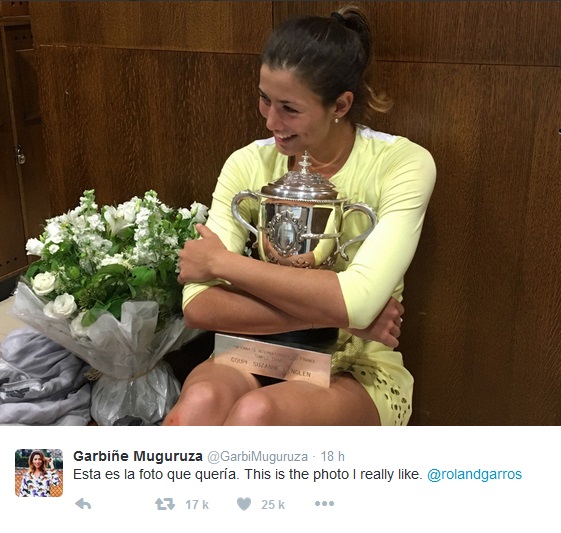 A victory for which she credited the work accomplished with her coach, the Breton miracle worker, Sam Sumyk.
A win she's earned after a superb title point : a wonderful lob to definitely put down the world number 1.
Muguruza then held a very professional and sober speech, not forgetting anyone during her special thanks.
And before starting her season on grass, there was a last picture on the Place de la Concorde, in Paris…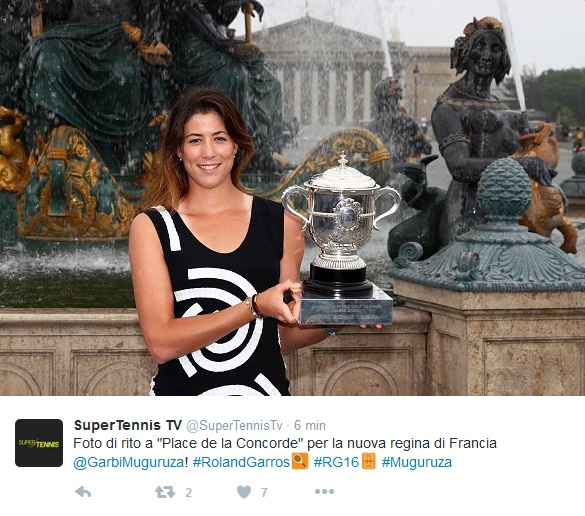 …in front of an impressive number of photographers.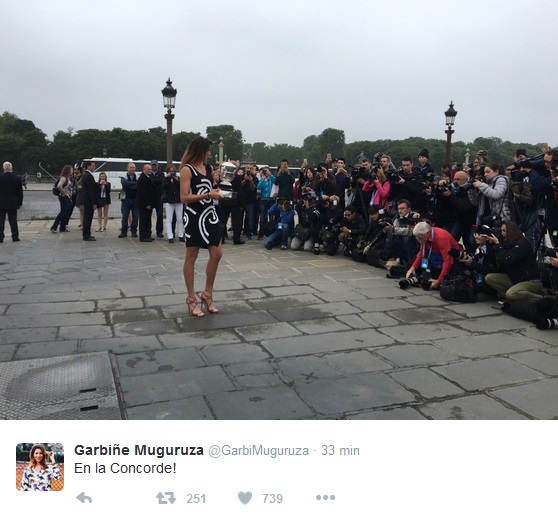 2- Novak Djokovic (+12).
Second of the ranking, or joint first : Novak Djokovic ! The Serb showed his mischievous side to be enjoyed by the crowds, playing with the star of the tournament : the rain.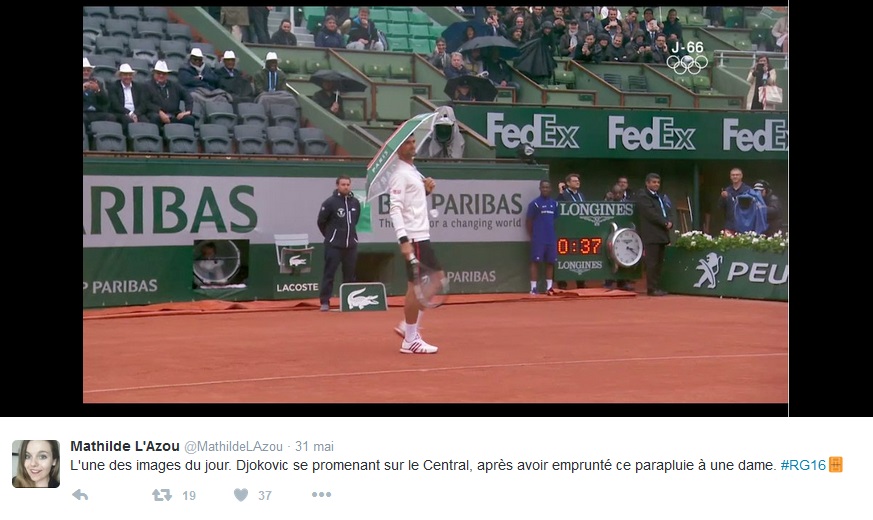 His detractors will say he's trying too hard, but he still knows what to do to become popular, especially with the younger fans and the ball boys.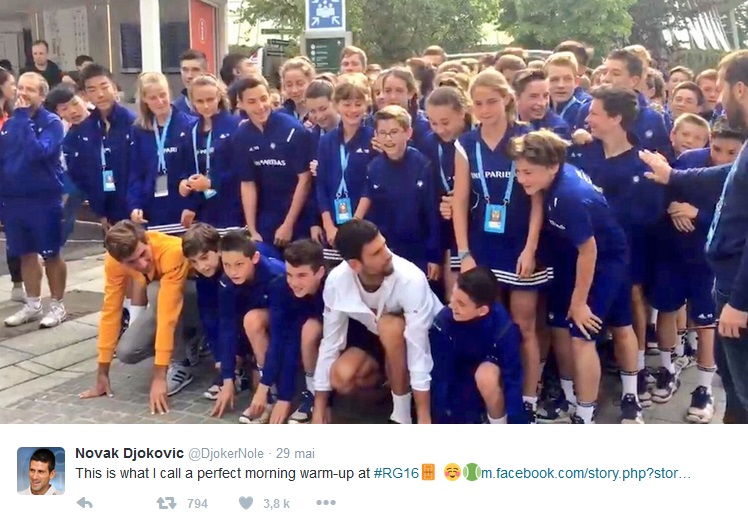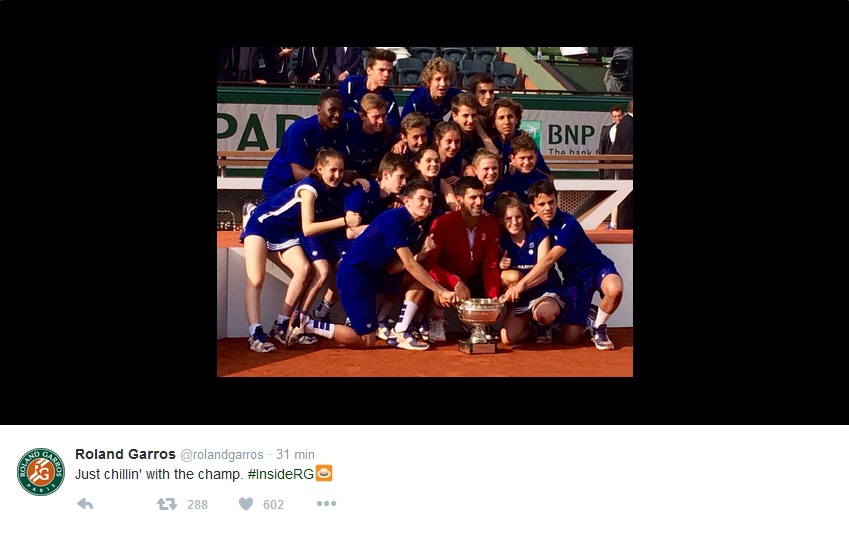 The Serb has such a big will to be loved that he's asked Kuerten if he could borrow his victory heart on clay, to thank the crowd after his first triumph at Roland-Garros.
A success he's found under the watch of a certain Leonardo DiCaprio.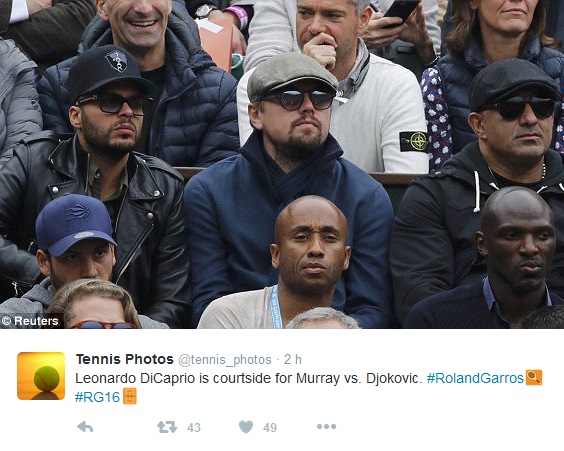 Enough for a well deserved Gipsy Kings session.
3- Andy Murray (-2).
The loser of the final is once again Andy Murray, who nevertheless has had a beautiful fortnight, with a very high level of tennis.
The Scotsman has put in less efforts than Djokovic to earn the audience's sympathy but he could also count on numerous smiles : Rod Laver…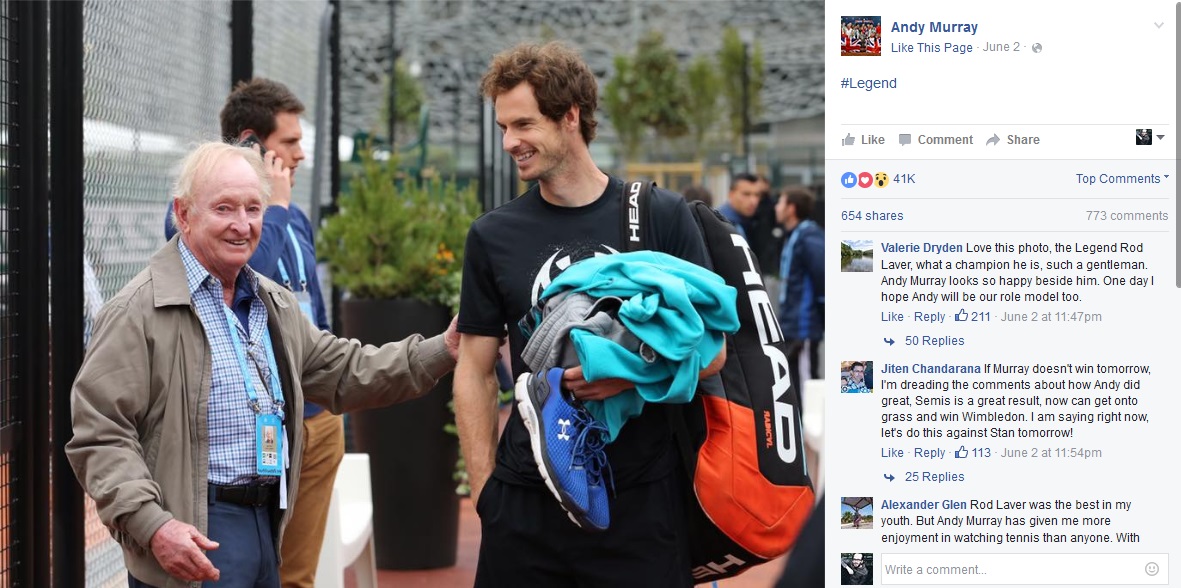 …but also Éric Cantona.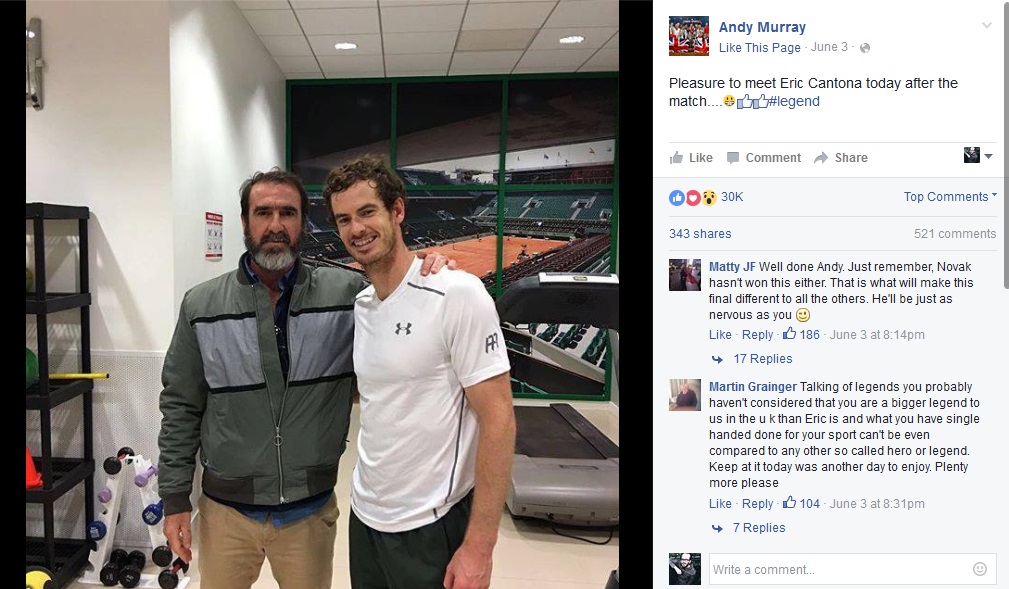 Besides, Andy Murray made the cover of Men's Health's latest issue. A good opportunity to pose for shirtless fashion pictures.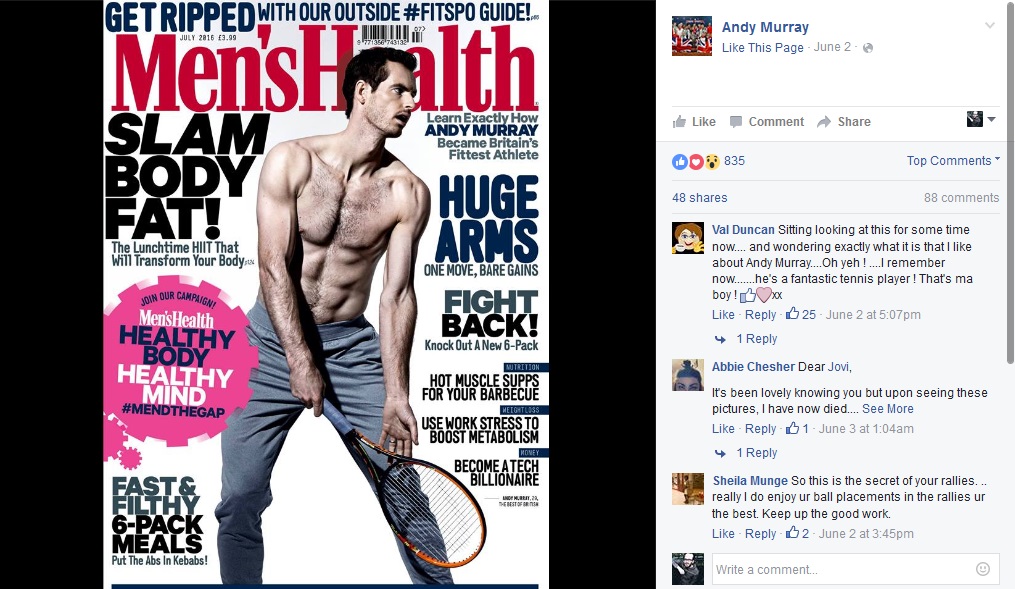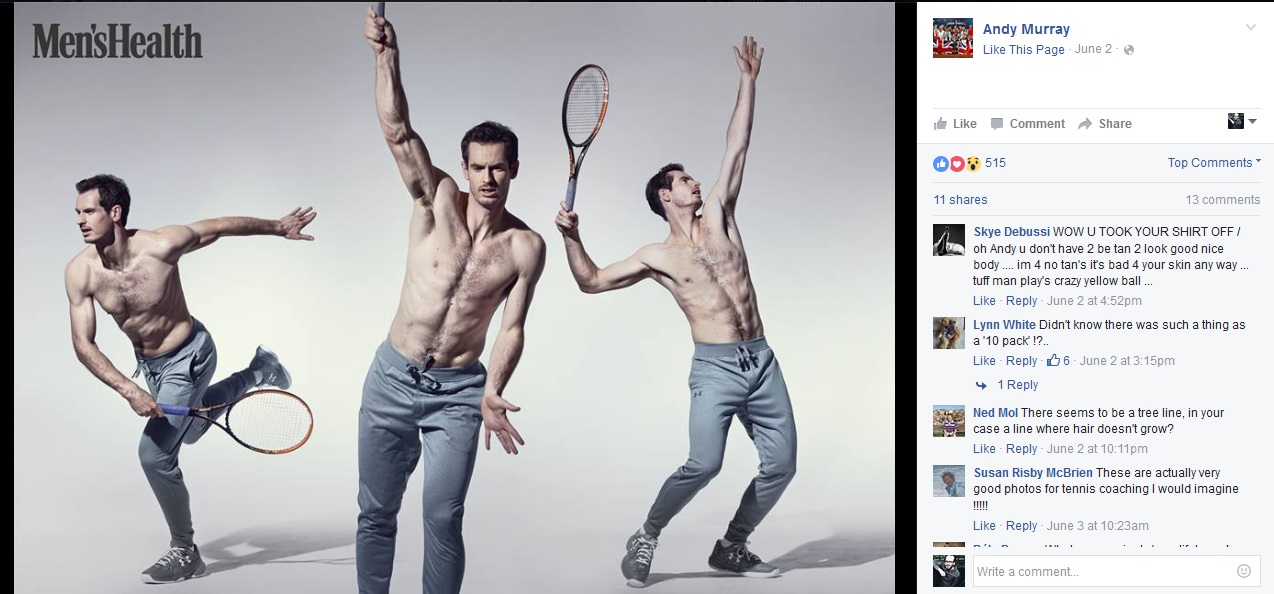 4- Stanislas Wawrinka (/).
The title holder finally gave up his trophy, his journey being stopped in the semi-finals this time. Which didn't prevent him from making the most of his Parisian fortnight and of the city's charms.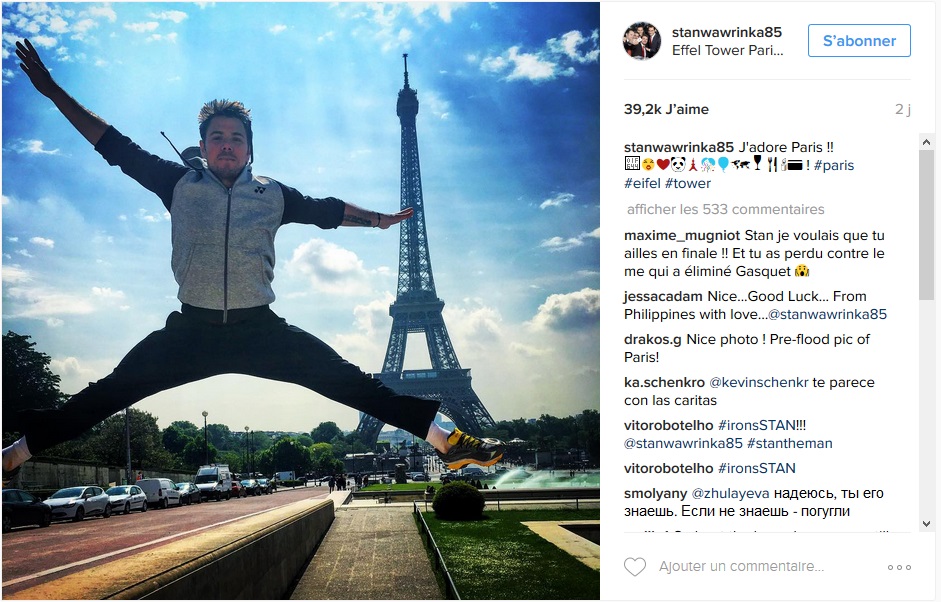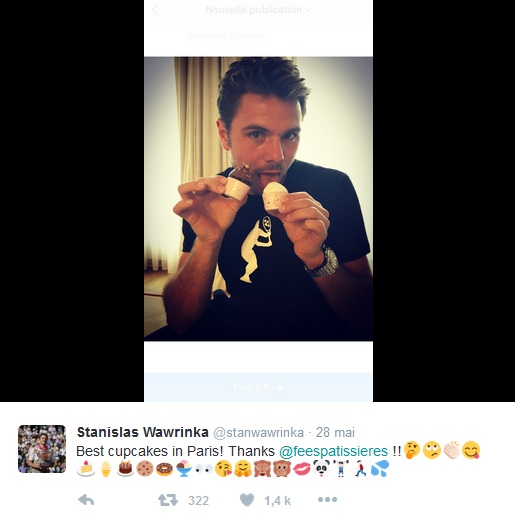 If he hasn't won, the Swiss was once again very impressive on the court, and capable of hitting strokes of genius…
…as well as displaying comical scenes, like this rally with a ball boy during an interruption, to keep his muscles warm.
It almost looks like Djoko…
5- Serena Williams (/).
Serena Williams was really happy in Paris during the Roland-Garros fortnight. Settled in a luxurious hotel of the French capital, even making fun of the bad weather conditions…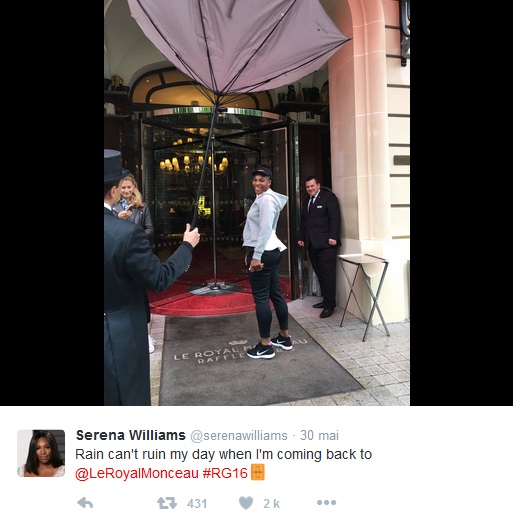 …making the most of the little pleasures the place had to offer…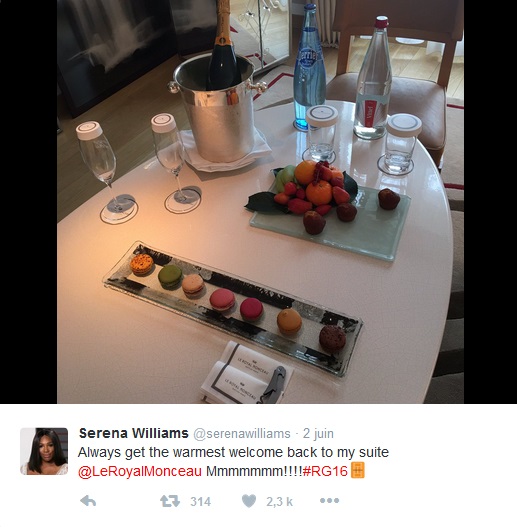 …before the pain : a game which wasn't really on point, a final completely missed against Muguruza, and Steffi Graf's record remains unequaled…and moreover, the passing of her idol, Mohamed Ali.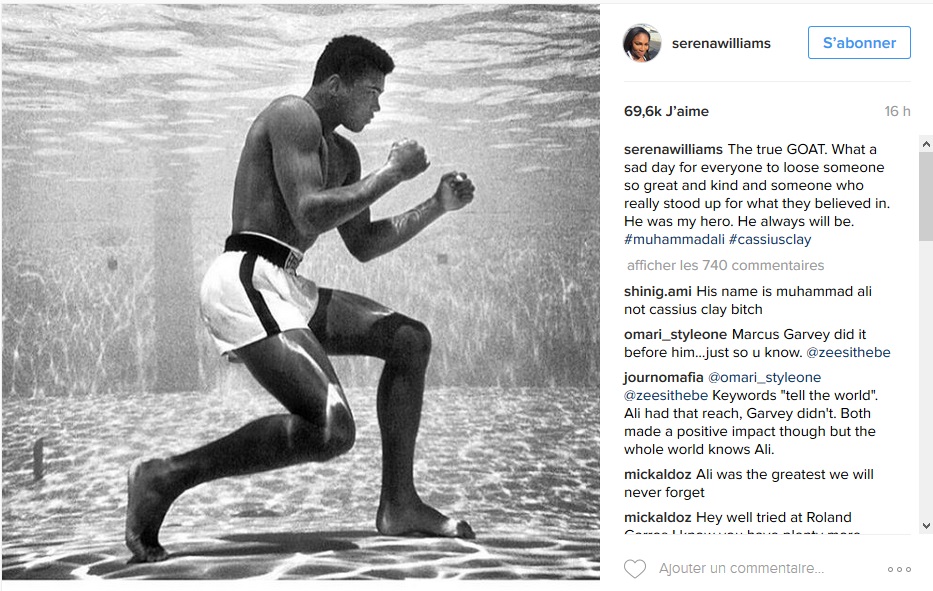 A horrible start to this month of June, to say the least. Let's hope for some better days to come.
6- Taylor Fritz (NE).
Knocked out in the first round in Paris, Taylor Fritz still made the most of his stay in the capital of romanticism by proposing to his long-standing partner. She said yes, in front of the Eiffel tower ! Class !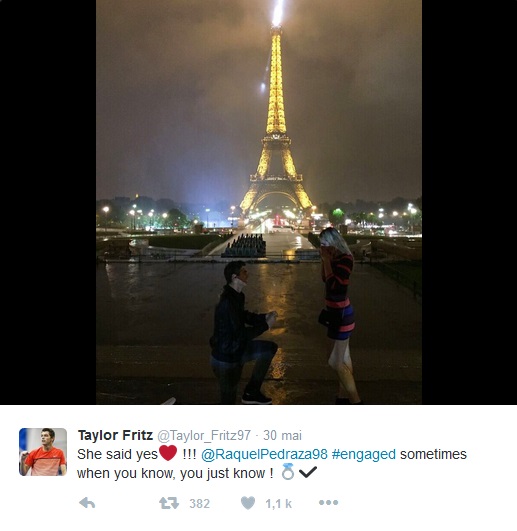 Still, the American promising player didn't seem too unhappy to say goodbye to Paris and its clay…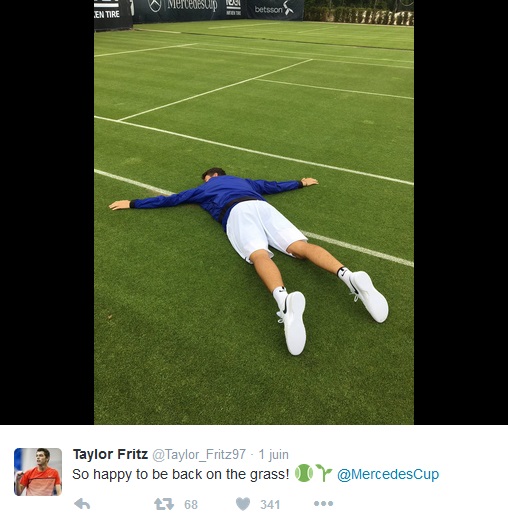 7- Dominic Thiem (NE).
It was quite predictable, but the revelation in this year's men tournament is Dominic Thiem. Remember his face because his career is well set to last a long time and to be incredibly prolific.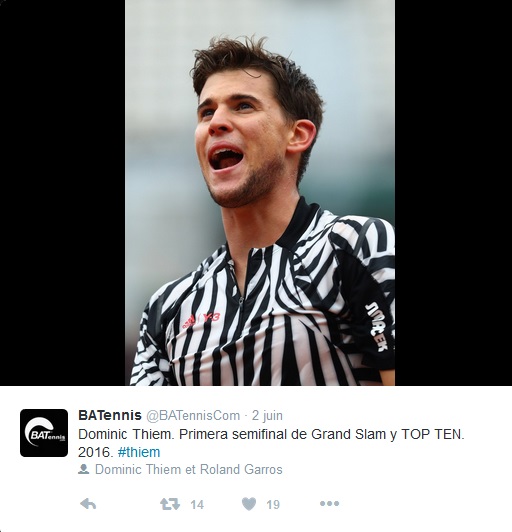 Remember his game too, as it is very impressive, with impressive power. David Goffin was his victim in the quarter-finals…
…and even Djokovic suffered in the semi. The Serb applauded his opponent's game, even if the Austrian still seemed a little unexperienced to dominate the world number 1 in the semi-final.
8- Kiki Bertens (NE).
In the women's side, the revelation is named Kiki Bertens. A Dutch player who's brought a fresh wind in this humid edition of Roland-Garros. Her fans were able to enjoy their favorite's superb performance…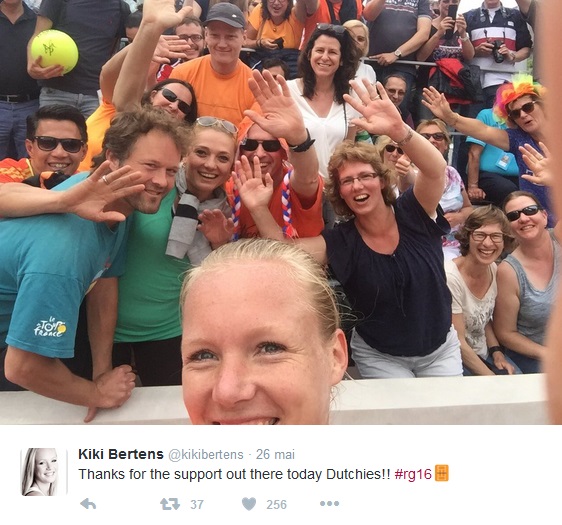 …without a doubt the most beautiful in her career so far, with a semi-final reached in Paris. Which was worth a few Dutch-themed selfies.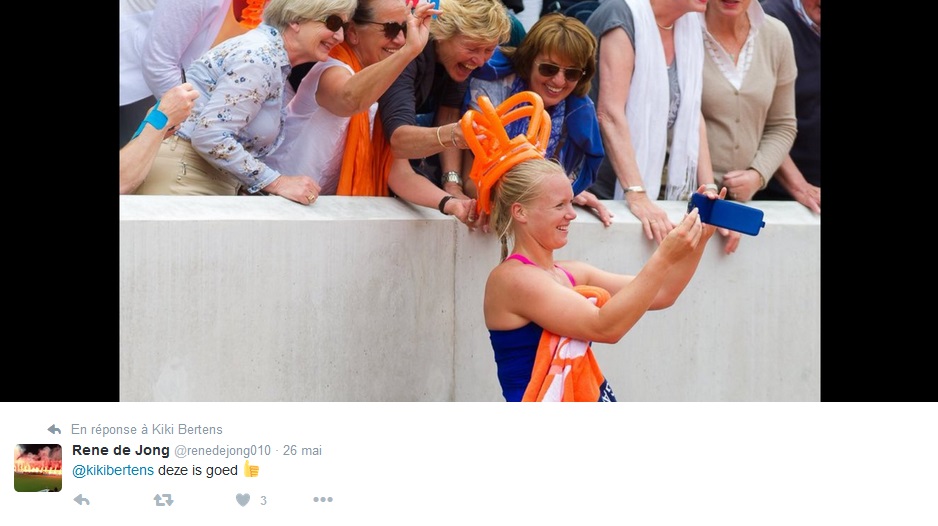 Hats off, Kiki !
9- John McEnroe (NE).
The unmissable John McEnroe was very present in Roland Garros this year. He was everywhere to please his fans…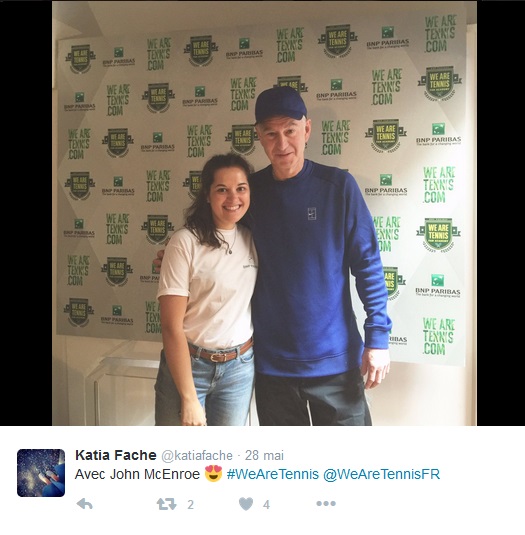 Even playing a small gig for the We Are Tennis Academy.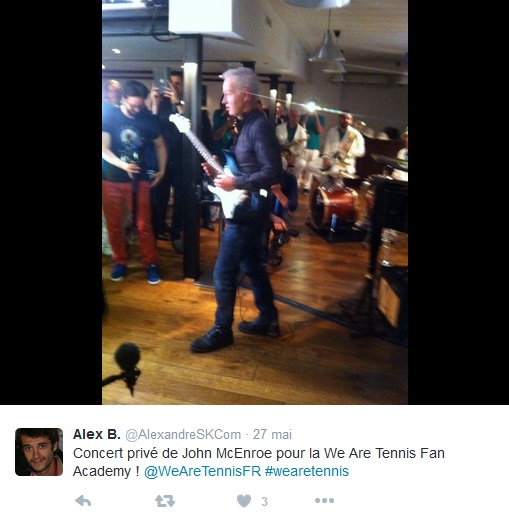 The American also pretended to be a journalist.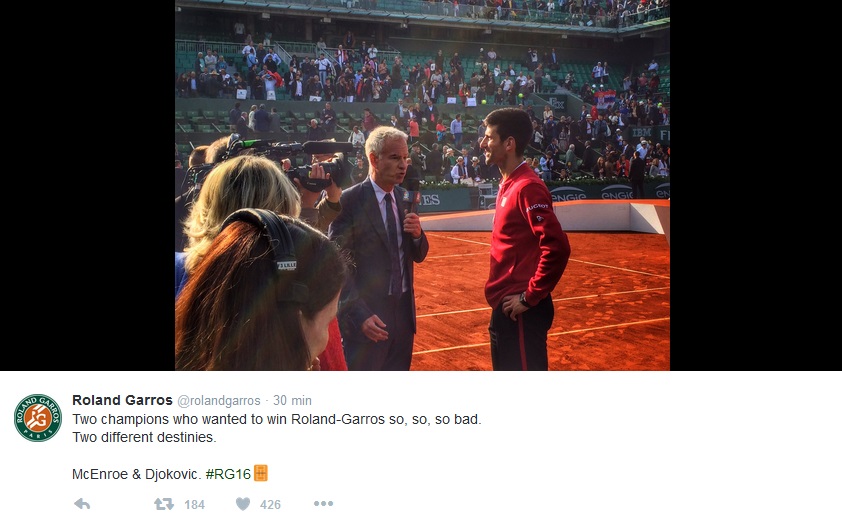 Finally, we saw him in the stands, as the Canadian Milos Raonic's advisor, but also on TV, where he called out to Guy Forget, the tournament's boss, to help him build a roof on the center court.
The tournament's twelfth man, undoubtedly.
10- Samantha Stosur (NE).
It was won of the big bids of the women's tournament this year : Samantha Stosur's comeback, ten years after her triumph at the Porte d'Auteuil. The 32 year-old Australian arrived in Paris in shape and…looking very muscular.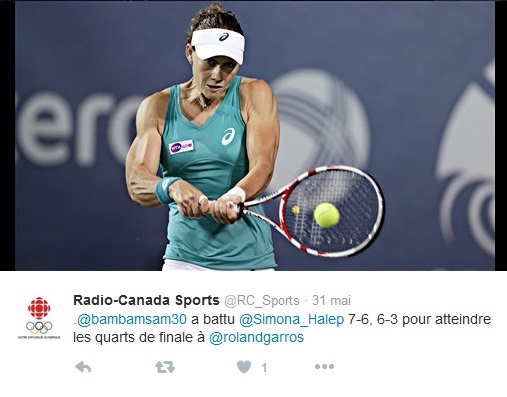 Enough to hit incredibly powerful forehands.
In the end, Stosur reached the semi-final, only to be defeated by the future winner of the tournament, Garbine Muguraza. This fan must have enjoyed his favorite player's performance.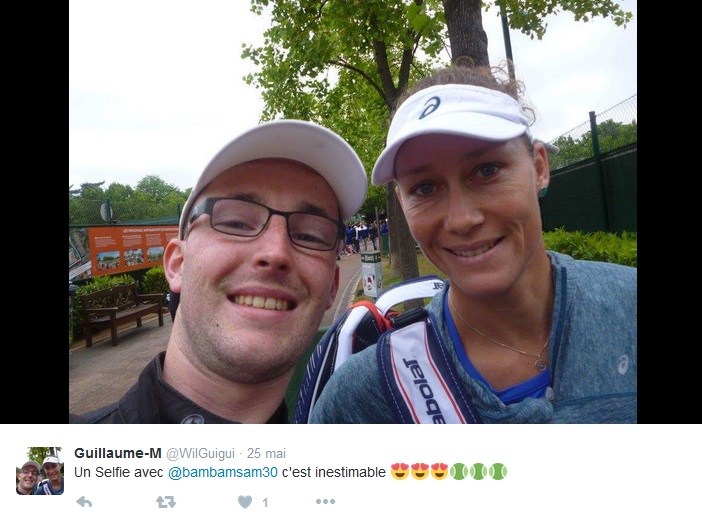 11- Aga Radwanska (-9).
At the start of the tournament, Radwanska was smiling, everything seemed to be going well.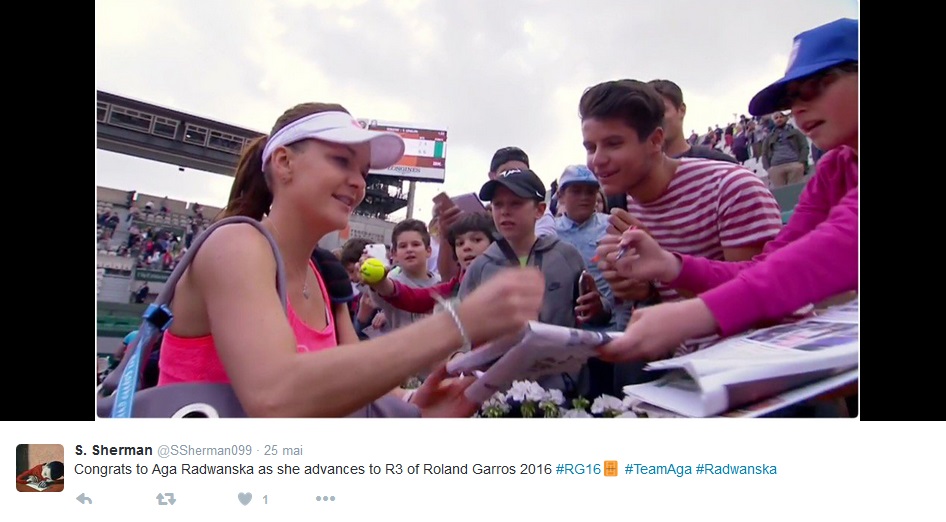 And then, bang, a slip, and a premature defeat in the fourth round against the Bulgarian Pironkova…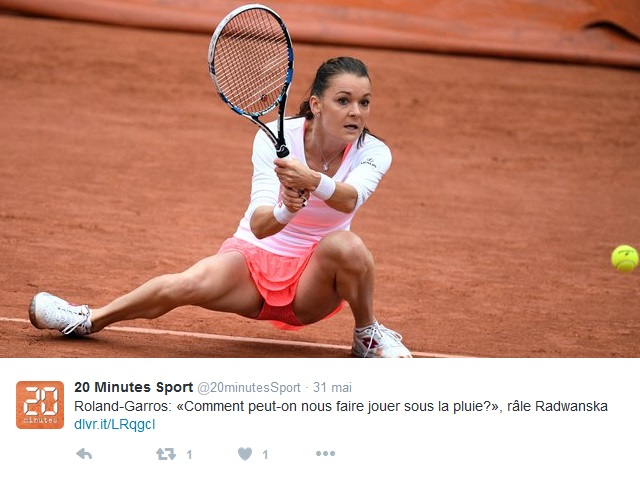 A disappointment for the world number 2, and a fit of anger thrown at the organizers, accused of having certain games played under a heavy rain. Reasonable reproach, or bad loser's reaction ? The debate remains open…
12- Nick Kyrgios (-3).
This week's other controversy was obviously around Nick Kyrgios, who, just as he had left Paris without having shone, has announced his decision of not taking part in the Olympic Games. The reason ? A disagreement with the Australian Olympic Committee, who is believed to have asked the tennis player to watch his attitude, and to avoid any controversy in Rio…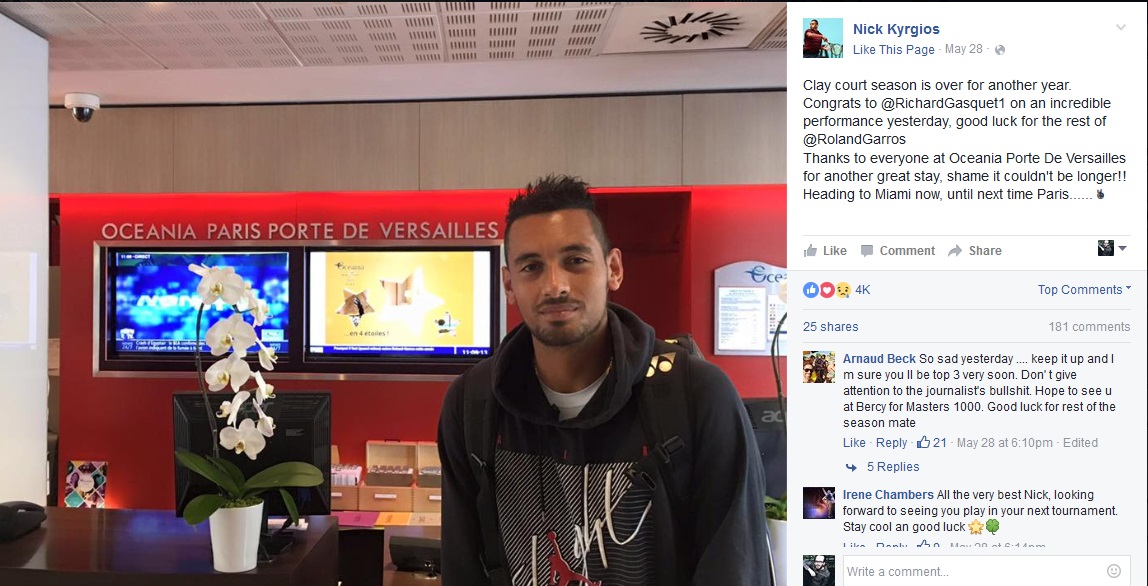 It's even more of a shame knowing that Kyrgios is a true sports fan, and not only tennis, like his numerous tweets on the NBA final between Cleveland and the Warriors show.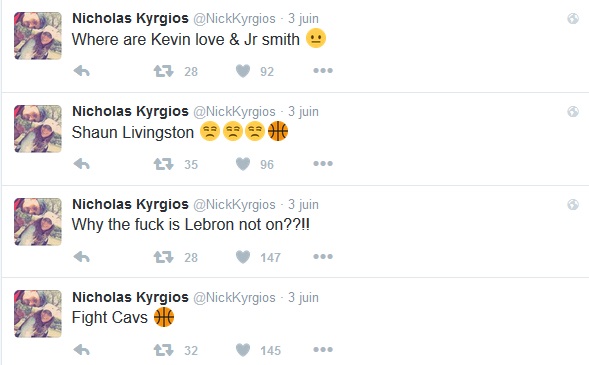 Another proof of his love for sport, was the hommage he payed to Muhammad Ali, with one of the champion's quotes which is likely to inspire the actual bad boy of tennis…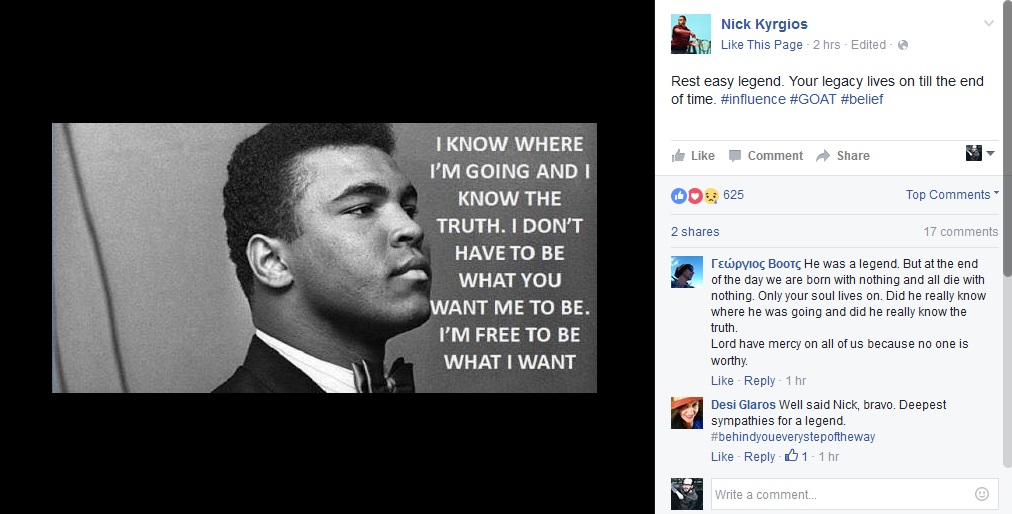 13- Benoît Paire (-1).
Do you want to have news from Benoît Paire ? Don't worry about him, he seems to have fone over his early knock out at Roland-Garros…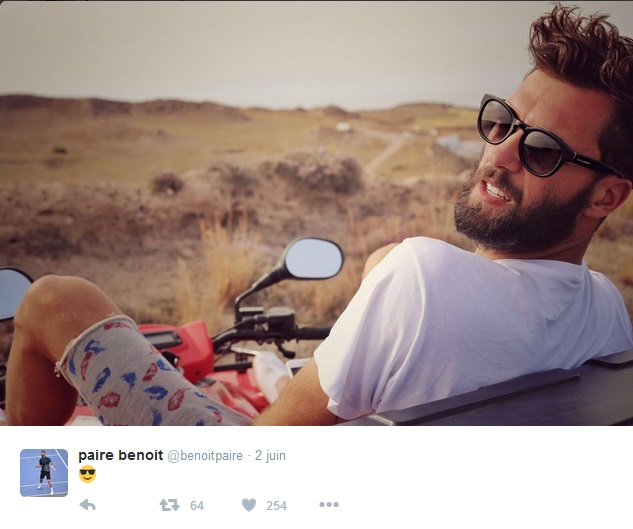 No, really, don't insist, the Frenchman really seems happy and relaxed…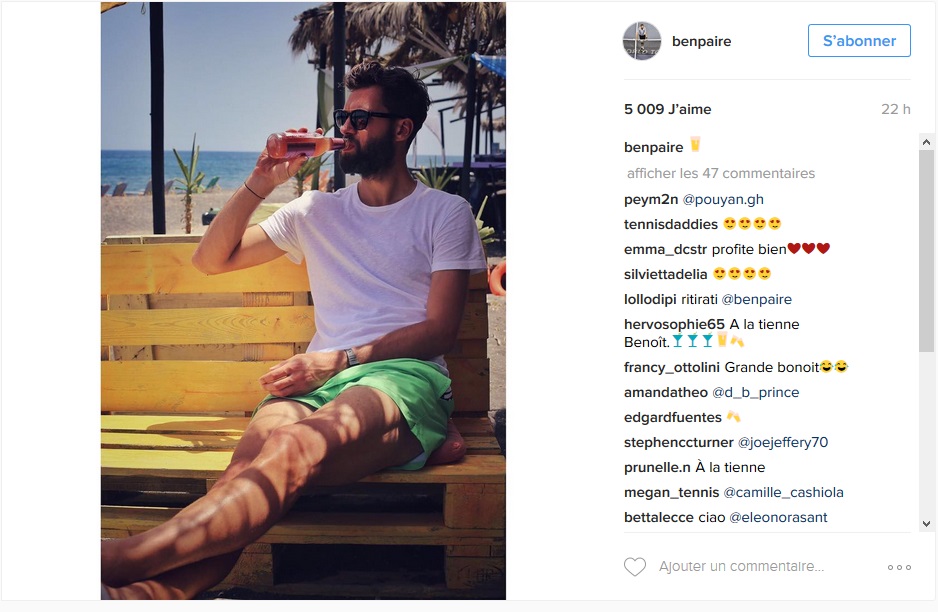 14- Maria Sharapova (NE).
It seems like Maria Sharapova is still following women's tennis, of which she has been banished for a few months now. As shows this subliminal message, posted after Garbine Muguruza's victory over Serena Williams.

Seeing this picture of a tired-looking Russian, it seems that she carries on training hard before a possible return to competition.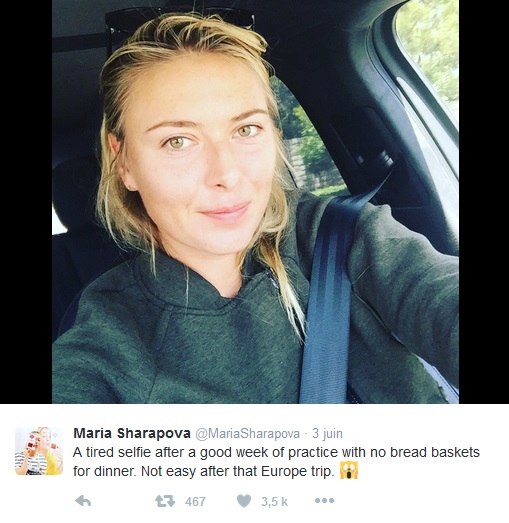 Meanwhile, her dog seems to be comforting her.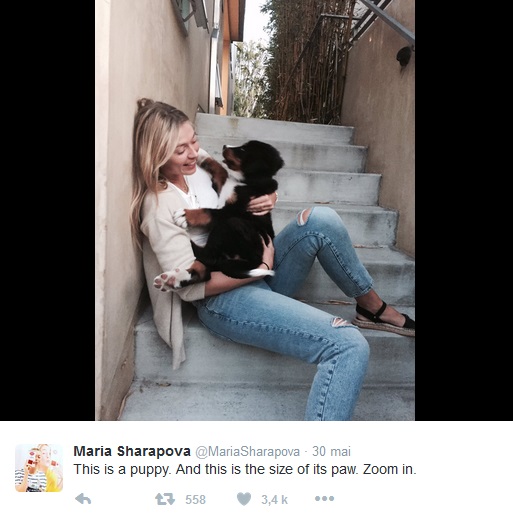 15- Robin Haase (NE).
The troll of the week to finish with. He wasn't in Paris but in Prostejov, Czech Republic, playing a Challenger tournament. Robin Haase, who looked annoyed by his opponent's screams at every shot, decided to imitate him in the middle of a rally. A joke which didn't make the umpire laugh, as he decided to give the point to his opponent, the Chilean Gonzalo Lama.
Maybe it isn't very nice or correct but who hasn't dreamt of doing the same when hearing some of these players ?
Outs:
Nadal, Brown, Lim, Tsonga, Schiavone, Zverev, Robert
By Régis Delanöe