We've seen a pretty quiet and studious start at Roland-Garros this year, without too many moments of madness or incredible feats. Andy Murray is the fighter of the week, with two wins in 5 sets each time.
We've seen a pretty quiet and studious start at Roland-Garros this year, without too many moments of madness or incredible feats. Andy Murray is the fighter of the week, with two wins in 5 sets each time. He's in front of a Radwanska who has confirmed her world number 2 status, and a Rafa Nafal who has been multiplying the strokes of genius…
1- Andy Murray (+1).
He is certainly the one who has spent more time on the court. We're not sure that he is pleased with this record, but here are the facts : to remain in the competition, Andy Murray had to battle, so obviously, he was talked about in the alleys of Roland-Garros. What if we had made him a favorite of this 2016 edition too quickly ? After escaping the Stepanek trap in five sets in the first round, he had to play five sets again in the second round, to defeat the surprisingly good Frenchman, Mathias Bourgue.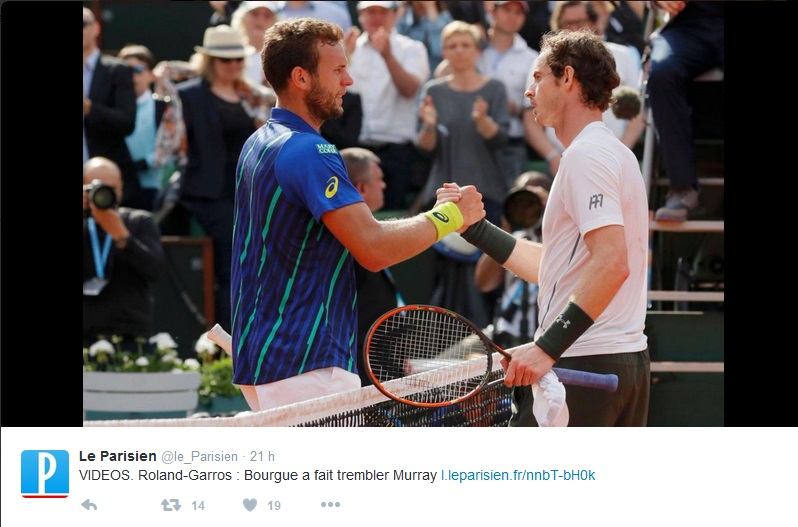 « Never give up », is the Scotsman's motto, and there is no doubt that when the matches are becoming marathons, he's a tenacious one, with unbelievable statistics : 22 wins in 29 matches played in 5 sets !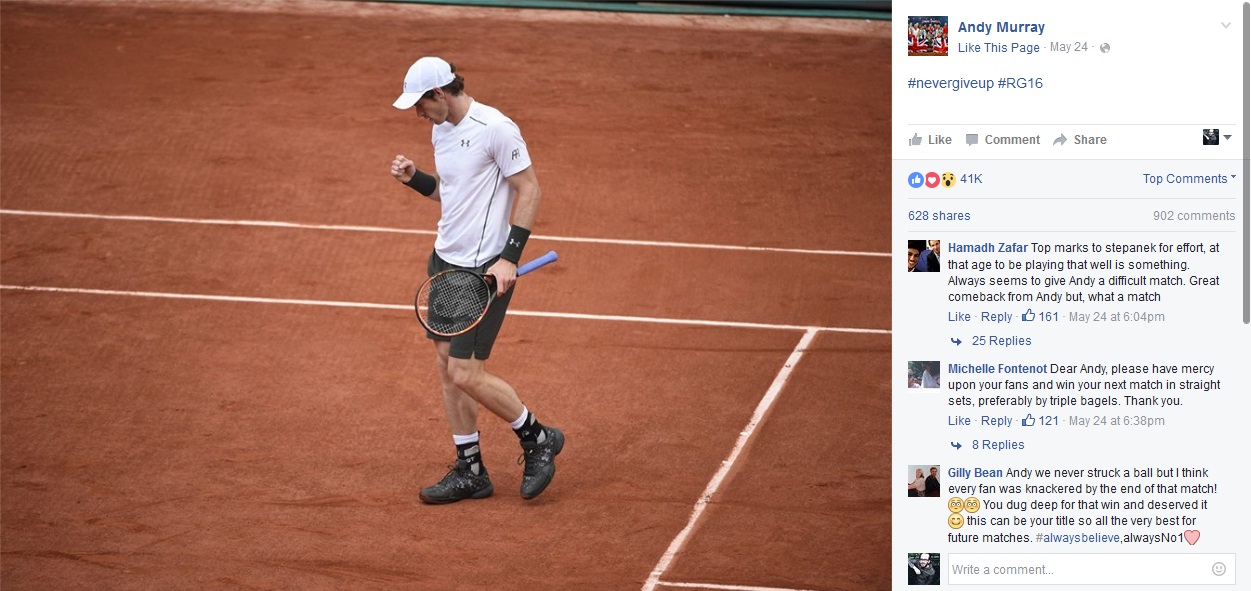 He might have to wait a little bit to see a statue built in his honor, but what if it already existed ?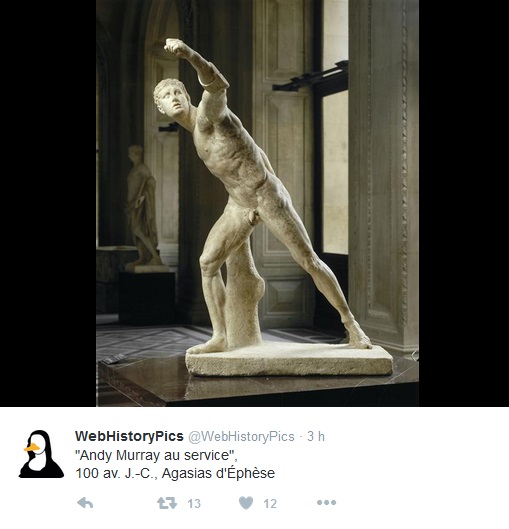 And what about this message posted by Murray on Facebook, with an old Monopoly card ? A subliminal message ?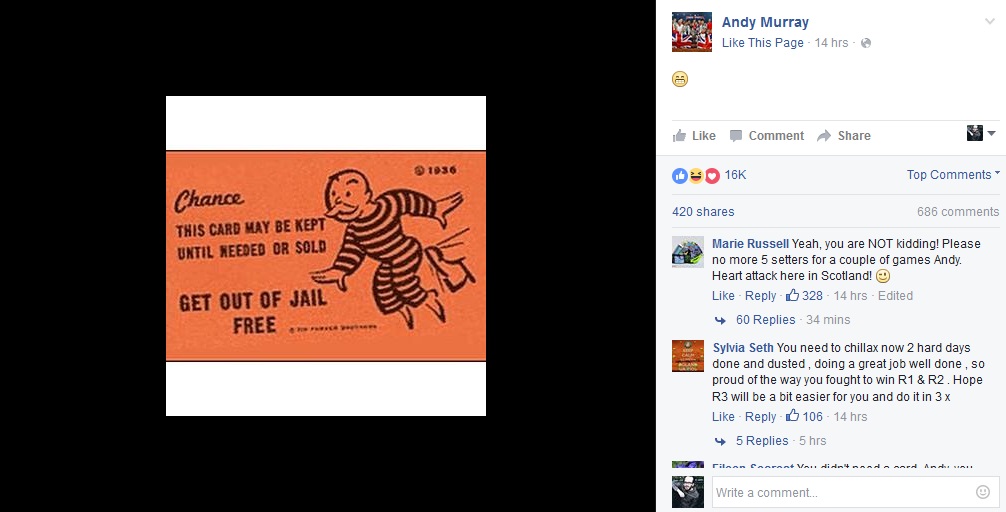 It's still amusing to see the player being interviewed by his ex-coach, Amelie Mauresmo, on French TV, as she became a pundit…
2- Agnieszka Radwanska (NE).
In the women's table, the one who appears to be on the best form is the new world number 2, Aga Radwanska, who has confirmed her status by winning her first matches in style. Enough to make her more popular than ever in Poland, as she was invited by the Polish ambassador in Paris, just before the start of the competition.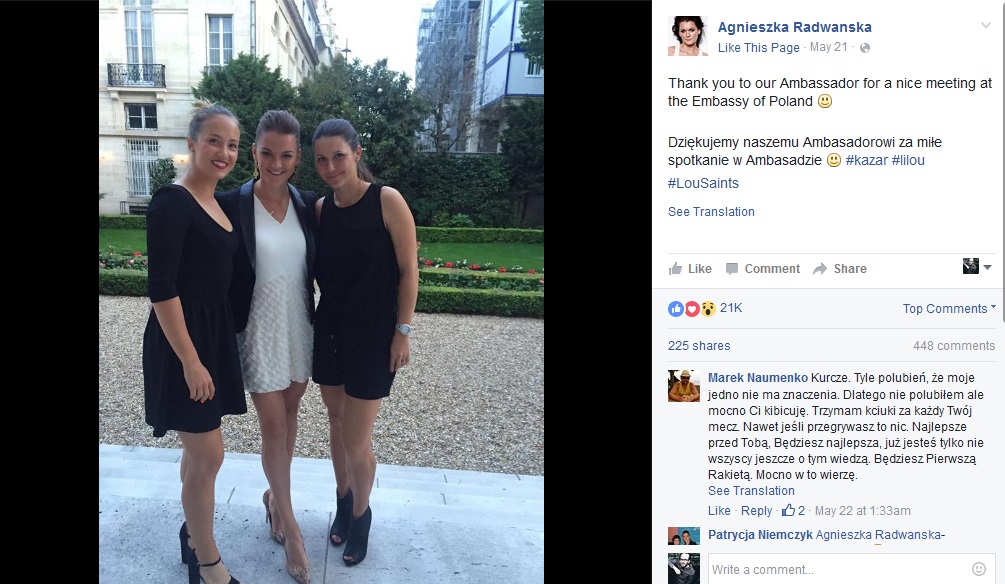 Radwanska became world number 2 quite recently, replacing Angelique Kerber. And if the Pole seems on top form, the German, who won the Australian Open in January, was this time knocked out in the first round at Roland-Garros.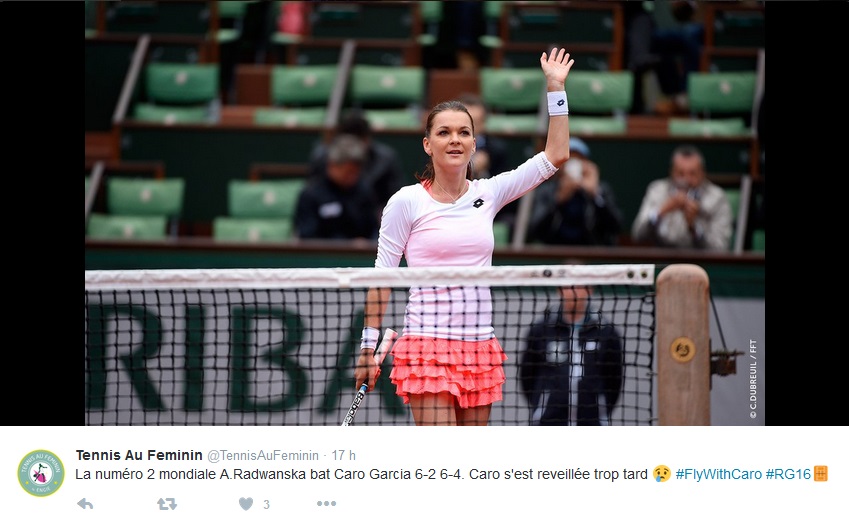 For Radwanska, only Serena Williams remains ahead of her. Ok, the American is miles away but at least, Radwanska can count on the loyal support of her fans. Even the ones who have pretty questionable taste…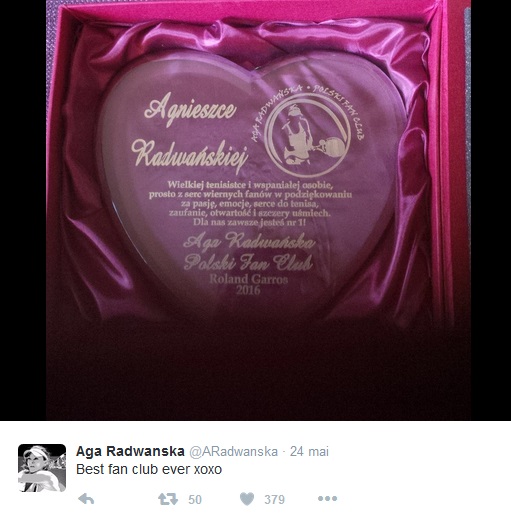 3- Rafael Nadal (+2).
Record in sight for Rafael Nadal, who is aiming for a double figure record on Roland Garros' clay : A victory this year would mean he would have won it ten times. Crazy. And a lot of expectation from his fans.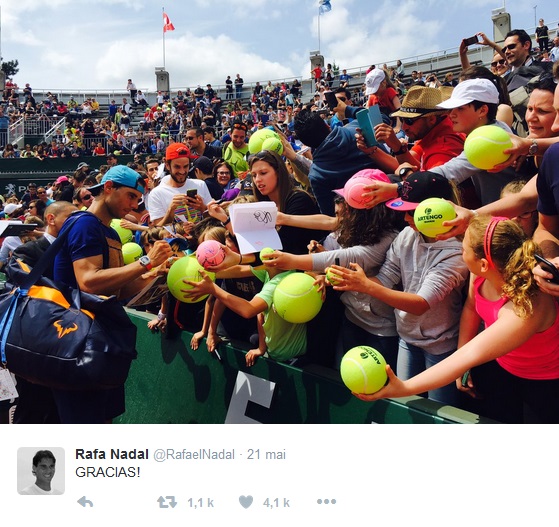 As for his start in the tournament, the Spaniard has been efficient. So expeditious that we've seen him training more than playing.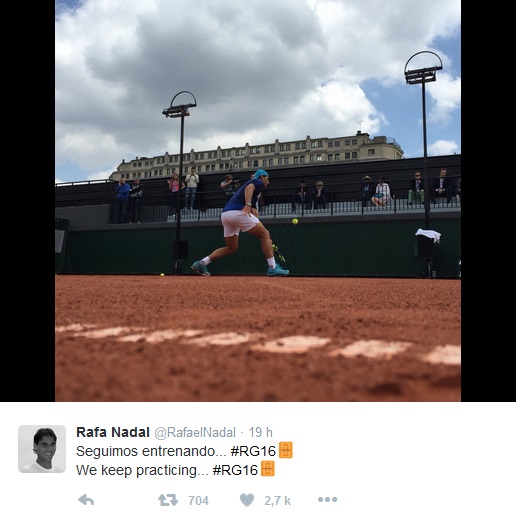 We're exaggerating just a little, as we've seen him have fun against Sam Groth in the first round…
…and defeat the Argentine Bagnis without trembling in the second round.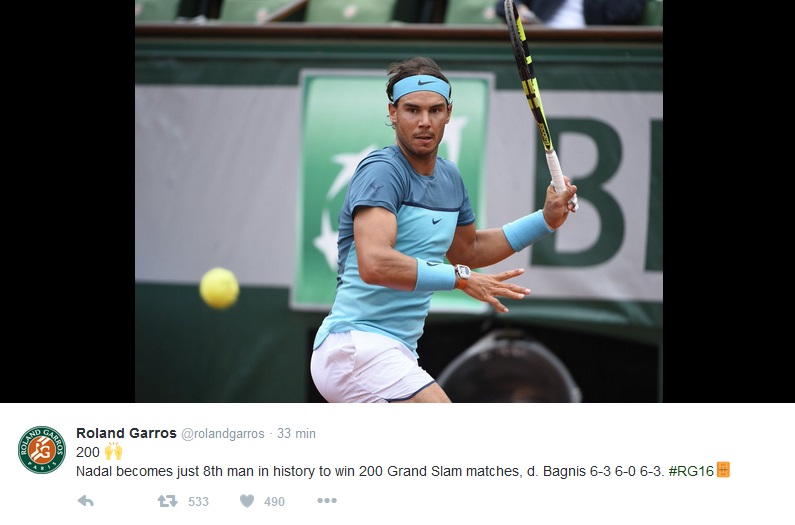 The outcome of these two first matches : 6 sets won and only 9 games lost. A manslaughter.
4- Stanislas Wawrinka (NE).
He's here, the title holder in the men's table : Stan Wawrinka has been pretty discreet for now, and even if his outfit is fluorescent, it's not as talked about as the won he wore in 2015.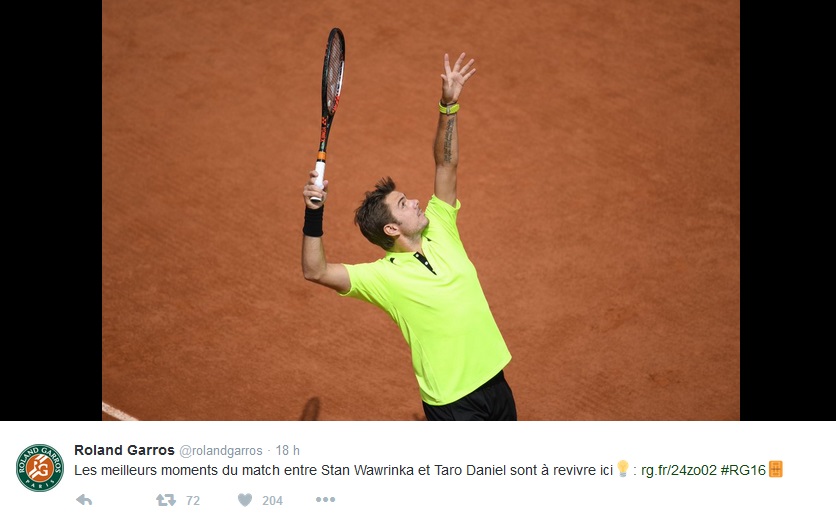 But this year again, it's on the courts that he has decided to express himself, with notably a rally of 31 strokes won against Rosol, his opponent in the first round.
And to hear him outside the courts, it seems like it all happens on Snapchat these days…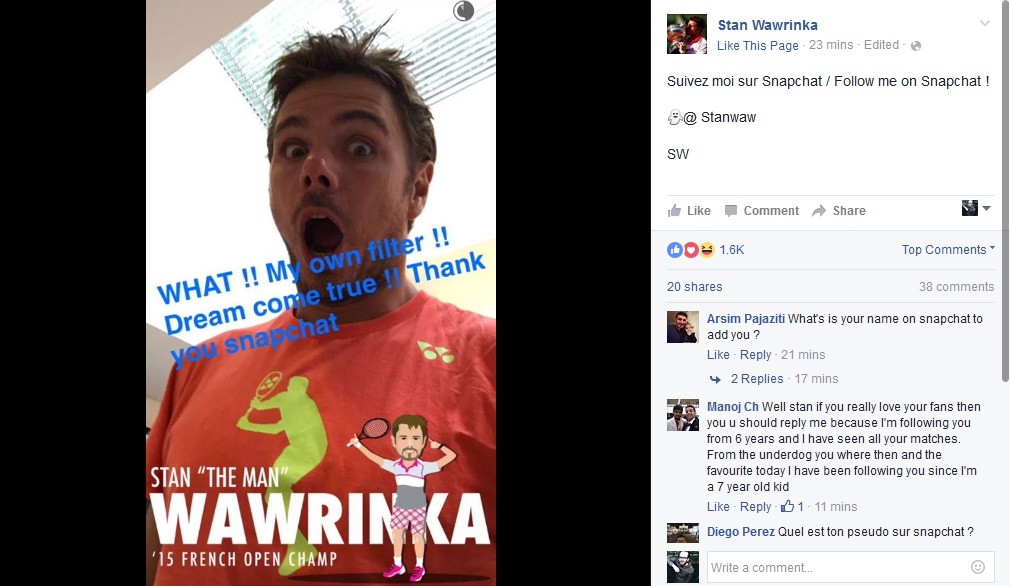 5- Serena Williams (-4).
Hey, it's Serena Williams !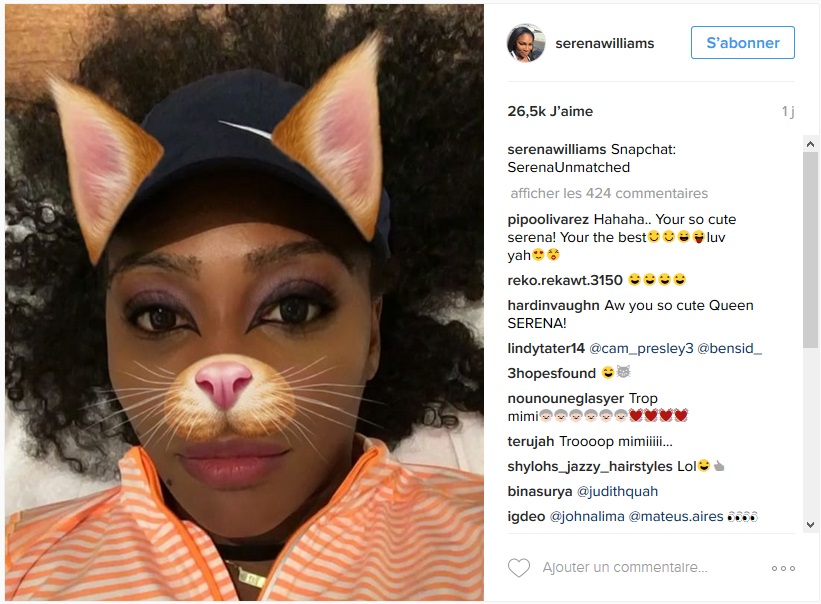 You didn't recognize her ? Well, it's true that she had a bit of fun with her phone for that picture. In any case, the American seems wound up to win a new Grand Slam title, as to overtake Steffi Graf once and for all in the history books. And wearing new shoes, of course.
Other than that, in less than a month, a documentary tracing her life will be aired on the American channel Epix, and it's call « Serena »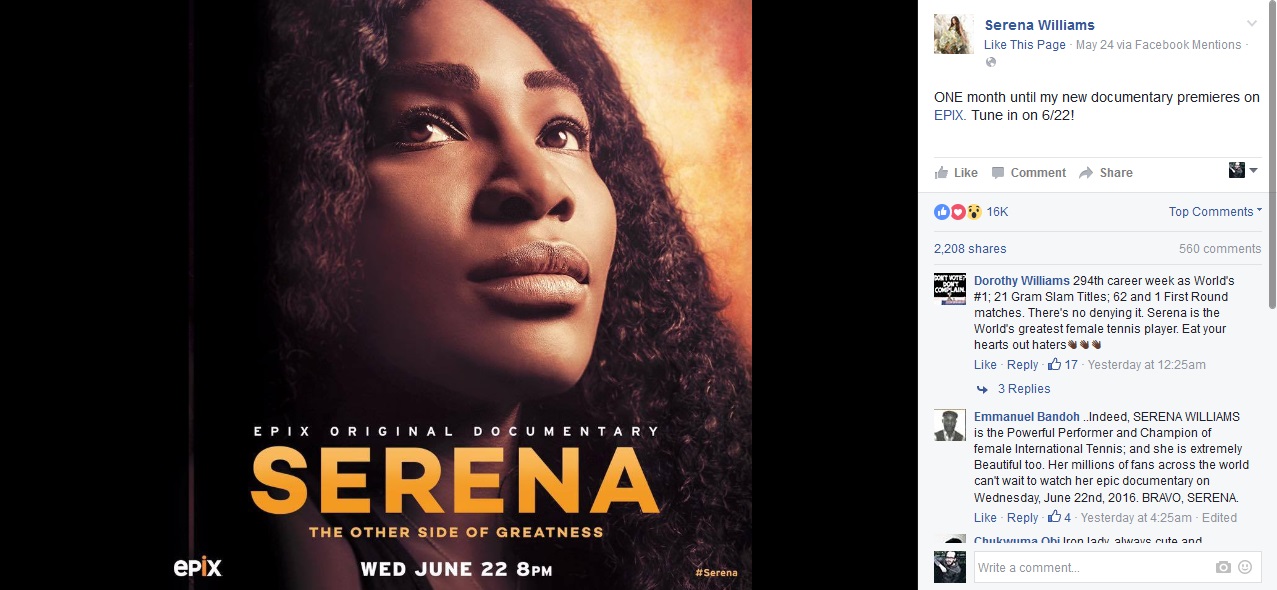 We can't wait to see it.
6- Dustin Brown (NE).
The German was probably the most popular and famous player of the qualifying round early in the first week. It must be said that he doesn't do too much to remain anonymous.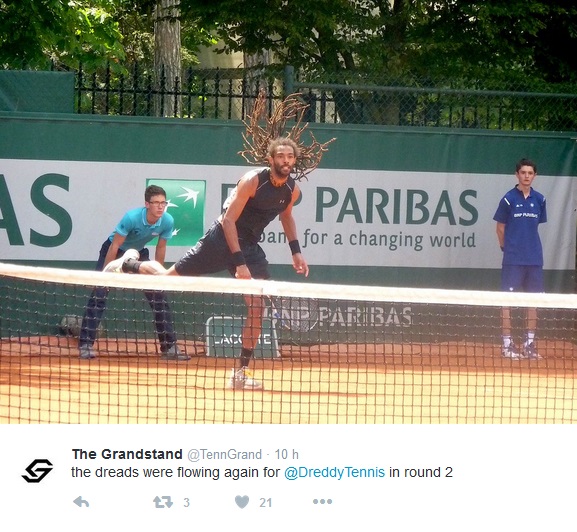 He fought hard to defeat the Israeli Sela in his first match in the main table, but was defeated in three straight sets by the American Jack Sock in the second round. Not enough to bring his spirits down.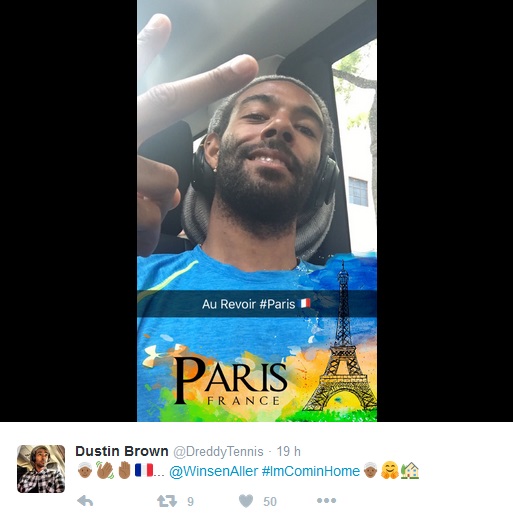 Dustin Brown seemed a little nostalgic and melancholic while he was leaving Paris, with a few childhood memories and this old picture of him which he shared on the social networks.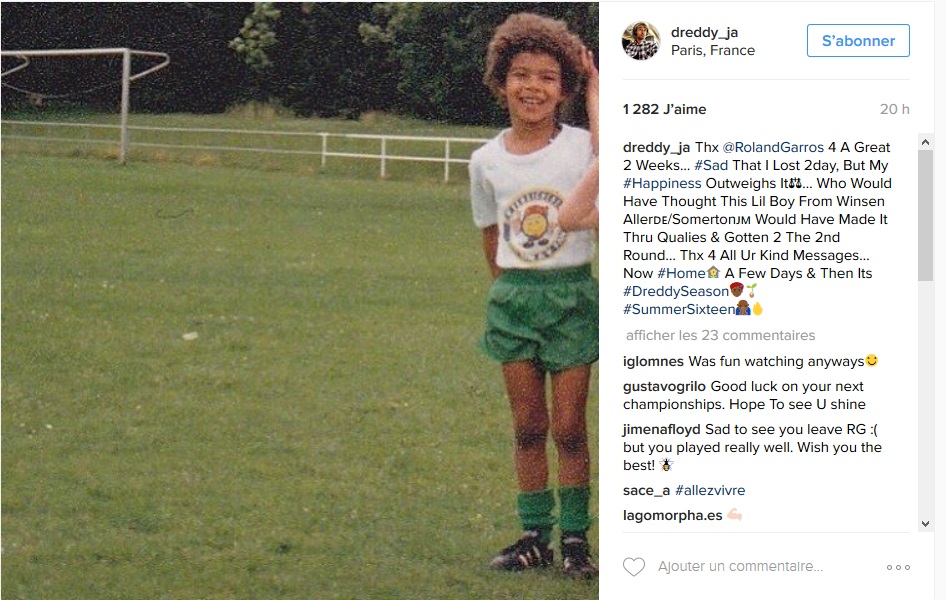 7- Alizé Lim (NE).
The Oscar for the most original outfit of this year at Roland Garros goes to Alizé Lim, and her surprising overalls.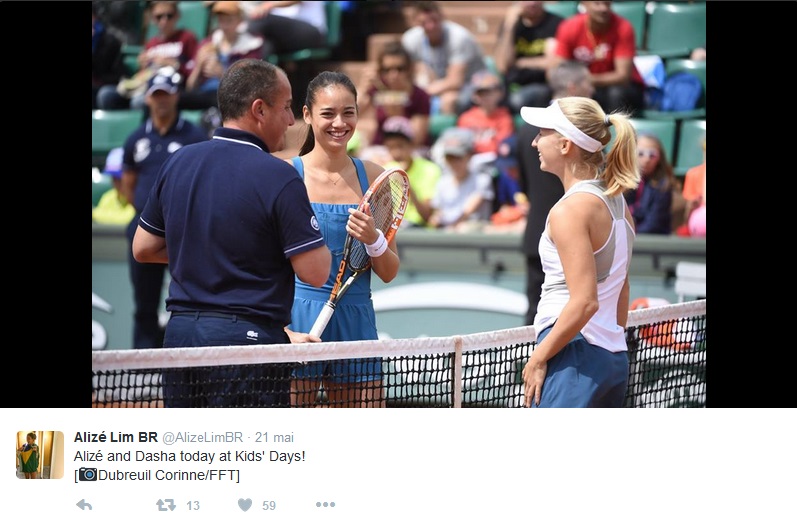 Yes, they really are overalls.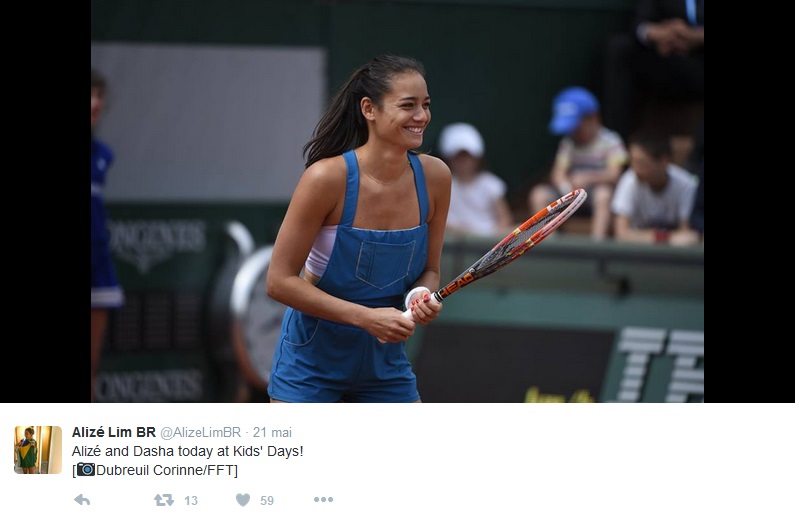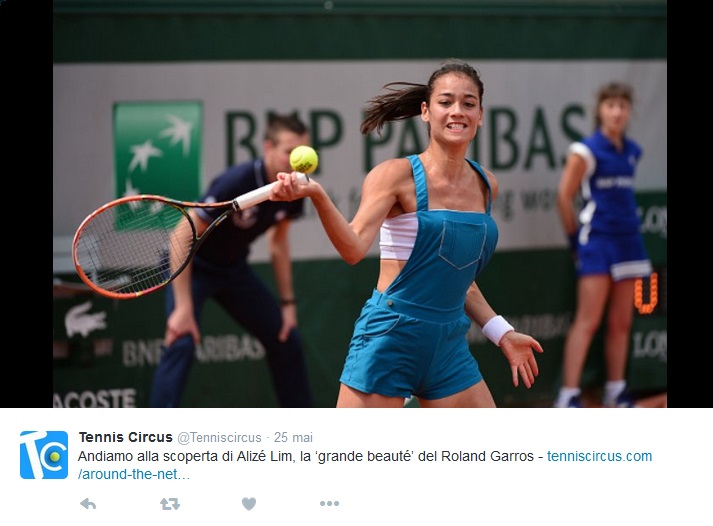 The clothing audacity hasn't payed off as the Frenchwoman, who had a wild cart, was knocked out in the first round by the Italian Camila Giorgi.
8- Garbine Muguruza (+4).
It seems like Garbine Muguraza was very happy to be back in Paris, to take up her old habits.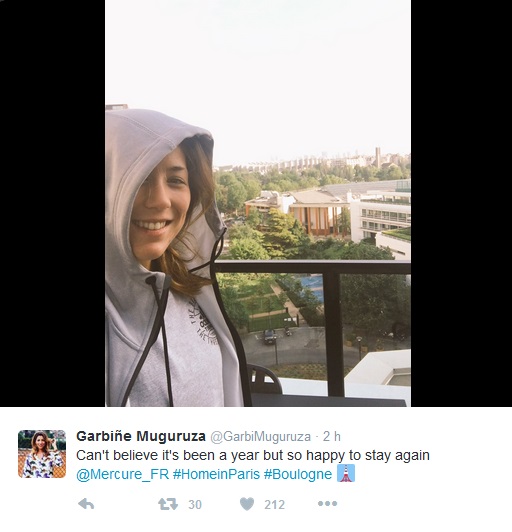 Just before the start of the tournament, the Spaniard had her measures taken to have a fitted outfit for the opening ceremony of the Rio Olympic Games.
Muguraza also featured in the family picture take on the roofs of Roland-Garros, to promote the future construction works.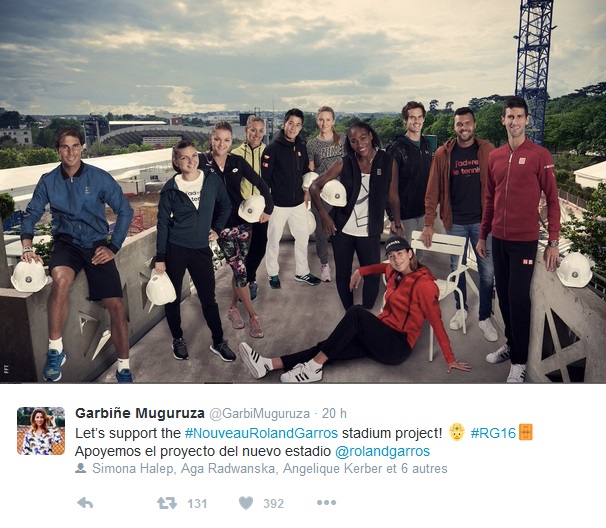 Can you recognize them all ?
9- Nick Kyrgios (-3).
Another one who seems to enjoy Paris too is Nick Kyrgios. He stepped up to take control of the decks, for the needs of one of his sponsors, obviously…
He also returned to his favorite hotel.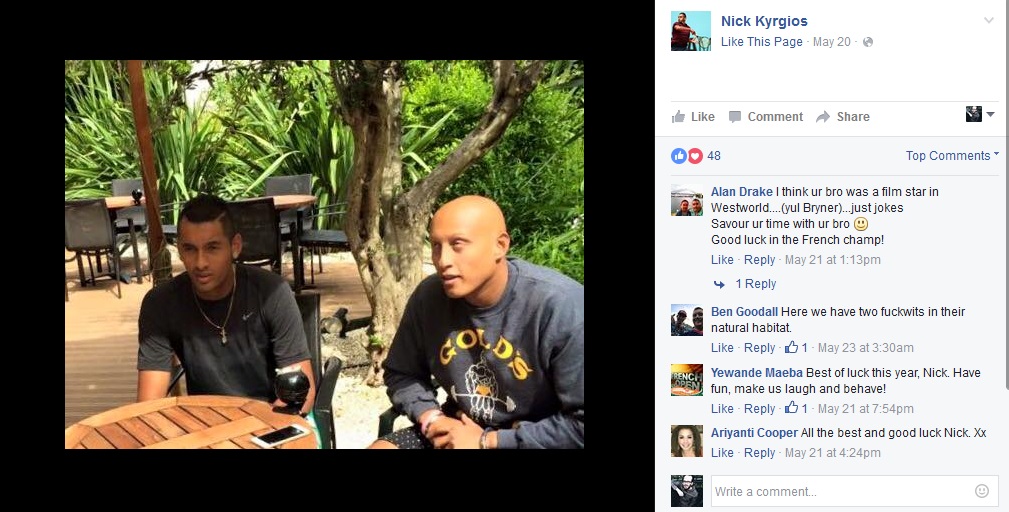 However, doesn't his buddy seems a little worrying ? He looks like a bad guy in a James Bond movie…
10- Jo-Wilfried Tsonga (NE).
In Paris, Tsonga is at home, and if he hasn't been at the top of his game so far, he can count on his numerous fans' support.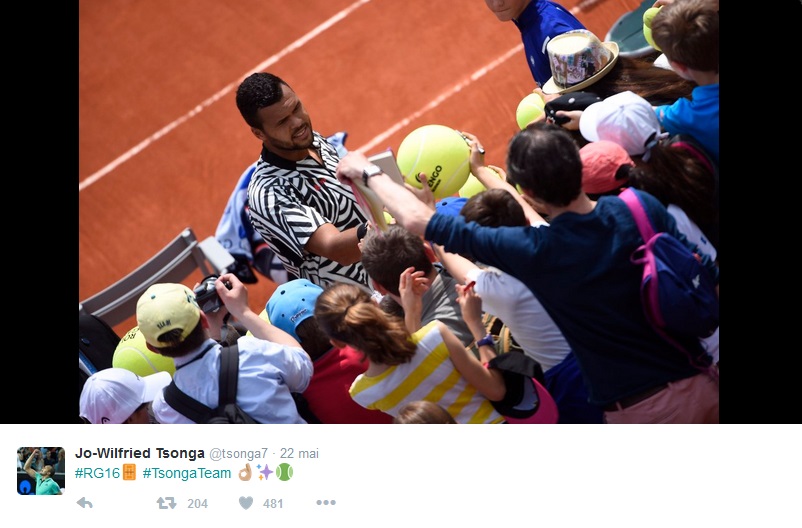 As he seems to be less disturbed by the injuries he has had lately, he can at least nourish the ambition of reaching the second week of competition at the Porte d'Auteuil, even if he has had to battle to defeat Baghdatis in five sets, after losing by 2 sets to none.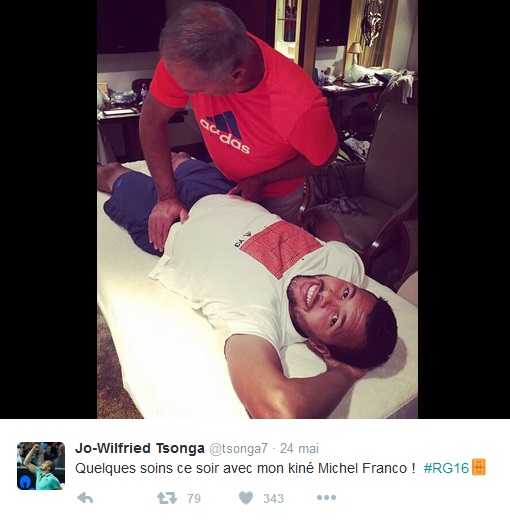 To find him on the courts, here's a simple trick : look for the striped tall guy. What do you mean, all the other players sponsored by the german, three striped brand are dressed the same ?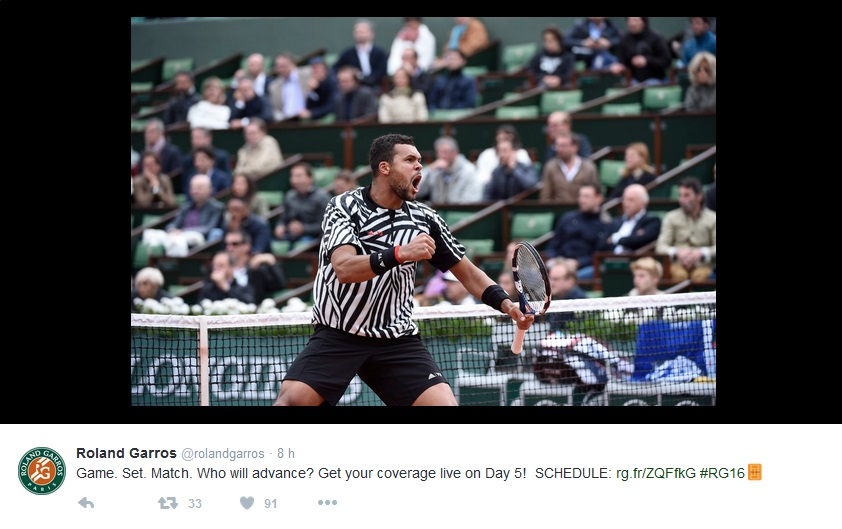 Still funny to see the Frenchman giving a ballgirl a lesson in the middle of a match.
« A little more powerful, please ? » Misplaced demand or true concern ? We'll let you be the judge. Let's just recall that in January at the Australian Open, Tsonga had rushed to help a ballgirl who was beginning to have a heat stroke. We'll chose his gentleman side.
11- Francesca Schiavone (NE).
The small controversy of the start of the fortnight concerns Francesca Schiavone, as the organizers have announced, wrongly, after her defeat in the first round, that this was her last Roland-Garros. The Italian refuted the claim very quickly, warmly but firmly.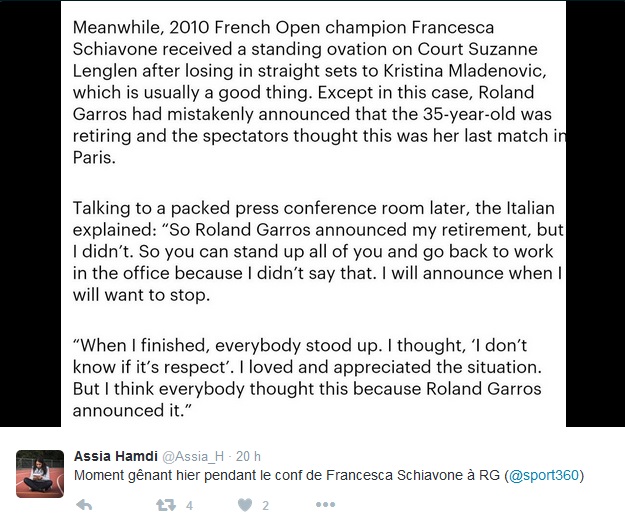 She seemed to have left Paris with no hard feelings. Next step : Wimbledon.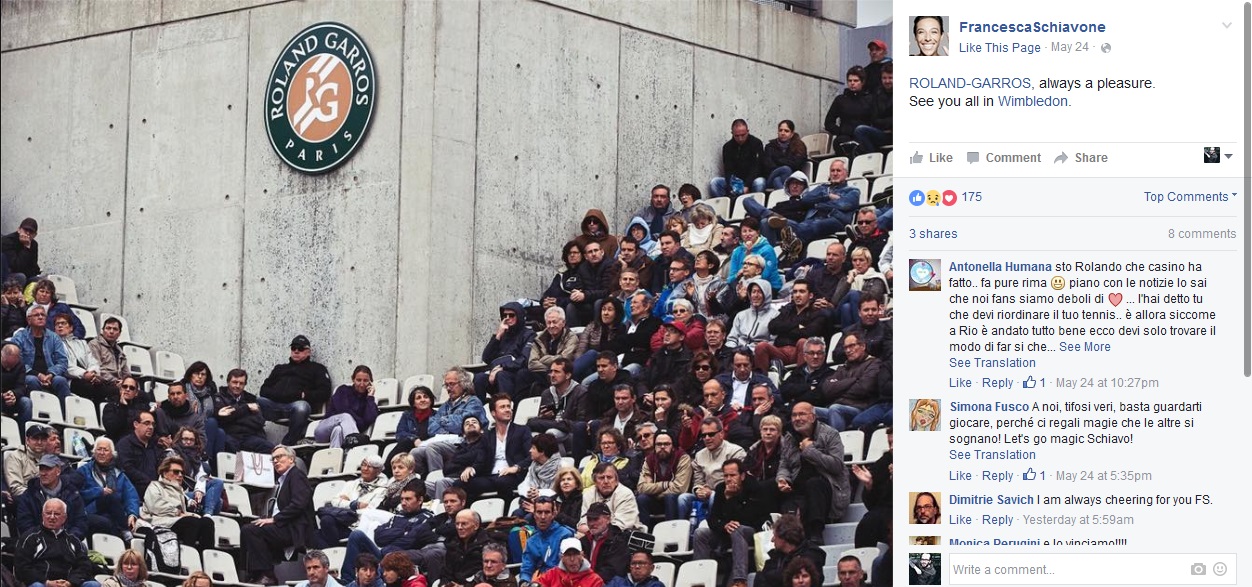 12- Benoît Paire (NE).
Benoît Paire was ready for the Parisian tournament.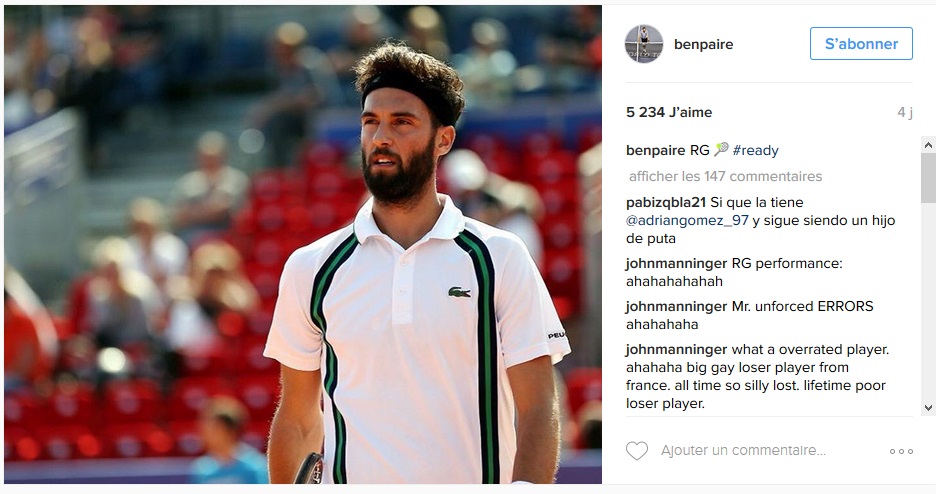 And it's true that he fought hard to escape the trap settled by the qualified Radu Albot in the first round, helped by his rage. But it wasn't long before he stumbled in the second round against the Russian Gabashvili. Enough to smash his racquet out of frustration, annoyed by this new waste and his crumbly mindset.
13- Alexander Zverev (+1).
The teenagers' hero is going well, thank you : Zverev has gone through the first two rounds of the tournament, each time in four sets, to reach the third round where he will face Dominic Thiem. Here's the future of tennis.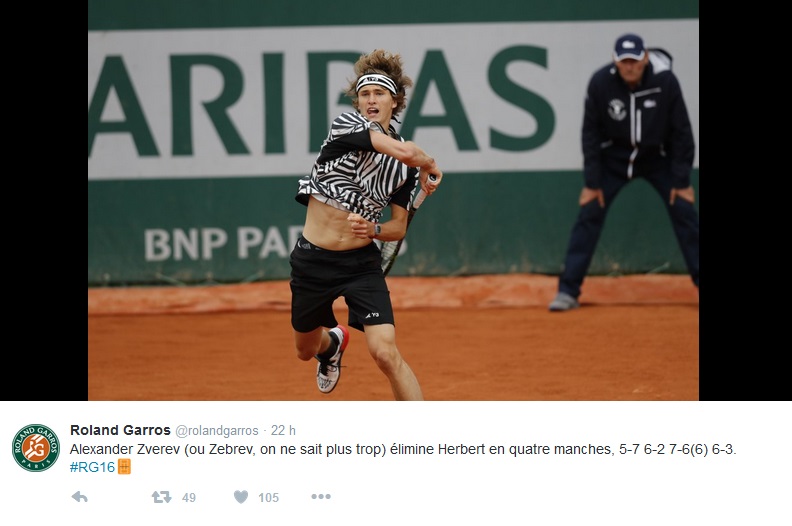 14- Novak Djokovic (-11).
A quiet but neat start of the tournament for Djokovic, who hasn't conceded a single set during his first two matches. In theory, tennis is more natural than playing the violin for the Serb, even if he's got the right posture.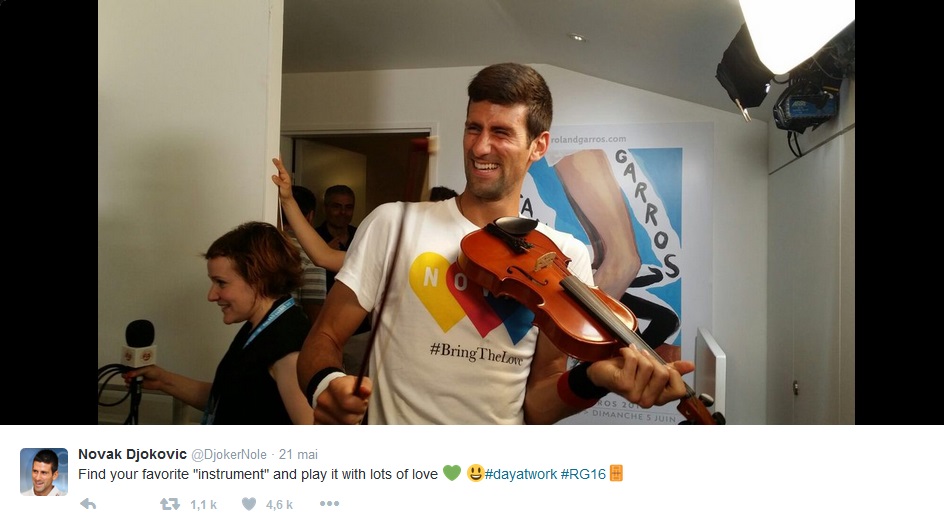 Otherwise, we've seen the world number 1 giving the Brazilian Gustavo Kuerten Serbian lessons in a car, for the needs of a mutual sponsor.
15- Stéphane Robert (NE).
To finish, a round of applause for the dear and old Stéphane Robert who, at 36, managed to make the most of his wildcard after defeating a seeded player, the South-African Kevin Anderson.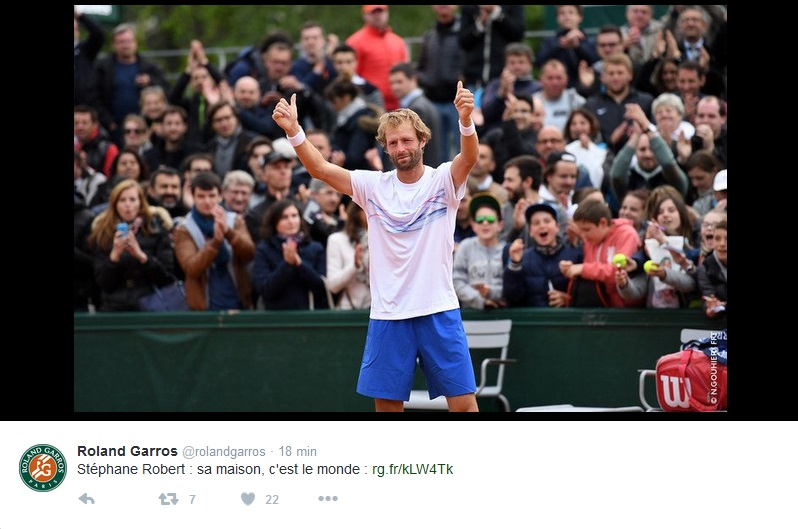 Ok, he then lost against Zverev (who's 17 years younger than him !), but it is still a great performance ! Hats off to Steph, and see you next year ?
Outs :
Pouille, Sharapova, Keys, Rola, Goffin, Pennetta, Wozniacki
By Régis Delanöe