A new title in a Masters 1000 in Rome but mainly a dog meal she ate, and digested (with difficulty) : Serena Williams obviously deserves the first spot of the offbeat ranking of the week.
A new title in a Masters 1000 in Rome but mainly a dog meal she ate, and digested (with difficulty) : Serena Williams obviously deserves the first spot of the offbeat ranking of the week, in front of the two finalists in the men's draw of the same tournament, Andy Murray and Novak Djokovic.
1- Serena Williams (+11).
When Serena wants, she can. If the end credits of the American's immense career are getting closer, and as she seems less and less concerned by tennis, she remains the best player of the circuit and she can prove it whenever she wants to. Just like in Rome, where she defeated her fellow countrywoman Madison Keys to conquer her 70th WTA trophy.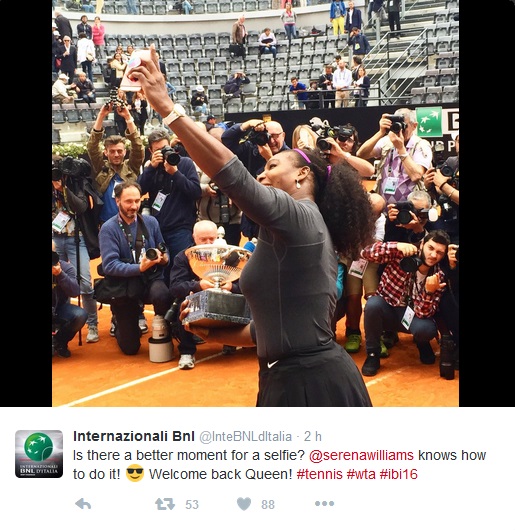 Which deserves a little selfie in front of a flock of journalists.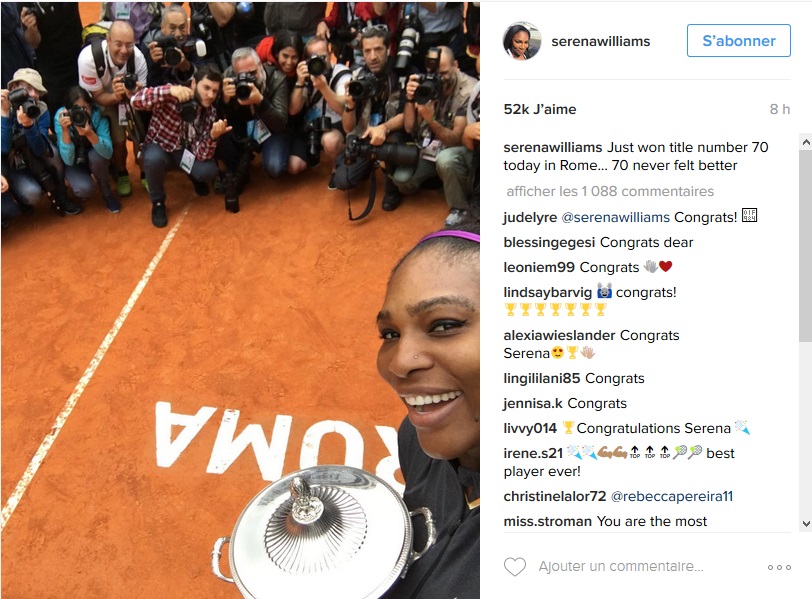 Serena Williams has again displayed a huge level of play in Rome, which is a good omen before defending her title at Roland-Garros.
But the world number 1 didn't just make the news for her tennis level last week : in Rome, she had the strange idea of trying…dog food, which was offered by the room service at her hotel. And she had the idea of filming the result to explain that it had made her ill…
Sick…as a dog.
2- Andy Murray (+5).
The Scotsman started last week by announcing that he was parting way with his coach, Amelie Mauresmo, « by mutual consent ». Too bad, it seemed to really click between those two.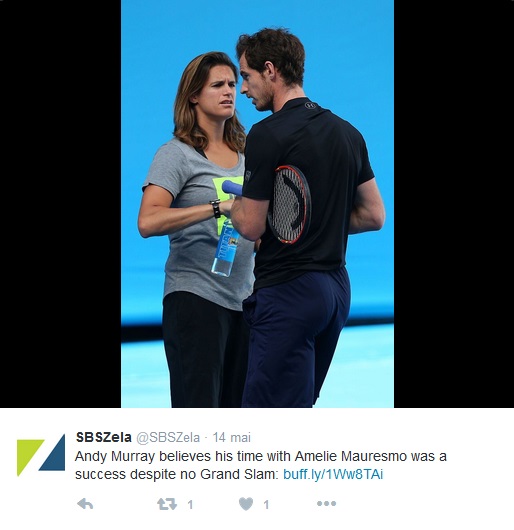 That being so, we hope the Frenchwoman won't take this the wrong way, but the split has immediately had an effect on Andy, who earned a prestigious win in Rome after realizing the performance of dominating Novak Djokovic in two straight sets in a Masters 1000 final (6/3, 6/3).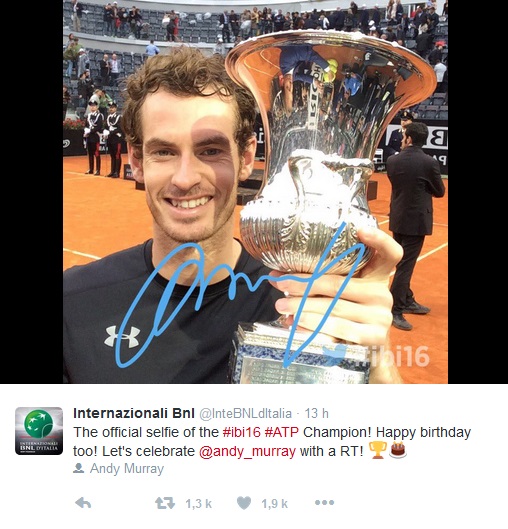 Not bad for a birthday present !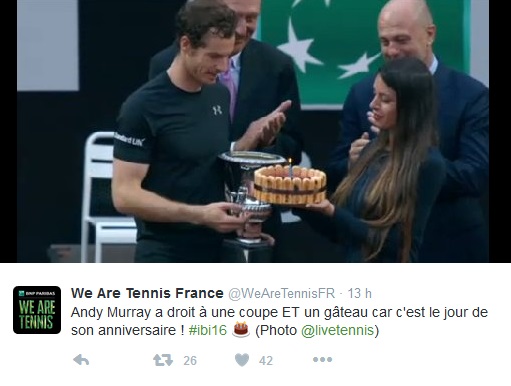 Now aged 29, Murray took the opportunity to wander around the streets of Rome with his nice trophy, the trophy of revenge one week after the Serb's victory in Madrid.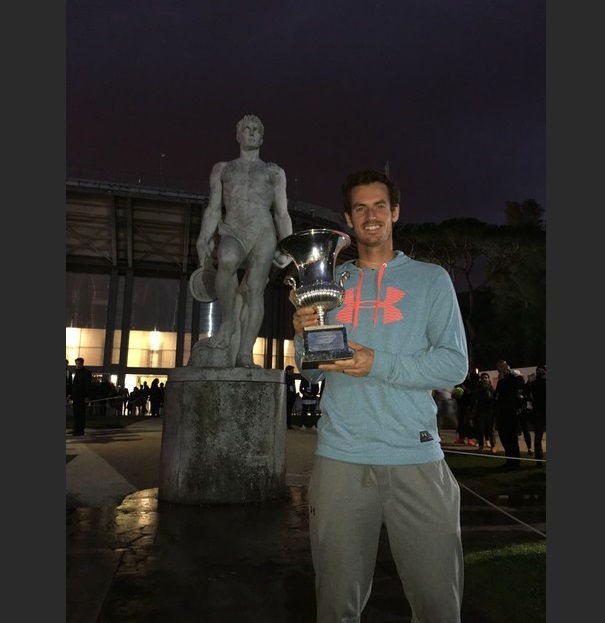 3- Novak Djokovic (-2).
Djoko, let's talk about him : if he finally lost in the final, which is rare, in two straight sets, which is even rarer, he nevertheless seemed to have had an enjoyable week in Rome.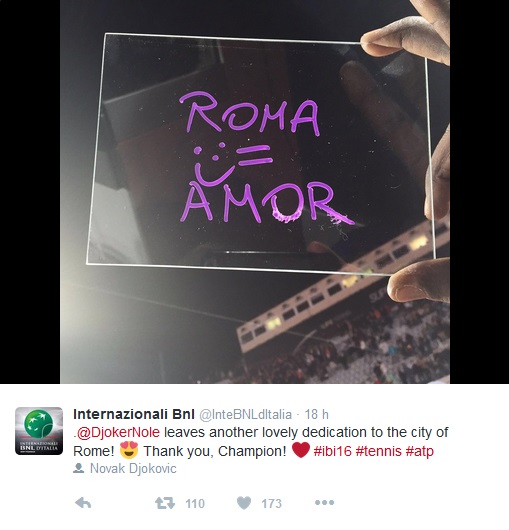 Even if it feels quite weird seing him « only » holding the finalist's trophy. Watch out, here's a rare one !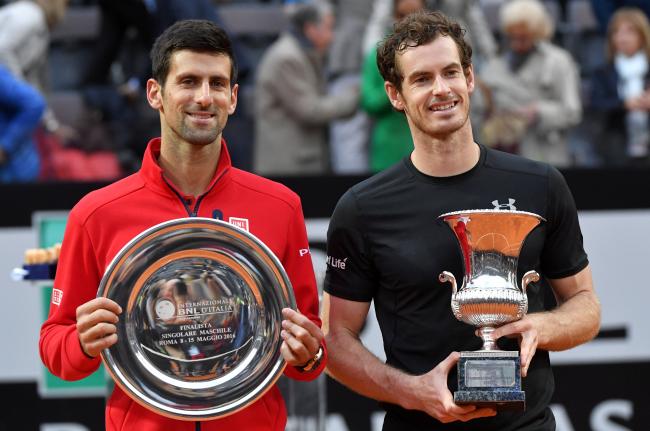 It must be said that we have seen the Serb more at ease on clay, or at least less clumsy : in addition to an uncontrolled slide in the final, there was this small injury inflicted on himself after hitting his heel with his own racquet…Fail.
Anyway, let's keep the positive : Djokovic managed to defeat Rafael Nadal in the semi-final, producing an amazing tennis.
We can't wait for Roland-Garros !
4- Lucas Pouille (NE).
Watch out, here's a rising star ! Lucas Pouille made quite a sensation last week in Rome by qualifying for the first time of his very young career in the final four of a Masters 1000. Ok, he benefited from Juan Monaco's withdrawal in the quarter final, but he managed to defeat a specialist of clay in the previous round, the Spaniard David Ferrer. So obviously, such a feat attracted the media's attention and curiosity.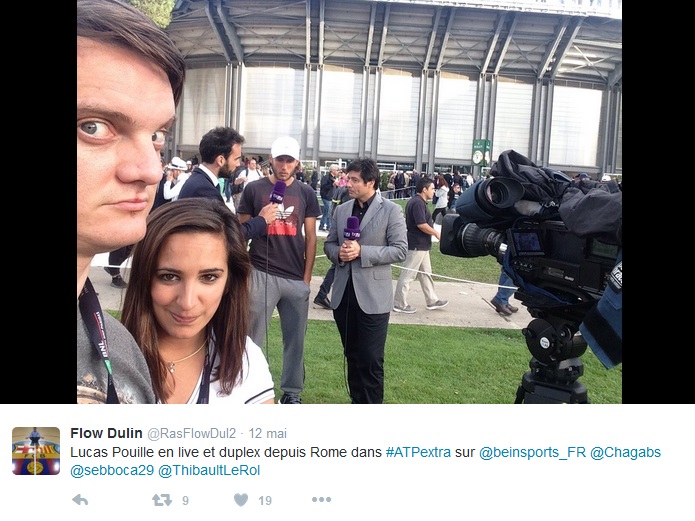 The Frenchman could also count on her biggest fan's support, the Swiss Timea Bacsinszky.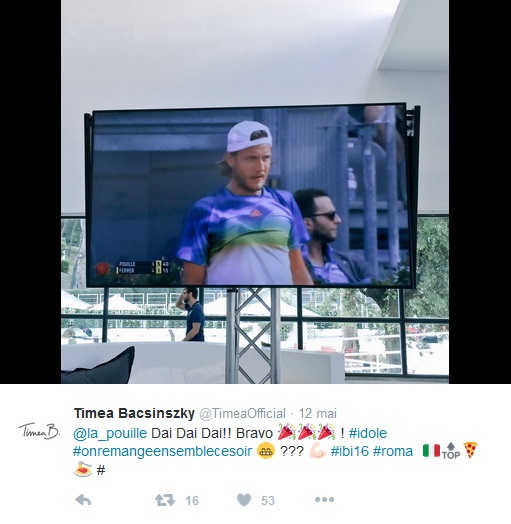 5- Rafael Nadal (-1).
Even if he lost his quarter final against Novak Djokovic, Rafael Nadal has proven once again that he was on form on clay, before heading to the big meeting of Roland Garros, with numerous hot shots.
During the Italian tournament, a very cute picture of a young Nadal and Flavia Pennetta emerged on the social networks.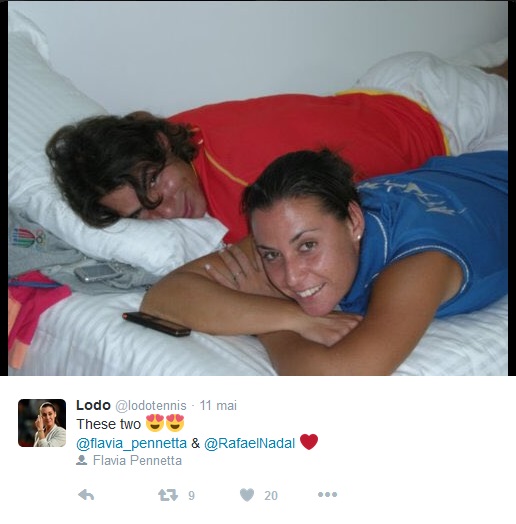 And of course, Nadal was offered a shirt of the master of the house in Rome, the legendary Francesco Totti.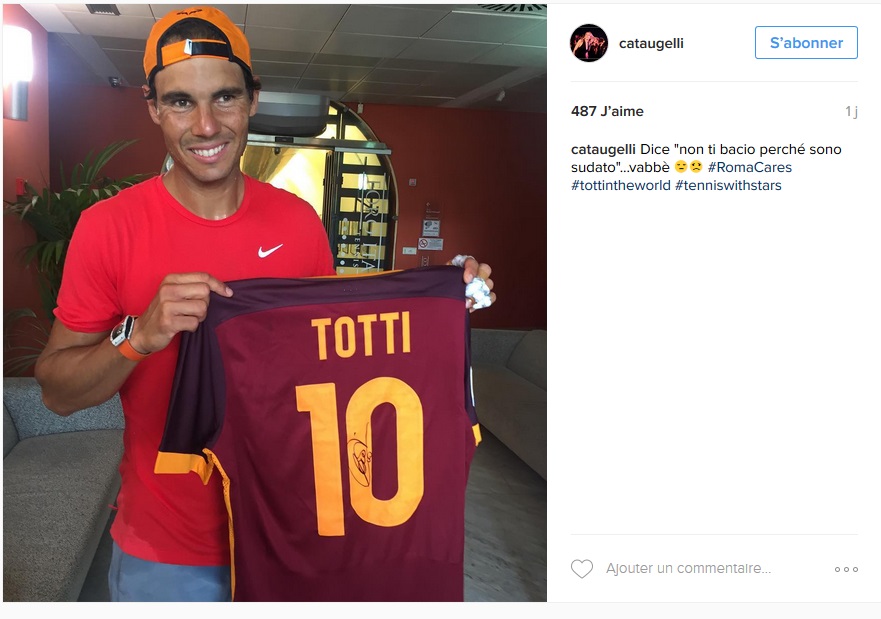 6- Nick Kyrgios (+4).
Even better than Nadal, Nick Kyrgios had the privilege of hitting a few balls with the Roman captain Francesco Totti. Class.
As for the real Rome tournament, not the exhibition part, Kyrgios can be satisfied with his level, which is improving : a defeat in a hard-fought match against Nadal (7/6 2/6 4/6), despite a few strokes of genius like this one.
7- Maria Sharapova (-5).
Still suspended, Maria Sharapova will be heard on Wednesday in London by the International Tennis Federation. She will have the opportunity to explain how she has a positive control to meldonium during the Australian Open.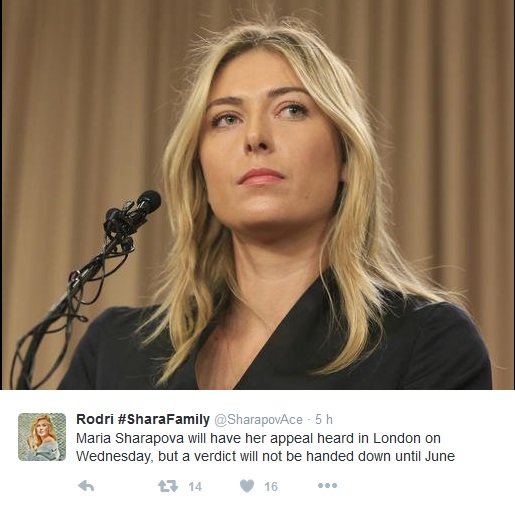 One thing remains certain : the Russian is starting to miss the circuit. And reciprocally.
In a tweet posted last week, Sharapova reminded her followers that she was the title-holder at the Rome tournament. Yes, but while the cat's away, the mice will play…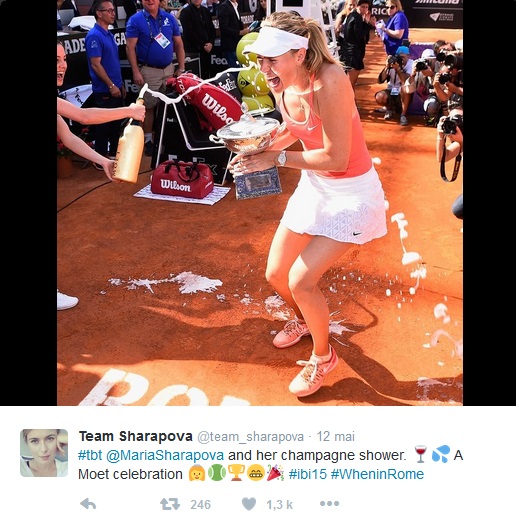 While waiting for a possible return to competition from now until the end of the season, Sharapova keeps on training and working on her fitness by running.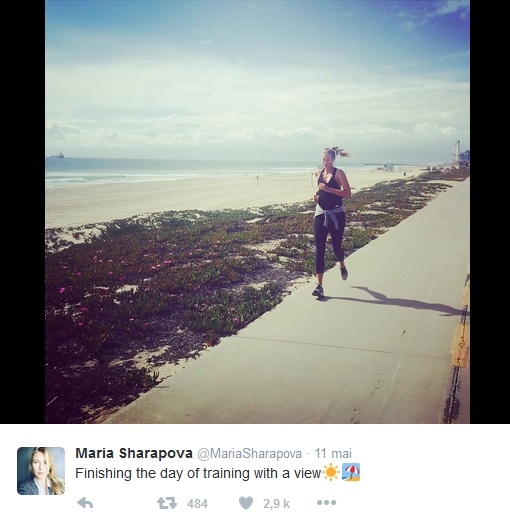 8- Madison Keys (NE).
Watch out, there has been a small event : it had been years since the final of a major tournament on the WTA circuit hadn't seen two Americans facing each other. If Serena Williams' presence in this final was expected, it wasn't the case for her fellow countrywoman Madison Keys, still happy after being defeated in the ultimate match of her Roman week.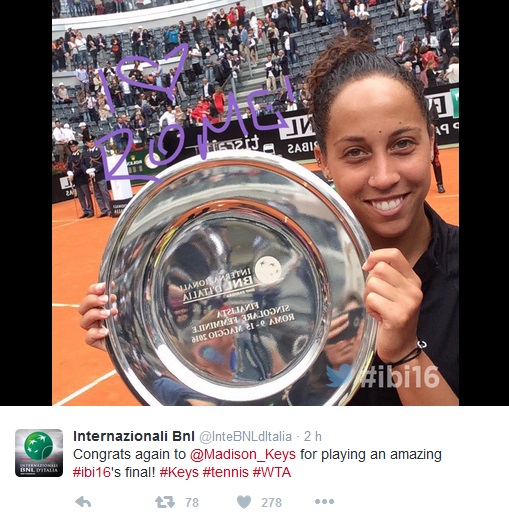 This was only the third final in the singles for Madison Keys on the circuit, the most prestigious one after the one won in Eastbourne in 2014, and the one lost in Charleston one year ago. A final she reached after notably producing a great performance in the semi-final against Garbine Muguruza.
Madison Keys seems happy. Blooming more than ever, which is pleasant to see.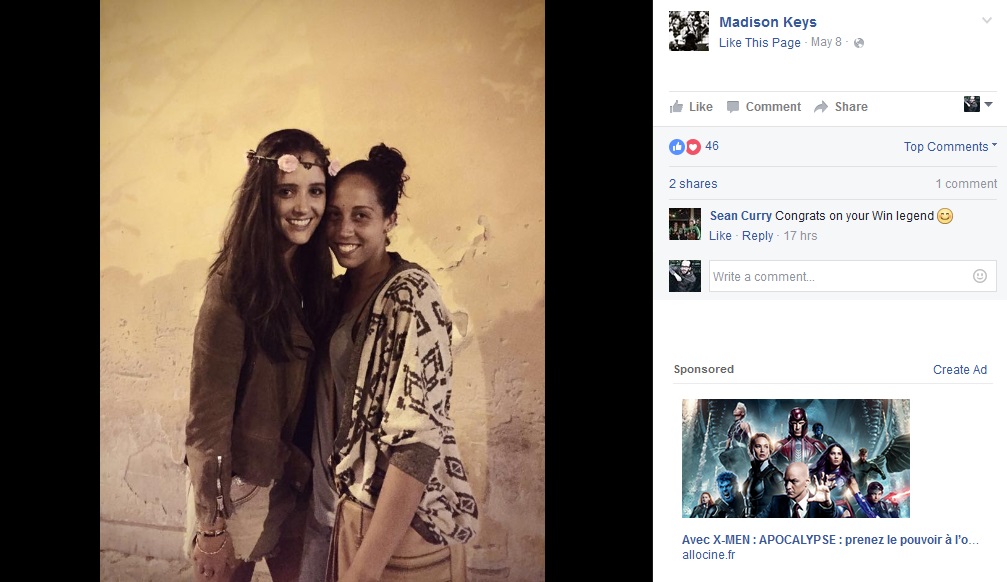 9- Blaz Rola (NE).
The amazing, almost paranormal shot of the week comes from the Challenger tournament of Heilbronn, in Germany : It's from the Slovenian Blaz Rola, with this 360 to hit a perfect drop shot which completely takes his opponent, Nikoloz Basilashvili, by surprise.
However, it was still Basilashvili who won (6/7 6/3 7/6).
10- Shia LaBeouf (NE).
The tennis and cinema news of the week : the mythical rivalry between Björn Borg and John McEnroe will be made into a film. To play the role of the enfant terrible of tennis, you needed a Hollywood bad boy and it's obviously the devilish Shia LaBeouf who's been picked. An evident choice, not only because of his personality, but also (a bit) for the resemblance.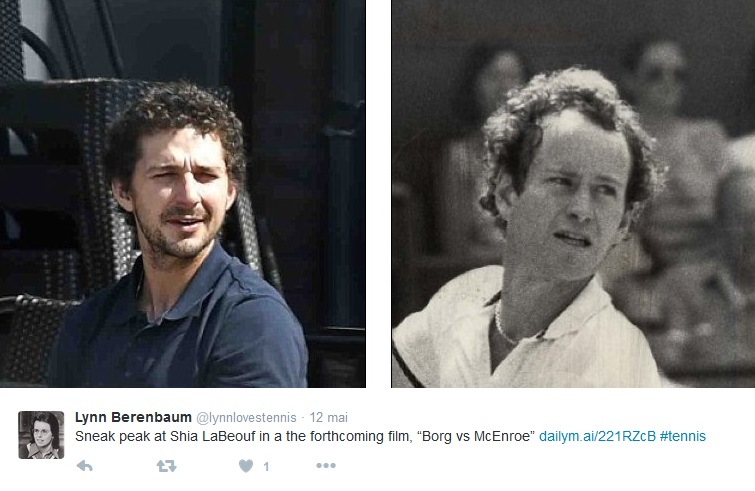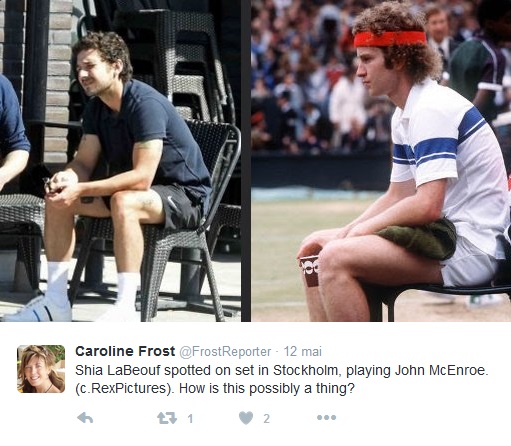 The film will be directed by Janus Metz, with the Swedish actor Sverrir Gudnason playing Borg's part. It will supposedly come out in 2017.
11- David Goffin (NE).
Tell us, David, what's the most appropriate reaction when you defeat Tomas Berdych 6/0 6/0 in the third round of a tournament ?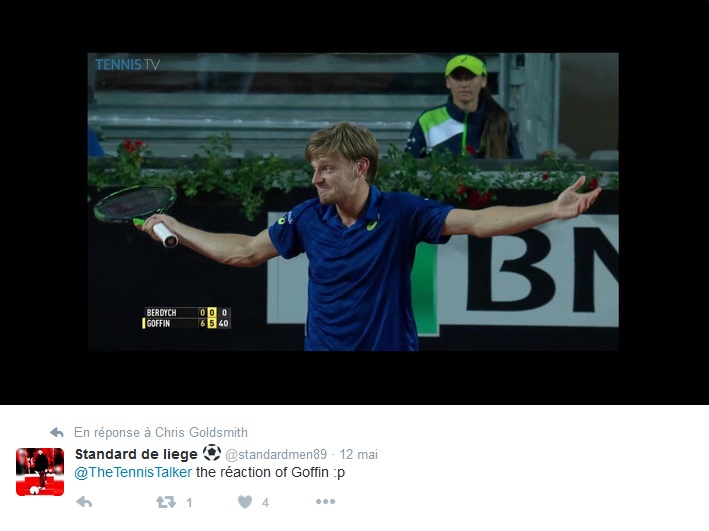 The Belgian keeps improving, even if he ended up being defeated in the quarter final in Rome, by the future winner, Andy Murray.
In theory, Goffin still has dreams to fulfill. In Tennis ? We let you speculate…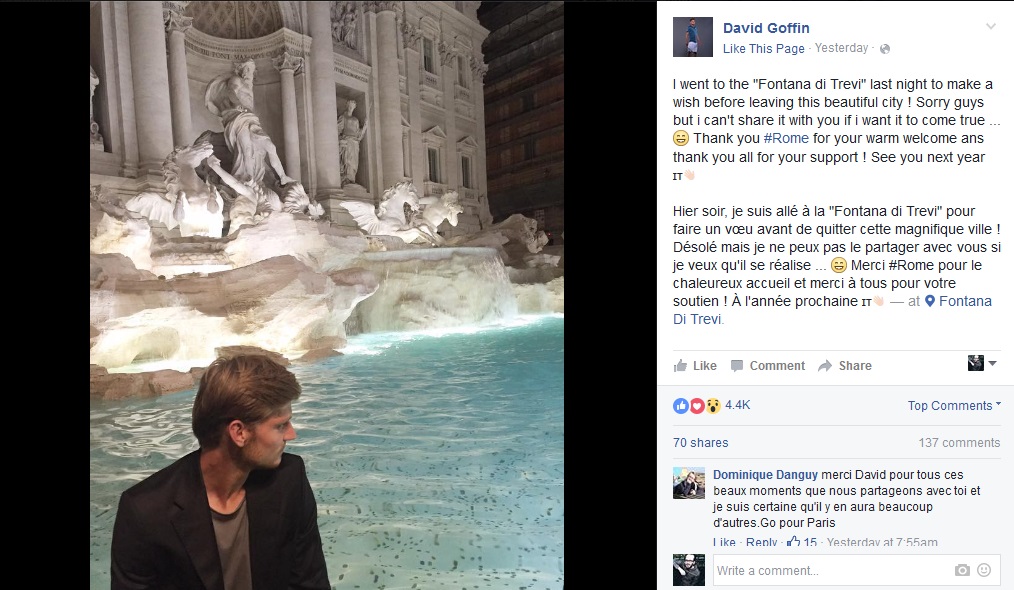 12- Garbine Muguruza (NE).
An interesting week for Garbine Muguruza on Rome's clay, with a semi-final and a high level of play after a very difficult start of the 2016 season.
Enough to smile again, obviously.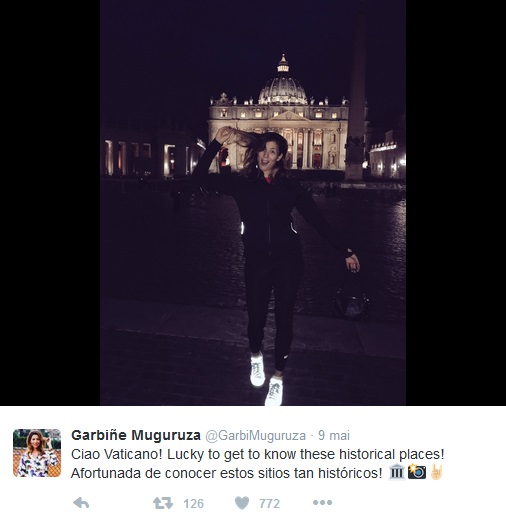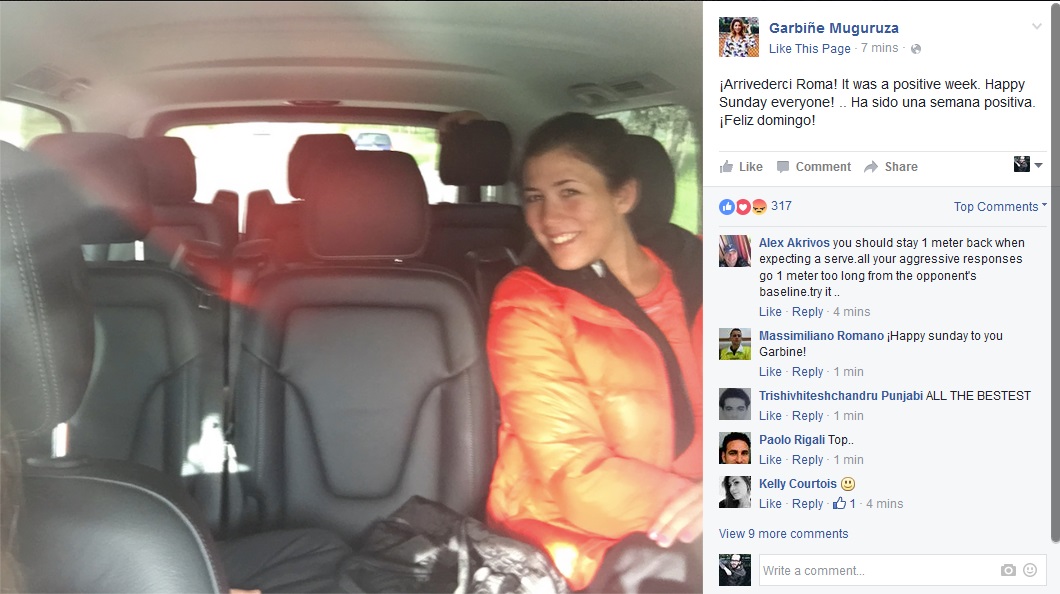 But still, the Spaniard already seems to be wanting to play on a different surface…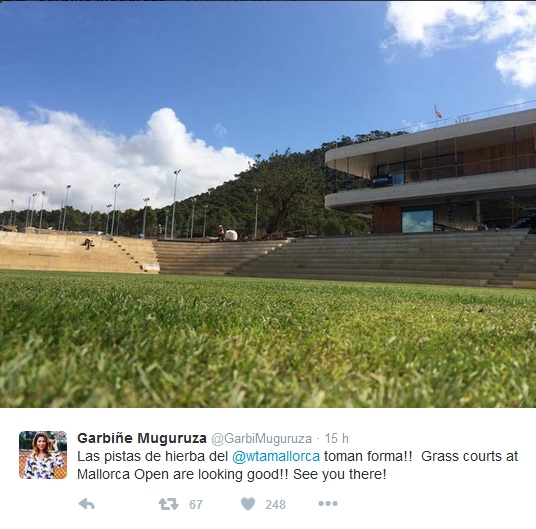 13- Flavia Pennetta (NE).
The recently retired Italian was honored at home, in Rome. So obviously, there was a lot of emotion.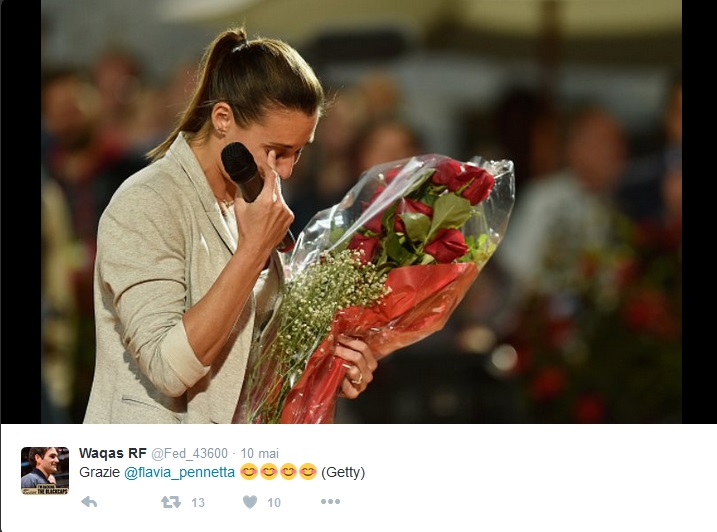 Pennetta was even payed hommage by some of her ex-rivals and friends of the circuit.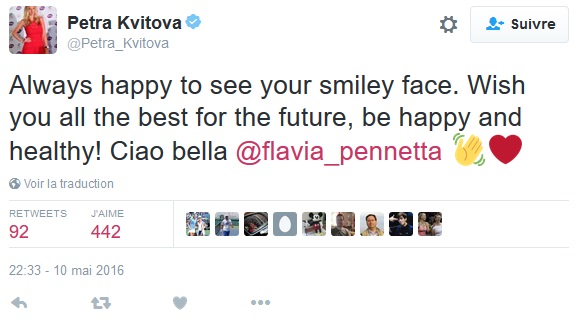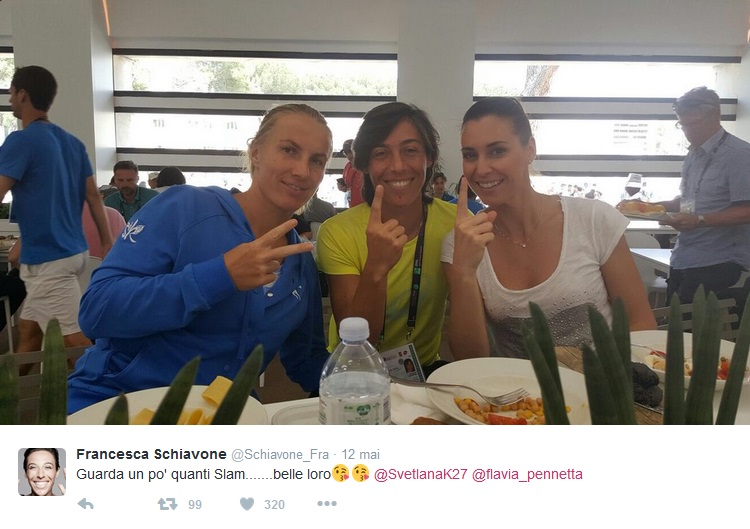 She was also able to have a selfie with the local hero, Francesco Totti.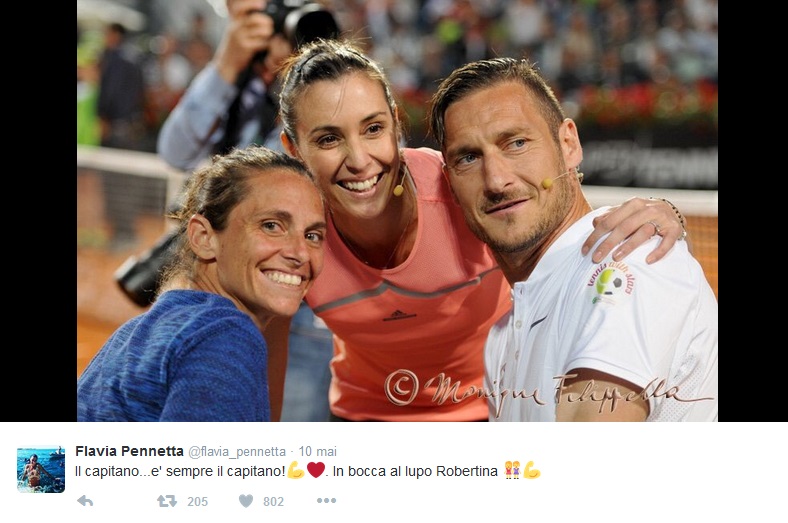 14- Alexander Zverev (NE).
The hug of the week comes from the nice Alexander Zverev.
However, it wasn't enough for the young German to defeat Roger Federer (the Swiss won 6/3 7/5) in the second round of the Roman tournament. Anyhow, Zverev keeps on improving with previously a great win against Grigor Dimitrov (6/1 6/4) in the first round of this Rome tournament.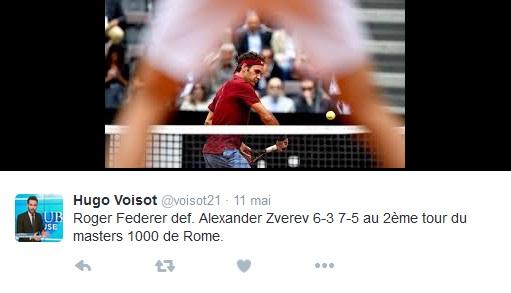 15- Caroline Wozniacki (-10).
We don't really see Wozniacki on a tennis court anymore and you'll have to admit it's a pity…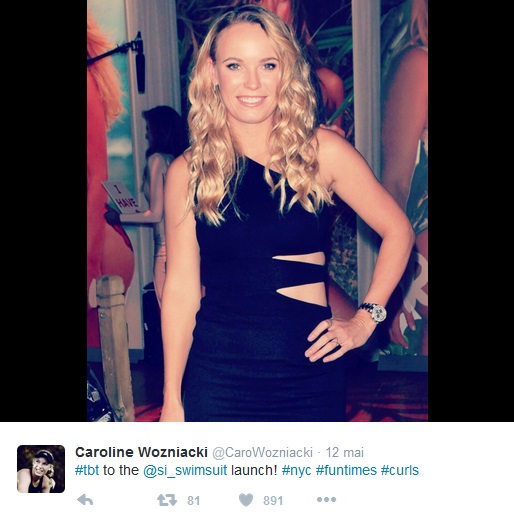 So as not to be forgotten, the Dane played Q/A with her fans on Twitter. A good occasion to find out that the US Open is her favorite Grand Slam tournament…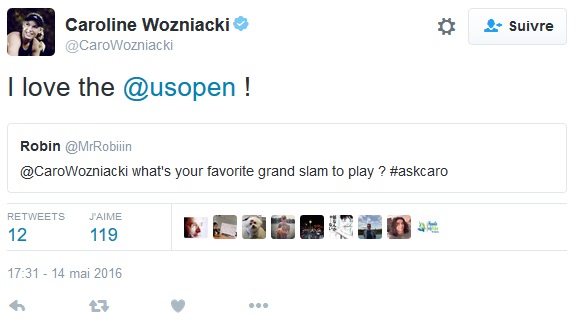 …that she'd love to visit Alaska one day…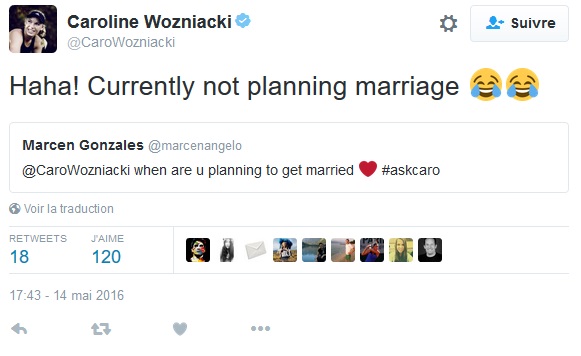 …and that wedding plans are not for now.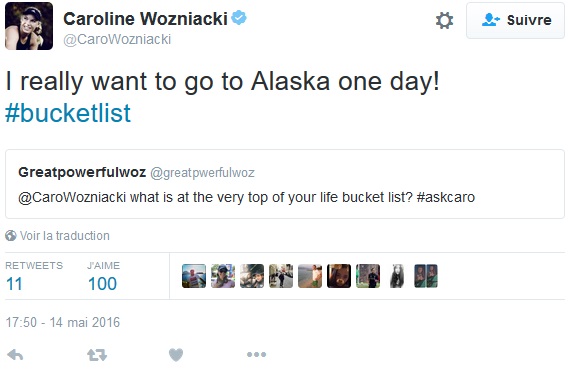 A last picture with « Mama » Wozniacki.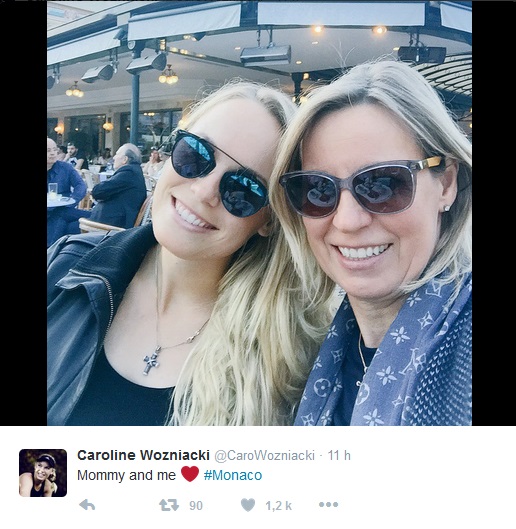 Have a good week !
Outs :
Ivanovic, Halep, Cibulkova, Del Potro, Tomic, Delbonis, Mergea, Monfils&