Tension, controversy, heat and a new hairstyle. There is no more doubt, Spring is coming on the circuit…
Tension, controversy, heat and a new hairstyle. There is no more doubt, Spring is coming on the circuit…
1- Serena Williams (+1).
Defeated in the final of the BNP Paribas Indian Wells Open, Serena Williams changed her hairstyle for the Miami tournament. Extreme makeover.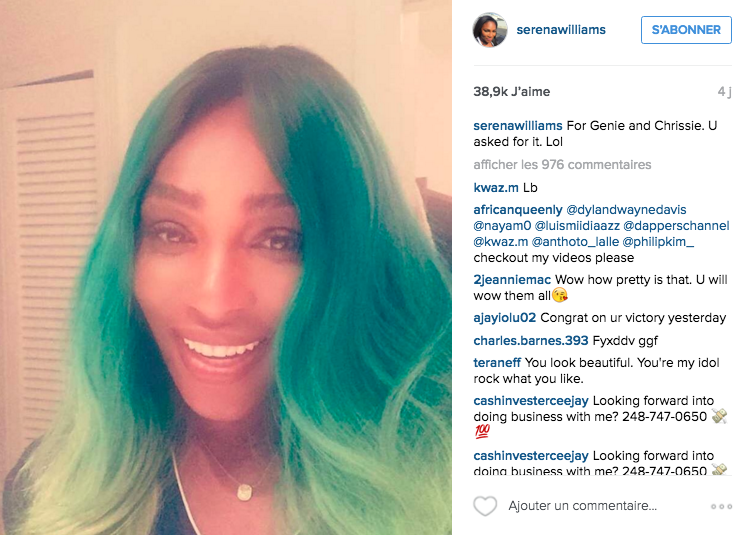 In Florida, she even clashed with the umpire, Kader Nouni : « In fact, unless you're giving me a warning, don't talk to me ! »
So she ended up taking a picture of her Nike Air to please her sponsor.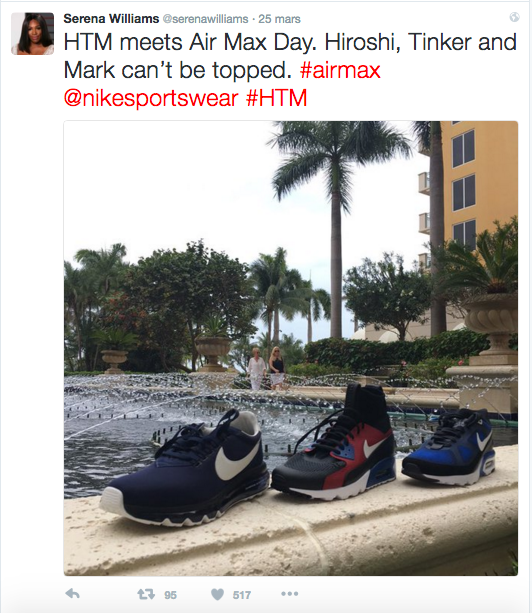 2- Andy Murray (NE).
Raymond Moore, the boss of the Indian Wells tournament, made some staggering comments on the WTA : « In my next life, when I come back, I want to be someone in the WTA because they ride on the coattails of the men (…) If I was a lady player, I'd go down every night on my knees and thank God that Roger Federer and Rafa Nadal were born because they have carried this sport. They really have. » The comments have provoked a tweet clash between Andy Murray and Sergiy Stakhovsky. The first explaining to the second that he draws less crowds than Laura Robson…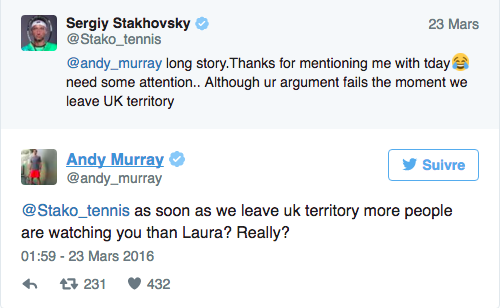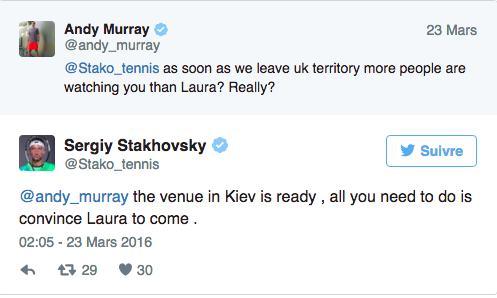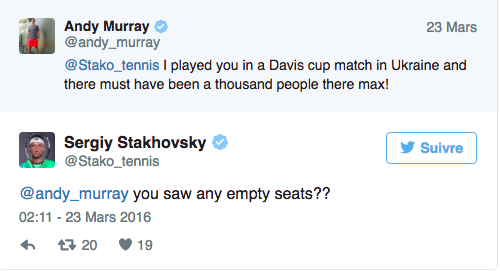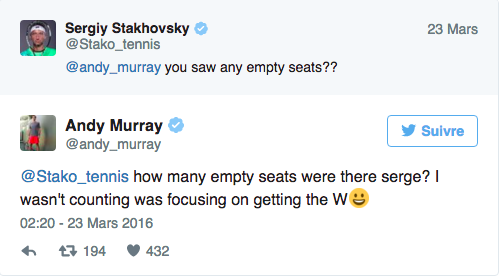 But since then, Andy Murray has got angry at an umpire in Miami when he realized that he was playing with balls usually reserved for the women's circuit.
« The women's balls are very different to the men's balls. They're much quicker, smaller, livelier. Yeah, when you're just about to serve at break point down, you know, you don't want to be using a completely different ball. », he then explained during the press conference. In the end, Andy won the match in two sets against Denis Istomin. Phew, it saved us from another potential controversy.
3- Novak Djokovic (/).
Following Moore's comments, Novak was invited to express his views on men and women equality in tennis : « I have been through that process as well so I understand how much power and energy WTA and all the advocates for equal prize money have invested in order to reach that. I applaud them for that, I honestly do. (…) On the other hand I think that our men's tennis world, ATP world, should fight for more because the stats are showing that we have much more spectators on the men's tennis matches. » And also apologized shortly after : « I typically use this page to share my excitement with you, especially after big wins. But this time I had to take a few deep breaths before addressing you. As you may have seen, I was asked to comment on a controversy that wasn't of my making. Euphoria and adrenalin after the win on Sunday got the best of me and I've made some comments that are not the best articulation of my view, and I would like to clarify them ». The rest ? « As you all know, I care deeply about the future of the game and all of the players. I felt the need to speak about the fairer and better distribution of funds across the board - this was meant for both men and women. We all have to fight for what we deserve. This was never meant to be made into a fight between genders and differences in pay, but in the way all players are rewarded for their play and effort. (…)This was my view all along and I want to apologize to anyone who has taken this the wrong way». Immediate consequence : the famous website MiniPeople.ch had a go at Novak.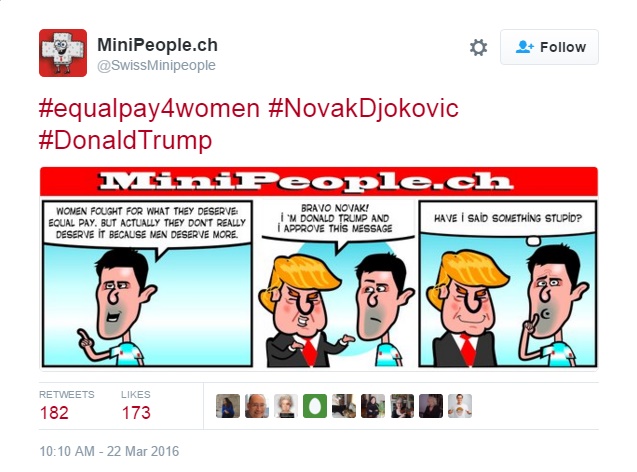 But the Serb quickly moved on to something else. The proof ? He helped a fan finding a partner for the prom night.
4 - Victoria Azarenka (-3).
Victoria carries on her good run. After her victory at the BNP Paribas Indian Wells Open last week, the Belarusian relaxed by listening to music with her buddy Gaël Monfils…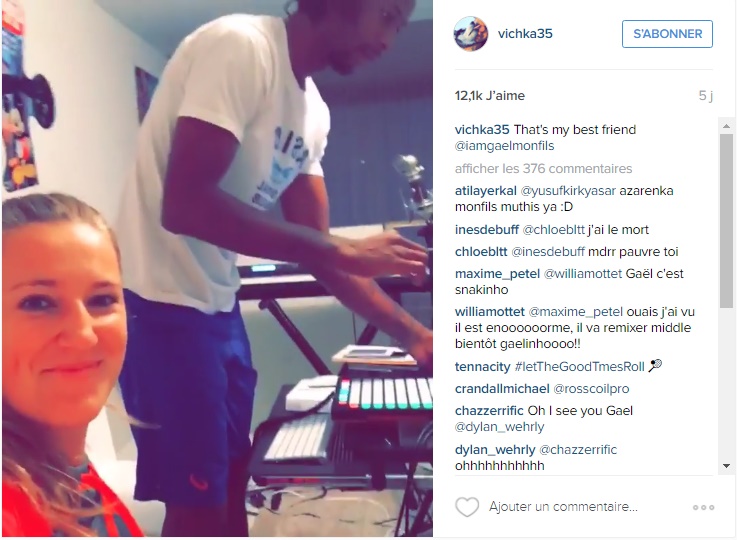 Before qualifying for the round of sixteen in Miami. That's it ? Of course not, she also posed with her dog.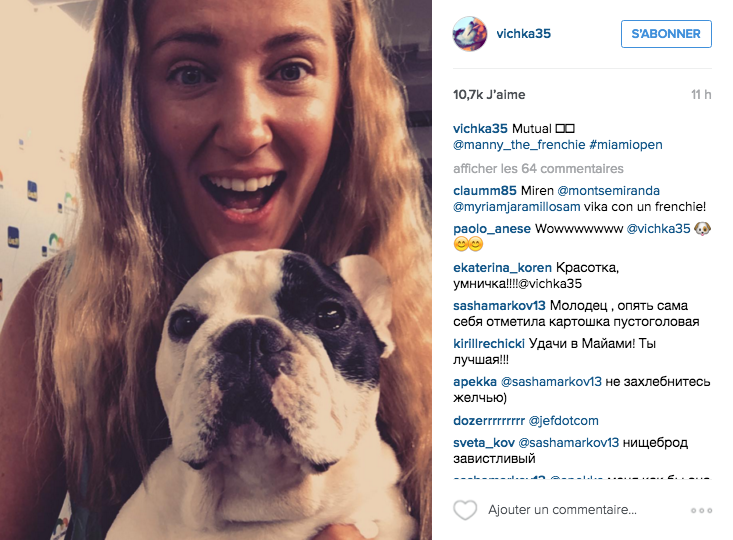 5- Jo-Wilfried Tsonga (NE).
Before starting his tournament in Miami, Jo-Wilfried swung by to say hi to Evan Fournier, the NBA player of the Orlando Magic…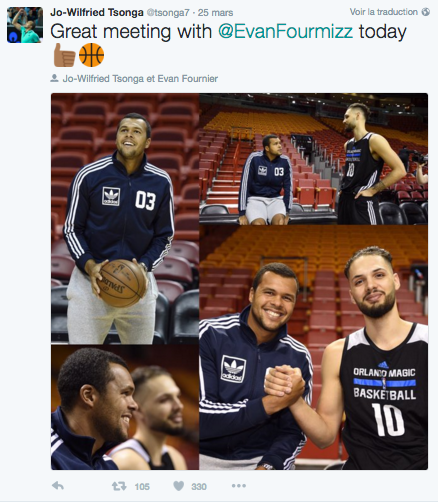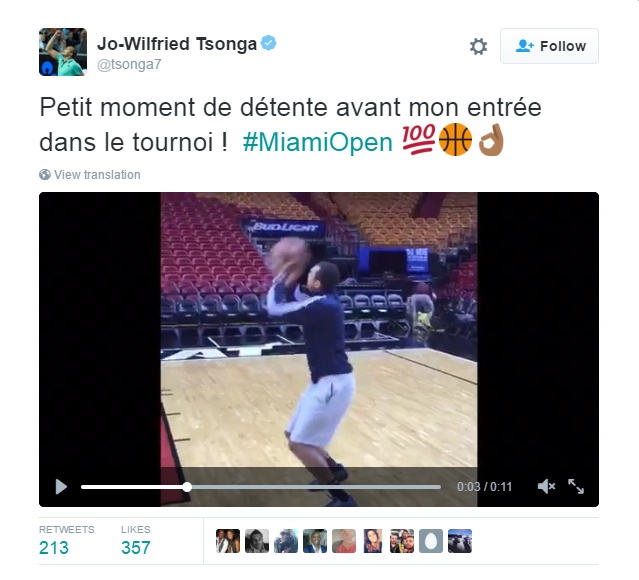 …who was there to take on the Miami Heat. He took the chance score a shot and a lay-up.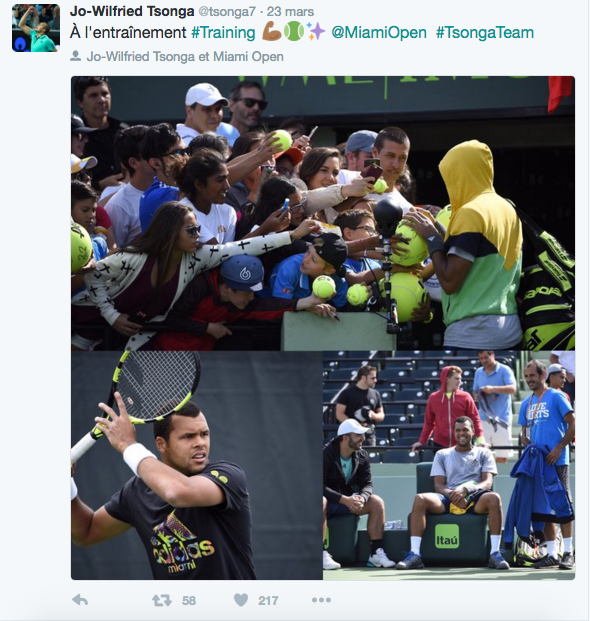 6- Roger Federer (-2).
Injured since the Australian Open, Roger Federer explained the origines of his pain : the Swiss injured himself while giving his daughters a bath. « I think I was going to run a bath for the girls. I made a very simple movement, turned back, heard a click in my knee. I went to the zoo. My leg was swollen. » Expected to make his come-back in Miami, Roger had to forfeit again, because of a gastroenteritis this time. Too bad, as he seemed ready, as he had announced it on Twitter.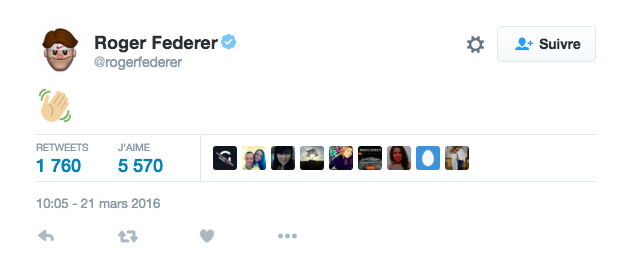 7- Eugénie Bouchard (NE).
This week, Eugénie danced on some Drake during training…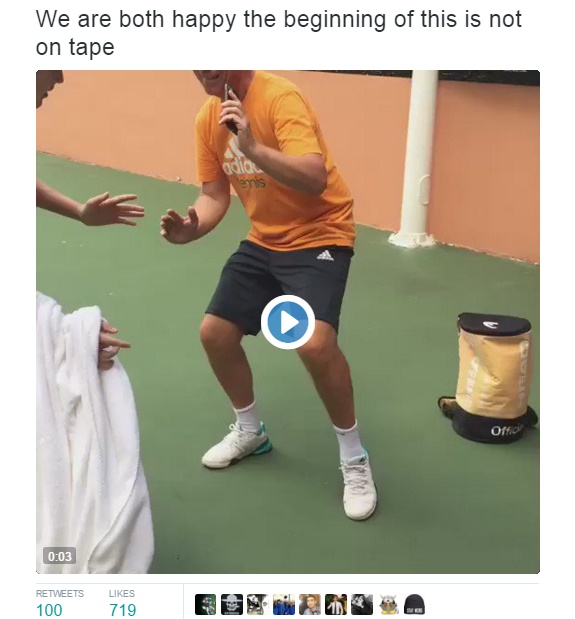 …and hailed the solidarity between Brussels and Paris after the attacks.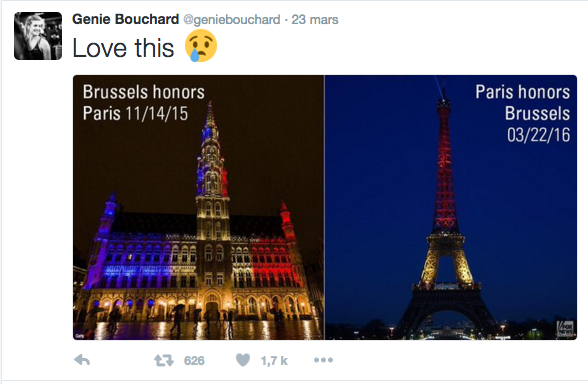 She's also been very cold at a party.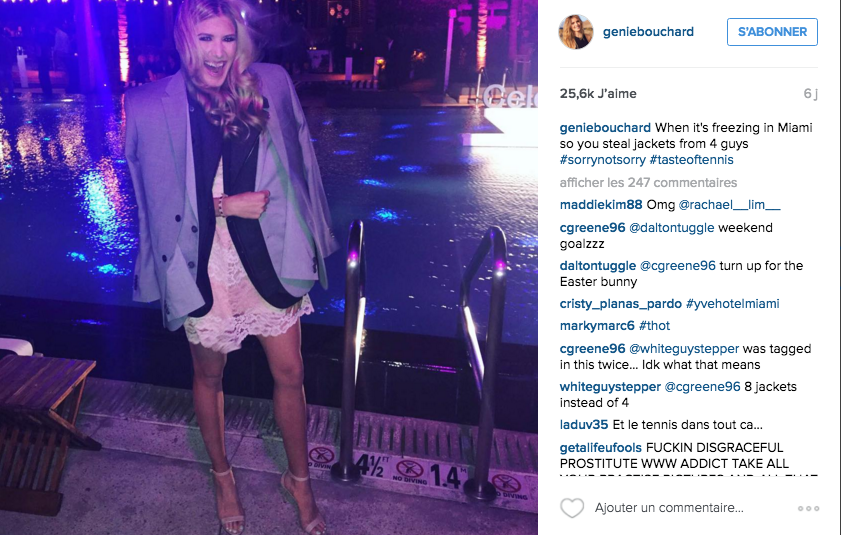 8- Maria Sharapova (NE).
Even when in trouble, Maria Sharapova remains the same : at the LA county art museum…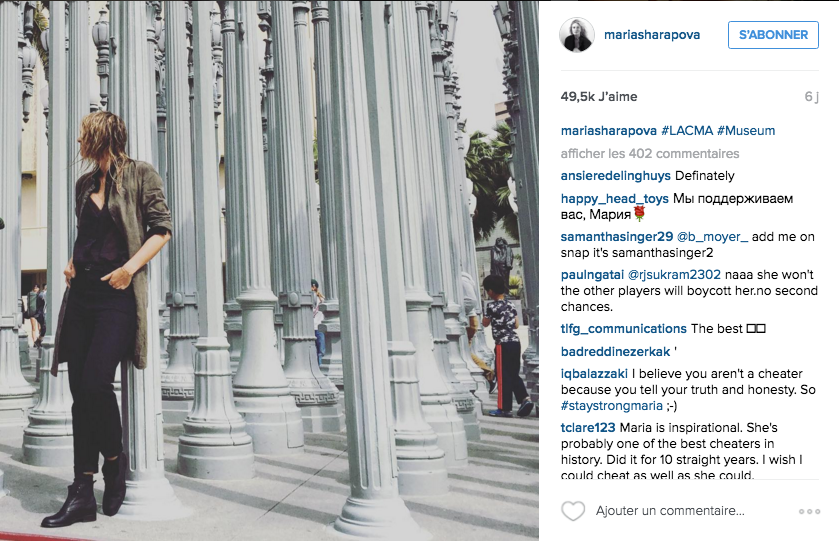 …on the beach…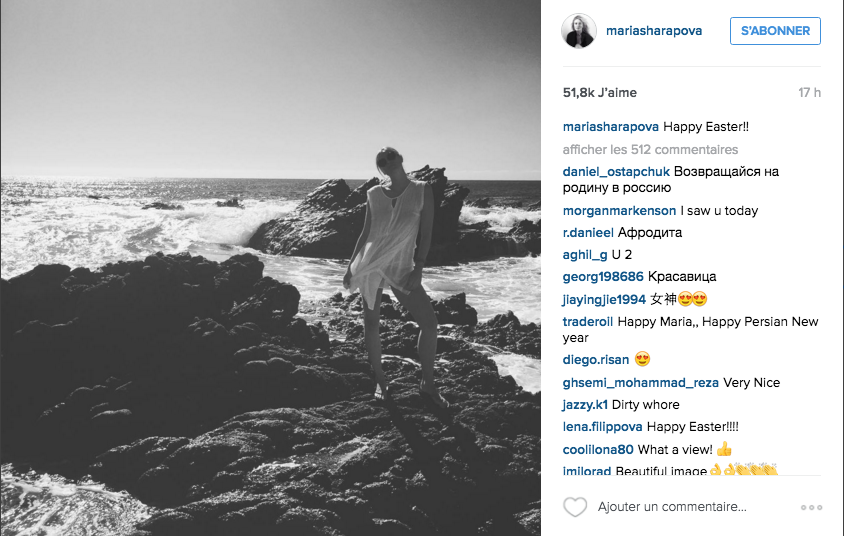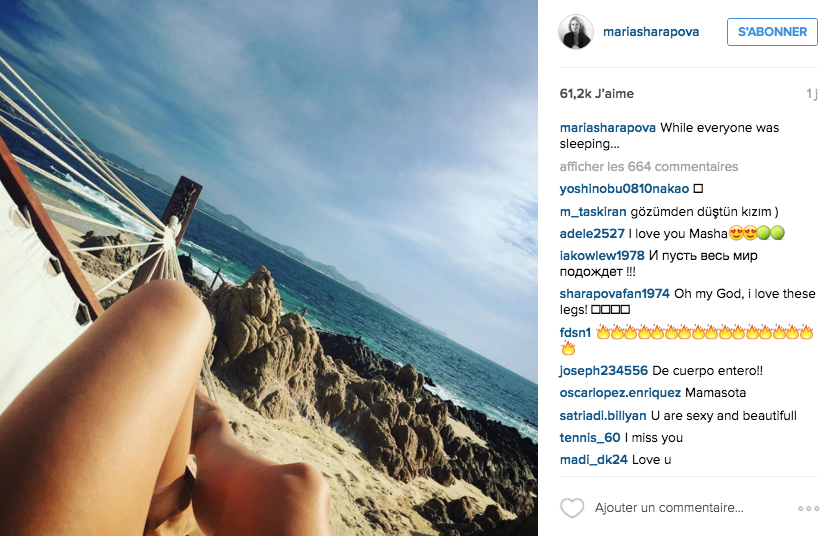 …or during training.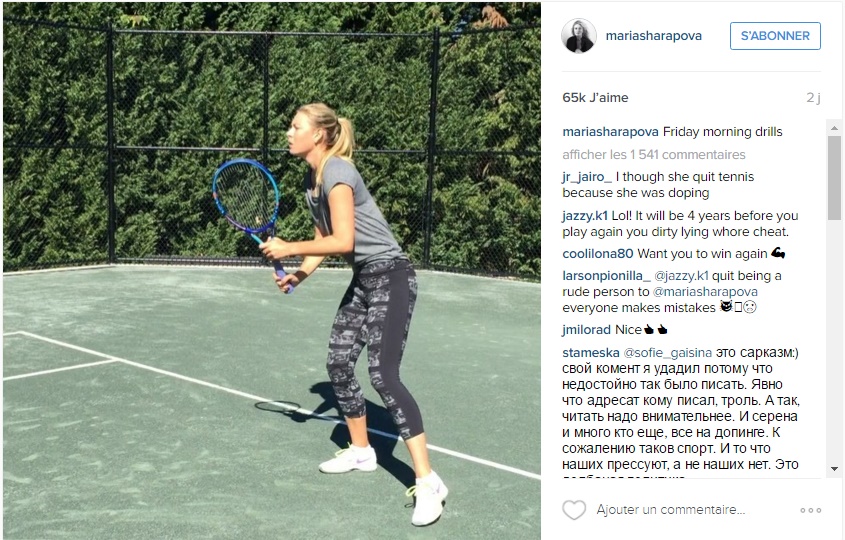 9- Rafael Nadal (+1).
Afflicted by the Miami heat, Rafael Nadal had to withdraw in the first round against Damir Dzumhur (6-2, 4-6, 0-3).
« Everything was fine until the end of the first set. It was getting worse, worse, and worse. So finally in the second set I realized that I was not able to keep playing. I tried to resist, but I got a little bit scared to be too dizzy … so I called the doctor a couple of times, but I felt that I was not safe there, so I decided to go. » Times are hard for Rafa…
10- Caroline Wozniacki (NE).
A declaration of love…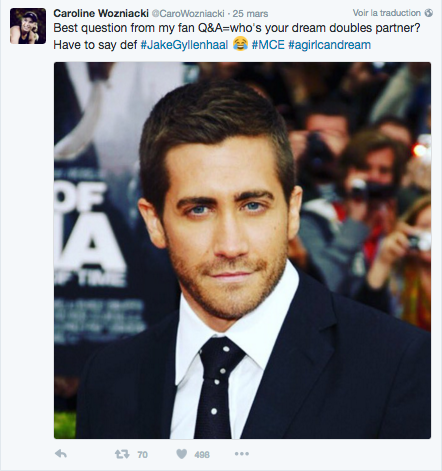 …her thoughts and prayers for the victims of the Brussels attacks…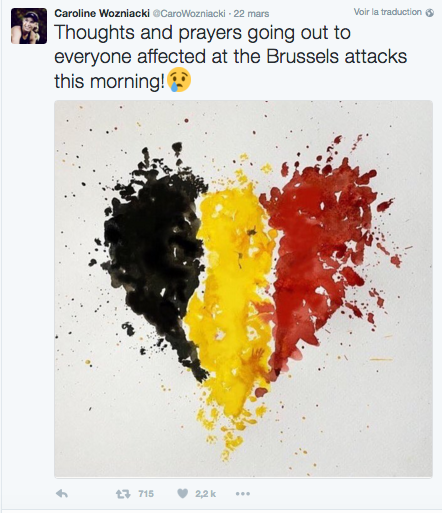 …her dog as a driver...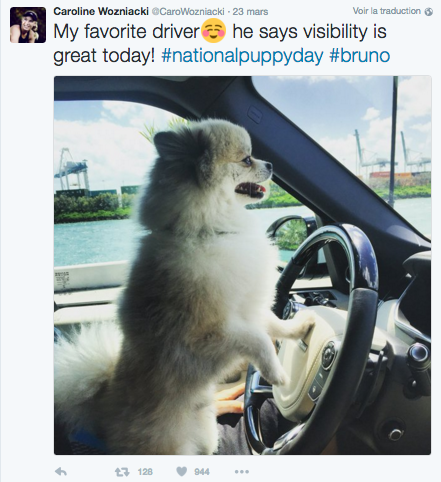 …and a defeat in the third round in Miami, Caroline Wozniacki's week flew by.
11- Nick Kyrgios (/).
When Australian tennis' bad boy is not spending quality time with his girlfriend Ajla Tomljanović…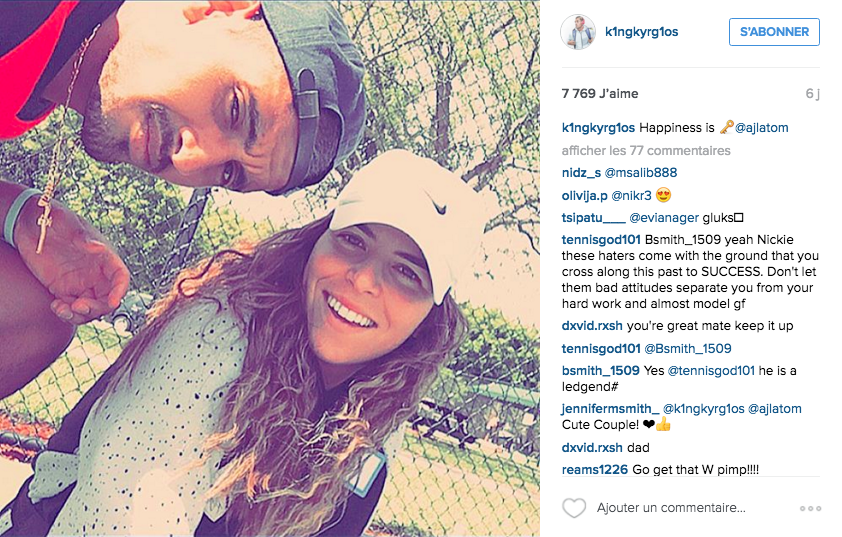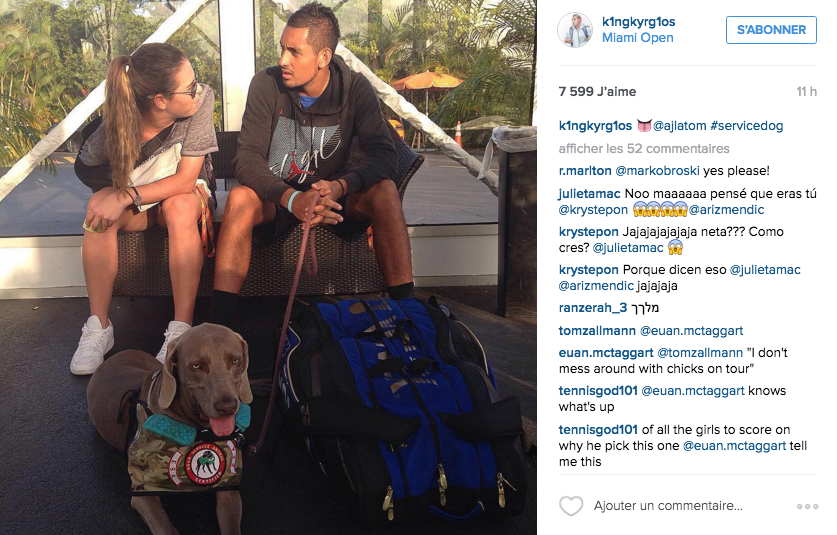 …he's playing basketball with his dog.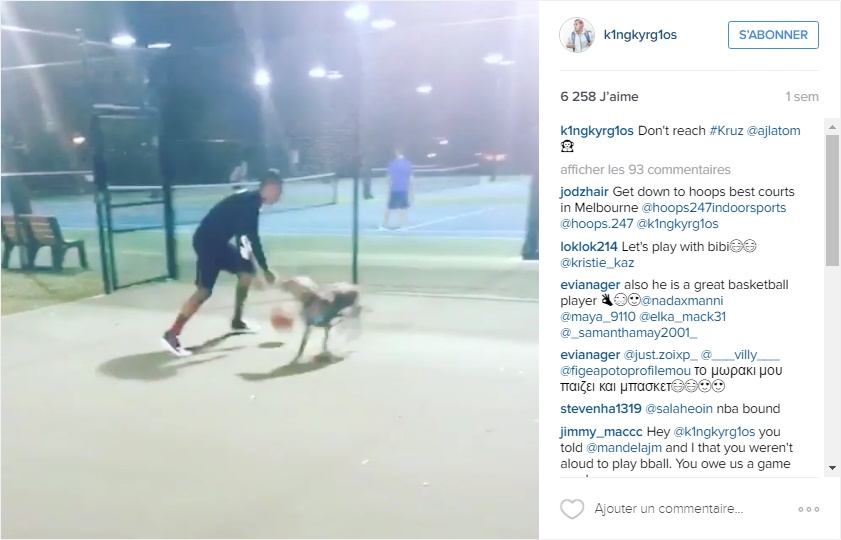 12- Agnieszka Radwanska (-7).
Agnieszka Radwanska can't stop treating her fans with her flamboyant tennis. After last week's beautiful points, here is her latest hot-shot of her week in Miami : an wonderful and unstoppable drop shot…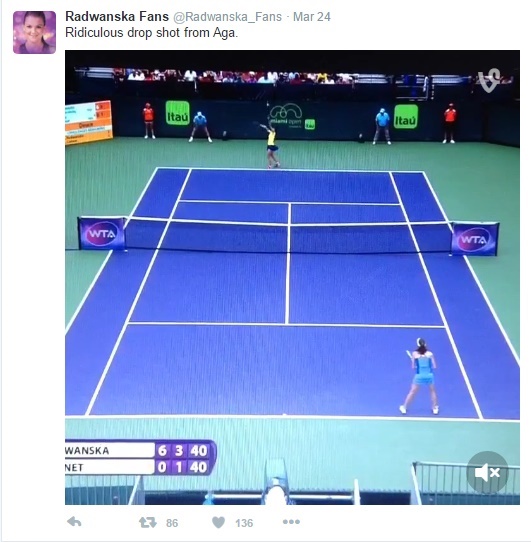 …which didn't prevent her from being knocked out in the third round by the Swiss, Timea Bacsinszky.
13- Flavia Pennetta (NE).
Flavia is getting ready for her wedding with Fabio Fognini…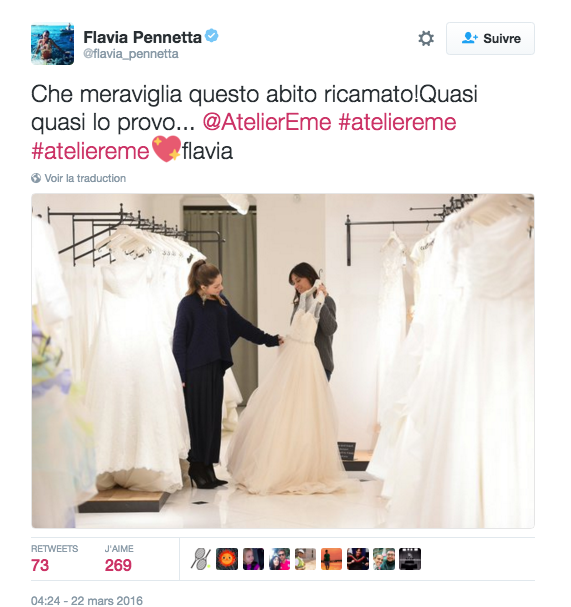 …who seems to prefer napping.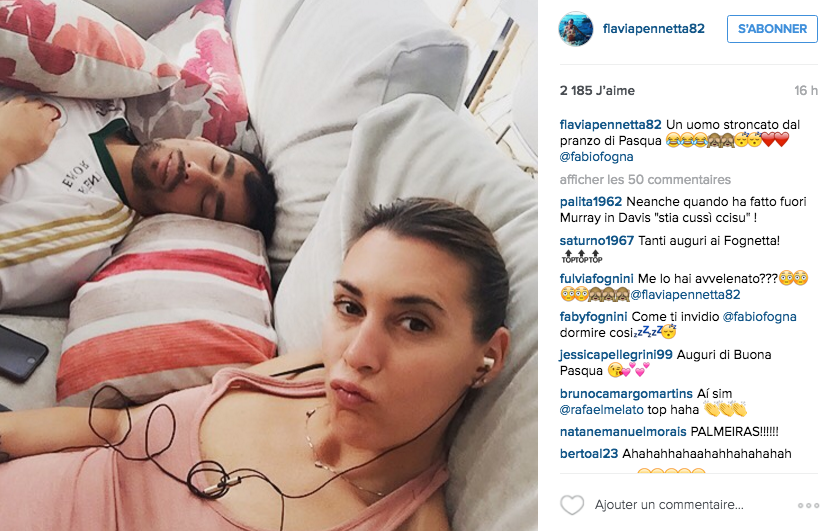 14- Damir Dzumhur (NE).
The hotshot of the week goes to Damir Dzumhur, who defeated Nadal, and who looked on better form than his opponent.
15- Viktor Troicki (NE).
Up against Goffin in the third round of the Miami tournament, Victor Troicki lost it. He finished a point on the other side of the net…
…And got mad when the umpire reminded him that it wasn't allowed. Good call. At least, he taught everyone the rule
Outs :
Pospisil, Isner, Kerber, Smith, Kasatkina, Zverev, Goffin, Raonic
By Antoine Mestres