Incessant rumors of doping, a reunion fifteen years later and Mike Tyson are this tennis week's key words. And therefore of our offbeat ranking.
Incessant rumors of doping, a reunion fifteen years later and Mike Tyson are this tennis week's key words. A week ended under the Californian sun…
1- Nick Kyrgios (+2).
To improve the atmosphere after his spat with Bernard Tomic, Nick Kyrgios posted this enigmatic tweet.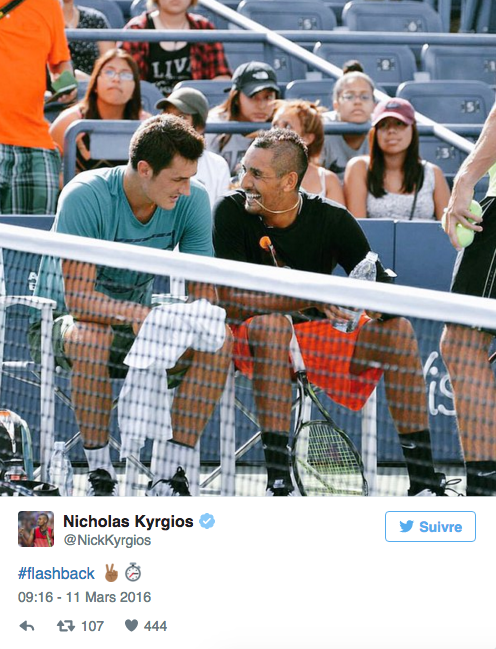 He also seemed to enjoy the Californian sun…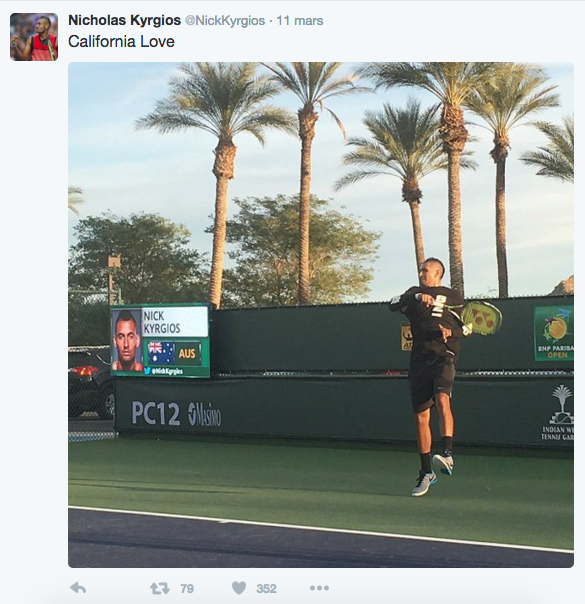 …which he decided to face… wearing a hoodie.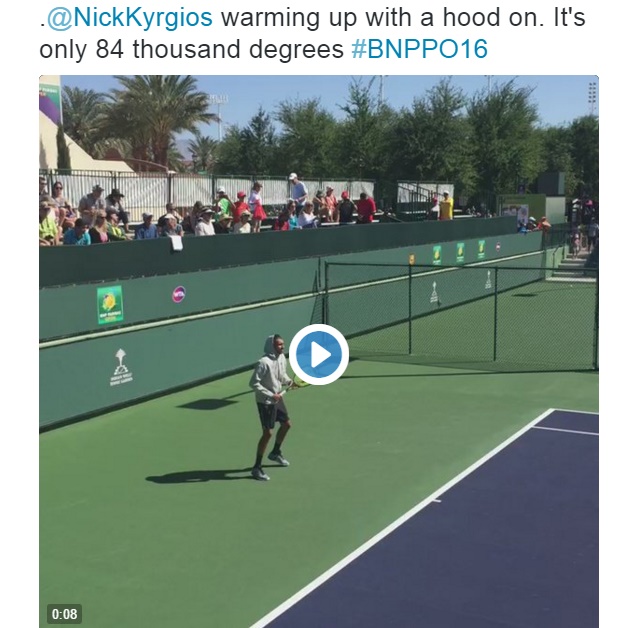 2- Mike Tyson (NE).
One of the BNP Paribas Indian Wells Open's heroes so far is Mike Tyson, caught by the Kiss Cam…Mike looked embarrassed.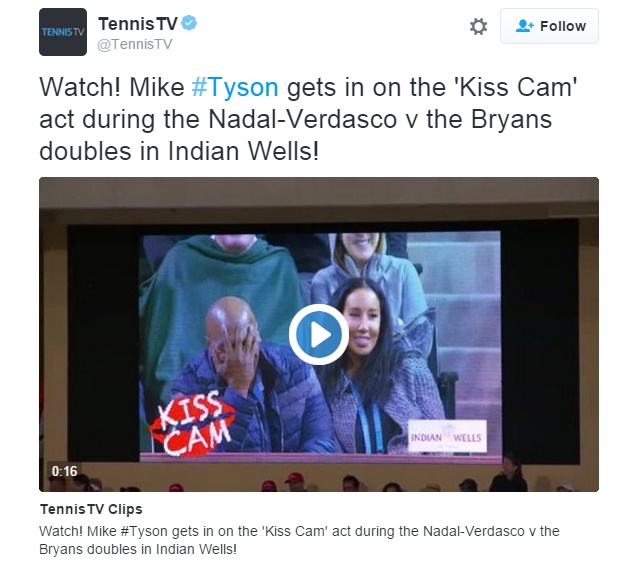 Knowing that the legend was there, everyone on the circuit or almost wanted to take a picture with him. Serena Williams first.
Then Tsonga.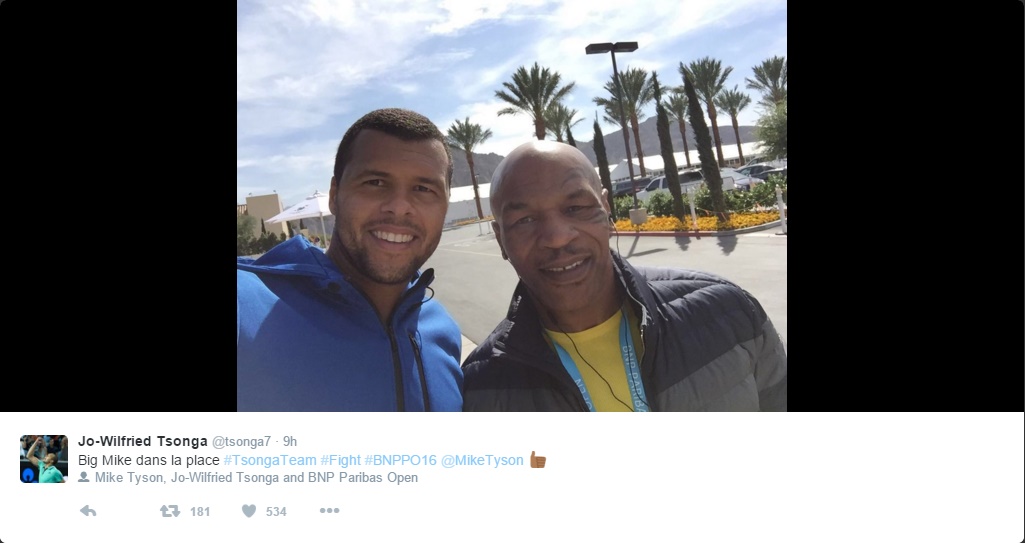 Borna Coric too.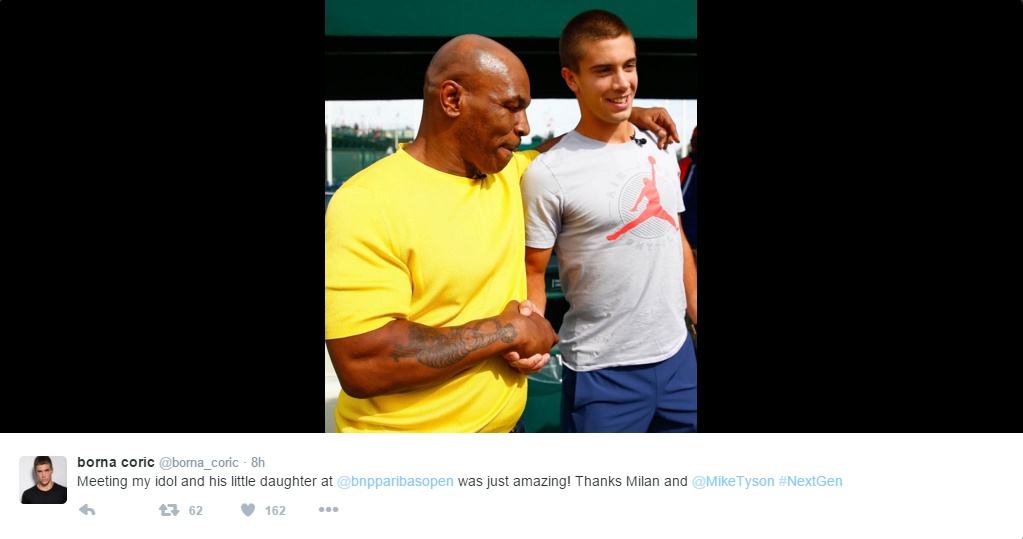 And Novak Djokovic to finish.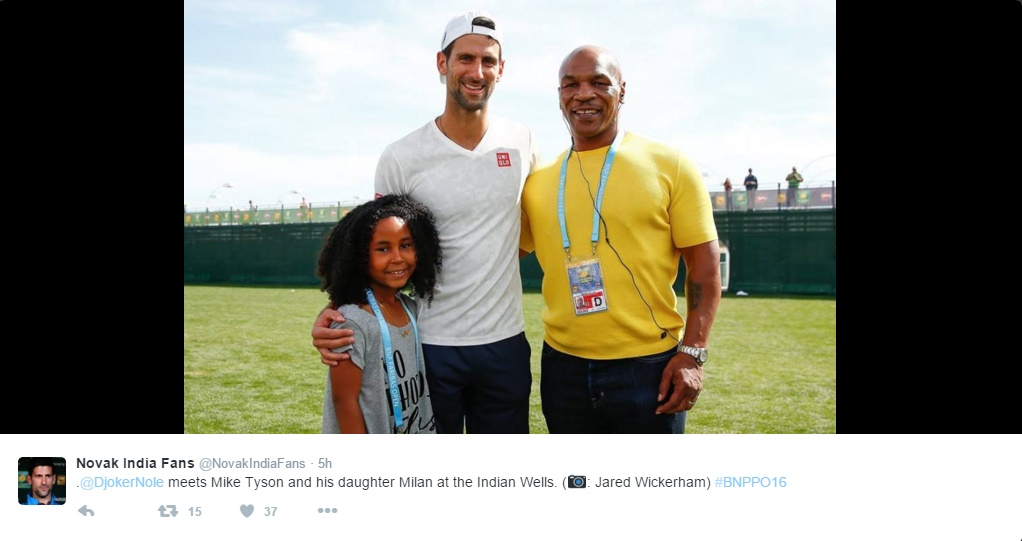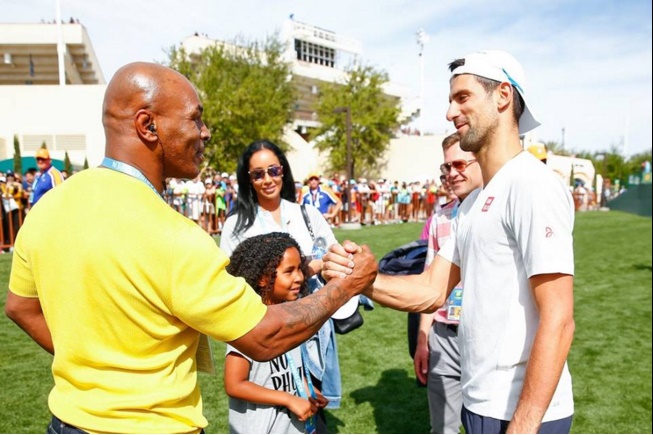 3- Rafael Nadal (+3).
One of the Sharapova scandal's collateral victim is Rafael Nadal. And it's Roselyne Bachelot, French ex-minister of Sports, who launched the first attack in a french TV program. « The positive controls are not revealed. Only, we learn that strangely, a player has an injury which keeps him for months outside the courts. We pretty much know that Rafael Nadal's famous injury, which had him stop competing for seven months, is most probably due to a positive doping test. » Toni Nadal's tense return : « Nowadays, instead of proving someone's guilt, you have to prove your innocence. So, any idiot like that can say any atrocity and see what happens. » To a journalist who asked for a reaction, Rafael Nadal answered : « Me ? You can ask the international federation, the world anti-doping agency, you can ask anyone. I've worked very hard during my career to win all these titles, I think it's the right time for me to receive credit. I'm tired of all this. » Roselyne Bachelot's answer ? « I'm flattered by the interest shown by Mister Nadal on my comments. I've only given voice to comments largely held before in the world of tennis and in the press. Newspapers like Le Monde or L'Equipe, high-profile figures like Yannick Noah, have already mentioned doping accusations concerning him. » And it's finally Zinédine Zidane who almost had to apologize for France : « He's a gentleman, he has always shown his values and everyone likes him. He's a professional and I know him a little. I feel bad for everything that was said. » And it's not over…
4- Novak Djokovic (+3).
The week was pretty quiet for Novak Djokovic, who left his eye problems behind him and calmly prepared his start at the BNP Paribas Indian Wells Open with his staff. In the meantime, he gave his support to Maria Sharapova : « I obviously wish her all the best. I've known her for a long time. I feel for her with all that's happening and I just hope she gets out of this stronger.". He's also received praise from Pete Sampras : « To beat Roger twice at the U.S. Open and Wimbledon, to beat Rafa at the French. Truly he's one of the greats of all time. He's won 11 majors, he's only 28. If he keeps this up over the next three, four years, he could very well pass me and get to 16, 17. » And he thanked his ever-growing number of followers.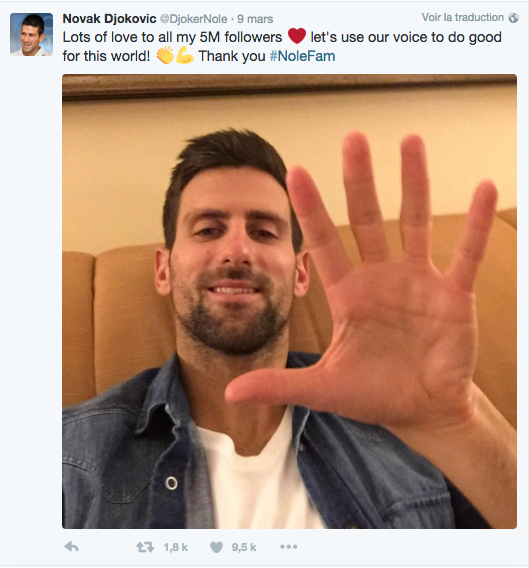 5- Venus Williams (NE).
Fifteen years ago, Venus Williams had been accused of faking an injury to let her sister Serena go through to the final. This year, for her return at the BNP Paribas Indian Wells Open, one year after her sister's moving come-back, she also received an ovation.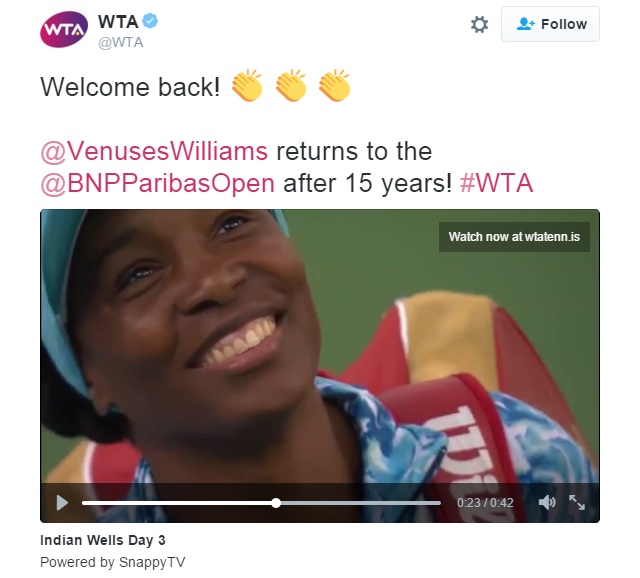 The defeat against the Japanese Kurumi Nara was, in the end, anecdotal. « It was a good day », she said afterwards.
6- Serena Williams (+4).
These last few days, Serena cooked burritos…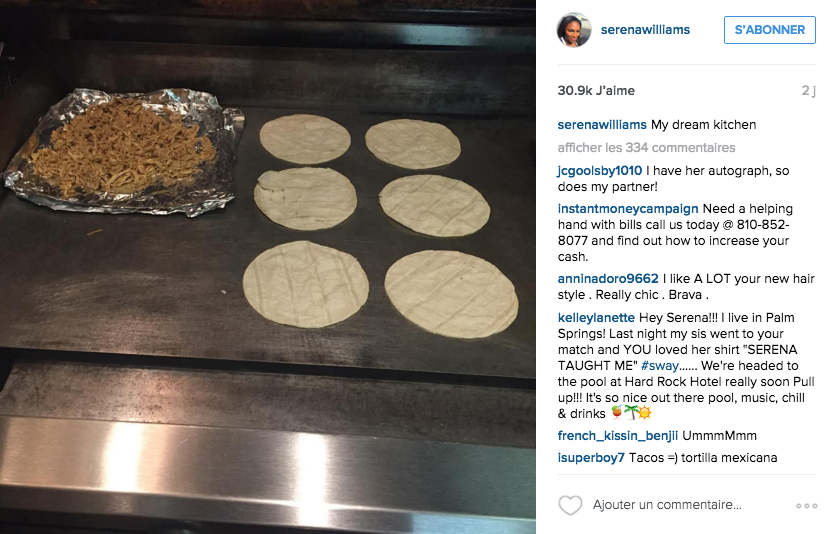 …played with a big racquet…
…and promoted Patrick Mouratoglou's future academy.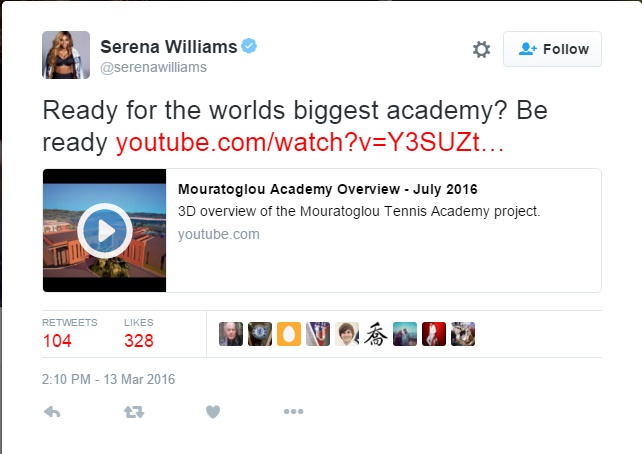 7- Ana Ivanovic (+1).
A healthy snack…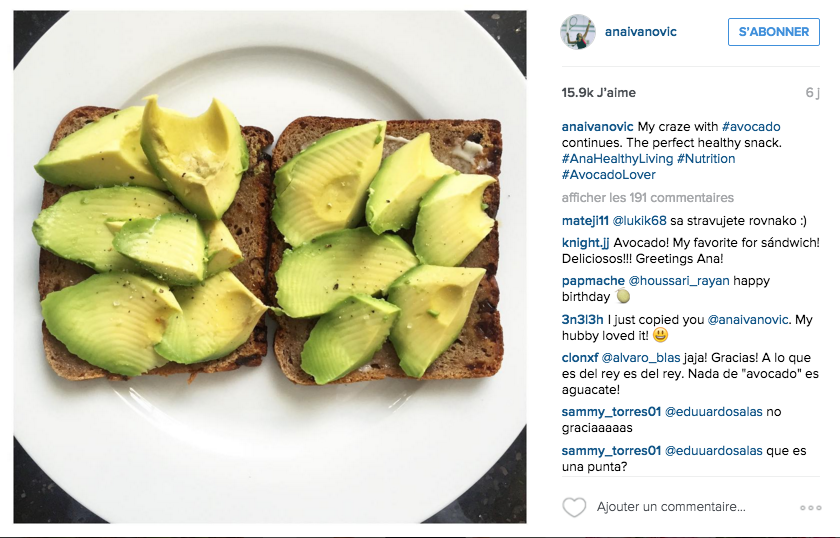 …a makeover…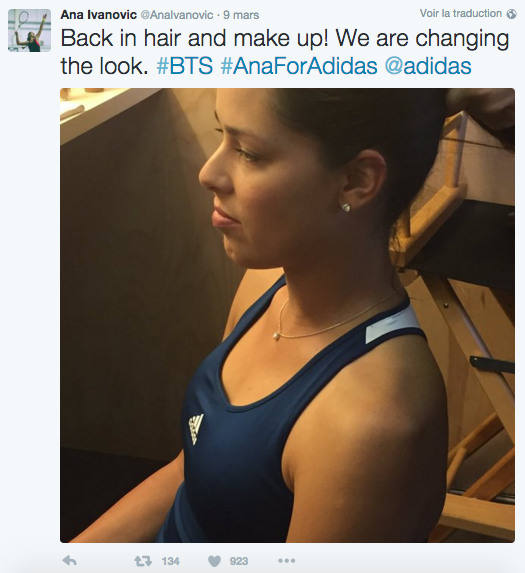 …and a message posted for International Women's day…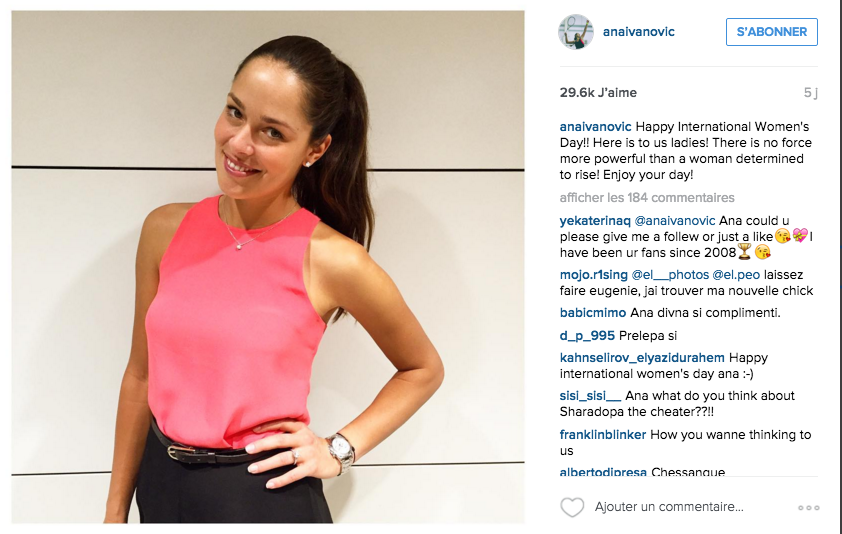 … Ana's world is going great.
8- Victoria Azarenka (-3).
To start the BNP Paribas Indian Wells Open on good form, Victoria, Redfoo of LMFAO's ex-girlfriend, spent time with the Dj Bob Sinclar…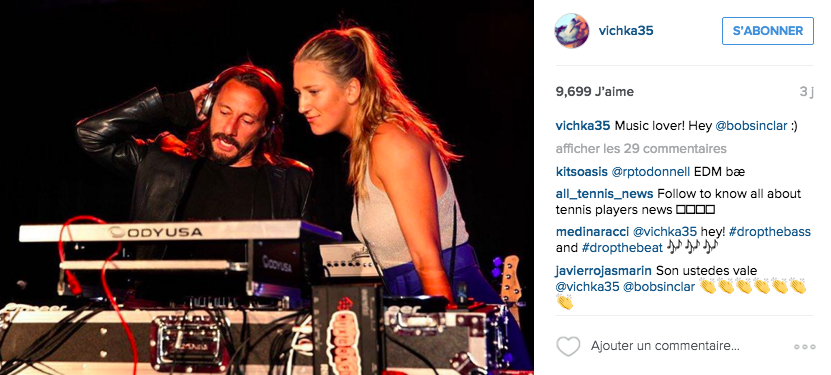 …and had a taste of the Californian sun.

9- Caroline Wozniacki (+1).
Caroline Wozniacki is in a hurry. Last week, she had the time to play an exhibition match against her friend Serena Williams at the Madison Square Garden…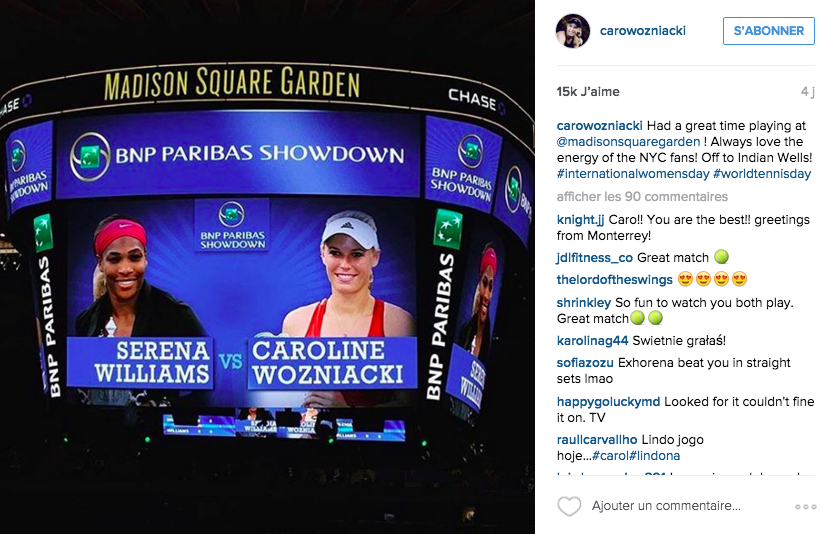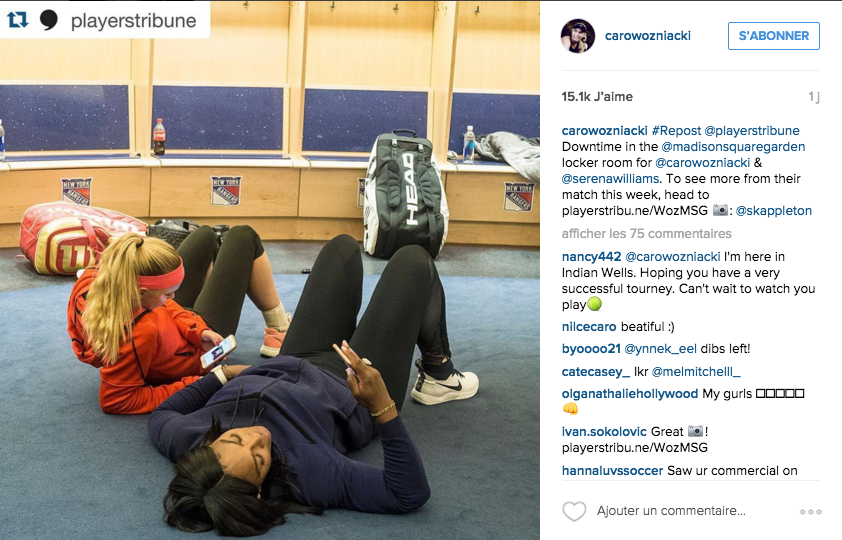 …to pose in an evening dress….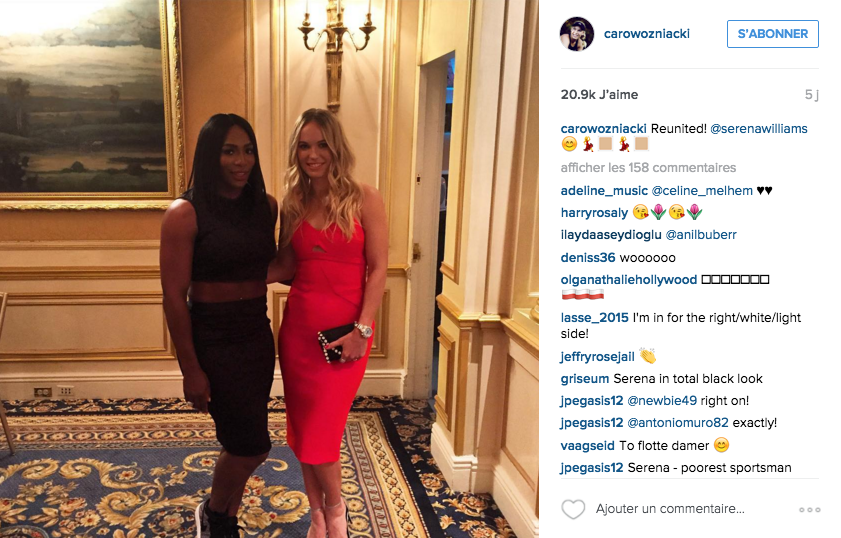 … to send her buddy Del Potro a message of support…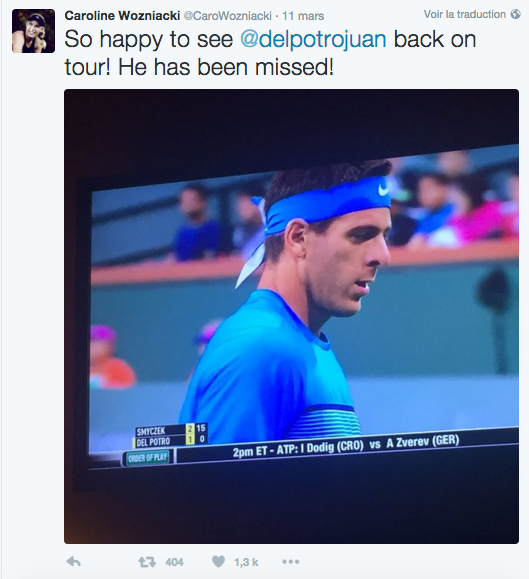 What if Caroline Wozniacki was the coolest girl on the circuit ?
10- Fernando Verdasco (+5).
The Californian palm trees inspire the Spaniard…
…who trained with a luxurious opponent this week, a certain Rafael Nadal.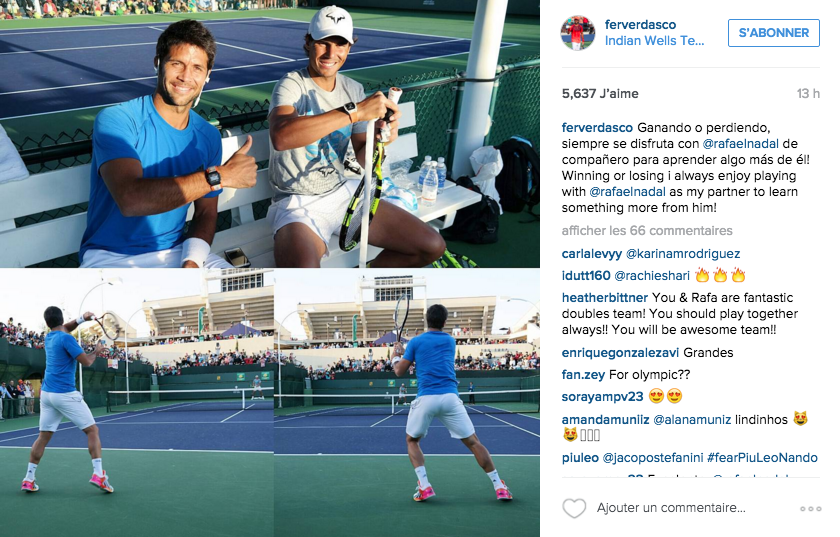 A way to support him against the criticism ?
11- Fabio Fognini (NE).
How do we notice when Fabio Fognini is happy ? When he's cooking with Flavia Pennetta…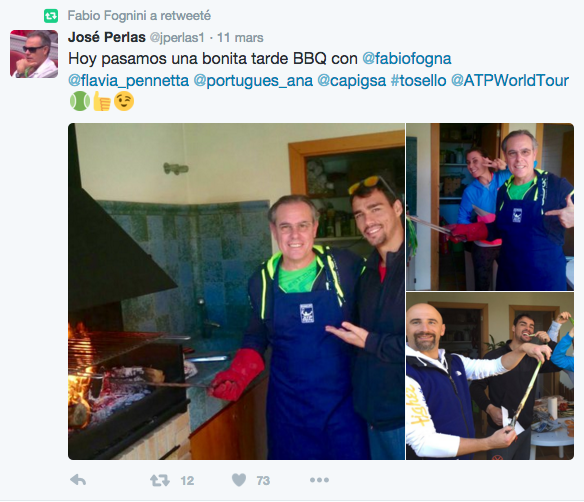 …and when he's jogging.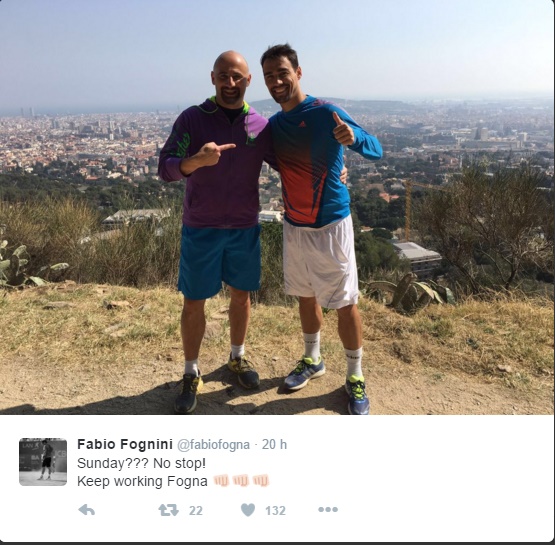 12- Agnieszka Radwańska (+2).
The Pole had fun with her new headphones…
…celebrated her birthday…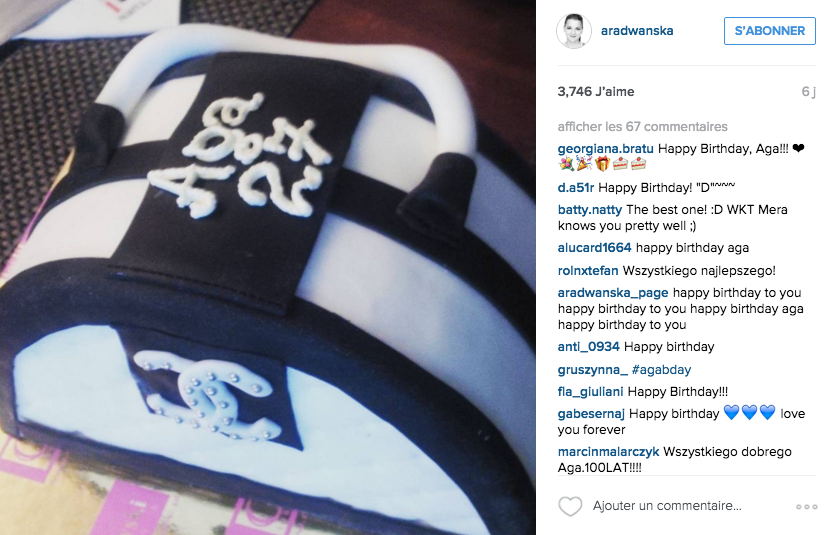 …and had fun with her own face.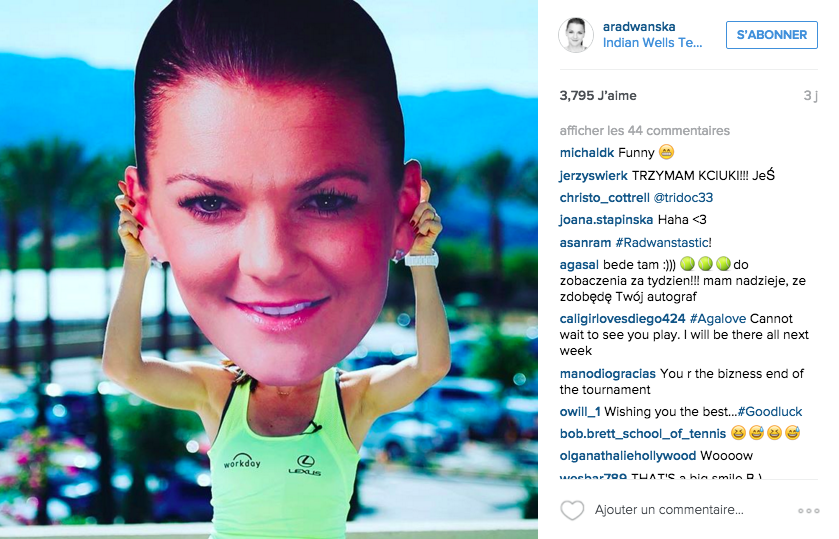 Deforming !
13- Gaël Monfils (NE).
Qualified for the sixteen round of the BNP Paribas Indian Wells Open, Gaël Monfils is confident. Present in New-York for an exhibition match a few days before, he even tried to score a header…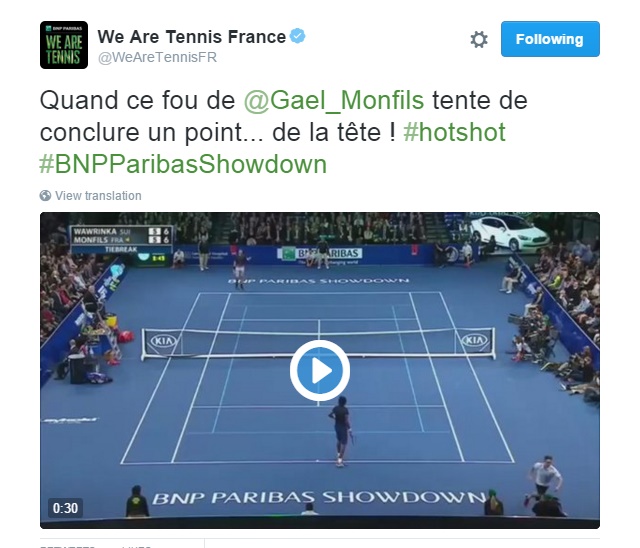 As usual, the audience loves it. And sends the love back, according to the Frenchman : « Here, the crowd likes me, it's cool. I had Guadeloupe(BNP Paribas Davis Cup, ndlr), it was incredible at the Madison (exhibition against Wawrinka on Tuesday, ndlr), and here, it's almost too much. »
14- Marin Cilic (NE).
The Croatian player has shown himself accurate to score one of the most beautiful points of the first days at the BNP Paribas Indian Wells Open.
And he beat Ryan Harrison in two sets…
15- Eugénie Bouchard (-6).
At the BNP Paribas Indian Wells Open, Eugénie Bouchard decided to leave the ordinary life : in the sky in a helicopter…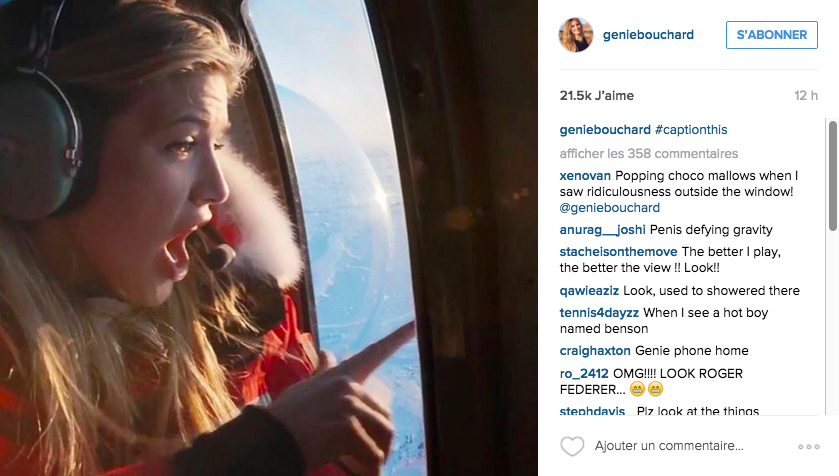 …or in the dressing room, with the Canadian ice hockey legend, Wayne Gretzky.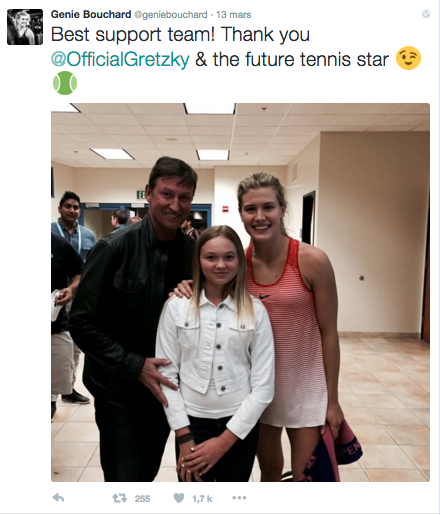 Outs :
Federer, Tomic, Noah, Paire, Cornet
By Antoine Mestres