He has fathered a new war cry and it enables him to directly claim the first spot of our offbeat ranking.
Yannick Noah's BNP Paribas Davis Cup French team's new war cry, a nude picture, a clarification and a tequila shot…this week was the week of all excesses.
1/ Yannick Noah (NE).
Yannick had a successful comeback as the BNP Paribas Davis Cup French team captain with a 5-0 win against Canada and a new war cry.
Love, selfies, Richard Gasquet saying on record that « we love playing together », Jo-Wilfried Tsonga confessing that « (he) feels comfortable with him »… With Noah, the French team has not only found a war cry, but also new happiness…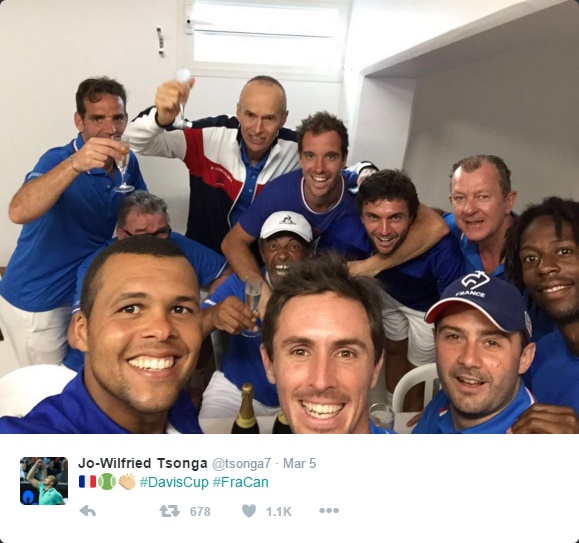 …and a certain spirit of solidarity.
2- Bernard Tomic (NE).
The BNP Paribas Davis Cup Australian Team had a hot flush during it's defeat in the first round against the United States (2-3). After Nick Kyrgios' withdrawal, reported ill, but likely to take part in the BNP Paribas Indian Wells Open next week, Bernard Tomic set the court on fire as he was getting treatment on his wrist during the decisive match against Isner, telling his captain Lleyton Hewitt : « Nick's sitting down in Canberra. Bulls*** he's sick... that's twice he's done it. »
…before carrying on the post-match press conference : « I'll be honest with you now, he told me he's playing Indian Wells, so…If he plays Indian Wells, then he's definitely lost a little bit of my respect. I think just now it will be seeing if he actually plays Indian Wells, because a similar situation happened last year where he didn't come to Czech and he had stress fractures and somehow played Indian Wells and felt good. »
3- Nick Kyrgios (+7).
Nick Kyrgios' answer on Twitter did not take long to come. First tweet : « Let's not forget who holds the quickest loss on the ATP tour lol #howmanyminutesagain », referring to Tomic's defeat against Nieminen in 2014 in 28 minutes. Deleted Tweet, so here's the rest of it :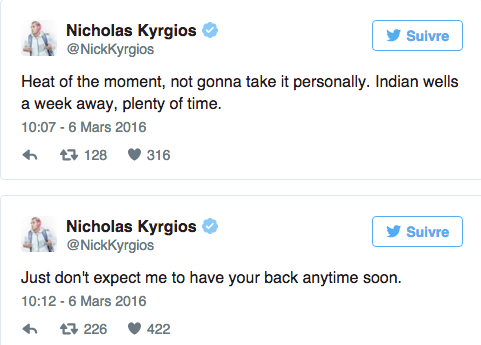 Then Kyrgios lashed out at a journalist who was criticizing him…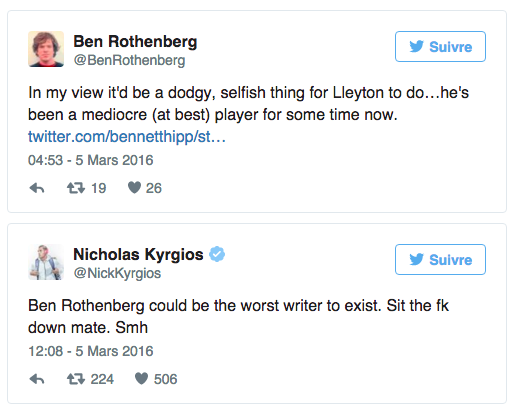 4- Roger Federer (/).
Outside his appearance at the Oscars, where Roger necked a tequila shot…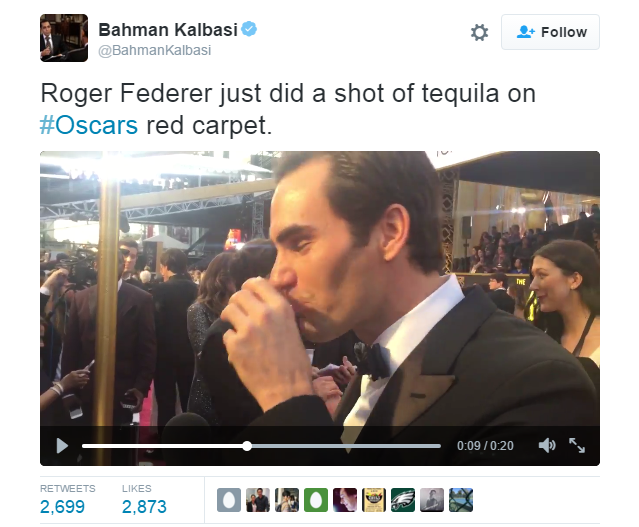 …the Swiss made the most of his Los Angeles stay to visit his fellow countryman Thabo Sefolosha, of the Atlanta Hawks, before a game against the Los Angeles Lakers…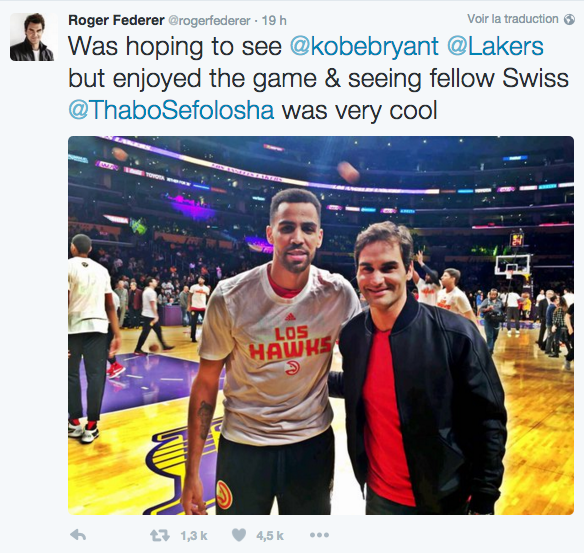 …and to visit the LA hockey team, the Kings', dressing room.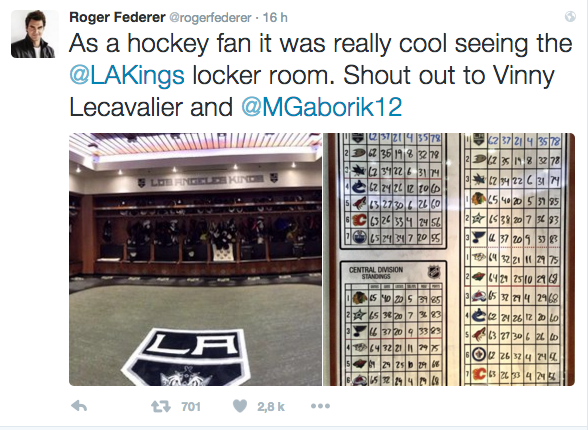 5- Victoria Azarenka (NE).
Victoria is living a fast life. Last week, she had the time to sell her shoes for a good cause…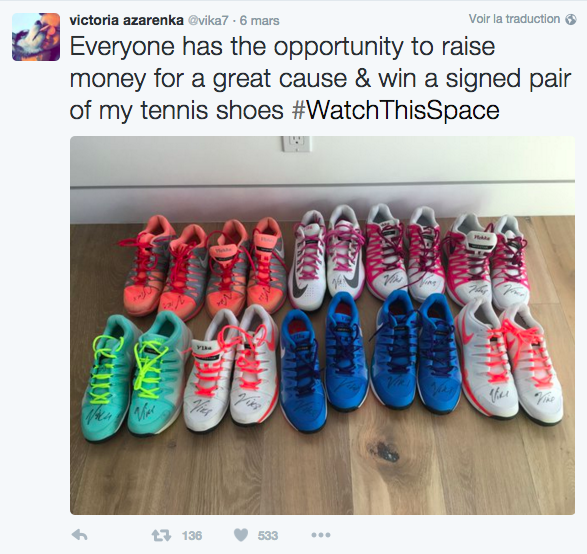 …wish Laird Hamilton a happy birthday…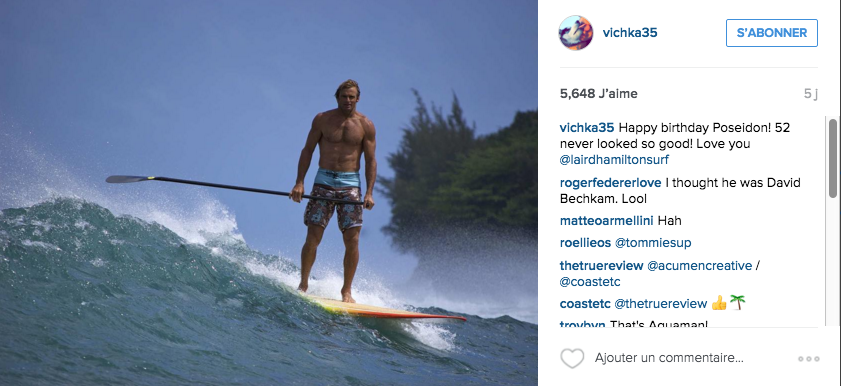 …pull on her bunches…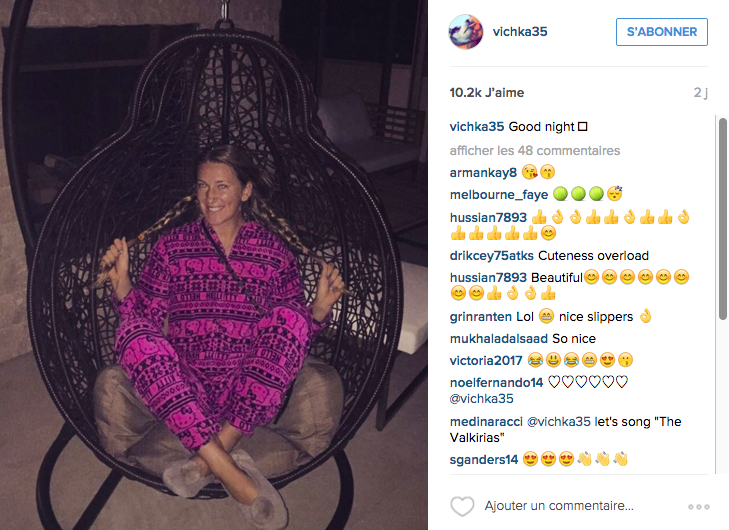 …and prepare for the BNP Paribas Indian Wells Open.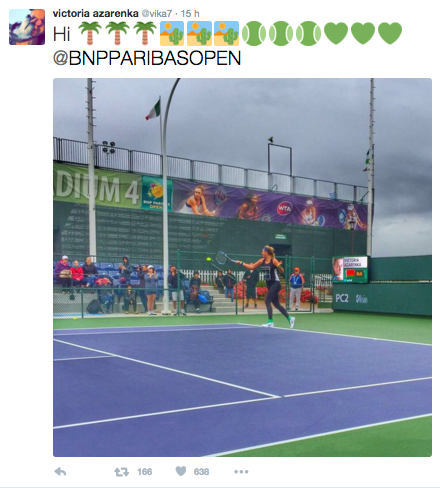 6- Rafael Nadal (NE).
As his nephew is facing disappointment after disappointment in 2016, Toni Nadal wanted to get things straight on Radio Mallorca : « We didn't start the year well but we've been training well. Many people speak of things they don't know, I don't believe that I'm the reason behind my nephew's problems. Tennis has evolved to become a quicker game. We try to be more strategic. Now, the two first shots are much more important in men's tennis. Without serving as well as now, Nadal used to be able to take the lead more easily. It's no excuse, but he lacked tranquility and confidence during important moments. In a sport like tennis or golf, you miss two shots, you lose your confidence (…) I don't know if Rafa will be able to adapt to this new tennis but we're working on that. The goal is to play at a high level for the clay season. » Meanwhile, Rafa is getting ready for the BNP Paribas Indian Wells Open…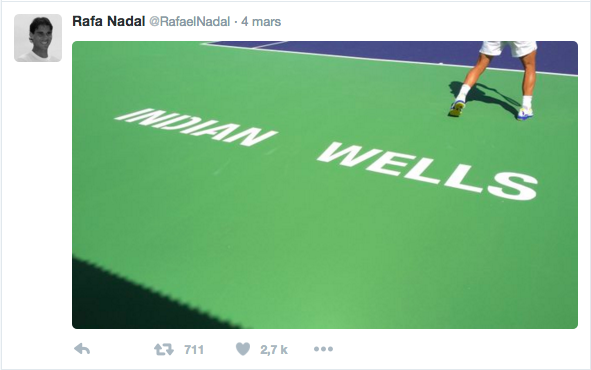 7- Novak Djokovic (-6).
How's Novak Djokovic's right eye since his withdrawal from the quarter-final in Dubaï ? In any case, this week, the player was wearing spectacles…And the Gazzetta Dello Sport seems to know where these eye problems came from : the photoshoot in the swimming pool of a hotel in Dubaï… Yeah, you know which one :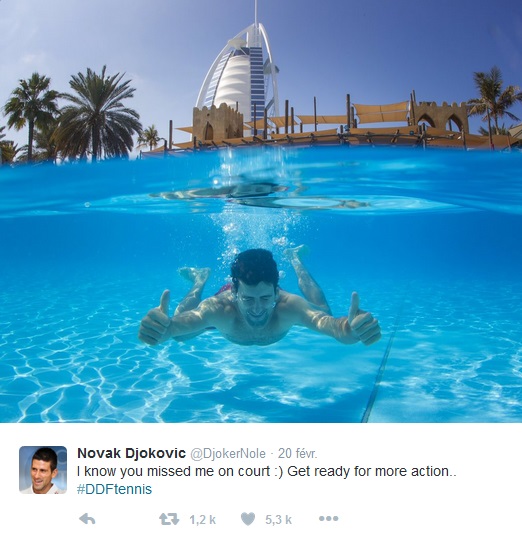 This weekend, Novak was still back on the courts with the Serbian team against Kazakhstan.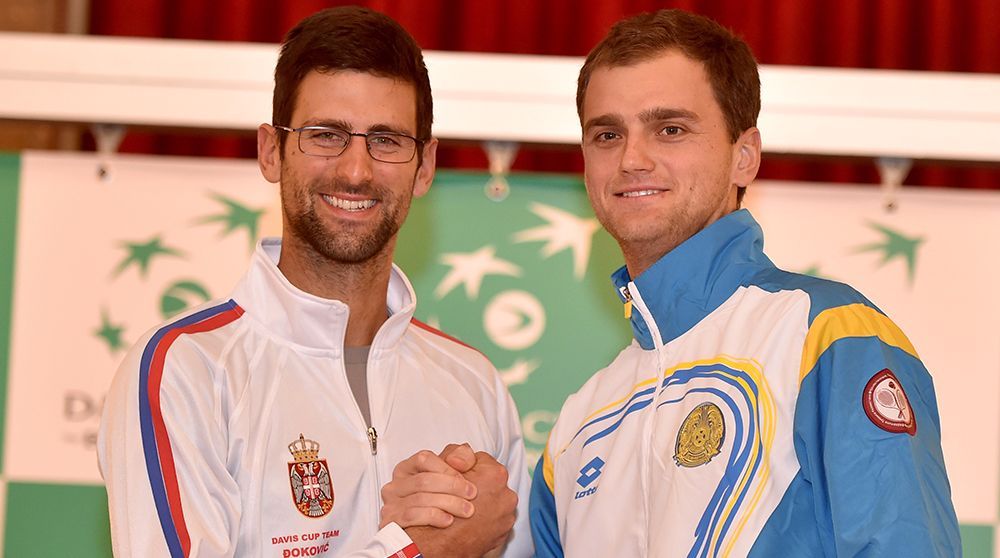 And these three days ended up being more difficult than expected with a defeat in the doubles on Saturday against the pair Golubev-Nedoyyesoy and a very tight fourth match on Sunday against Kukushin (6-7, 7-6, 4-6, 6-3, 6-2). But Serbia finally won 3-2 with Troicki scoring the last point in the decisive match. In the quarter-finals, he will meet up again with Andy Murray's Great Britain.
8- Ana Ivanovic (NE).
A marathon…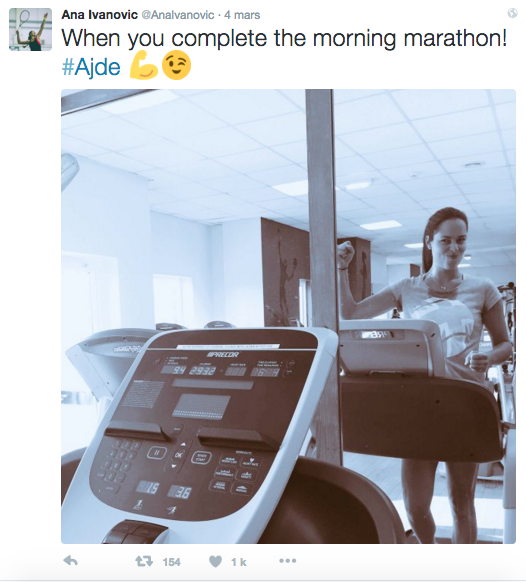 …fitness…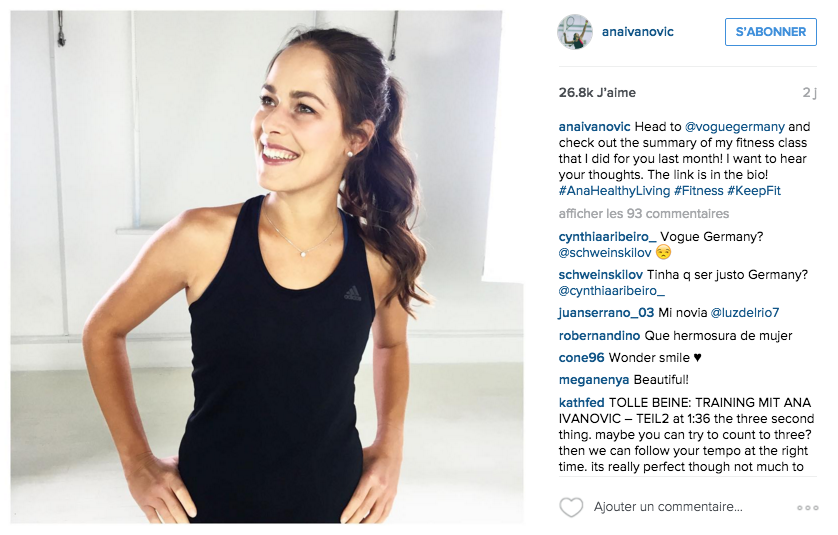 …and flowers…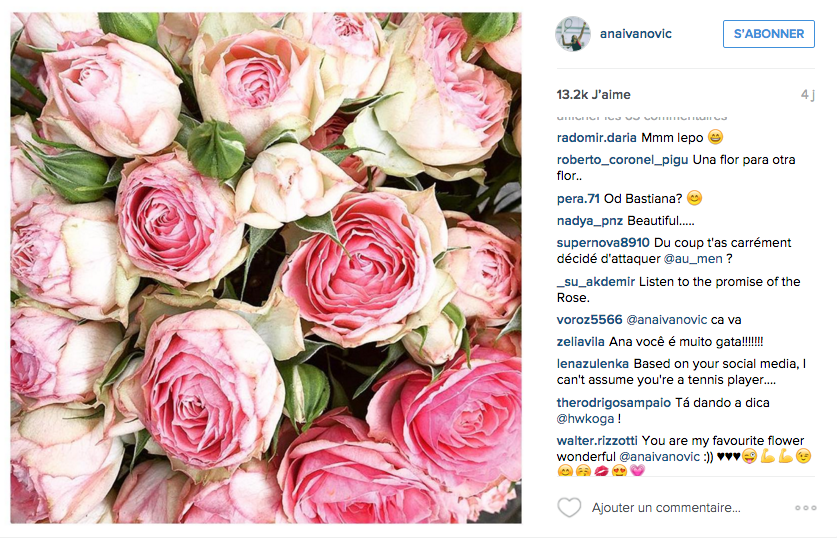 Since her wedding plans with the German football player Bastian Schweinsteiger have been leaked, Ana Ivanovic seems happy and on good form.
9- Eugénie Bouchard (NE).
A pose at the mall…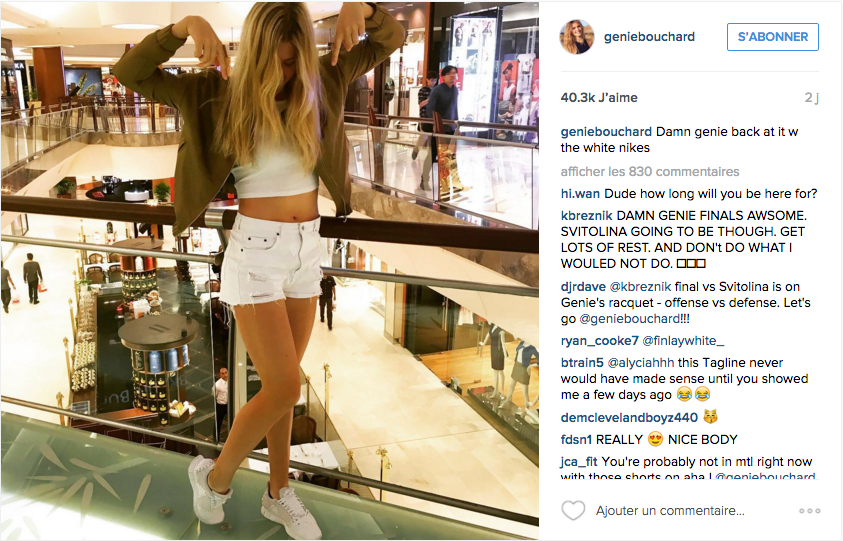 …a screenshot from the NBA All Star Game which took place in Toronto fifteen days ago…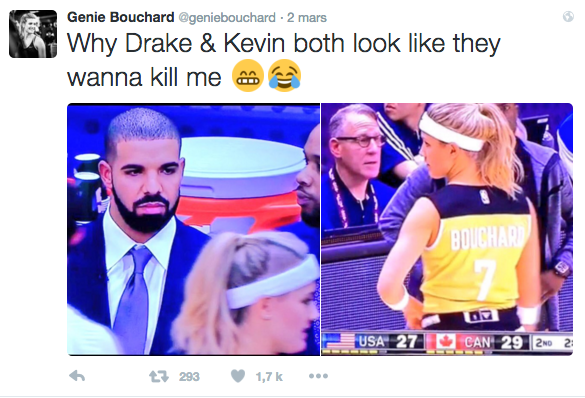 …a final in Kuala Lumpur…

…Eugénie Bouchard seems to be comfortable in herself at the moment.
10- Caroline Wozniacki (NE).
Defeated in the quarter-finals in Monterrey by Heather Watson, Caroline Wozniacki was having a bad day…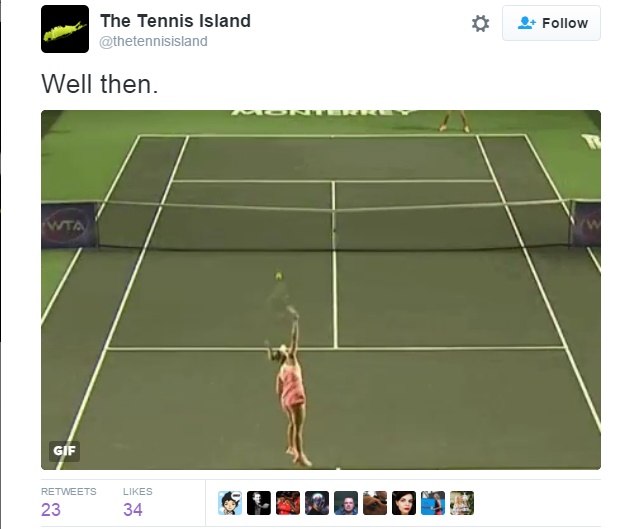 So she consoled herself by reposting the pictures of herself, naked and bodypainted, for last week's Sports Illustrated.
11- Serena Williams (-9).
Before the start of the BNP Paribas Indian Wells Open, Serena payed tribute to Bud Collins, a famous american journalist…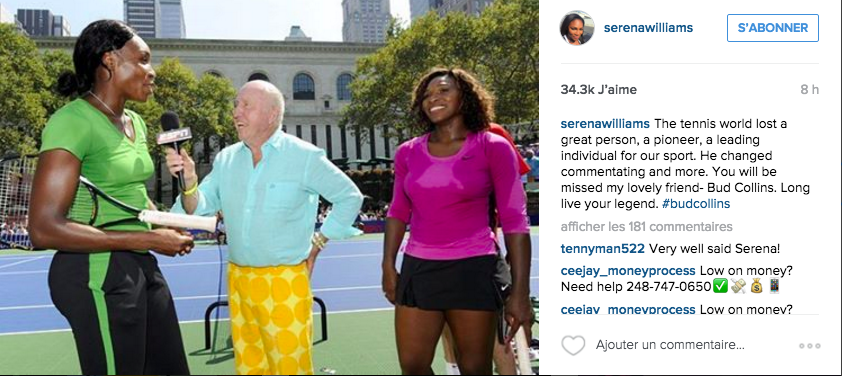 …and had a moment of reflexion.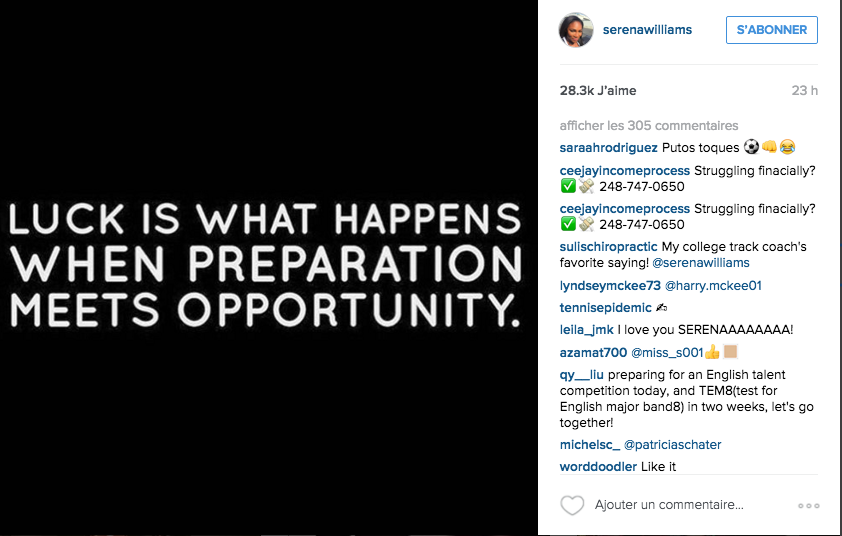 12- Agnieszka Radwańska (/).
After her semi-final in Doha, Agnieszka Radwanska received a gift from her fellow countryman, the football player Robert Lewandowski…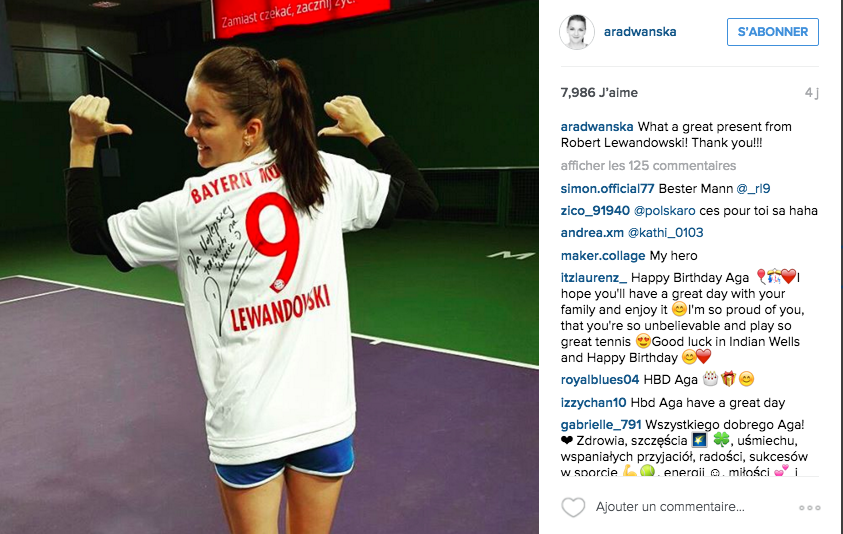 13- Benoit Paire (NE).
Benoît Paire's life is better than yours.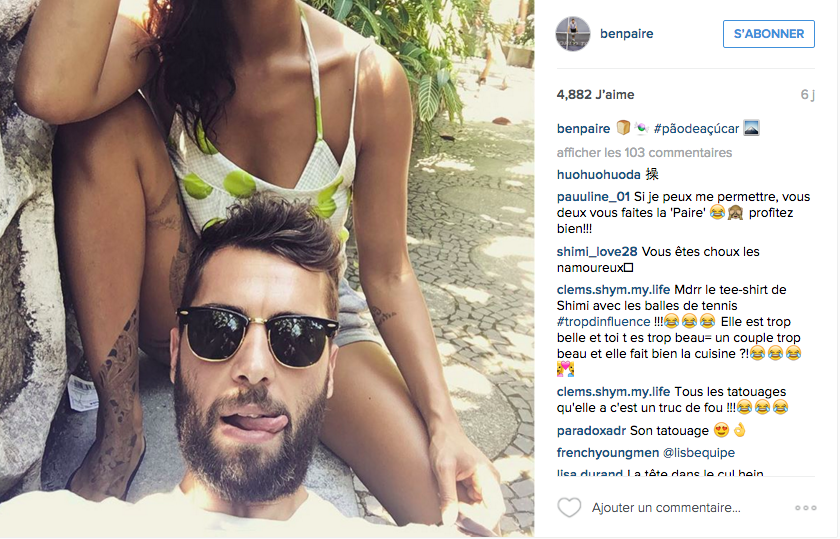 And he likes to show it.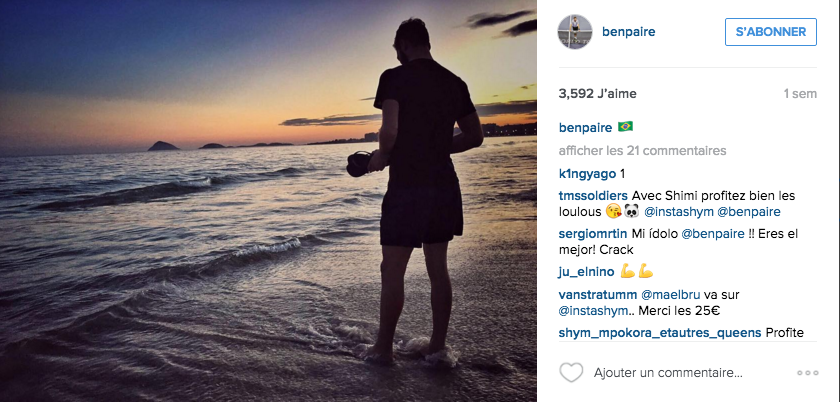 14- Alizée Cornet (NE).
Alizée featured, as a kid, in a TV film which was broadcasted this week on telly…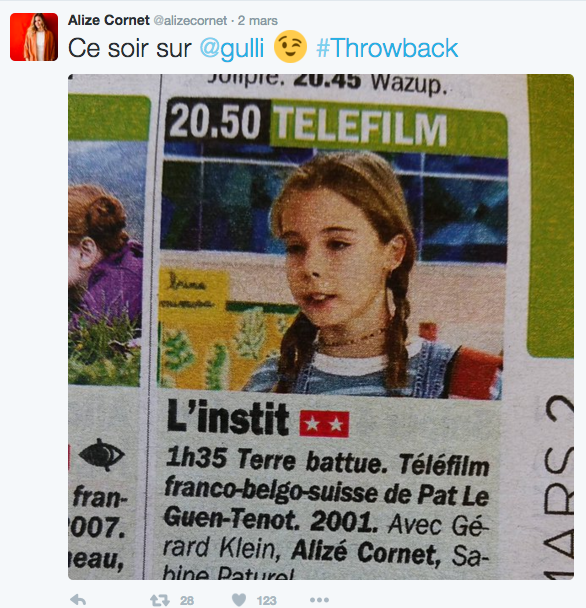 15- Fernando Verdasco (-4).
Fernando Verdasco has a message to send : he's ready for he BNP Paribas Indian Wells Open.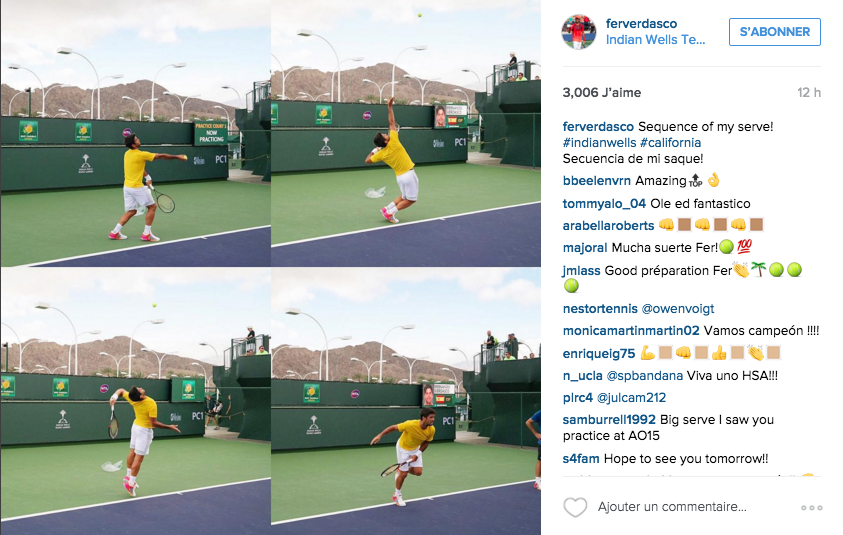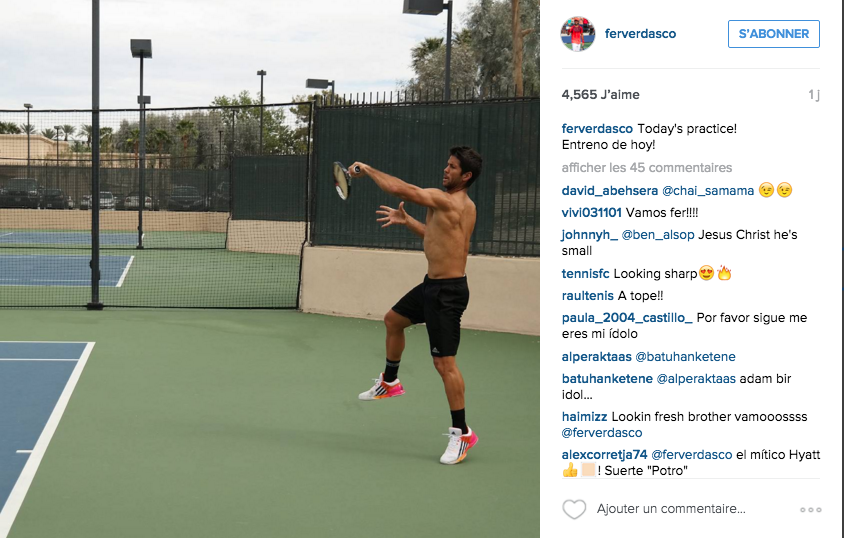 Understood ?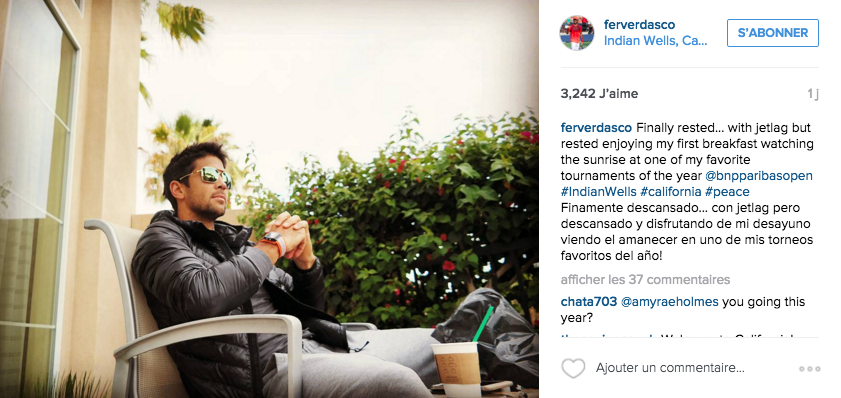 Outs :
Wawrinka, Dimitrov, Stephens, Suarez Navarro, Thiem, Cuevas, Verdasco, Sock, Murray et Kate Middleton
By Antoine Mestres