If he hasn't managed to reach the final, Juan Martin Del Potro made a huge impression for his big return to competition. Enough to be ranked first in our offbeat ranking.
If he hasn't managed to reach the final for his big return to competition, Juan Martin Del Potro made a huge impression on and off the courts, after having spent long months on the sidelines. Enough to occupy the first spot in our weekly ranking, ahead of a devastating Nick Kyrgios in Marseille, and an Internet-breaking Caroline Wozniacki, with her bikini pictures on the beach.
1- Juan Martin Del Potro (+7).
He's back. At last ! After eleven months of convalescence following a wrist operation and an almost blank 2015 season, Juan Martin Del Potro came back on the circuit, taking part in the Delray Beach tournament, in the US. Which inevitably delighted his fans.
The Argentine shared his joy of becoming a top-level tennis player again. On the court, but also in his hotel room…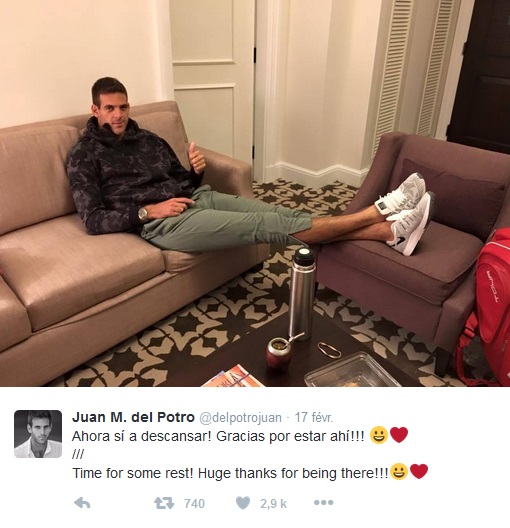 …in the dressing room…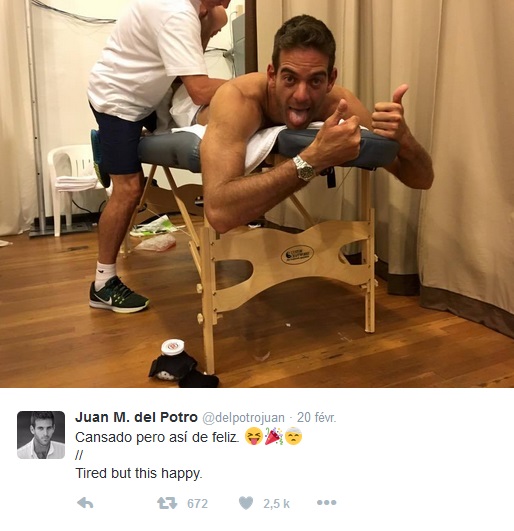 …and even… in a frame !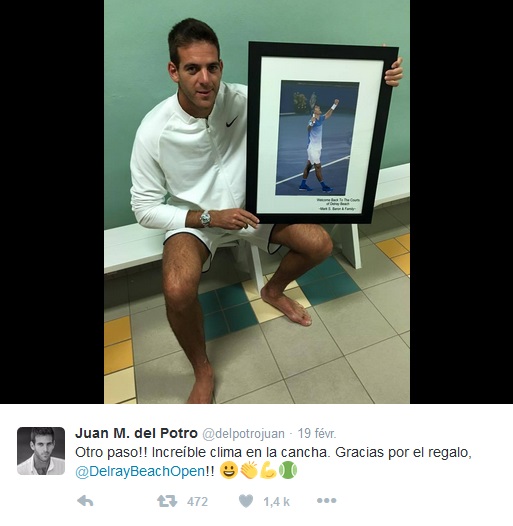 Above all, he has shown that he hasn't lost any of his talent by pulling himself all the way to the semi-finals, only to be defeated by the future winner of the tournament, Sam Querrey. A very promising performance, while hoping that his wrist leaves him alone this time…
2- Nick Kyrgios (NE).
Power play from Nick Kyrgios in Marseille, with a first trophy won on the ATP circuit. The Australian dominated the Croatian Marin Cilic in the final (6/2 7/6).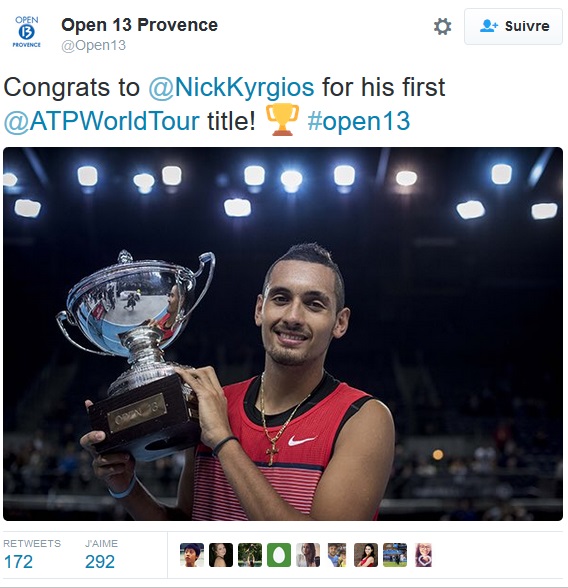 This week, Kyrgios crushed his opponents one by one thanks to his incredible power. Richard Gasquet, defeated in the quarter-finals, notably had to face his thunder during the last game of their match, ended by four consecutive aces !
A tournament won at the age of 20 and 9 months : on the current circuit, only Milos Raonic and Bernard Tomic have done better.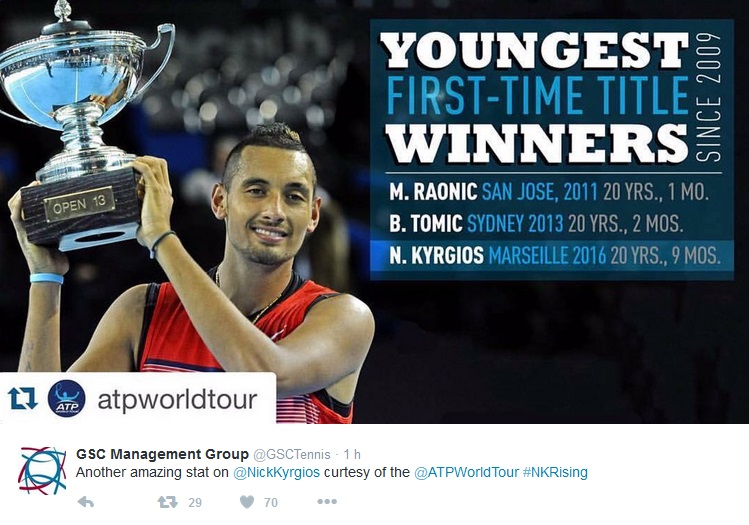 A performance which logically led to a few compliments from his kind BNP Paribas Davis Cup captain, Lleyton Hewitt. His succession is well and truly here, he must be relieved.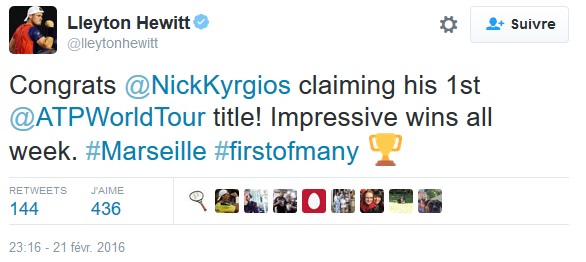 The Australian's next goal : Dubai, this week.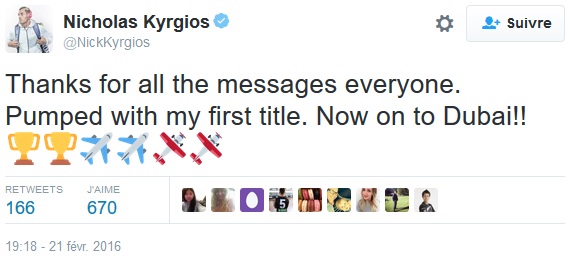 3- Caroline Wozniacki (NE).
The Dane wasn't on the courts this week but printed on glazed paper and she made a big impression with a body painting shooting for Sports Illustrated. Wow.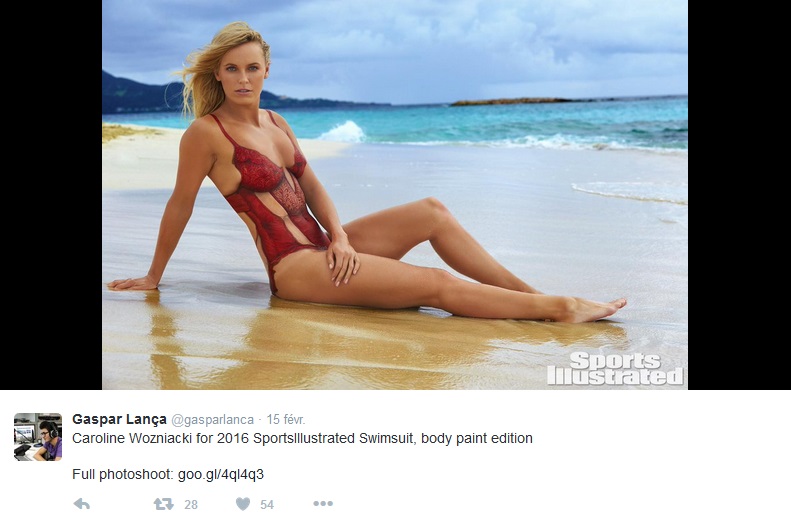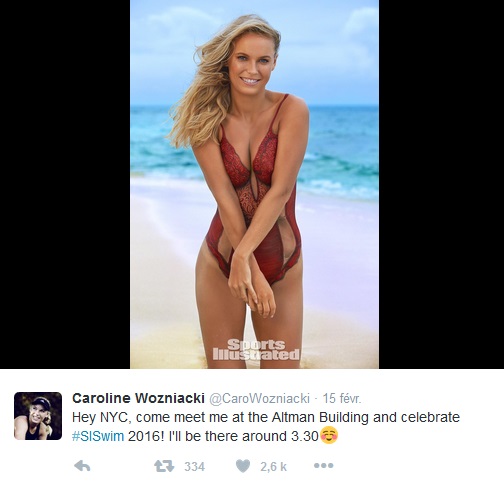 A photo-shoot worthy of the most famous models on the planet and an activity far from her daily routine as a tennis player, but which she seemed to enjoy nevertheless…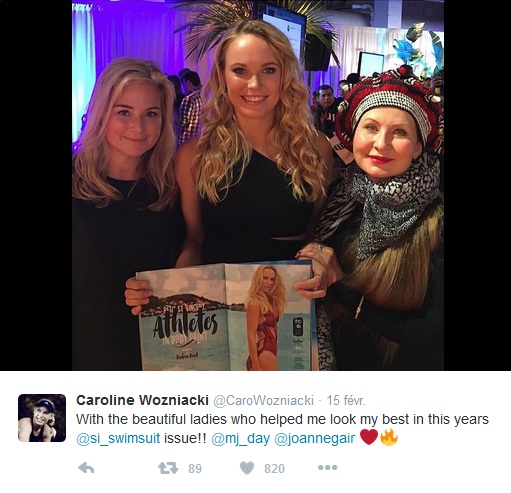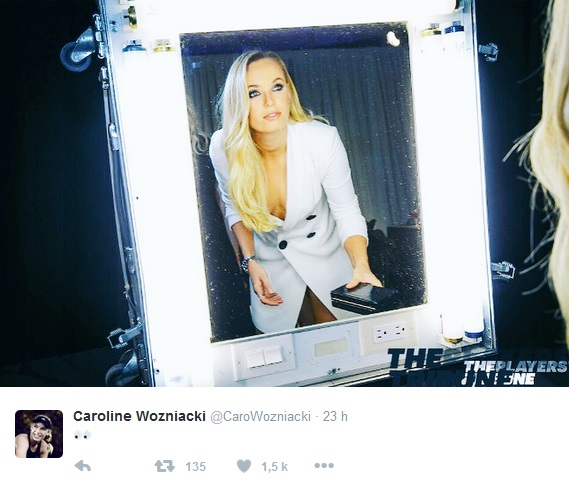 On the tennis side however, she had to get back to training, and forget about the glamour. A return on the courts with a prestigious sparring-partner, Garbine Muguraza. Having withdrew from the Dubai tournament, Wozniacki will on the other hand take part in the Doha tournament this week.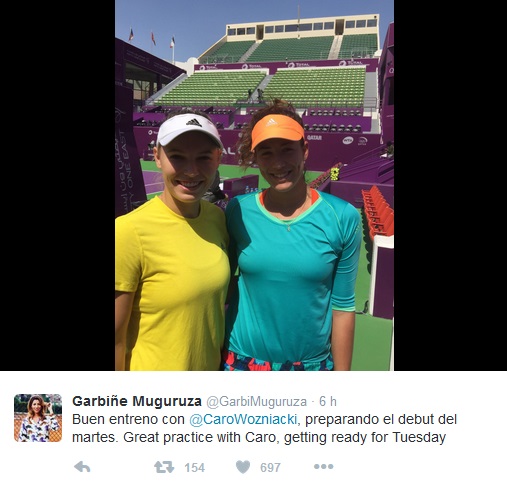 4- Benoit Paire (+10).
The Frenchman was feeling good this week, at home in Marseille, in his environment, with his friends and relatives…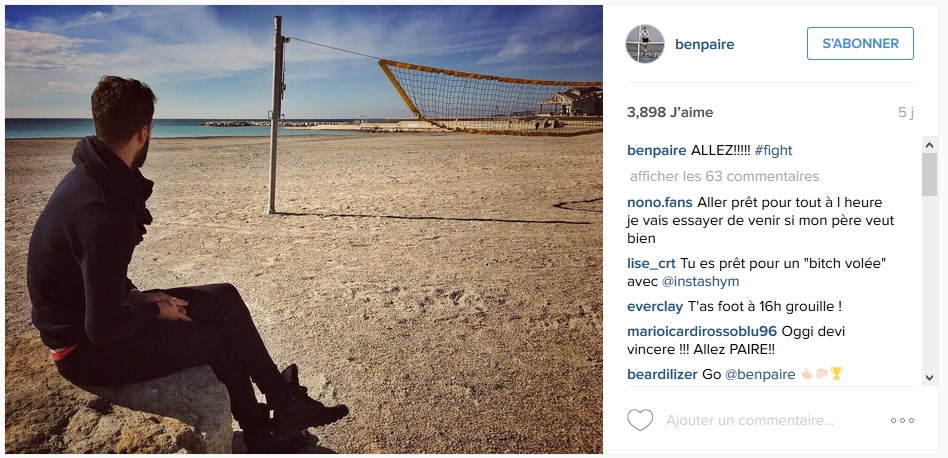 So it necessarily did him good : after a very complicated start of the season, Benoît Paire the diesel finally switched gears to deliver one of his biggest performance : defeating Stan Wawrinka in the quarter finals. Enough to make the Swiss go crazy.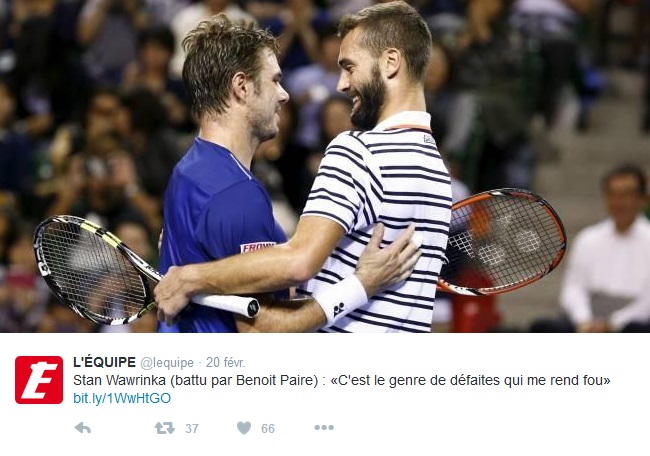 A huge burst of energy which he inevitably payed for in the next match, losing in the semi-final against Marin Cilic. But that wasn't the point, as he regained confidence : Paire the unclassifiable will still have to be watched closely this season. In this week's programme, the Sao Paulo tournament, after a very long trip to Brazil.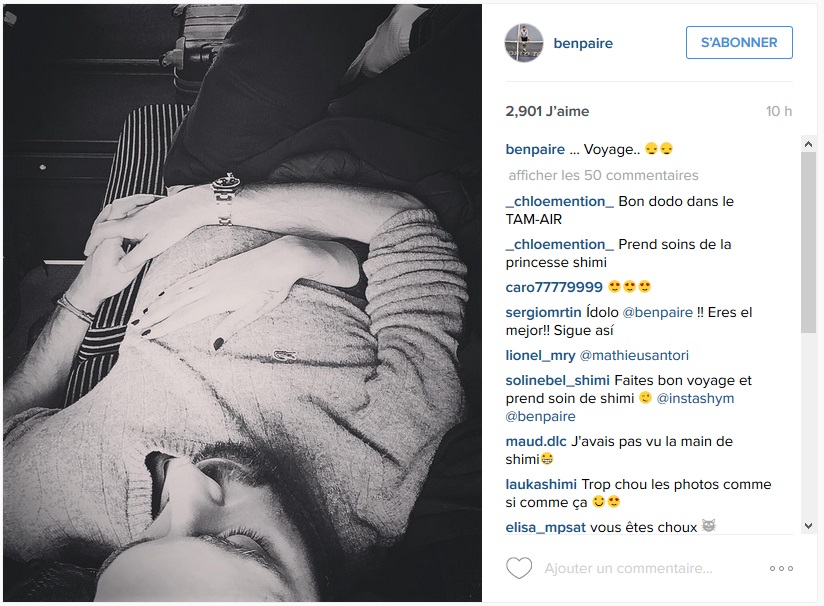 5- Sam Querrey (NE).
He's the one who put an end to Del Potro's fairytale : Sam Querrey dominated the Argentine in the Delray Beach semi-finals and didn't stop there as he then defeated his fellow countryman Rajeev Ram in the final (6/4 7/6). It's an eighth trophy in the 28 year old American's career…not necessarily the most beautiful.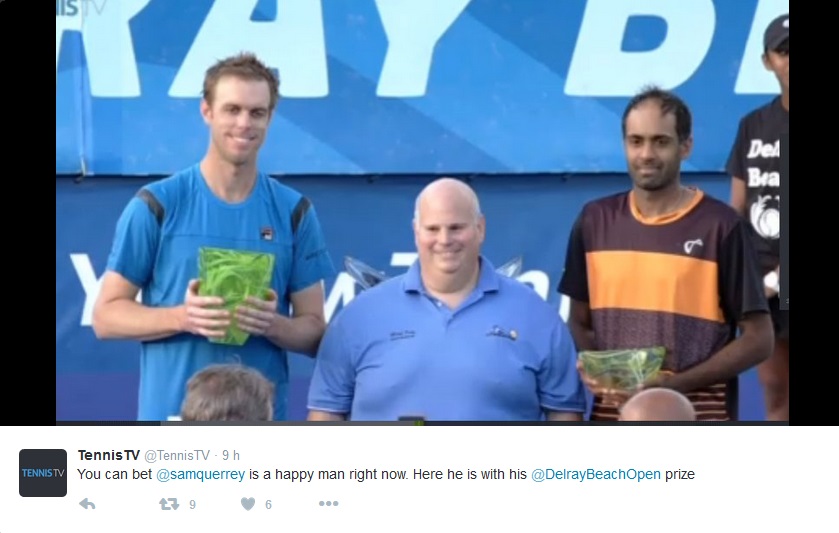 But that's okay, as Querrey brought back nice memories from his week spent at Delray Beach : a small plastic duck…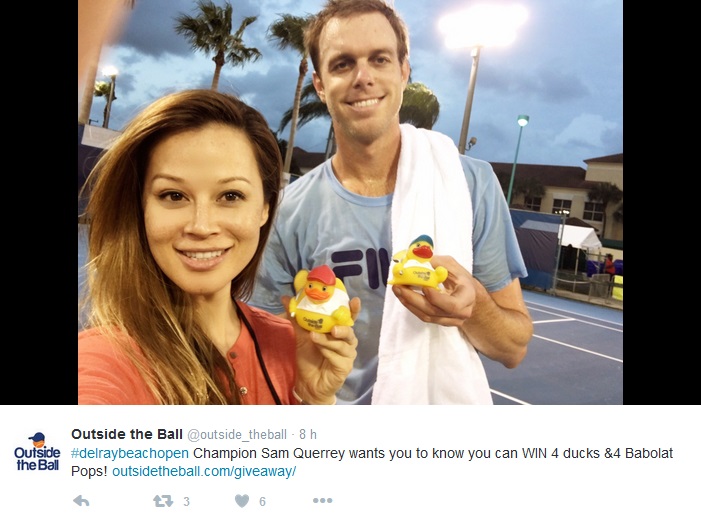 …and his fans' joy.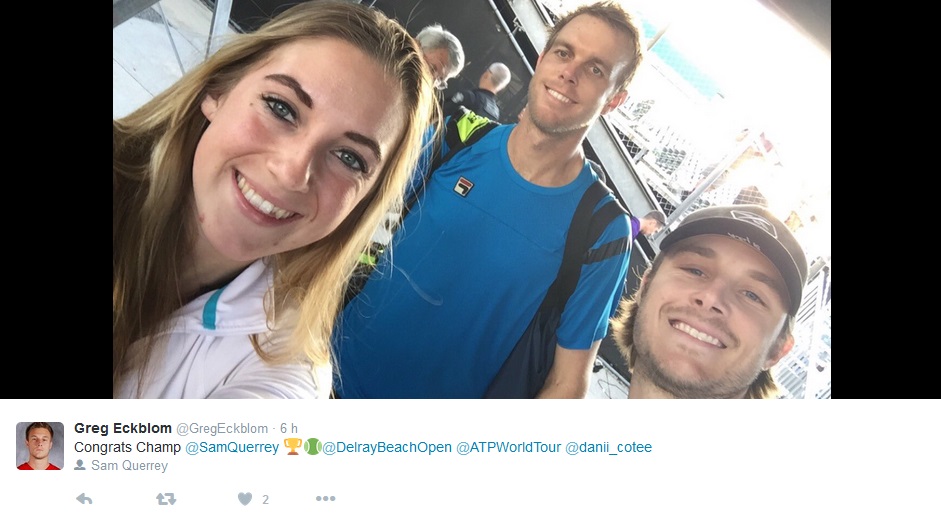 6- Sara Errani (NE).
Nice Italian week on the women's circuit with, first of all, Sara Errani's victory at the Dubai tournament. She easily deafeated the Czech Strycova in the final (6/0 6/2). With some nice shots along the way.
As a reward, a nice cheque of course and…a trophy which looks like a big magic lamp.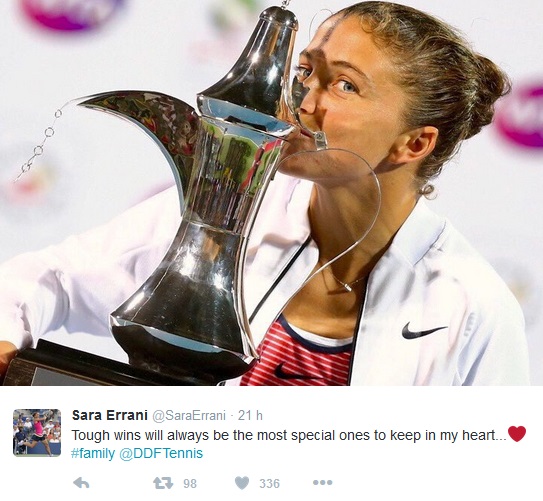 A wish, Sara ? Maybe add to her already quite substantial trophy room ? It is in fact the ninth WTA tournament won by the Italian during her career, in nine different locations.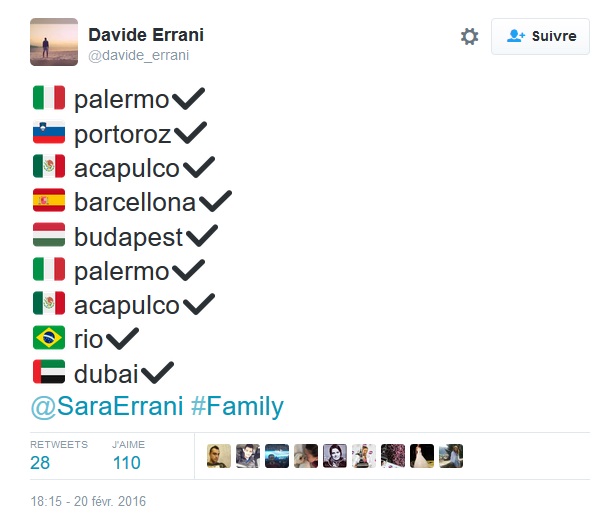 7- Francesca Schiavone (NE).
Nice Italian week on the women's circuit, episode two : Francisca Schiavone also claimed the victory in Rio, after defeating the American Shelby Rogers in the final, not without an initial fright (2/6 6/2 6/2).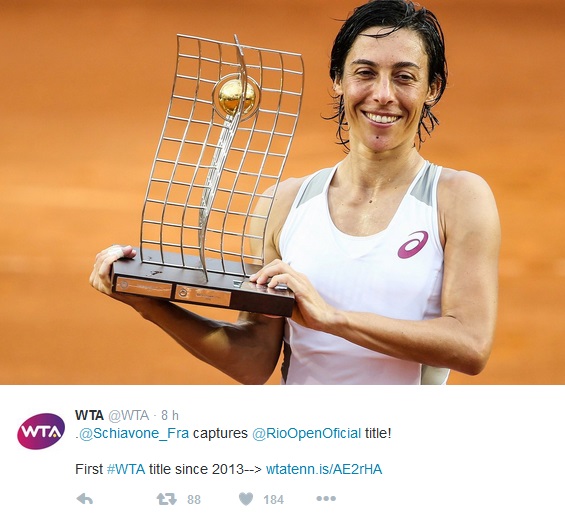 Nice touch, the Italian had prepared a speech in Portuguese in case she won, for the Brazilian audience.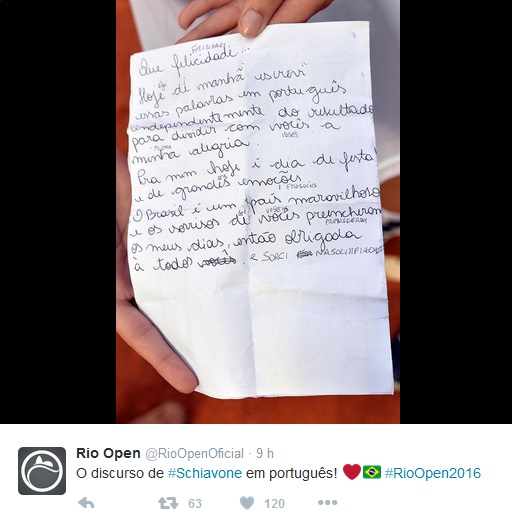 And apparently, her victory didn't stop her from enjoying her week there…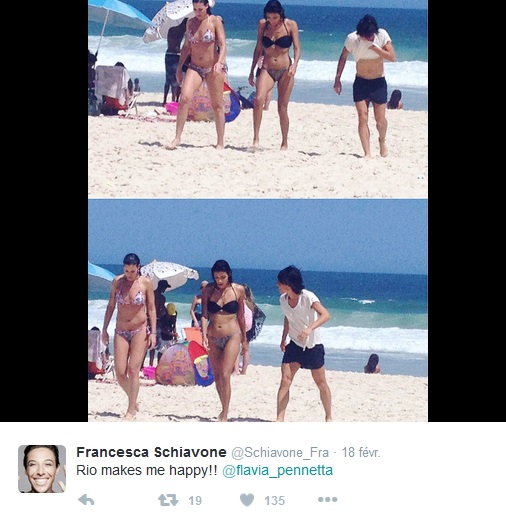 8- Pablo Cuevas (NE).
Still in Rio, but on the men's circuit : it's Pablo Cuevas, the clay specialist, who dominated the men's draw after defeating his last opponent, the Argentine Guido Pella, in the final.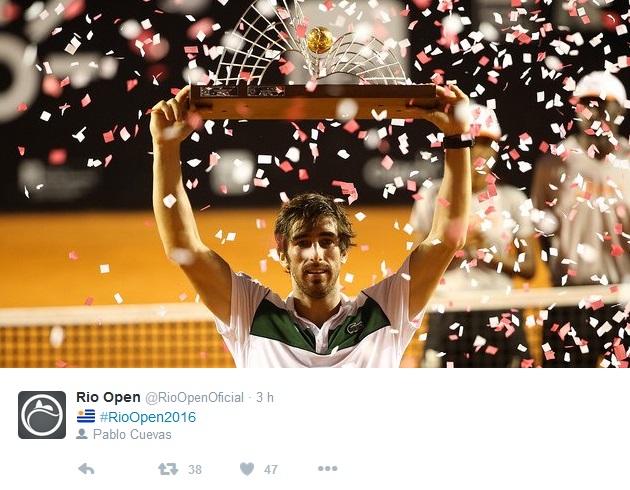 In the semi-final, Cuevas had managed to knock out Rafael Nadal, who was still evidently lacking confidence. He drove the Spaniard mad with a very complete arsenal of different shots.
The Uruguayan is chilled, and relaxed. Another contender to follow before the next edition of Roland-Garros.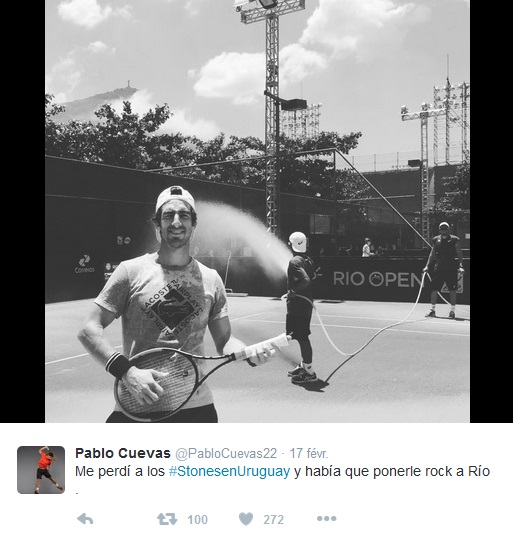 9- Novak Djokovic (+2).
News from the world number one : everything seems to be going well for Djoko, who's having fun in a swimming pool in Dubai while waiting to come back to competition.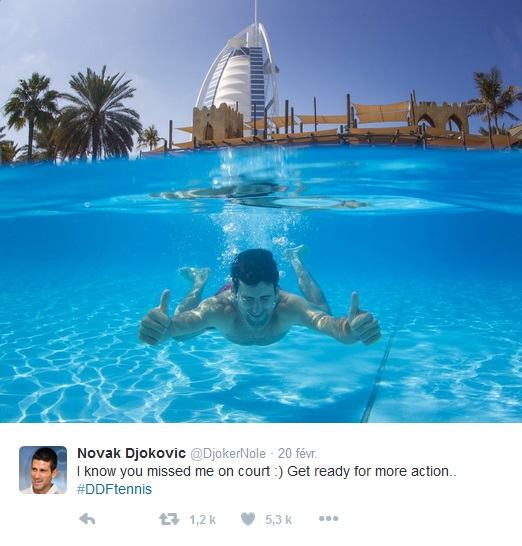 An inspiring photo.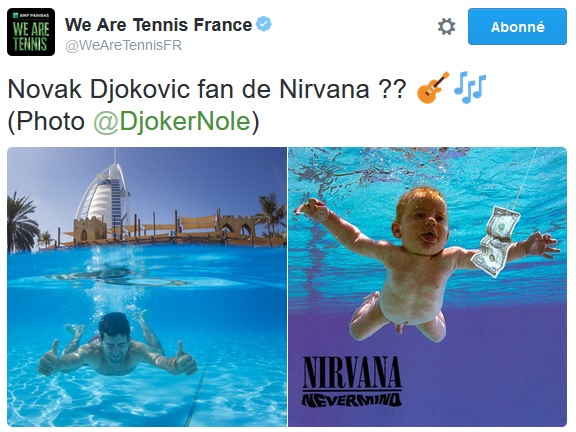 Otherwise, in Brazil, the Serb has become a key figure, inseparable of his great rival, Roger Federer. The two were featured on a carnival float, for a pretty weird and kitsch kiss.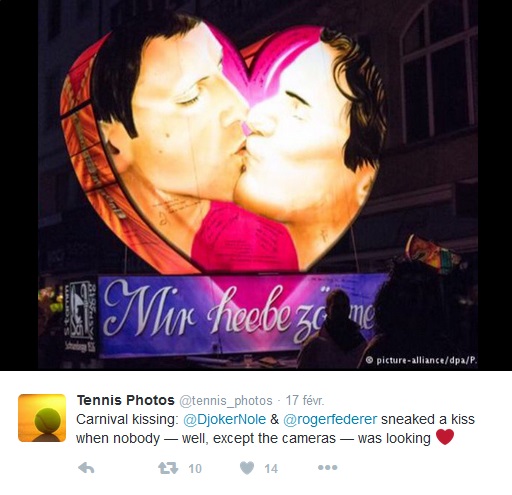 10- Sergiy Stakhovsky (NE).
The shot of the week is the work of Stakhovsky, with this incredible lob against Stan Wawrinka at the Marseille tournament.
The Ukrainien was however logically defeated by the Swiss. And also lost his coach, Fabrice Santoro, who announced the end of their collaboration on Twitter.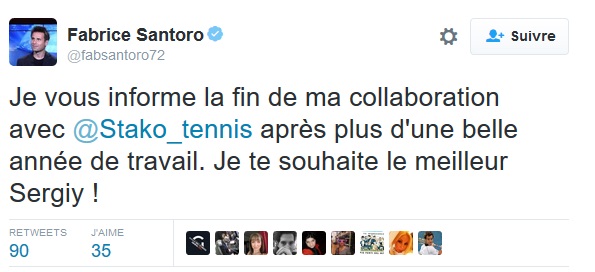 Which gave Stakhovsky mixed and opposite feelings, as this series of emojis shows…

Unless he's speaking Ukrainian ?
11- Andy Murray (-6).
Murray is a father, we 've known this for quite some time know, but we didn't know any details about the new-born. It's now official, she's a girl, her name is Sophia Olivia and she weighed 3,9 kg on her birth. Daddy Murray however had to head back to training quite quickly to prepare for the next deadlines and had to take a few selfies with his fans.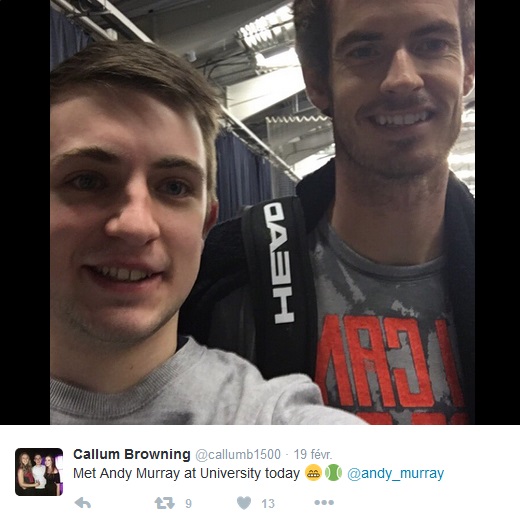 Probably feeling quite nostalgic, Andy's own mother has dug out from the family archives a picture of her father, Andy's granddad, an ex top-level football player in Scotland. A striking resemblance !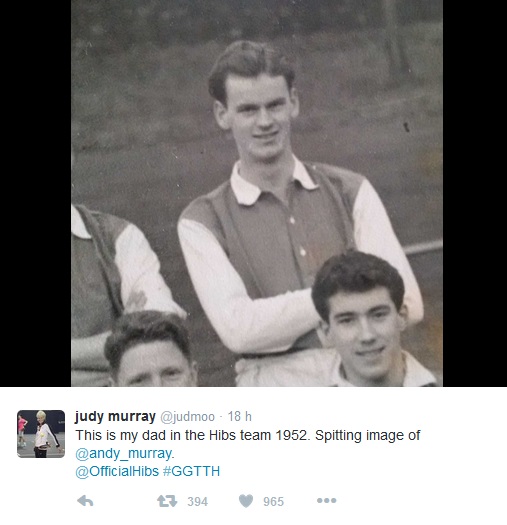 This week, we also celebrated the tenth anniversary of Murray's first trophy on the circuit : It was in San Jose, California, after deafeating Hewitt in the final, on February 19th, 2006.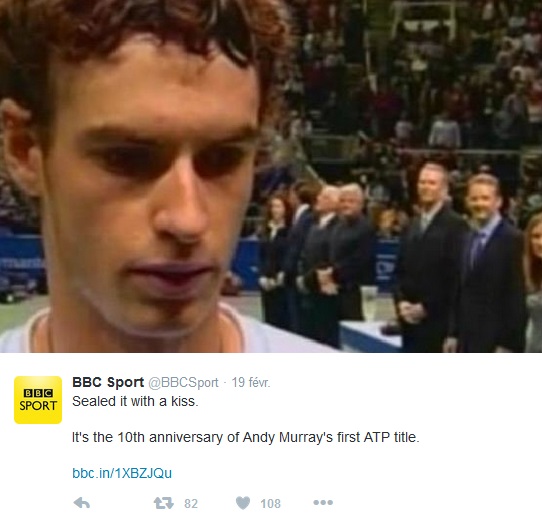 Time flies…
12- Maria Sharapova (+3).
What would be a tennis week without pictures of Maria Sharapova ? We wonder. One thing is sure, this week again, we had more than we bargained for.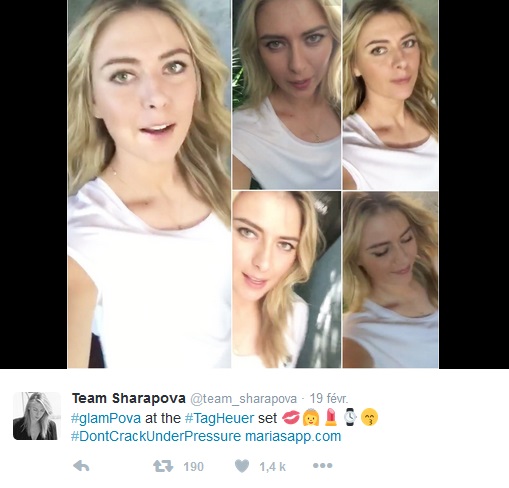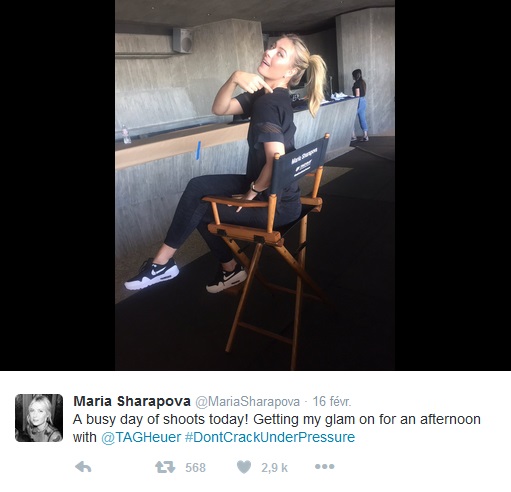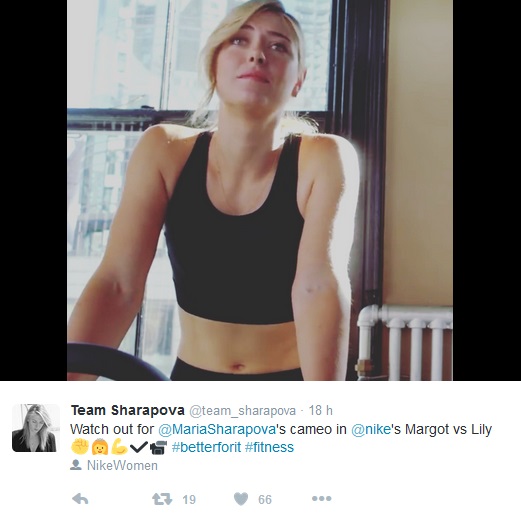 13- Dustin Brown (-10).
Dustin Brown can't seem to stop hitting unbelievable shots. A new episode, this time on the Challenger circuit in Poland.
The German is about to become the first Harlem Globetrotter of tennis. Total show !
14- Nigel Sears (NE).
The anecdote of the week : You surely remember how Murray's stepdad, who's also Ivanovic's coach, ended up in a bad state in Australia ? Evacuated on a stretcher from the Melbourne stands ? We feared the worst for his health. He revealed this week that this scare was simply due to a not so fresh sushi he had trouble digesting. Luckily for the cook, he didn't reveal the address. That would have given him a bad press…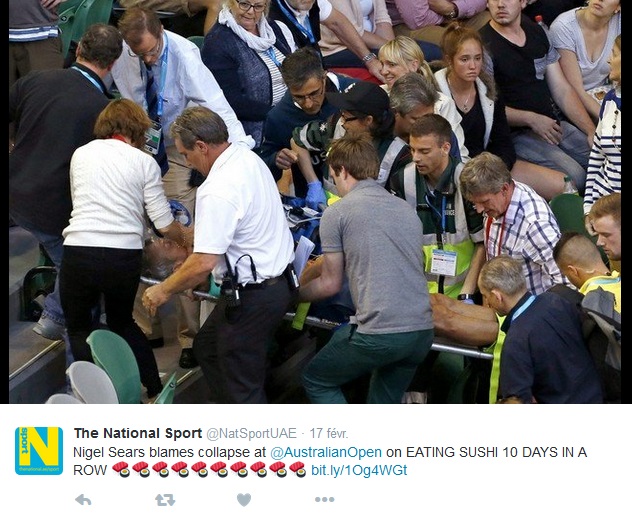 15- Johanna Konta (NE).
The pest of the week : Johanna Konta has been one of the revelations of this start of the season after qualifying for the semi-finals in Melbourne, for which she was praised by the local media. For her first appearance in a major TV program, the Brit was apparently pretty nasty towards the star host, not hesitating to describe his questions as boring…Awkward.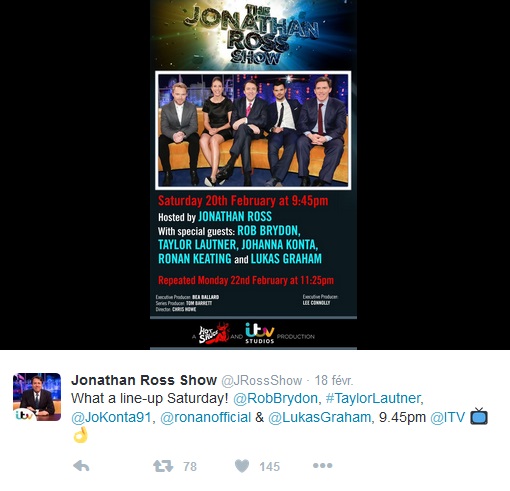 Have we found the female Kyrgios ? In any case, Konta seems to have a bit of an ego as she mainly cared about the way she was dressed.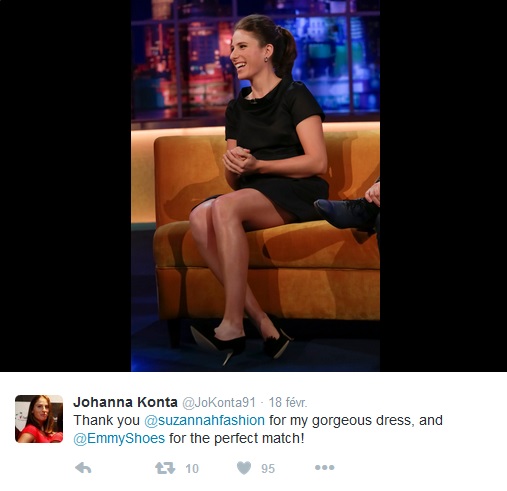 Be careful about that swollen head, Johanna…
Outs :
Raonic, Bencic, Thiem, Venus Williams, Bouchard, Klizan, Vinci, Nishikori, Nadal
By Régis Delanoë