In this post-Grand Slam week, the time came to rest for some players, and to go back to training for some others…like Novak Djokovic, number 1 of our offbeat ranking.
In this post-Grand Slam week, the time came to rest for some players, and to go back to training for some others… On the menu : a few selfies, love and teenage memories.
1- Novak Djokovic (+1).
In the wake of his Melbourne title, « Djoko », the new world tennis boss, sang a song in front of his fans.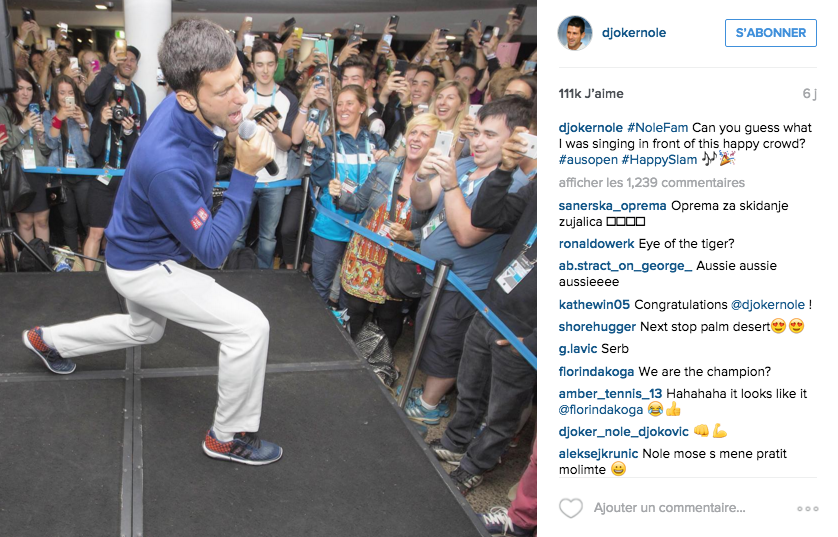 But that's not all : the Serb has also collected money for a foundation…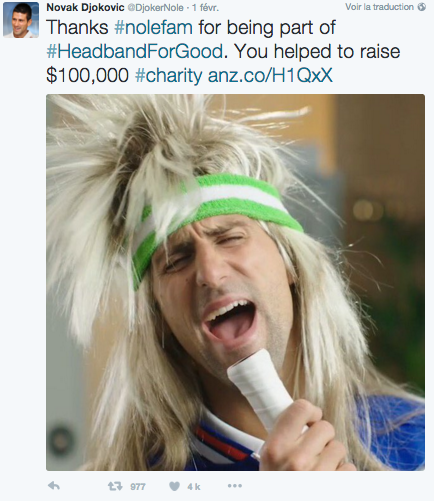 …and received a love note from his wife on Instagram.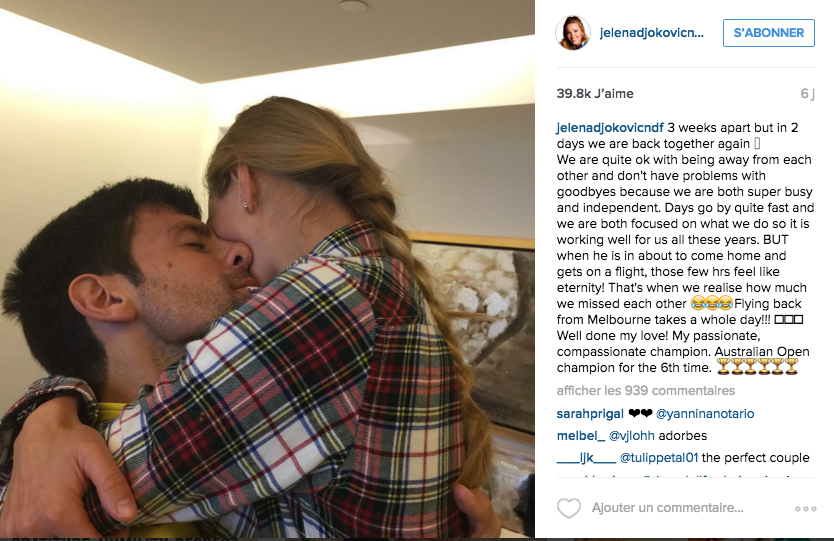 Yes, Novak's life is better than yours.
2- Roger Federer (+4).
After having felt pain in his knee during a walk in the park with his children, King Roger, who had already ended the Australian Open feeling exhausted, has posted a pretty enigmatic tweet.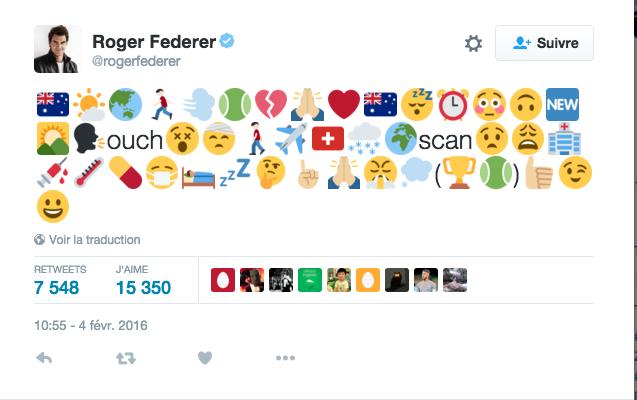 Nearly the end for Roger ? In the meantime, his return is planned for March, at the BNP Paribas Indian Wells Open.
3- Milos Raonic (NE).
Milos Raonic, semi-finalist in Melbourne, chilled on the Brooklyn Bridge, in New York, with his girlfriend…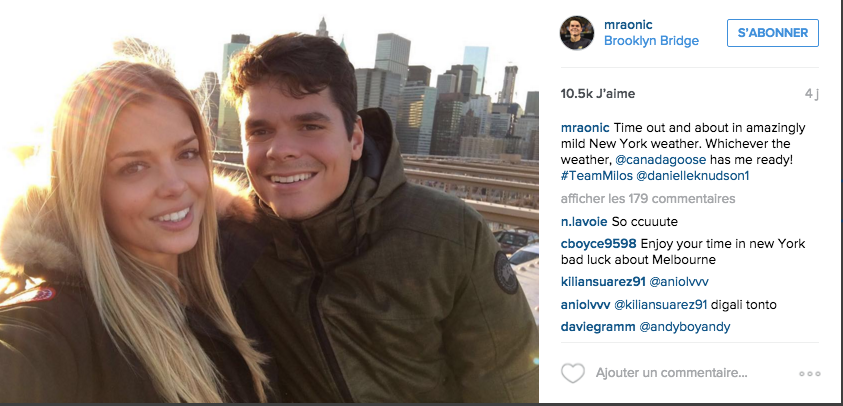 …and bought himself burger-shaped earmuffs.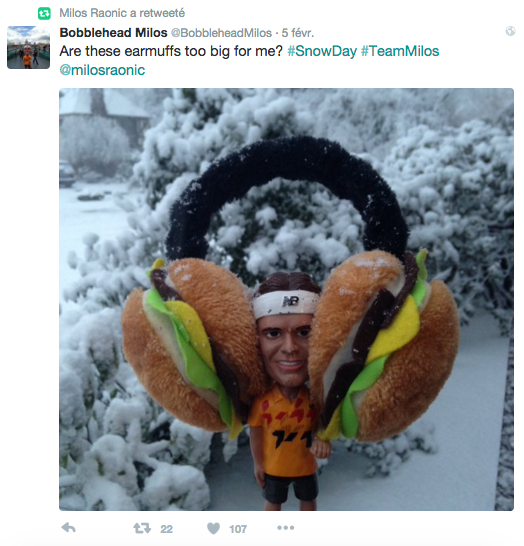 4- Garbine Muguruza (+6).
The years ago, the Spaniards had been knocked out of the BNP Paribas Fed Cup World Group. This year, after their win 3-0 against the Serbs, they will compete in the play-offs. Garbine Muguruza was a key element of this come-back.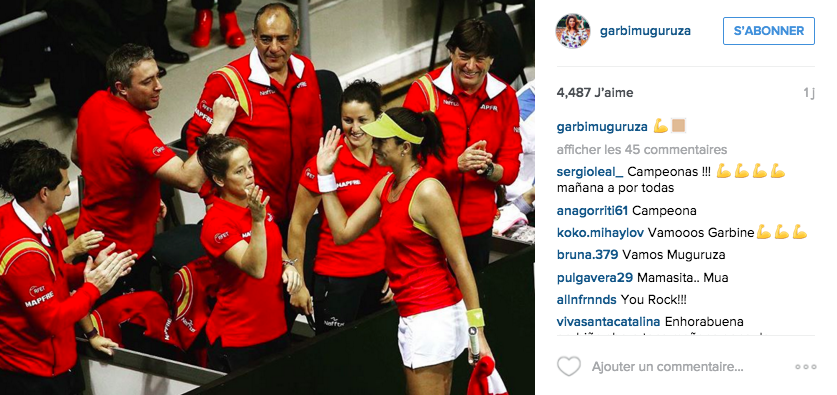 The world number 5 gave her team two points after an NBA-like motivation session…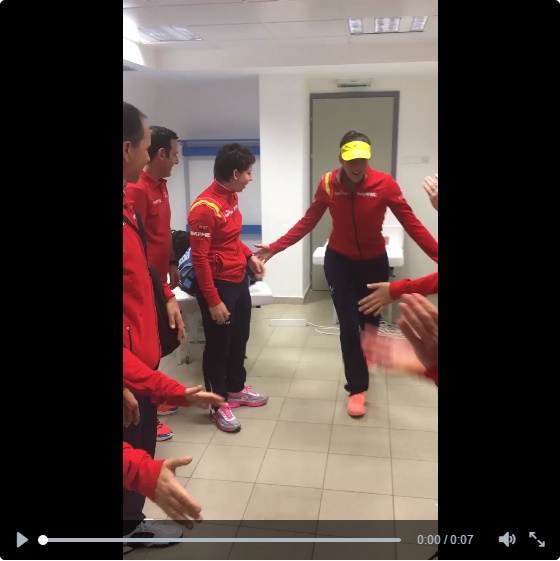 …and a few pata negra and salad photos.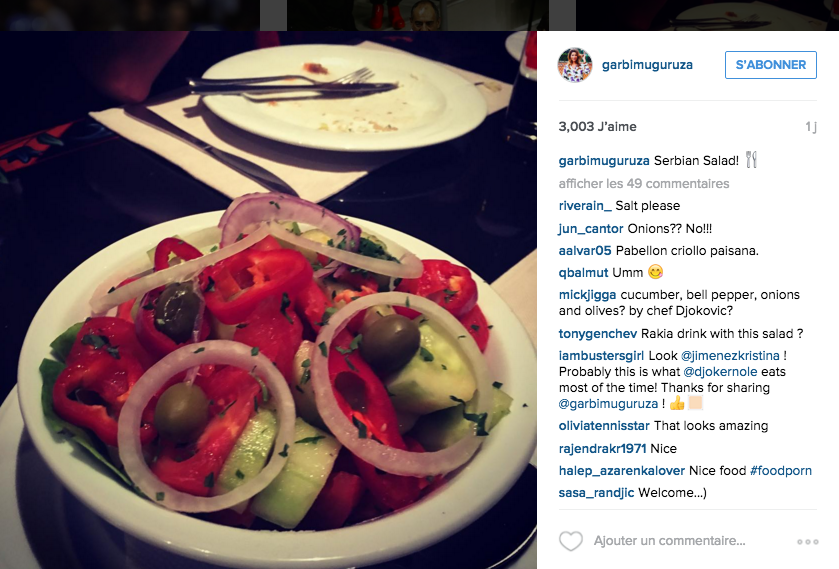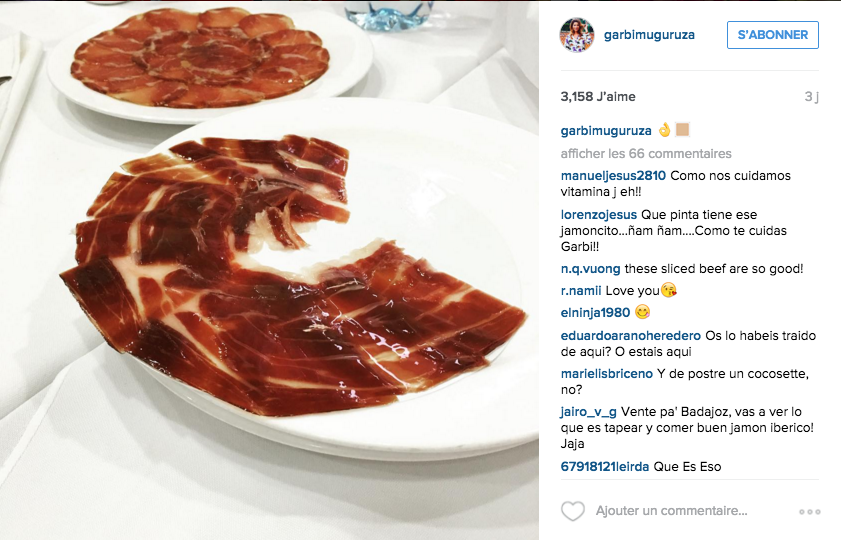 Do you miss Spain, Garbine ?
5- Richard Gasquet (NE).
Despite feeling abdominal pain, Richard Gasquet managed to hold his title in Montpellier, defeating Paul-Henri Mathieu in the final.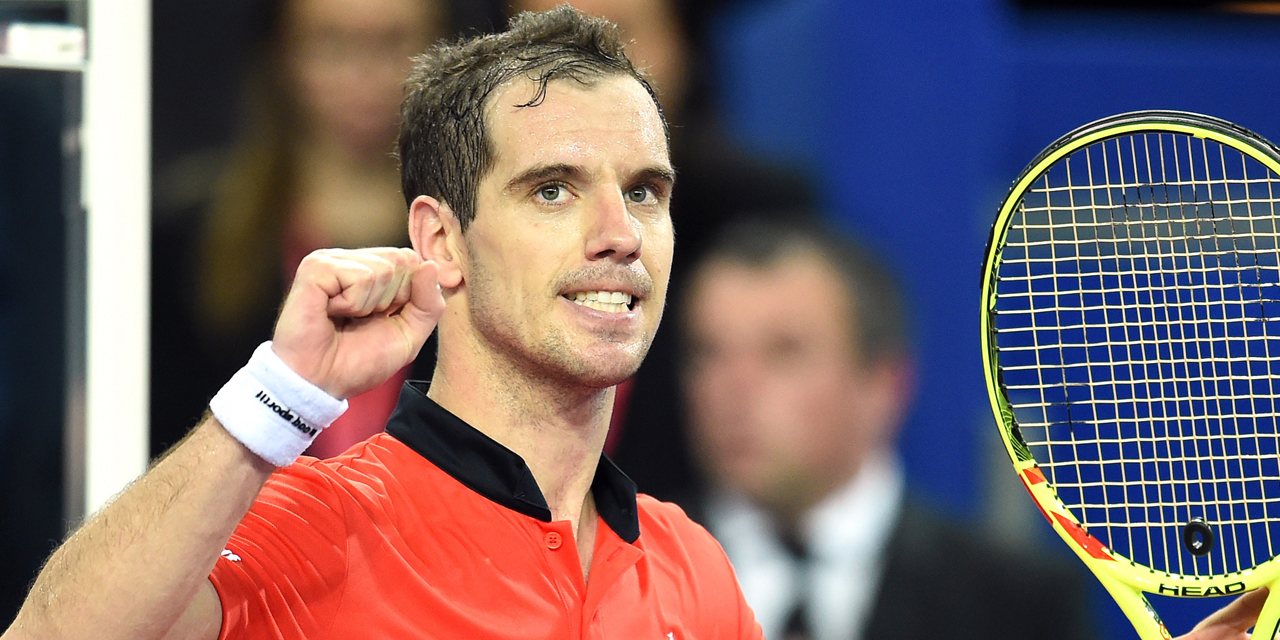 With a few genius strokes and quite a bit of usual nonchalance.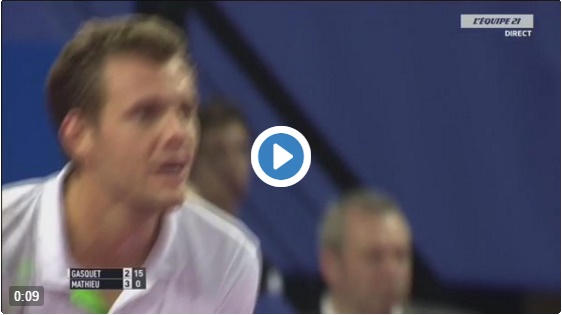 6- Benoit Paire (+5).
Defeated by Paul-Henri Mathieu in the second round in Montpellier, Benoit Paire is fed up : « The only thing which pleases me at the moment, is to play football. It's been a long time since I haven't done that with my friends, so I'm just looking forward to that. Regarding tennis, we'll see. The most important is just to have a better physical condition and to be in a good mood (…) I want to be happy on a court. For now, I'm not. Whenever I set foot on a tennis court, it annoys me. » So he took some time off with his girlfriend Shy'm…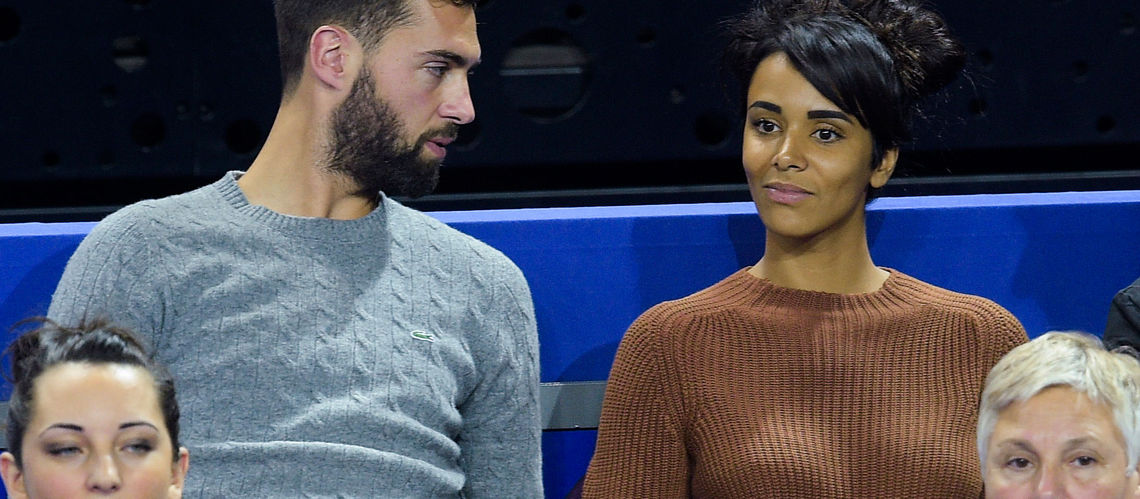 …and formalized a partnership with a brand specialized in beard care.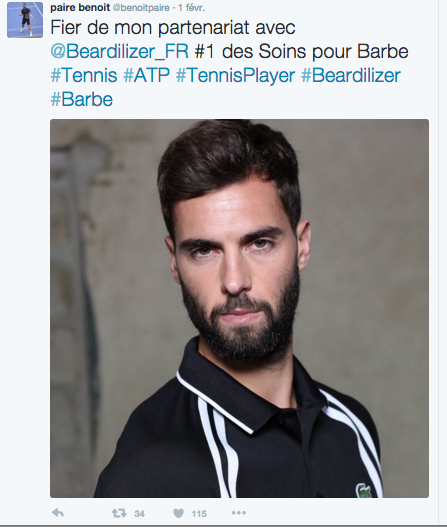 Smart.
7- Frances Tiafoe (NE).
The name doesn't ring a bell ? Francis Tiafoe is the next promise of American tennis and he shows it there.
8- Maria Sharapova (/).
Maria watched her partners of the Russian Team get wrecked by the Netherlands (3-0) in the first round of the BNP Paribas Fed Cup. Suffering from an arm injury, the Russian player was in fact there to conform with the rules, which obliges the players to take part in the Fed Cup to be allowed to compete at the Olympic Games. Before that, she had a pretty restless week : alongside the Russian Sports minister to receive a medal…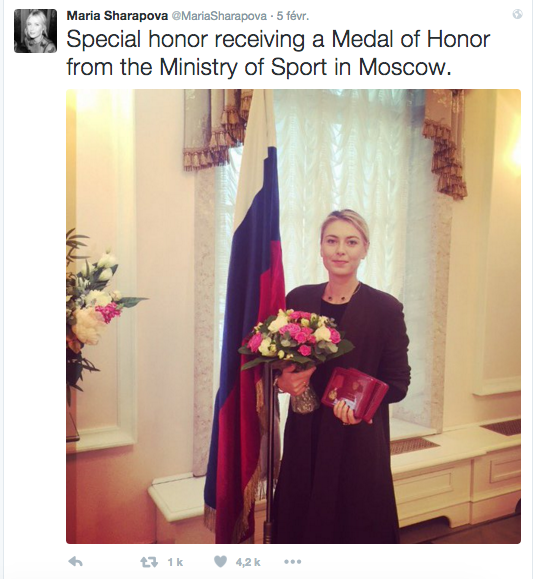 …to the launch of her chocolate brand…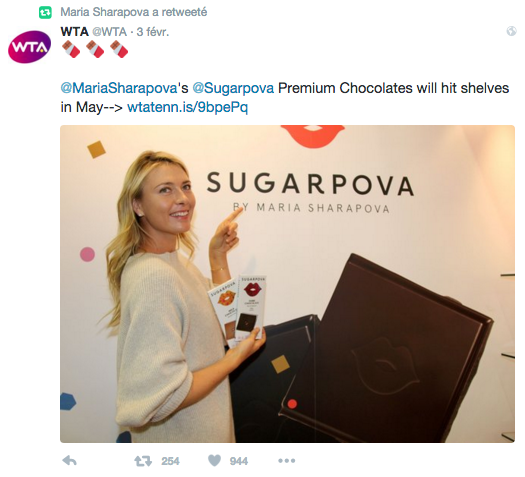 …on the set of the new Netflix series, Chelsea Does…
…or on a photoshoot for Porsche.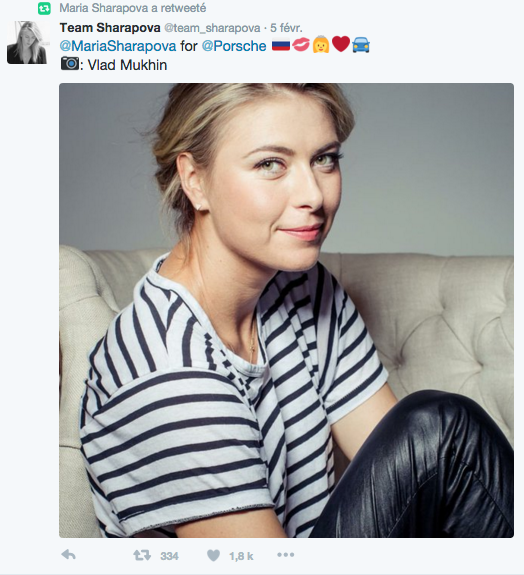 9- Eugénie Bouchard (-3).
Defeated in the second round of the Australian Open, Eugénie Bouchard is regaining her health. How ? By training hard…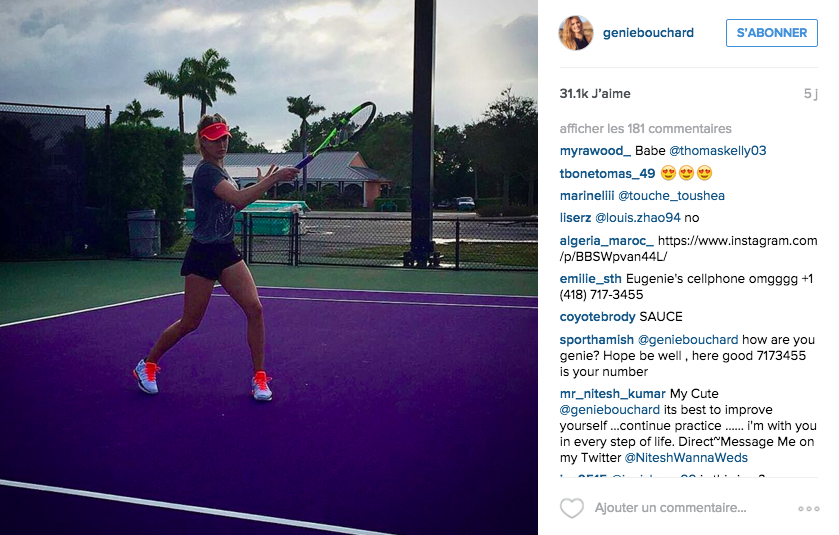 …by fighting illness…

…by taking pictures…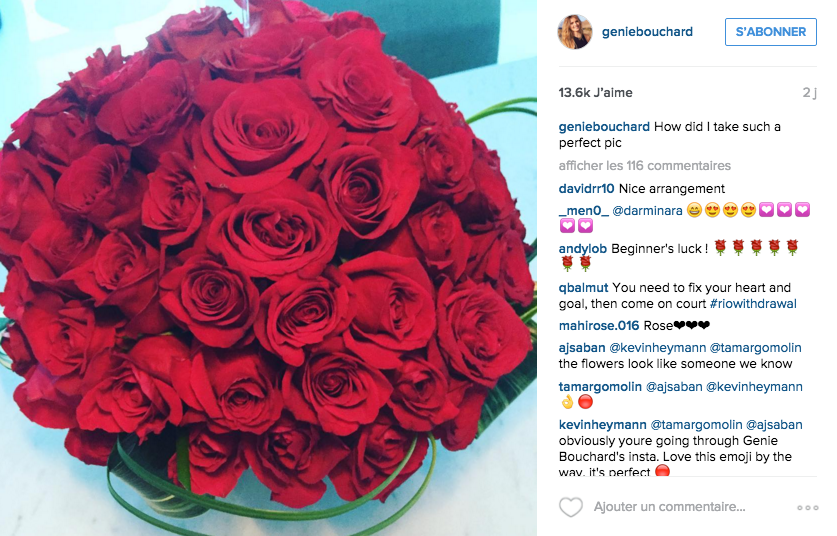 …and by organizing her birthday.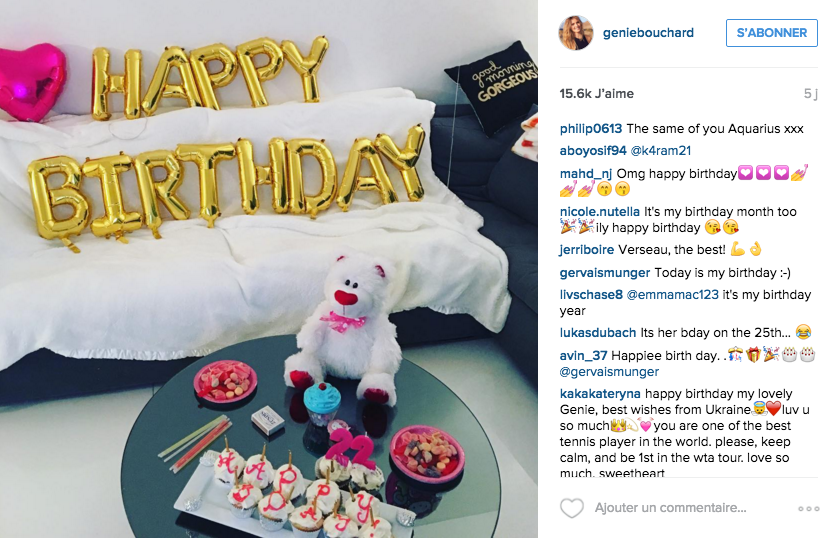 10- Caroline Wozniacki (+4).
Caroline Wozniaki was proud to learn that she will be the flag-bearer of the danish delegation at the Rio Olympics.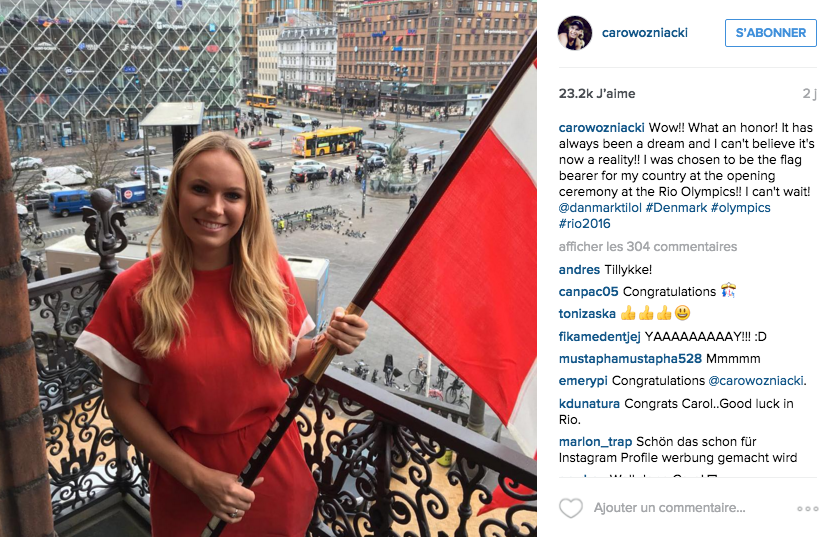 In the meantime, she's working hard…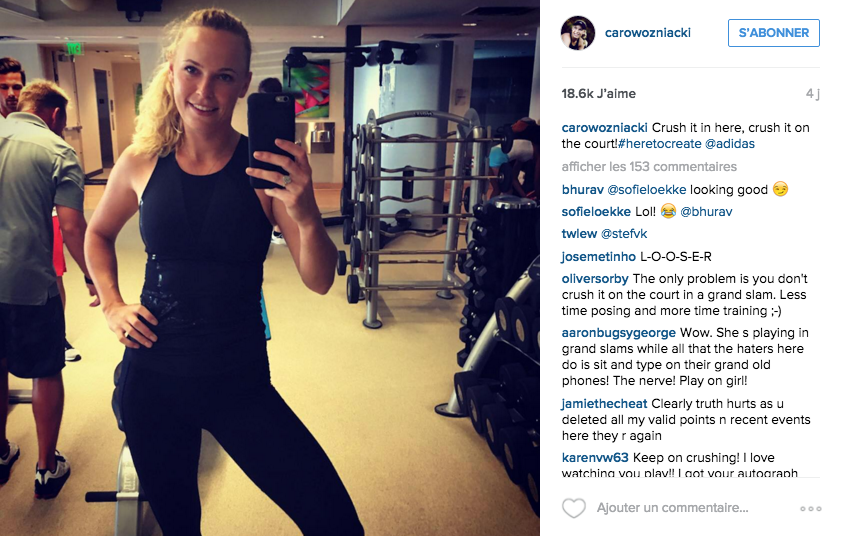 …with a first entry in the Saint Petersburg tournament in focus.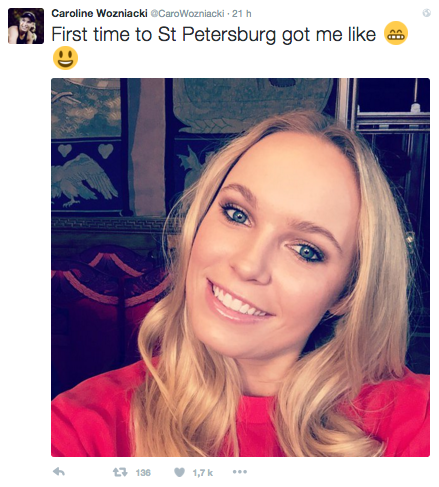 11- Victoria Azarenka (-4).
Forfeit for the BNP Paribas Fed Cup, Azarenka had other things in mind : the Sunday night Superbowl which saw her team, the Denver Broncos, facing the Carolina Panthers…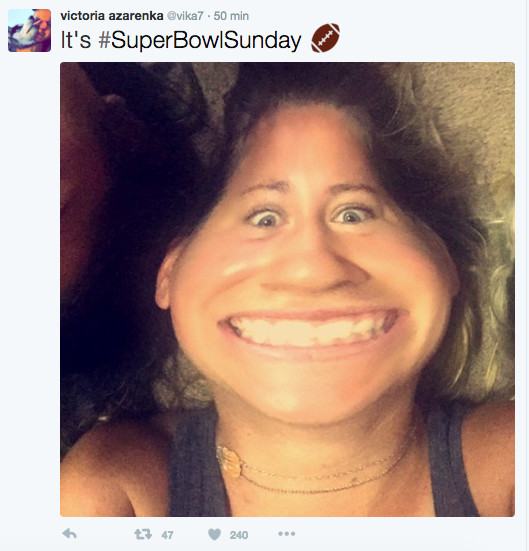 …and taking selfies.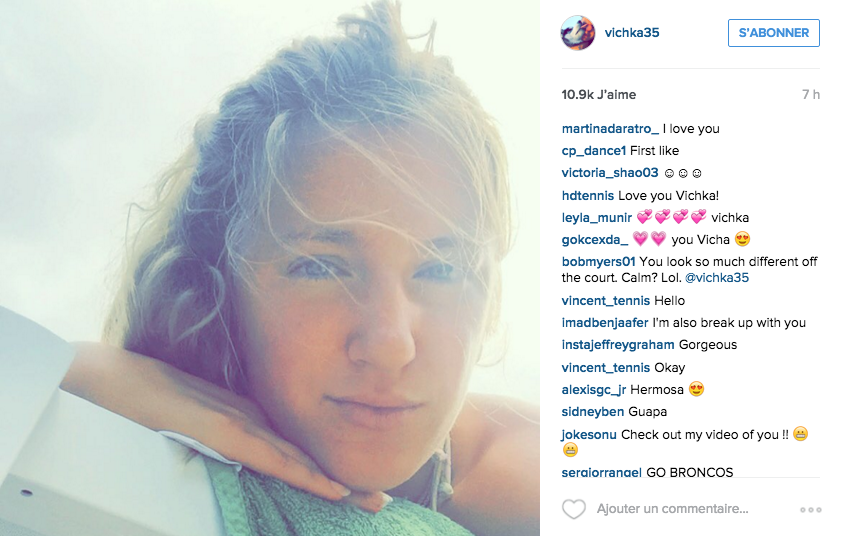 12- Fabio Fognini (+1).
In order to quickly get over his frustrating defeat in the second round at Melbourne, Fabio Fognini spent some good time with Flavia Pennetta in Milan…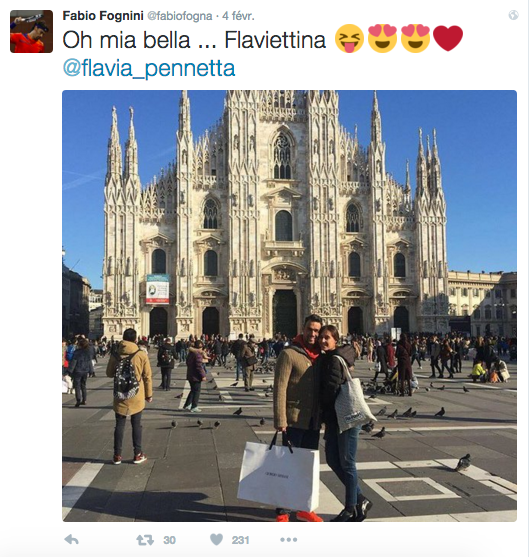 …and went back to business : practicing his serve…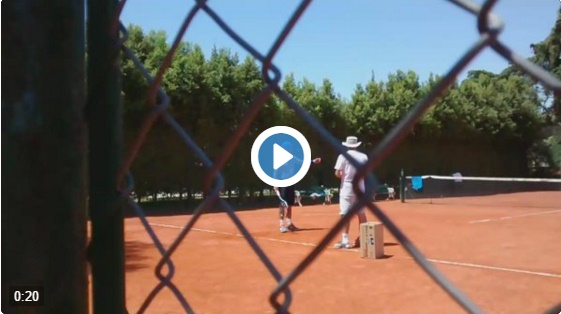 …and selfie with Juan Monaco, with the Buenos Aires tournament in focus.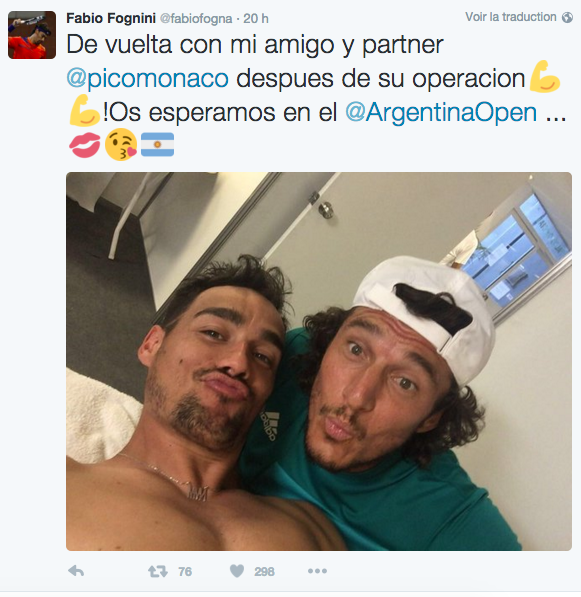 13- Ana Ivanovic (NE).
To prepare her return in Saint-Petersburg…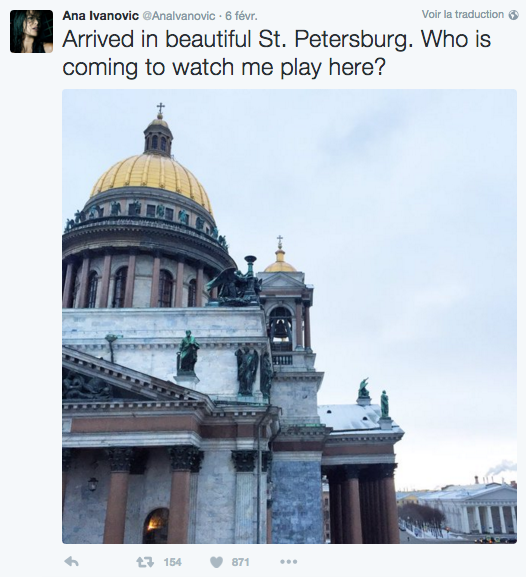 …Ana Ivanovic shows she's training hard…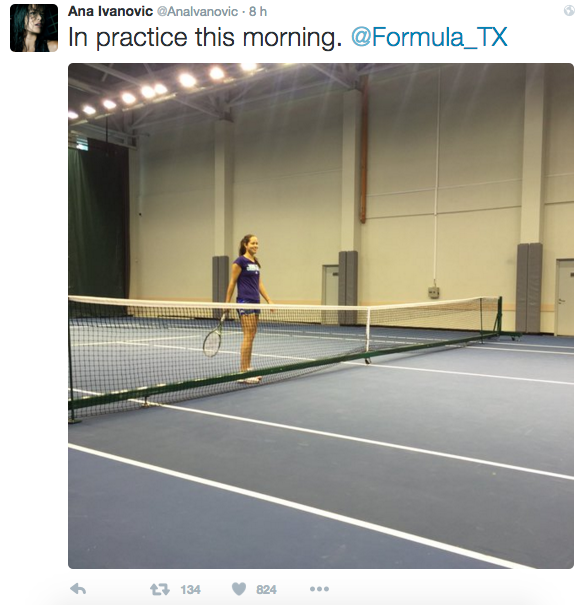 …between a few online fitness sessions.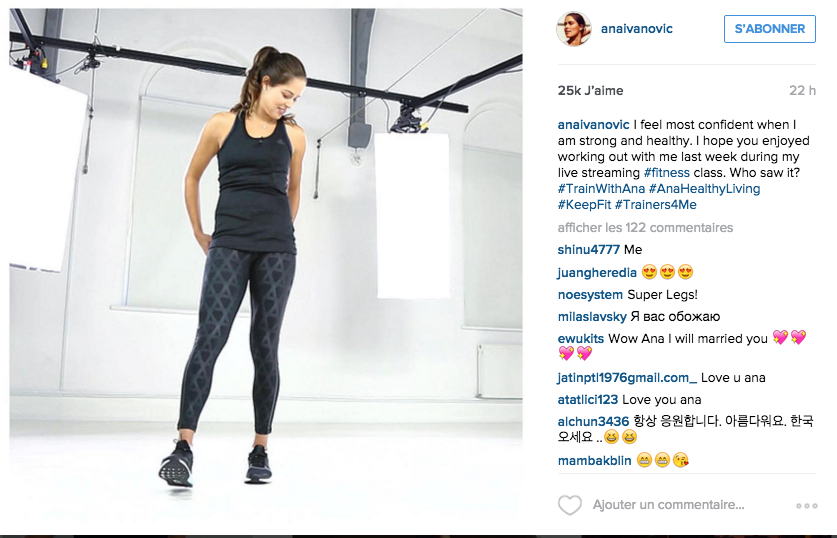 14- Jo-Wilfried Tsonga (NE).
Jo-Wilfried Tsonga is getting ready for the Buenos Aires tournament, and the start of the clay season with Juan Monaco…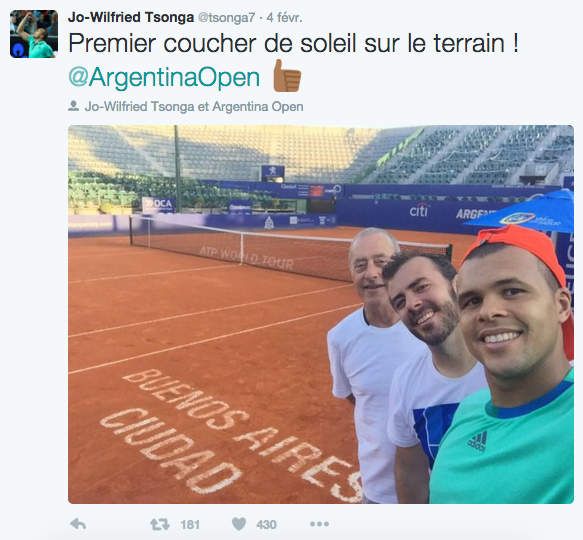 …and a child who does what he wants.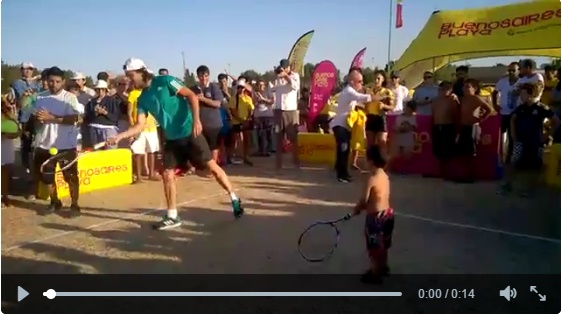 15- André Agassi (-3).
In a video posted on Twitter, André talks about his youth and describes himself as a « punk kid ».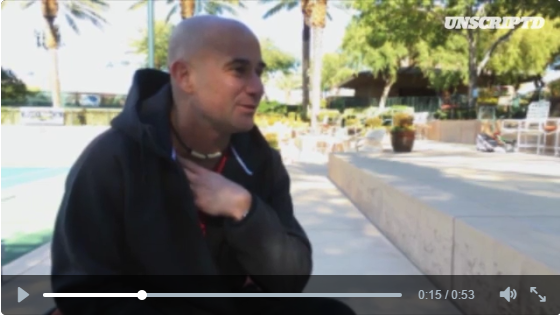 Out :
Kerber, Murray, Serena Williams, Konta, Nadal
By Antoine Mestres